Whipped Pecorino Dip with Lemony Garlic Bread
I was in New York City last week and I met a few friends for dinner at Vic's, an Italian restaurant in the downtown area of Noho. The atmosphere was wonderful, as, like most other NYC restaurants and bars, Vic's was heavily decorated for the holiday season. My friend had chosen the restaurant because he described one dish he had as "orgasmic". He told me tales of a light and airy whipped pecorino dip served with toasted bread for dipping.
Pecorino Romano is unlike the soft cheeses typically used for dips, ricotta for example. Instead, it is a hard, salty Italian cheese made from sheep's milk. I was immediately intrigued, and the dip lived up to expectation. It was served with bread and we promptly ordered a second round of to scrape up the remaining dip that clung to the bowl.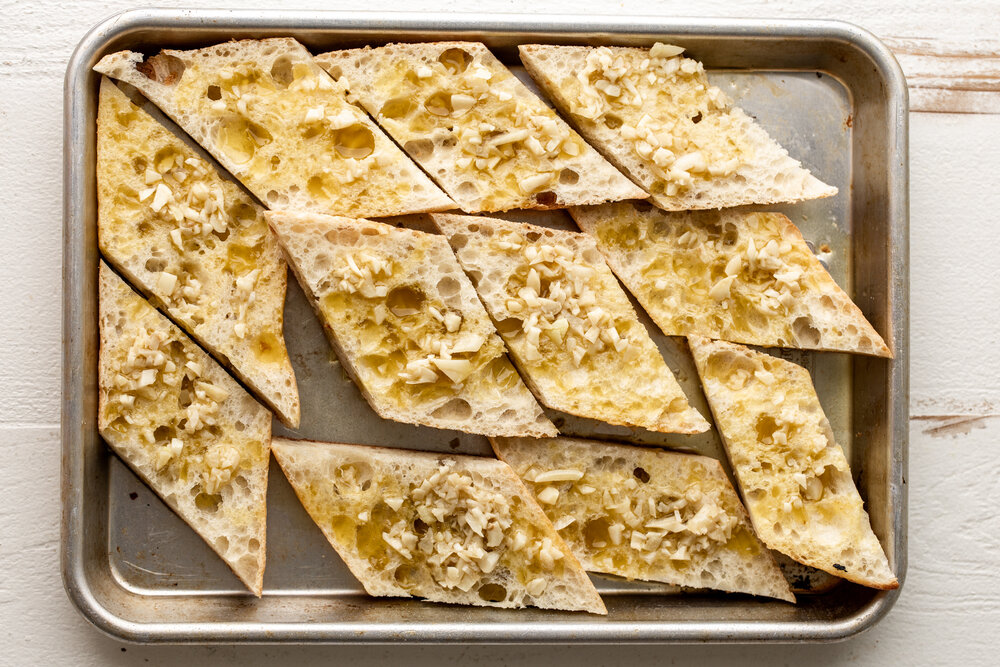 The base of this dish is Greek yogurt which is whipped together with a bit of olive oil and freshly grated Pecorino Romano, providing a light and airy cheese dip.
In this recipe I serve it with a quick garlic bread with a bit of lemon juice added to brighten up the bread and complement the dip. If desired make the dip a day in advance and store it refrigerated in an airtight container, then drizzle with the olive oil and top with the crumbled pecorino just prior to serving. Watch a step by step here.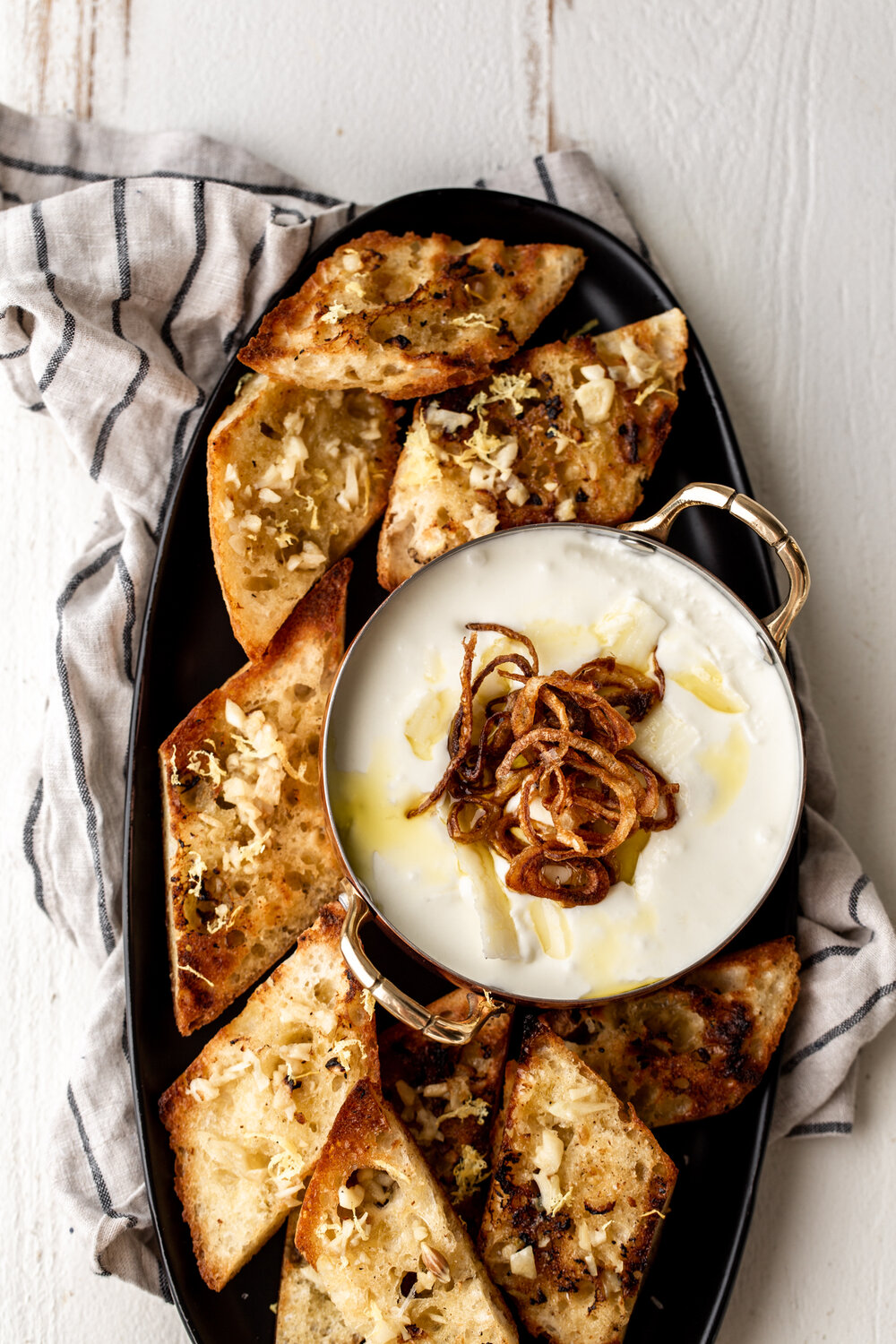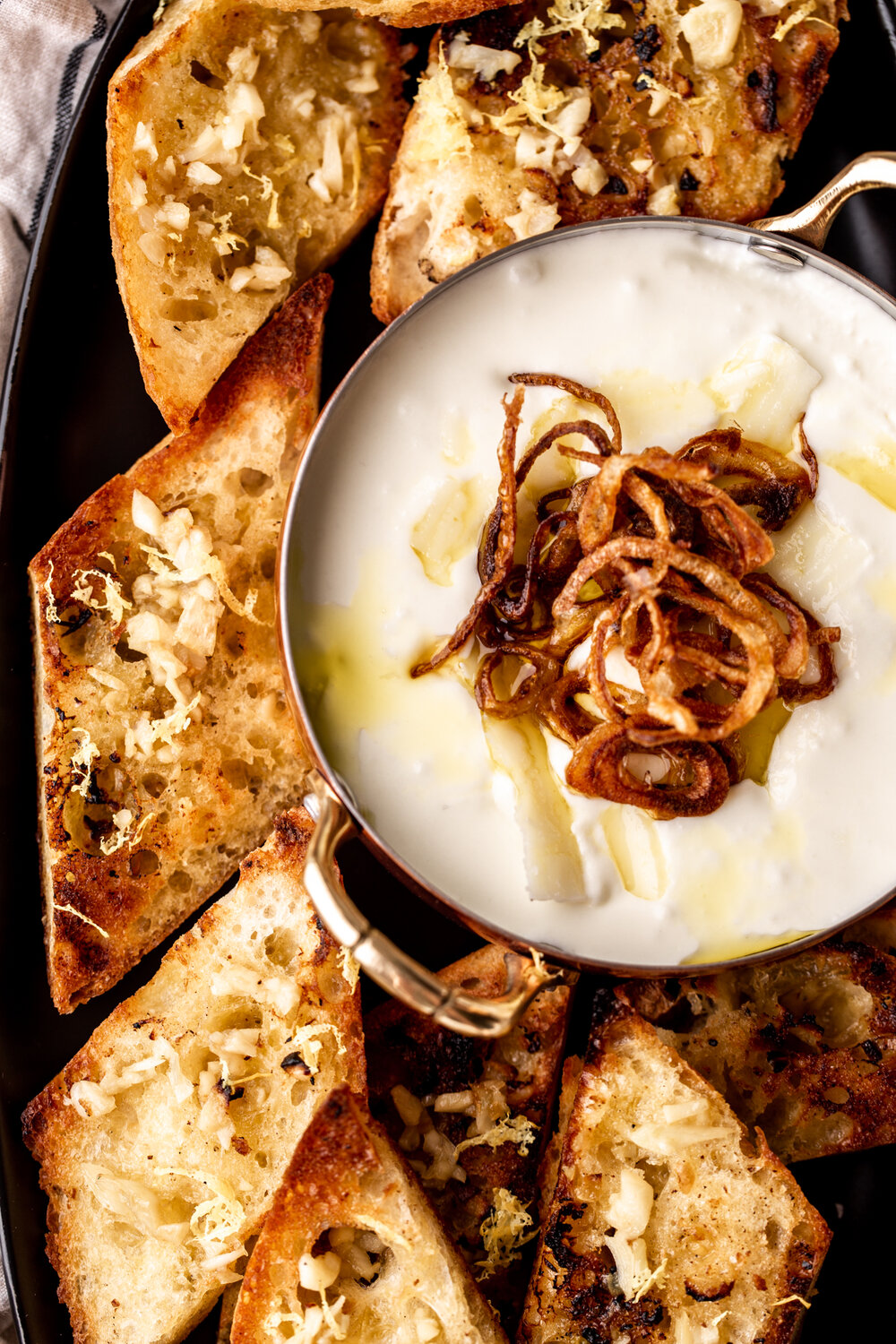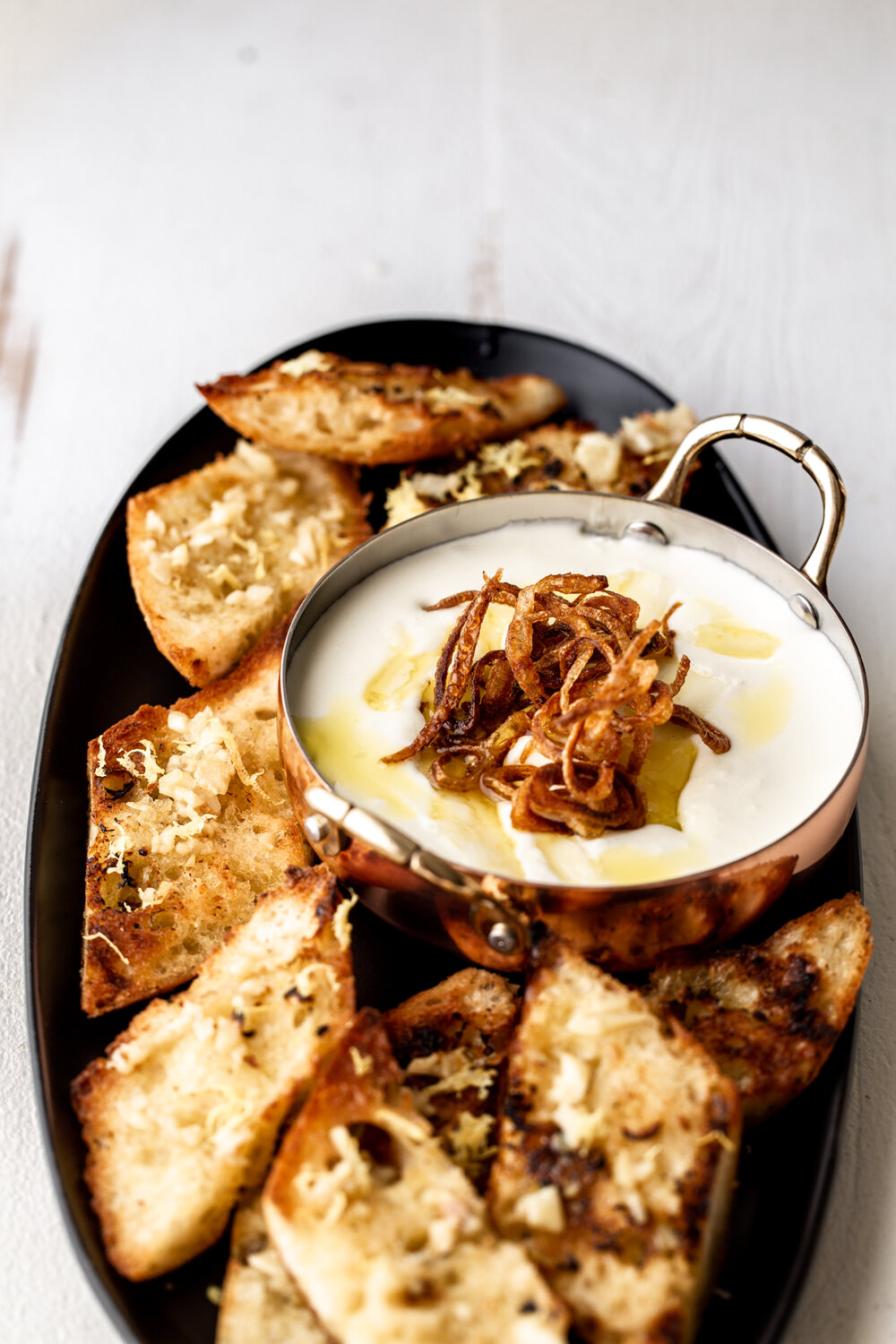 Whipped Pecorino Dip
For the whipped pecorino:
1

cup

5% Greek yogurt

1

cup

freshly grated Pecorino Romano cheese

3

tablespoons

extra-virgin olive oil,

divided

Kosher salt,

to taste

2

tablespoons

crumbled Pecorino Romano cheese
For the lemony garlic bread:
1

loaf crusty Italian bread,

halved lengthwise

3

tablespoons

extra-virgin olive oil

6

tablespoons

unsalted butter

8

cloves

garlic,

chopped

1

tablespoon

freshly squeezed lemon juice
For the crispy shallots:
1

cup

vegetable oil

1

medium shallot,

thinly sliced

Instructions:
For the whipped pecorino:
In the bowl of a food processor fitted with the blade attachment, add the Greek yogurt and Pecorino Romano. Pulse until combined then add 2 tablespoons of the olive oil and continue to pulse until completely smooth and combined. Season to taste with salt and stir to combine.

For the lemony garlic bread:

Preheat oven to broil. Cut each half of the bread into 2" pieces on the bias and arrange on a baking sheet. Heat a small saucepan over medium-low heat, add the olive oil and heat through. Add the butter and allow to melt then add the garlic and cook until fragrant but not browned, about 1 to 2 minutes. Remove from heat and drizzle the garlic butter over the bread. Broil until the bread is golden brown and crisp, about 2 minutes.
For the crispy shallots:
Heat a small sauté pan over medium-low heat, add the oil and heat through. Add the shallots and fry until golden brown, about 6 minutes. Remove to a paper towel-lined plate to drain.
DID YOU MAKE THIS?
TAG ME ON INSTAGRAM TO BE FEATURED ON MY STORIES! @cookingwithcocktailrings