Blackberry Short Ribs with Whipped Ricotta and Roasted Beets
Braised short ribs are served in a syrupy blackberry and red wine sauce over whipped ricotta and tender, earthy roasted golden beets. While braises are typically served in cooler months I still appreciate a summer braise using summer ingredients like blackberries when they are at their peak. The tender, juicy meat paired with the chilled whipped, creamy ricotta and berry jam-like sauce is a comforting meal no matter the season. I love whipping ricotta because it changes from a grainy, almost curdled, texture to a smooth and creamy spread.
When purchasing short ribs, look for well-marbled, short ribs with good meat to bone ratio. They're one of my favorite cuts of beef because when they are cooked slowly over a long period of time, they retain a meaty, beefy flavor and the collagen melts into the sauce all in one pot. Since the meat should be "fall-off-the-bone" tender when finished cooking, the short ribs can be either shredded before serving or served still on the bone for a more striking presentation.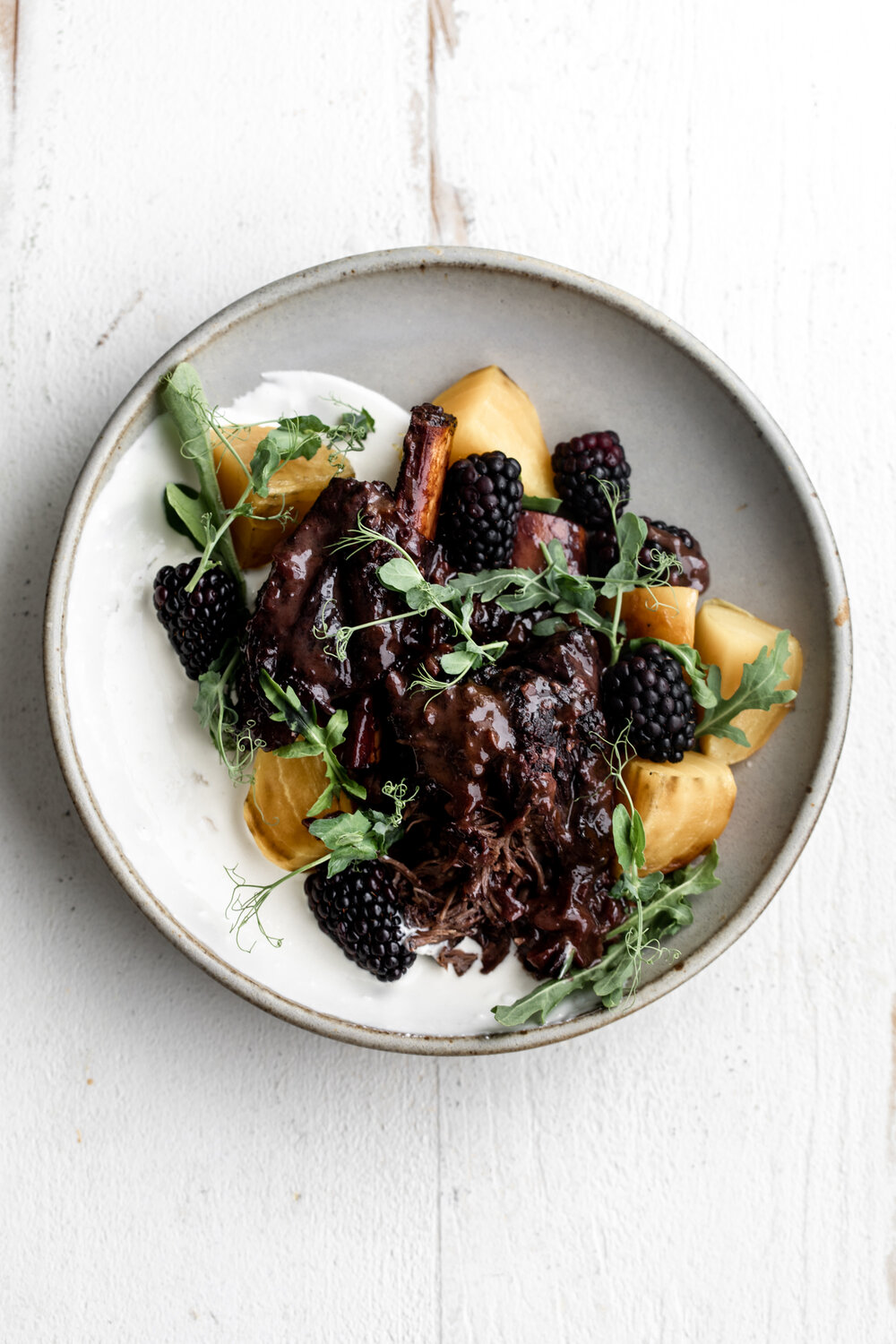 Blackberry Short Ribs with Whipped Ricotta and Roasted Beets
For the blackberry short ribs:
For the whipped ricotta:
12

ounces

whole milk ricotta cheese,

drained of any excess water

¼

cup

extra-virgin olive oil

2

tablespoons

maple syrup
For the blackberry short ribs:
Season the short ribs all over with salt and pepper then dust with flour. Heat a 7-quart Dutch oven over medium-high heat, add the olive oil and heat through. Working in batches, sear the ribs on all sides, about 5 minutes total. Remove to a plate and repeat with the remaining ribs.

Heat oven to 325ºF.

Return the pot to medium heat and add the shallots sautéing until tender, about 3 minutes. Add the short ribs back to the pot along with the blackberries. Pour the wine into the pot and bring to a boil then move the pot to the oven.

Cook, turning the ribs occasionally, until the meat is fork tender and the sauce has a syrupy consistency, about 3 to 3½ hours.
For the whipped ricotta:
Add the ricotta, olive oil and maple syrup to the bowl of a food processor fitted with a blade attachment. Pulse until the ricotta is smooth then remove to a bowl and store, refrigerated until ready to use.
For serving:
Heat oven to 400ºF. Toss the beets in the olive oil season with salt and pepper then wrap in aluminum foil and arrange on a baking sheet. Roast until tender, about 50 to 60 minutes.

Spread a spoonful of the whipped ricotta on plates and arrange beets around the plate. Top with beef short ribs and a spoonful of the blackberry sauce. Garnish with additional blackberries and arugula (optional). Serve immediately.
DID YOU MAKE THIS?
TAG ME ON INSTAGRAM TO BE FEATURED ON MY STORIES! @cookingwithcocktailrings