In this compound butter recipe I start with unsalted butter then add flake sea salt as I blend the mixture. This way I can control the level and type of salt added. If you can't find ramps try substituting with another spring allium like spring onions or chives.
Ramp Compound Butter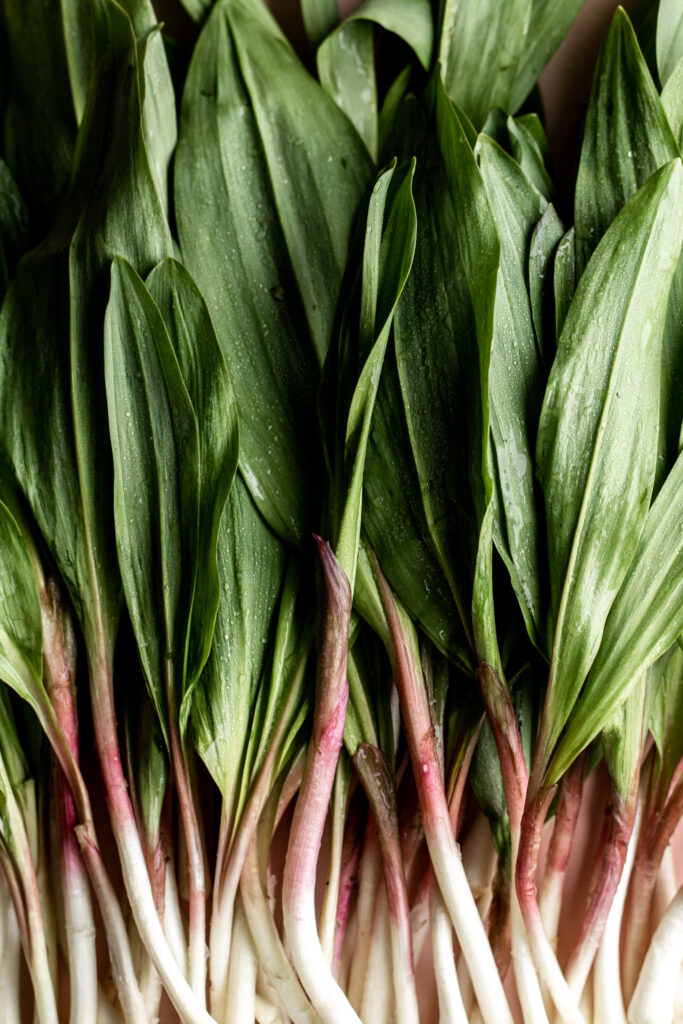 What are ramps?
While it can be hard to describe them, it's much easier to explain what they aren't. They aren't leeks or scallions, onions or shallots, but they are in the same allium family. Ramps are frequently referred to as wild leeks or wild garlic.
They taste more like a combination of mild garlic and leeks. When shopping for ramps look for a pale pink or white bottom and two wide flat leaves.
Ramps are in season for about a month in early spring starting in mid-April. Since they're hard to find and hyper-seasonal, most grocery stores don't stock them. The best place to look for them are at farmer's markets or by purchasing them online directly from farmers.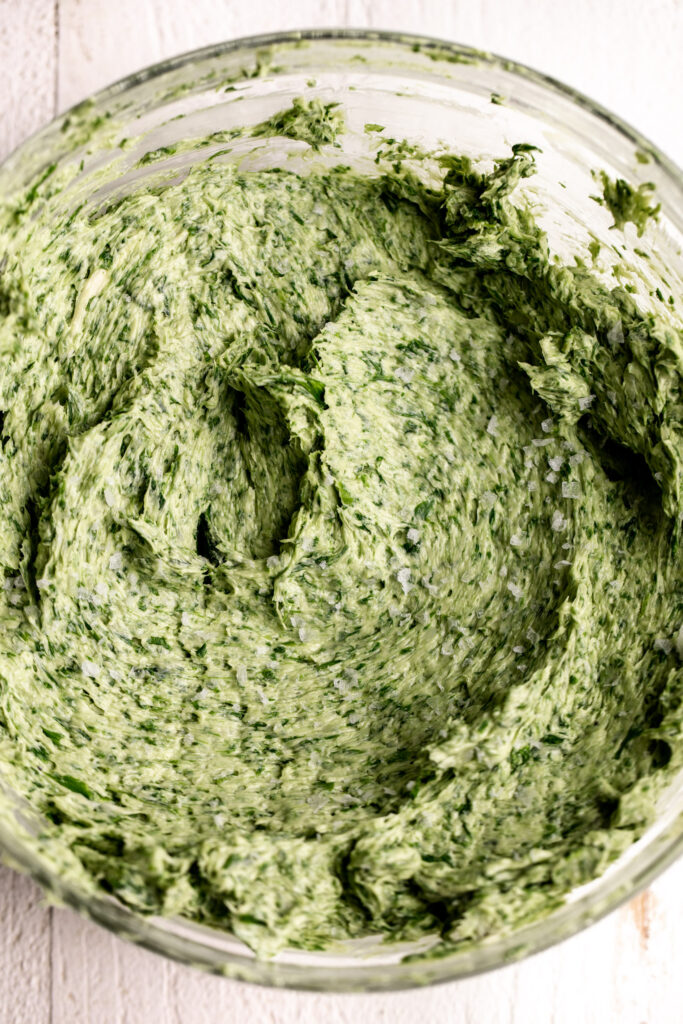 Other recipe ideas for ramps: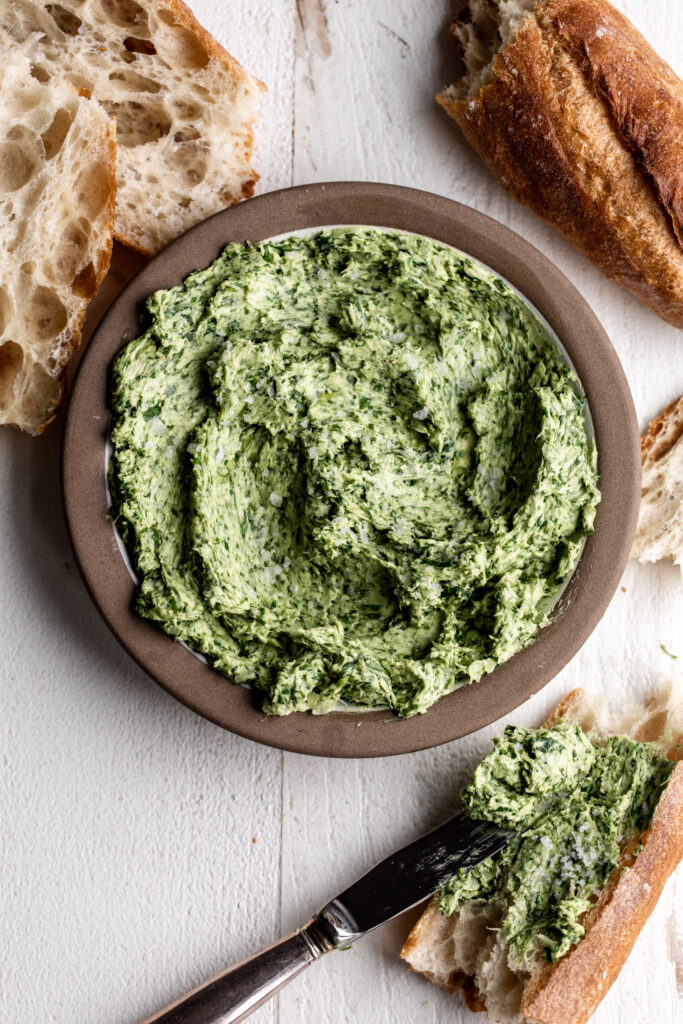 What is compound butter?
Compound butter is basically butter mixed together with other ingredients. You can pretty much add whatever you want to flavor it and use it as a base to sauté vegetables, finish meats (especially on grilled steak), stir into pasta or just spread it on bread!
Mix the ingredients into the softened butter. Then either serve at room temperature or wrap it into a cylinder in parchment paper and chill it until it's hardened and cut it into rounds.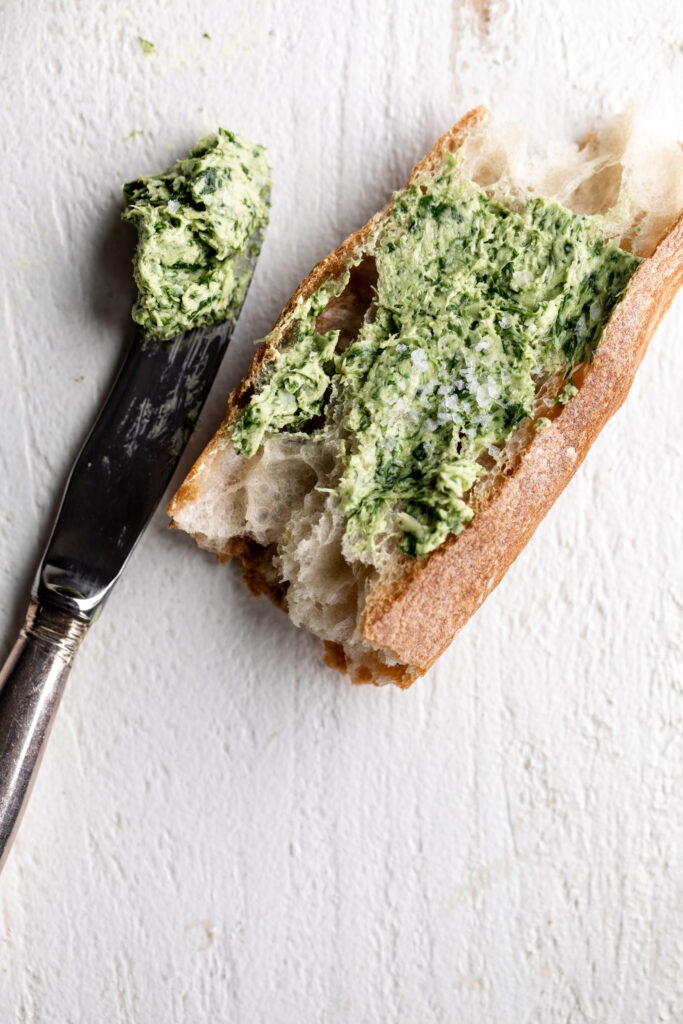 Ideas for other compound butter flavors:
Garlic + herb butter (such as parsley, thyme, chives, rosemary etc.)
Cinnamon + maple butter
Jalapeño + lime butter
Truffle butter
Chipotle + lime butter
Garlic + parmesan butter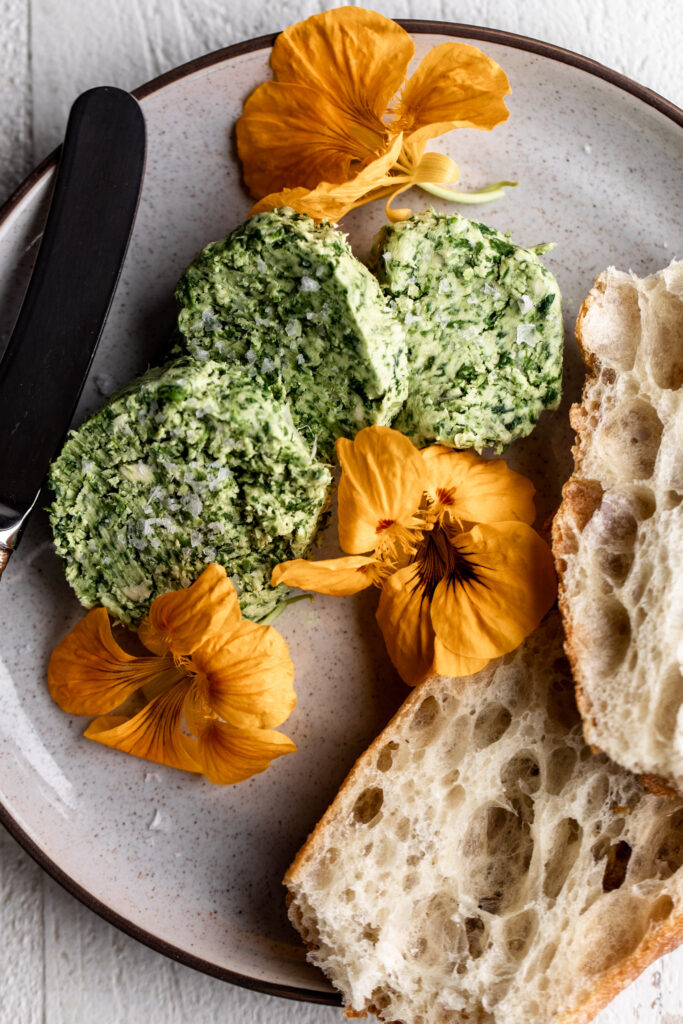 Ramp Compound Butter
Bring a large pot of water to a boil. Add the ramps and blanch until bright green and the leaves have wilted, about 30 seconds.

Squeeze as much water from the ramps as possible, drying with paper towels.

Roughly chop the ramps then add to a food processor with the butter and 2 teaspoons of flake sea salt. Puree until the ramps are finely diced and the butter is smooth.

Add to a serving dish and finish with the remaining salt.

To store the butter, put it in an airtight container and refrigerate until ready to use, about 1 month, or the sell-by date on the package.
*Note: For other serving options either roll the softened butter in parchment paper or plastic wrap into a log or pipe into shapes and refrigerate until ready to use.
DID YOU MAKE THIS?
TAG ME ON INSTAGRAM TO BE FEATURED ON MY STORIES! @cookingwithcocktailrings