Ramp Pesto Spaghetti with Burrata
This recipe is inspired by one that first appeared in Gourmet magazine in April of 2000 and more recently was included in Ruth Reichl's latest book Save me the Plums. In my version I added pancetta and breadcrumbs toasted in the rendered fat to add more salty/ nutty flavor and burrata to add creaminess.
This recipe is great because it comes together quickly and makes use of only a few ingredients. While the majority of the ingredients can be found all year round, the shining ingredient, ramps, are only found for a few weeks in the spring. While usually the farmer's market is the best choice to find them I recently discovered some at Eataly.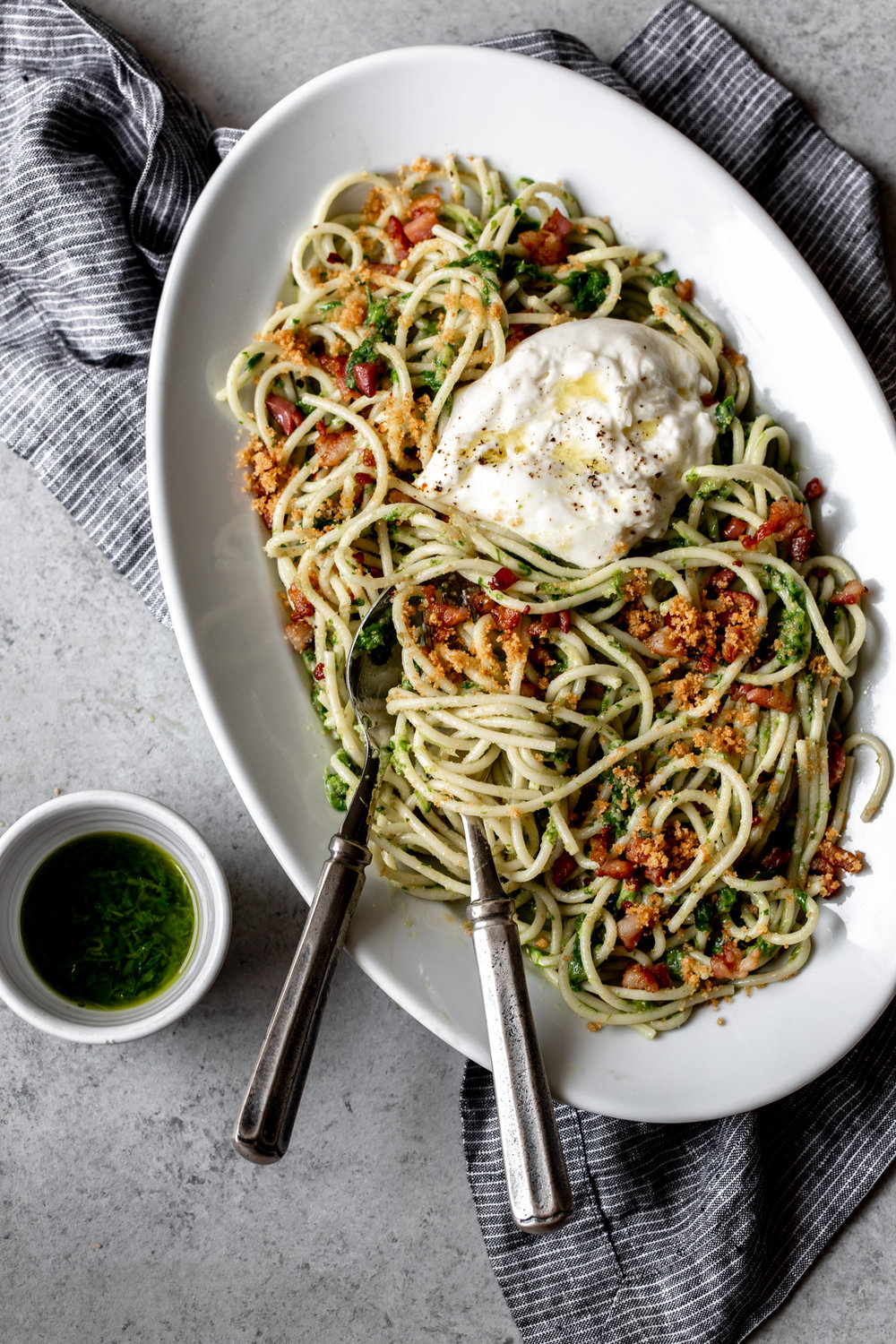 While it can be hard to describe what ramps are, it's easy to explain what they aren't. They aren't leeks or scallions or onions or shallots but they are in the same allium family. They are often called wild leeks or spring onions and taste more like a mix of mild garlic and leeks. Look for a pale pink or white bottom and two wide flat leaves coming from the top. They are typically foraged in the spring for a short period so keep an eye out. Former Food & Wine editor-in-chief Dana Cowin is quoted saying, "It's like that elusive thing — the bad boyfriend, the jazzy car of the vegetable world."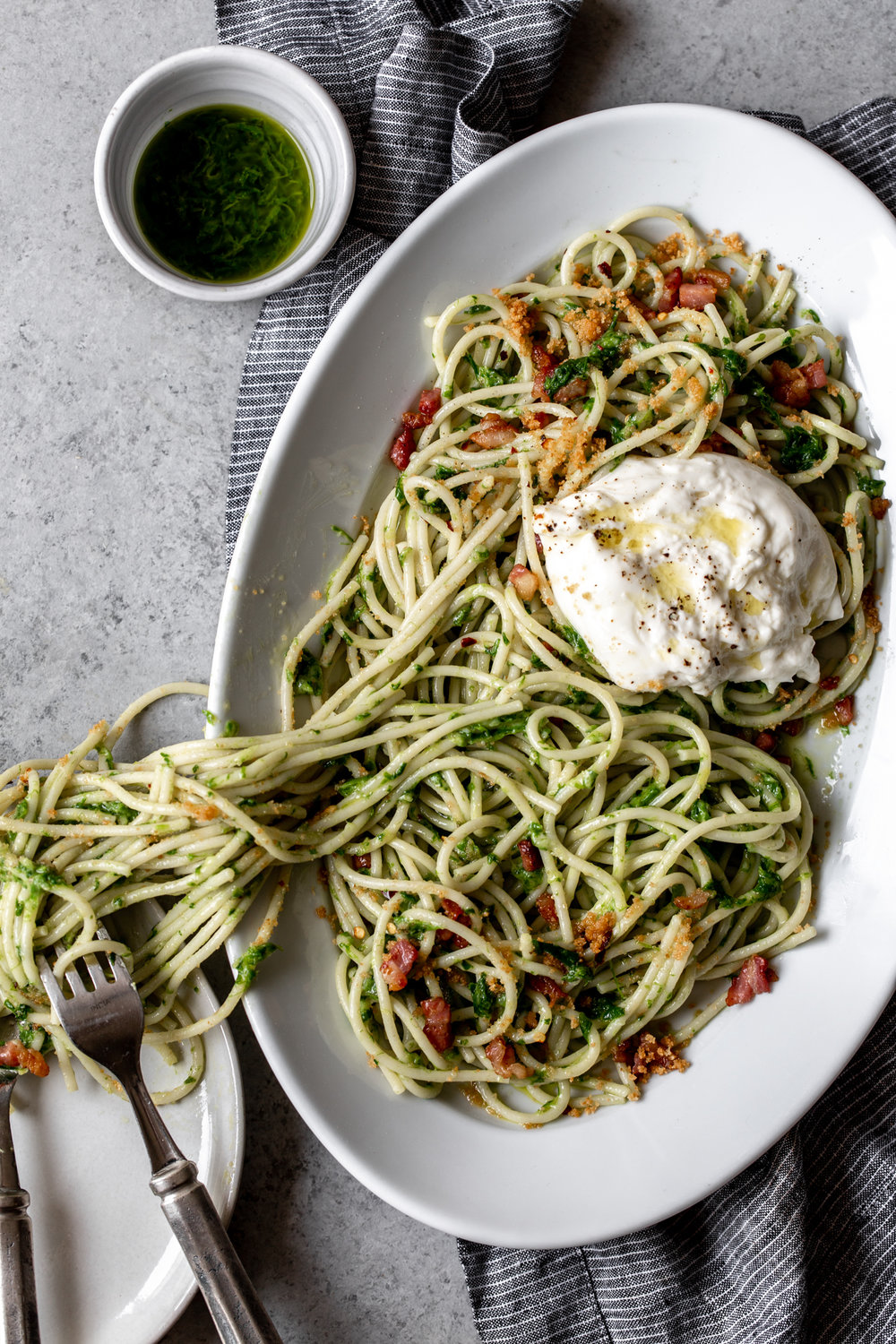 While I love their flavor and the hunt for the obscure alliums is almost as fun as finally finding them. In the spring I am constantly on the lookout every trip to the farmers market and grocery store I go to. It's one of those ingredients like morels or fiddleheads where I will buy them when I see them and figure out what to make later.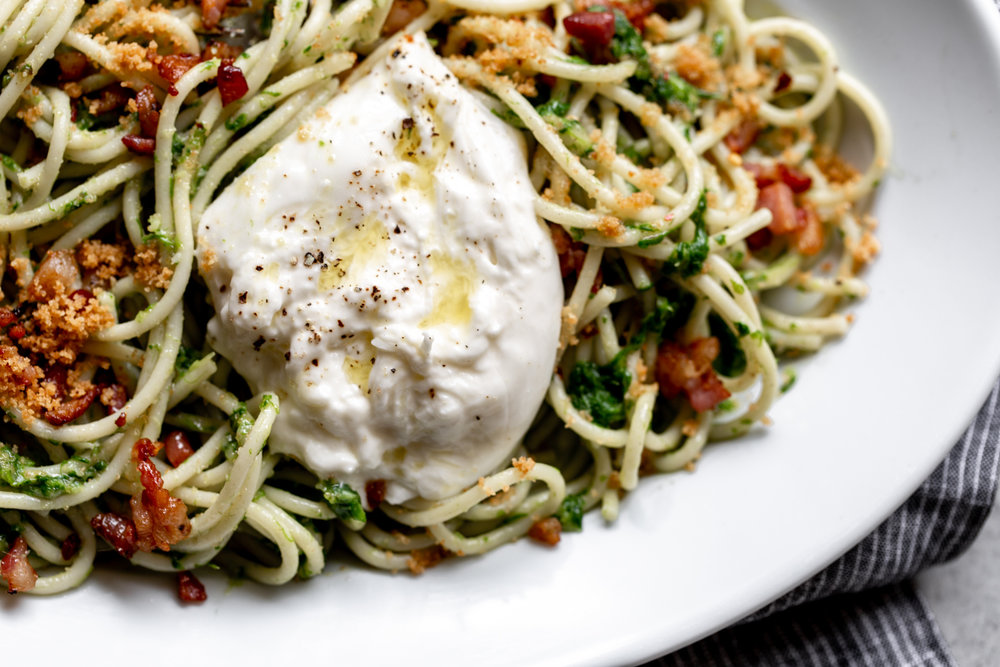 Ramp Pesto Spaghetti with Burrata
Kosher salt,

as needed

¾

pound

spaghetti

½

pound

ramps

1

teaspoon

lemon zest

1/3

cup

extra-virgin olive oil

5

ounces

diced pancetta

2

tablespoons

unsalted butter

½

cup

breadcrumbs

¼

cup

freshly grated Parmesan

¼

teaspoon

red pepper flakes

4

ounces

burrata
Bring a large pot of water to the boil; add the salt and bring back to the boil. Add the spaghetti and cook, stirring occasionally, until al dente, about 10 minutes. Set aside 1 cup of the pasta water then drain and return the pasta to the pot.

Bring a large pot of water to a boil and add the ramps to quickly blanch them, about 10 seconds. Then add to ice cold water to cool and drain, squeezing out any excess water. Roughly chop the ramps and add to a blender with the lemon zest, olive oil and ½ cup of the pasta water. Pulse until the sauce is blended.

In a cold nonstick skillet, add the pancetta and cook over medium heat. Cook, stirring occasionally, until fat has rendered and pancetta is crispy. Use a slotted spoon to remove the pancetta to a paper towel-lined plate to drain.

Return the pan to heat and add butter and allow to melt. Add the breadcrumbs, stirring to combine. Cook, stirring frequently, until the breadcrumbs are golden brown, about 4 minutes. Remove from stove and set aside.

Over medium-low heat, toss the pasta with the ramp pesto, the remaining pasta water and the Parmesan. Divide among warmed pasta bowls and top with the pancetta, breadcrumbs, red pepper flakes and burrata.
DID YOU MAKE THIS?
TAG ME ON INSTAGRAM TO BE FEATURED ON MY STORIES! @cookingwithcocktailrings