I learned how to make "larb" on my honeymoon in Chang Mai, Northern Thailand. My husband, Aaron, and I took a cooking class together which was one of the highlights of my trip and resulted in this recipe for a minced meat salad.
It is based on a Southeast Asian recipe that is also referred to as "laap" or "laab" and is filled with herbs, fish sauce and shallots. It originated in Laos but has become a beloved Thai dish as well.
While the meat is traditionally finely chopped using a cleaver, it takes a long time to get the pieces that small, so I opt to use already ground pork purchased from the meat counter instead.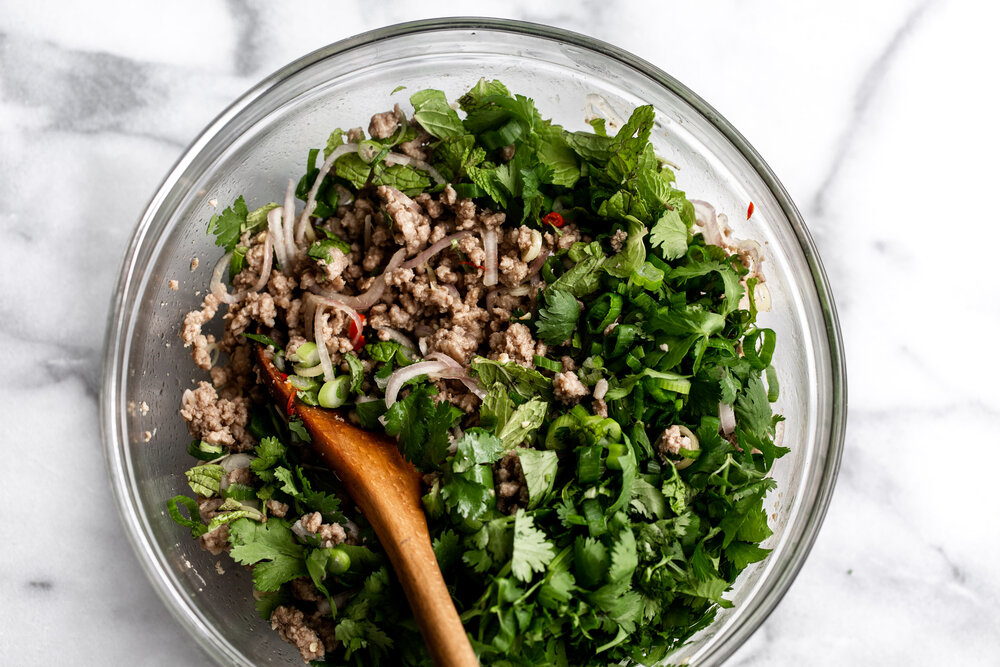 There are many different ways to prepare larb. At its root it refers to meat that is chopped and cooked before seasoning. It can range anywhere from an intense Northern style larb meuang with naam prik, to versions made with offal (entrails and internal organs) which most American versions tend to ignore, preferring to a lighter, easy to prepare Issan-style larb like this one.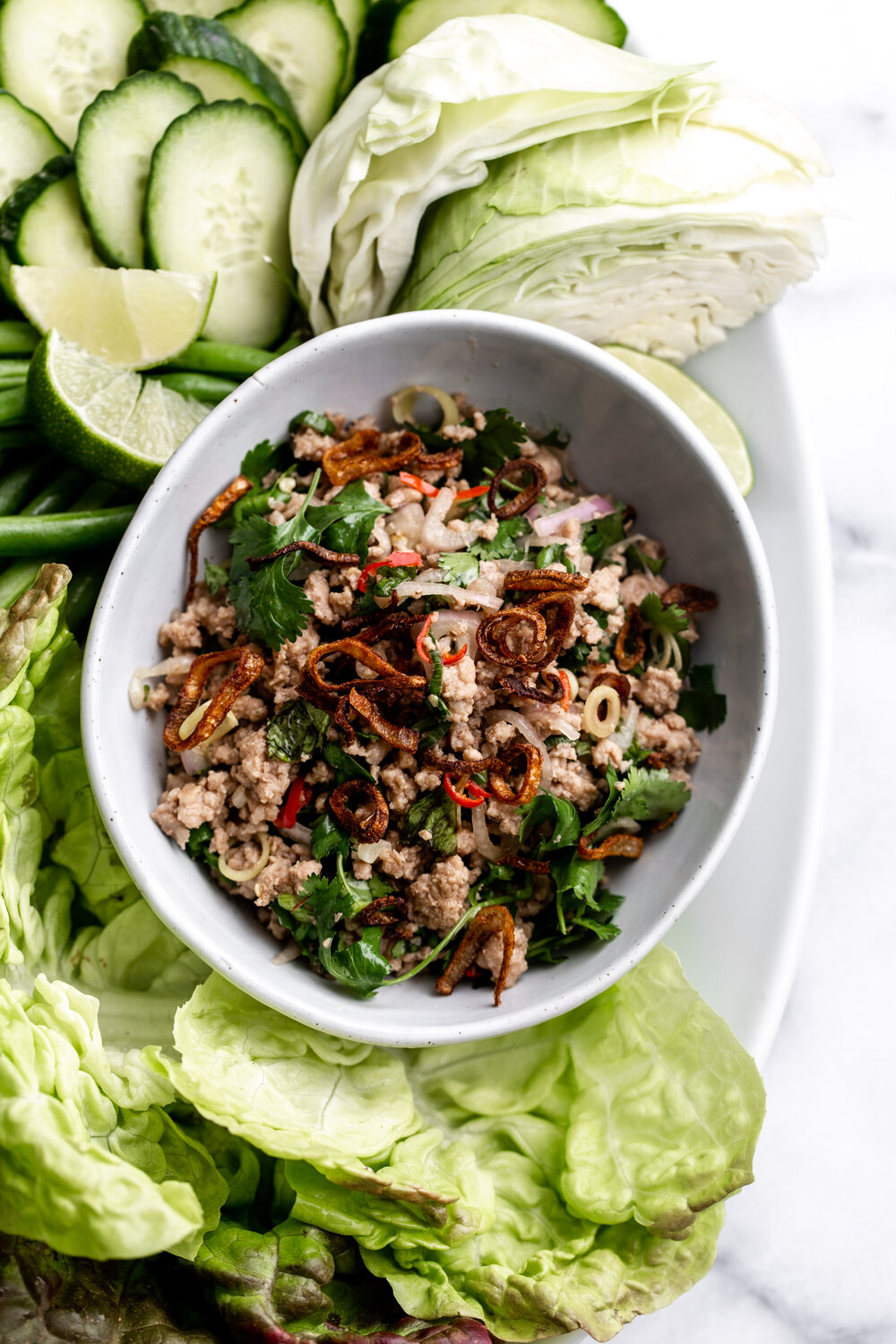 With its fresh, chopped herbs, bright and funky fish sauce and spicy Thai chilies this tangy dish hits all of my favorite flavor notes. It's incredibly flavorful yet easy to make. It's typically served with cabbage, long beans, and sliced cucumber as vehicles for the dish though I often eat it over rice for as an easy dinner. Based on accessibility I substitute green beans for the long beans and add a head of butter lettuce because I like scooping it into little leaf "cups". For a lighter recipe the ground pork can be substituted with ground chicken or turkey.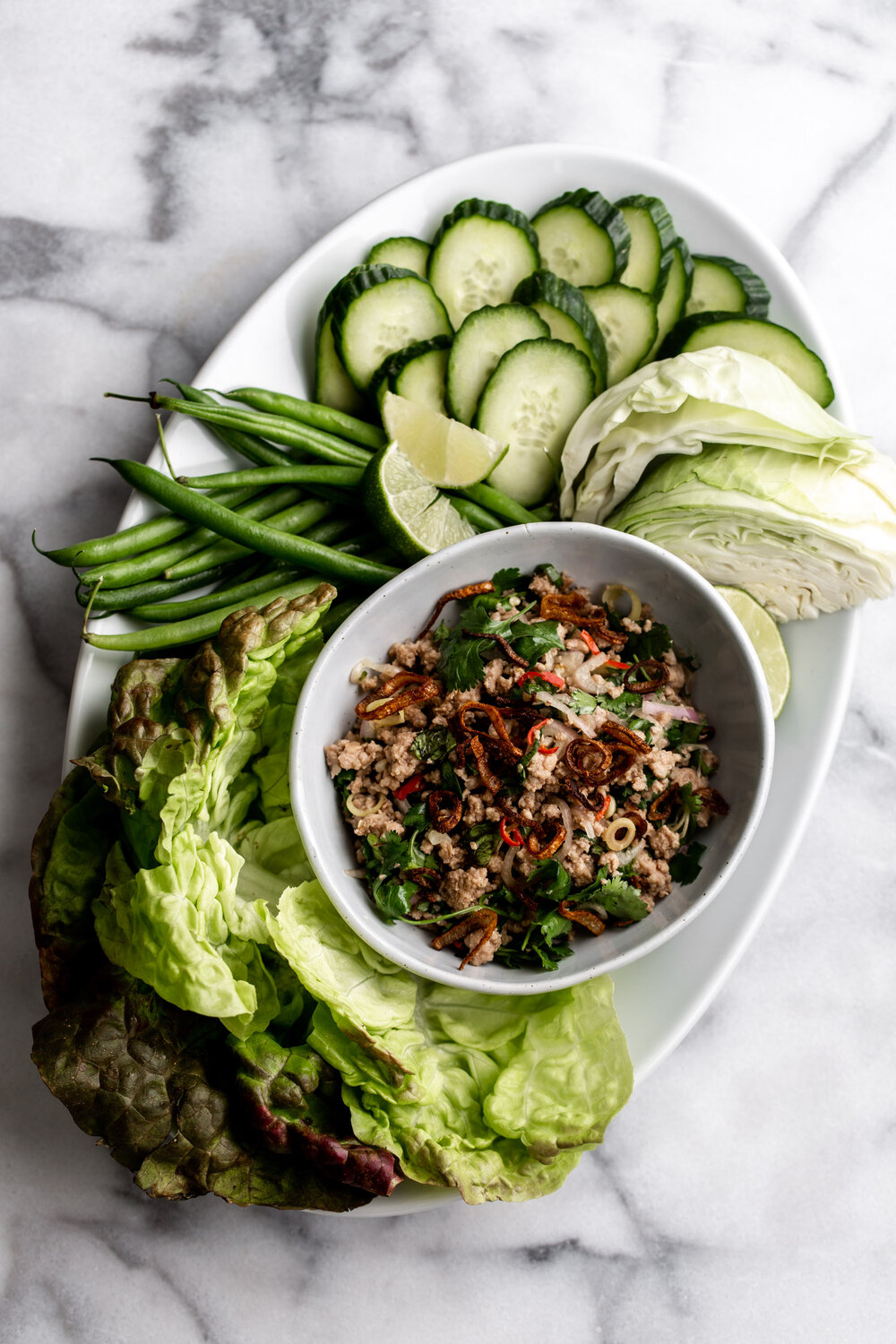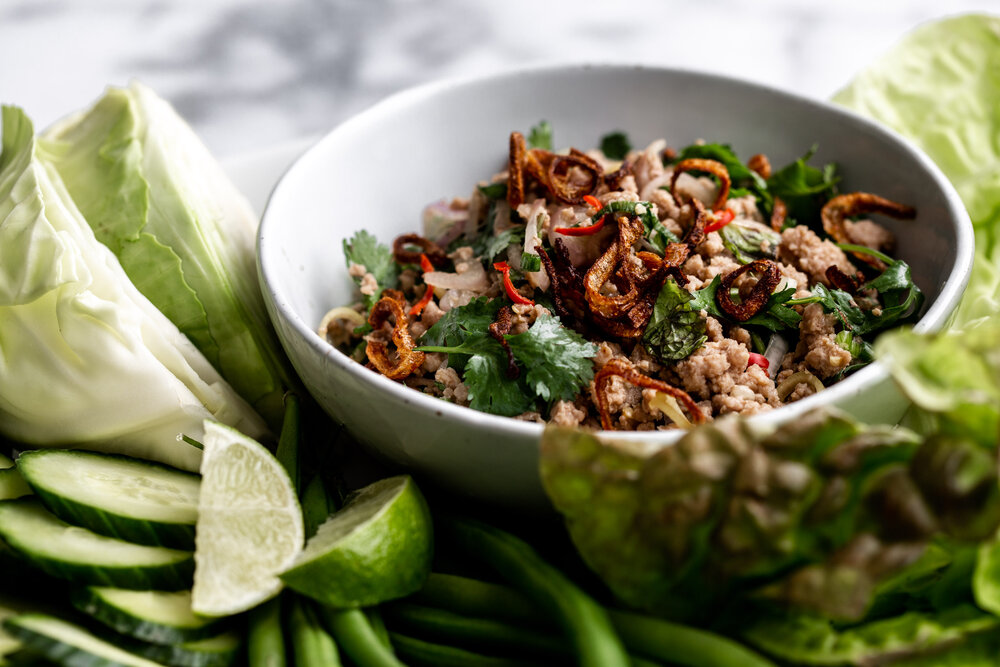 Issan-Style Pork Larb
For the larb:
2

tablespoons

vegetable oil

1

pound

ground pork

Kosher salt,

as needed

3

tablespoons

fish sauce

2

tablespoons

freshly squeezed lime juice

2

Thai birdseye chilies,

thinly sliced

1

stalk lemongrass,

thinly sliced (tender parts only)

1

medium shallot,

thinly sliced

3

green onions,

thinly sliced

¼

cup

roughly chopped mint leaves

½

cup

roughly chopped cilantro
For the crispy shallots:
Vegetable oil

as needed, for frying

2

medium shallots,

thinly sliced
For the larb:
Heat a large sauté pan over medium heat, add the vegetable oil and heat through. Add the pork, using a wooden spoon to break up the meat. Cook until the pork is cooked through and no longer pink but not browned and season with salt, about 6 minutes. Use a slotted spoon to remove the pork to a medium mixing bowl, draining as much of the cooking liquid as possible.

In a small mixing bowl whisk together the fish sauce, lime juice, Thai chilies and lemongrass then pour over the pork mixture and toss together with the shallots, green onion, mint and cilantro.
For the crispy shallots:
Add enough oil to a 10" cast iron skillet ½" of the way up with the oil. Heat the oil over medium heat to 350ºF . Add the shallots and fry, stirring frequently, until deep golden brown and crispy, about 8 to 10 minutes, lowering the heat if they brown too quickly. Use tongs to remove the shallots to a paper towel-lined plate and cool for 5 minutes.
DID YOU MAKE THIS?
TAG ME ON INSTAGRAM TO BE FEATURED ON MY STORIES! @cookingwithcocktailrings