I fell in love with this traditional Southern Thai curry at "Night + Market Sahm" in Venice, California where they serve the thick, gravy-like curry panang with flakey, crispy fresh roti and sticky rice.
My goal is to create an easy, one-pot curry with a deep flavor profile. This recipe can easily made for a weeknight dinner and enjoyed after a little over an hour of hands-off cooking. Pandang of panang curry is characterized by balancing sweet and savory flavors with nutty undertones and a bright citrusy finish.
In traditional versions of panang curry, the beef is cooked separately as to not sully the flavors of the spice paste. I like the slight beef flavor, not to mention the ease of cooking the beef in the sauce. In testing this recipe I tried two separate versions. One with homemade curry another using store-bought. In this recipe the winner was the store-bought – it was a bit spicier and felt like the flavors were more cohesive.
Beef Panang Curry
Table of contents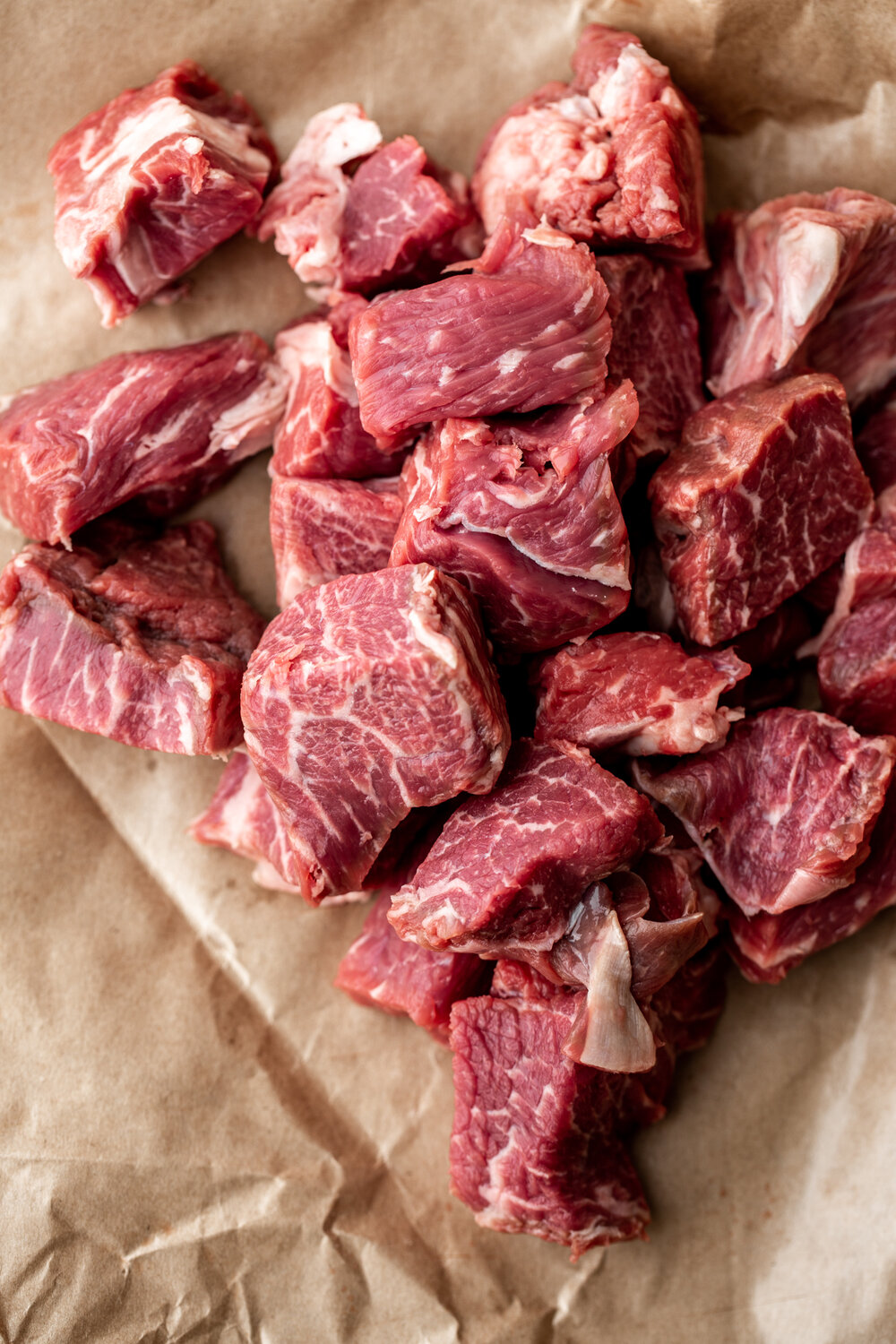 Key Ingredients in This Recipe
Beef – Many versions of this dish use a thin cut of beef like sirloin, but I prefer to use cubes of beef like chuck roast that slowly break down and become fork-tender in the curry. Cheaper cuts of beef work well in this recipe. As they simmer the beef breaks down and the meat becomes tender.
Red curry paste – Traditional panang curry paste isn't tough to make. However it can be tricky to track down the typical ingredients – a combination of red pepper, lemongrass, shallots, garlic, galangal, lime leaves and shrimp paste. Look for a store-bought Thai red curry paste with these ingredients on the container for the best flavor profile. I like using Mae Ploy Red Curry Paste which I usually find at Target or online here.
Peanut Butter – Stir in chunky peanut butter at the end of the cooking process. Not only does it help to emulsify the sauce but it adds a creamy, nutty and rich flavor to the curry. I prefer using chunky peanut butter for the added texture of the peanuts.
Lime leaves – Lime leaves are frequently used in Southeast Asian cooking. They add bright, citrus flavor and can be found at most Asian markets. They freeze well so I like to buy a few packages and keep them around to use as needed. If you cannot locate makrut or kefir lime leaves then a combination of half lime zest and half lemon zest works as a substitute.
Fish sauce – I love the funky umami flavor fish sauce adds to any dish. It's a great way to enhance the flavor of curries or even chicken wings. The flavor comes from a process of fermenting fish over a long period of time.
Coconut milk – Coconut comes from the creamy liquid inside mature coconuts. While frequently used in place of dairy, it adds a subtle coconut flavor to this flavorful curry.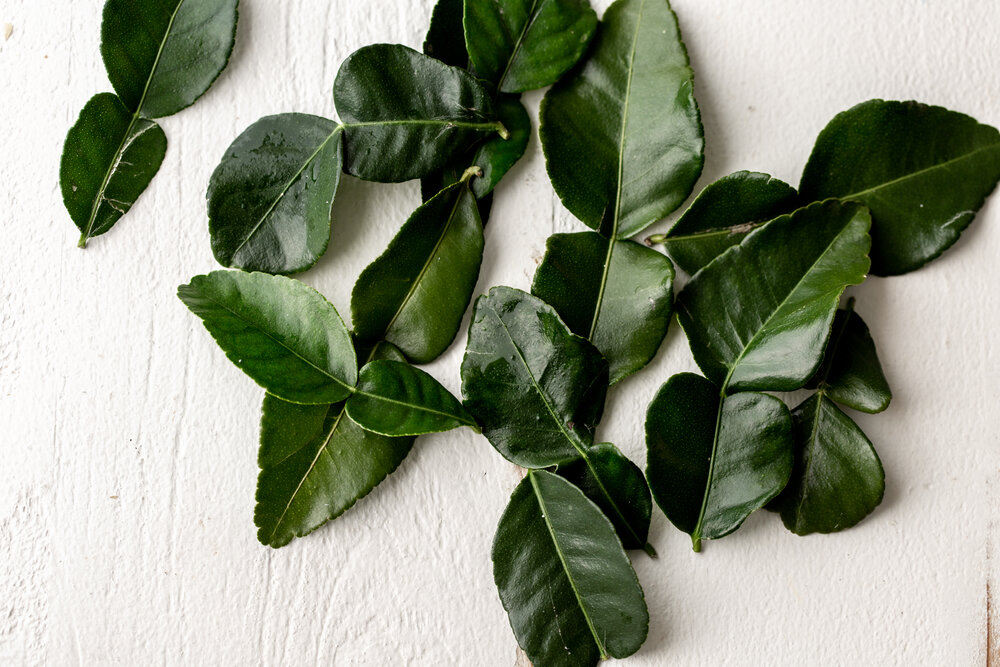 How to Make Beef Panang
Season the beef. Season the beef on all sides with salt and pepper. Heat a large Dutch oven over medium heat and heat through.
Sear the beef. Add the beef and sear until all sides are golden brown, about 6 minutes. Remove to a plate and set aside.
Fry the curry paste. Return the pot to heat. Next, add the coriander, cumin, red curry paste and sugar, stirring constantly to fry the paste until it deepens in color and becomes fragrant, about 1 minute.
Simmer the curry. Add the coconut milk to the pot with the beef and 1 cup of water. Cover and simmer the mixture over medium-low heat until the beef is fork-tender, about 1 hour and 30 minutes. Add additional water ¼ cup at a time if the sauce becomes too thick and dry.
Add the remaining ingredients. Stir in the fish sauce, peanut butter and half the julienned lime leaves.
Serve. Garnish with the remaining lime leaves and peanuts then serve the panang beef curry with jasmine rice, Thai basil and lime wedges.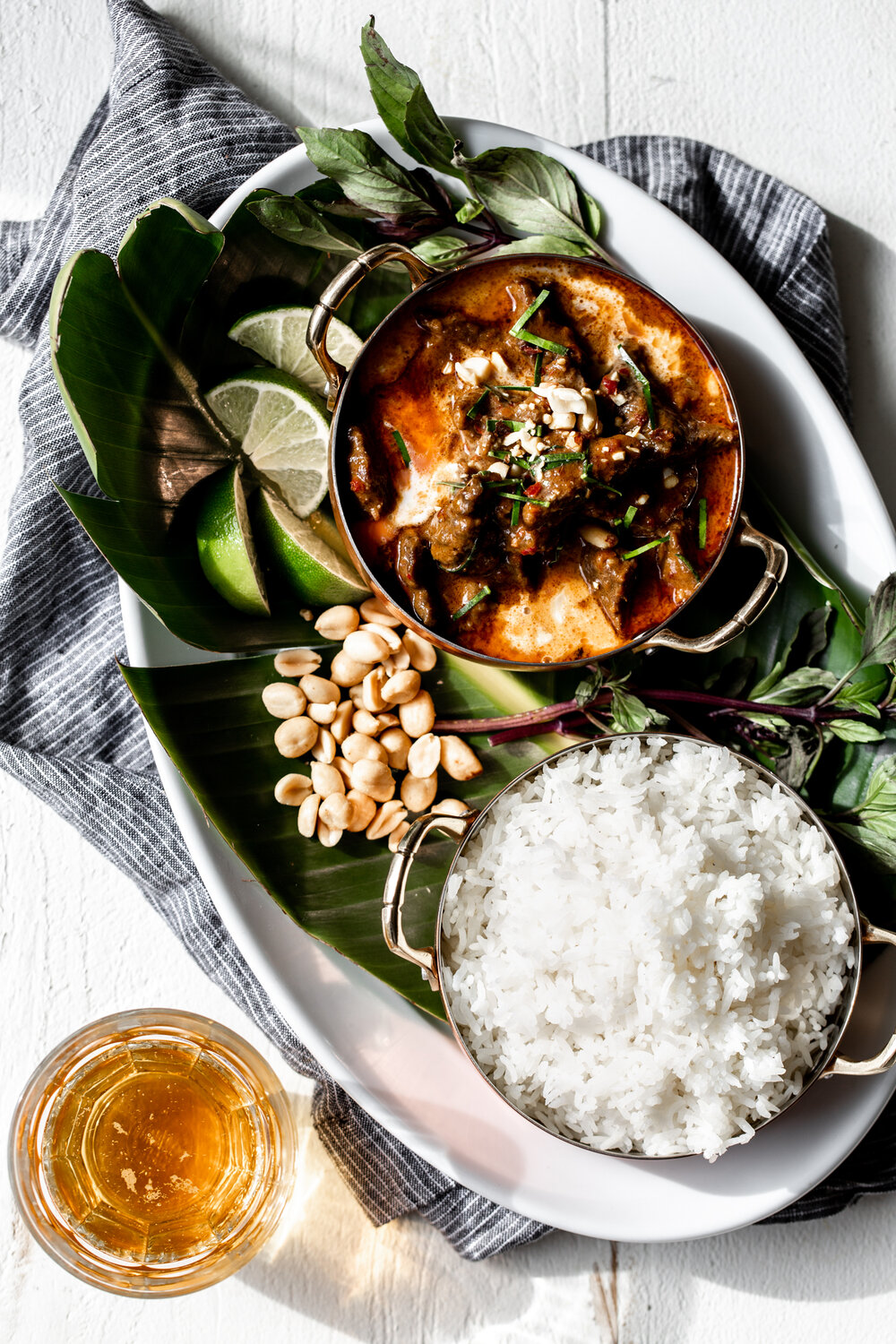 Other Recipes to Try
If you enjoy this beef panang, I recommend trying these recipes:
Beef Panang Curry
1½

pounds

chuck steak,

cut into 1" cubes

Kosher salt,

as needed

Freshly ground black pepper,

as needed

1

teaspoon

ground roasted coriander

1

teaspoon

ground cumin

3

tablespoons

red curry paste

1

tablespoon

palm sugar or dark brown sugar

1

(13.5 ounce)

can coconut milk

1

tablespoon

fish sauce

2

tablespoons

chunky peanut butter

6

Kaffir lime leaves julienned,

divided

1

tablespoon

chopped peanuts

Jasmine rice,

for serving

Thai basil leaves,

for garnish (optional)

Lime wedges,

for garnish
DID YOU MAKE THIS?
TAG ME ON INSTAGRAM TO BE FEATURED ON MY STORIES! @cookingwithcocktailrings