I have plenty of unique Thanksgiving recipes on my site but I typically keep it pretty classic when it comes to Thanksgiving dinner. My family is pretty traditional, though there are some things I like to put my own twist on. By Thanksgiving day, I've usually already made a few turkeys and plenty of other unique sides writing recipes for you guys!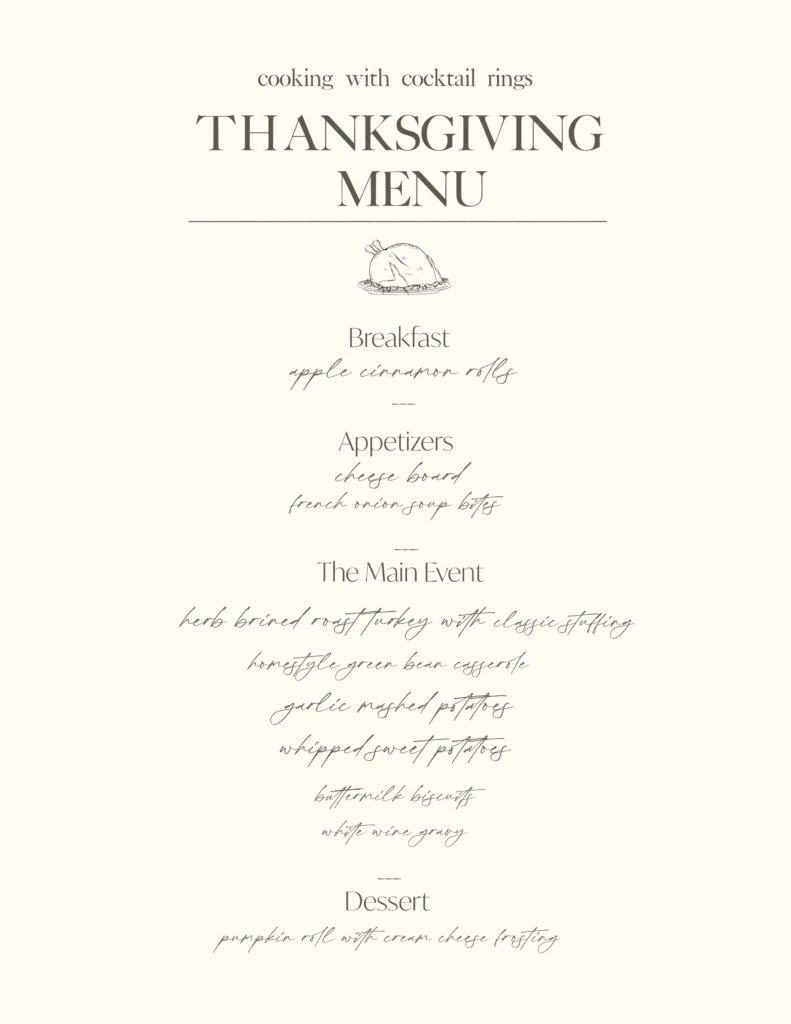 Breakfast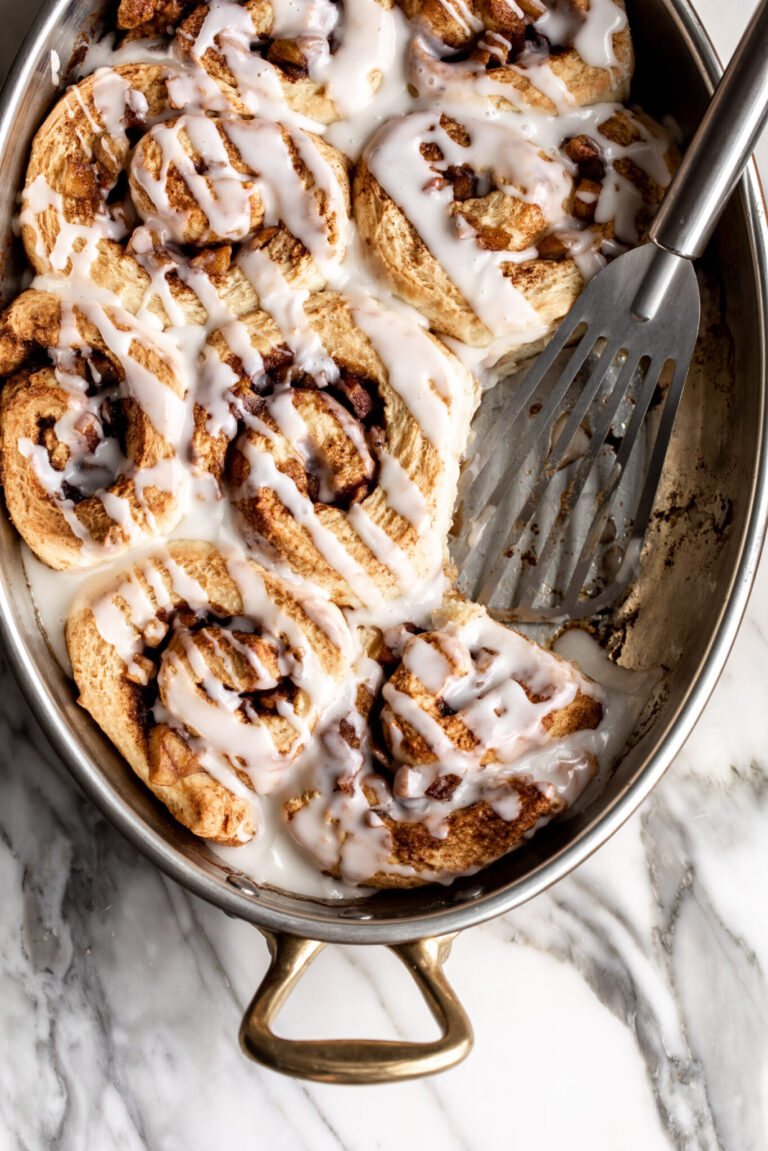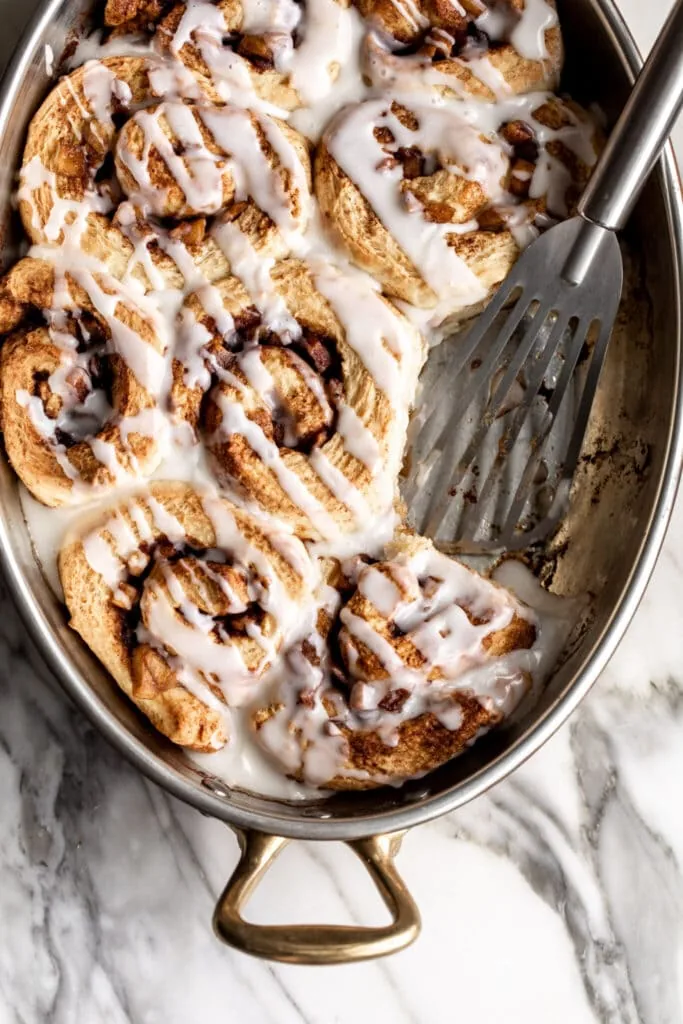 When cooking a big dinner like Thanksgiving, I typically forget there are other meals that day I need to plan for. Since dinner is early, I offer appetizers instead of lunch, but I love to have something like these apple cinnamon rolls for breakfast. I prepare them night before and pop them in the oven to bake in the morning for watching the parade.
Appetizers
I love putting together a simple cheese board so people can graze while watching football or helping in the kitchen. In addition to an assortment of cheese and charcuterie (try adding in a brie brûlée) I like to make one additional finger food appetizer or dip.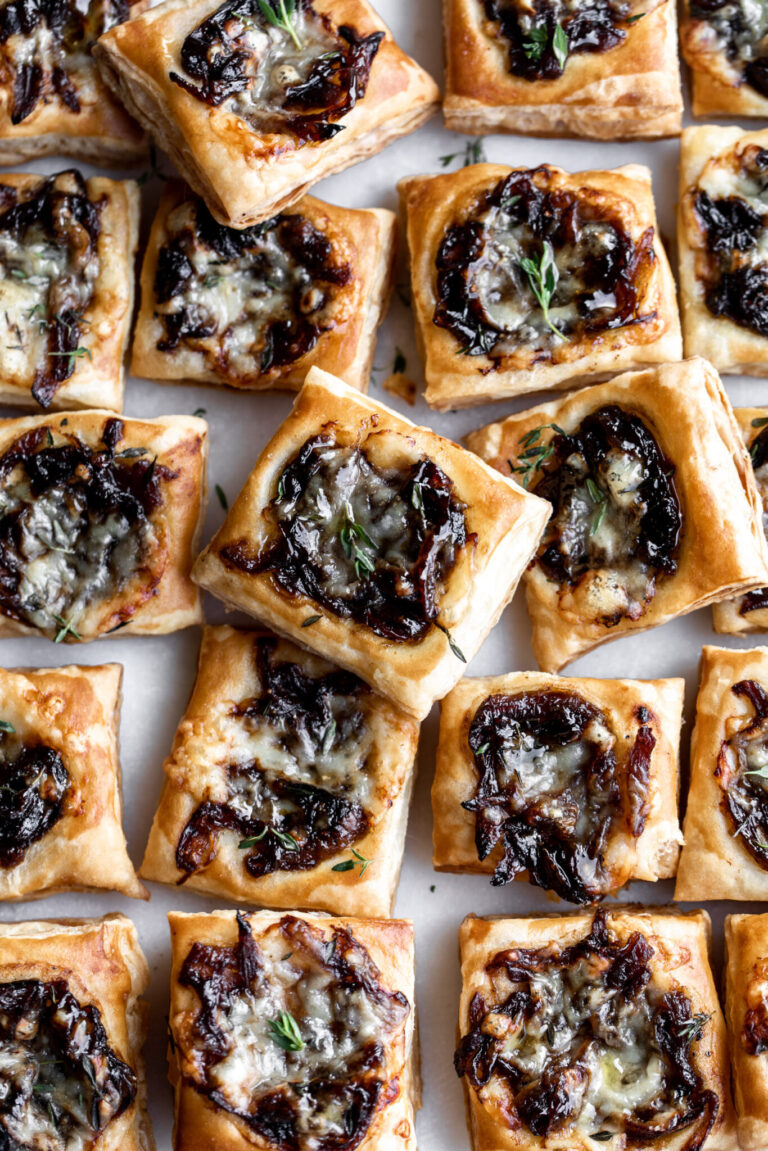 The Main Event
The Turkey
I love this herb brined turkey with classic stuffing. It's a great combination, but it requires a little foresight. If your turkey is frozen, make sure you are thawing it a few days in advance so it's thoroughly thawed by the time you need to roast it. Allow one day in the refrigerator for every 4 to 5 pounds of weight. I brine the turkey the day before. The brine is a combination of salt and herbs – it's brought to a boil, then cooled and the turkey sits in it to infuse the meat with flavor. The only issue is it requires a fair amount of fridge space. If you don't have much space or much time, I recommend my garlic butter spatchcock turkey recipe here.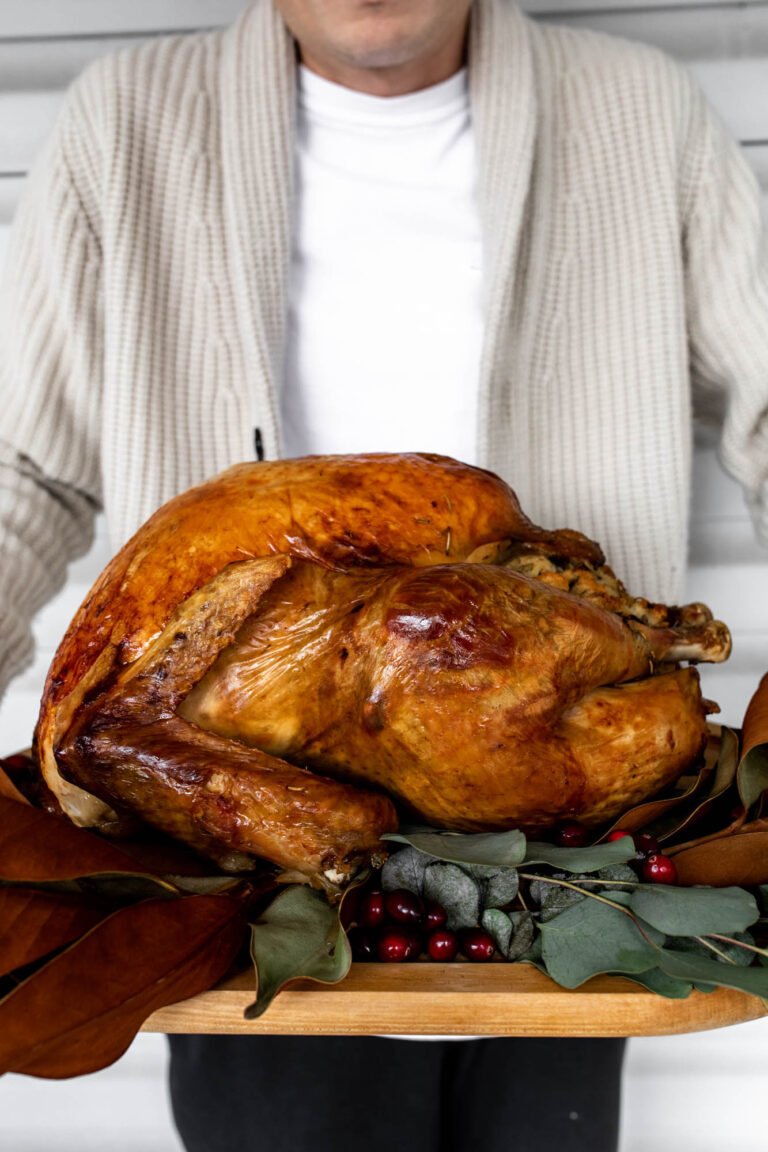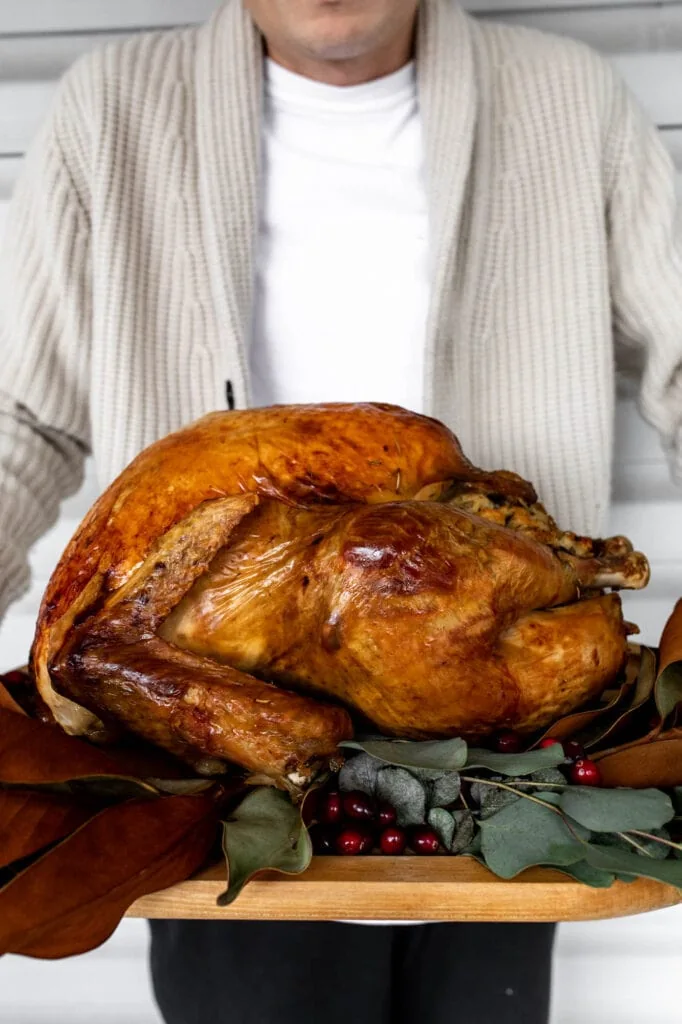 Sides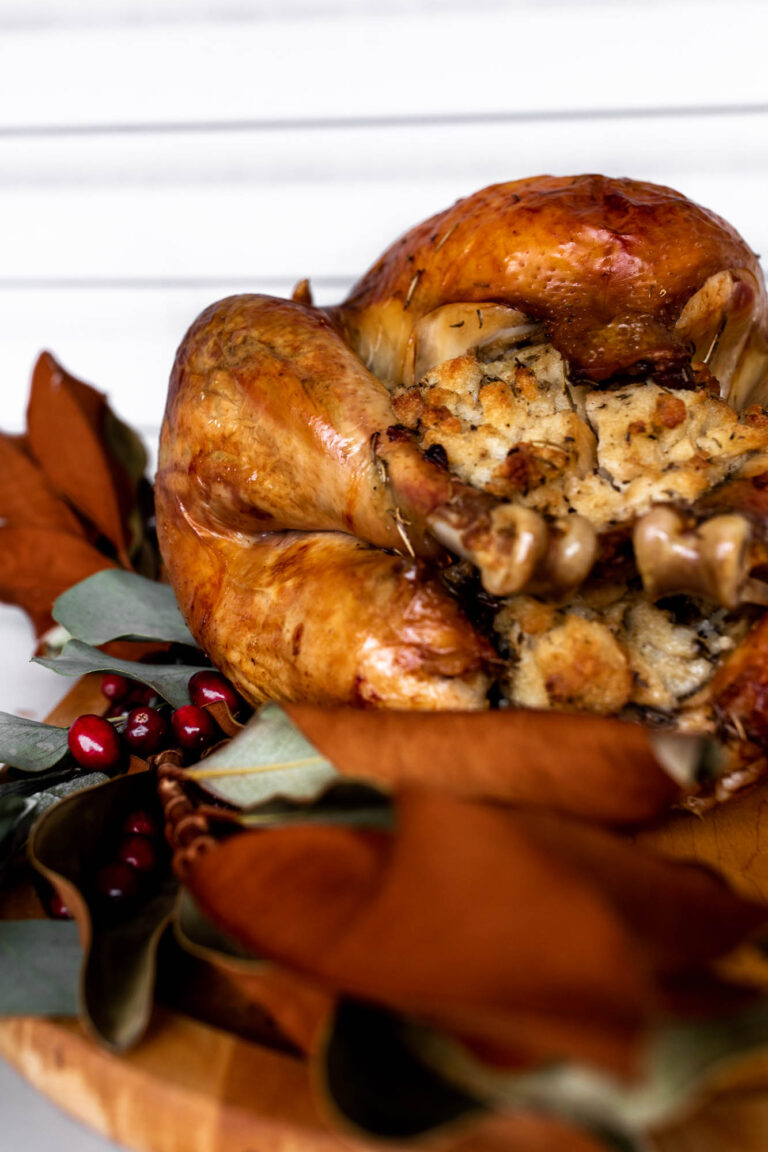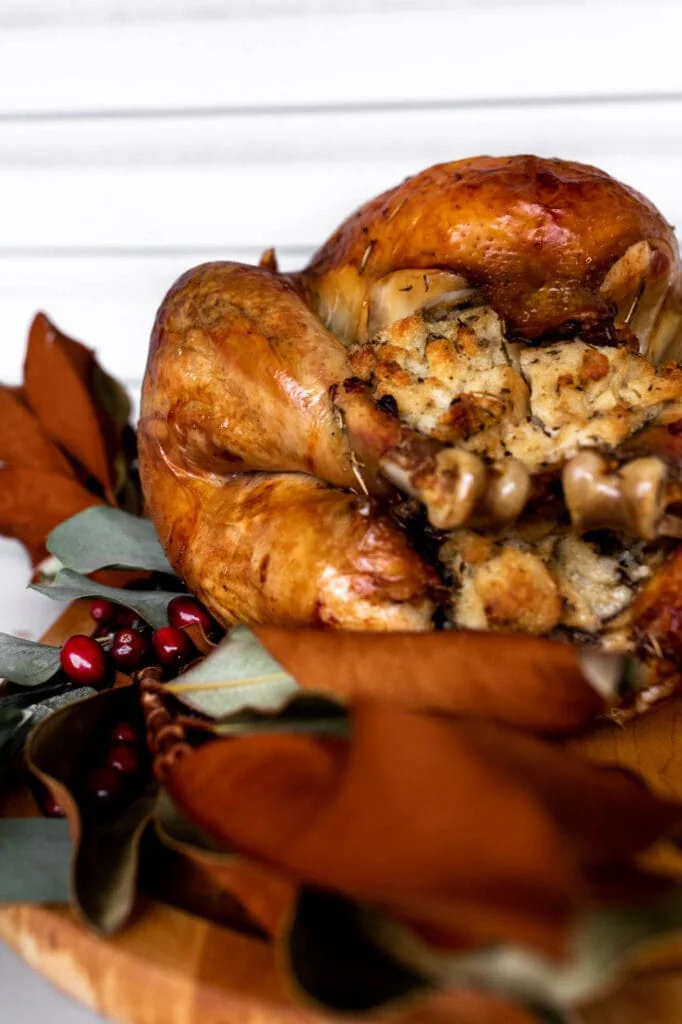 While a hotly debated topic, I like to fill my turkey with part of the stuffing, then add the rest to a baking pan and brown it. I chop the celery and onion for the stuffing a day ahead of time to cut down on the day of kitchen tasks. Rather than using a boxed mix, I use dried leftover bread and a mix of rosemary, thyme, oregano, sage, ginger and marjoram to season the stuffing.
My brother prefers the canned green bean casserole, though I prefer my fresh version made with blanched green beans tossed in a béchamel sauce with sautéed mushrooms and topped with crispy fried shallots. We typically end up with both, however, this year I will only be making my version.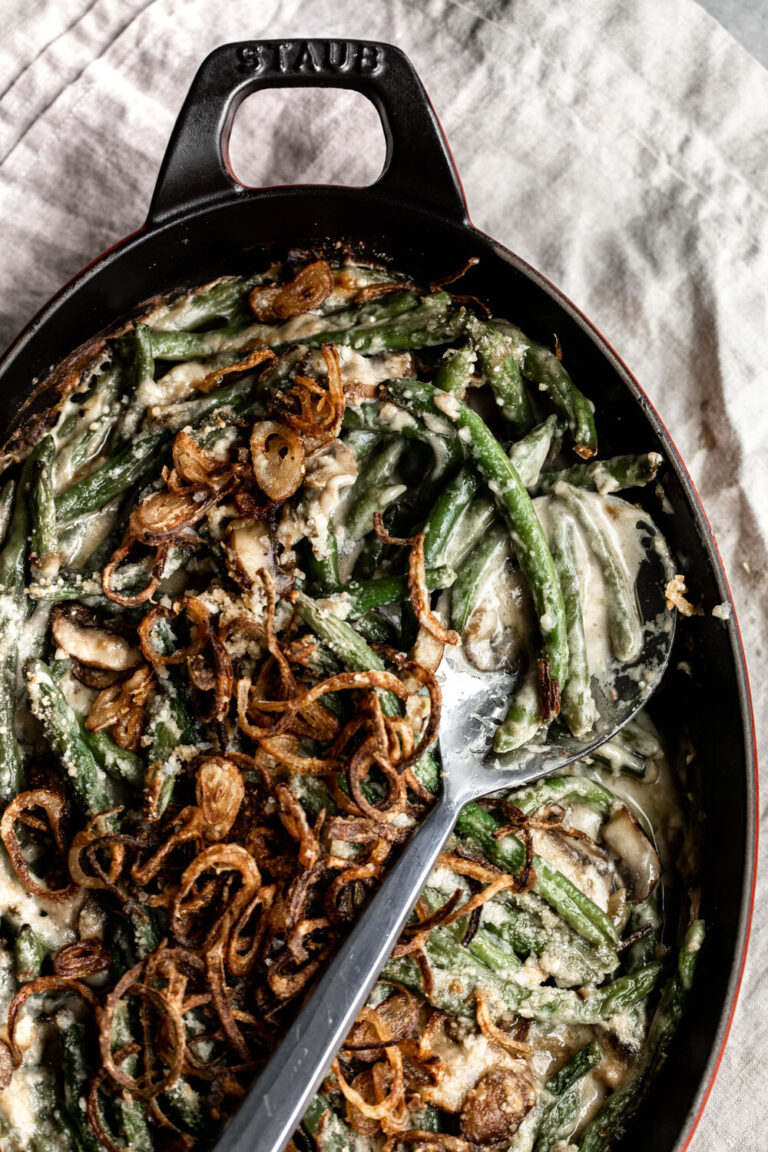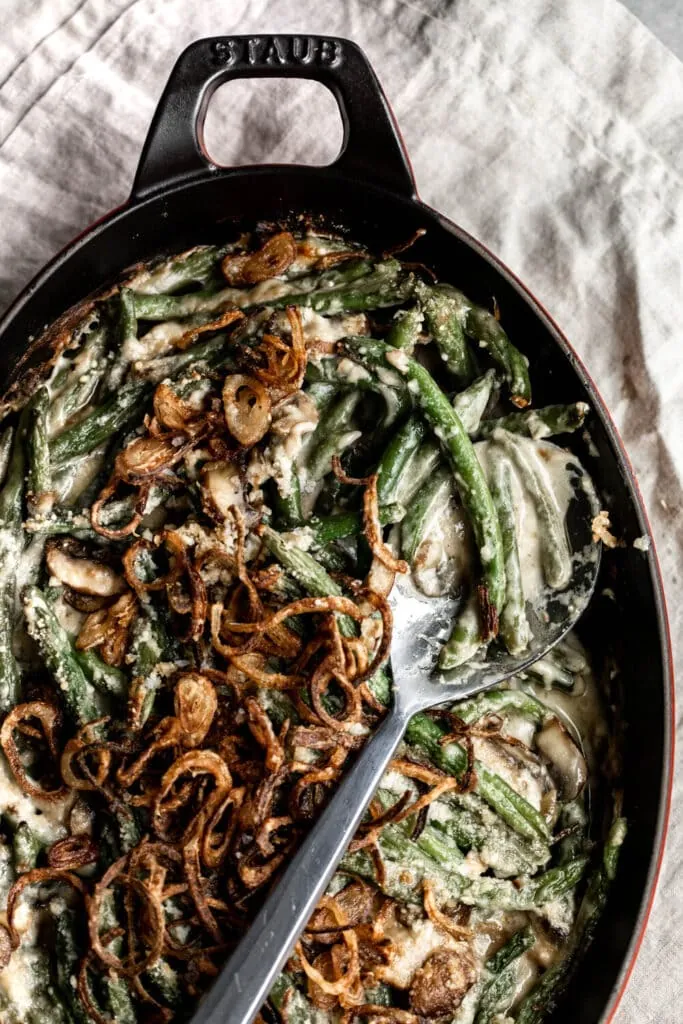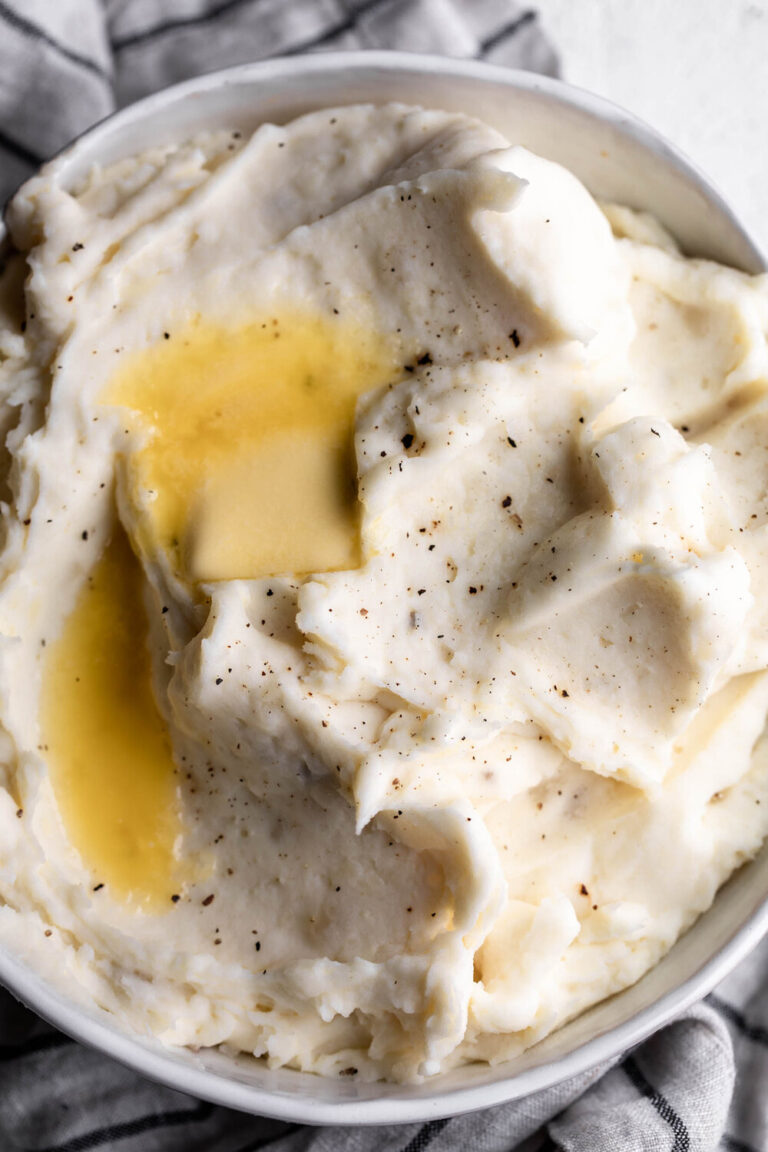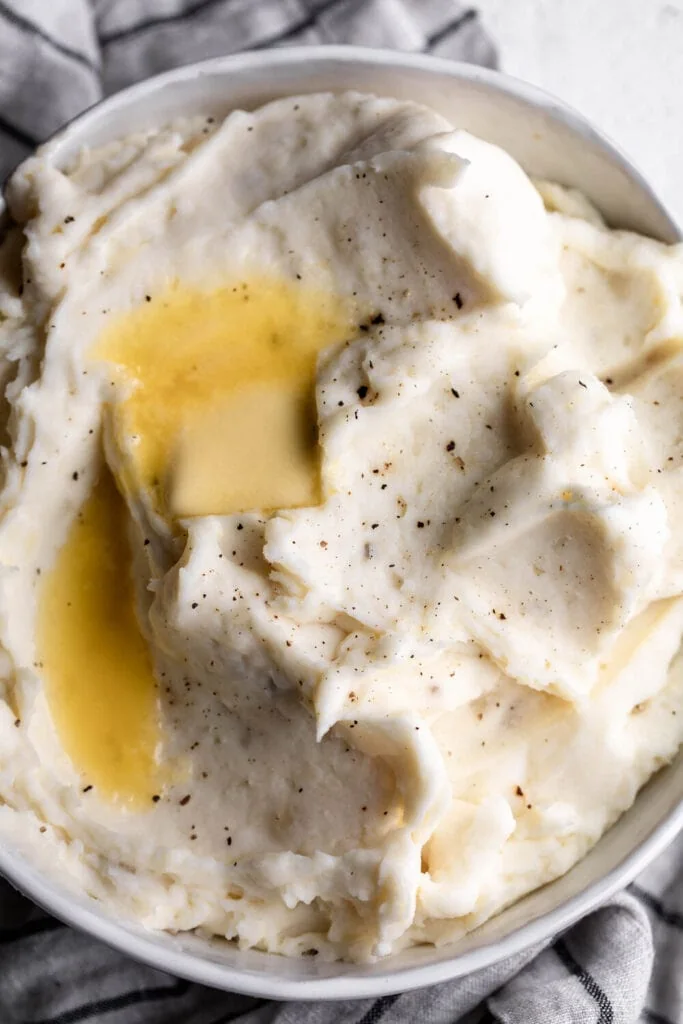 This is my mom's recipe for mashed potatoes and we make it every year – no changes and no additions.
This recipe can easily be prepped in advance to save on oven space. The sweet potatoes are roasted, then whipped in a food processor with butter and honey. I topped the sweet potatoes with walnuts and Gorgonzola cheese for a more unique twist; however, you can opt for marshmallows and bake it casserole style or pecans and brown sugar.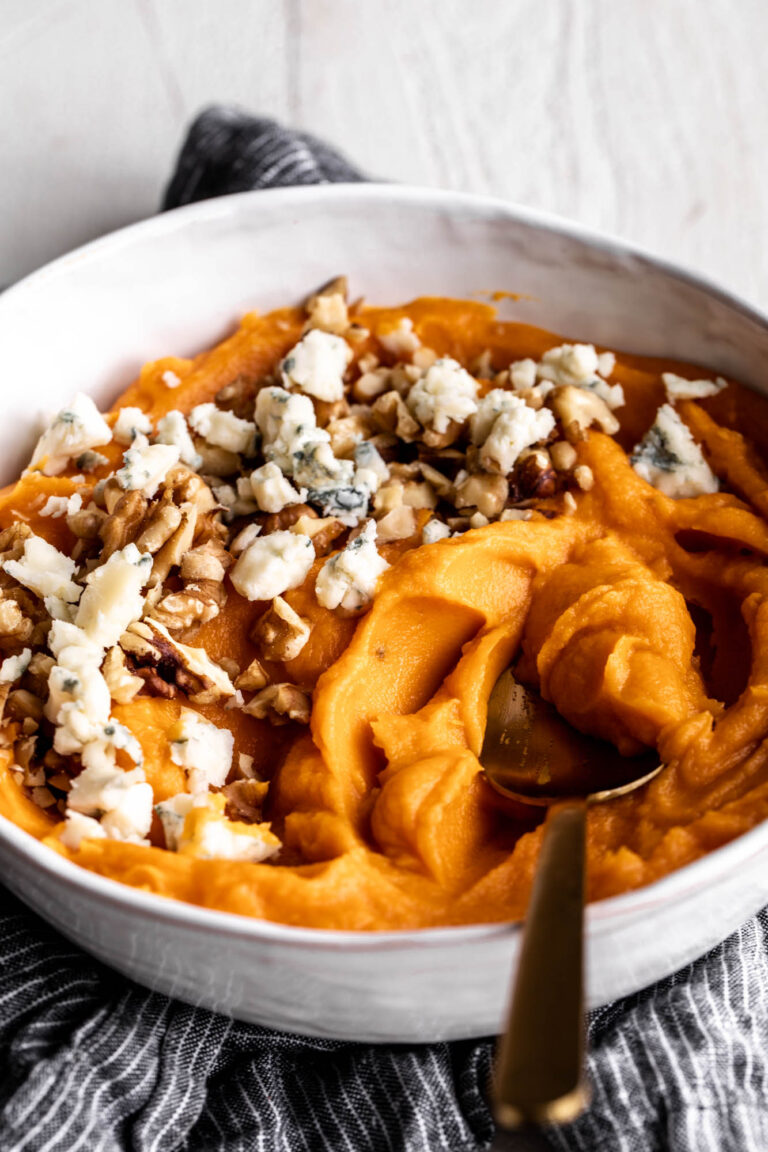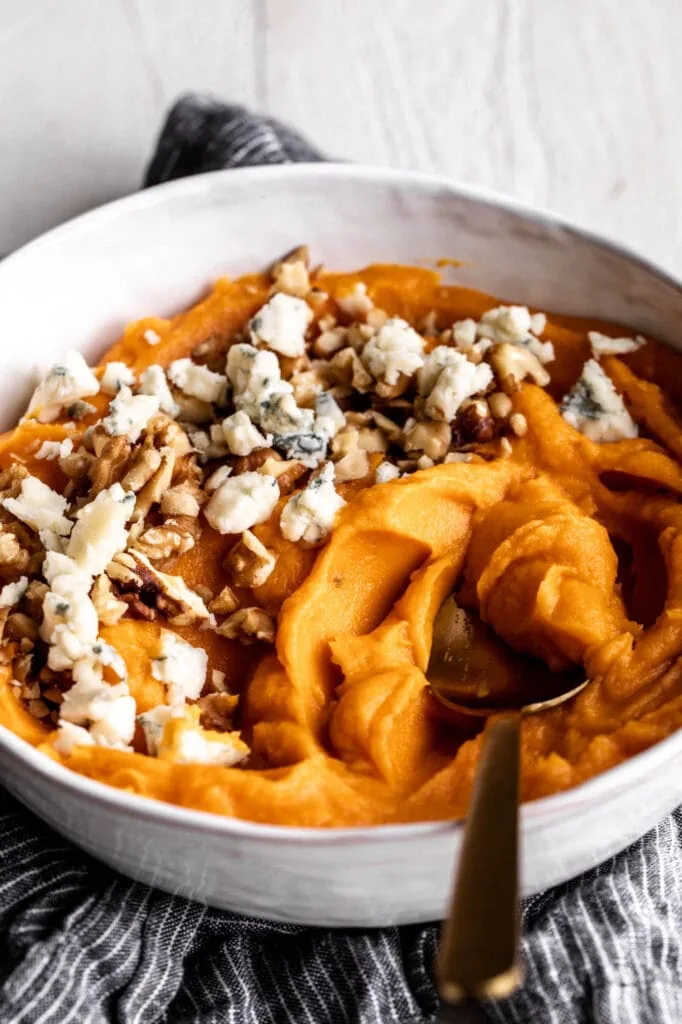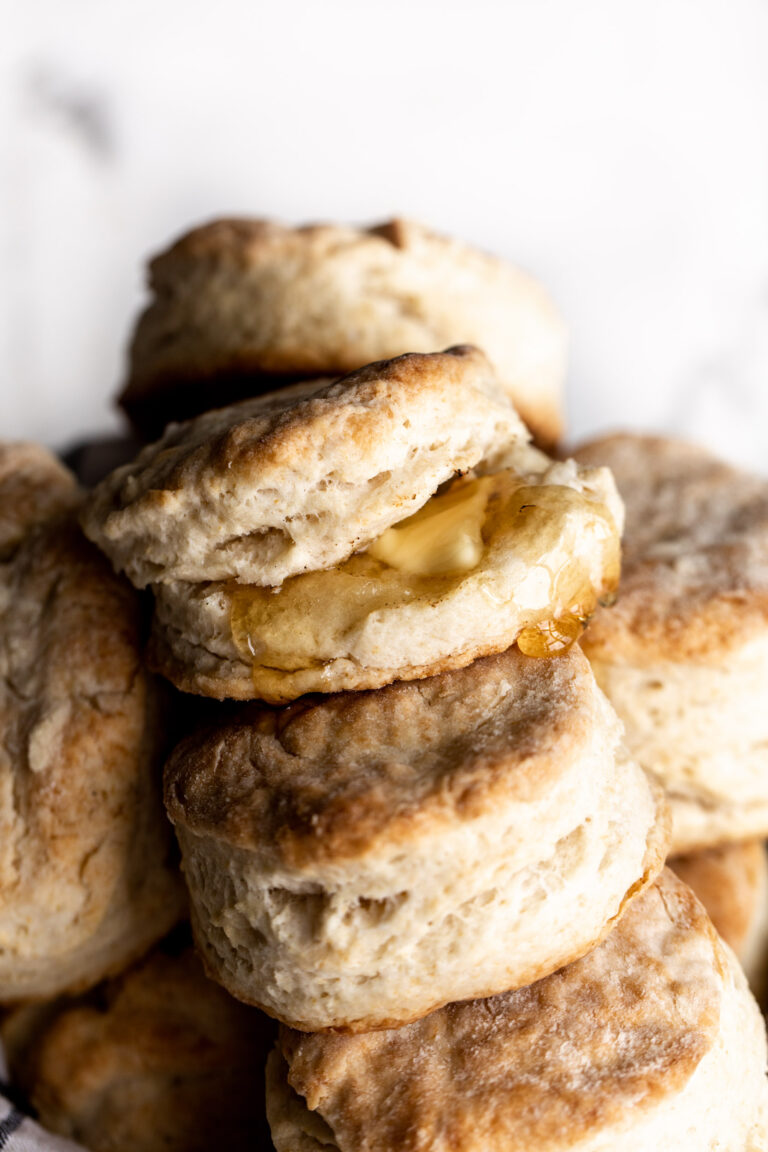 I was torn between making classic buttermilk biscuits or my sweet potato dinner rolls this year. While testing the newest sweet potato roll recipe, I have eaten more than my fair share and have opted for the biscuits as a carb to soak up everything else or use them to make turkey dinner sandwiches.
I love cranberry sauce from a can. It must hold its shape from the can when put into the bowl. I don't make the rules. However, I also do love my homemade orange and red wine cranberry sauce – it's different from the canned version so you will find both on my table this year.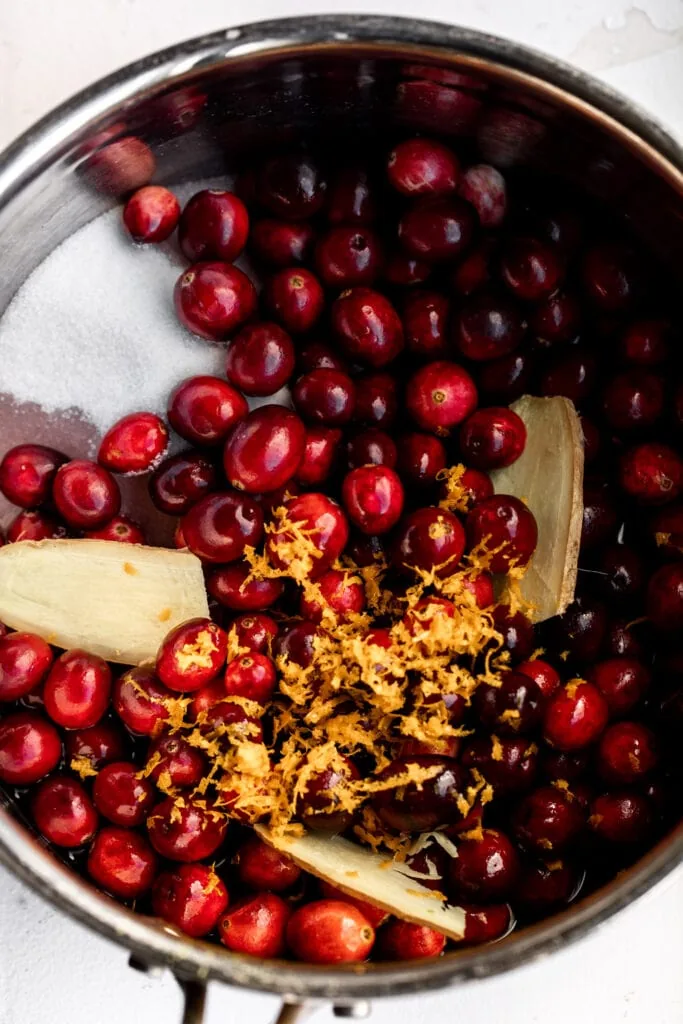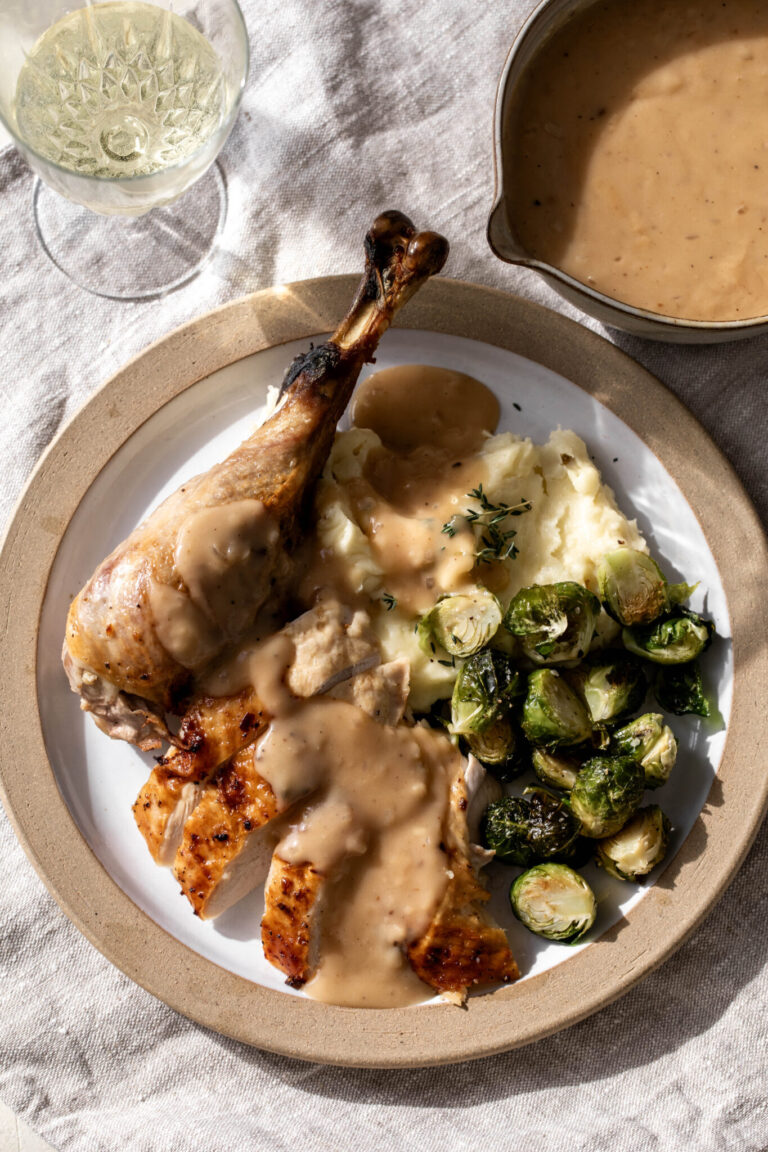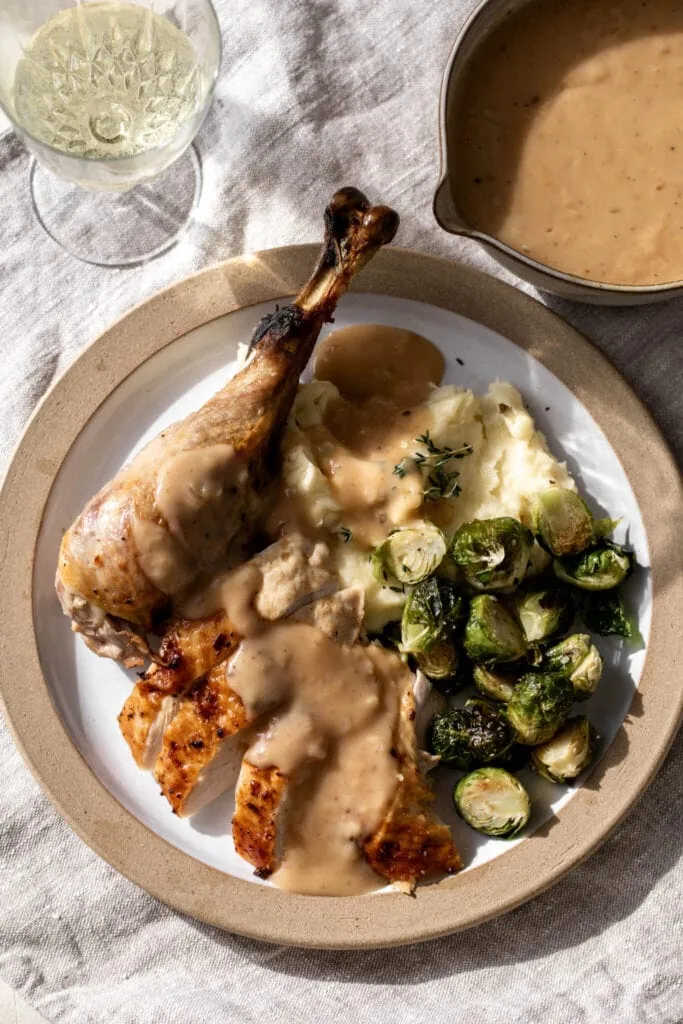 This gravy is made using the turkey pan drippings. The fat rises to the top, and I use that to sauté the shallots and make the base of the sauce. I include white wine for a bright and slightly acidic take that really brings out the flavor of the drippings. I also give instructions on this recipe if you don't have pan drippings! As a sauce queen this is a must.
Dessert
Since I typically make the turkey and sides on the Thanksgiving menu, I assign another guest to bring or make dessert. However, if I am making dessert, then a pumpkin roll with cream cheese frosting is my go-to Thanksgiving dessert.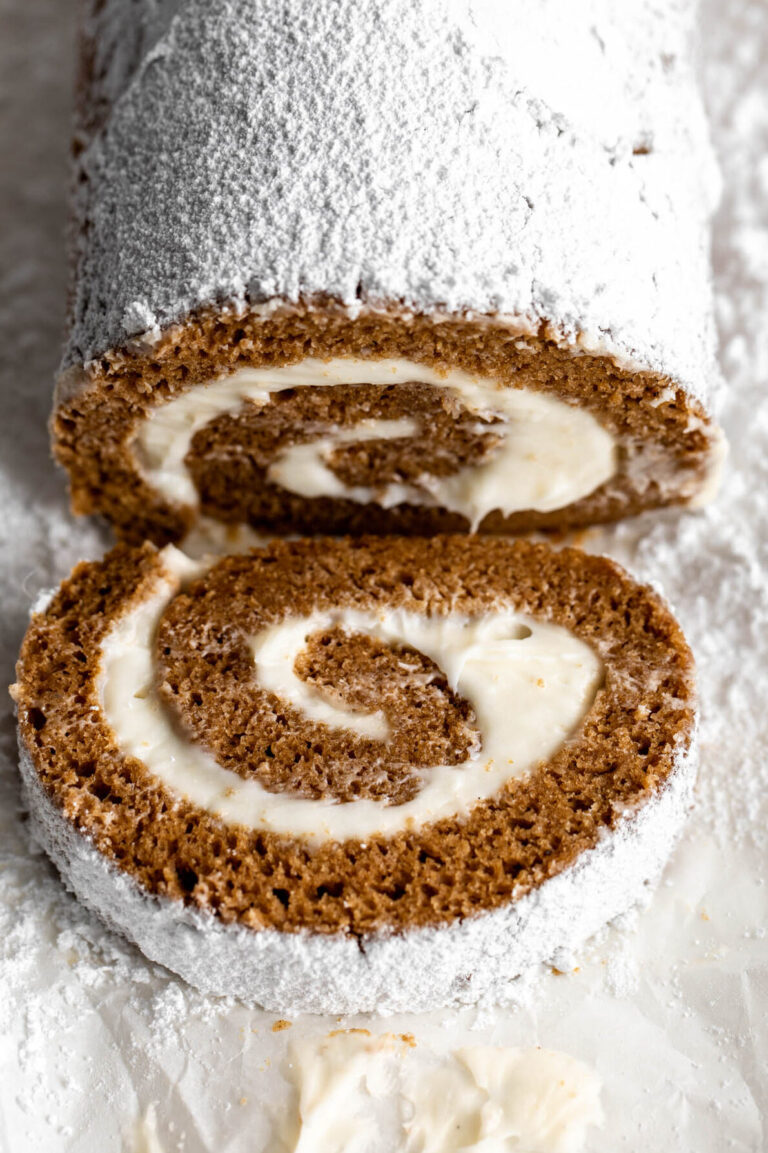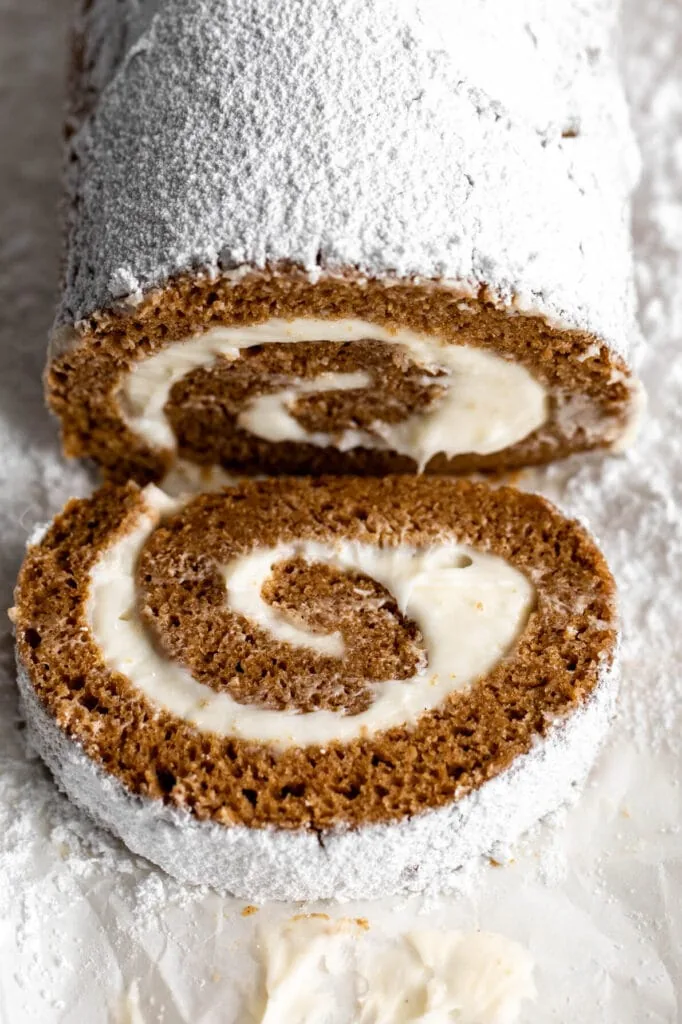 A bonus addition to our dessert is hard sauce. Well, I don't have a typical recipe to link to for this since it's made by my grandmother every year by look and feel. It's a rich topping for pie made from combining powdered sugar and butter. Most recipes use brandy but my family makes it with just butter and powdered sugar. I recommend pairing it on top of pecan, pumpkin or sweet potato pie.
Checklists
Right click and save to download and print my Thanksgiving menu grocery shopping list! I try to get some of the items that will save well (any cranberry sauce, canned pumpkin etc) as far in advance as possible to take some of the mental and financial stress off. I have broken this list up by area of the grocery store (as best as possible) for all items on my above Thanksgiving menu. This list excludes the breakfast, appetizer and dessert portions and only includes the main dinner elements.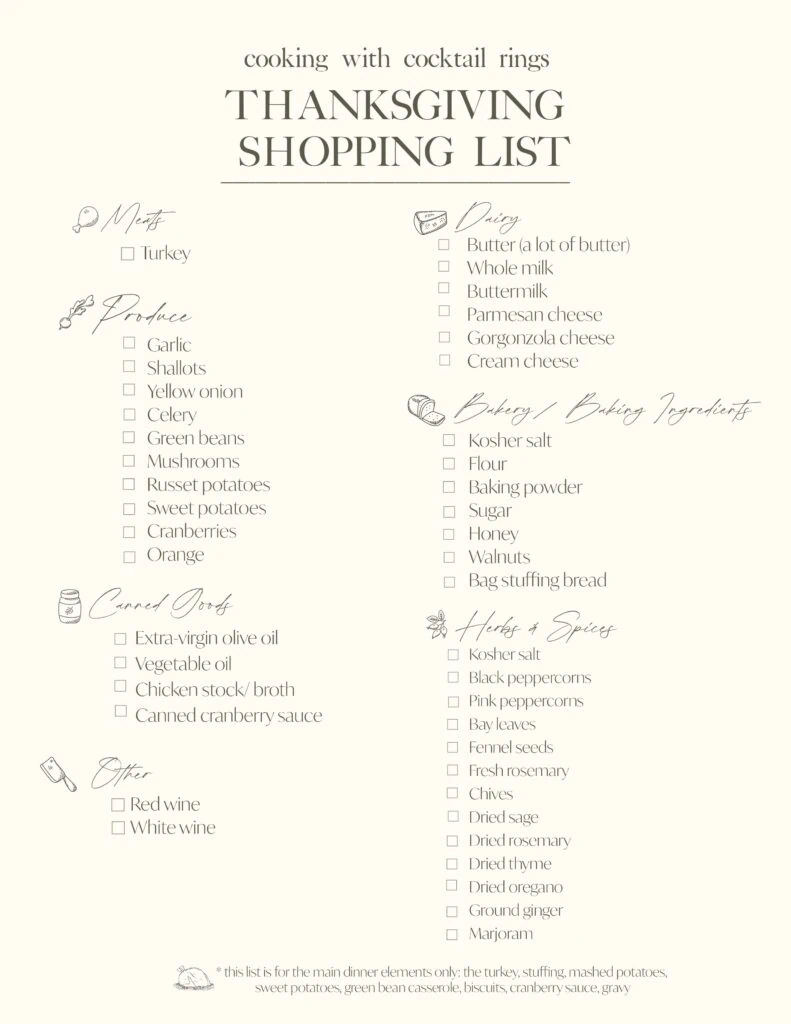 Right click and save to download and print my Thanksgiving tasks checklist below! I try to break up my prep work and cooking between the days to make things easier and to free up oven space as much as possible.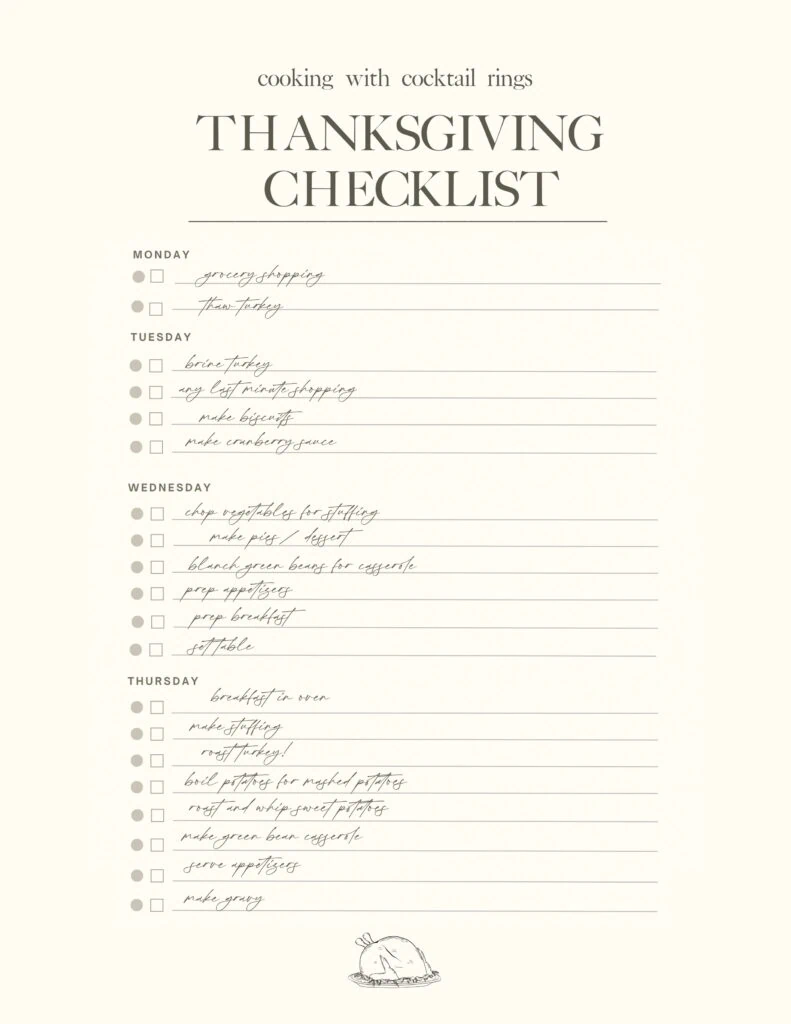 Happy Thanksgiving! I hope everyone celebrates what they are thankful for and follow me on Instagram for more updates.