This list includes some of my favorite Manhattan Chinese restaurants that feature dumplings, dim sum and more. They are mostly found around Chinatown with a few outliers on the Lower East Side. And while they are a few of my personal favorites (and what I would order from them), there are of course so many that I haven't had the opportunity to try yet.
Most of my picks include dim sum or dumplings. But there are a few Chineses restaurants offering other dishes that I particularly enjoy. And to start, I'd recommend picking one or a two off the list and making your own little tour.
Exploring new dishes that you may not be familiar with, and learning more about the various cuisines from provinces around China is a great way to understand, honor and support Asian cultures.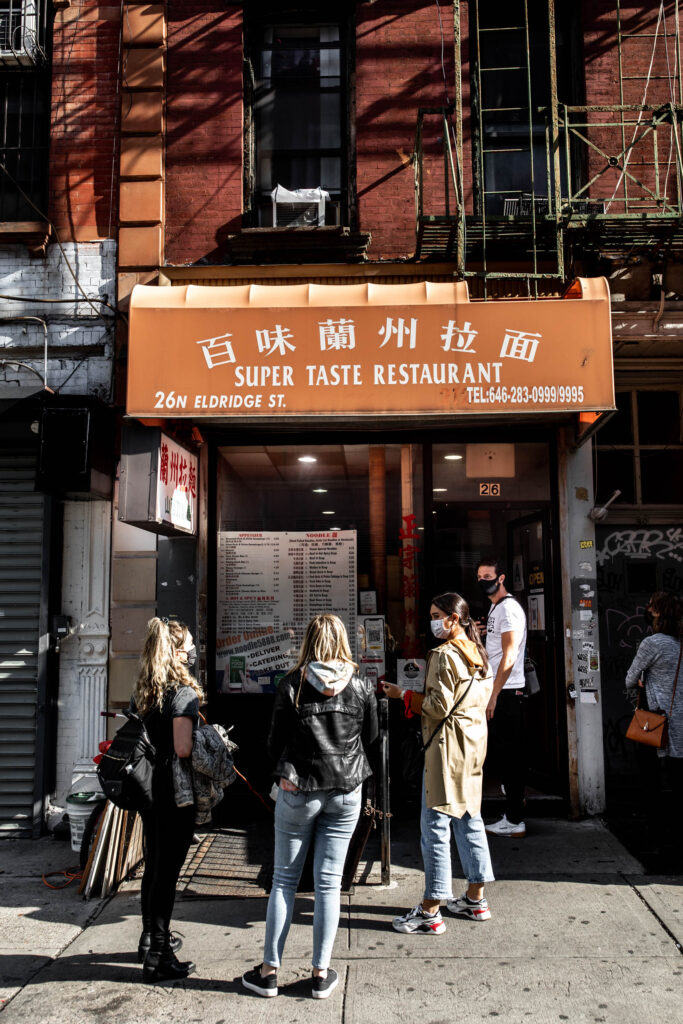 Chinatown, NYC Food Tour
Tips
Bring lots of cash! Many of the small locations on this list are still cash-only.
While I have listed my favorites from each of the stops and tried to pick a variety of dishes, definitely take a look at the menu and try some other foods. Don't be afraid to branch out and try something unique.
Most of the restaurants on this list don't take reservations. So I'd recommend going with a group of four or less.
A lot of places in Chinatown close fairly early in the day so it's best to go around lunchtime.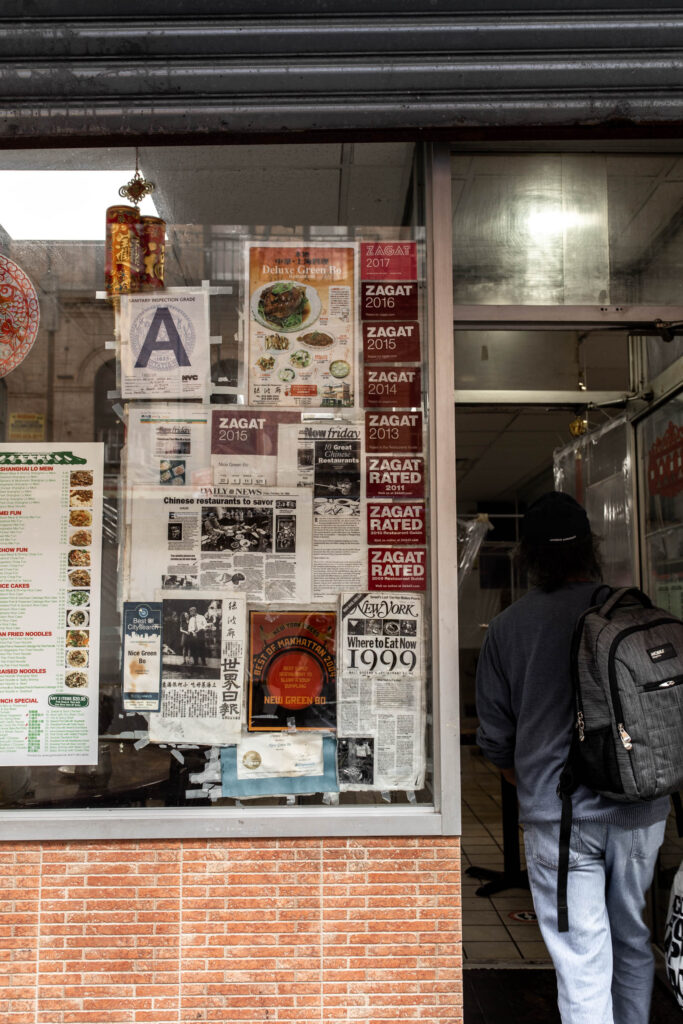 Restaurants
Nom Wah Tea Parlor
13 Doyers St, New York, NY 10013 | nomwahteaparlor.com/chinatown
Nom Wah Tea Parlor is located in a small alley in Chinatown. While there are many places that may do dim sum as well if not better than Nom Wah, its history sets this spot apart. The Doyers Street location is one of the oldest dumpling houses in New York City, open since 1920 when it operated as a tea parlor and bakery. Since COVID they have added outdoor seating and are now taking reservations on Resy. I'd recommend going right around when it opens at 11AM since a line often builds quickly.
While many traditional dim sum houses are categorized by push carts filled with plates of dumplings and pastries, at Nom Wah you order off a checklist menu. I personally love their steamed rice rolls with shrimp – sheets of rice gluten are rolled with small steamed shrimp and served with soy sauce. I also love the rice roll with fried dough where the rice rolls encase airy pieces of fried dough for a unique contrast of textures. The large "original egg roll" has vegetable and chicken filling encased in a thin omelet shell rather than egg roll wrapper, served golden brown and crispy. Back in January 2021 we would go a lot and sit outside. The pork buns warmed us up!
What to order: steamed rice roll, rice roll with fried dough and the "original" egg roll
Dim Sum Go Go
5 E Broadway, New York, NY 10038 | dimsumgogonyc.com
Popular for Cantonese dim sum-style cuisine, Dim Sum Go Go is on Michelin's Bib Gourmand list, meaning it's a good quality and high value meal. If you've never been, I recommend the dim sum sampler. It comes with 10 pieces of their most popular (and colorful) items from shumai to a curry beef dumpling. Their thin skinned shrimp dumplings (har gow) are served wrapped in crystal wrappers and the shrimp balls are deep fried and made with minced shrimp paste. While many other stops close after lunch, Dim Sum Go Go stays open until 9pm so you can go for dinner. Don't forget to order sesame balls for dessert!
What to order: shrimp dumplings (har gow); shrimp balls; dim sum sampler; sesame balls
Xi'an Famous Foods
Multiple locations; Chinatown location 45 Bayard St., New York, NY 10013 | xianfoods.com
Xi'an Famous Foods' original Flushing location skyrocketed to fame (they ship their noodle kits nationwide on Goldbelly now) after it was featured on Anthony Bourdain's show "No Reservations" in 2007. The restaurant, featuring food from the Xi'an provenance of Northwestern China (pronounced shee·aan), now has many locations including one just down the street from Deluxe Green Bo off Bayard Street in Chinatown. I think this cuisine is so interesting because it's characterized by Islamic influences – namely the use of lamb and mutton as a main protein.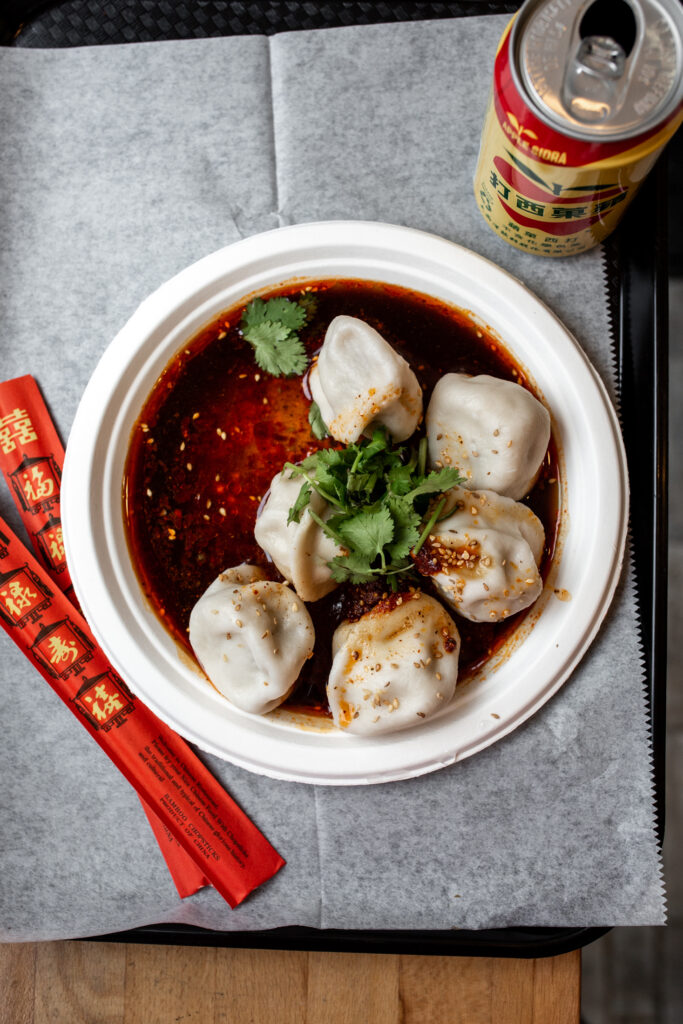 They're most well known for their hand-ripped spicy lamb and cumin noodles with mouth-numbing sichuan peppercorns (they also offer a vegetarian version with spicy hot-oil seared noodles). The wheat noodles are hand-pulled into wide, flat noodles similar to Italian pappardelle noodles. I also love their sour lamb dumplings. The skins are thicker and chewier than many other dumpling styles. And are filled with ground lamb and served in a sour and spicy sauce with black vinegar and chili oil topped with cilantro and sesame seeds.
What to order: sour lamb dumplings; hand-ripped spicy lamb and cumin noodles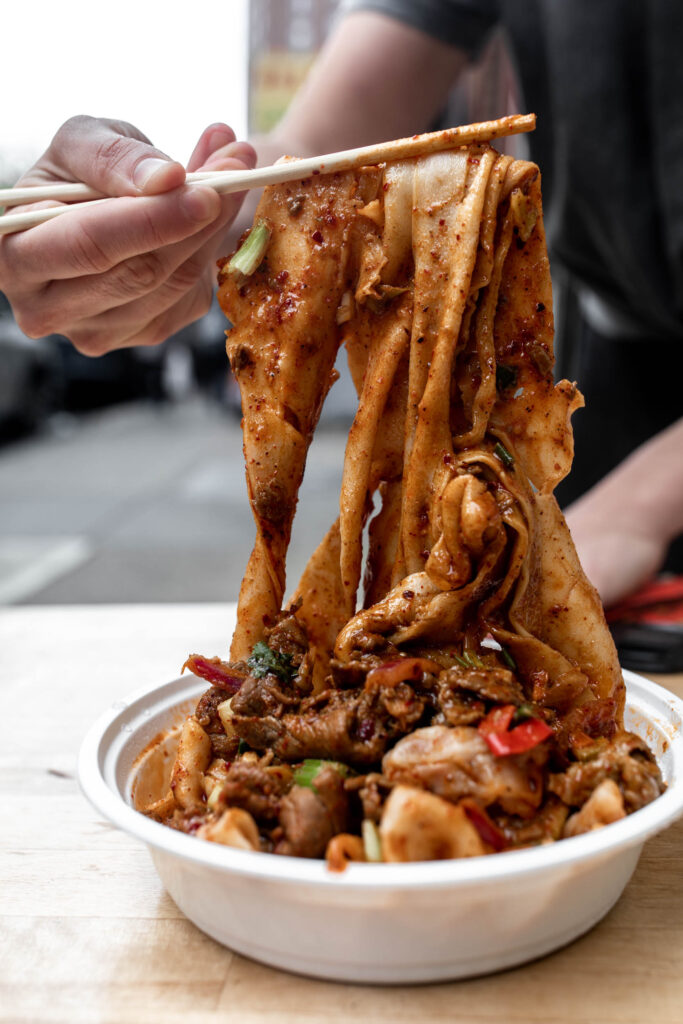 Deluxe Green Bo
66 Bayard St, New York, NY 10013 | deluxegreenbo.com
My friend Emily aka @foodloversdiary introduced me to Deluxe Green Bo on a dumpling tour when I had just moved to New York last October, and since then I have continued to bring every friend and family member who has visited me. It's a seated restaurant with both outdoor and indoor seating but cash only.
The hot and spicy wontons are my favorite thing to order. Boiled wontons filled with pork are tossed in a sweet and savory peanut sauce along with a spicy chili oil. They aren't actually spicy so you can always ask for an additional side of chili oil. Deluxe Green Bo also has the best scallion pancakes. They're not as layered as many recipes but more like a fried dough pancake. They're crispy and delicious and definitely a must order item. I'd also recommend the fried buns with pork – fluffy bao-like buns filled with a juicy pork dumpling filling and pan fried with crispy bottoms, resulting almost in a cross between bao buns and sheng jian bao.
What to order: hot & spicy wontons with peanut sauce and chili oil, fried buns with pork & scallion pancakes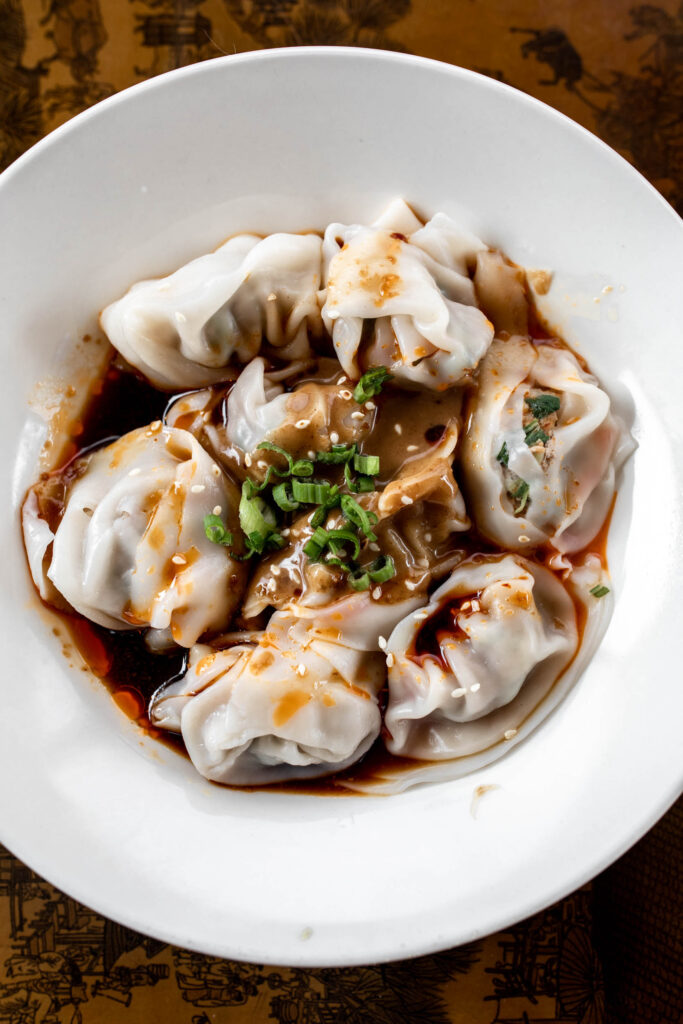 Spicy Village
68 Forsyth St B, New York, NY 10002 | spicyvillagenyc.com
Spicy Village is a small space so it's currently still takeout only, even with relaxed COVID guidelines. Sara D. Roosevelt park is located just across the street with plenty of benches if you want to post up and eat outside rather than taking the Henan fare home. They're most well known for their pancakes – thin crispy dough filled with shredded seasoned beef or pork. I personally prefer the beef but it's worth trying both since they're only $4.35 (another cash only spot). They're also famous for their spicy big tray chicken, or da pan ji with hand pulled noodles, bone-in chunks of chicken stewed in a spicy chili oil sauce filled with chilies, whole cumin seeds and Sichuan peppercorns.
What to order: pancake with beef; big tray chicken with hand pulled noodles
Super Taste
26 Eldridge St, New York, NY 10002 | yelp.com/biz/super-taste-new-york
These fried pork and chive filled dumplings are different from your typical fried dumpling. They seem to be more shallow fried, in a style more like a Mexican taquito with a crispy, crunchy skin. The small inside seating is still closed, so they are set up as a takeout window and are cash only. Located right off Eldridge Street, I like to pick up an order of the fried dumplings (though the Western Chinese hand-pulled mount qi noodles are great too) and walk over and grab beef pancakes from Spicy Village and take it to Sara D. Roosevelt park and eat them picnic style.
What to order: Fried pork & chive dumplings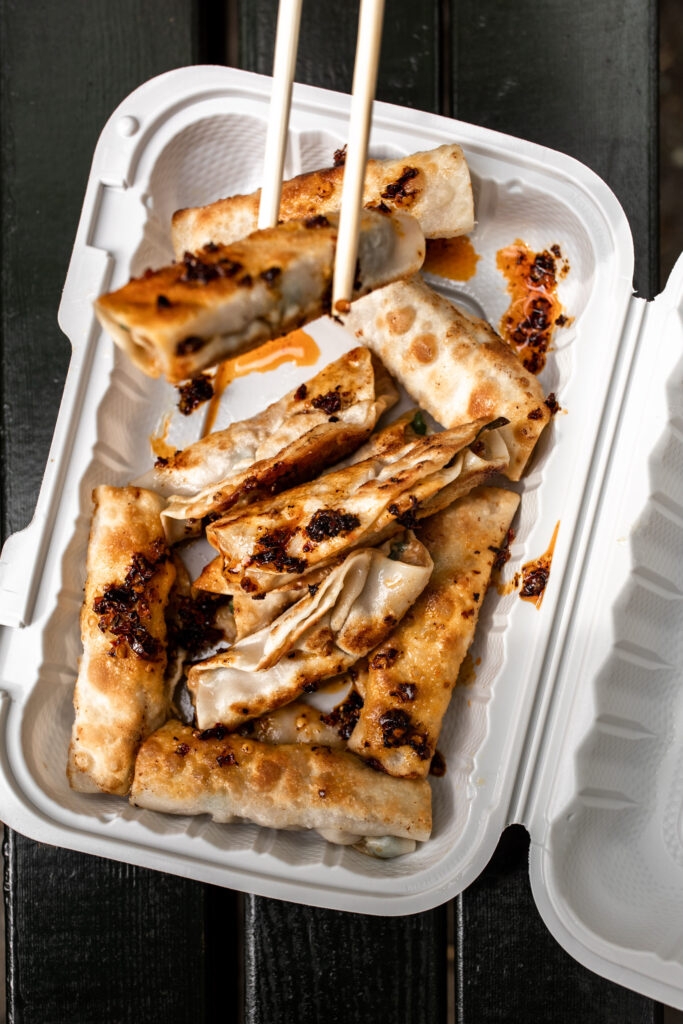 Mei Lai Wah
64 Bayard St, New York, NY 10013 | yelp.com/biz/mei-lai-wah-bakery-new-york
I found this small, cash only spot last Christmas. I was sitting outside eating at Deluxe Green Bo and watched as a consistent long line streamed out of the place next door. After asking a few of those waiting, I found they were there for their traditional baked buns filled with roast BBQ pork (char siu). The buns are fairly large with a pillowy dough and come warm from the oven. While the juicy pork inside is finely chopped in a balanced sweet and savory sauce.
What to order: baked roast pork buns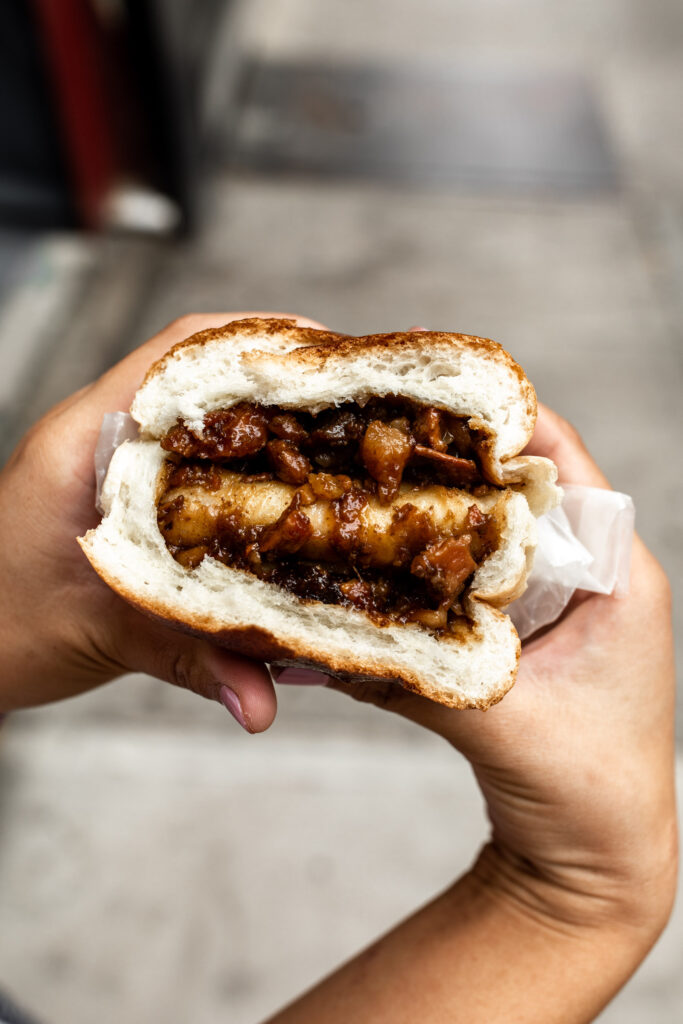 Joe's Shanghai
Multiple locations; Chinatown location 46 Bowery New York, NY 10013 | joeshanghairestaurants.com
Known as one of the top xiao long bao restaurants in the city, Joe's has several locations around New York including a Chinatown location while the first opened in Flushing, Queens in 1995, introducing xiao long bao to the city. Xiao long bao, also known as soup dumplings (or XLB), are probably the most well known dish in Shanghainese cuisine. The dumplings are filled with meat as well as aspic. And feature flavorful gelatinous meat stock that melts as the dumplings steam, creating juicy dumplings with meat and soup. To eat the dumpling without getting the soup all over, carefully lift the dumpling onto a spoon. Then bite into the dumpling and suck the soup out before eating the rest.
What to order: Pork xiao long bao (soup dumplings)
Shu Jiao Fu Zhou
295 Grand St, New York, NY 10002 | shujiaofuzhou.com
While many people enjoy the dumplings at Vanessa's, I'd recommend walking down the block to Shu Jiao Fu Zhuo. This spot specializes in food from Fuzhou, the capital of southeastern China's Fujian province. Order the pork and chive dumplings. Classic boiled dumplings with thicker skins carefully wrapped around the fillings are boiled and served with a sweet soy dipping sauce. While the menu is minimalist, the dumplings are cheap – an order of 10 costs $4 (cash only).
What to order: steamed pork and chive dumplings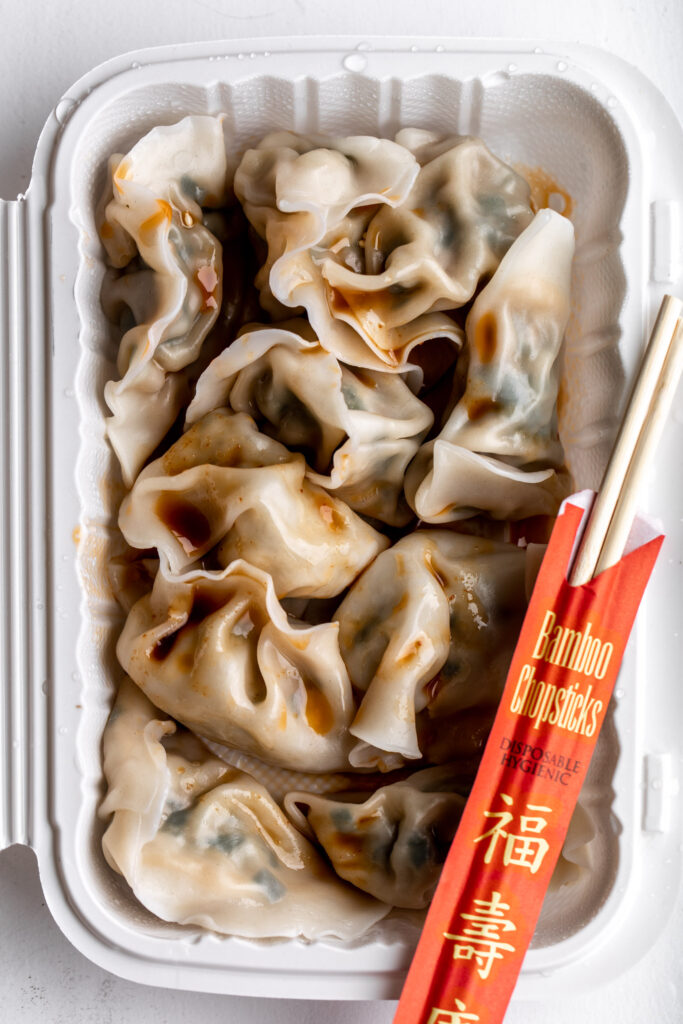 The Bao
13 St Marks Pl, New York, NY 10003 | yelp.com/biz/the-bao-new-york
While most of the other spots on this list are located right in the center of Chinatown, The Bao is just a short walk away – in St. Mark's Place. While the original is in Flushing (it is called Kung Fu Xiao Long Bao), the offshoot is worth the stop because their xiao long bao is so good. These xiao long bao, or soup dumplings have thin, delicate wrappers encasing various fillings with plenty of broth you suck out before eating the dumpling. While their classic pork dumplings and pork and crab filled dumplings are great they also offer a super spicy pork version with plenty of chili. Each order comes with six dumplings. While I typically focus on the XLB, I'd recommend an order of the Sichuan chili fried chicken as well. Small nuggets of fried chicken are tossed almost equally with pieces of Sichuan peppers and green onion.
What to order: Super spicy pork xiao long bao; crab xiao long bao (soup dumplings); Sichuan chili fried chicken