Pad Thai with Shrimp
What is Pad Thai?
Pad Thai (also known as Phat Thai) is one of the most well known Thai dishes, but it is a little known fact that it probably has its roots in China. While there is argument over its origin, it's now served on just about every Thai menu in the United States. It's a delicious noodle dish similar to a stir-fry with flat rice noodles coated in a sweet and sour sauce and served with shrimp (or tofu or chicken) as well as bean sprouts and peanuts.
What kind of noodles should I eat in pad thai?
5mm thick rice noodles are typically used in this dish and can be found in the Asian section of most grocery stores and supermarkets. These "pad thai noodles" are soaked in hot water until tender then drained.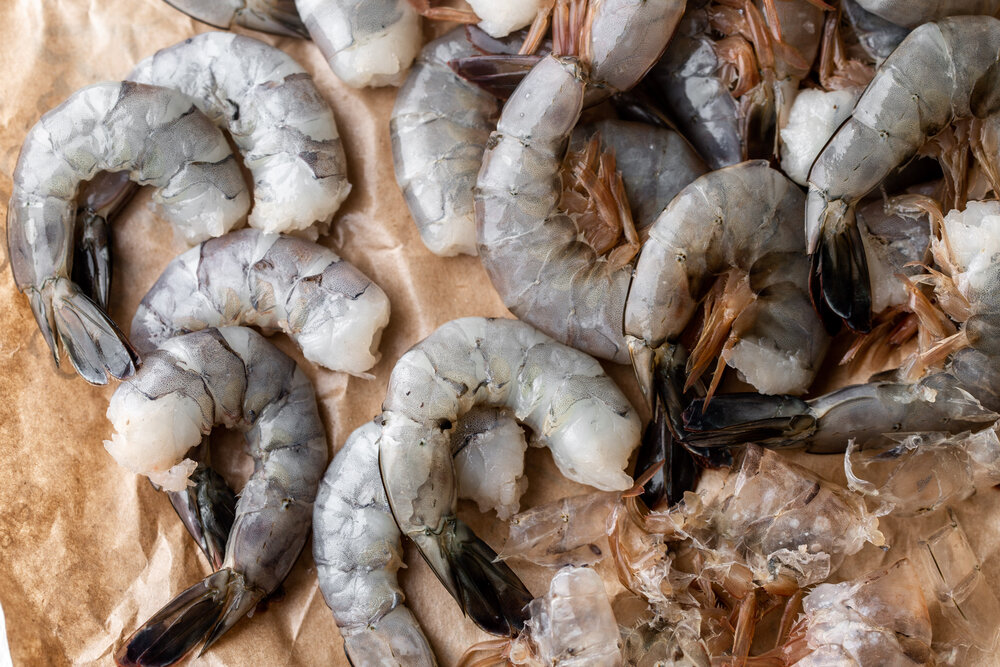 How to eat pad Thai:
Guess what? Most Thai food is actually eaten with a fork and not chopsticks. When in Thailand I was immediately surprised by the lack of chopsticks at the restaurants. Thai culture adopted Western utensils but with a twist; the fork is typically held in the left hand and a spoon in the right so that the fork can be used to push food onto the spoon to eat. It took some getting used to but I got the hang of it by the end of the trip.
One of my favorite Thai restaurants is Cholada, a little beachside shack in Malibu located right off PCH. The shabby-chic location offers a relaxing atmosphere that is perfect for those peeling off wetsuits and ready to eat after an afternoon of surfing. I like to walk over from the Rosenthal winery tasting room a few doors down after some time spent sipping on some local Malibu wine. I usually order some pad Thai as well as the appetizer called "golden bags" – crispy wontons filled with ground chicken and shrimp with a sweet sauce.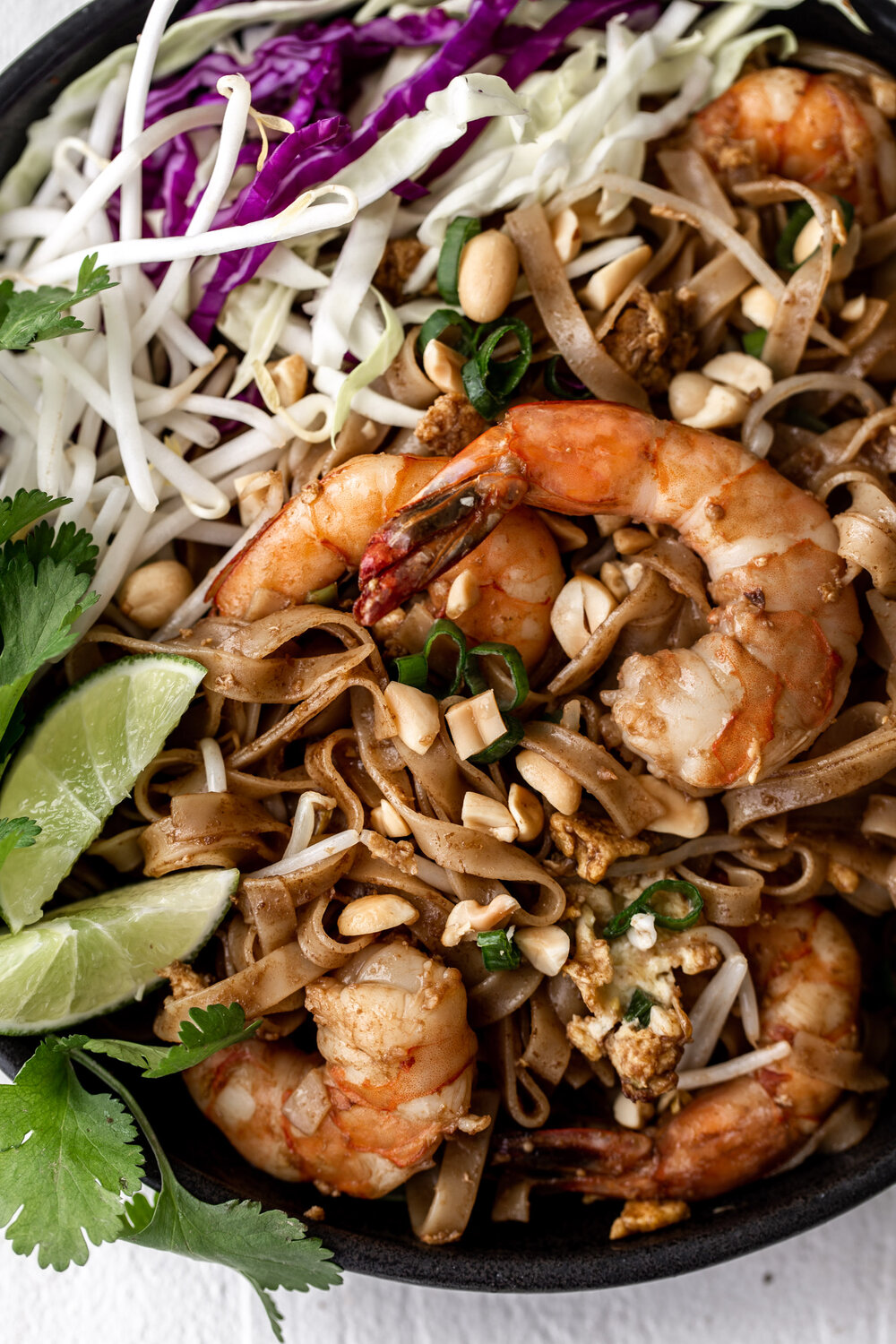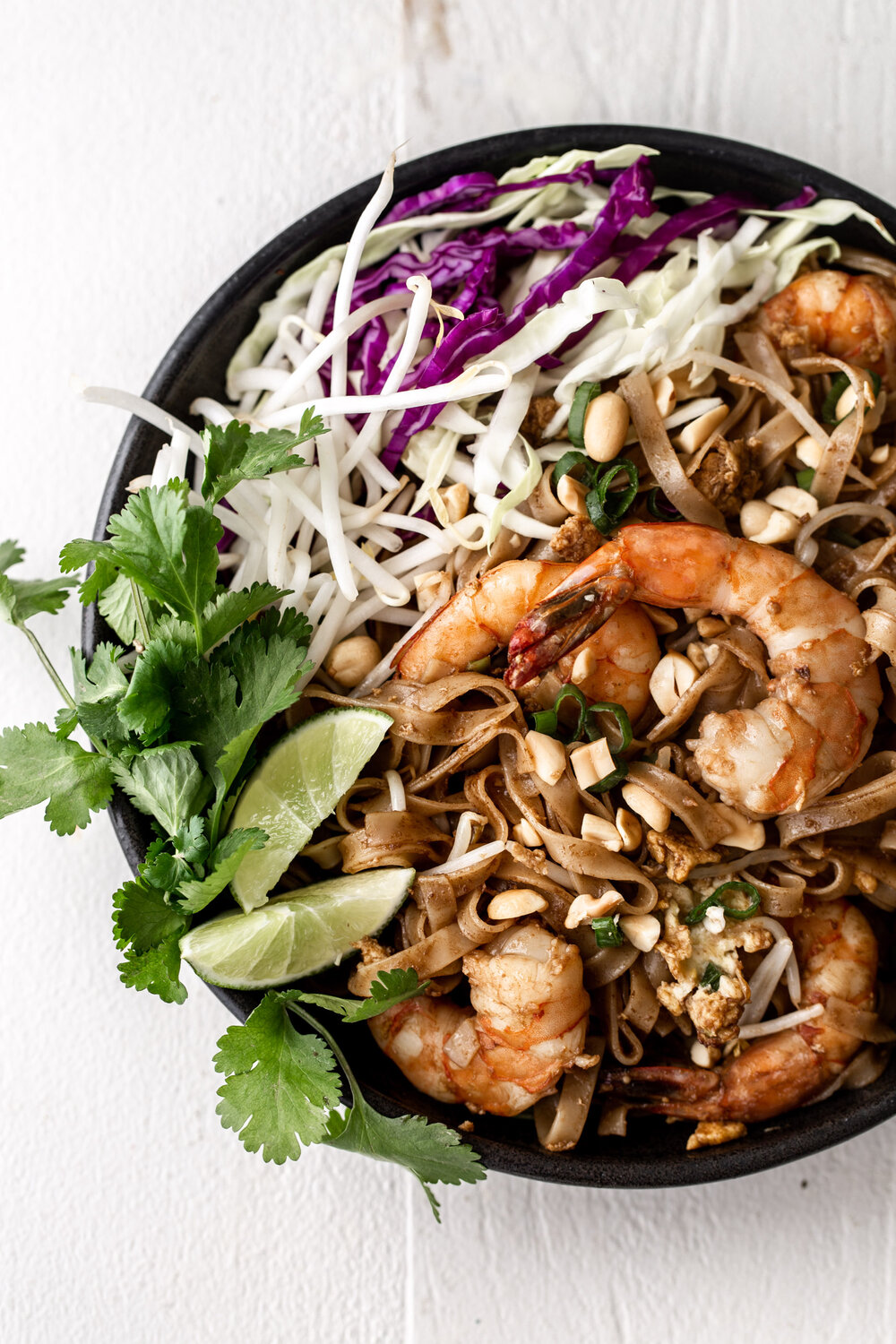 Pad Thai with Shrimp
For the pad Thai:
8

ounces

pad Thai rice noodles

2

tablespoons

tamarind paste*

2

tablespoons

fish sauce

2

tablespoons

honey

1

tablespoon

rice vinegar

1

tablespoon

granulated sugar

3

tablespoons

vegetable oil

4

green onions,

thinly sliced, greens and whites divided

3

cloves

garlic,

chopped

3

eggs

¾

pound

21/30 per pound peeled and deveined shrimp

1

cup

mung bean sprouts
For the pad Thai:
Place the rice noodles in a large bowl filled with hot water and let soak until tender but not mushy, about 5 to 10 minutes. Drain and set aside.

In a small saucepan over medium heat, whisk together tamarind paste, fish sauce, honey, rice vinegar, sugar and 2 tablespoons of water. Bring the mixture to a simmer and let cook for 5 minutes. Remove from heat and set aside.

Heat a wok over high heat, add the oil and heat through. Add the white from the green onions and the garlic, stirring until fragrant, about 30 seconds.

Crack the eggs into the wok and scramble the eggs until they are just set, about 1 minute. Add the shrimp and sauté until just cooked through, about 3 minutes.

Add the noodles to the wok along with the sauce. Toss to combine and continue to let cook until the liquid is absorbed, about an additional 3 minutes. Remove from heat and stir in the remaining green onions and the bean sprouts.
*Note: Tamarind is a tree that produces a pod-like fruit that tastes similar to lime but with more sweet and tart flavor. Tamarind paste can be found at specialty grocery stores and most Whole Foods in the Asian foods section.
DID YOU MAKE THIS?
TAG ME ON INSTAGRAM TO BE FEATURED ON MY STORIES! @cookingwithcocktailrings