Tortellini En Brodo
"En brodo" translates from Italian to English as "in broth". It's a fancier way of stating that this light chicken, veal, beef and vegetable broth is studded with delicate pork and Parmesan cheese-filled tortellini and served topped with a mountain of additional Parmesan cheese.
Enjoy a small bowl as a starter as it's traditionally served, or a large bowl for an entrée.
Instead of making the tortellini by hand, one pound of store-bought tortellini can be substituted as a shortcut. I recommend taking the time to make your own fresh tortellini, as I love to create custom flavorful fillings.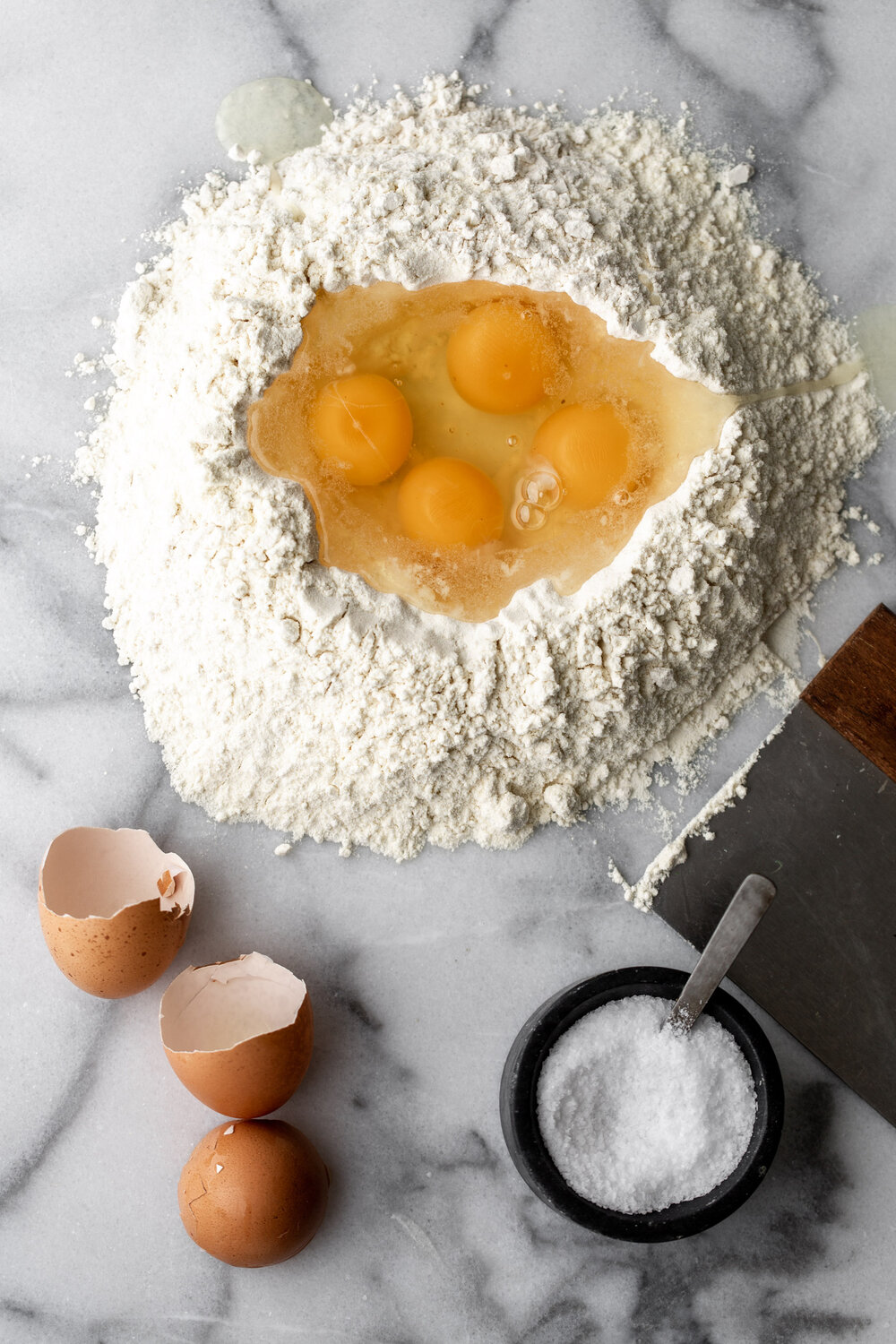 This one reminds me of the cheese and prosciutto filled tortellini my family used to have with alfredo sauce on a weekly basis growing up. A big tortellini tip for success: don't overstuff tortellini or they will rupture when cooked.
The first step is to develop a rich broth simmered over time. I learned how to make stocks and broths from watching Chef Anne Willan. Without a doubt she had a pot of stock simmering on the stove in her large stockpot every day. She would add any bones from meat she had eaten (generally limited to chicken and beef to keep the flavor pure) with any vegetable scraps she had been cooking with so that everything was repurposed, and nothing went to waste.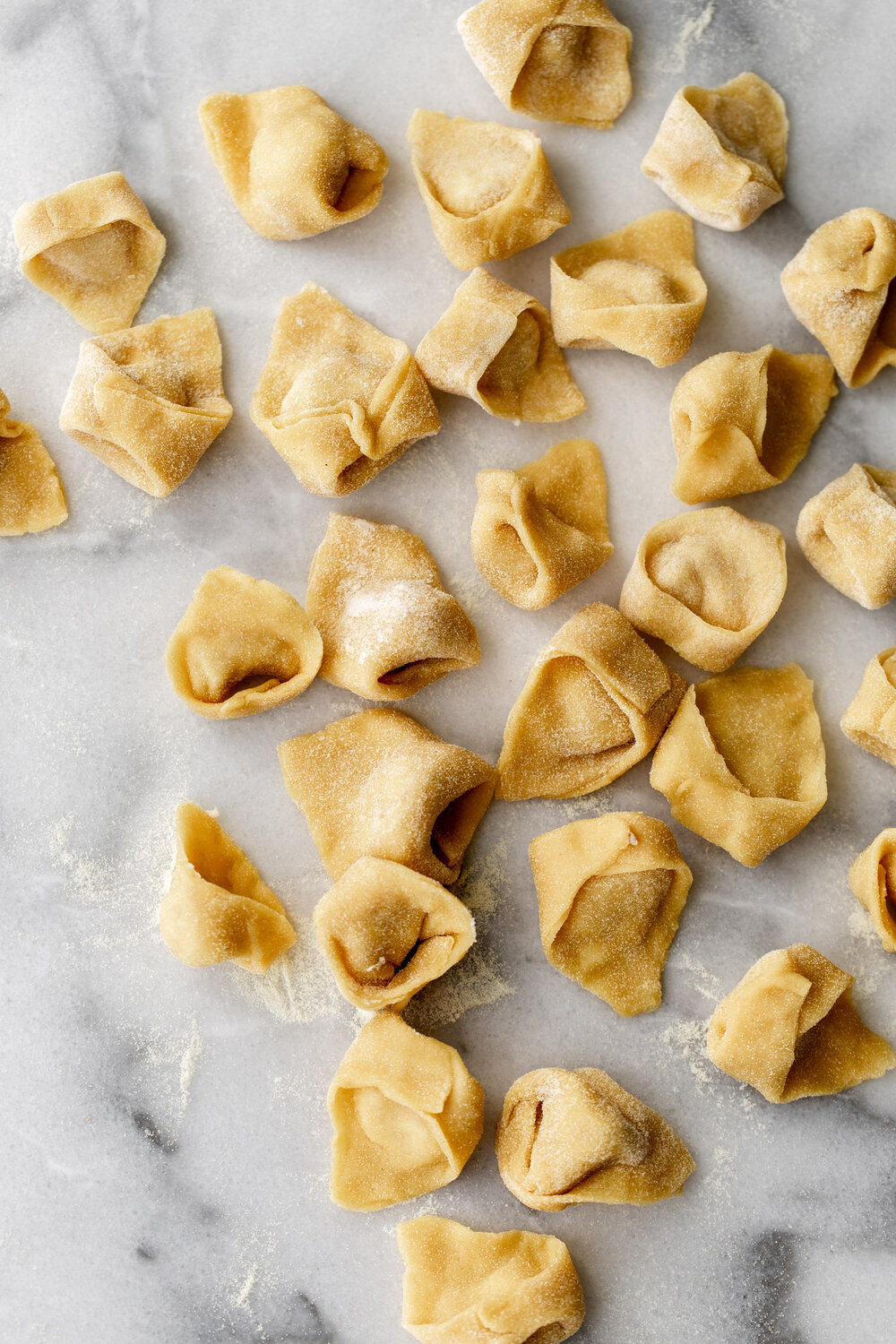 The bones are roasted before they are added to the soup to create a deeper and richer flavor. She would bring the stock to a mere simmer for at least an hour every day, feeding it water as necessary and making sure it was tightly covered overnight.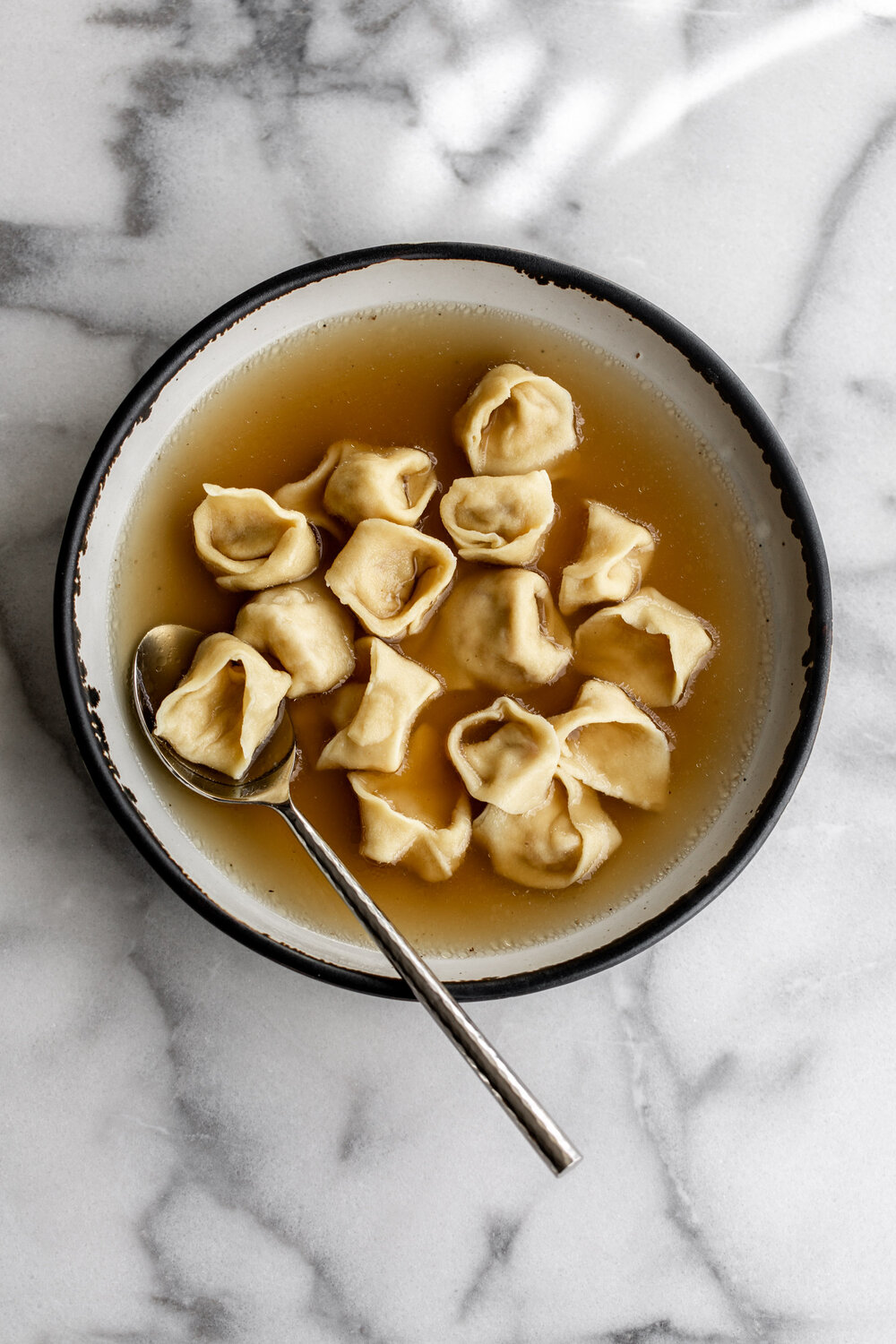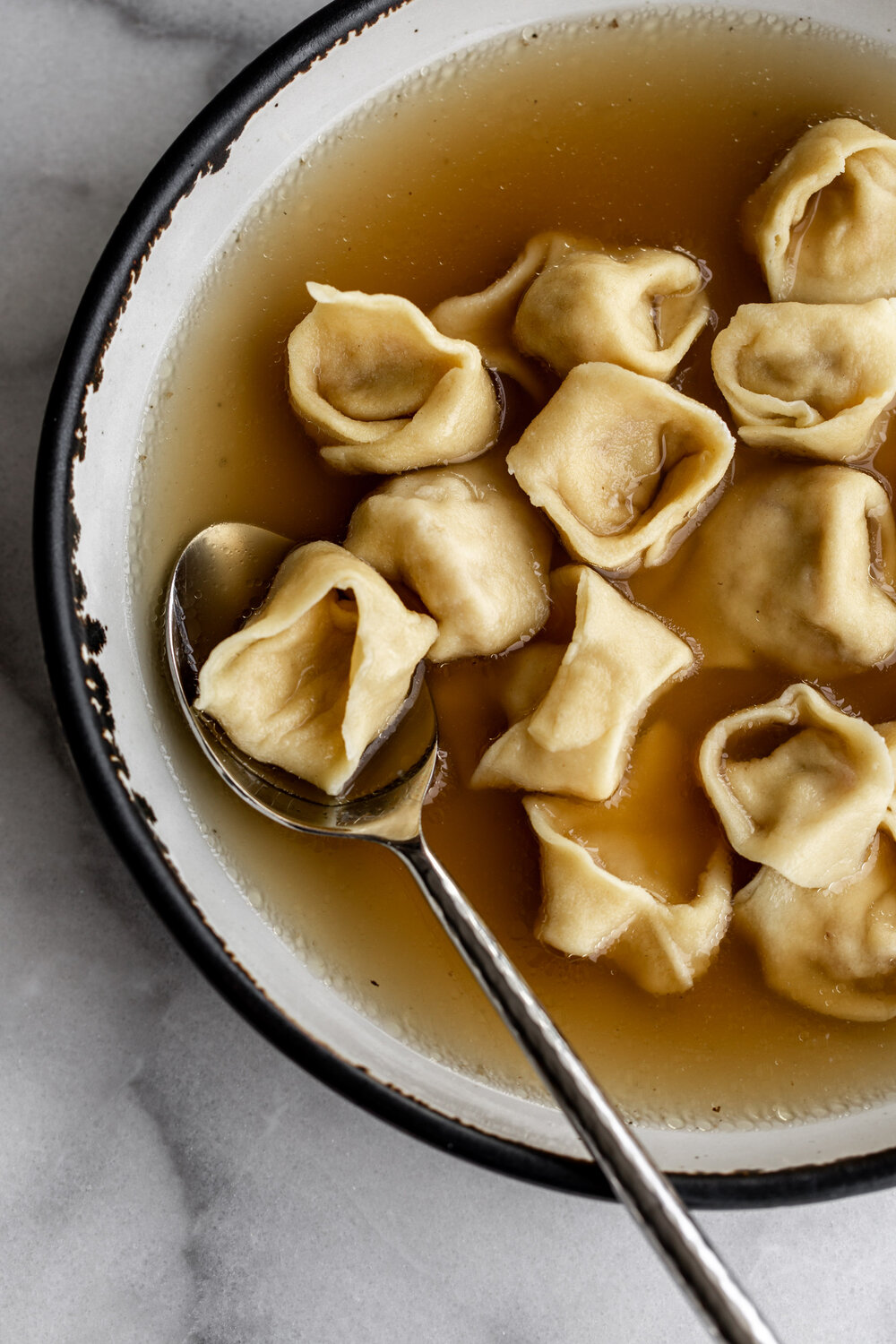 If really short on time, then use stock from a butcher rather than making your own. If you opt to go this route, don't use a canned soup stock – it won't provide the deep, rich flavor that a homemade stock has.
Homemade stock is worth the extra effort, plus any additional stock that is left over can be frozen and used for stocks and broths later on. Just let the stock cool completely and skim any fat off the surface. Add to an airtight container and store refrigerated for up to a week or frozen for up to three months.
Tortellini en Brodo
For the cheese and prosciutto tortellini filling:
2

tablespoons

unsalted butter

¼

pound

pork loin,

cut into 1" cubes

Kosher salt,

as needed

Freshly ground black pepper,

as needed

4

ounces

prosciutto

1

cup

whole milk ricotta

1

egg yolk

¾

cup

grated Parmesan,

plus additional for serving
For the broth:
Preheat oven to 400ºF. Arrange the bones and carrots, celery and onions in an even single layer on a baking sheet. Roast the bones until browned, about 1 hour.

Remove and add the bones and vegetables to a large 7-quart Dutch oven. Cut the chicken into 6 pieces and save the breasts for another use. Add the chicken pieces along with the garlic, Parmesan rind and peppercorns and cover with cold water. Bring the mixture just to a boil over medium heat then lower and simmer, using a spoon to skim off any scum that rises to the surface and discard. Continue to keep at a bare simmer (just a few small bubbles) for about 4 to 5 hours.

Remove the pot from heat. Remove the bones and discard. Strain the broth through a fine mesh strainer into a large bowl, discarding any solids. Transfer the broth to storage containers and refrigerate or freeze until ready to use.
For the pasta dough:
In the mixing bowl of a stand mixer fitted with the dough hook attachment add the flour, semolina flour, salt and olive oil. In a small bowl whisk together the eggs with 2 tablespoons of water. Use your hand to make a well in the flour and add the egg mixture. Turn the mixer on low speed and beat until a dough forms, about 2 minutes.
For the tortellini filling:
Heat a large cast iron pan over medium heat, add the butter and allow to melt. Season the pork all over with salt and pepper then add to the pan and brown the meat on all sides, turning occasionally, about 4 minutes total. Remove to a plate and let cool.

In the bowl of a food processor fitted with the blade attachment, add the cooked pork loin and prosciutto, pulsing until the meat is finely chopped but not puréed. Add to a medium mixing bowl and stir together with the ricotta, egg yolk and parmesan.

Roll out the pasta dough into a thin sheet using a pasta maker (I use the KitchenAid pasta roller attachment set to setting 7). Transfer the dough to a work surface and divide it into two equal balls. Wrap each in plastic wrap and flatten each into a disc. Let stand at room temperature for at least 30 minutes and up to 2 hours.

Cut the sheet into 2" x 2" squares then add ½ teaspoon of filling into the center of each square. Bring the opposite corners of the square together to form a triangle and use your fingers to seal the sides shut, making sure to remove any air pockets. Bring the two bottom corners of the triangle together so they are slightly overlapping at the front of the tortellini and press together to seal. Place the tortellini on a lightly floured baking sheet and cover with plastic wrap as you work so they don't dry out. Repeat with the remaining sheets of pasta and filling.

For serving:

Bring the broth to a simmer over medium-low heat. Divide among serving bowls.

Bring a large pot of water to a boil over medium heat. Add the tortellini and cook until they float to the top and are tender but al dente, about 2 to 3 minutes. Ladle the tortellini into the bowls with the broth and serve immediately topped with freshly grated Parmesan cheese.
DID YOU MAKE THIS?
TAG ME ON INSTAGRAM TO BE FEATURED ON MY STORIES! @cookingwithcocktailrings