My version is a bit deeper in color and richer in flavor than most versions, stemming from a roux cooked until it's deep golden brown.
This is the perfect soup to make if you've recently roasted a whole chicken. The goal is light and fluffy dumplings that still hold their shape in the broth and don't get gummy or fall apart.
If you have chicken fat (schmaltz) to use in the dumplings, I'd recommend it, as it adds great flavor but butter works just as well. Homemade chicken stock is best for this recipe though store bought works as well.
I prefer homemade since it has a deeper flavor and you can control the salt content better. Using homemade will also result in a bit deeper color of soup than traditionally served.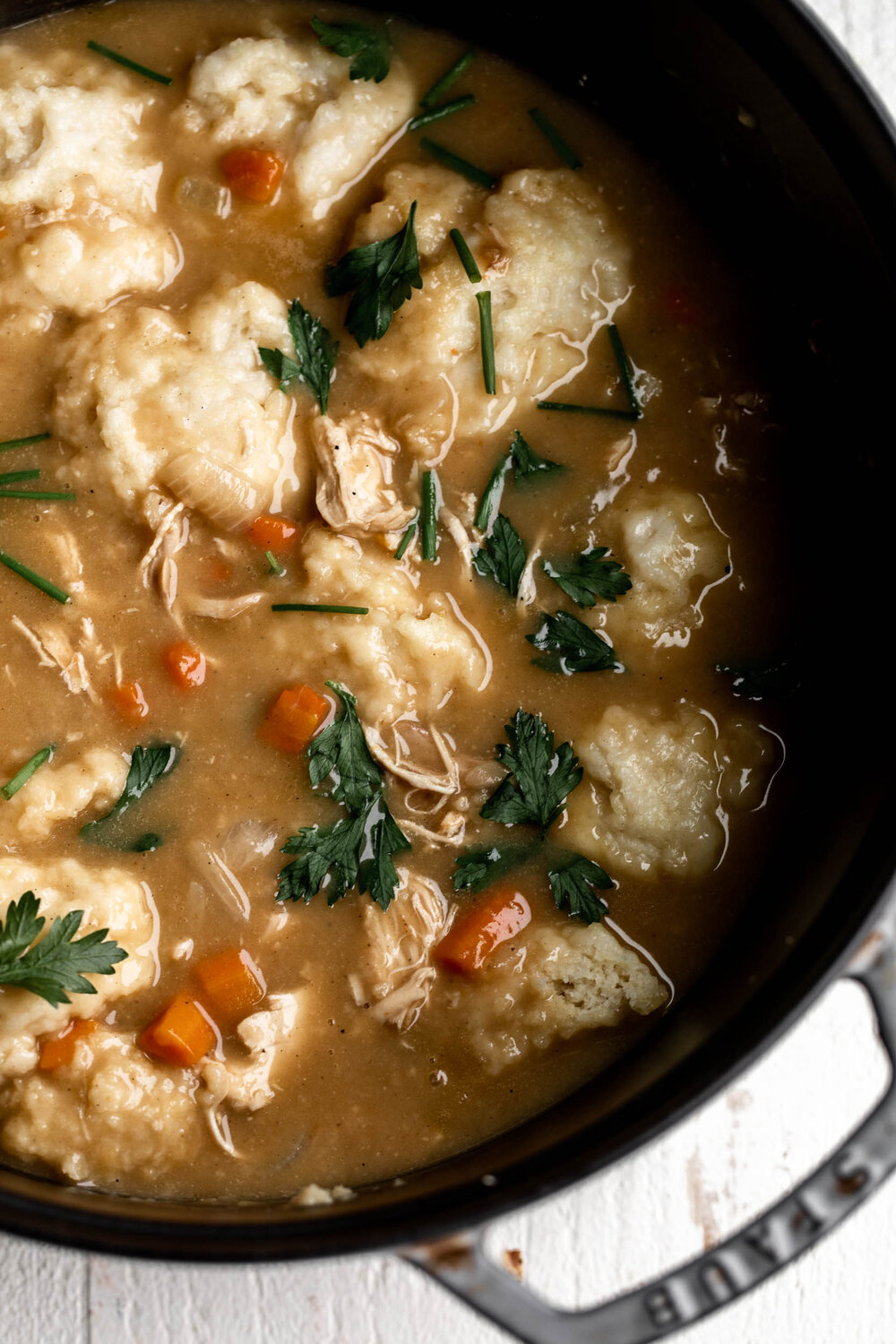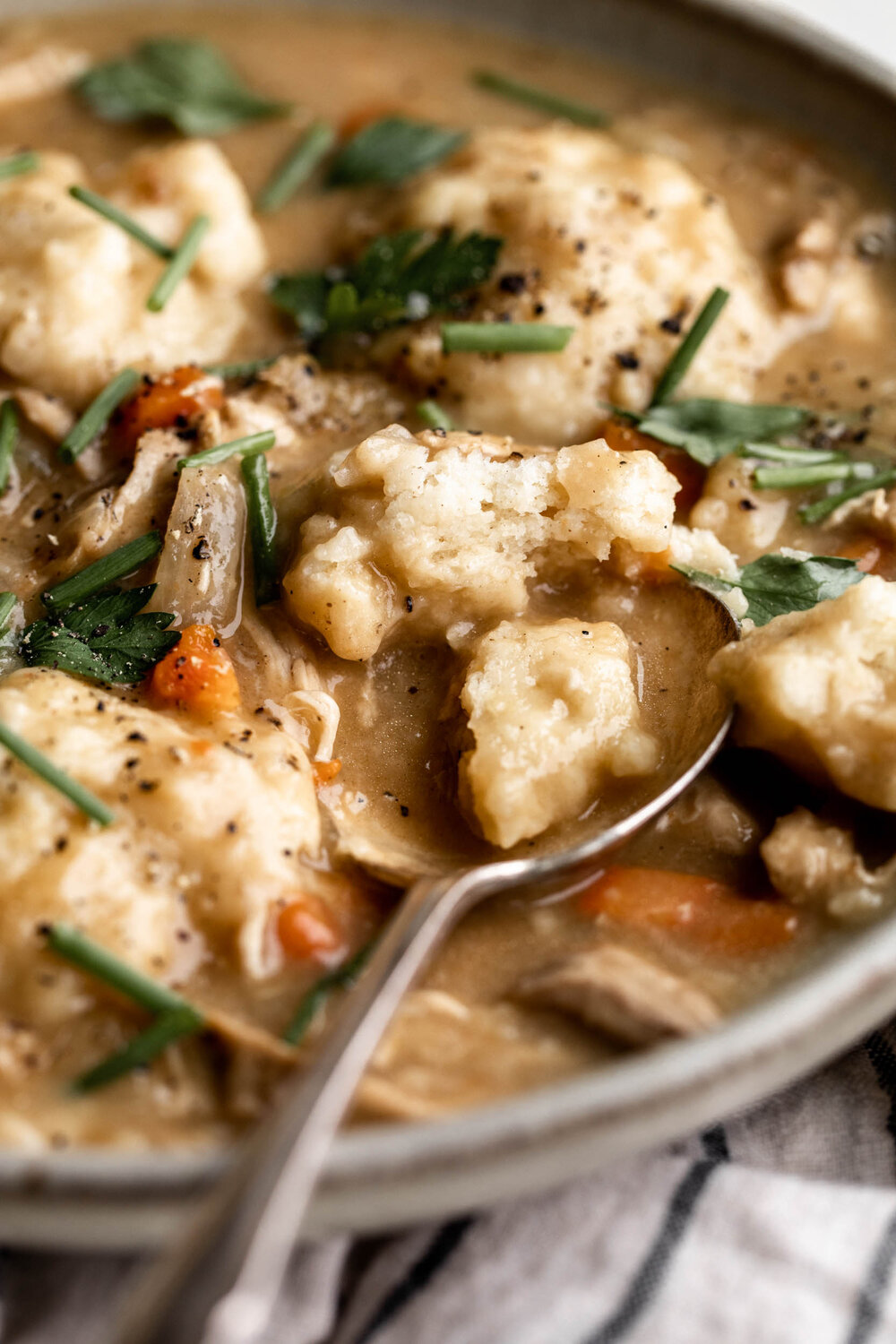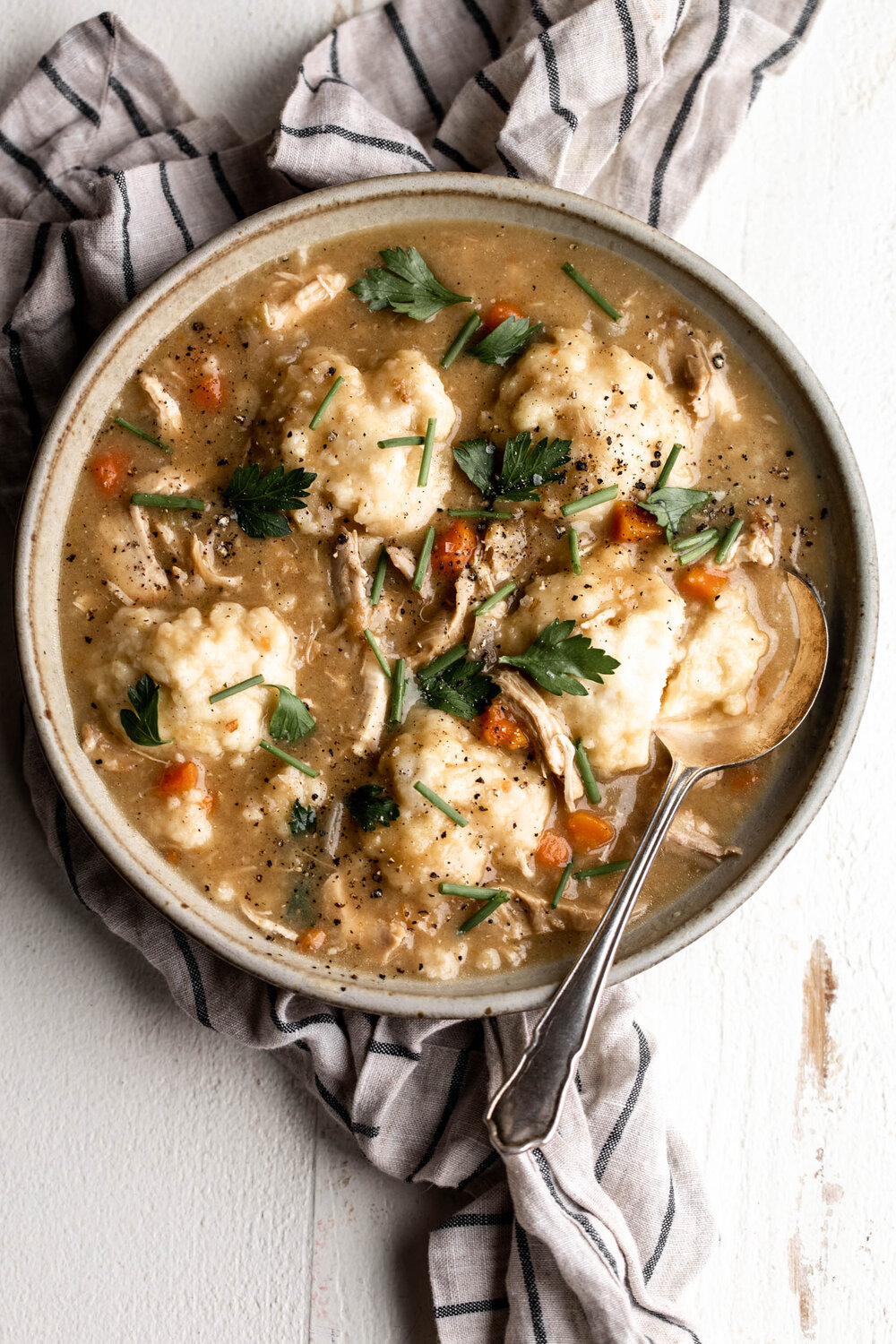 Chicken and Dumpling Soup
For the soup:
2

tablespoons

extra-virgin olive oil

3

medium carrots,

peeled and chopped

2

stalks celery,

diced

1

medium yellow onion,

diced

Kosher salt,

as needed

Freshly ground black pepper,

as needed

2

cloves

garlic,

minced

2

sprigs thyme

2

tablespoons

unsalted butter

¼

cup

all-purpose flour

6

cups

chicken stock

1

pound

shredded cooked chicken,

I use a combination of breast and thigh meat
For the soup:
Heat a large heavy bottomed pot or dutch oven over medium heat. Add the olive oil and heat through then add the carrot, celery and onion and sauté, stirring occasionally, until the vegetables are tender, about 6 minutes. Season the vegetables with salt and pepper then add the garlic and thyme, stirring to combine.

Add the butter and allow to melt then stir in the flour, continuing to stir consistently, until the roux is a deep golden brown, about 2 minutes. Add the chicken stock and bring to a simmer until the broth has slightly thickened, about 30 minutes. Season with salt to taste. Stir in the shredded chicken.
For the dumplings:
In a medium mixing bowl whisk together the flour, baking powder, baking soda and salt. In a separate small bowl whisk together the buttermilk and schmaltz. Stir the buttermilk mixture into the flour with a wooden spoon, until just combined, being careful not to overmix.

Using a spoon, drop generous spoonfuls of the dough into the broth, spacing them out as much as possible (it's ok if they touch). Cover the pot and reduce heat to low. Cook, undisturbed until the dough puffs up and they are cooked through, about 12 minutes.

Ladle the soup into bowls and top with parsley. Serve hot.
DID YOU MAKE THIS?
TAG ME ON INSTAGRAM TO BE FEATURED ON MY STORIES! @cookingwithcocktailrings