Fall Gnocchi with Butternut Squash, Brown Butter, Pancetta & Sage
I don't think I've ever been as obsessed with the fruits and vegetables of the fall harvest as I have been this year. I've been putting butternut squash, pumpkin and apple into just about everything and this pasta is no different.
It is warm and inviting with flavors of roasted and slightly caramelized butternut squash, pancetta, and is topped with brown butter sauce and sage. The sage is fried in the brown butter so that it is crisp and almost melts in your mouth.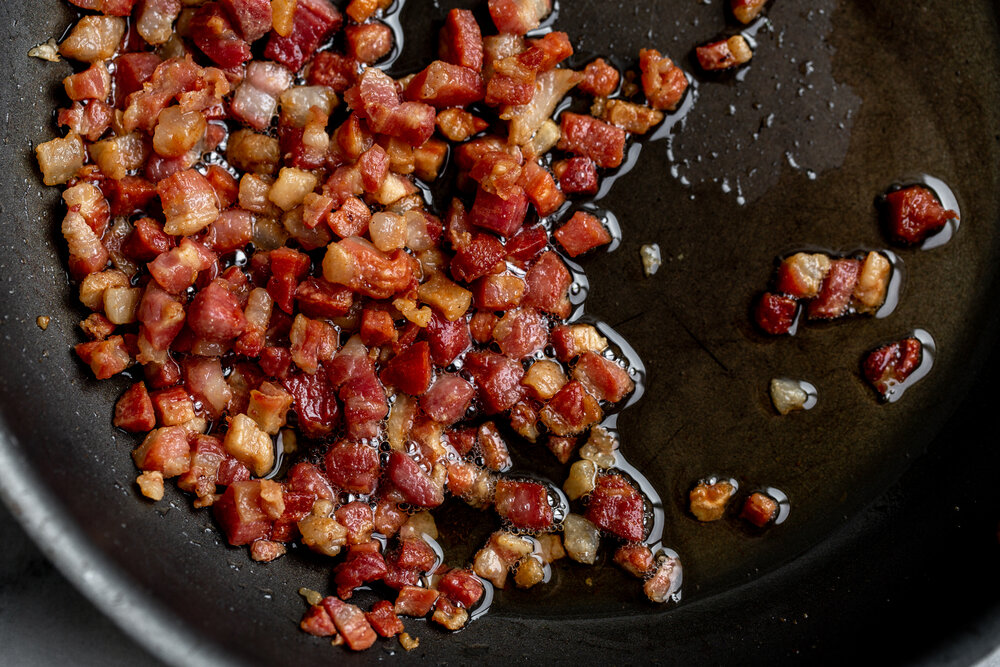 Brown butter is not only a flavorful, nutty and slightly sweet sauce for pasta, it's extremely easy to make and comes together quickly. The brown butter or "beurre noisette" is made when the water cooks out and the milk solids toast and turn golden brown.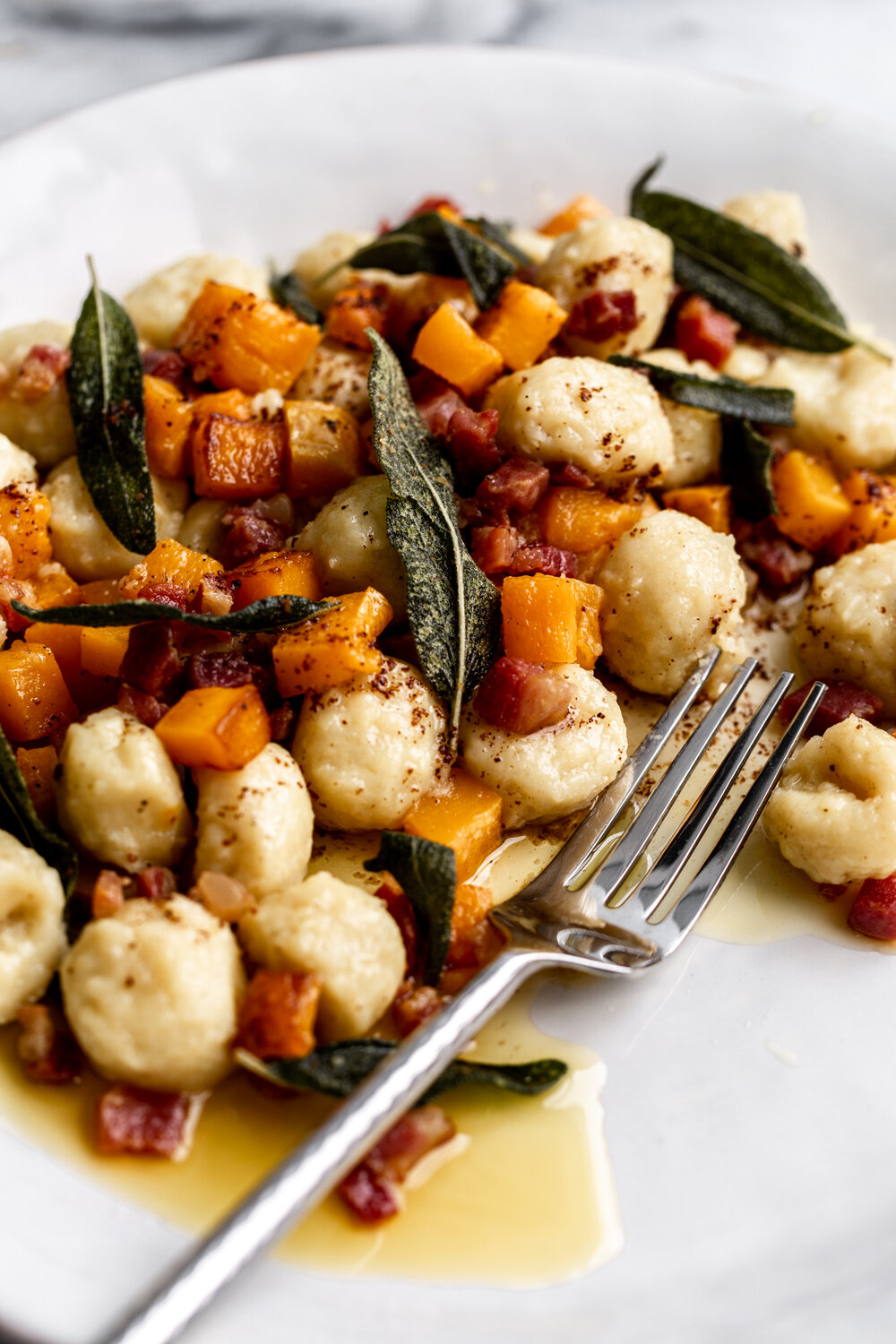 When making brown butter use a light-bottomed pan so that you can see the shade of brown the mixture is turning. If you are not careful, once the milk solids separate the butter can brown quickly so remove it from the pan immediately.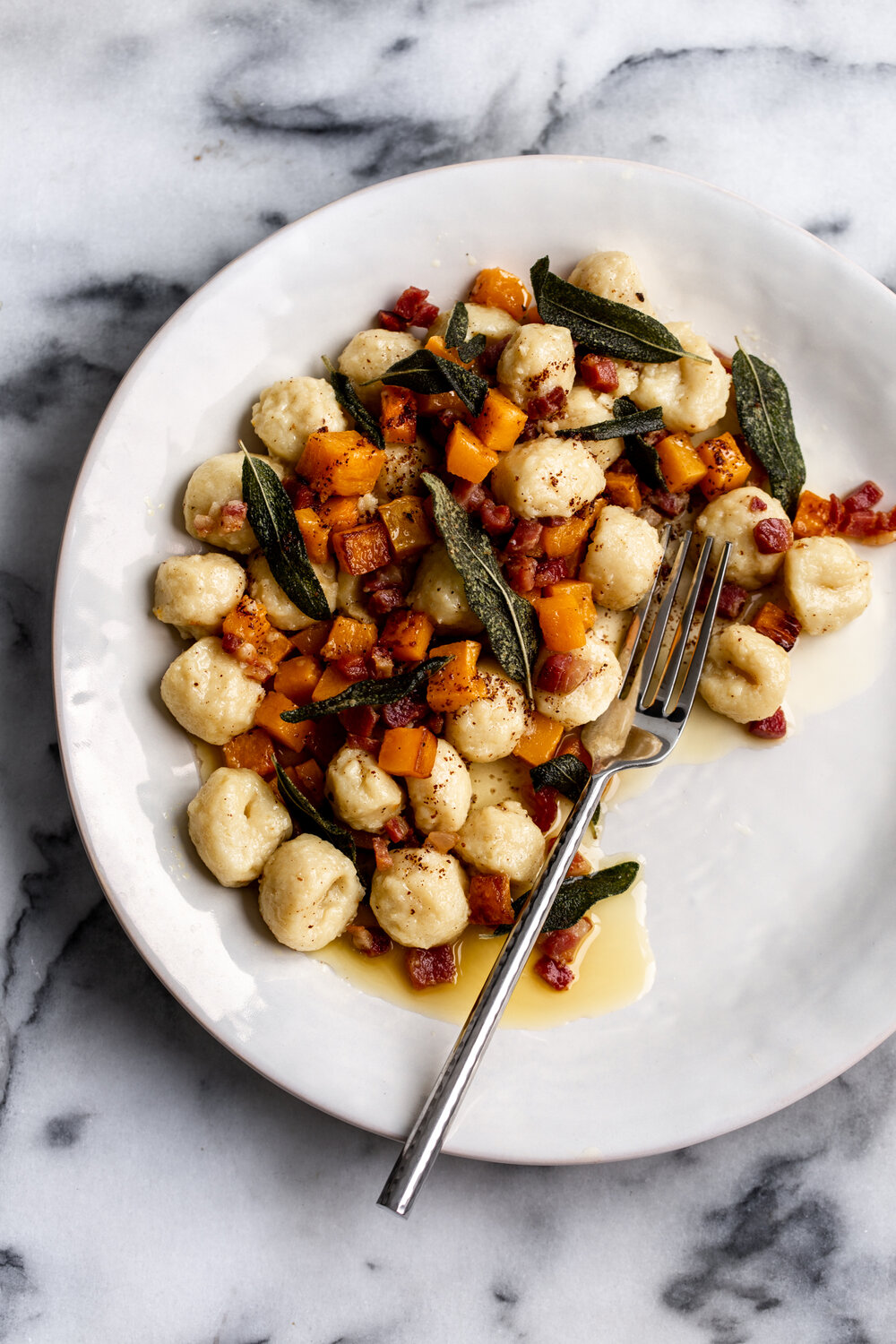 Fall Gnocchi with Butternut Squash, Brown Butter, Pancetta & Sage
2

cups

diced butternut squash

1

tablespoon

extra virgin olive oil

Kosher salt

as needed

Freshly ground black pepper

as needed

1

pound

potato gnocchi

4

ounces

diced pancetta

5

tablespoons

unsalted butter

1/3

packed cup sage leaves

1

teaspoon

freshly squeezed lemon juice
Preheat oven to 425ºF. In a large mixing bowl toss the butternut squash with the olive oil and season with salt and pepper. Spread evenly on an aluminum-foil-lined baking sheet. Roast until tender and lightly browned, about 25 to 30 minutes.

Bring a large pot of water to the boil; add the salt and bring back to the boil. Pour in the gnocchi and cook, until they rise to the top, about 3 minutes. Drain the gnocchi and return to the pot.

In a medium sauté pan over medium heat, cook the pancetta until most of the fat has rendered and the pancetta is brown and crisp, about 10 minutes. Remove from the pan and drain on a paper towel-lined plate.

Return the medium sauté pan to the heat over medium. Add the butter and allow to melt. Once melted add the sage then continue to cook the butter, swirling it around the pan occasionally, until the butter is toasty-brown color and has a nutty aroma. Once this happens immediately remove the brown butter to a small bowl. Set the sage aside on a plate.

Pour the brown butter over the gnocchi, stirring to combine. Add the butternut squash and pancetta and stir again, then season with salt and pepper. Top with the sage and finish with a squeeze of the lemon juice. Serve in warmed pasta bowls.
DID YOU MAKE THIS?
TAG ME ON INSTAGRAM TO BE FEATURED ON MY STORIES! @cookingwithcocktailrings