It could be the change occurred like a game of telephone – passing down the recipe over generations or maybe it came from my mom who isn't a great speller (sorry mom). It is, as I have discovered, definitely incorrect and not what potatoes made in this style (sliced potatoes added in layers cooked in a mixture of milk and cheese) are called but I have referred to them that way my entire life and don't see myself adapting anytime soon.
Dauphinoise Potatoes
What Are Dauphinoise Potatoes?
The name "dauphinoise" refers to the Dauphiné region in south-eastern France where the dish hails from. This style of potatoes is also known as "au gratin" potatoes or scalloped potatoes.
Whatever you call them thinly sliced potatoes covered in a mixture of cream and cheese and baked until golden brown on top and bubbling, it's delicious. I always ask for an edge slice since the potatoes wind up with a crispy edge of baked cream and cheese (my personal favorite part). In my family it is tradition to have them every year on Christmas day as a side dish paired with roast beef tenderloin.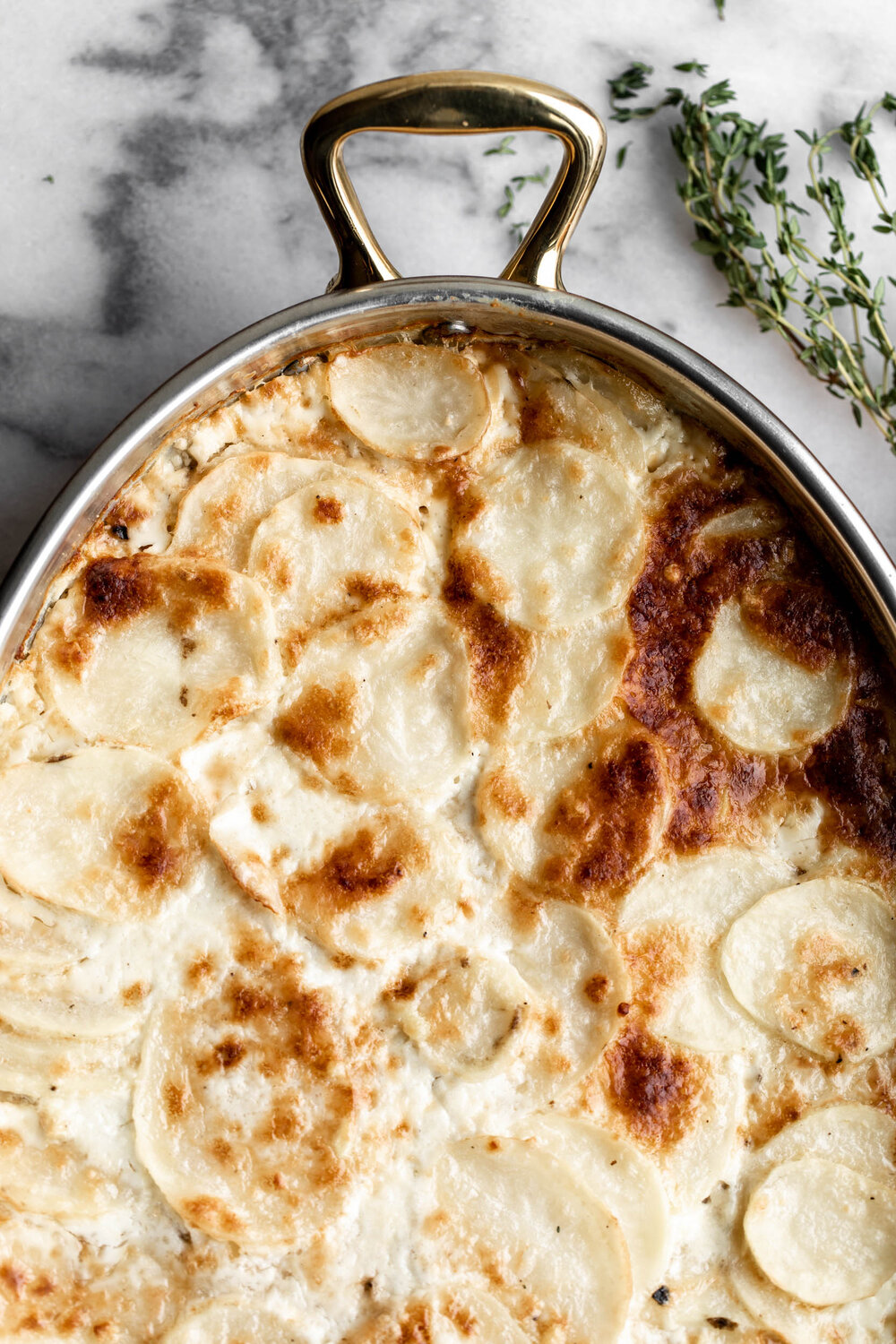 Key Ingredients in This Recipe
Potatoes – In this recipe I use Russet potatoes, also known as Idaho potatoes. They're large, starchy, oblong potatoes known for being the ideal baking potato. When baked in the creamy cheese sauce they become soft and light. I peel them and thinly slice them on a mandolin then layer in the pan.
Heavy cream – I add heavy cream, the thick part of the milk that rises to the top due to its high fat content to the sauce to create rich, creamy potatoes.
Parmesan – Parmesan-Reggiano is definitely one of my favorite cheeses. It's a hard cow's milk cheese aged for different lengths of time. I'd recommend buying a roughly cut piece of wrapped cheese from the grocery store – it's typically a higher quality cheese.
Garlic – While many traditional Dauphinoise potatoes recipes don't have garlic, I like the subtle flavor a few cloves of fresh minced garlic adds.
How to Make Dauphinoise Potatoes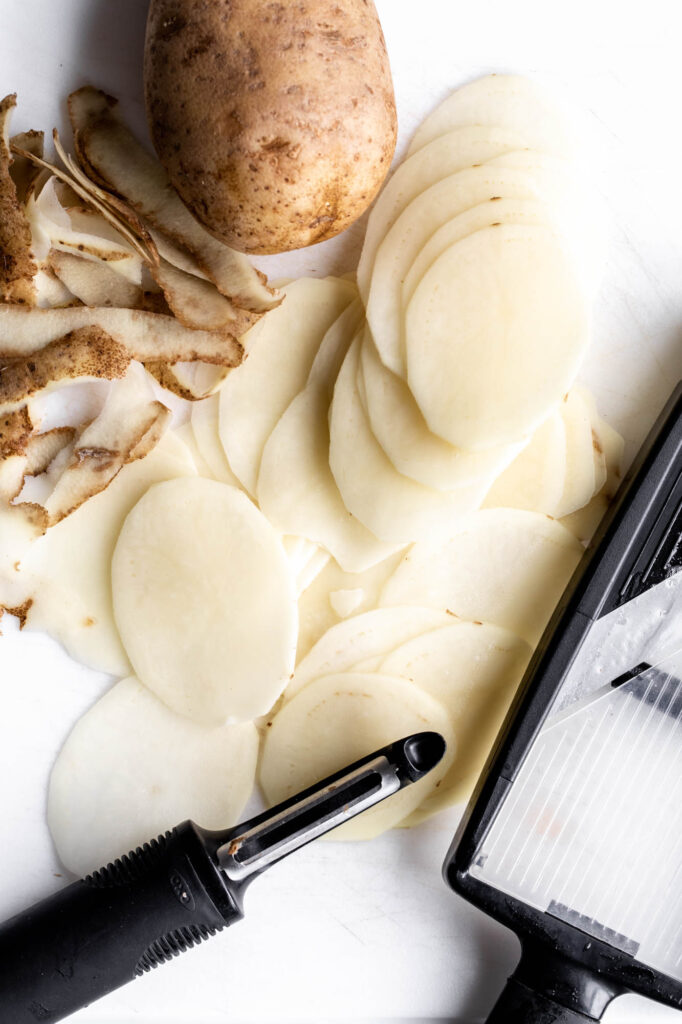 Step 2: Add cream and cheese.
Cover the potatoes with the cream then add 1 cup of the parmesan cheese and garlic. Season with salt and pepper.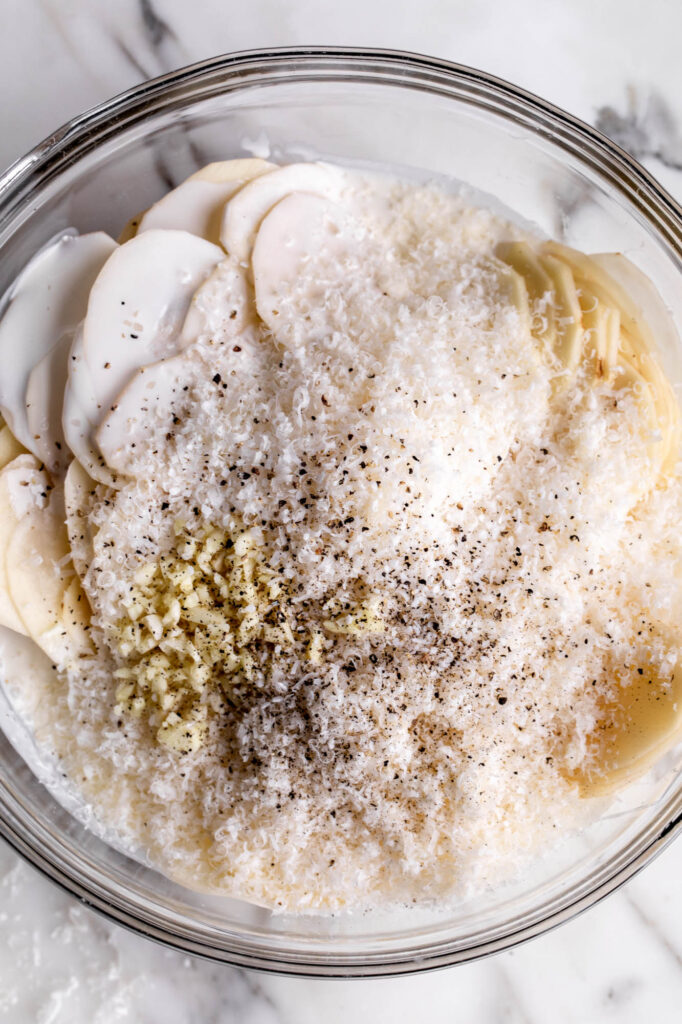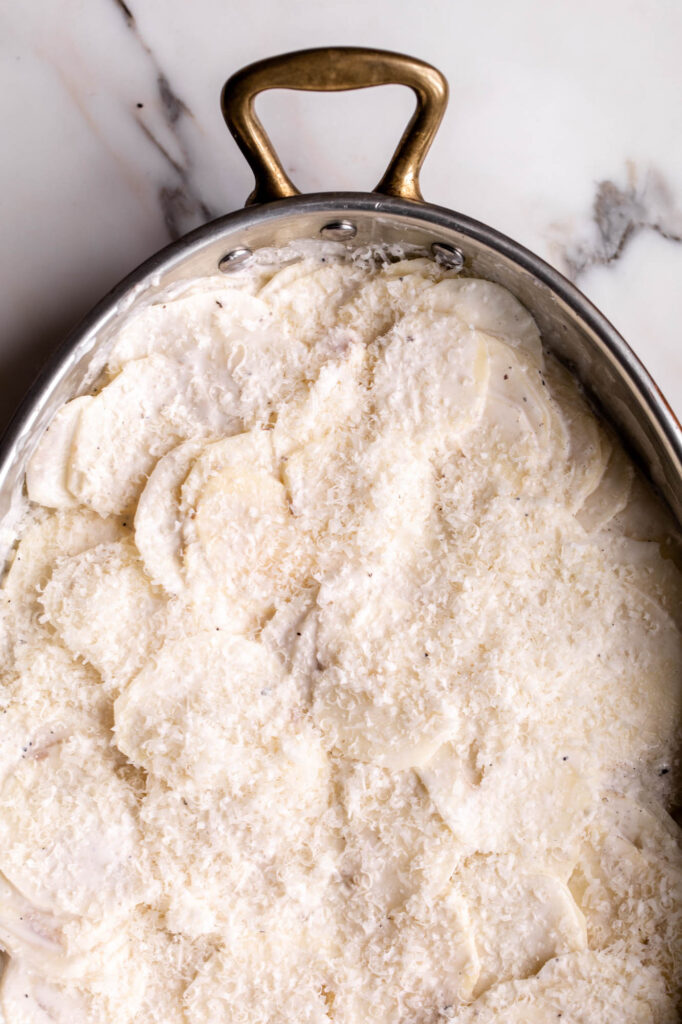 Step 3: Add the potatoes to a baking dish.
Grease a 9″x 11″ (23cm x 28cm) baking dish. Use a slotted spoon to scoop the potatoes into the dish then pour the remaining cream mixture over the top and sprinkle with the remaining Parmesan.
Step 4: Bake.
Cover with aluminum foil and bake until the potatoes are fork tender, about 1 hour. Remove the foil and continue baking until the top is golden brown and bubbling, about an additional 15 minutes.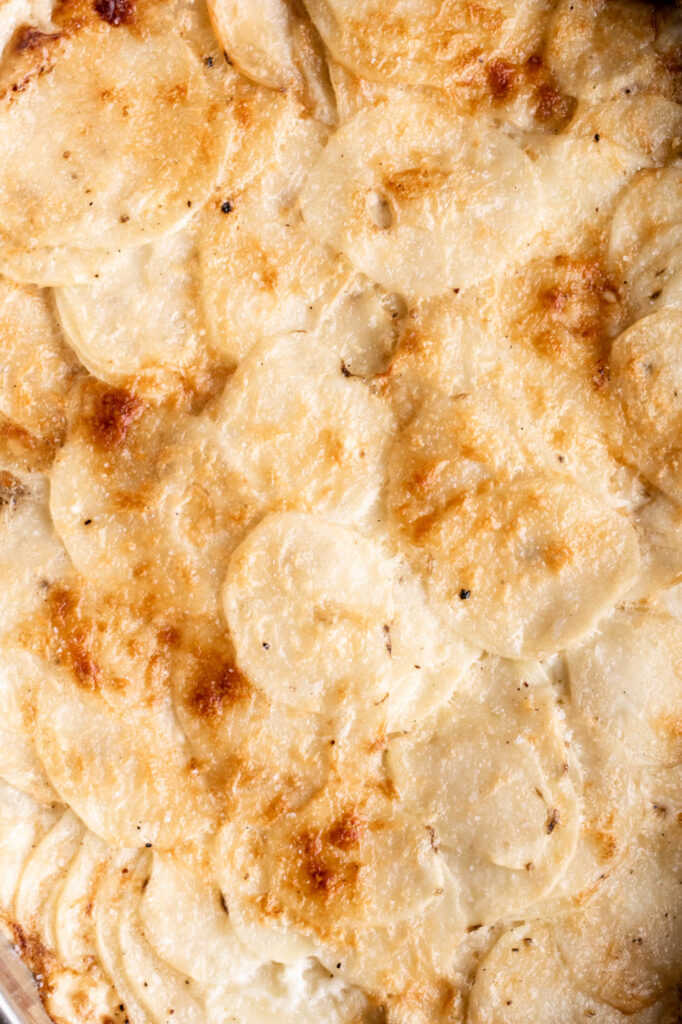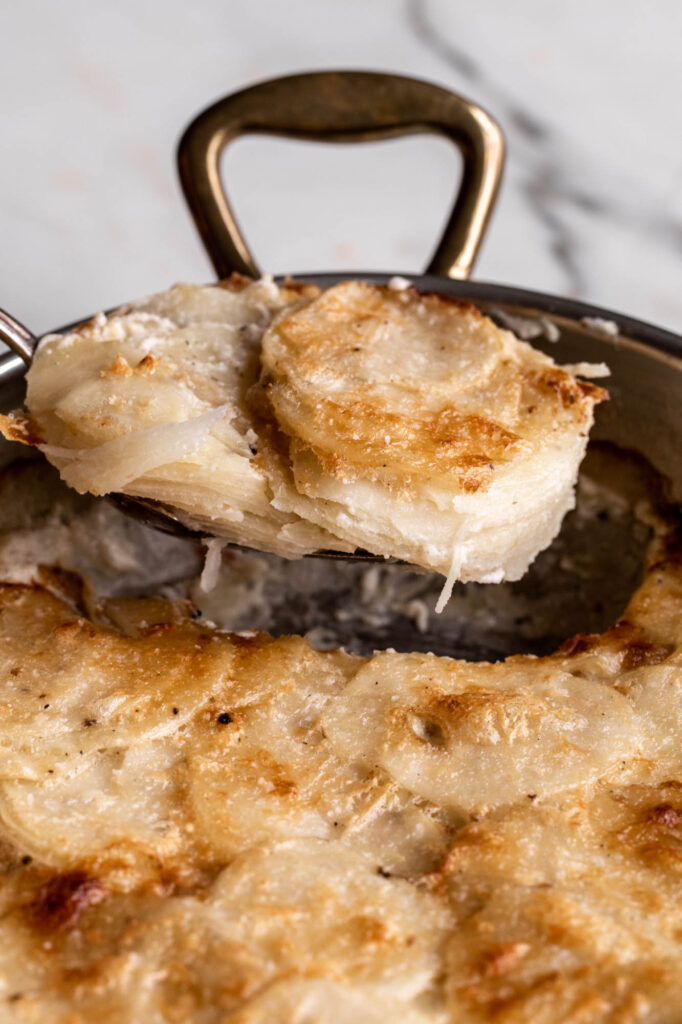 Step 5: Let cool and serve.
Let cool for about 5 minutes then cut into squares. Use a spatula to serve the dauphinoise potatoes hot.
Tips and Tricks for This Recipe
Swaps and Substitutions
Add a pinch of nutmeg or 1. teaspoon of chopped fresh thyme to the cream to enhance the flavors.
The Parmesan can be swapped for another cheese like Gruyere cheese for a twist.
How to Prep This Recipe in Advance
I actually love eating this dish the next day. I find it reheats well! Bake it a day before then cover and refrigerate until ready to serve. To reheat, heat the oven to 375ºF (190ºC). Cover the potatoes with aluminum foil and bake until warmed through, about 15 to 20 minutes.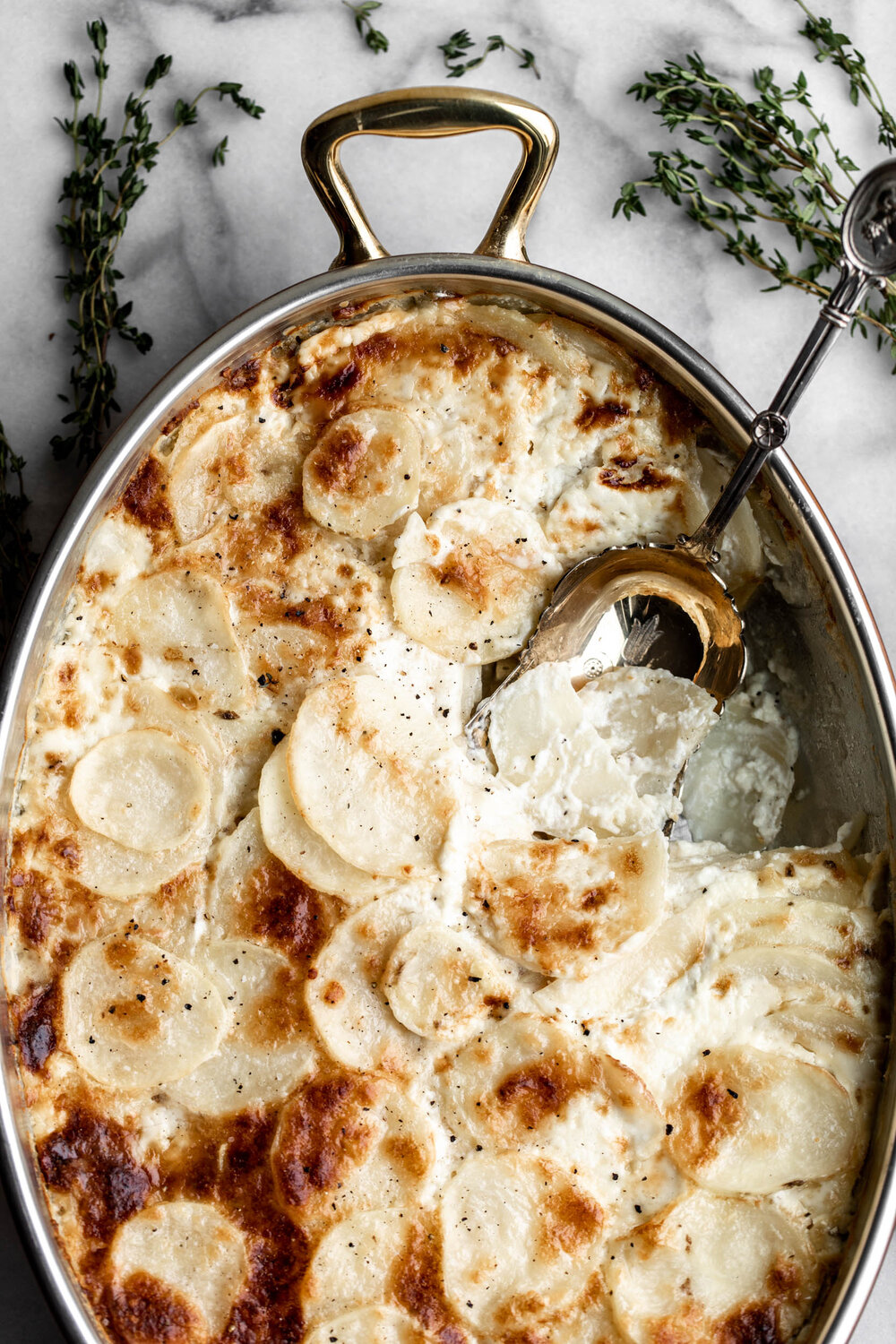 Other Recipes to Try
If you enjoy this dauphinoise potatoes recipe, I recommend checking out some of these:
Dauphinoise Potatoes
3

pounds

Russet potatoes,

washed and peeled (about 6 large potatoes)

2

cups

heavy cream

1½

cups

freshly grated Parmesan cheese,

divided

2

cloves

garlic,

minced

Freshly ground black pepper,

as needed

Kosher salt,

as needed
DID YOU MAKE THIS?
TAG ME ON INSTAGRAM TO BE FEATURED ON MY STORIES! @cookingwithcocktailrings
This page may contain affiliate links. If you choose to purchase after clicking a link, I may receive a commission at no extra cost to you. Thank you for your support so I can continue to share recipes with you!