My dad comes from a Catholic background and in Catholic tradition you don't eat meat on Christmas Eve, you eat seafood, and then you have beef and turkey on Christmas Day. Or at least that's what my dad's family always did. While we are not Catholic, my dad likes to keep to this family tradition, I think it's just because he likes this recipe! So each year I make baked stuffed shrimp for him just like his family had every Christmas Eve.
In this recipe colossal shrimp are stuffed with cracker and crab filling, then drizzled with butter and baked until cooked through but still moist. The filling can be made ahead of time and the assembled shrimp can be popped into the oven when guests arrive. The sizing guide for shrimp can be confusing. The term "colossal shrimp" means that there are 15 or under per pound.
Baked Stuffed Shrimp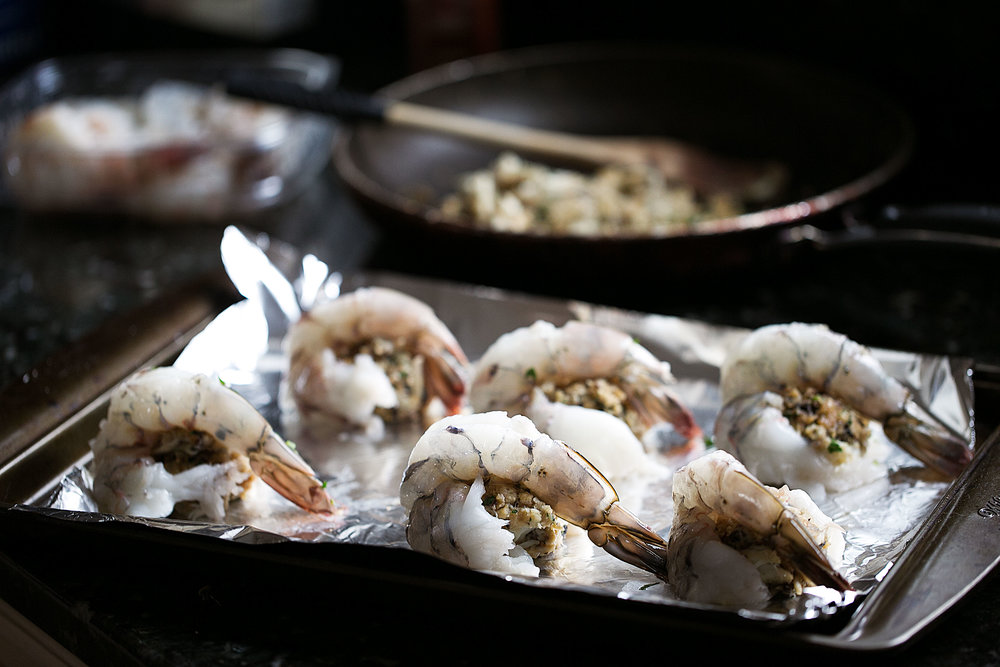 Key Ingredients in This Recipe
Shrimp – The terms "jumbo" and "extra jumbo" and "colossal" aren't standardized terms within the industry. Instead look at the numbers – they estimate approximately how many shrimp are in 1 pound. The U/15 means there should be 15 or less shrimp in a pound. The shrimp should be peeled and deveined before beginning the recipe. I leave the tail on for the aesthetics.
Crab – Jumbo lump crab (also known as colossal lump) is the highest quality – the pearly white large chunks of crab come from where the crabs connect to the swimmer fins. They are the most expensive because there are only two of these per crab.
Crackers – This recipe has been tested using Ritz crackers. 30 crackers is about 1 sleeve of crackers. Using crackers instead of plain breadcrumbs will create a rich, buttery flavor.
Mushrooms – I typically use crimini also known as baby Bella mushrooms when I cook. They have a meatier, earthier mushroom flavor compared to white mushrooms. I recommend buying whole mushrooms and slicing them yourself so they are more evenly cut than pre-cut mushrooms. Use a damp paper towel to wipe away dirt before slicing the mushrooms.
Chicken stock – Chicken stock is typically made from chicken bones as well as aromatics and vegetables while chicken broth is made with the meat. How does that affect their flavor? Chicken stock has a much richer, more robust flavor which comes from the collagen released from the simmering bones. On the other hand, chicken broth is much more mellow in flavor. I typically use chicken stock when cooking. Substitute the chicken stock with water if needed (though it takes away some of the flavor.)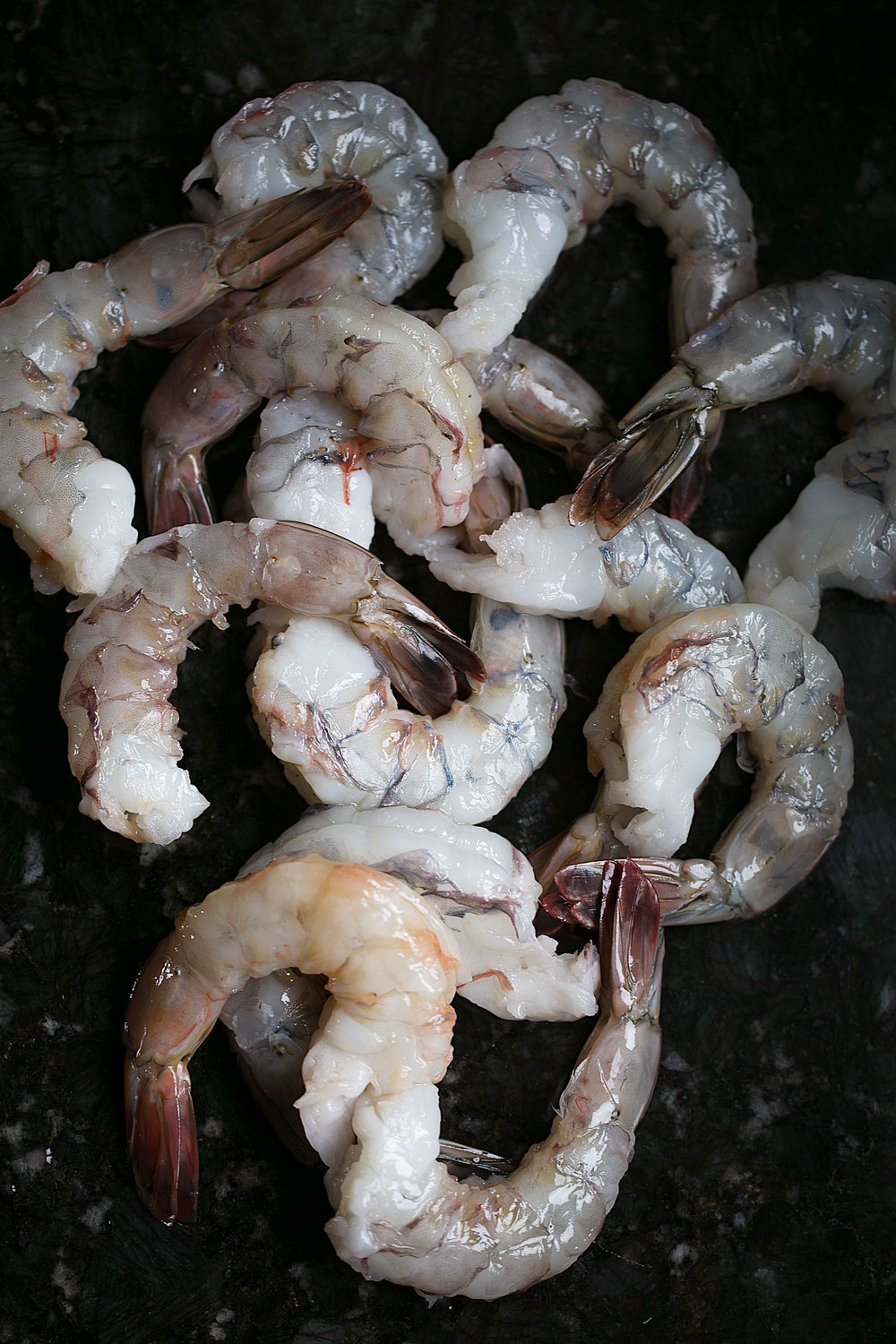 How to Make Baked Stuffed Shrimp
Heat oven. Preheat the oven to 375°F.
Cook the vegetables. Heat a large sauté pan over medium heat, add 3 tablespoons of butter and allow to melt. Then add the mushrooms, onions, celery, and garlic and cook, stirring occasionally, until the vegetables have softened and the liquid the mushrooms give off is evaporated, about 6 minutes.
Add the crab. Add the crabmeat and half of the parsley, and stir gently on medium heat until combined but the crab remains in large pieces, about 1 minute.
Stir in chicken broth and crackers. Stir in the chicken broth and crushed cracker crumbs and remove from heat. Season with salt and pepper to taste.
Butterfly the shrimp. Cut the shrimp from head to tail along the backside to butterfly the shrimp. Open each butterflied shrimp, so they are flat with the cut side facing up.
Assemble the shrimp. Mound about 2 tablespoons of stuffing on each shrimp, press gently to adhere. Place the shrimp stuffed-side up in a 12 x 9 baking pan.
Bake. Melt the remaining 2 tablespoons of butter in a small bowl and brush it on the shrimp. Sprinkle with paprika and bake until the shrimp are pink and no longer translucent, about 20 minutes.
Serve. Serve the baked stuffed shrimp immediately topped with the remaining parsley and with the lemon wedges on the side.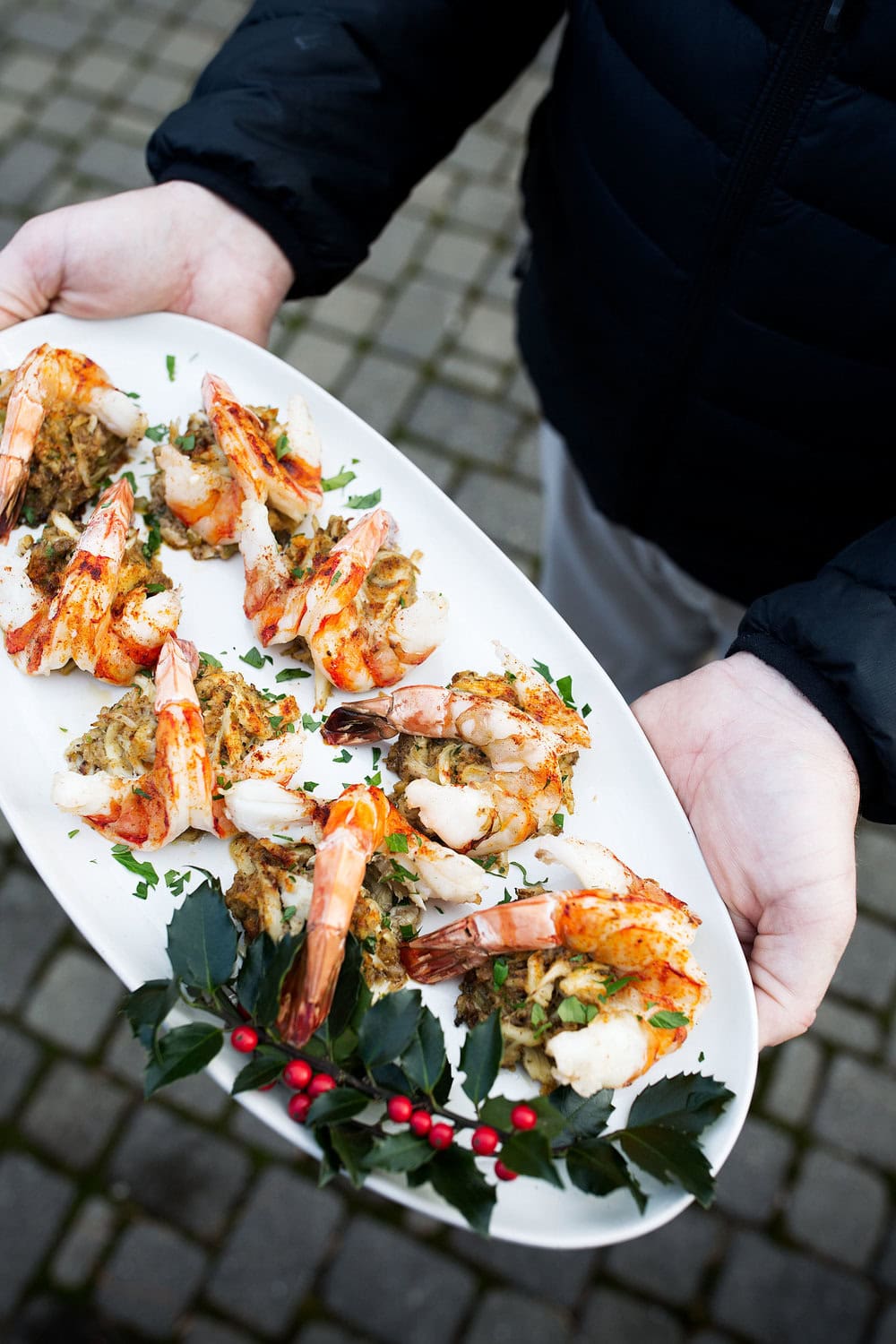 Other Recipes to Try
If you enjoy this recipe, I recommend checking out some of these:
Baked Stuffed Shrimp
5

tablespoons

unsalted butter,

divided

2

cups

diced crimini (baby bella) mushrooms

¼

cup

minced yellow onion

3

tablespoons

minced celery

1

tablespoon

minced garlic

¾

pound

jumbo lump crab meat

3

tablespoons

finely chopped flat-leaf parsley,

divided

½

cup

chicken stock

30

buttery snack crackers*,

finely ground, about 1½ cups

Kosher salt,

to taste

Freshly ground black pepper,

to taste

1½

pounds

colossal U/15 shrimp, shelled & deveined, leaving tail intact

¼

teaspoon

paprika

1

lemon,

cut into wedges
*Note: This recipe has been tested using Ritz crackers. 30 crackers is about 1 sleeve of crackers. Using crackers instead of plain breadcrumbs will create a moist buttery flavor.
DID YOU MAKE THIS?
TAG ME ON INSTAGRAM TO BE FEATURED ON MY STORIES! @cookingwithcocktailrings