This herb roast beef tenderloin is my family's traditional Christmas dinner entrée, although it would also be perfect for a New Year's Eve gathering. We eat baked stuffed shrimp on Christmas eve then beef on Christmas Day alongside creamy dauphinoise potatoes (similar to au gratin potatoes) and pan-seared green beans.
My dad makes this every year, and every year he outdoes himself. Since beef tenderloin is a more expensive cut of meat it's the perfect centerpiece for celebrations.
Herb Roast Beef Tenderloin
Key Ingredients in This Recipe
Beef tenderloin – The main ingredient in this recipe is a center-cut beef tenderloin, also known as an eye fillet. The tenderloin of the cow is located just below the sirloin. The cut is prized for it's "melt in your mouth" texture and superb flavor. Because it is such a lean cut of meat, if it is not properly cooked it can become dry.
Herbs – This recipe uses a combination of chopped fresh rosemary and thyme to flavor the beef.
Garlic – I always use fresh cloves of garlic, the pre-minced jars of garlic don't taste the same. It loses a lot of the powerful garlic flavor when it's jarred. This is because it has been soaked in water for a long period of time. Peeling garlic only takes a bit. In this beef tenderloin recipe it's both shoved into incisions in the meat as well as rubbed with chopped garlic.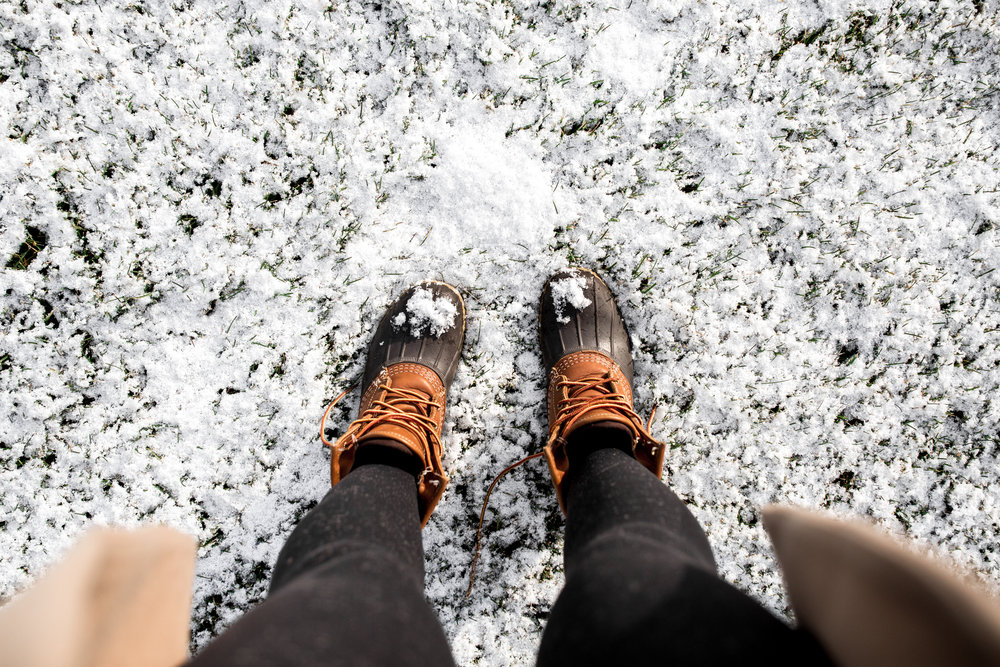 How to Make Herb Roast Beef Tenderloin
The two-day preparation, while it may seem overwhelming, is the secret to making the meat so juicy and flavorful.
Day 1
The meat is pierced with a knife and stuffed with cloves of garlic and rolled in a mix of chopped rosemary, thyme, salt and pepper so it can marinate overnight.
Day 2
The meat is removed from the refrigerator and brought to room temperature so it cooks evenly. It's then seared and roasted. It's crucial to let the meat rest so the juices stay inside the tenderloin then it's served sliced at room temperature.
Tips and Tricks for This Recipe
The roasted tenderloin is great for family gatherings because it serves a lot of people.
This is one of those meats that may taste even better as leftovers the next day!
I love slicing it thin and turning it into a roast beef sandwich with horseradish mayonnaise on French bread.
Do not let it cool in the pan. Since the pan is still hot, it will continue to cook the meat.
FAQ – Frequently Asked Questions
Is beef tenderloin the same as filet mignon?
Filet mignon is a part of a beef tenderloin but not all of the beef tenderloin is filet mignon though they taste quite similar.
Where does tenderloin come from?
The tenderloin of the cow is just below the sirloin. While you can cut it up to create steaks it's left whole in this recipe for a roast.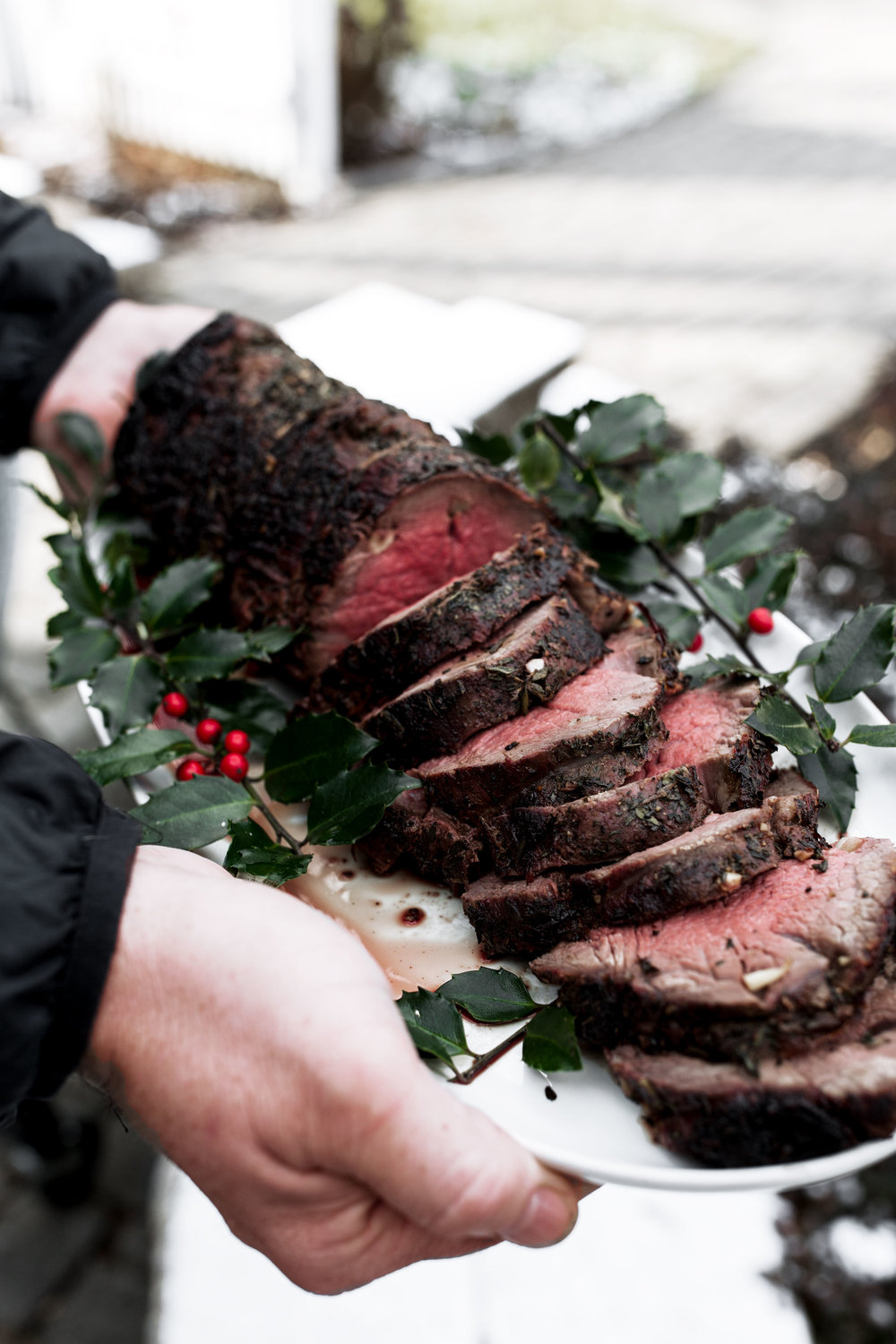 Other Recipes to Try
If you enjoy this herb roast beef tenderloin recipe, I recommend checking out some of these:
Herb Roast Beef Tenderloin
20

cloves

garlic,

divided

1

(4-pound) center-cut beef tenderloin,

fat trimmed

¼

cup

chopped fresh rosemary

2

tablespoons

chopped fresh thyme

1

teaspoon

freshly ground black pepper

2

tablespoons

kosher salt

2

tablespoons

extra-virgin olive oil
Day 1:
Mince half of the garlic and set aside. Use a small sharp knife to poke incisions into the roast.

Rub tenderloin with the minced garlic and push the remaining pieces into into the incisions.

Rub with rosemary, thyme and black pepper so that it's fully coated. Wrap tightly in plastic wrap and refrigerate for a full day.
Day 2:
Remove tenderloin from the refrigerator and rub all over with kosher salt. Wrap again in plastic wrap and refrigerate for an additional four hours.

Take the meat out of the refrigerator two hours before cooking. Bringing it to room temperature will allow it to cook evenly.

Heat oven to 550ºF (288ºC). Heat a large roasting pan in the oven, add olive oil so it is almost smoking and sear the tenderloin in the pan, about five minutes on each side.

Lower the oven to 350ºF (180ºC) and roast for 20 minutes, until the internal temperature of the tenderloin is 125ºF (52ºC).

Remove the tenderloin from the oven and place it on a rack to cool for at least 15 minutes. (Do not let it cool in the pan. Since the pan is still hot, it will continue to cook the meat). Use a sharp knife to slice into 1/2-inch slices and serve at room temperature.
DID YOU MAKE THIS?
TAG ME ON INSTAGRAM TO BE FEATURED ON MY STORIES! @cookingwithcocktailrings