It's also a great way to utilize leftover risotto (since you are starting with a risotto base anyway). Arancini are traditionally filled with low-moisture mozzarella though for these I go with fontina instead – I find it extremely "melty".
Rather than using Italian breadcrumbs I use panko, Japanese breadcrumbs, that I grind to a finer texture so they evenly coat the risotto balls. Panko breadcrumbs make a great crust on fried foods and, because they are lighter, they absorb less oil than other breadcrumbs, keeping the arancini crispier.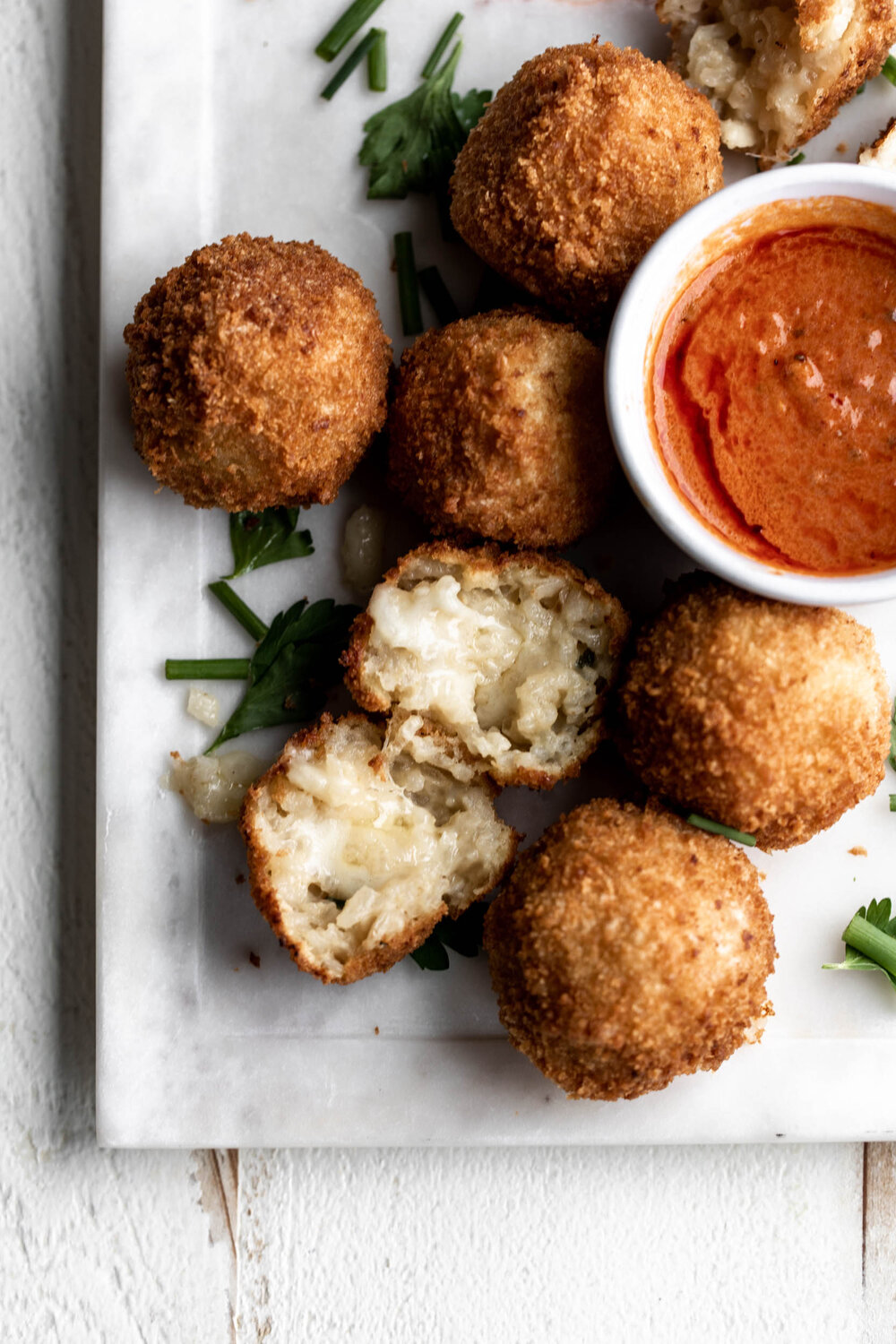 Arancini
For the risotto:
3½

cups

low-sodium chicken stock

3

tablespoons

extra-virgin olive oil

1

cup

diced yellow onion

2

cloves

garlic,

chopped

1

cup

arborio rice

½

cup

dry white wine

Kosher salt,

as needed

¼

cup

heavy cream

1

cup

freshly grated Parmesan
For the creamy spicy marinara:
1

cup

marinara of choice

¼

cup

heavy cream

1

tablespoon

Calabrian chili paste
For the risotto:
Add the chicken stock to a medium saucepan and warm over medium-low heat.

Place a medium saucepan over medium heat, add the olive oil and heat through. Add the onion, stirring occasionally, until onions are translucent and tender, about 6 minutes. Add the garlic and cook until fragrant, about 30 seconds.

Stir in the rice and sauté in the olive oil, stirring constantly, for 30 seconds, then add the white wine. Reduce heat to medium-low and stir constantly until all wine has been absorbed. Add the stock and continue stirring occasionally until the stock has been absorbed. Continue adding the stock ¼ cup at a time, stirring frequently, until all of the stock has been used and rice is al dente, about 20 to 25 minutes. Season to taste with salt.

Once the risotto is al dente remove from heat and stir in the cream and Parmesan cheese until completely combined.

Let cool slightly then spread the risotto in an even layer on a parchment paper-lined rimmed baking sheet. Cover with plastic wrap and chill for at least 1 hour and up to 4.
For assembly:
Line another baking sheet with parchment paper. Scoop ¼ cup of the risotto and form into a patty in your hands. Place 1 piece of the cheese in the middle and form the mixture into a 2½-inch ball (it won't look perfect). Set it down on the parchment paper, continuing with the remaining risotto and cheese. Freeze the balls until they have firmed up, for about 15 minutes.

Add the panko breadcrumbs to a food processor and pulse until ground fine then add to a shallow bowl. Add the flour to another shallow bowl and season it with salt and pepper, whisking to combine. Add the eggs to one more shallow bowl and beat the eggs.

Add enough oil to a large cast iron pan or Dutch oven to reach at least 1" up the side of the pan. Heat oil over medium heat until it reaches 350ºF.

Working in batches, roll a risotto ball in the flour, shaking off any excess then roll to coat in the egg followed by the panko. Add to the oil and fry until crispy all over, turning occasionally, about 4 minutes. Remove to a paper-towel lined plate to drain and repeat the process with the remaining rice balls until they are all fried.
For the creamy spicy marinara:
Heat the marinara in a small saucepan over medium-low heat, until heated through. Whisk in the cream and Calabrian chili paste until combined then remove from heat. Add the sauce to small serving bowls.
DID YOU MAKE THIS?
TAG ME ON INSTAGRAM TO BE FEATURED ON MY STORIES! @cookingwithcocktailrings