I love fish, especially raw fish. Sushi, crudo or poké, call it what you want, I will eat it and love it. When eating raw fish it is so important to buy sushi grade and to make note of how long the store or fishmonger has had it. You don't want to consume raw fish that has been sitting around in a display case forever. Having a bad experience with raw fish will definitely scar you. That being said, feel free to experiment with what other toppings you put on your poke bowl, I love adding edamame, crispy onions, cilantro or sriracha mayo.
Ahi Tuna Poke Bowl
Table of contents
How do I Pronounce Poke?
Always unsure of how to pronounce poke? Poke is pronounced phonetically as po-kay not like pokémon.
What is Poke?
The Hawaiian favorite translates to "cut fish". Diced pieces of raw fish or seafood are tossed in sauce (typically a shoyu sauce made from soy sauce and sesame oil with green onions. Some add sliced onions and other favorite toppings and serve it over warm rice. While this recipe is not traditional since it has other toppings along with the fish, it's one of my favorite ways to serve it.
Using Raw Fish
While it can seem intimidating since you are working with raw fish as long as you buy fresh high-quality ingredients there is no reason for it to be daunting. I have an ongoing love for raw fish, especially salmon, and this satisfies my cravings in the comfort of my own home.
Ask your fishmonger for sushi grade fish, they should be able to provide much more information about whether their salmon can be eaten raw. I often swap salmon in this recipe for a more sustainable but still raw friendly fish, steelhead trout.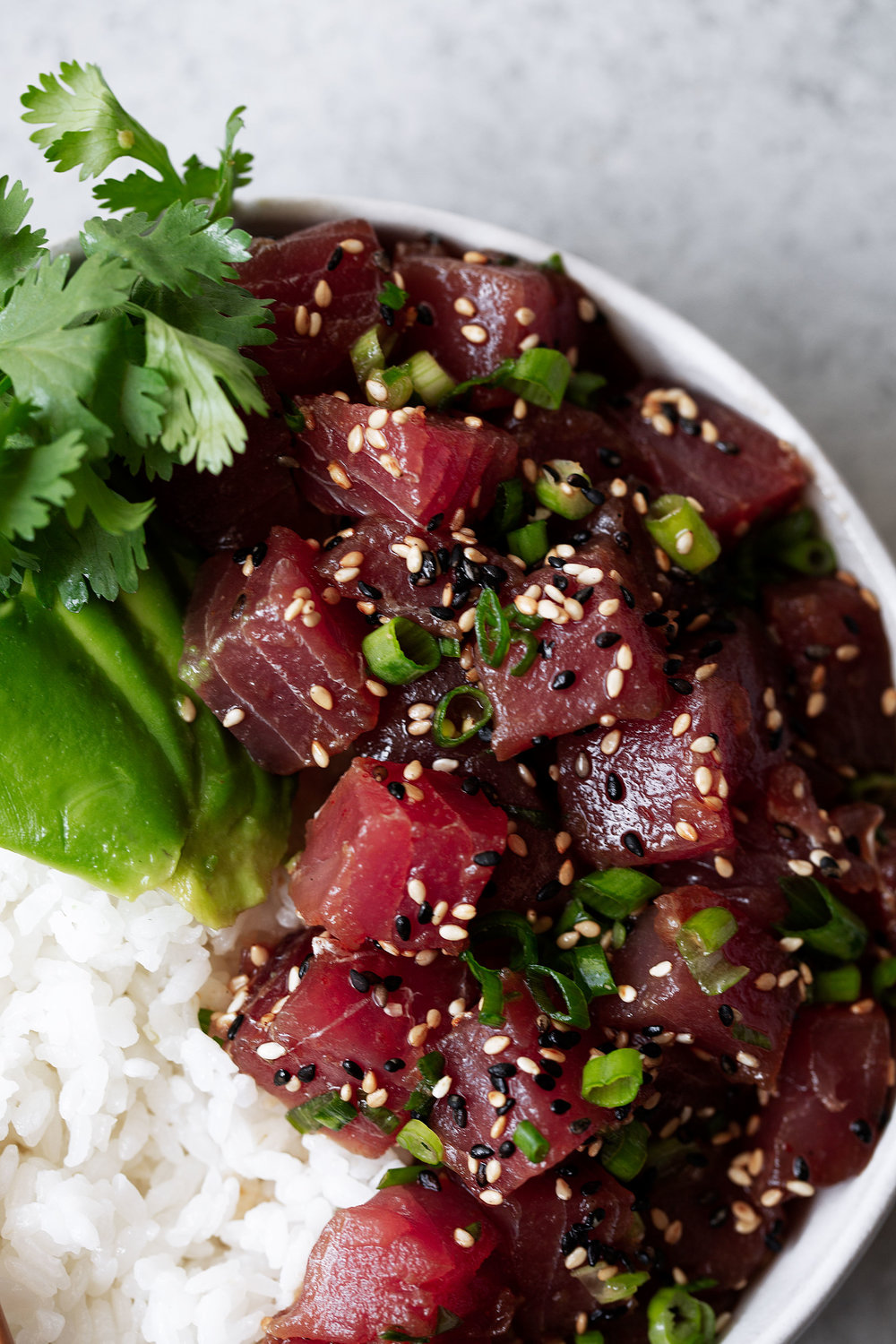 How to build a poke bowl
Step 1:
Cut the tuna into cubes
Step 2:
Mix together the sauce: stir together the sesame oil, soy sauce, sriracha, green onions and sesame seeds.
Step 3:
Toss with the tuna and onion (if using). Add any additional fillers if desired. Refrigerate until ready to use.
Step 4:
Make the rice. I use a rice cooker but you can easily make it on the stove.
Step 5:
Serve the tuna and avocado over the warm rice.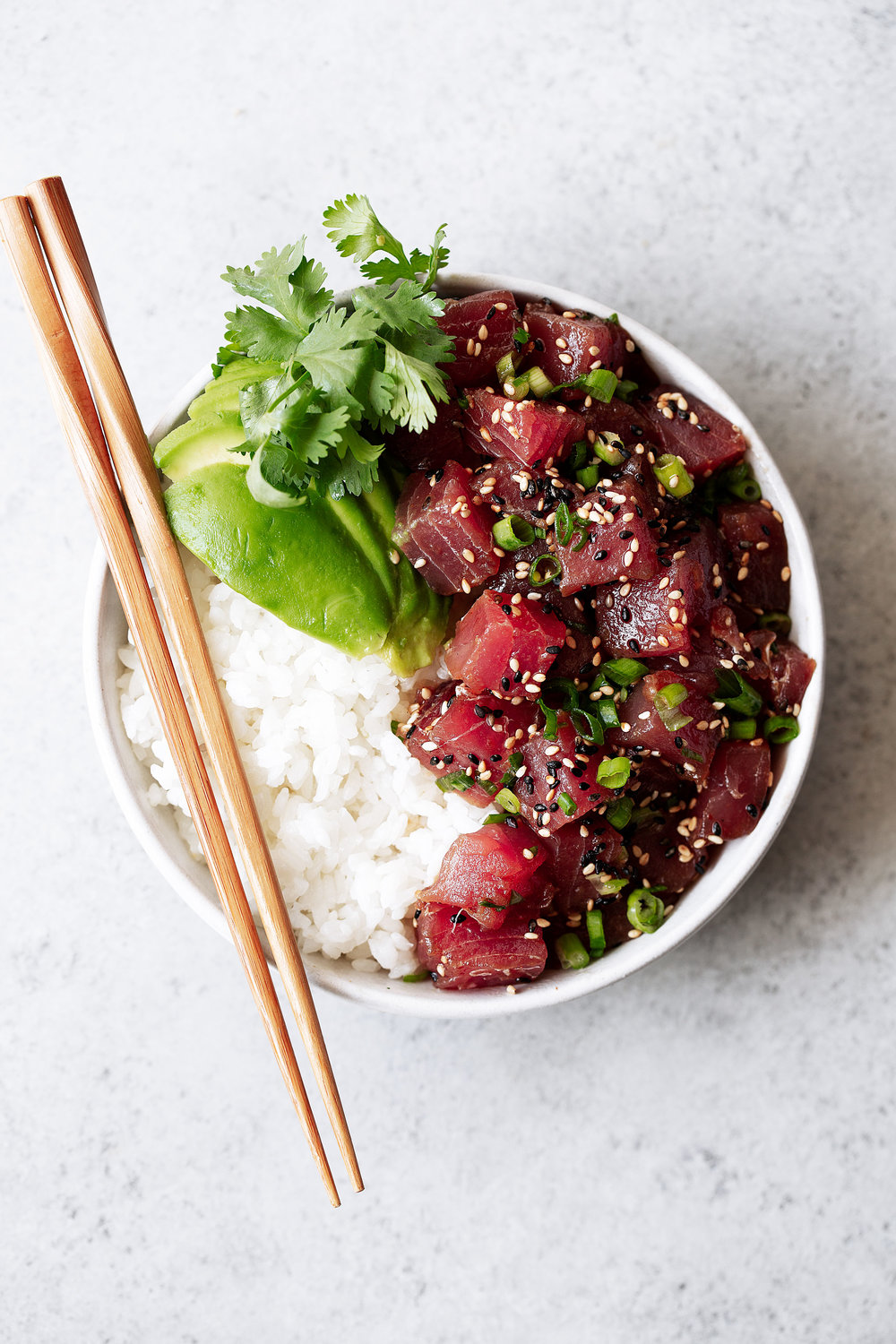 Other Recipes to Try
If you enjoy this recipe, I recommend checking out some of these:
Ahi Tuna Poké 
½

pound

sushi grade Ahi tuna

¼

cup

thinly sliced sweet yellow onion

(optional)

1

tablespoon

sesame oil

1

tablespoon

soy sauce

1

teaspoon

Sriracha

2

tablespoons

thinly sliced green onions

1

teaspoon

black and white sesame seeds

1

cup

sushi rice

1½

teaspoons

rice vinegar

1

teaspoon

mirin

1

medium avocado,

pit removed and thinly sliced
Cut the ahi tuna into ½-inch cubes. In a large bowl whisk together the sesame oil, soy sauce, sriracha, green onions and sesame seeds.

Gently toss with the tuna and onion (if using). Cover the bowl with plastic wrap. Refrigerate the poke until ready to serve.

Place the sushi rice in a fine mesh strainer and run cool water over the rice until the water runs clear. In a saucepan or rice cooker combine the rice and 2 cups of water.

Simmer until all the water is absorbed and the rice is cooked, about 15 minutes. Fluff with a fork and gently mix in rice vinegar and mirin.

Serve the poke and avocado over the warm rice.
DID YOU MAKE THIS?
TAG ME ON INSTAGRAM TO BE FEATURED ON MY STORIES! @cookingwithcocktailrings