Ahi Tuna Wonton Nachos with Wasabi Mayo
The fried wontons take the place of classic tortilla chips in this spin on nachos. Rather than topping the wonton chips with chicken, black beans, cheese and more they're topped with seared ahi tuna, shredded cabbage, avocado, jalapenos, sriracha and wasabi mayo. I'm not sure why it took me so long to turn wontons into chips but I am so glad that I finally did! They are crunchy but light at the same time making them a perfect snack. This appetizer is definitely going into my rotation when entertaining guests.
Table of contents
About Ahi Tuna
The star of this recipe is seared ahi tuna, made using my sesame ahi recipe. To get an even sear on the fish, it is important that the pan is already extremely hot. That way there is a crust on the fish without cooking the inside too much.
When buying ahi tuna look for fresh fish. Even though searing the outside will kill bacteria you still want to use high quality seafood. I recommend asking your fishmonger about the fish – they can advise you on the freshness of the fish. If all else fails the best way to tell the freshness of the fish is by the smell. It shouldn't smell overwhelmingly fishy. It should have a fairly firm texture and look deep red to pink in color.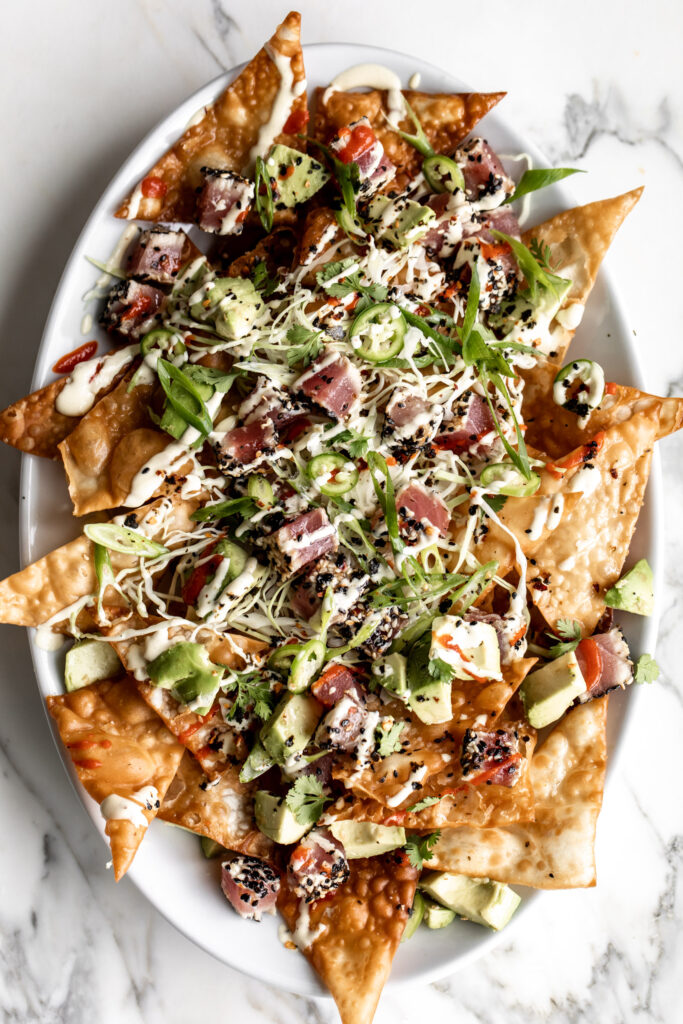 Ingredients in Ahi Tuna Wonton Nachos
Wontons – In this recipe wonton wrappers are swapped for tortilla chips. I buy packages of wonton skins at the grocery store and simply cut them in half before frying!
Ahi tuna – The tuna can be seared in advance then chopped and stored, refrigerated for up to a day in advance.
Avocado – When shopping for avocados, look for ones that are firm but "give" slightly when gently squeezed in your hand.
Green cabbage – Whenever I buy a head of cabbage it's way too much – many grocery stores will cut a wedge or a half if you ask. It's way less waste if you won't use all of it. I love using a mandolin to shave the cabbage; it's a much finer texture than cutting it with a knife.
Wasabi mayo – This homemade version of wasabi mayonnaise is made by simply whisking wasabi paste into kewpie mayonnaise. If you don't like wasabi simply omit and use kewpie mayo on its own. If you can't find Kewpie Japanese mayo use regular mayonnaise stirred together with a ½ teaspoon of mirin.
Sriracha – The chili garlic sauce adds a bit of spice to this recipe. If you don't have sriracha you can substitute with sambal oelek.
Furikake – This Japanese condiment is made with nori, sesame seeds, dried fish, sugar, salt (and sometimes other ingredients). It adds a great flavor over the nachos and is used to top anything from rice to fish.
How to Make Wonton Nachos
Step 1
Coat the Ahi tuna in sesame seeds and sear. Cut into pieces and toss in the soy sauce then refrigerate until ready to use.
Step 2
Cut the wontons in half and fry until crispy and golden brown.
Step 3
Toss the fried wonton chips in furikake flakes.
Step 4
Make the wasabi mayo.
Step 4
Spread the wontons on a plate and top with shredded cabbage, ahi tuna, and avocado.
Step 5
Drizzle with the wasabi mayo mixture and sriracha.
Step 6
Top with the cilantro, green onion and jalapeño peppers then serve.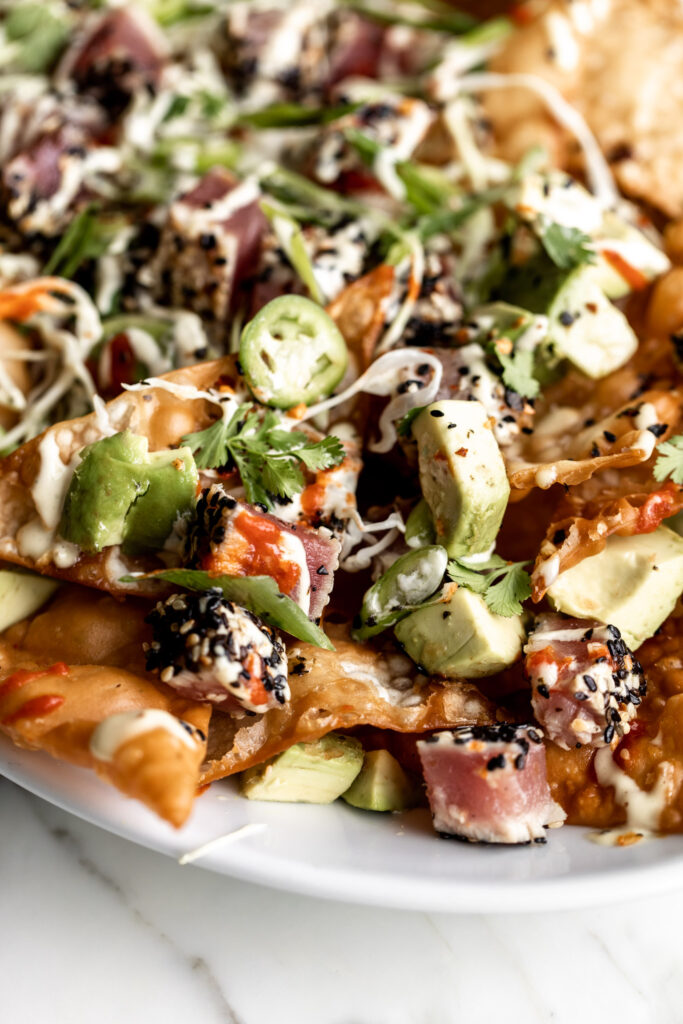 Tips and Tricks for This Recipe
Swaps and Substitutions
The wonton chips can also be made with egg roll wrappers. Cut the wrappers into fourths on the diagonal rather than in half.
Other toppings
This is a flexible recipe, meaning you can get creative with what toppings you add over the wontons.
Substitute the seared ahi tuna with cubes of raw sushi grade salmon, steelhead or yellowtail for poke wonton nachos.
Add additional toppings of choice like diced cucumber, seaweed salad, imitation crab salad or edamame.
The jalapeños can be swapped for another pepper like serranos.
Rather than using cubed avocado, try using a puréed avocado or guacamole instead.
Tossing the wontons in the furikake adds extra flavor to the base of the chips.
Try swapping the wasabi mayonnaise with a quick spicy mayo sauce made by mixing together mayonnaise (kewpie is best) with the sriracha.
Other Recipes to Try
If you enjoy this wonton nacho recipe, give these a try:
Ahi Tuna Wonton Nachos with Wasabi Mayo
½

pound

sushi grade ahi tuna

¼

teaspoon

kosher salt

2

tablespoons

black and white sesame seeds

2

tablespoons

extra-virgin olive oil

1

tablespoon

soy sauce

Vegetable oil,

as needed, for frying

25

wonton wrappers,

cut in half diagonally

1

teaspoon

furikake flakes

3

tablespoons

Kewpie Japanese mayonnaise*

1

teaspoon

wasabi paste

1

cup

finely shredded green cabbage

1

medium haas avocado,

peeled, seeded and diced

1

tablespoon

sriracha

2

tablespoons

chopped cilantro

2

tablespoons

thinly sliced green onion

1

medium jalapeño,

thinly sliced
Season the tuna with kosher salt and sesame seeds. Heat a large sauté pan or griddle on high heat. Add the olive oil and heat through. Once the olive oil and pan are heated, sear the tuna on each side for about 1 minute.

Remove the tuna to a cutting board and slice into 1" cubes. The tuna should be seared in the outside but mostly raw on the inside. Add to a bowl and toss with the soy sauce. Refrigerate until ready to serve.

In a deep-fryer or large cast-iron skillet over medium heat, add enough vegetable oil to fill about an inch up the pan. Heat oil to 350°F (180ºC), then working a few wontons at a time, add to the skillet and fry on both sides, about 30 seconds total. Do not add to many at a time or it will crowd the pan.

Remove wontons to a paper towel-lined plate to drain. Continue until all the wontons have been fried. Add to a bowl and toss with the furikake and set aside.

In a small bowl, whisk the mayonnaise and wasabi paste together until throughly combined. Cover and refrigerate until ready to use.

Spread the wonton chips out on a large platter. Top with the shredded cabbage followed by the avocado and tuna. Drizzle with the wasabi mayonnaise and the sriracha then top with the cilantro, green onion and jalapeños. Serve immediately.
DID YOU MAKE THIS?
TAG ME ON INSTAGRAM TO BE FEATURED ON MY STORIES! @cookingwithcocktailrings
*Note: Find specialty Japanese ingredients at Asian markets, some gourmet markets or online.