June 21, 2018 – June 26, 2018
My friend Devin was coordinating her coworker's wedding (she's also a wedding planner) in Laie and asked me to assist her. Of course I immediately said yes and was able to spend a week with one of my best friends on what we kept calling our "honeymoon" since our week in Hawaii was basically a best friend getaway before my actual honeymoon with Aaron coming up in August.
Five Days on Oahu, Hawaii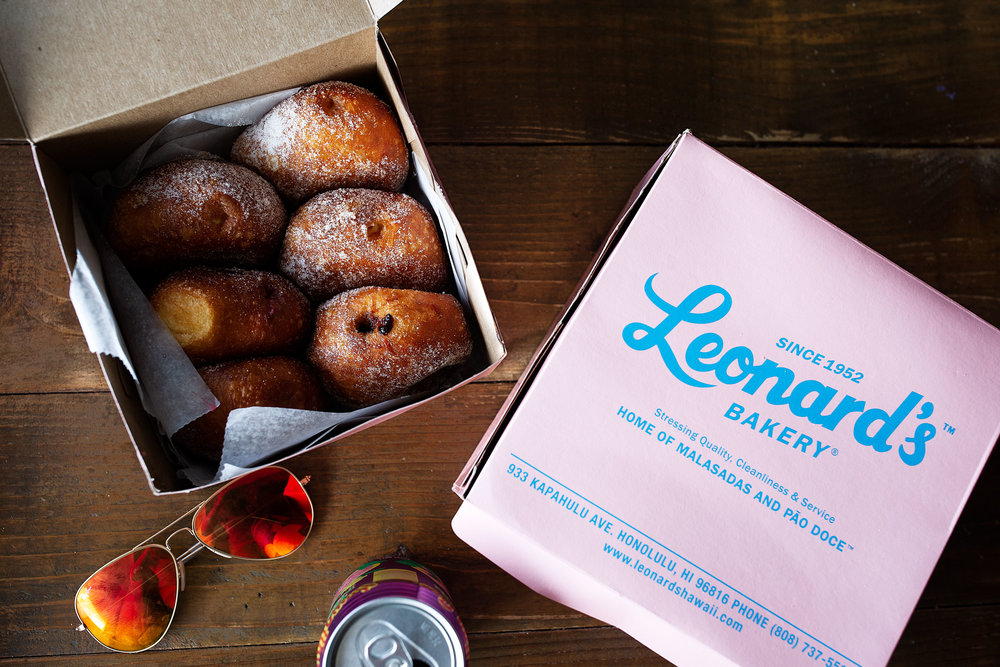 Tip: always travel with friends who are willing to spend half the day lying out in the sun and swimming in the ocean and the other half driving halfway around an island just to try out a malsada or shrimp stand. And they have to be able to hold onto their food and wait to eat it until it's been thoroughly photographed. Sometimes it takes awhile for a friend to develop that kind of patience – but after all, luckily, Devin and I have been friends since the 8th grade. This was my first trip to Oahu, I had only been to Maui once before.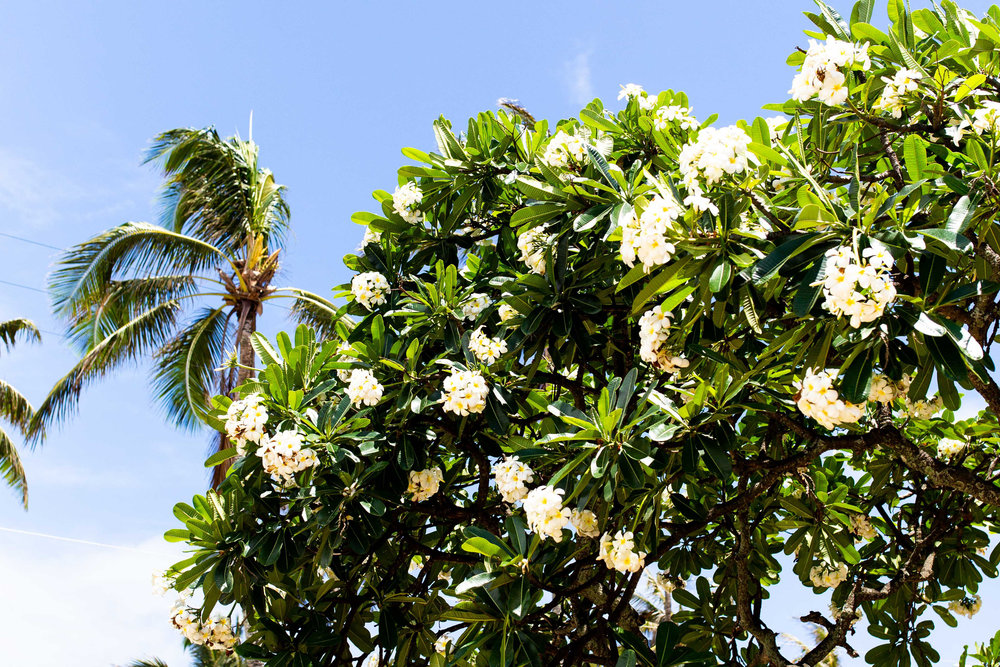 Honolulu
This was our first stop after landing at Honolulu airport and out of all the poké I ate over the course of the trip it was also my favorite. It's a hole in the wall – we're talking no sign – located on the second floor of a small shopping center with just a cutout of a fish on the door. While it was hard to find, their fish was incredibly fresh. Just past the small counter you could see them cutting up the fish for the poké; they only use line caught fish from Hawaii. We asked for their best sellers and were told to order the "lunatic", Ahi Assassin's version of ahi with spicy sauce minus the mayo, making for a particularly garlicy, spicy sauce. Of course I also opted for a scoop of the spicy mayo ahi as well, served over hot rice topped with furikake flakes. The freshness of the fish combined with the flavor and the generous servings made this my favorite poké spot.
Must-order: the "lunatic" Ahi poke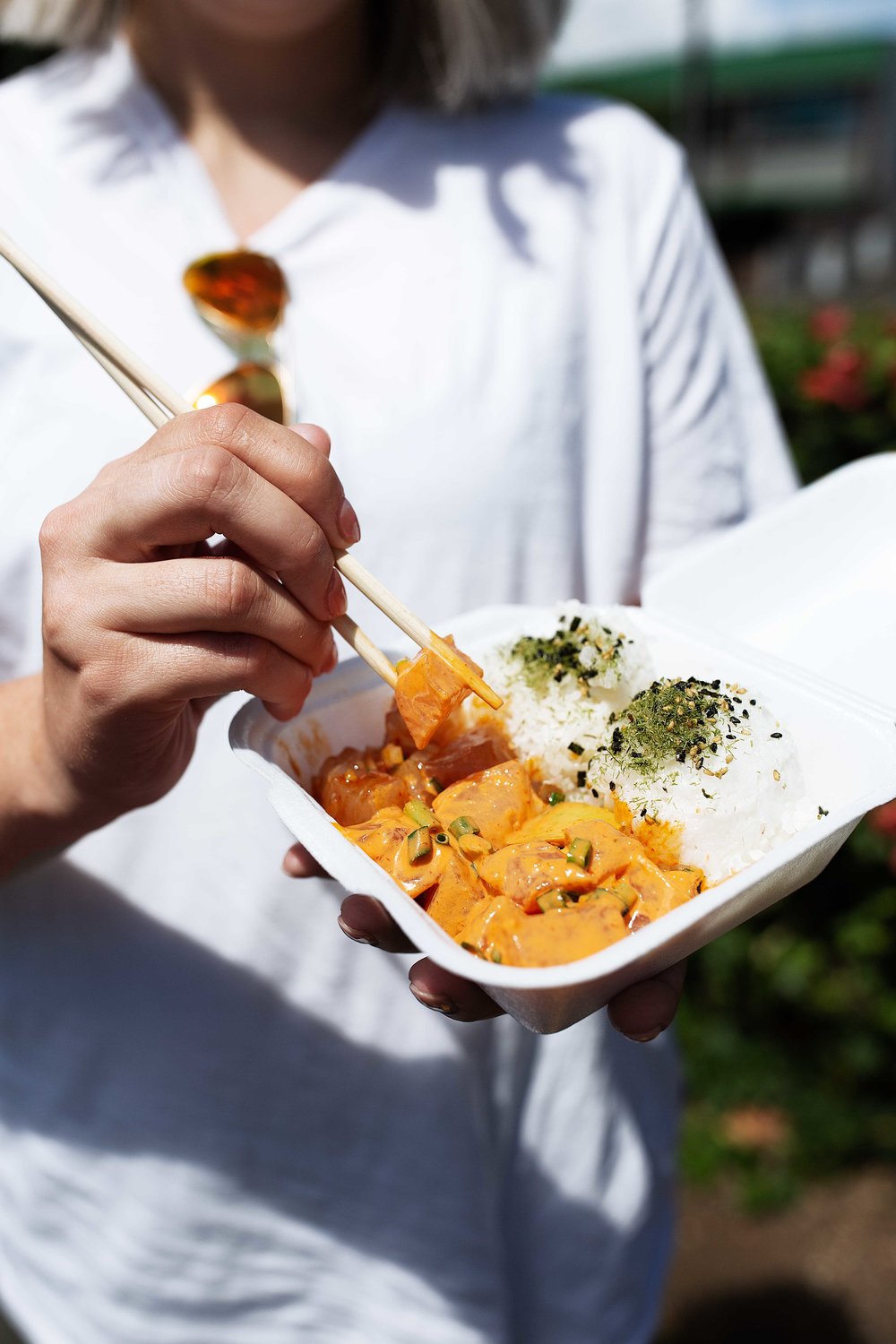 Devin and I wanted to do one "nicer" dinner during our stay and everyone's first recommendation was The Pig and the Lady. Even though we were staying in Laie on the North-East side of the island I made my friend drive the hour back down to Honolulu for dinner. The Pig and The Lady is a family run restaurant that began as a pop-up serving modern Vietnamese food in Honolulu's Chinatown. After being seated we were walked through the menus by our extremely helpful and attentive waiter who then led us to some delicious drinks. While the food could stand-alone and shine, the staff experience here made the dinner. I was torn between two cocktails so for the first round I ordered the "No 'x' in Nixon", a combination of tequila, tarragon, saffron, turmeric and egg white. Then for the second round I went with the "Cobra Commander" with avocado mezcal with rose, lime and sriracha ice cubes. As the ice cubes melted the drink became increasingly spicier.
We started off with the tuna tataki on tomato toast, slices of lightly seared ahi tuna served with avocado puree on thin toast crisps soaked with avocado puree. The other appetizer that stuck out was the juicy and tender LFC wings (Laotian fried chicken). They were fried in a light and crispy batter and tossed in what they call $$$auce. The coated wings retained their crispy exterior, were accented by kaffir lime and then topped with crispy onions and spiced peanuts. For our entrée we split two dishes, the tender Kurobuta pork chop marinated in Tamarind served with mung bean fricassee and the agnolotti. The little dumplings were filled with truffled cauliflower and tossed in a butternut squash-turmeric sauce topped with candied pine nuts and preserved lemon. While the agnolotti were perfectly al dente, they were overshadowed by the decadent and creamy sauce, a sauce which I could eat by itself as a soup.
When it came to dessert we couldn't come to a decision so the waiter suggested a scoop of their signature soft serve with a slice of the macadamia nut and orange blossom cake accompanied by goat cheese mousse. The monthly soft serve flavor was fruit loop, which tasted exactly like the sugary cereal and went well with the layers of moist cake. Devin and I spent the whole ride back to our rental at the North Shore recapping all of the food we ate; I can see why The Pig and the Lady was everyone's first recommendation for an upscale dinner.
Must-order: tuna tataki & LFC wings
Out of all the poké places we stopped over the course of the trip, Fresh Catch Seafood definitely had the largest selection. They displayed their seafood in tubs filled with various fish and showed a dizzying array of sauce combinations. I wanted to try it all but Devin knew that as usual my eyes were bigger than my stomach and reminded me that that this was only our first stop of many that day.
We ended up sharing a bowl with a scoop of spicy coconut ahi and another of garlic ahi poké. We also ordered a few small scoops of other bowls just to try including spicy salmon and shrimp poké. The spicy coconut was so unique – the fish was coated in a creamy and slightly spicy coconut sauce similar to a Thai curry and served with chopped peppers and onions. The garlic ahi was sweet with a good balance of soy and garlic flavor and came mixed with the traditional accompaniment of sliced sweet onion.
Must-order: spicy coconut ahi and garlic ahi poke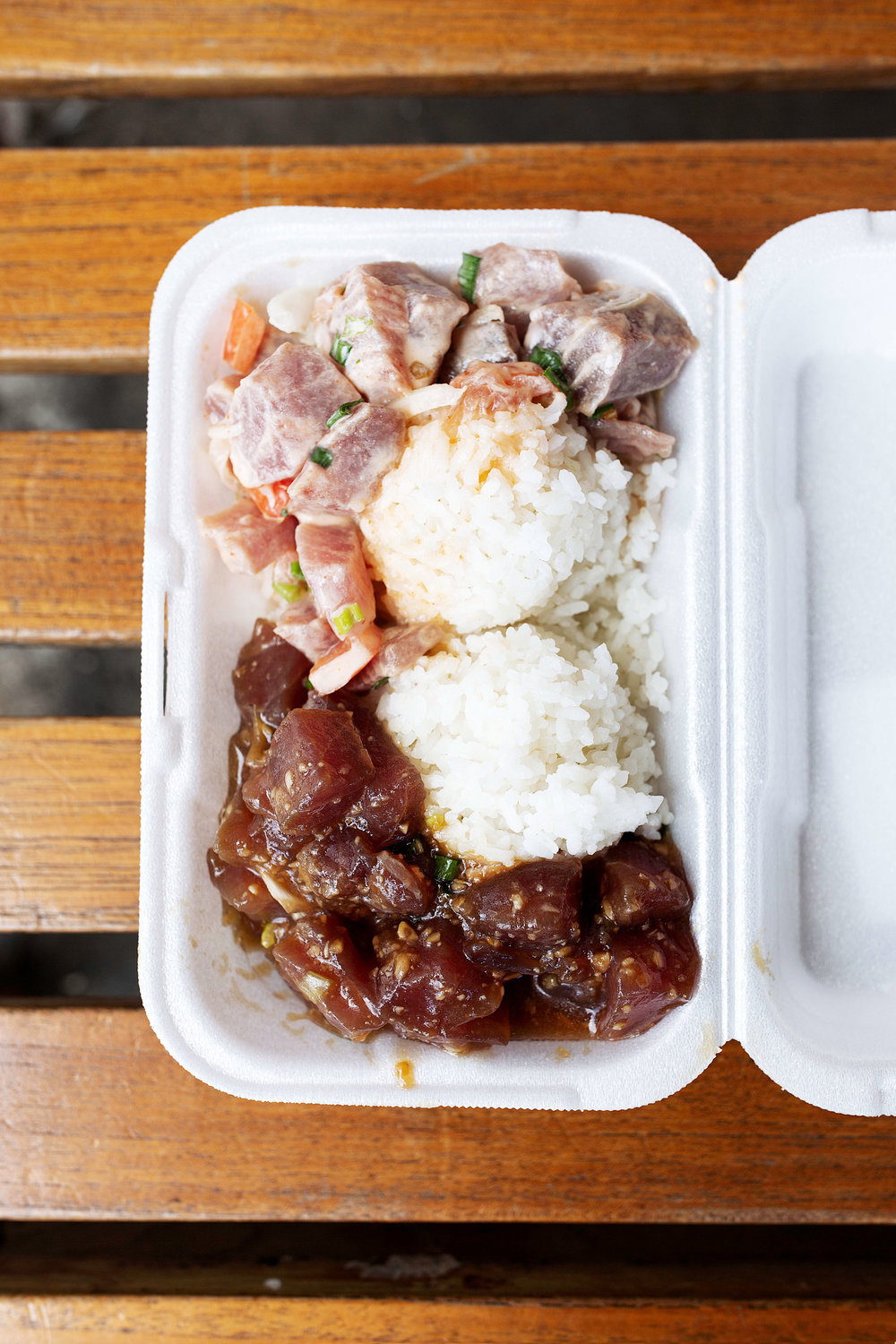 Leonard's Bakery has been open since 1953 and is famous for malsadas, yeasty Portuguese donuts without the hole. They come tossed in granulated sugar or are filled with a combination of custards. I was surprised by the Portuguese influence on the food in Hawaii, as it was a part of Hawaiian history that was unknown to me before visiting.
The line at Leonard's is consistently out the door but they know what they are doing and it moves swiftly. Since they are always so busy you can count on the malsadas being fresh out of the fryer and still hot. The dough is light and fluffy and among my favorites were the li hing, plain malsadas tossed in sweet and sour powder from salted plums, as well as the original custard and the lilikoi, which were filled with passion fruit custard. Devin and I ate an entire box of a dozen over the total of our trip.
Must-order: Li hing malsadas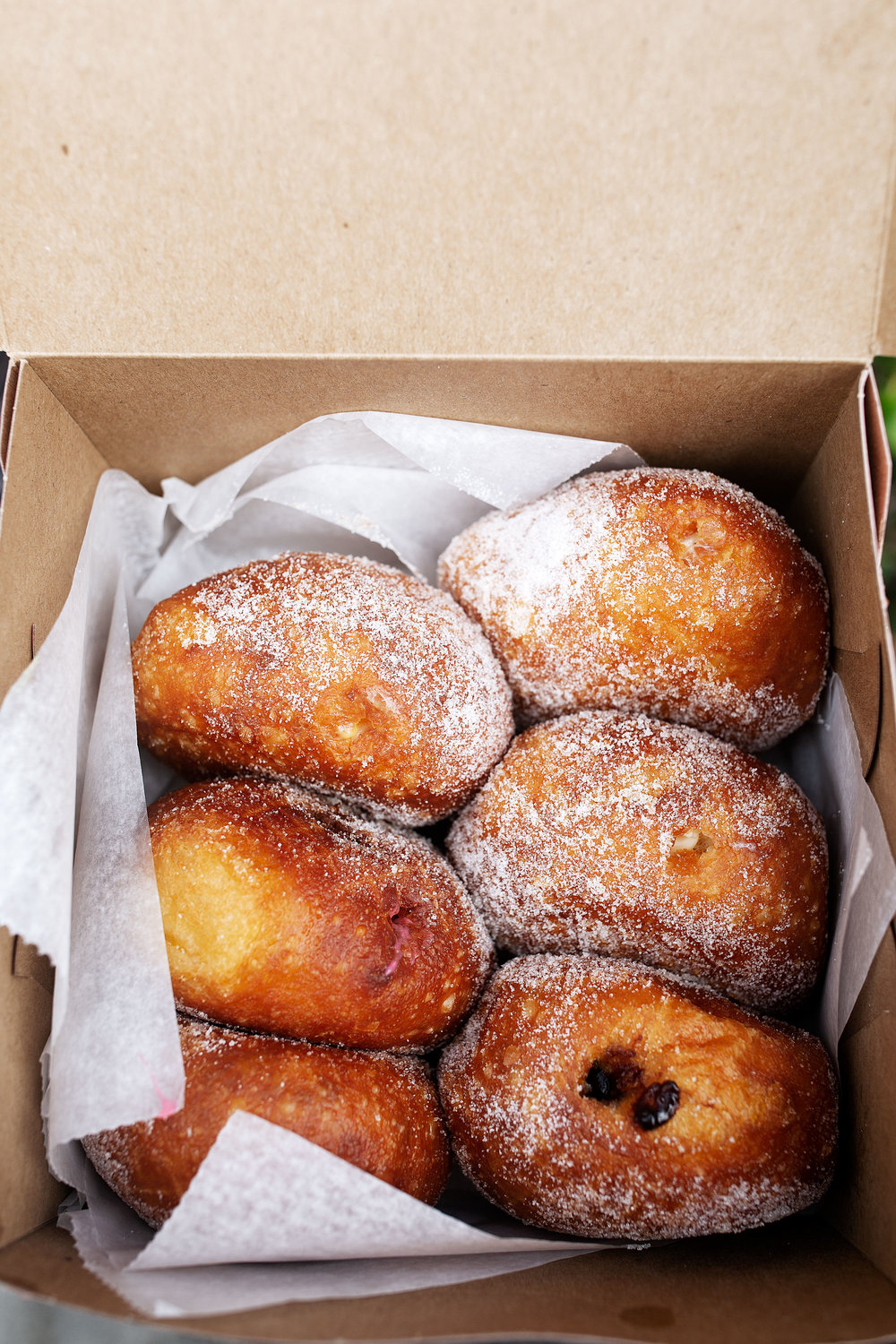 Sure they have fish at Yama's but their menu reaches far beyond that. We stopped by a little while into our food tour and decided to change it up from all the poké we had been ordering. We chose two of the combination platters. The kalua pork was incredibly tender and juicy served with a side of rice and Hawaiian macaroni salad. All macaroni salad should be like Hawaiian macaroni salad – it's simple with enough mayonnaise to keep it creamy and just a bit sweet with minimal filler ingredients, just a bit of carrot for color.
As soon as I got back from Hawaii I made some to bring to a BBQ and it was a hit. We also ordered the mochiko chicken served with a sweet and sour sauce, rice and more macaroni salad. The chicken came pounded thin and fried in a panko breading, reminiscent of katsu pork (a Japanese fried pork dish). Dipping it in the sweet and sour sauce really completed the flavors of the dish.
Must-order: kalua pork and mochiko chicken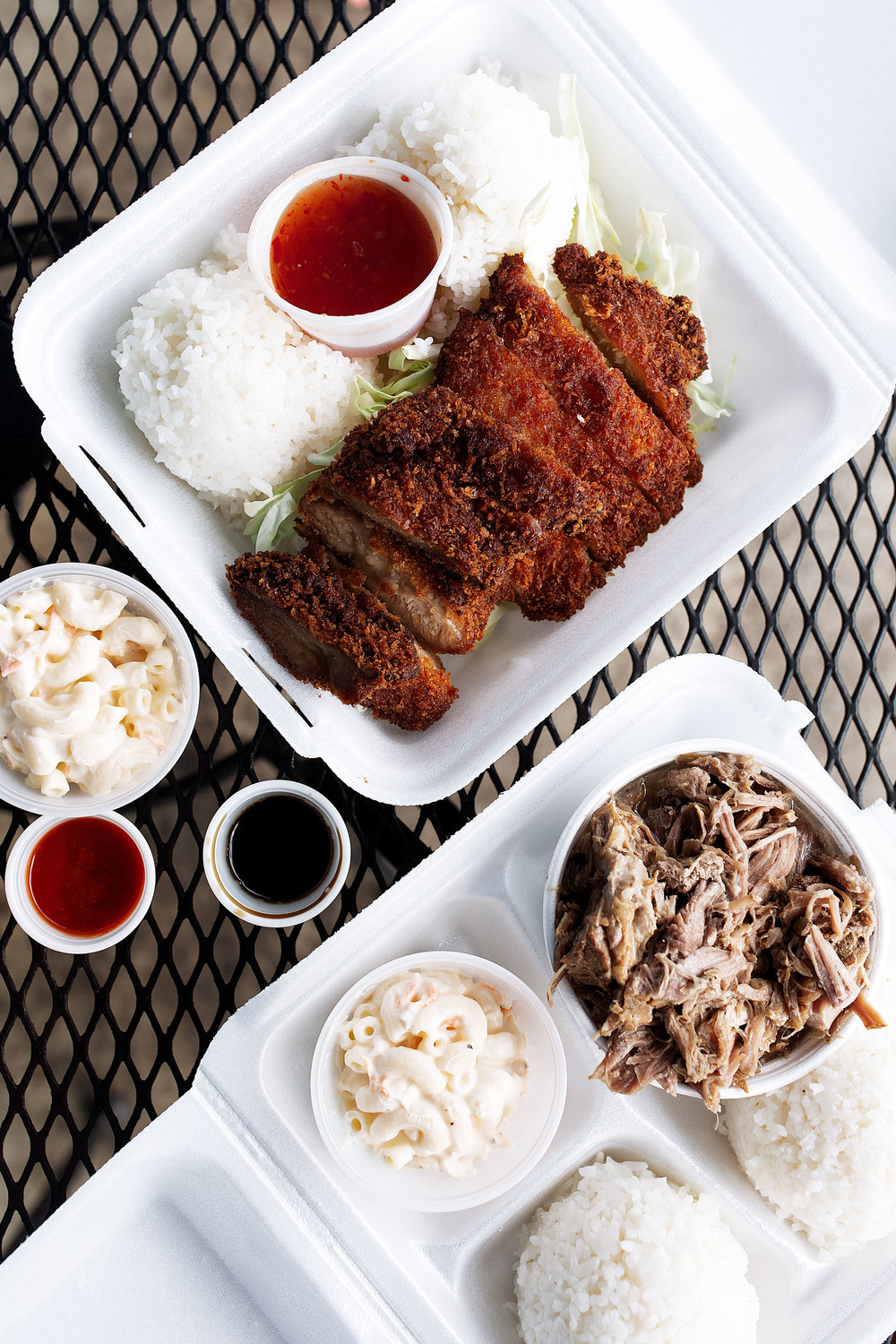 North Shore
We came here to eat our first morning in Oahu… and our second, and our third and it wasn't just because of their famous chocolate haupia pie. The pie has layers of chocolate and coconut custard topped with whipped cream and is not to be missed. The first morning we decided to share a few different things including a chocolate covered croissant while we were waiting on our order.
Next was the loco moco, a hearty Hawaiian breakfast special with rice topped with hamburger patties, gravy and a fried egg. By far my favorite was the Portuguese sausage egg and cheese breakfast sandwich served on a buttery croissant. This smoke cured pork sausage seasoned with garlic and paprika is sweet and mild. Of course one morning we also got an açai smoothie bowl topped with fruit and granola to really stay healthy and serve as a counterbalance to all the decadent food we had been eating.
Must-order: Chocolate haupia pie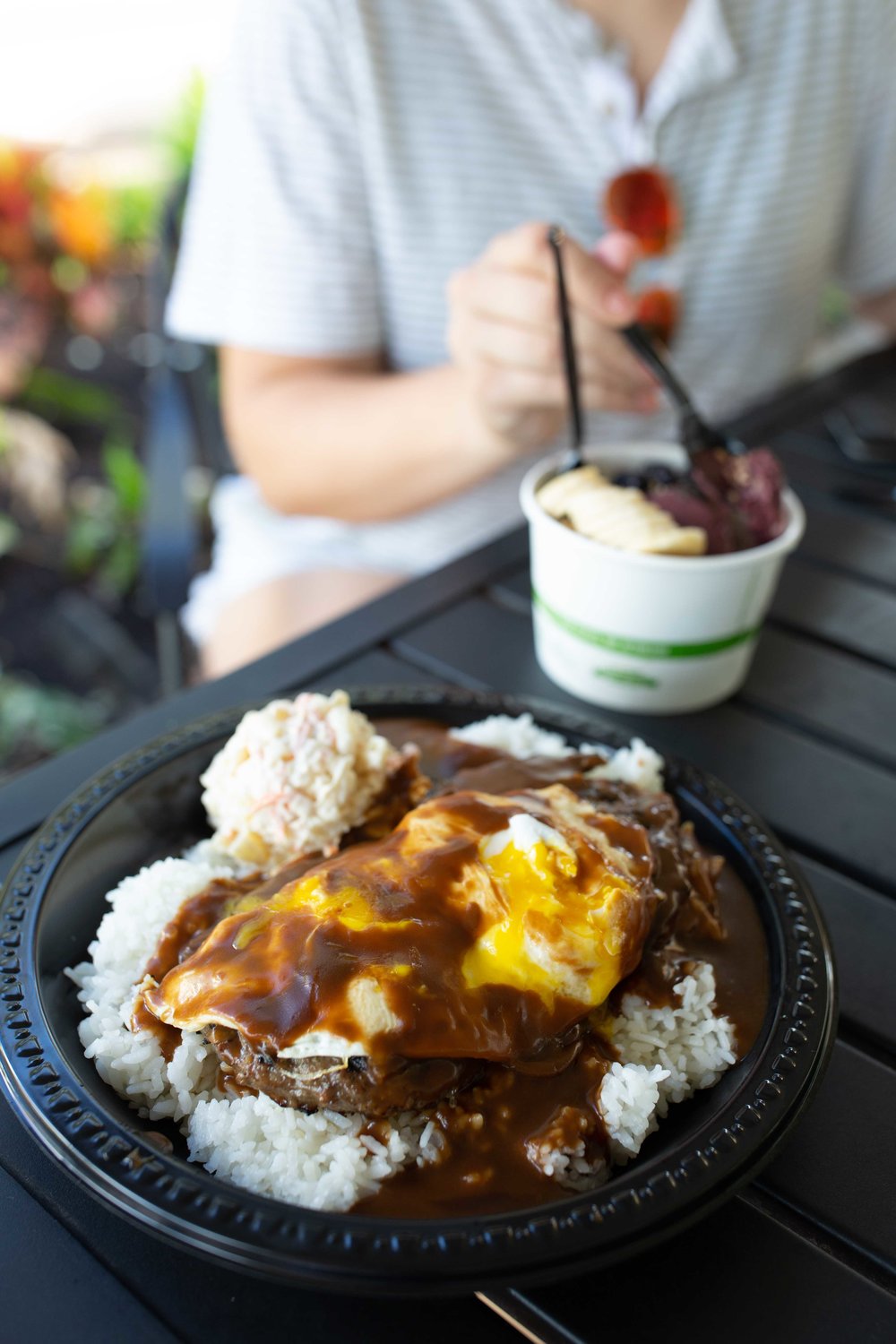 Locals seemed divided in their recommendations for Giovanni's – some thought it was way too touristy and others considered it a must-stop spot. I wanted to decide for myself so we went for a late lunch when the line wasn't too long. Giovanni's is known for their scampi plate, two scoops of rice topped with "peel-and-eat" shrimp coated in a sweet lemon and garlic butter sauce all served out of a graffiti covered truck on the North Shore.
The shrimp dishes at the various restaurants that I visited were hard to compare – they were all prepared so differently. This one was definitely heavy on the butter (not a complaint, just an observation) and loaded with garlic, cooked until sweet and flavorful but not until crispy like Romy's (my next stop). The rice was a bit overcooked but I was definitely a fan of how much extra sauce they served on top of the rice!
Must-order: scampi plate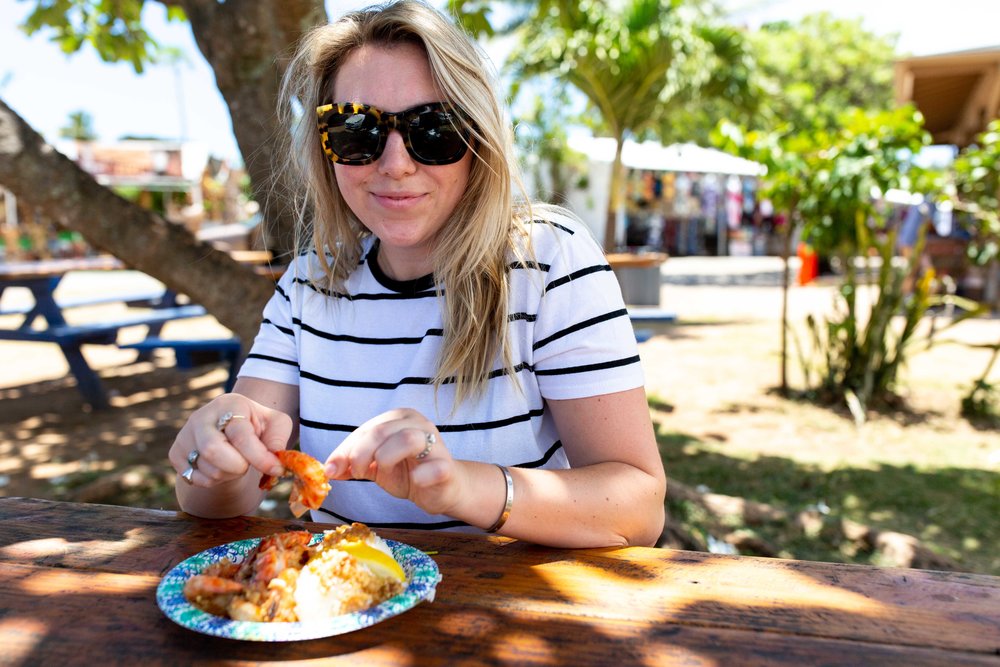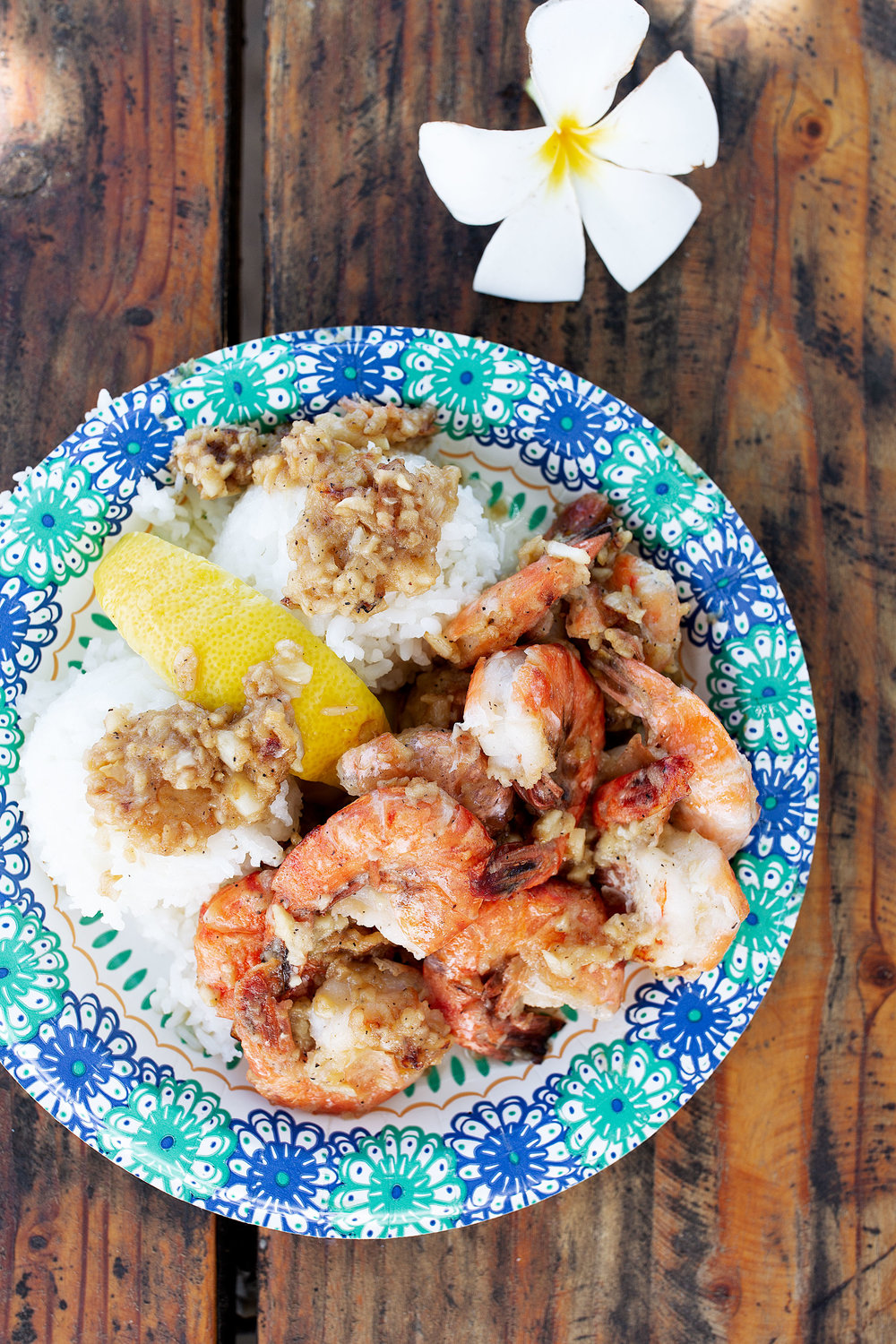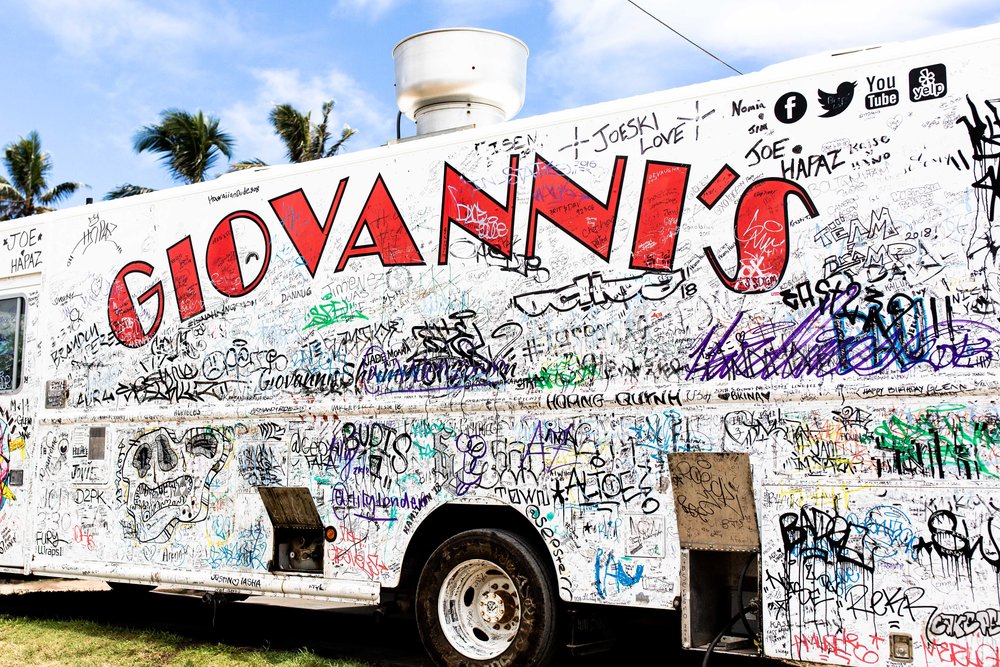 This side of the road, cash-only shrimp stand is worth the wait, just be advised that there will be a wait. Even if you are at the front of the line it can be about 30 minutes, so your best bet is to go when it opens at 11am. Their simple menu boasts farm fresh shrimp, prawns (the prawns are farmed from behind the stand) and fried sunfish.
My favorite was the garlic butter shrimp, a generous portion of whole "head-on" shrimp tossed in a garlic butter sauce (as the name implies). The garlic was crispy and while you could taste the butter it wasn't drenched in it and the dish was served with a shoyu dipping sauce.
The fried shrimp were already peeled and rolled in egg roll wrappers then fried until golden brown with a side of sweet and sour sauce. The sweet and spicy prawns were also served "head-on" and tossed in a sticky, honey sauce and served with a spicy sambal dipping sauce. They even have sinks to clean up after eating. This may seem like an insignificant factor now but when sitting with sticky hands covered in garlic butter after peeling a mound of shrimp, it comes as a blessing!
Must-order: garlic butter shrimp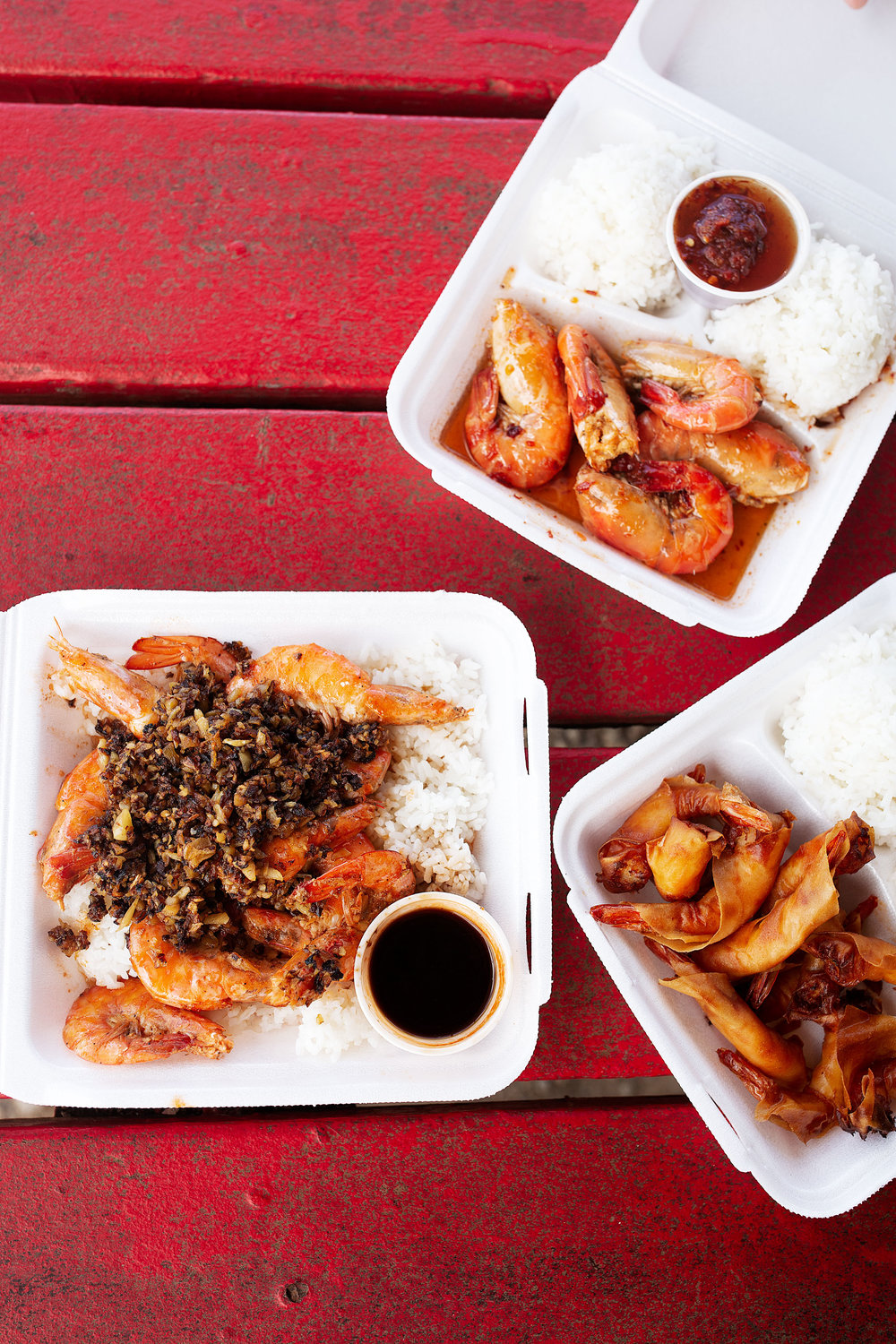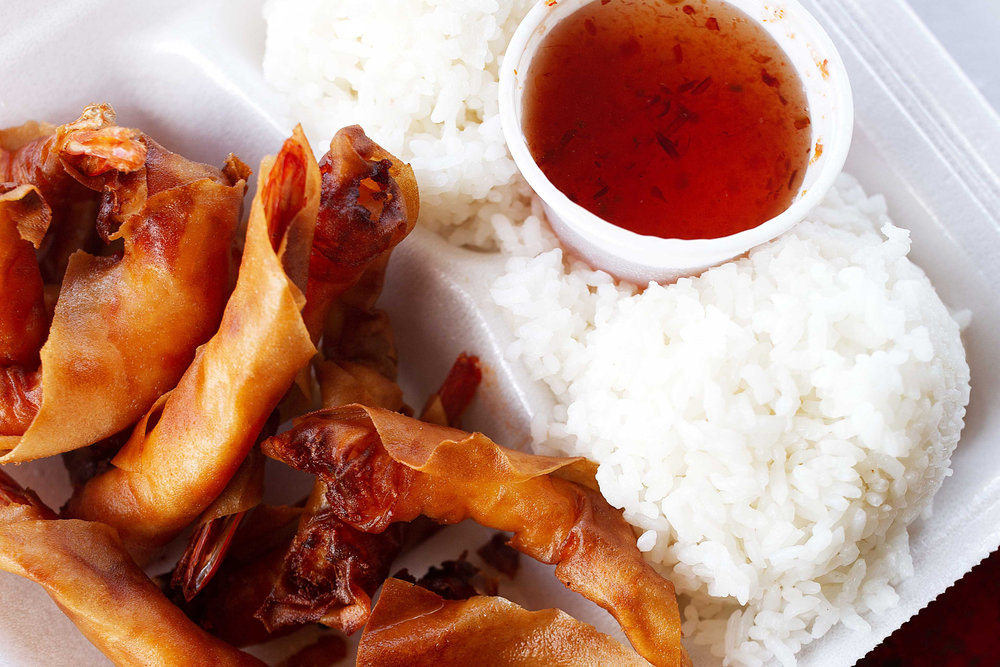 First things first, this is the restaurant and resort featured in Forgetting Sarah Marshall, although the bar has been redone (I re-watched it on the plane on the way to Hawaii – I'm a walking cliché). We met up with the bride and groom and some of their friends who were staying at the resort for dinner on one of our last nights on the island. The restaurant has mostly outdoor seating all overlooking the ocean so you can hear the waves crashing in the background while you eat, exactly what you want from an upscale dinner in Hawaii. The food was locally sourced Euro-Asian cuisine.
Our waiter was your stereotypical Hawaiian "island-life" guy with a tranquil way of explaining everything from the food to the cocktails, which made the meal for all of us. He even fashioned a little turtle out of the wire from the champagne we ordered for the newlyweds. We got mostly "pupus" the Hawaiian term for an assortment of appetizers. One standout was the crab cake, served heavy on the crabmeat and light on the fillers, though still coated in a lot of breading. I also enjoyed the spicy ahi roll with creamy wasabi aioli and tobiko. We were too full for dessert and had to pass on the famous pineapple upside-down cake.
Must-order: spicy ahi roll and crab cake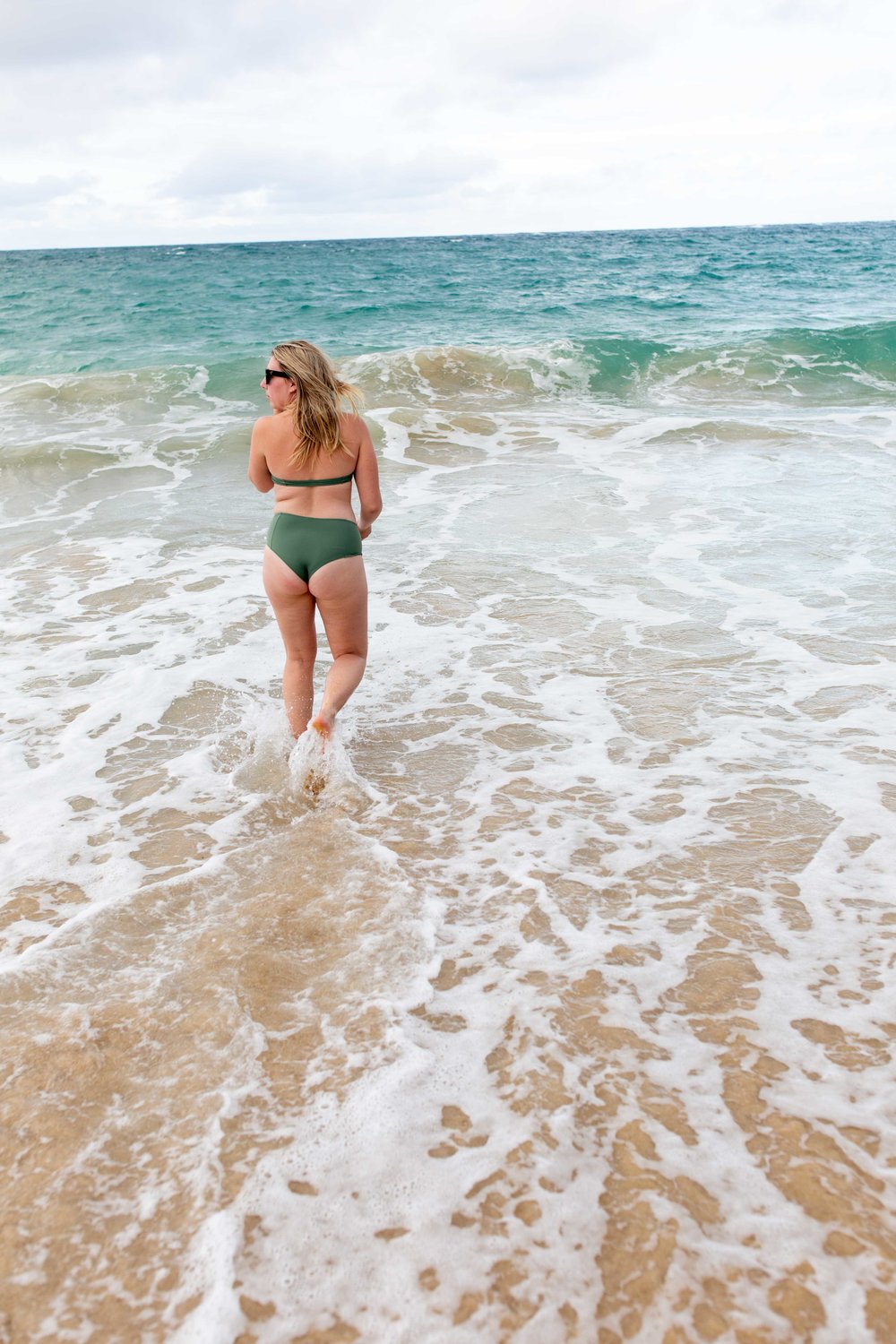 Kailua
One of Hawaii's famous treats to beat the heat is shave ice topped with sweet tropical flavored syrup. Many of them can be overly sweet and artificial-tasting (nonetheless, refreshing and delicious and part of the charm) but the Local in Kailua serves an all-natural version in a storefront shared with a trendy clothing store.
Their syrups are made with fruit grown locally in Hawaii. When choosing shaved ice flavors be sure to choose a combination that go together since the syrup all ends up mixing together. The winning combination was definitely the Kula strawberry and "four kine" lime made from Tahitian, Rangpur, Kaffir and Kalamansi limes (did you know there were that many types of lime? I definitely didn't).
Must-order: shave ice with kula strawberry and "four kine" lime syrup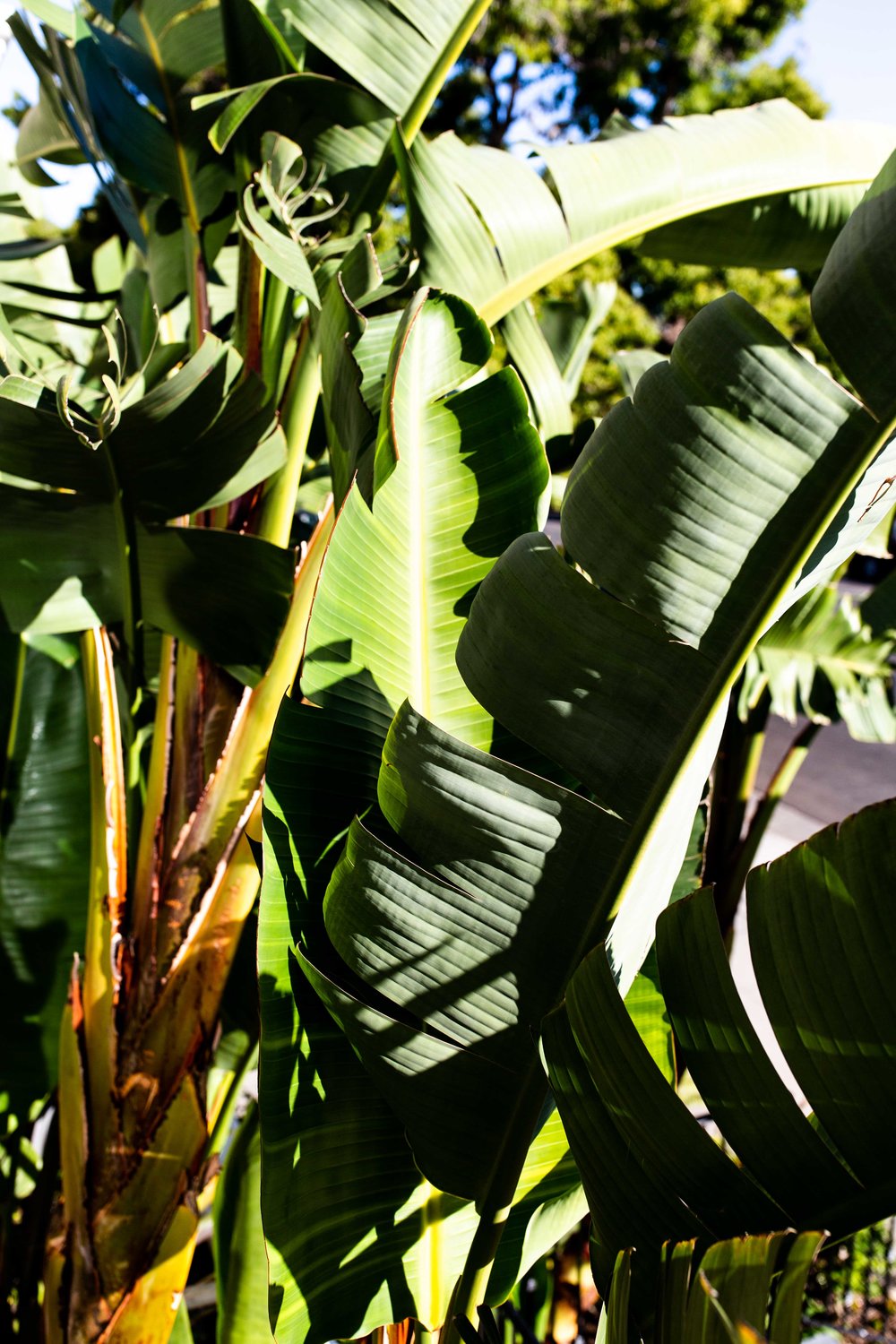 Yes, this is a local grocery store chain and yes, it has some amazing poké. I was surprised that one of the places recommended for fresh and authentic poké was a grocery store but it lived up to the hype. They definitely don't skimp on the serving size either, for $10 I got a bowl filled with half spicy ahi and half ahi limu poké and it was so full that the women working the counter had to wrap the container in plastic wrap to keep it shut.
Must-order: Poke bowl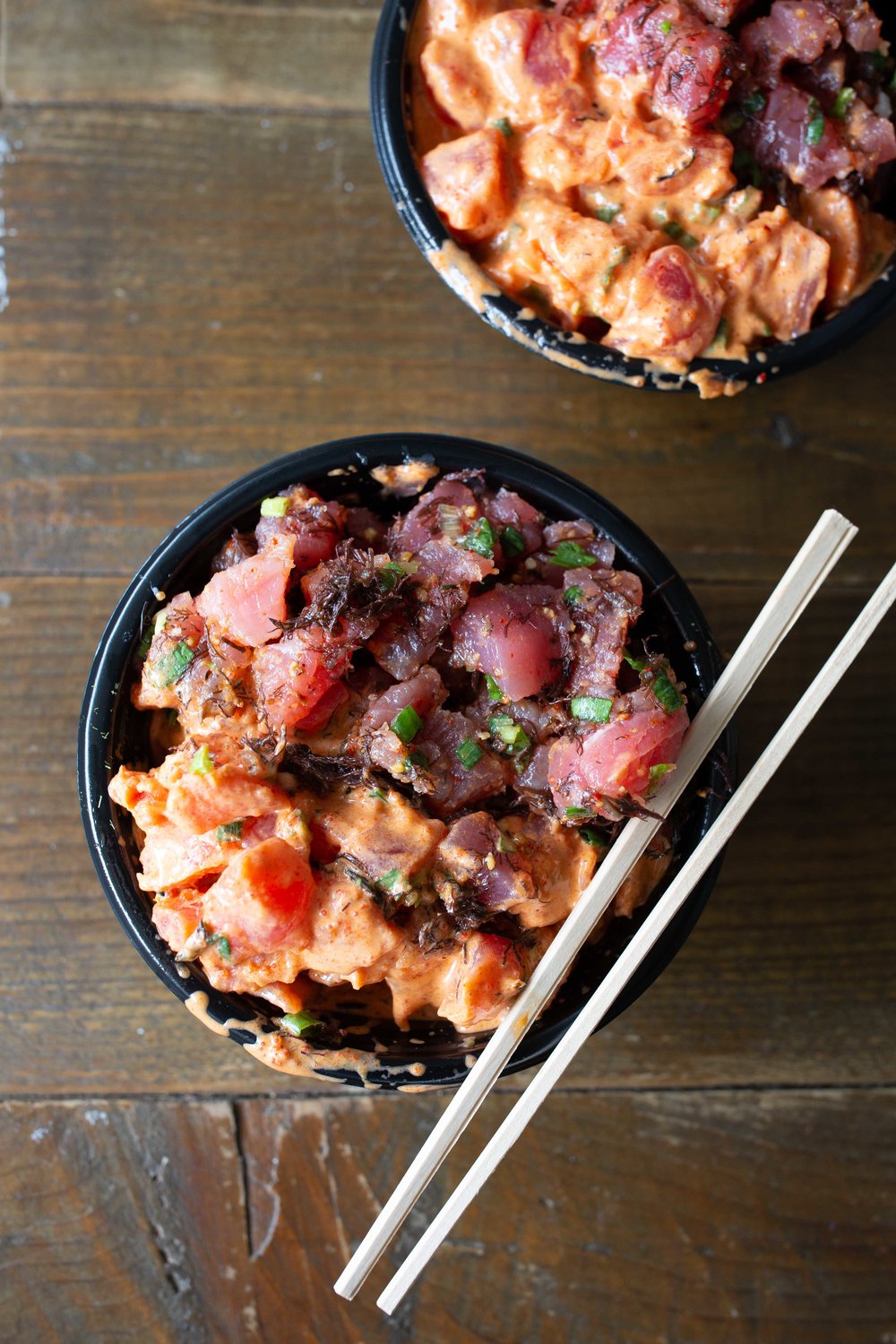 An unanticipated invitation to help with a wedding in Hawaii from one of my best friends turned into a "food tour" par excellence. I loved getting to travel around the Oahu in search of some the best food the island had to offer and of course enjoy the sun and the beach. Thank you, Hawaii!