Variations of this dish can frequently be found at plenty of sushi restaurants but I started eating a similar plate at the Nobu in Malibu. I know it sounds like the verse of a Drake song. I used to frequent the restaurant when it opened during my senior year of college at Pepperdine. It was located just down the road from my apartment. I was a firm believer of treating yourself after a hard day of studying! So my roommate and I would find any opportunity we could to go for (self-imposed) happy hour drinks and to split some appetizers.
Yellowtail Sashimi with Serrano & Ponzu
What is Yuzu?
Yuzu is a Japanese lemon-like citrus with unique fruit flavor. The condiment,"Yuzu kosho", utilizes the citrus juice and ferments it along with green chilies and salt. It packs a punch so only a small bit is needed but it adds a great citrusy, spicy flavor.
All about yellowtail
Yellowtail, also known as hamachi, is a firm fish with a high fat content, which makes for great sashimi. Here the yellowtail is paired with Serrano and yuzu kosho for a little spice with cilantro and ponzu for an extremely flavorful, yet light dish. When buying yellowtail for this dish be sure to get high-quality sushi-grade fish.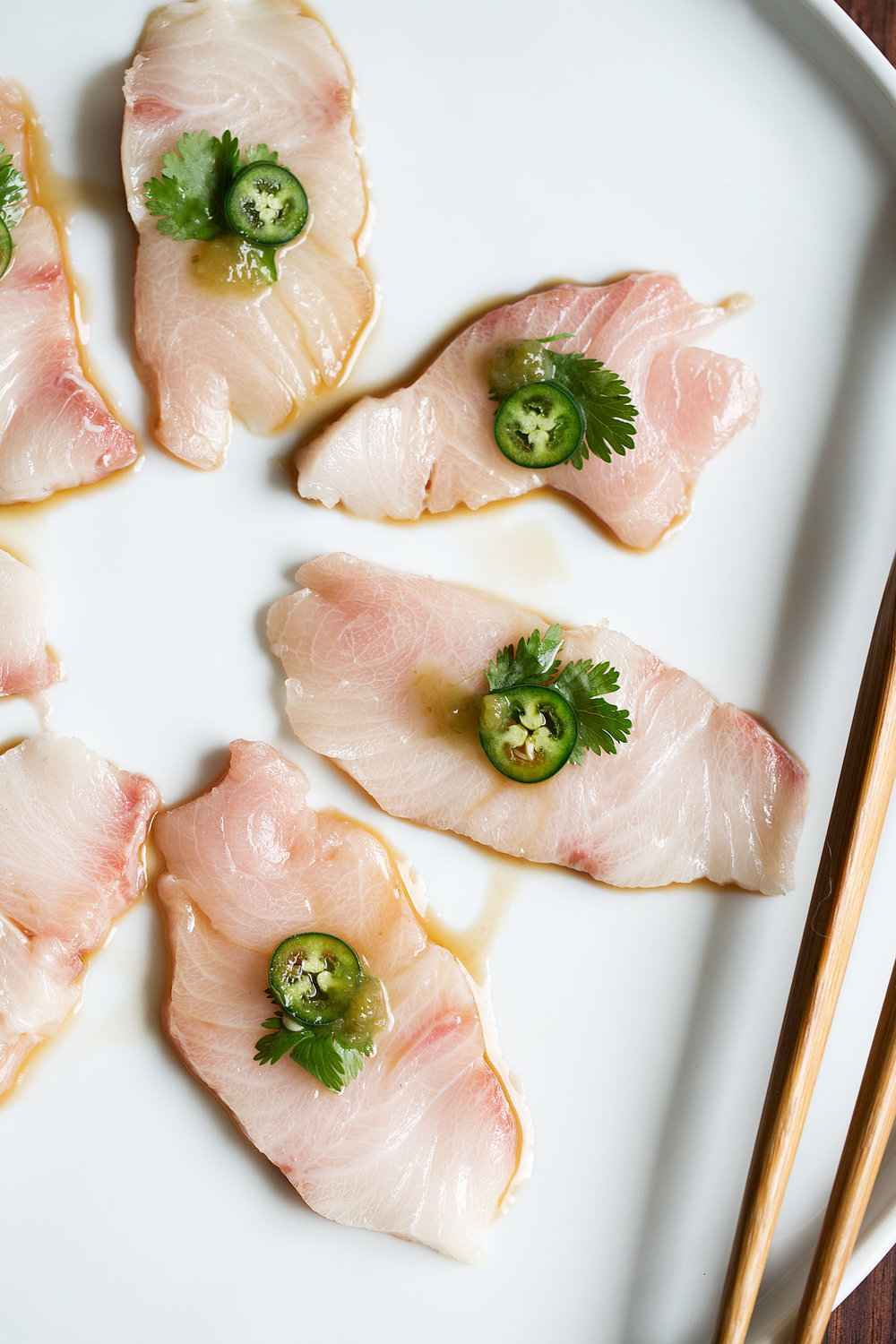 Using Raw Fish
While it can seem intimidating since you are working with raw fish as long as you buy fresh high-quality ingredients there is no reason for it to be daunting.
Ask your fishmonger for sushi grade fish, they should be able to provide much more information about whether their fish can be eaten raw. If they don't know then that is a red flag within itself.
It is important to make note of how long the store or fishmonger has had the fish. I buy the sushi-grade fish from my local seafood market the day of, or day before, making dinner as fresh as possible. All fish that is going to be eaten raw should be previously frozen. This kills any harmful parasites.
Where to Buy Sushi Grade Fish
At your local fish market. Many fish markets offer selections of fresh fish like tuna or salmon that can be used for spicy tuna crispy rice. Ask your fishmonger for more advice! They are a great resource.
At a Japanese market. Many markets sell pre-packaged cuts of sushi-grade tuna in the refrigerated section. This keeps it easy for use in this recipe!
Buy online. If you don't have a place to buy fresh high-quality fish locally, I recommend ordering online. There are plenty of places where you can get fish shipped quickly – I particularly like Honolulu Fish Co. also available on Goldbelly.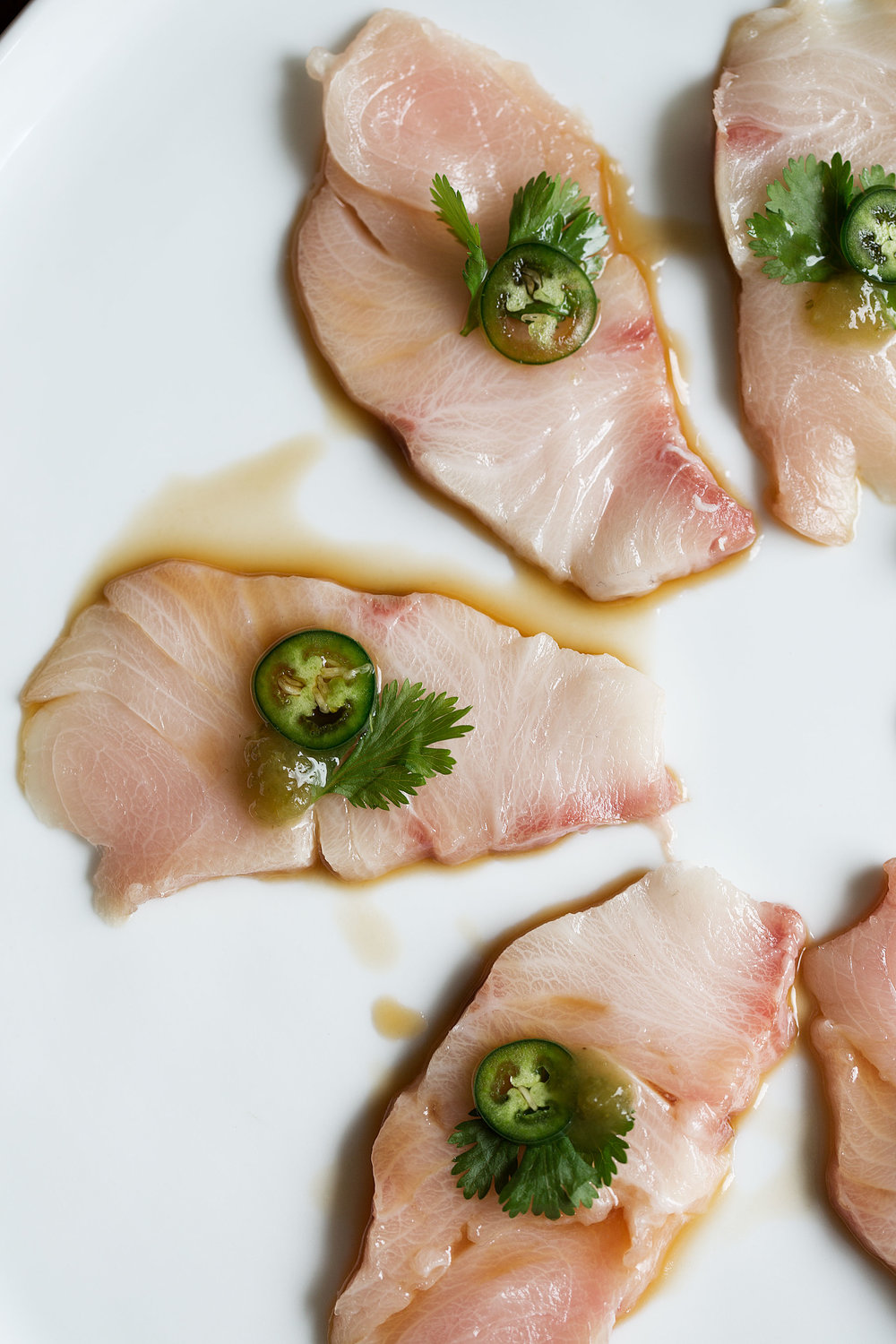 Other raw recipes you may enjoy
Yellowtail Sashimi with Serrano & Ponzu
¼

pound

sushi grade yellowtail

(hamachi)

1

medium Serrano pepper,

thinly sliced

Handful cilantro leaves,

stems discarded

½

teaspoon

yuzu kosho

2

tablespoons

ponzu
Thinly slice the yellowtail into about 8 equal slices. Arrange on a platter and top each piece of yellowtail with a slice of Serrano pepper, a cilantro leaf and a drop of yuzu kusho. Drizzle the ponzu over the top.
DID YOU MAKE THIS?
TAG ME ON INSTAGRAM TO BE FEATURED ON MY STORIES! @cookingwithcocktailrings