June 5, 2021 – June 12, 2021
Last week we took a break from the City and rented a house with friends in Kennebunkport, Maine. This coastal town in southern Maine is just over the New Hampshire border. The drive only took about five hours from our apartment in Brooklyn. (Portland, Maine's largest city, is a 35 minute drive up the coast from Kennebunkport.)
With long, sandy beaches and a quaint, idyllic East Coast town feel, it's also home to the Bush family summer compound. Kennebunkport and its neighboring area of Kennebunk are both typically referred to by the collective Kennebunkport.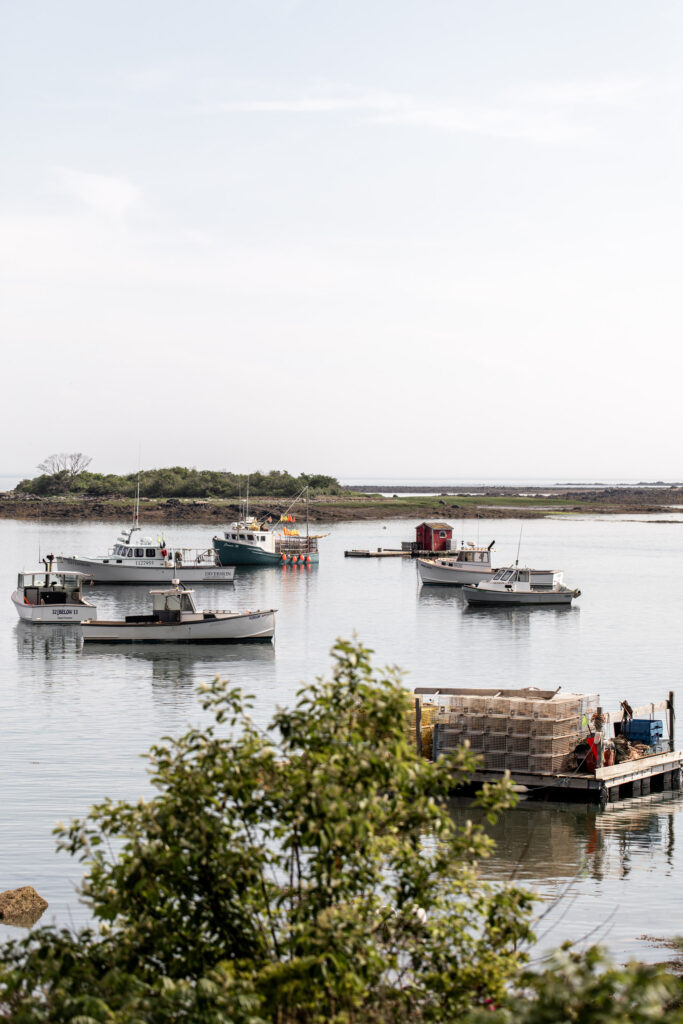 While we rented the house in order to eat our weight in seafood and to work from somewhere other than cramped New York apartments for the week, I think our dog, Benson, liked it the most. The area is really dog friendly. Since their summer season starts later than most areas of the East Coast, we were able to bring her to the beach and let her run in the water off-leash. We lucked out with the Kennebunkport weather. While it's not unusual to remain in the cooler temperatures through June, we mostly had sunny 80ºF days.
I'm sharing some of the best places to eat in Kennebunkport and of course what to order from each one. I tried to order lobster in every possible form. From rolls to whole lobster, stuffed and even served on pizza though there are plenty of things on every menu for those who don't enjoy seafood as much as I do! Most of the restaurants were recommended by my followers on Instagram, and I couldn't be more appreciative! I love getting recommendations before I travel anywhere and keeping them in an excel spreadsheet (very type-A, I know).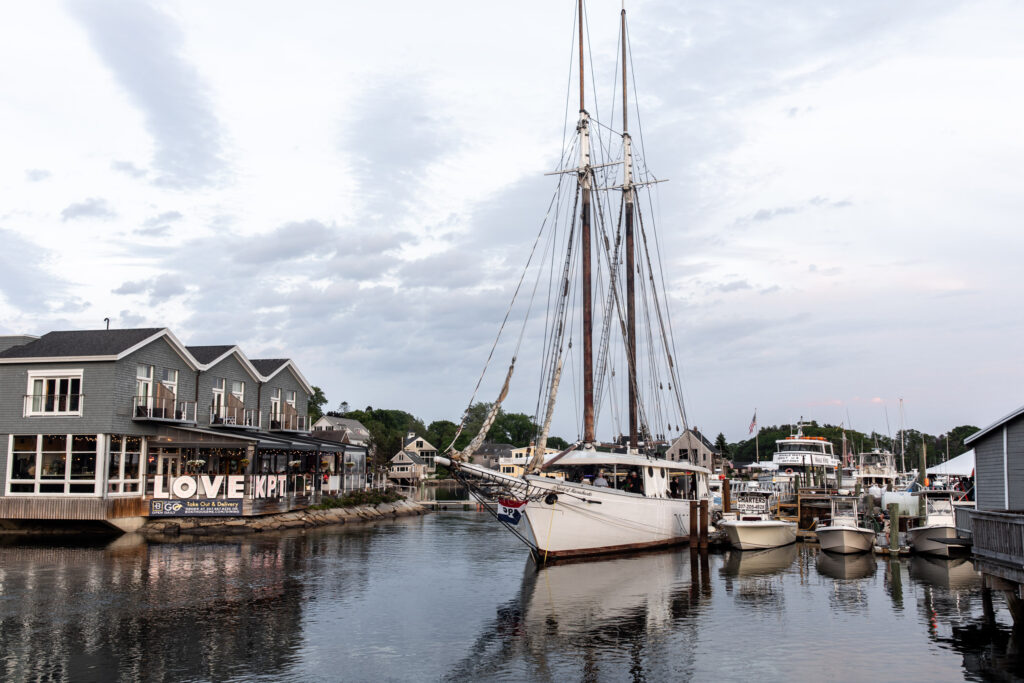 A Week in Kennebunkport, Maine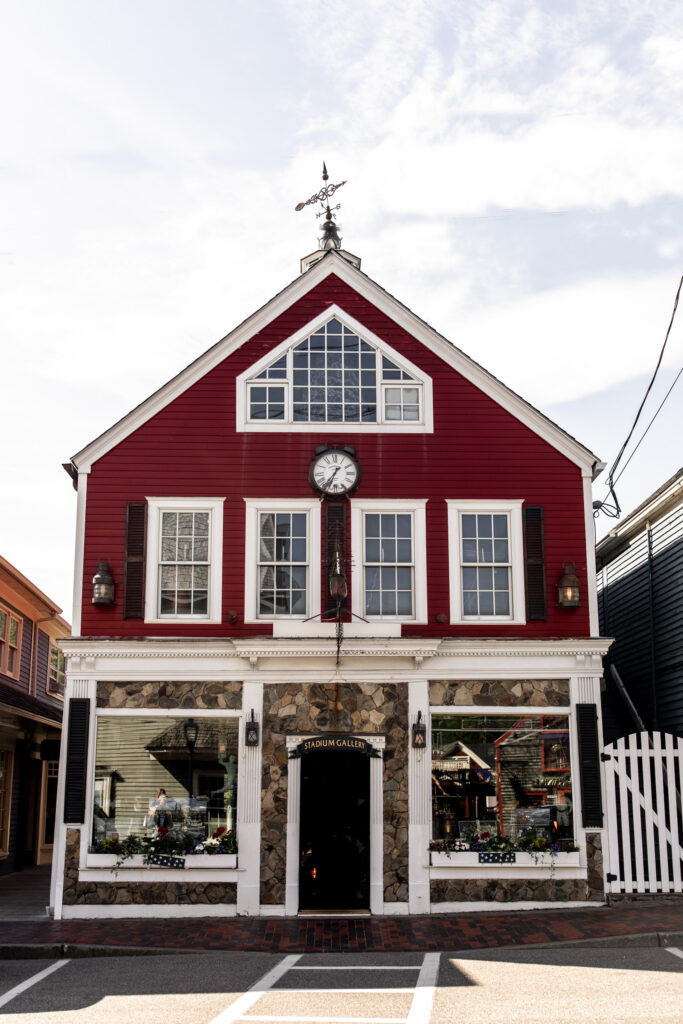 To Eat
Breakfast
21 Western Ave, Kennebunk, ME 04043 | morningsinparis.com
This cafe is the perfect stop for coffee and pastries. The "Mainer" latte is a great pick-me-up to take to the beach for an oceanside walk. I paired it with one of their sweet cherry and greek yogurt croissants. If you're in the mood for something iced, the summer drink special "thunder bear" hits the spot. Similar to an "iced americano", this drink is made with a large iced coffee, two shots of espresso, honey and cinnamon.
What to order: Mainer latte & a croissant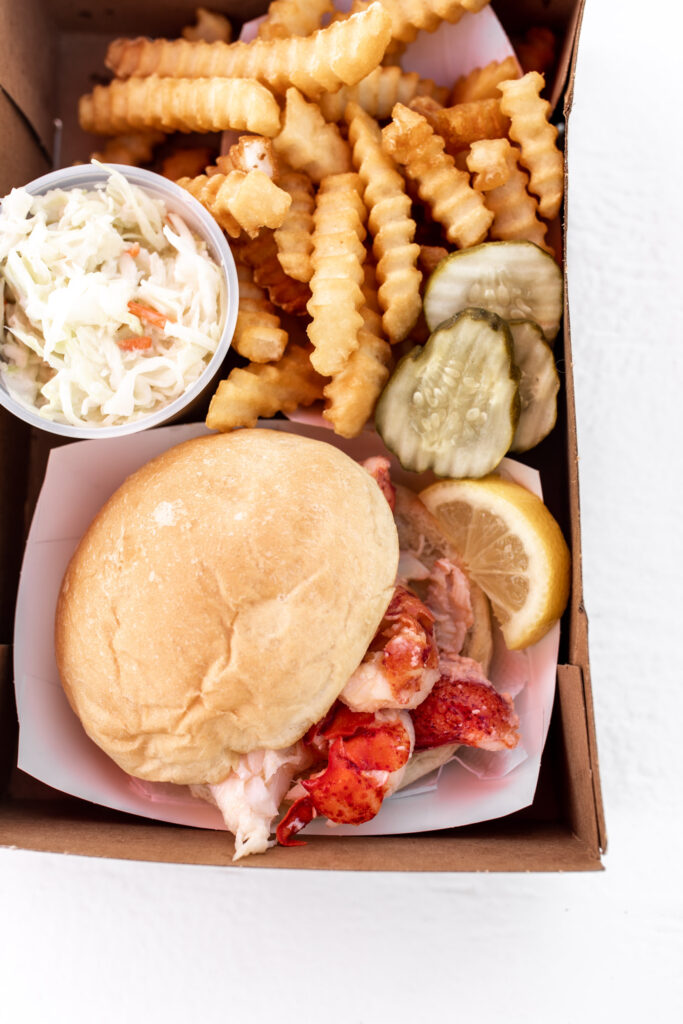 Lunch
2 Western Ave, Kennebunk, ME 04043 | theclamshack.net
Located in Dock Square, the main town center of Kennebunkport, the Clam Shack is one of the most famous spots for seafood in town. Home of an award winning lobster roll and open since 1968, this is a must stop for anyone visiting the area. Their unique lobster roll comes on fresh rolls made from the local Maine Reilly Bakery rather than the classic top cut New England buns. Each roll contains five ounces of fresh Maine lobster meat. Specifically with large pieces of knuckle, claw and tail meat with no additional fillers. You have the choice to get the roll with either mayonnaise, butter or my personal favorite – with both! Your choice earns you a pin with your order. While the lobster roll is certainly the star, I personally love both the fried clam strips and fried scallops as well.
What to order: lobster roll with both mayo & butter
200 Sea Rd, Kennebunk, ME 04043 | bennettssandwichshop.com
The Kennebunk location of this sandwich shop was just down the road from our AirBnb rental making it the perfect stop. They're most well-known for their steak and cheese sandwich with shaved sirloin steak, peppers, onions, mushrooms and melted cheese. I got the buffalo chicken cheesesteak with shaved chicken, American cheese, hot sauce sauce and ranch – it wasn't pretty but it was certainly delicious.
What to order: steak and cheese sandwich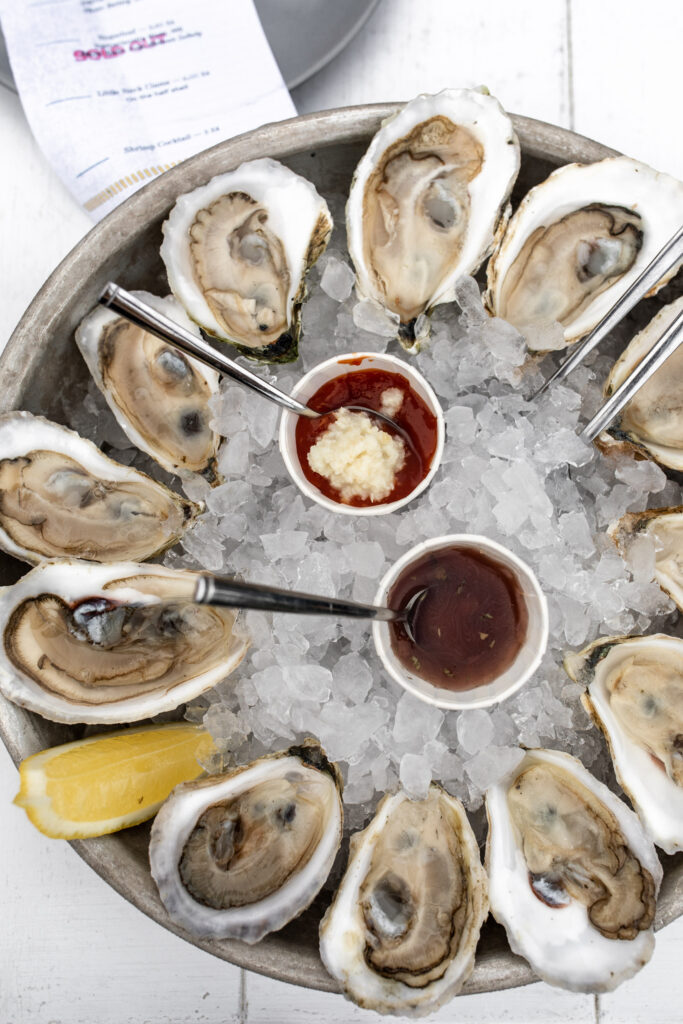 Dinner
21 Ocean Ave, Kennebunkport, ME 04046 | boathouseme.com
This was our first stop of the trip, and the start to my week of seafood. The landing restaurant is located inside the Boathouse hotel in Dock Square. The group has a number of other popular restaurants in the area like Earth at Hidden Pond which is on my list for the next trip. We started the meal with an assortment of local oysters, the buffalo shrimp served with blue cheese crema as well as the mini wonton tacos filled with lobster meat and topped with kewpie mayonnaise. Their classic lobster roll is served classically with mayonnaise, lemon and chives piled into a buttery, toasted top-cut New England bun. I'd recommend this restaurant for outdoor dining on their patio; it has a great view of the harbor and the docked boat serving as a bar across the way.
What to order: mini wonton tacos & buffalo shrimp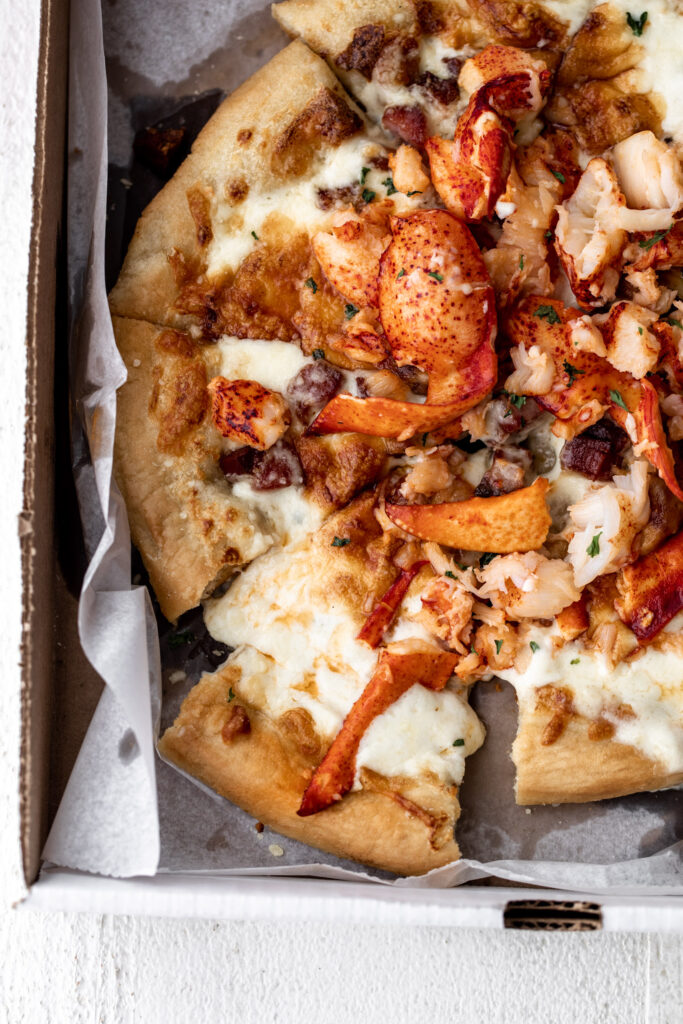 11 Dock Square, Kennebunkport, ME 04046 | alissons.com
I actually picked up my lunch curbside at this restaurant but it's better known for its dine-in casual dinner atmosphere. The independent, family owned restaurant in Dock Square has been in business for over 40 years with a whole special lobster menu. I was drawn to the lobster pizza – a 10" pizza topped with a fontina gruyere cheese sauce, crispy pancetta and huge chunks of lobster meat. It was rich and luxurious with a bready crust and flavorful combination of both pancetta and lobster. I was shocked at the amount of lobster meat included – it's not often you get whole claws instead of finely chopped meat. Next time I can't wait to try the truffle lobster roll or the lobster bisque roll (lobster drizzled with lobster bisque).
What to order: lobster pizza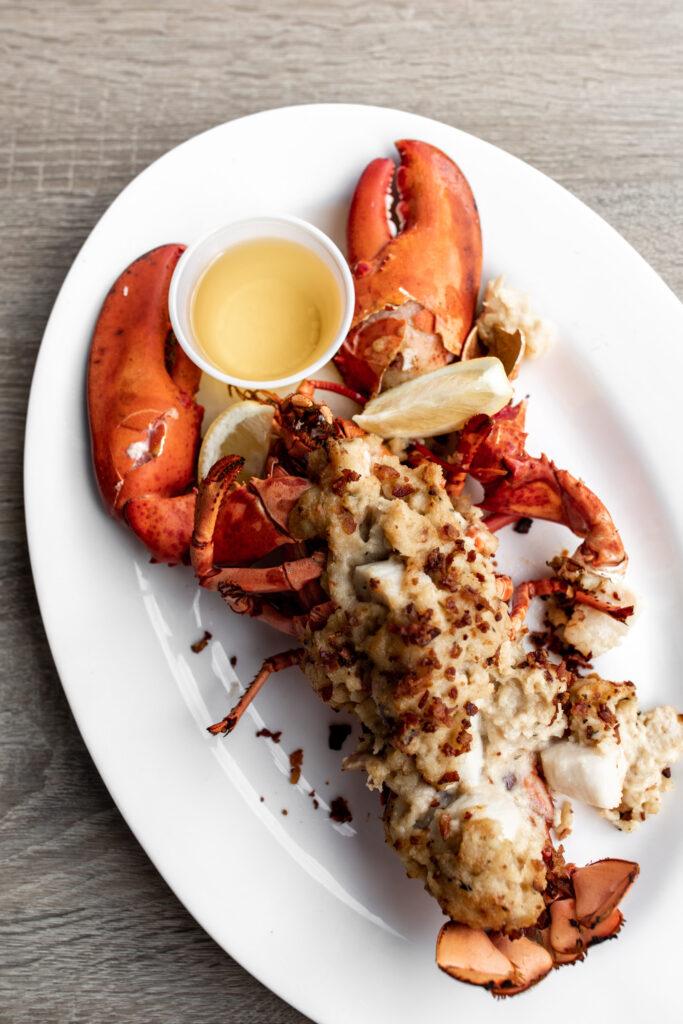 124 Ocean Ave, Kennebunkport, ME 04046 | mabelslobster.com
Mabel's has been in business since the 1950's and if you're looking for a restaurant to get a classic lobster dinner on your trip this is the place. Get a 1½ or 2-pound lobster steamed, stuffed with scallops, shrimp, bacon and creamy clam stuffing, "Milanese" served baked and stuffed with shrimp, garlic and cayenne, "Savannah" with scallops, shrimp, mushrooms, red peppers, neuburg sauce and provolone cheese.
If you don't have time to sit down or can't snag a reservation at the height of the season, Mabel's also has a lobster shack attached for to-go orders. Get the fried scallops to start – they come in a light batter and remain incredibly tender. I can't believe that prior to this trip I hadn't had fried scallops. I can't believe I'm recommending you not to fill up on lobster but definitely save room for a slice of blueberry pie for dessert. Along with lobster, Maine is also known for their plump, juicy blueberries.
What to order: baked stuffed lobster or steamed lobster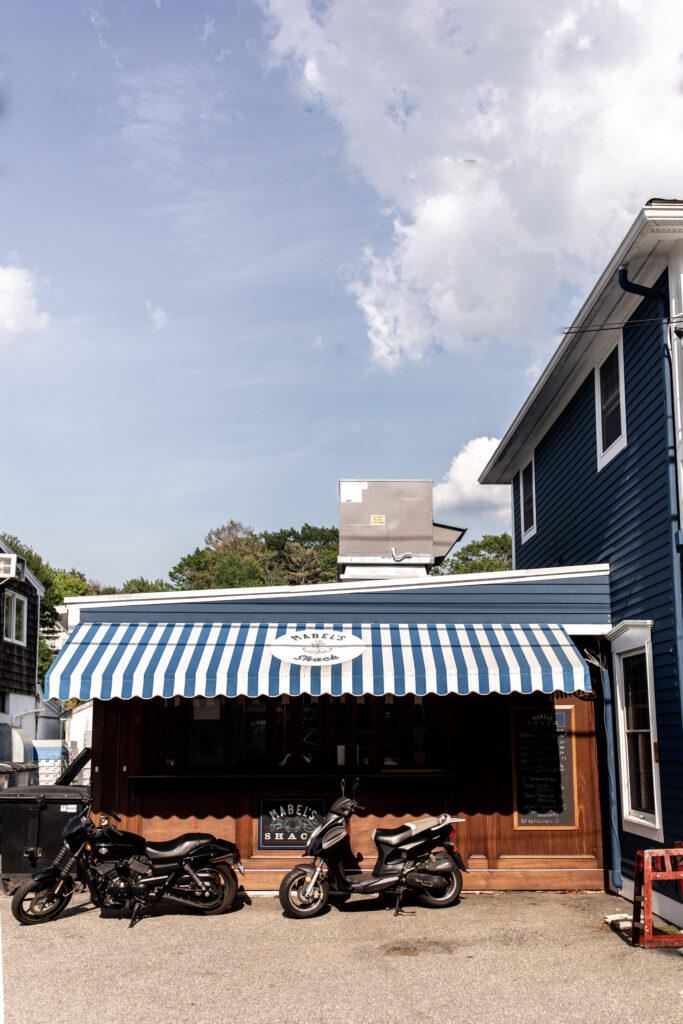 Dessert
6 Spring St, Kennebunkport, ME 04046 | rococoicecream.com
Rococo is a small artisan ice cream shop with a daily selection of 14 rotating flavors. I liked how unique the flavors were – from Maine whoopie pie with crumbled chocolate cake into a vanilla ice cream base, to garam masala, banana red hot or my choice of goat cheese blackberry chambord, the flavors were all incredible. This quickly became a nightly favorite routine after a long beach walk alternated with campfire and s'mores nights.
What to order: Whoopie pie ice cream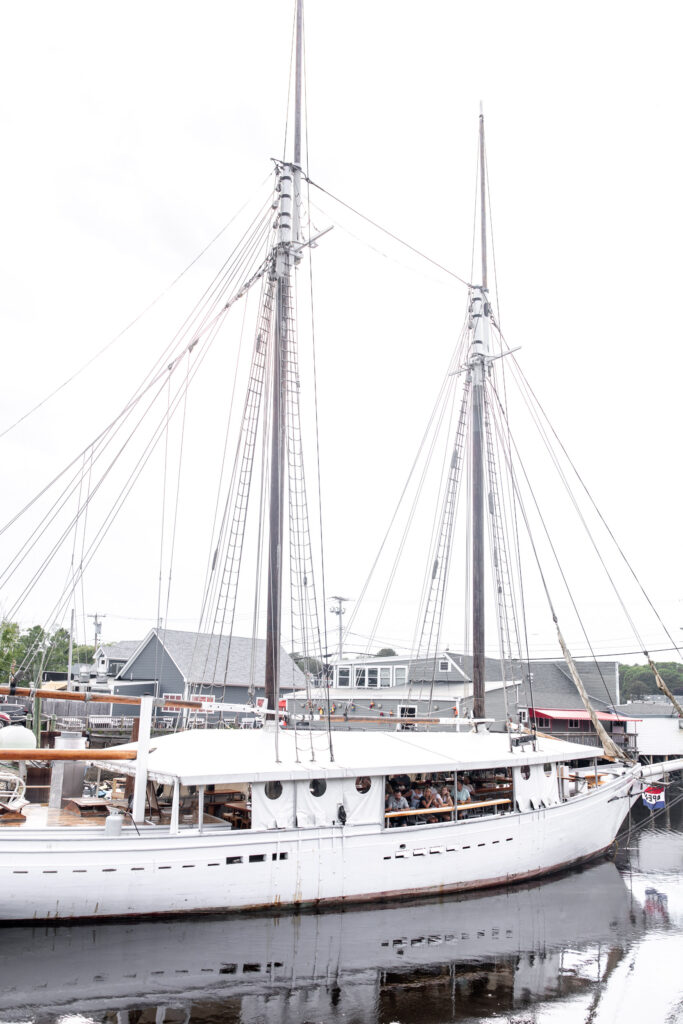 To Drink
4 Western Ave, Kennebunk, ME 04043 | thespiritrestaurant.com
The 125-foot schooner "The Spirit of Massachusetts" is now a bar and restaurant in Dock Square of Kennebunkport with live music and good cocktails in a fun atmosphere. We went for drinks after dinner at The Boathouse restaurant though it would make for a great happy hour stop with small plates and oysters to go along with the drinks.
What to order: margarita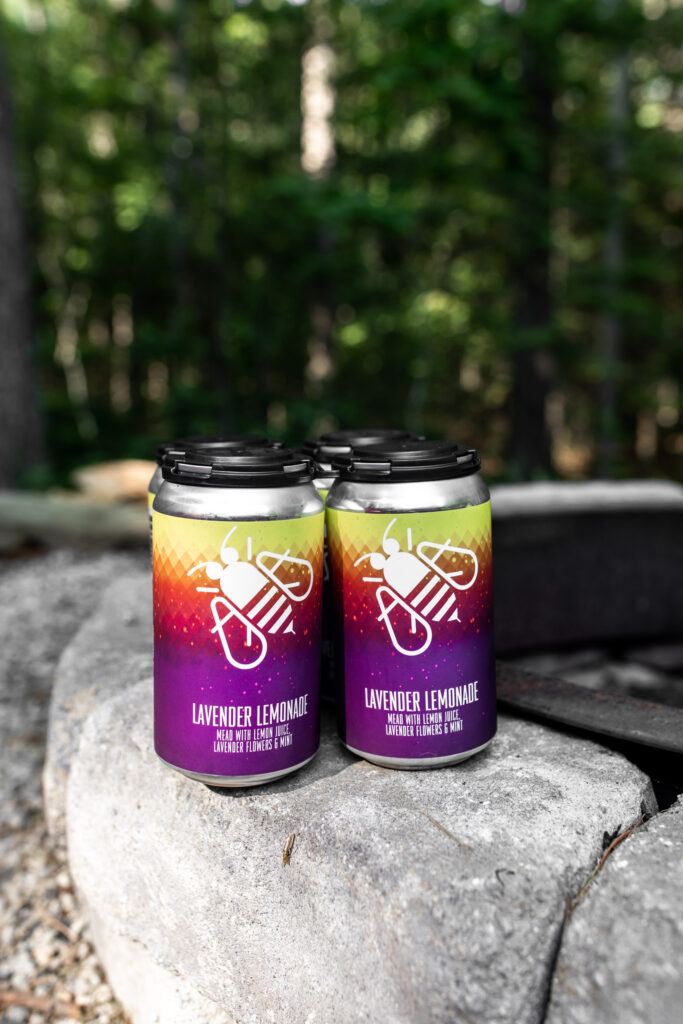 8 Western Ave, Kennebunk, ME 04043 | mainemeadworks.com
Mead is an alcoholic drink similar to wine in consistency, made from fermenting honey with water and occasionally the addition of other fruit. This tasting room is next door to Federal Jack's Brewery (which unfortunately was closed). Mead has an alcohol content similar to beer and is light and sweet with natural sugar content coming from the honey. I picked up a pack of lavender lemon mead.
12 Western Ave, Kennebunk, ME 04043 | batsonriver.com
Come for the beer and cocktails but stay for the food! While the focus is on the brewery and distillery the food is great. The cajun fries and duck fat cornbread with hot honey and bourbon maple butter are a must order. The Carolina mustard BBQ wings make another great app or snack while drinking a local beer (I like the Pearl Street Pilsner). Naturally I had to get a lobster roll as well.
To Do
Beaches
Gooch's Beach
Morning trips to the long sandy beaches were certainly Benson's favorite part of the trip! Gooch's beach stretches .6 miles and since it was closest to the house we rented it was our most frequented. In the off-season dogs are allowed on the beach off leash at all times. During the summer high season, starting June 15th and ending Labor Day, dogs aren't allowed on the beach during peak hours (9AM – 6PM). There's a sidewalk up above for anyone wanting to walk on concrete with beach views, and there is street parking all along the road though permits are required.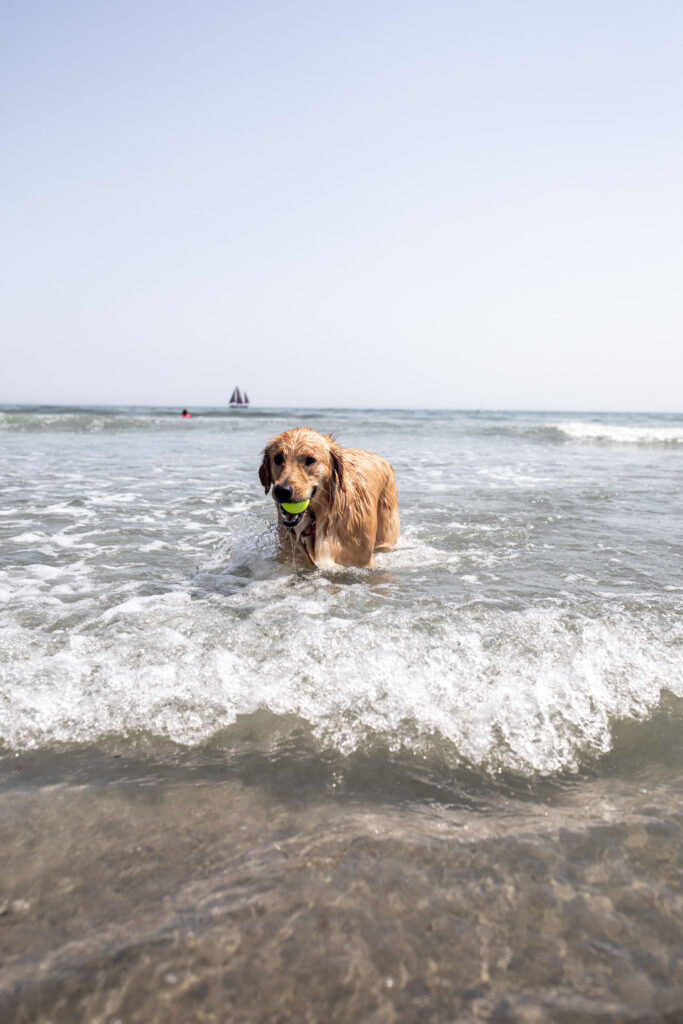 Mother's Beach
Mother's is considered the most family-friendly beach and is an easy walk from Gooch's. It's a smaller beach, and more contained.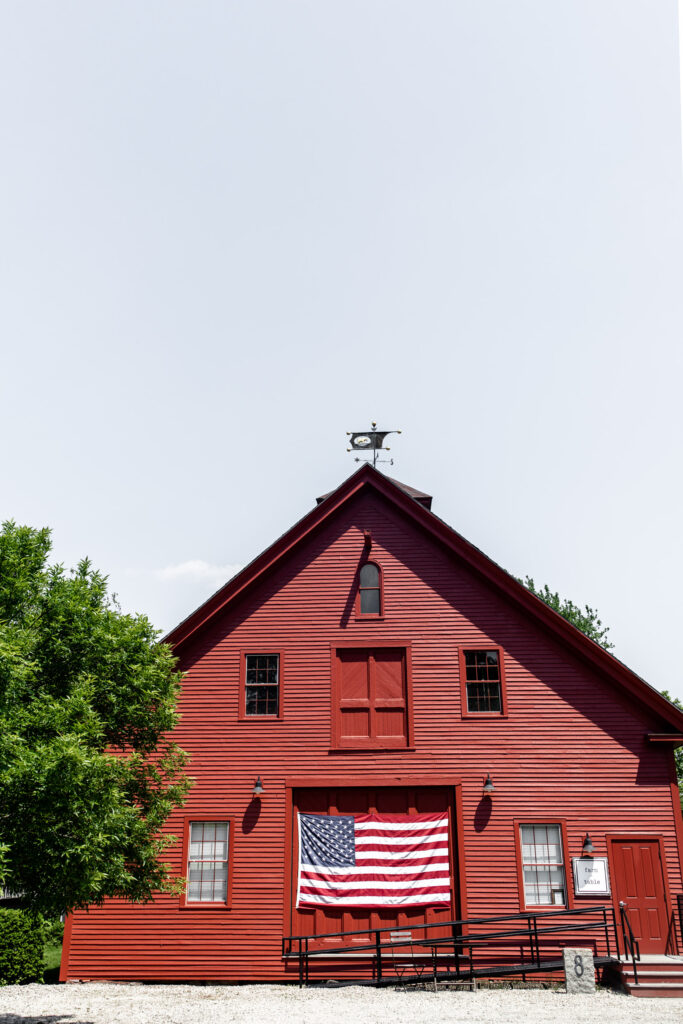 8 Langsford Rd, Kennebunkport, ME 04046 | farmtablekennebunkport.com
This small shop is outside the main part of Kennebunkport. With gifts, wood boards and ceramic products made by small batch and local designers like one of my favorite Vermont-based brands, Farmhouse Pottery. This is a great place to stock up on entertaining essentials and other home goods.
2 Ocean Ave, Kennebunkport, ME 04046 | sealovecandles.com
Make your own candles in this bright, minimalist store or pick up some premade candles as gifts. Reserve on their website ahead of time to make sure you get a spot though you can simply walk in. This is an ideal activity for a bachelorette weekend or family trip since it takes under an hour. Choose from a selection of 100 different scents to create your candle (I went with a combination of cashmere, tobacco and sea salt).
15 Western Ave, Kennebunk, ME 04043 | hbprovisions.com
More general store than sandwich shop, this is a great lunch option or you can stop to pick up Italian subs before heading to the beach. Pick up local Maine gifts like maple syrup candy, blueberry preserves, beer, wine or other provisions.
I loved the laid back coastal atmosphere of Maine and I can't wait to get back up there! Kennebunkport was a much needed escape from the city and an enjoyable week spent at the beach.