This baked dip features one of my favorite ingredients, lobster! While easy to make, this dip is a luxurious one to serve before any dinner party at any time of year. The creamy dip is filled with chunks of knuckle and claw meat, sautéed shallots, cream cheese, sour cream and also a bit of Cheddar cheese with Old Bay seasoning. While some seafood dips are best served chilled, like my creamy crab dip in a bread bowl, I love serving baked lobster dip warm so that it is gooey. It is paired with slices of toasted bread.
I love choosing recipes that can be prepped ahead of time when I'm entertaining guests. This lobster dip can easily be made in advance, then covered and refrigerated and baked just before serving. Make the dip up to 2 days ahead of time and store refrigerated or keep frozen for up to a month, adding additional cooking time as needed so the dip is golden brown and bubbling.
If you like dip recipes, I'd recommend looking here for more ideas.
Baked Lobster Dip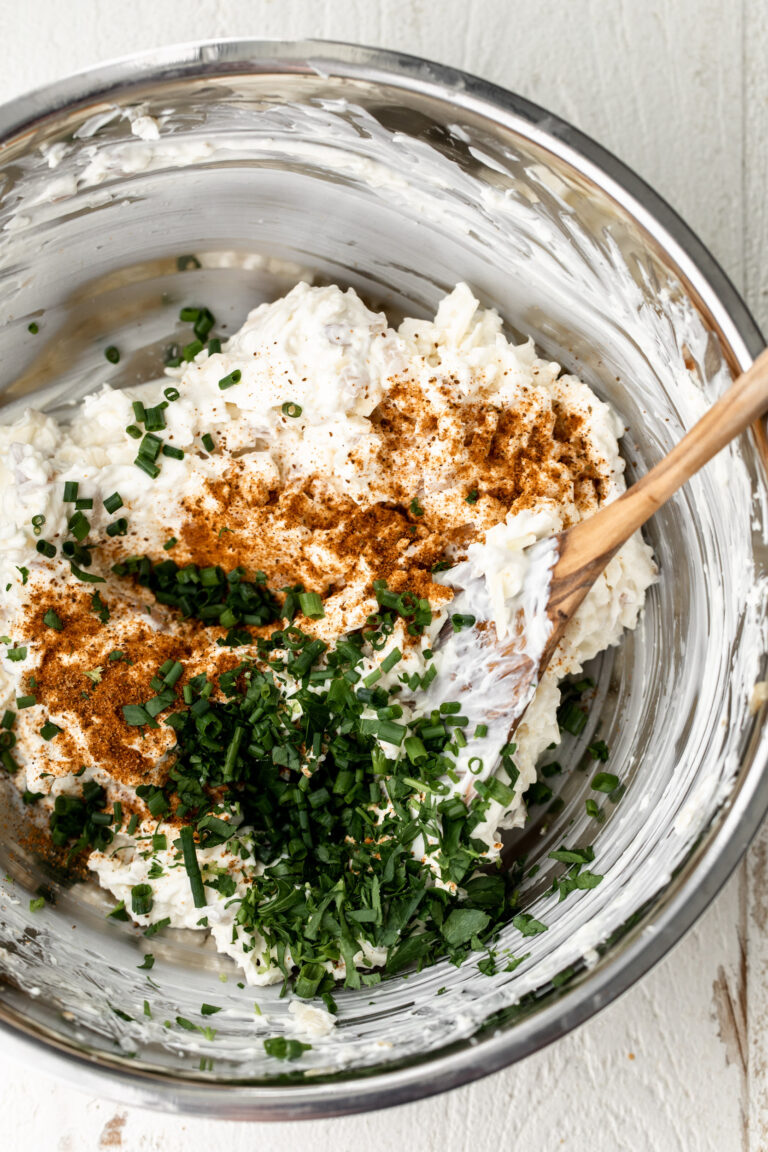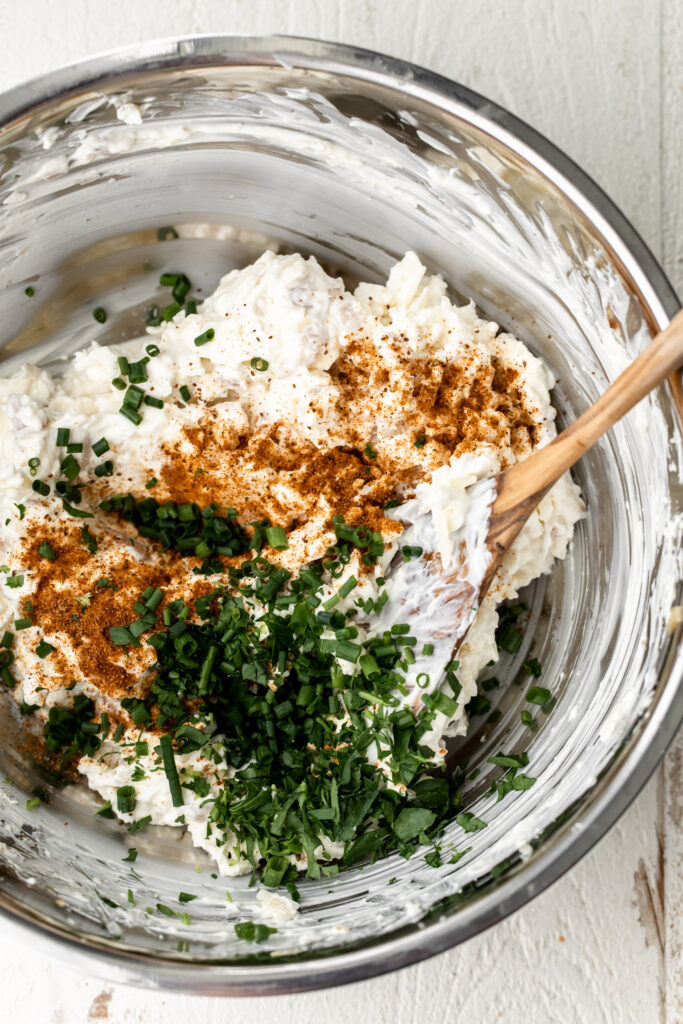 Ingredients in Baked Lobster Dip:
Shallots
I use shallots in this recipe for their mild, slightly sweet flavor though they can easily be swapped with yellow onion.
Cream cheese
The base of this creamy dip is cream cheese, be sure to use the regular kind rather than low-fat.
Sour cream
Sour cream adds a great texture to this dip as well as a tangy flavor that works well with the cream cheese. In fact, the base of many dips is a combination of cream cheese and sour cream.
Cheddar cheese
Always use sharp Cheddar when cooking. If you use mild or medium Cheddar the flavor will cook out and the recipe will be lacking in that cheesy flavor. I also love pairing this rich cheese with the lobster meat in this recipe. I use white Cheddar though you can easily swap for yellow Cheddar. To mix it up try using gruyere cheese instead – it adds a nice nutty flavor.
Old Bay®
If you've never had Old Bay® it is a zesty seasoning blend originating in Baltimore. It's made with 18 spices like celery salt, red pepper, black pepper and paprika and often used to complement seafood. It can be found in the baking aisle of most grocery stores.
Lobster meat
For this recipe I utilize the knuckle and claw meat from lobsters though it you can easily substitute cooked lobster tails or a mix of both.
Lemon juice
The acid of the freshly squeezed lemon juice contrasts with the rich cream cheese and sour cream and also enhances the flavor of the lobster in the dip.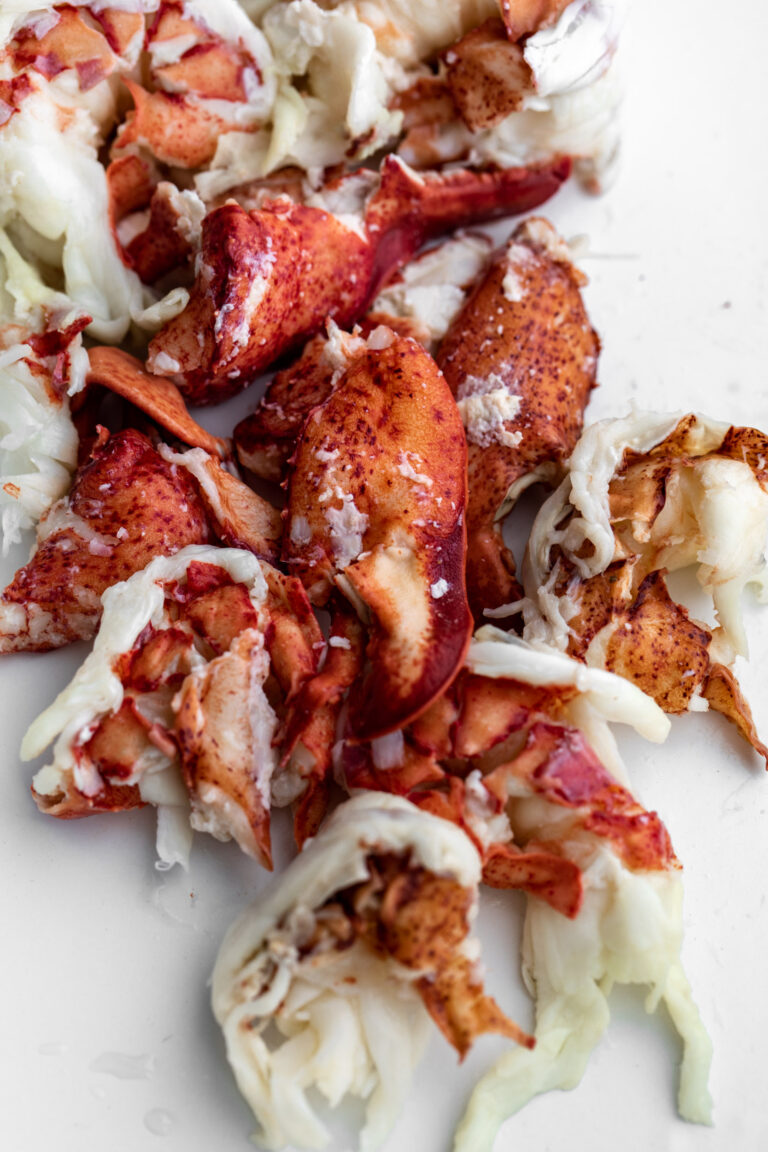 Instructions for Baked Lobster Dip
Step 1:
Sauté the shallots until soft.
Step 2:
Add the shallots, cream cheese, sour cream, Cheddar, seasonings and herbs to the a bowl or to the bowl of a stand mixer fitted with the paddle attachment. Mix to combine.
Step 3:
Add the lobster meat, mixing to combine once more.
Step 4:
Make the buttered Panko breadcrumbs in a non-stick pan.
Step 5:
Add the lobster dip to a baking dish and bake at 375ºF (190ºC) until golden brown on top and bubbling. 
Step 6:
Serve with crostini, bread and/ or fresh vegetables.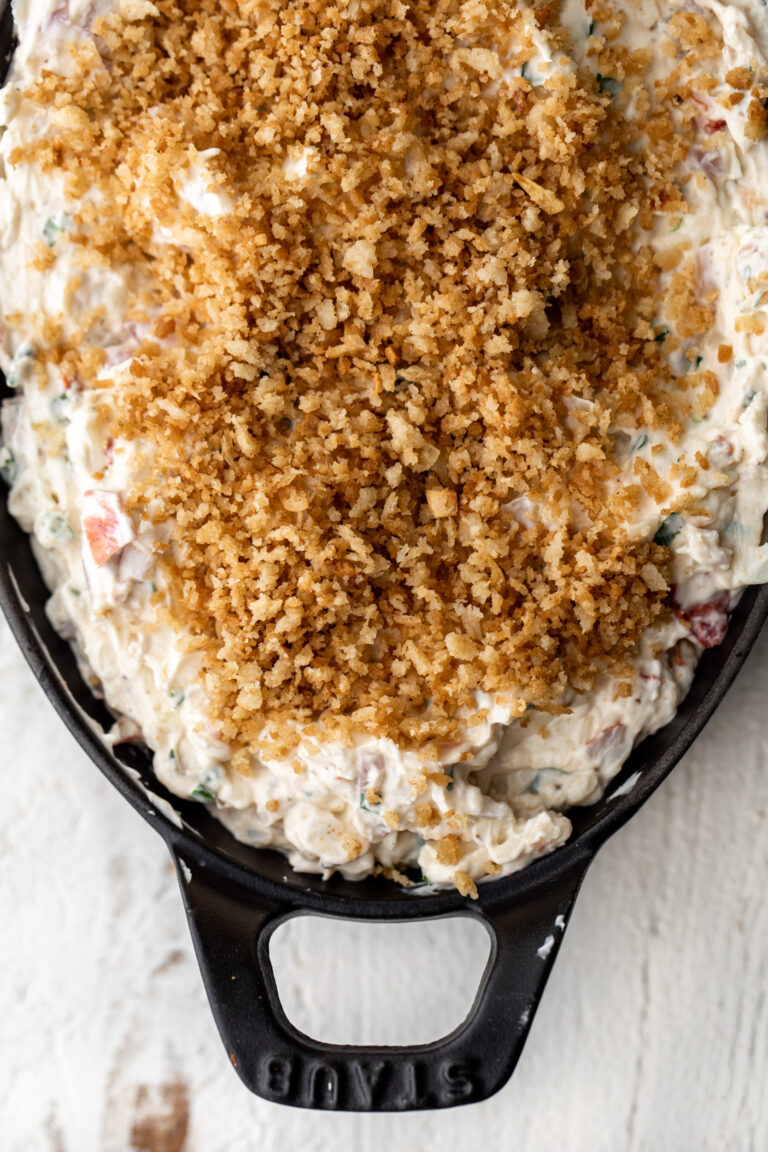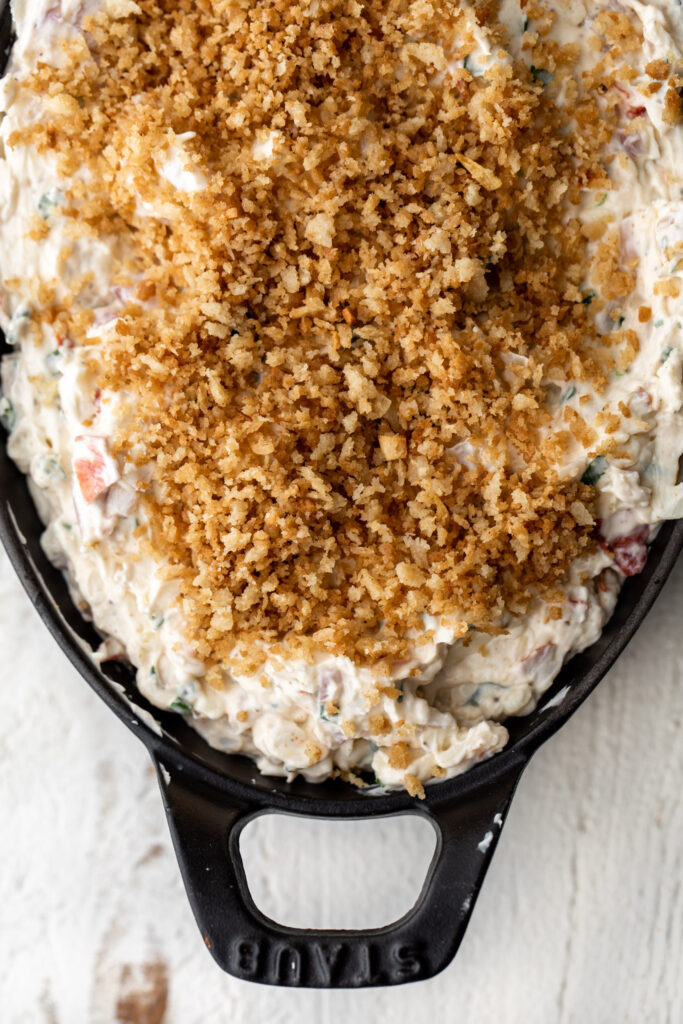 All About Lobster Meat
Lobsters are harvested in New England year round though they are primarily considered to be "in season" during the summer months starting in June. During the summer I usually buy live whole lobsters and cook them myself for dishes such as this. During the cooler winter months I frequently opt to have the fishmonger boil or steam them so that I can just pick them up. But if you are buying your lobsters whole, it takes about 4½ pounds of live lobsters to get 1 pound of meat.
Easier still, you can find lobster meat already cooked, broken down and removed from the shell at some specialty seafood markets. So check out more recipes using lobster here. This recipe is also a great way to utilize leftover lobster meat after a classic New England lobster boil.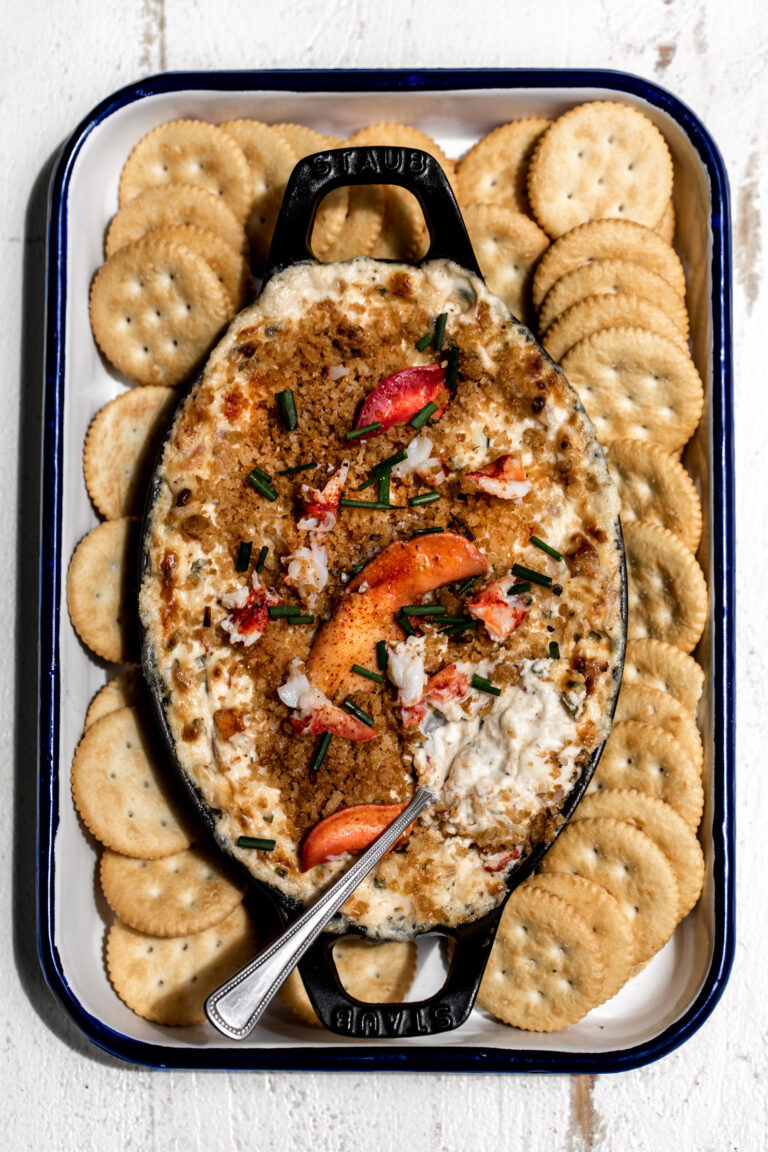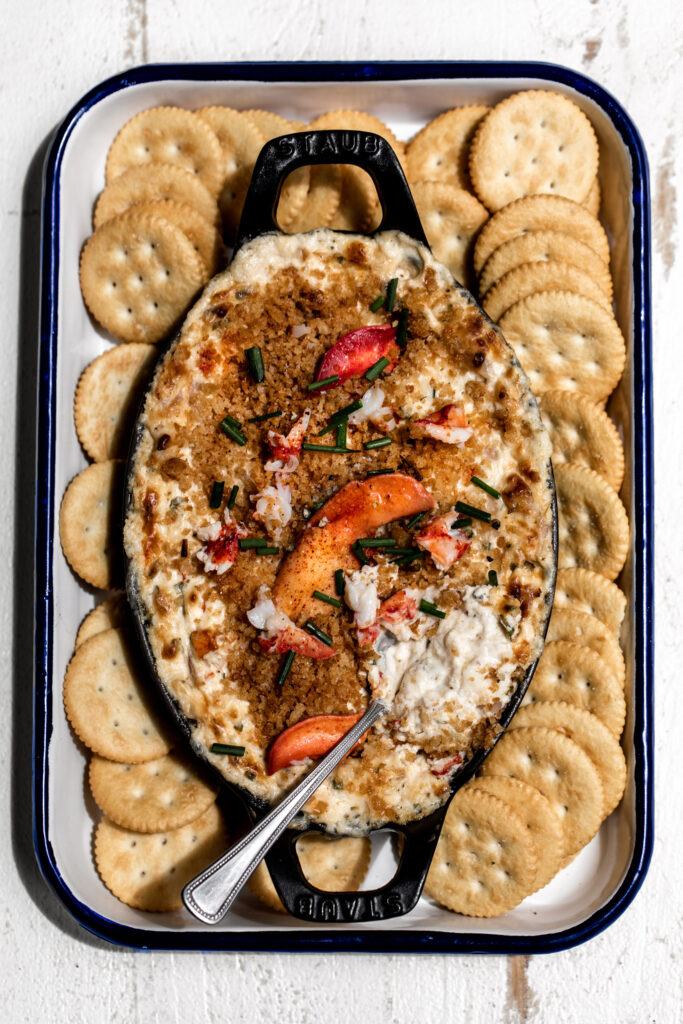 FAQ – Frequently Asked Questions
Can I substitute something else for lobster? 
Yes! Crab meat or cooked, diced shrimp make a great substitution in this recipe though if you are in the market for a crab dip I'd recommend this recipe here. 
Can I make this ahead of time?
Yes! This dip can easily be made ahead of time then covered and refrigerated or frozen until ready to serve. If baking the frozen dip, simply add about 10 minutes to the cook time. 
Where can I find Old Bay® Seasoning? 
The baking or spices aisle of most grocery stores! 
Why does cream cheese have to be at room temperature? 
When the cream cheese is just out of the fridge it is so cold it won't evenly combine with the other ingredients when added to the mixer. Leave the cream cheese on the counter for about 30 minutes to an hour so that it's soft enough to blend with the other ingredients. 
Can this dip be served cold?
Yes! It's actually great served at room temperature without even baking it. It's more similar to a pimento cheese ball consistency that way.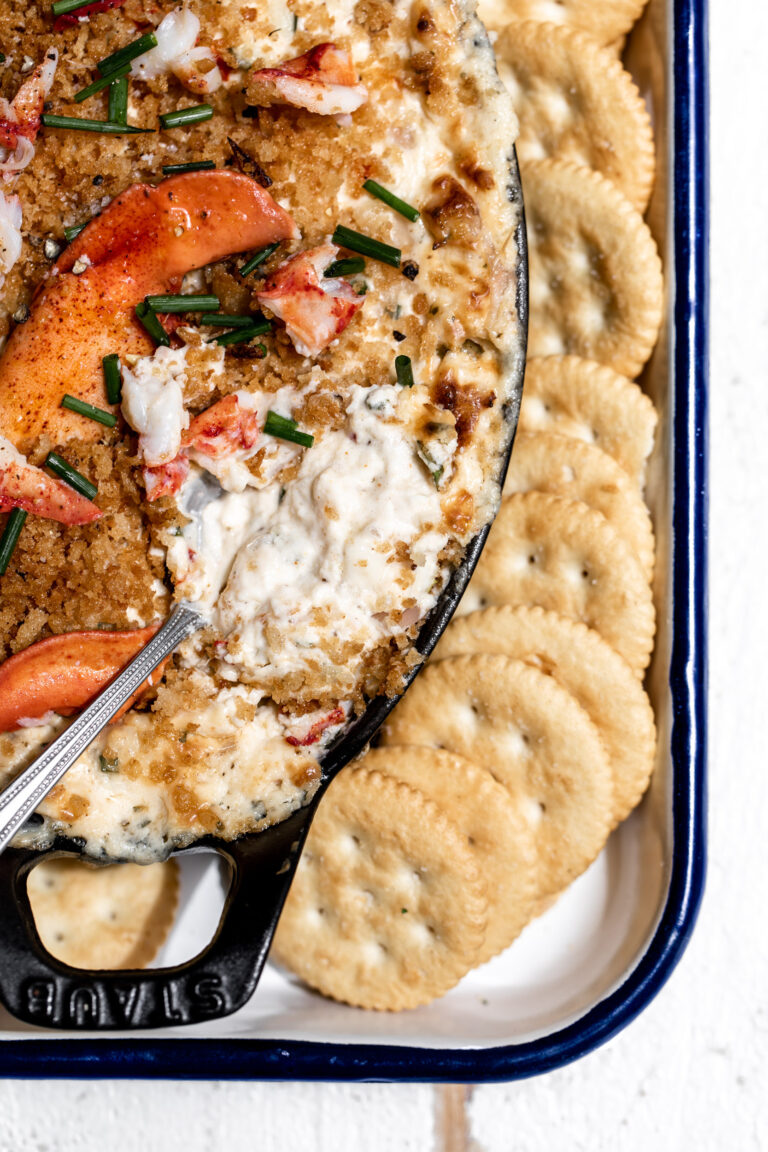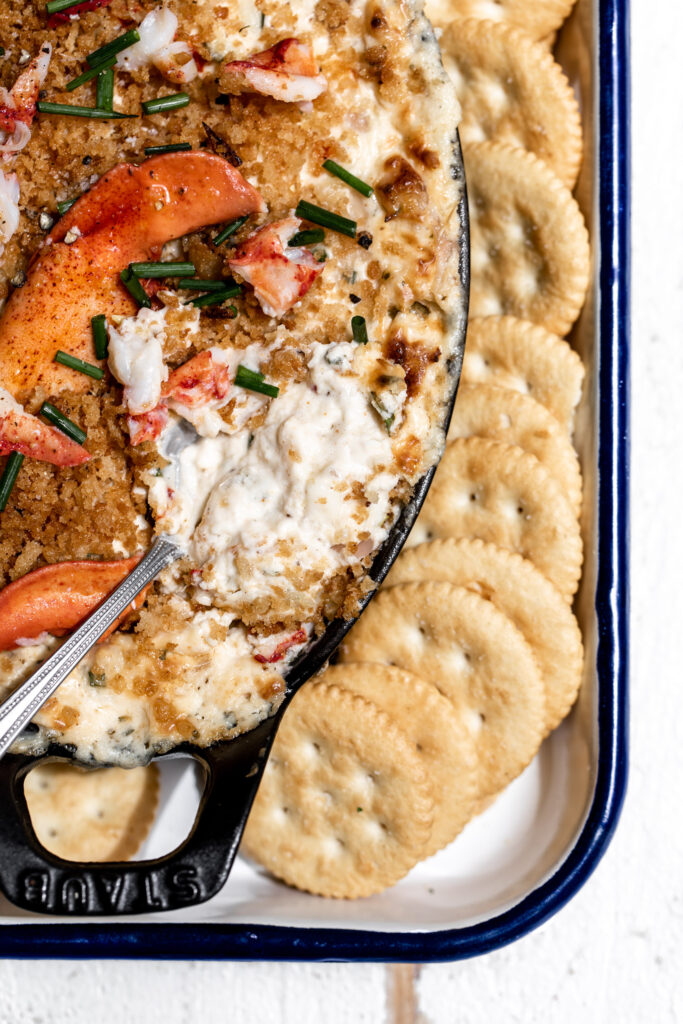 Baked Lobster Dip
2

tablespoon

extra-virgin olive oil

divided

2

medium shallots

sliced

1

(8-ounce)

package cream cheese

½

cup

sour cream

1½

cups

shredded sharp white Cheddar cheese

1

tablespoon

freshly squeezed lemon juice

1½

teaspoon

Old Bay® seasoning

1

tablespoon

diced chives

1

tablespoon

chopped flat-leaf parsley

Kosher salt,

as needed

Freshly ground black pepper,

as needed

½

pound

cooked knuckle and claw lobster meat,

roughly chopped, divided

3

tablespoons

unsalted butter

¼

cup

Panko breadcrumbs

½

teaspoon

garlic powder
Heat oven to 375ºF (190ºC).

Heat a medium skillet over medium heat, add 1 tablespoon of the olive oil and heat through. Add the shallots and sauté, stirring occasionally, until tender and soft, about 5 minutes. Remove from heat and set aside.

Add the shallots, cream cheese, sour cream, Cheddar cheese, Old Bay® seasoning and herbs to a bowl or the bowl of a stand mixer fitted with the paddle attachment.

Mix with a spoon or on low speed until completely combined, about 2 minutes. Add the lobster meat, using a wooden spoon to fold the lobster meat into the dip, saving a few pieces to garnish the dish before serving.

Heat a medium non-stick skillet over medium heat, add the remaining olive oil and heat through. Add the butter and allow to melt then stir in the Panko and cook, lowering the heat to medium-low. Stir or shake the pan frequently, until the breadcrumbs are uniformly golden brown, about 3 minutes. Set aside.

Scoop the lobster dip into a 9" baking dish and top with the Panko. Bake until the dip is golden brown and bubbling, about 25 minutes.

Top with remaining pieces of lobster and serve with crostini, RITZ crackers, bread and/ or fresh vegetables.
DID YOU MAKE THIS?
TAG ME ON INSTAGRAM TO BE FEATURED ON MY STORIES! @cookingwithcocktailrings