Lamb Sausage Pizza with Confit Tomatoes and Fennel
This post was created in partnership with American Lamb Board.
This tasty pizza is covered with flavorful, crumbled homemade lamb merguez sausage, fragrant confit tomatoes, shallots and garlic, shaved fennel and cheese. The aroma of yeasty pizza dough baked until golden brown combines with the inimitable scent of the lamb and melted cheese and wafts through the air as you are baking. Summer is the perfect time to fire up the grill!
I love making pizza on the grill because it can get up to higher temperatures much faster than an oven can. If you don't have a grill – don't worry! You can still make pizza in the oven – just crank it up as high as it can go (typically 500ºF).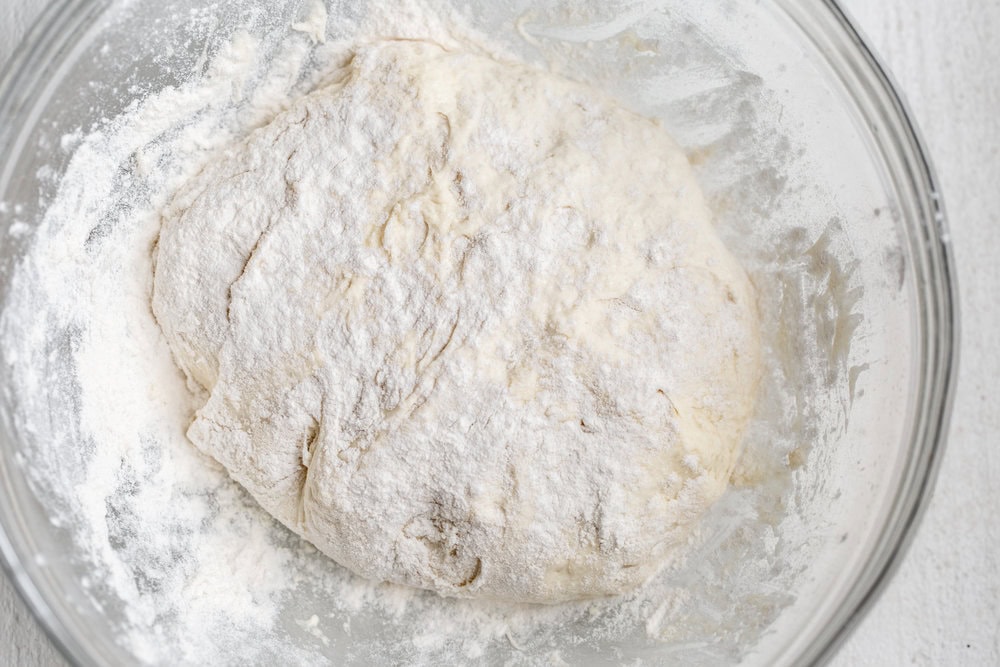 Using a pizza stone that heats up with the oven is important because it helps to cook the dough directly although it can be made on a baking sheet as well. I par-bake the pizza crust so that the bottom can get crispy and give the pizza some structural integrity.
This recipe is great for summer entertaining or for an intimate family dinner served on it's own or accompanied by a light salad with fresh vegetables. I use ground American Lamb for this dish – I love the unique flavor of lamb enhanced by the aromatic spices of cumin, coriander and fennel. American lamb has a bit mellower and milder flavor than lamb imported from New Zealand or Australia. The tastes differ due to the diet of the lamb as well as the fact that when you buy lamb as close to the source as you can, it will be freshest – it doesn't have to travel as far.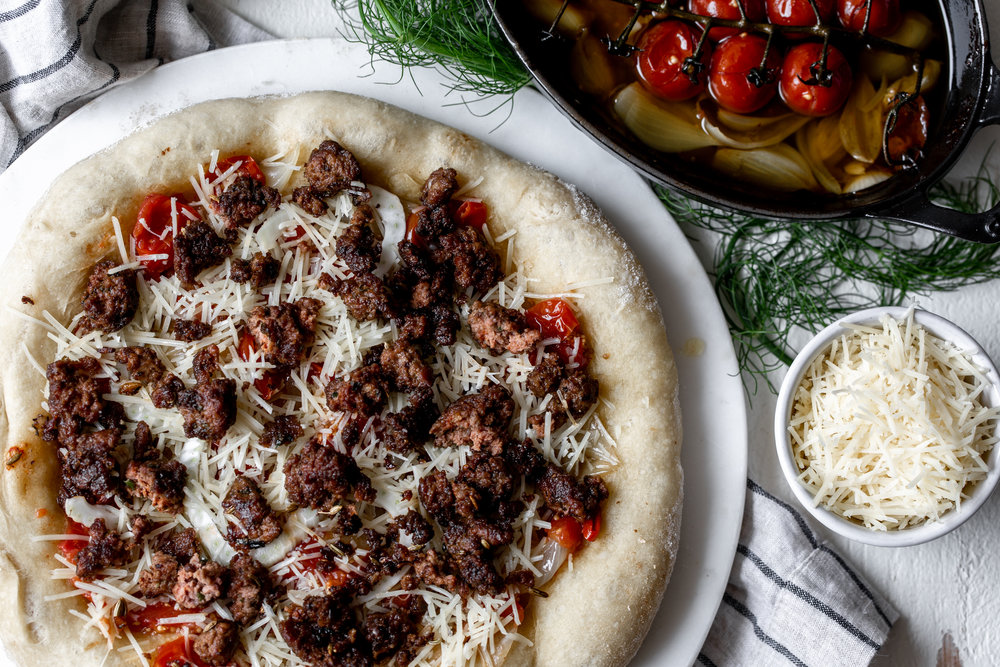 While this recipe calls for homemade lamb merguez sausage you can also use leftover roasted lamb to make sure nothing goes to waste! I love finding new ways to reinvent leftovers.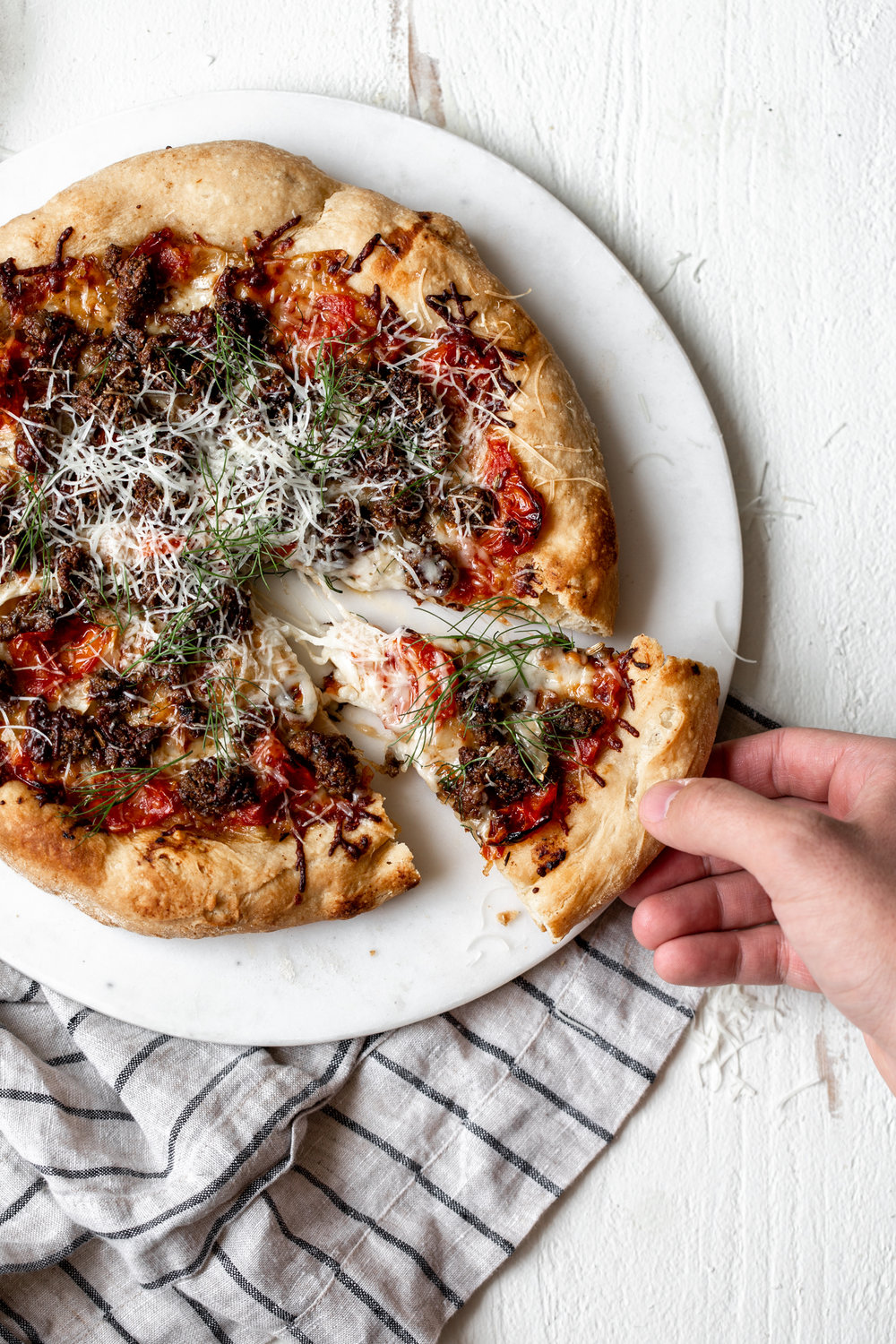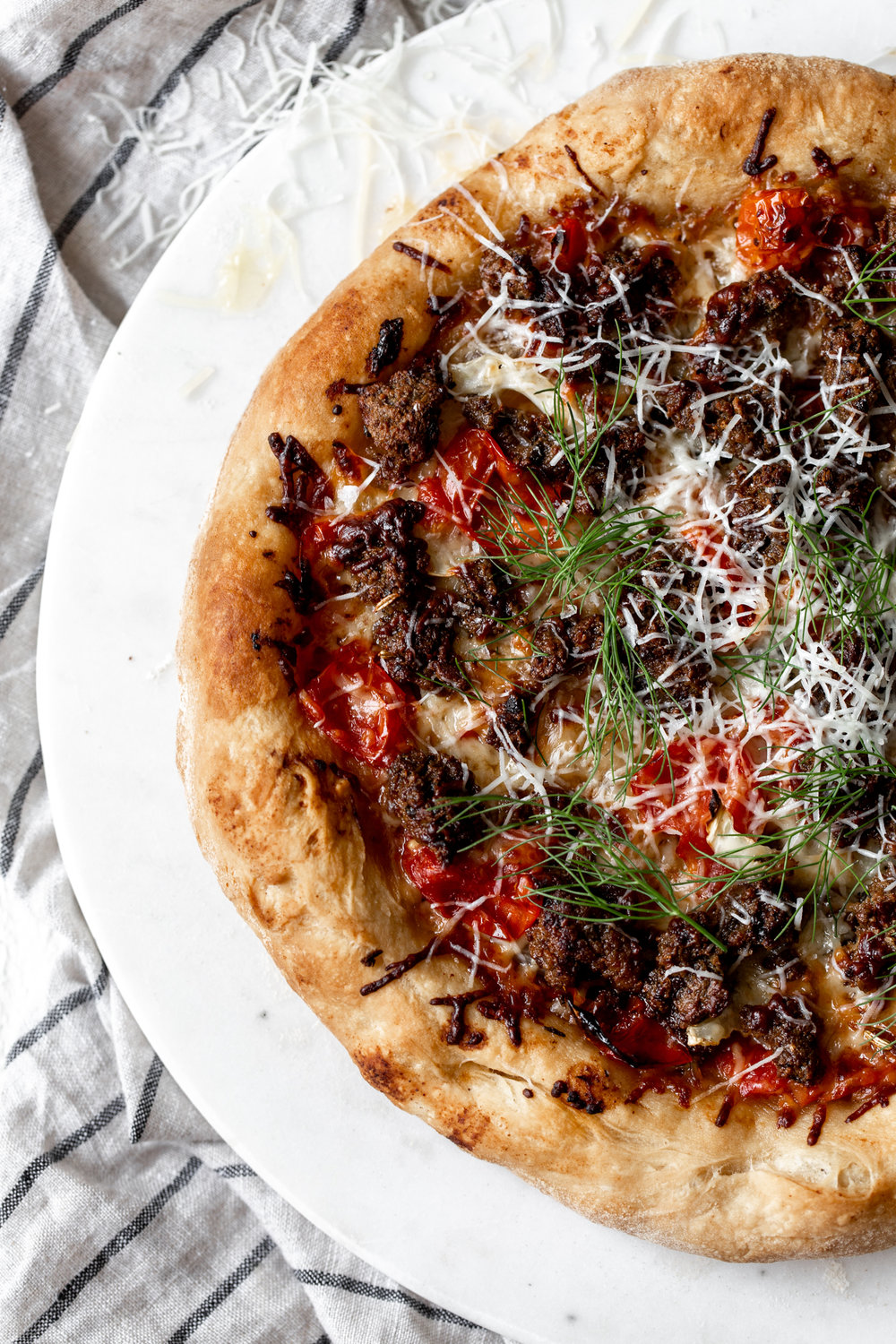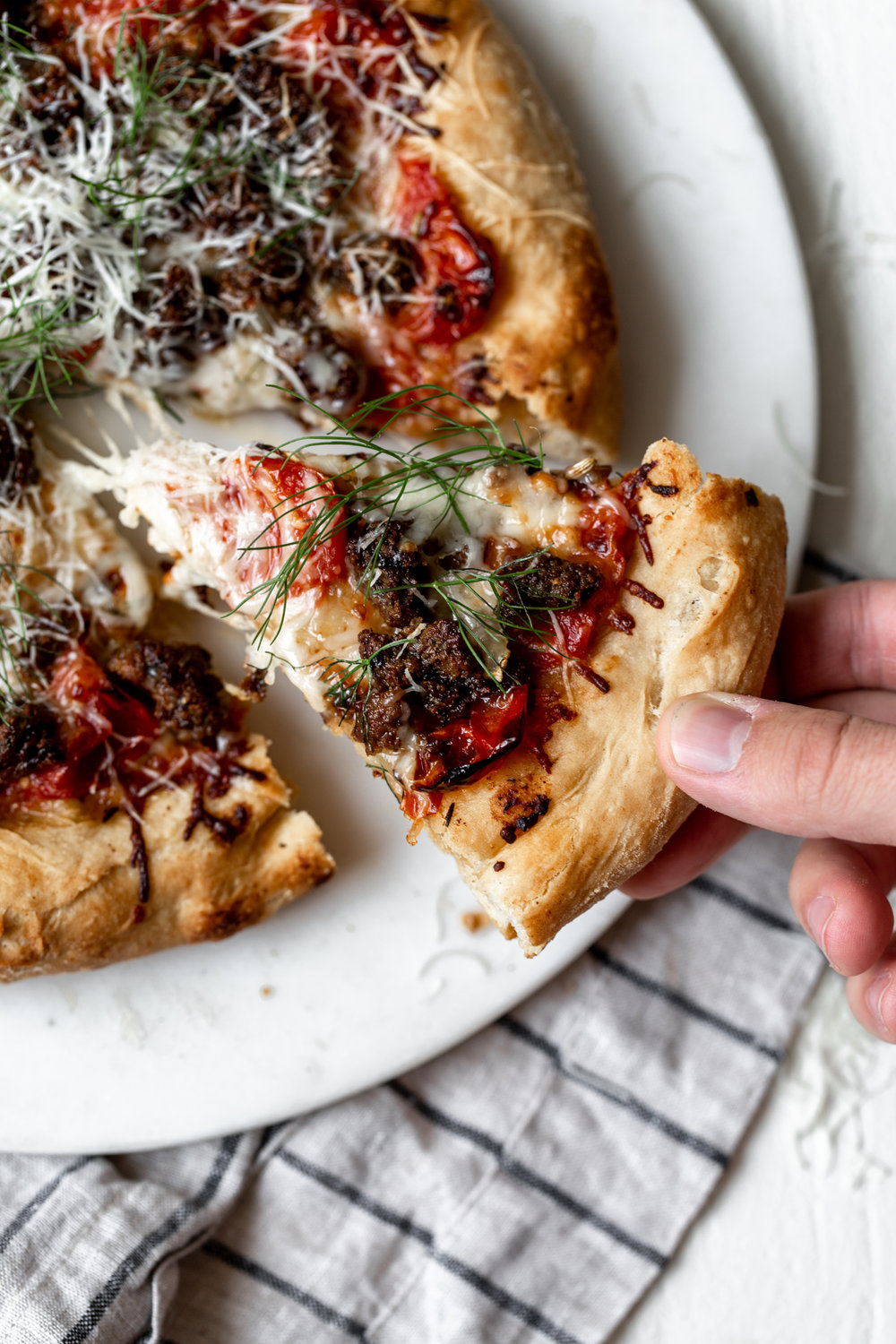 Lamb Sausage Pizza with Confit Tomatoes and Fennel
For the lamb merguez sausage:
½

teaspoon

coriander seeds

½

teaspoon

cumin seeds

½

teaspoon

fennel seeds

1

pound

ground American lamb

2

tablespoons

chopped cilantro

2

cloves

garlic,

minced

2

teaspoons

kosher salt

1

teaspoon

paprika

½

teaspoon

crushed red pepper

¼

teaspoon

cayenne

2

tablespoons

extra-virgin olive oil
For the confit tomatoes:
10

ounces

cherry tomatoes

2

shallots,

halved

1

head garlic,

slightly smashed

1

cup

extra-virgin olive oil

Kosher salt,

as needed
For assembly:
1

pound

pizza dough,

get the recipe here

All-purpose flour,

as needed, for rolling out the dough

2

tablespoons

extra-virgin olive oil,

divided

½

cup

thinly sliced fennel

1½

cups

shredded Asiago cheese

1

cup

grated Parmesan cheese

Fennel fronds,

for garnishing (optional)
For the lamb sausage:
In a small skillet over medium heat add the coriander, cumin and fennel and dry toast until fragrant, shaking the pan occasionally, about 2 minutes. Remove and pound with a mortar and pestle.

Add to a medium mixing bowl with the lamb, cilantro, garlic, salt, paprika, red pepper and cayenne. Use hands to carefully mix the lamb mixture. Cover and refrigerate for at least one day and up to 5.

When ready to use, heat a medium cast-iron pan over medium heat, add the olive oil and heat through. Add lamb mixture and cook, breaking up the mixture with a wooden spoon, until browned all over, about 5 to 6 minutes. Remove from heat and set aside.
For the confit tomatoes:
Heat oven to 350ºF. Add the tomatoes, shallots and garlic to a small roasting dish and cover with the olive oil. Roast until the tomatoes are blistering and bubbling and shallots and garlic are tender, about 45 minutes.
For assembly:
Place pizza stone on grill or in oven and heat to 500ºF.

Divide the dough in half and on a lightly floured surface, working one half at a time, roll out each half of dough into about a 10-inch circle. The dough should be fairly thin. Place the dough on piece of parchment paper on top of the pizza peel. If you do not have a pizza stone/peel then prepare the dough on a lightly greased baking sheet.

Rub the olive oil and the confit garlic over the pizza dough including the edges. Use a pizza peel to slide the dough with parchment paper underneath it onto the pizza stone. Cook until crust is a pale brown and bubbly, about 6 minutes.

Remove from grill or oven and spread ½ cup of the confit tomatoes and shallots over the pizza as well as the fennel. Top with 1 cup of the Asiago and ½ cup of Parmesan followed by 1 cup of the lamb sausage. Return to the pizza stone and continue to cook until the edges are golden brown and the cheese is bubbly, about 8 minutes.

Remove and set aside then repeat with the remaining dough and ingredients. Garnish with fennel fronds (optional) and cut into 8 equal slices before serving.
DID YOU MAKE THIS?
TAG ME ON INSTAGRAM TO BE FEATURED ON MY STORIES! @cookingwithcocktailrings