Jalapeño Egg Rolls with Huckleberry Syrup
I recently took a three-day trip in Montana with my mom and dad and our three dogs. As usual, I checked out the local food scene. One of my favorite things about eating in Montana was that huckleberry can be found in everything! I had no idea that it was such a widely used staple in their cuisine prior to my trip, but I loved it. The dipping sauce for jalapeño egg rolls was by far my favorite huckleberry culinary experience.
I discovered this dish almost by accident. After spending the day in Yellowstone National Park, my parents and I finally made it to our hotel at 10pm with the three dogs in tow. We couldn't go out to eat anywhere with the dogs and at that time of night in West Yellowstone our options were limited.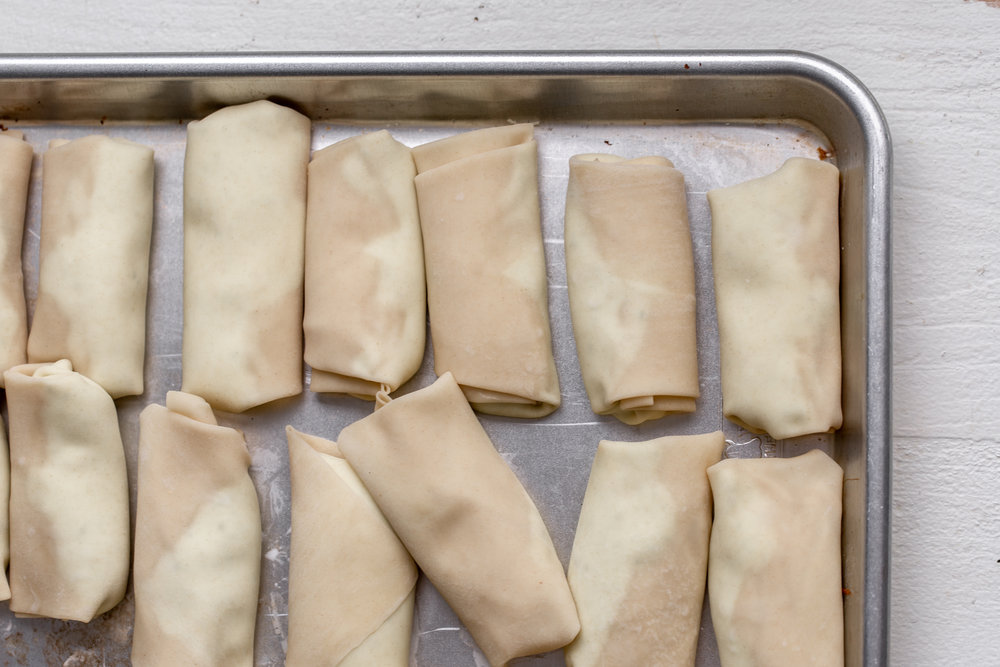 After attempting to see if Postmates or the other apps would deliver (they wouldn't) I found a place called the Slippery Otter and placed a lengthy to-go order. One of the appetizers I ordered was jalapeño cream cheese filled egg rolls with huckleberry syrup. Once we had them I knew I would have to remake them.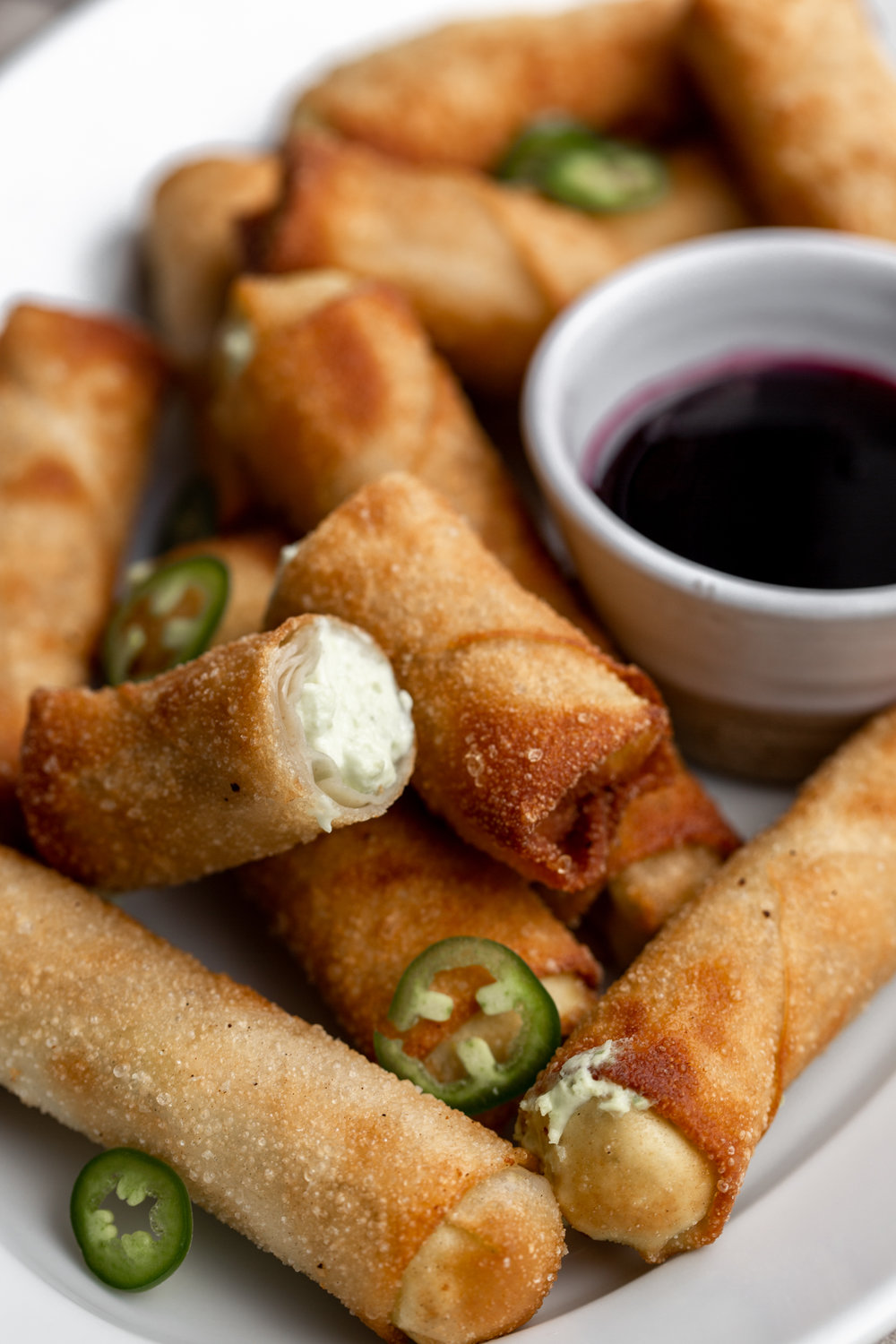 You can order huckleberry syrup online here, otherwise blueberry syrup is a good substitute.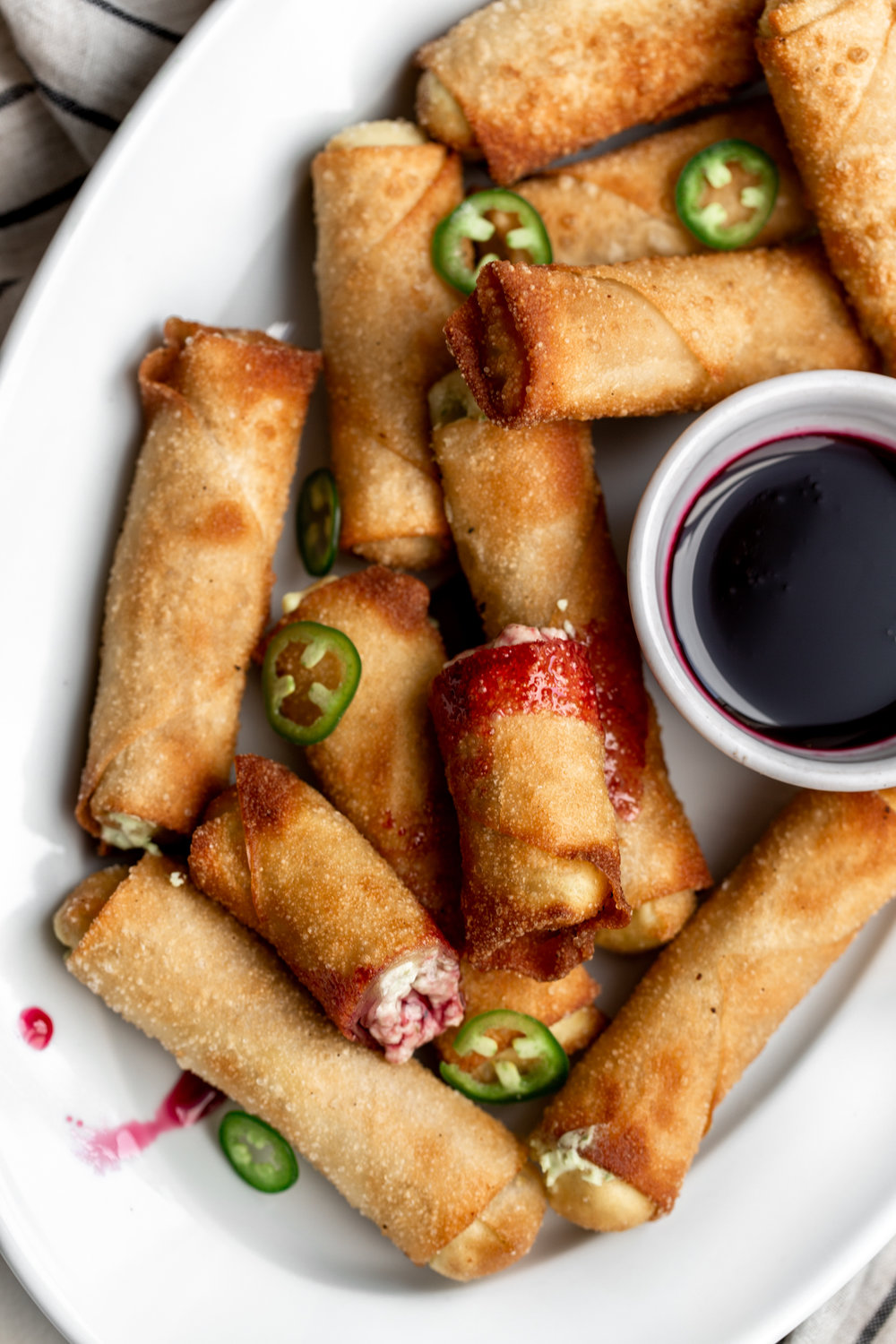 Jalapeño Egg Rolls with Huckleberry Syrup
2

8-ounce packages cream cheese, softened

3

medium jalapeño peppers,

stem and seeds removed and roughly chopped

1

18-ounce package egg roll wrappers

Vegetable oil,

as needed, for frying

Huckleberry syrup,

as needed, for dipping
Add the cream cheese, jalapeños and 2 tablespoons of water to the bowl of a food processor fitted with the blade attachment or to a blender. Blend until the mixture is smooth, scraping down the sides as necessary.

Fill a small bowl with just a little water. Scoop about 2 tablespoons of the filling and drop just below the center of the egg roll wrapper. Pull the bottom corner up and fold each side in and continue to tightly roll the wrapper.

Dip one finger in water and spread around the edge of the wrapper to seal it. Set aside and continue with the remaining egg rolls and filling.

Add enough oil to reach 2-inches up the side of a large cast iron skillet. Heat oil to 350ºF. Once oil is hot, working in batches, add egg rolls and fry until golden brown on all sides, about 2 to 3 minutes. Remove to a paper towel-lined plate to drain. Repeat with the remaining egg rolls.

Serve immediately with huckleberry syrup for dipping.
DID YOU MAKE THIS?
TAG ME ON INSTAGRAM TO BE FEATURED ON MY STORIES! @cookingwithcocktailrings