May 18th – May 24th 2019
At 28 years old I have been fortunate enough to have travelled to 41 out of 50 states. I still haven't seen nearly all there is to see of the United States. The majority of the states that I am still missing are located in the middle of the country (the Dakotas, Oklahoma, Kansas, Nebraska, Iowa, Indiana, Arkansas and Minnesota). Last week I took a family trip with my parents to visit my brother in Montana. I was able to cross that state off my list as well as the states of Idaho and Wyoming. We started the trip in Billings then drove to Fort Smith, then through Yellowstone and on to Bozeman.
One of my favorite things about eating in Montana is that huckleberry can be found in everything! I had no idea that it was such a widely used staple in their cuisine prior to my trip. Fresh huckleberries are in season August to September, thriving in the mountain soil at high elevations. While I didn't get any fresh ones, I still got my fill in other ways. I tried everything from huckleberry jam and syrup to huckleberry lager and even a huckleberry white mocha latte from City Brew Coffee.
Week in Montana: Billings, Fort Smith, Yellowstone & Bozeman
Billings, Montana
My brother is currently working as a fly fishing guide in the small town of Fort Smith, Montana. It's located about an hour and a half from Billings, the largest city in Montana. I flew into Billings on Saturday night after a quick layover in Denver. I love flying into small airports. You can walk out of the gate area and get picked up within minutes. The Billings airport is one of the only buildings up on a big hill. Leaving the airport you can see over the whole city, which is pretty at night with it all lit up. During the day I realized how industrial a city it is, and while it is the biggest city in Montana it's really not very big.
115 N 29th St, Billings, MT 59101 | thesassybiscuit.com
Sassy Biscuit is a cute little eclectic breakfast and brunch spot in downtown Billings. They are known for their waffle pressed biscuit dough. Order it with toppings like warmed blueberries and sweet lemon butter or cinnamon and vanilla with buttermilk sweet gravy. Using biscuit dough for the waffles gives them a crisp exterior while keeping the inside light and fluffy. They also serve biscuits in interesting combinations like the "firecracker". It comes with smoked chicken, apple jicama slaw and spicy remoulade and the "misfit" with house cured pastrami, egg, Swiss and pickled garlic aioli. I need to start my mornings with a jolt of caffeine and Sassy Biscuit has some fun latte offerings. I got the lavender mocha latte, opting for a more floral kick.
Must-order: "firecracker sandwich"
114 N 27th St, Billings, MT 59101 | theburgerdive.com
Burger Dive is a great stop for a good burger in downtown Billings but their hours are fairly limited. While constantly packed they are only open 10:30AM – 3PM and closed on Sundays so plan accordingly. The "I'm Your Huckleberry" Burger won Burger Champion at the 2016 World Food Championship. It includes 1/3 pound Angus beef burger patty smothered with Hatch Chili BBQ sauce, bacon, goat cheese, arugula and roasted red pepper mayo. The "Date with Jim Beam and Coke" burger is another standout. It's made with an Angus burger patty with bourbon date and coke BBQ sauce, roasted garlic, arugula, smoked gouda and garlic basil mayo. Don't forget to order fries!
Must-order: "I'm Your Huckleberry" Burger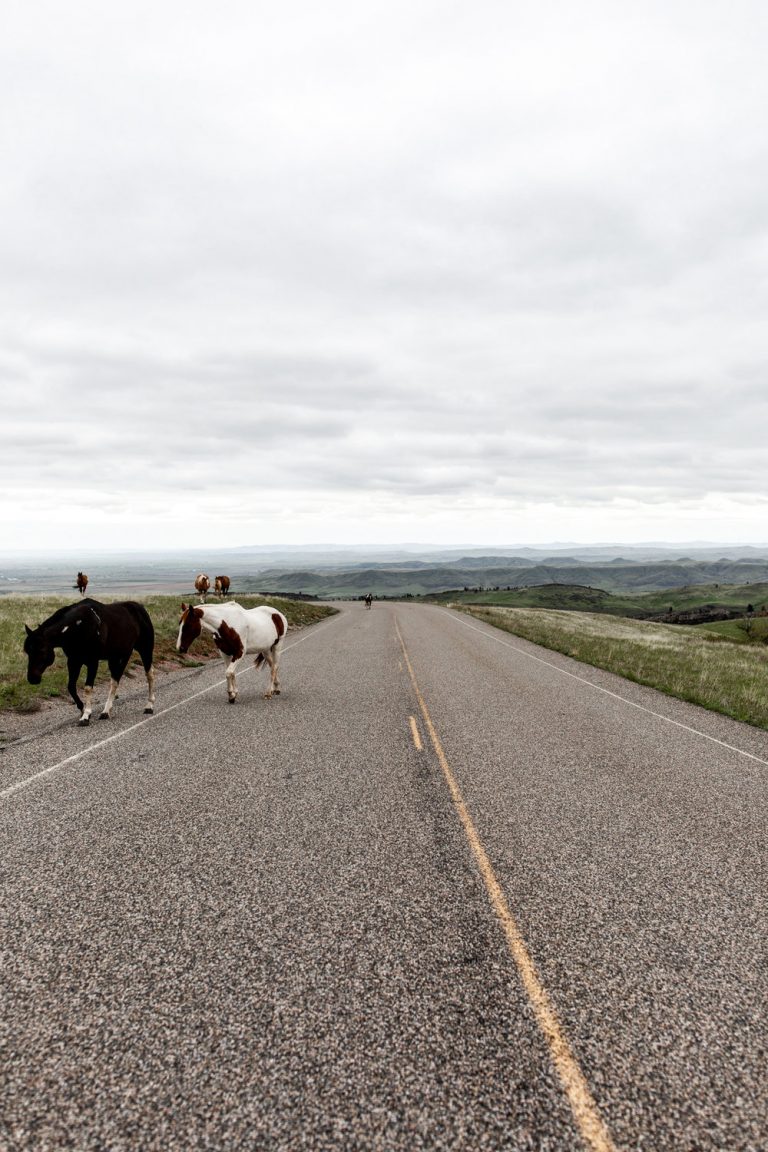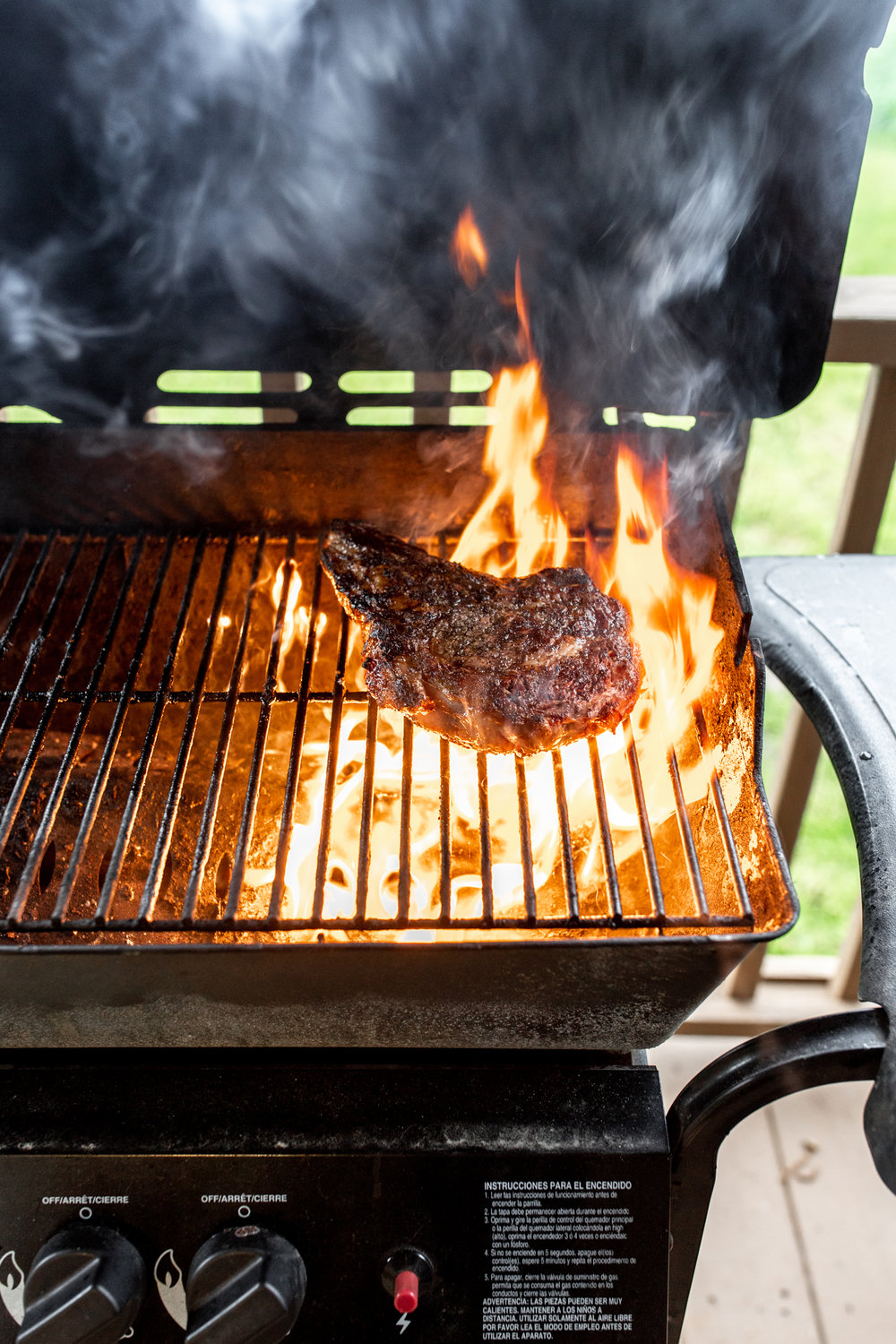 Fort Smith, Montana
On the way to Cottonwood Camp, where my brother works as a fly-fishing guide, you have to pass through Hardin, pretty much the last stop for anything you need. It's still 45 minutes from Fort Smith but it's the nearest reliable place to get gas, and to pick up groceries and supplies. While Amazon does deliver to Fort Smith, the post office is only open for about an hour every day and shares the building with a laundromat. I give my brother credit for living so far off the grid. He's working there for the fly-fishing season, which stretches from March to November.
He's living in a camper that attaches to his Toyota 4-Runner. He keeps it near the cabins they rent out, and he recently bought a drift boat to take out onto the river. While living in a trailer may seem odd to some, my mom did an amazing job of turning it into a tiny home. It's quite swanky – fitted with a memory foam mattress; stainless steel appliances and my mom retiled the backsplash using Amazon stick-on tiles and made new curtains. He has fresh herbs and a little tomato plant growing outside and lucky for him, this is the first year they have Wi-Fi at camp.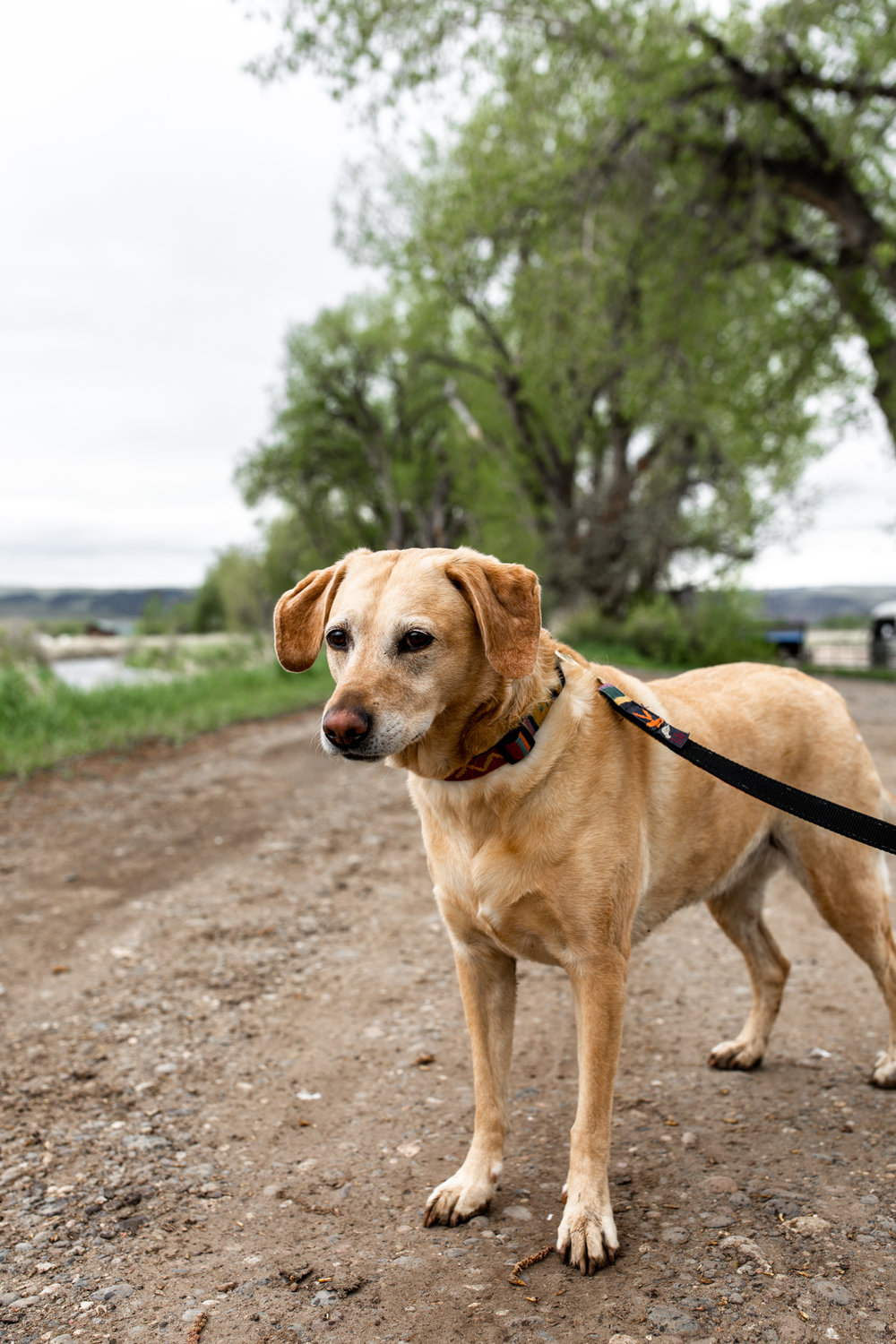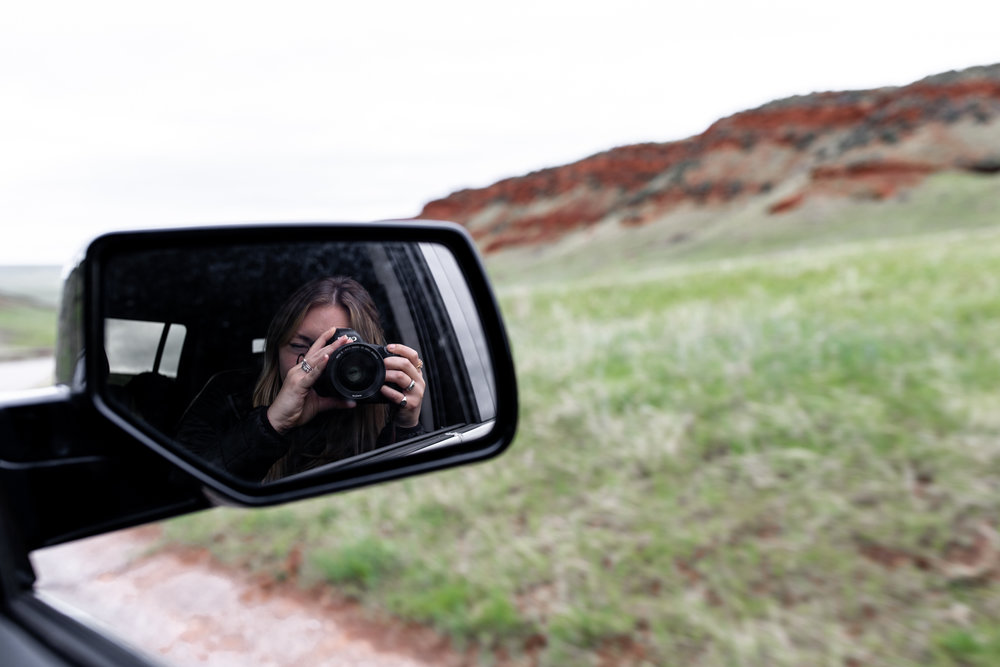 There is something very peaceful about taking a break from the city and being generally out of cell reception. The camp is on the Bighorn River. While I don't have the patience to go for a full 8-hour day float, I did go with my Dad and my brother to watch them fish and take photos. Being so removed from grocery stores also means you have to both stock up ahead of time and plan to cook any and all meals. The "remembering everything"isn't my strong suit – I swear I always forget one ingredient no matter how many lists I make. One of the other guides is a chef and worked at restaurants in Tuscaloosa, AL, so it was fun to get to cook together.
Since we were visiting, my family decided to give everyone else a break and cook for the other guides at camp. The first night we made Steak and Boursin cheese crostini with Caesar salad. It was followed by Taylor, ham, egg & cheese breakfast sandwiches made by dad the next morning. We also made plenty of other meals like crispy chicken thighs, sausages, steaks, some carbonara pasta and cobbler. I was surprised to find the river was "catch and release" and we wouldn't be eating the fish they caught.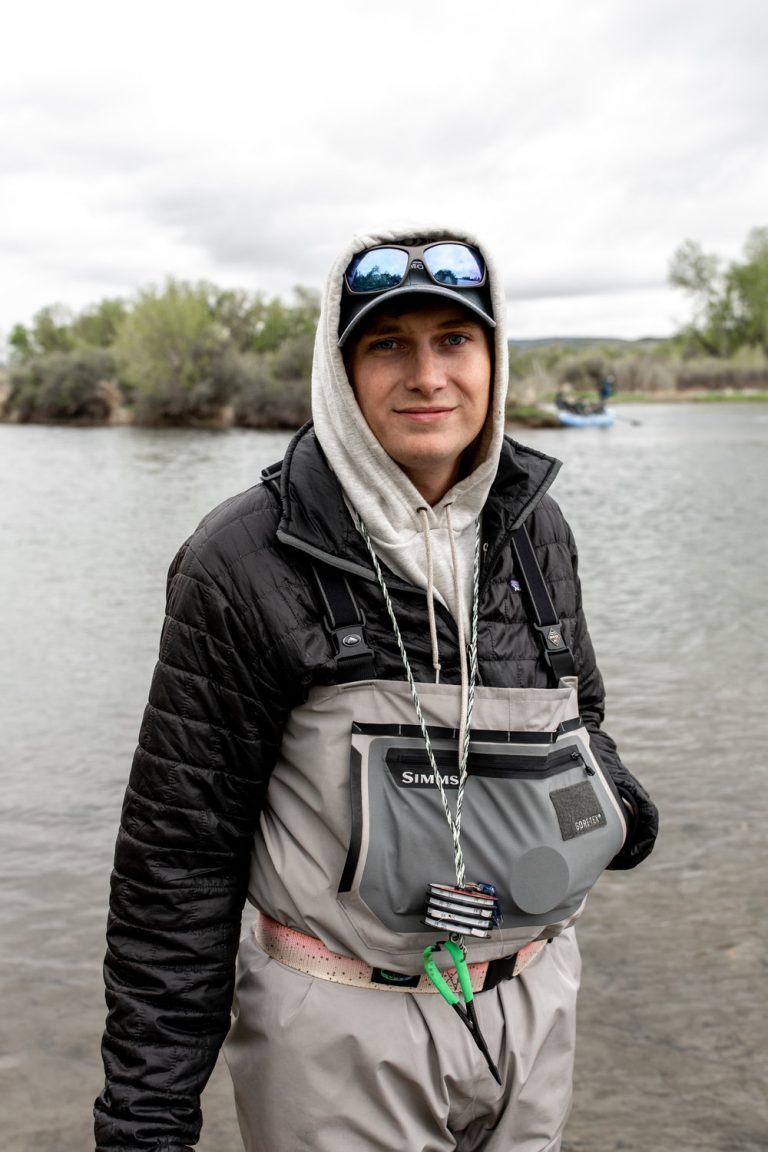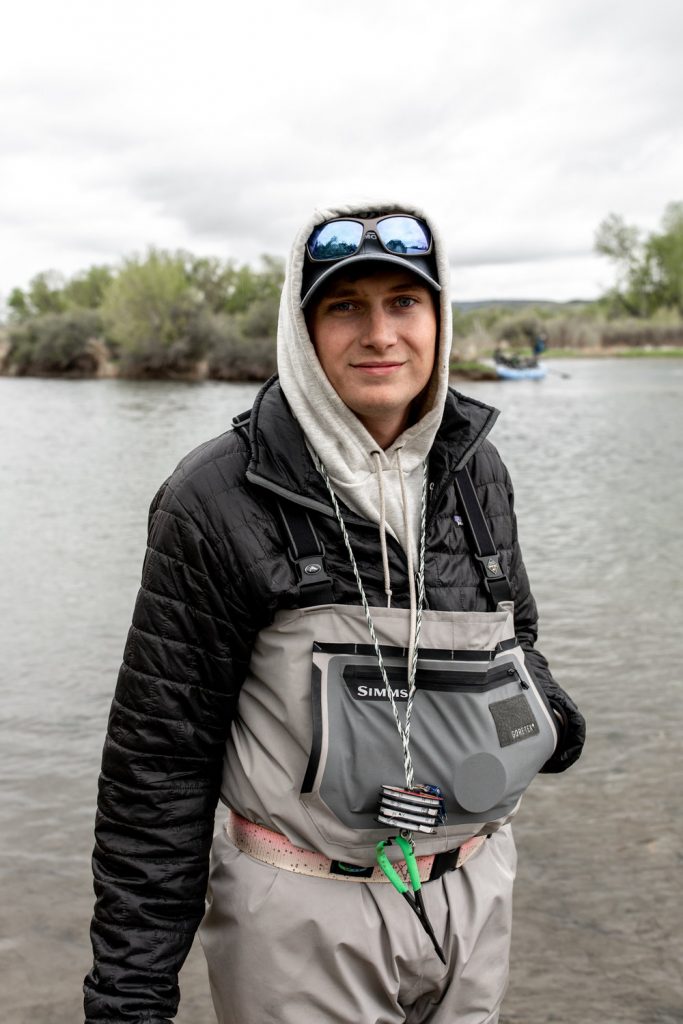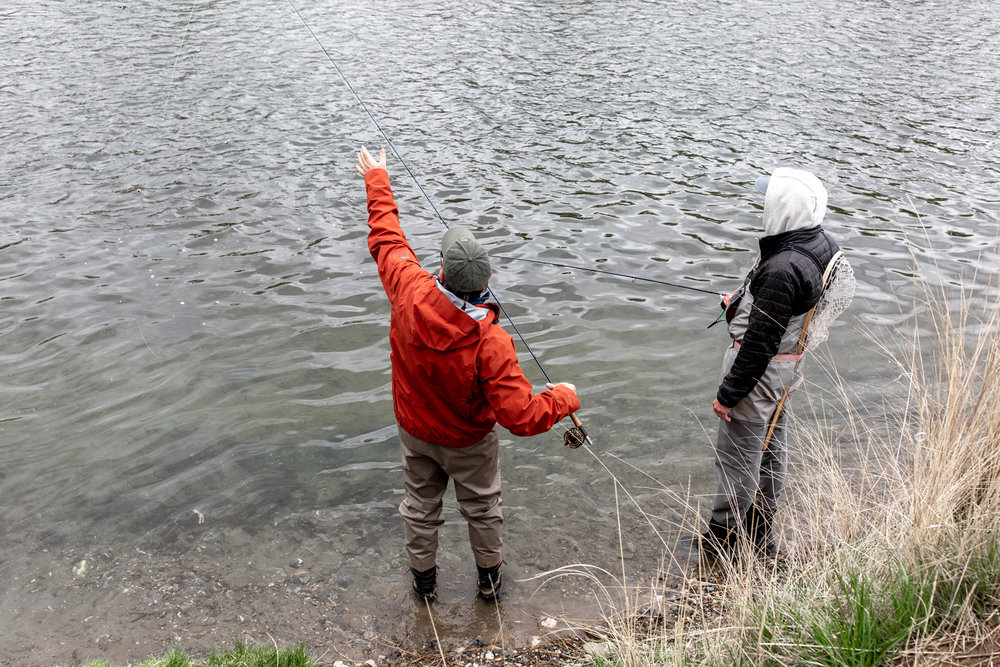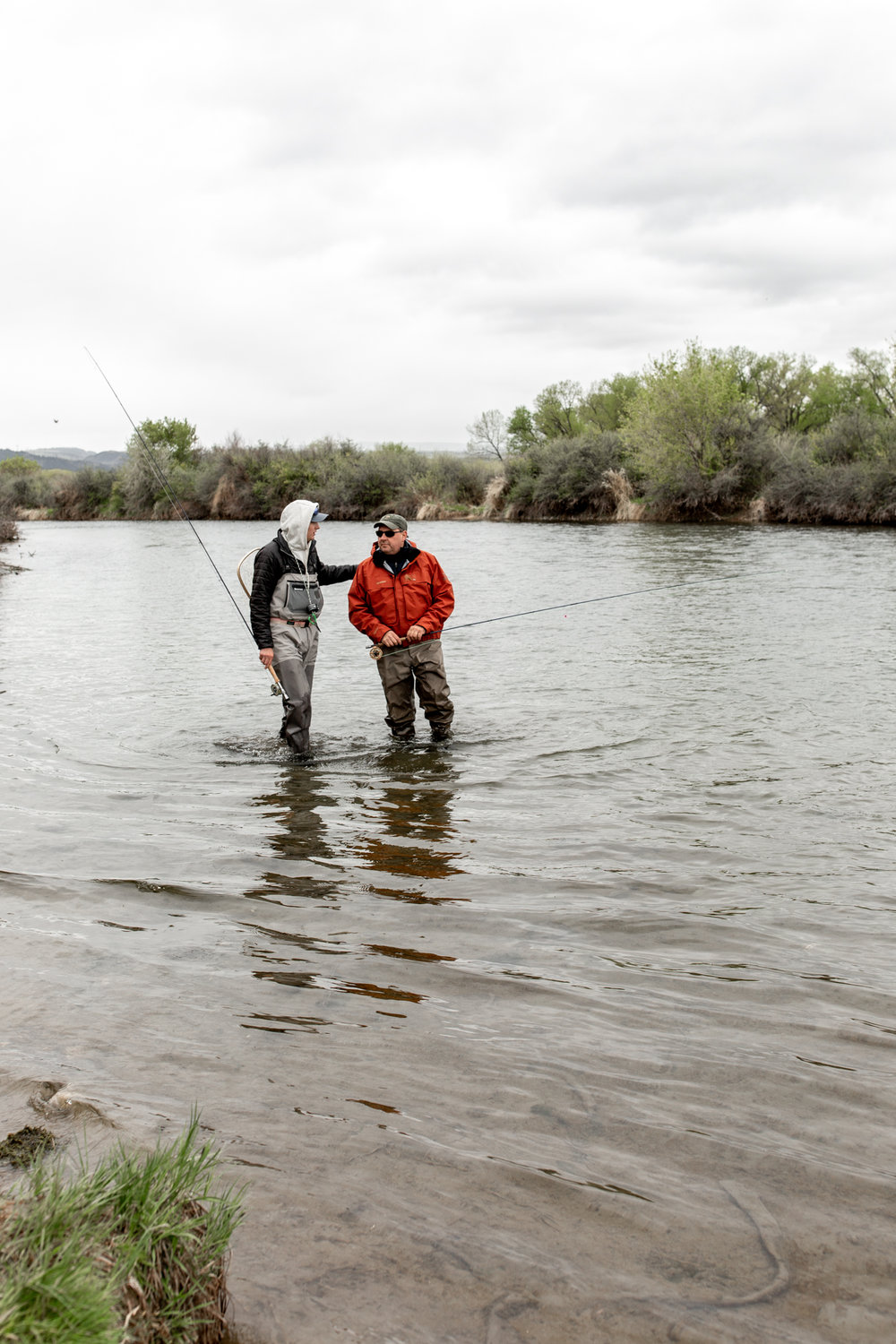 Yellowstone
We spent an entire day driving through Yellowstone and didn't nearly see everything that we could have. It is up there on my list of favorite national parks (it's also the first national park thanks to Teddy Roosevelt). I would love to have the opportunity to go back. It was made even more picturesque by the remnants of snow capping the mountaintops. In some areas it was still covering the ground. I was shocked by how cold it still was in Montana! It's the end of May and while the temperature hovered in the mid-40s for the most part during the trip, we hit pockets of snow while driving through the Park!
I wanted to see a buffalo, thinking it would be hard to spot one. Little did I know they were everywhere. They could be seen wandering through campsites, in front of the visitor center and holding up traffic in the middle of the road. Coming around one corner we saw a line of cars pulled over so we stopped to see what the fuss was about. My dad, equipped with his binoculars, hopped out of the car and down to the bank of the river. Directly across from us we saw a gigantic grizzly bear eating dinner – a delicate way to say we saw it ripping apart a whole elk. It was such an incredible sight, however, I couldn't have been happier to view it from afar. We also saw herds of elk and a mama moose with its young calf.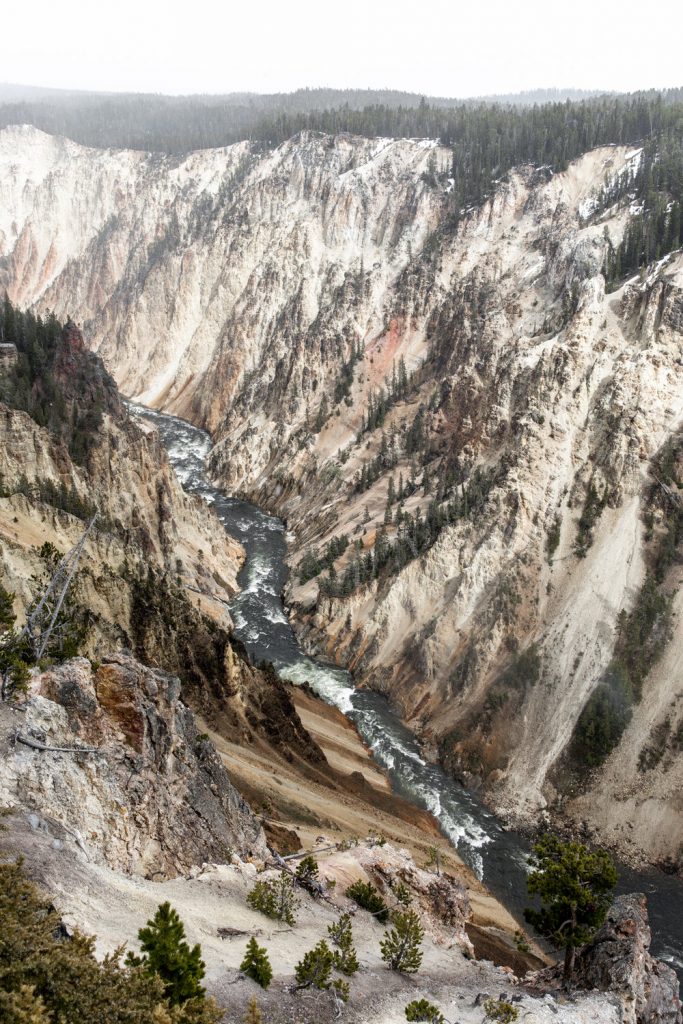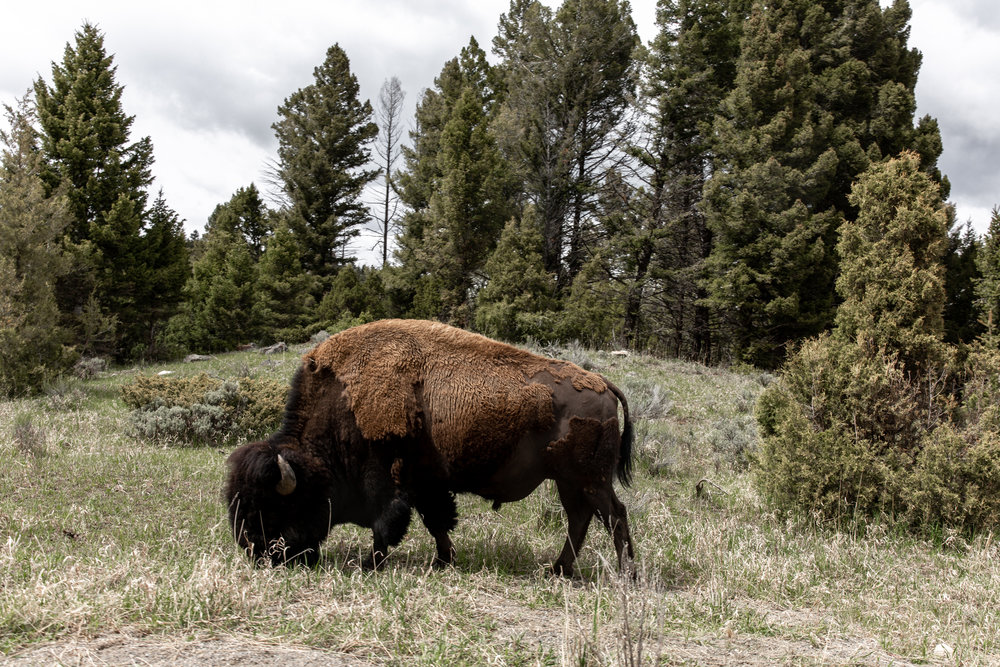 Yellowstone is huge, 2.2 million acres huge to be exact – making it larger than Delaware and Rhode Island combined. Driving through the park there are different areas to keep an eye out for. One of them was the Grand Canyon of the Yellowstone. It came recommended by a friendly Instagram follower. It's the large canyon on the Yellowstone River downstream from Yellowstone Falls. It doesn't look like much until you get to the edge and look down. You realize just how high up you are elevation-wise and looking down gave me a shrinking feeling. All of a sudden I felt like a little ant – that's how big this canyon is. The long waterfall caused a rainbow at a bottom accenting the colorful striations of the rocks.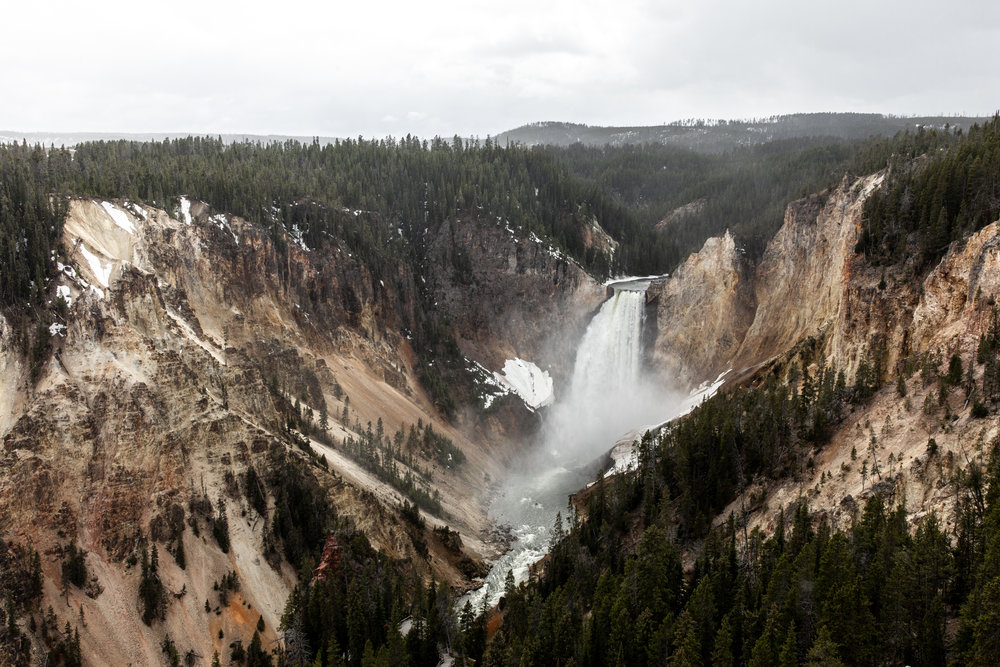 The natural hot springs were also one of my favorite parts of the park. While you could generally smell them before you could see them (hello sulfur) all of a sudden areas of ground would just be steaming or bubbling all over the place. We missed the Old Faithful's geyser's hourly eruption. However, we didn't miss the commercialized aspect of it which we felt would make it less magical. I much preferred the less publicized ones that would show themselves suddenly during the drive.
139 N Canyon St, West Yellowstone, MT 59758 | yelp.com/biz/slippery-otter
We had decided to keep driving through the park for longer so that we could make it to Old Faithful (which we still missed) and down into Wyoming. We got to our hotel in West Yellowstone at 10PM, which didn't leave us many options for dinner. I tried Postmates and all the other apps to no avail but found the Slippery Otter in West Yellowstone. I called in our takeout order making several impulse adds out of hunger. We ended up with way more food than needed but we got to try a little bit of everything. The highlight was definitely the jalapeño wontons. Fried wontons were filled with blended cream cheese and jalapeños for just a hint of spice, contrasted with sweet huckleberry syrup for dipping.
Must-order: Fried wontons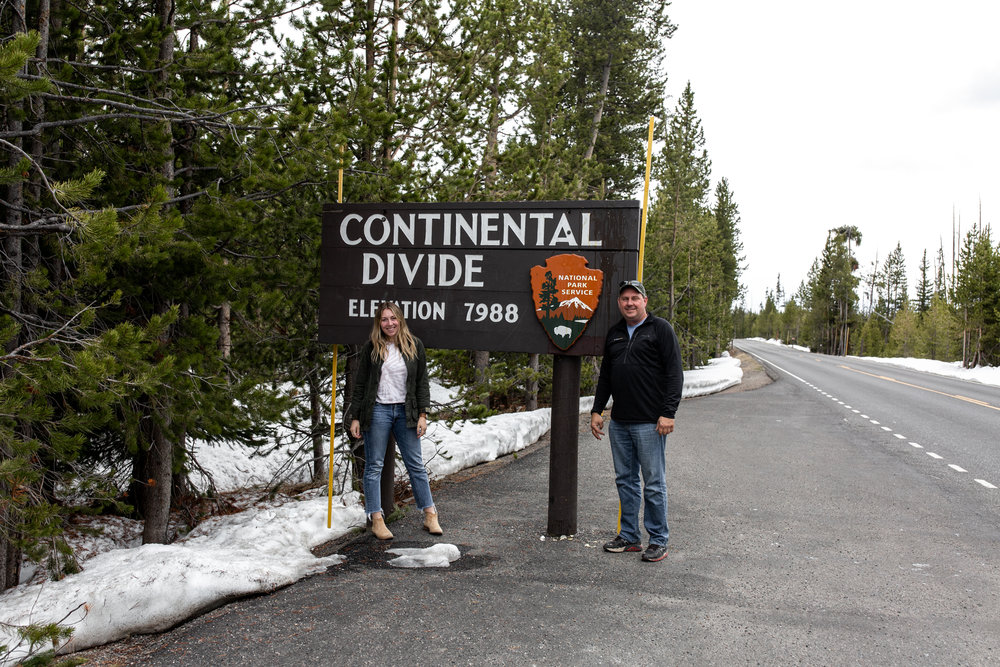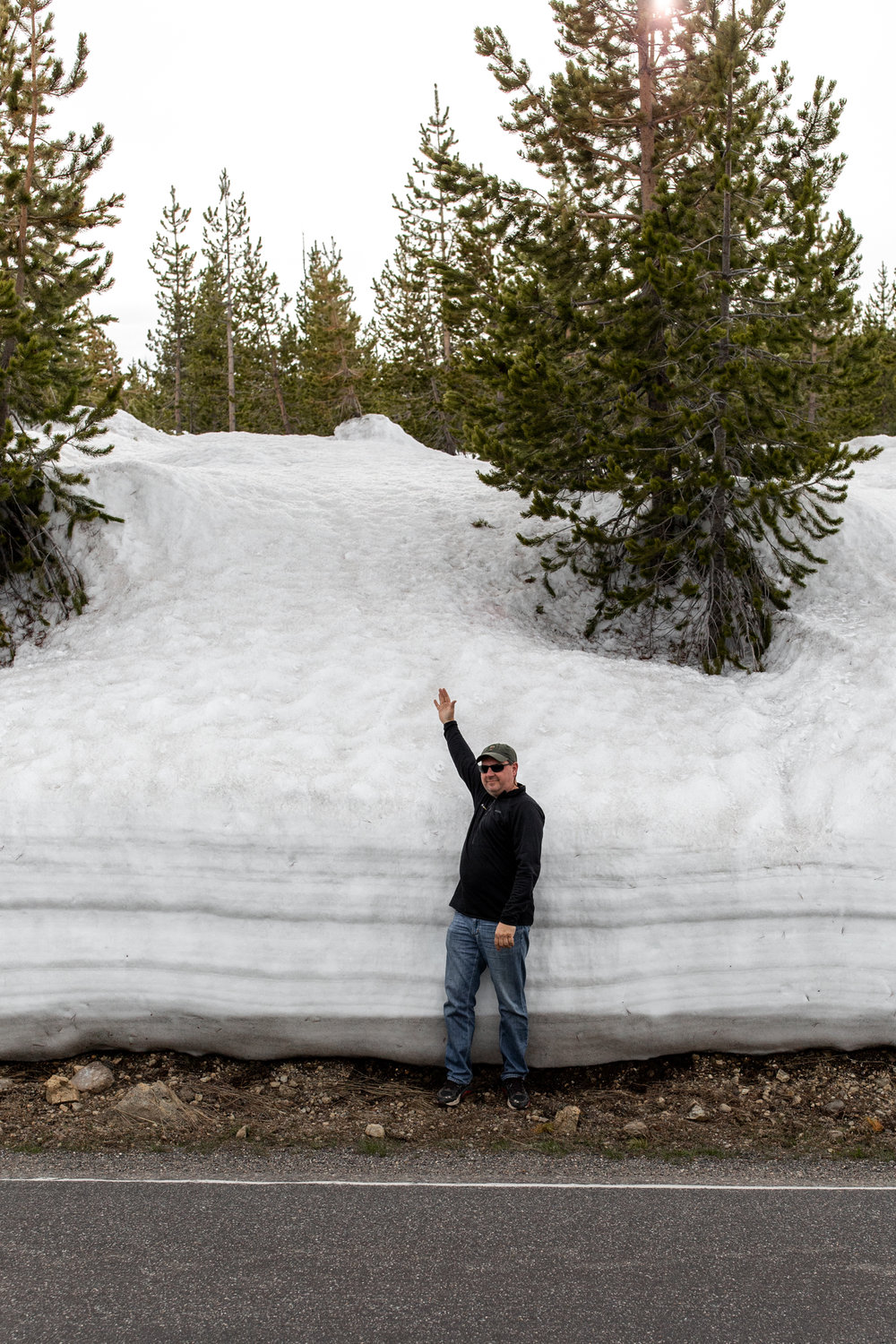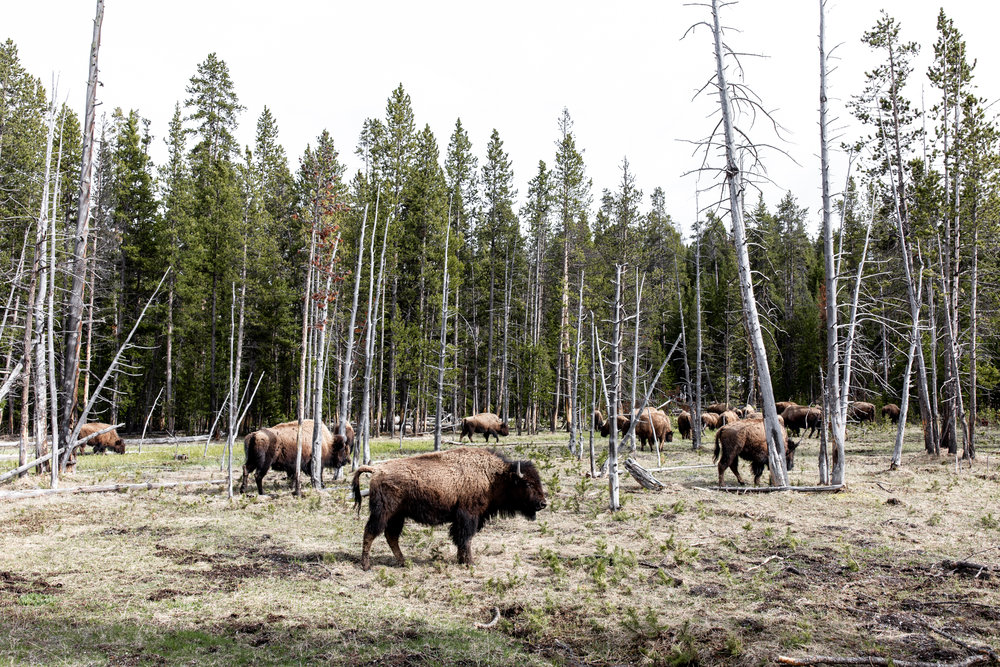 Bozeman, Montana
The drive to Bozeman from West Yellowstone was only about 1 hour and 45 minutes. Just enough time for me to finish reading my latest book, Educated by Tara Westover. We passed through Big Sky, a popular ski area and into Bozeman just in time for lunch. Bozeman is a smaller city. A fair amount of their population is gone for summer (Montana State University is in Bozeman). It's a cute ski town with lots of great food so if you want to go to Montana this is my favorite city.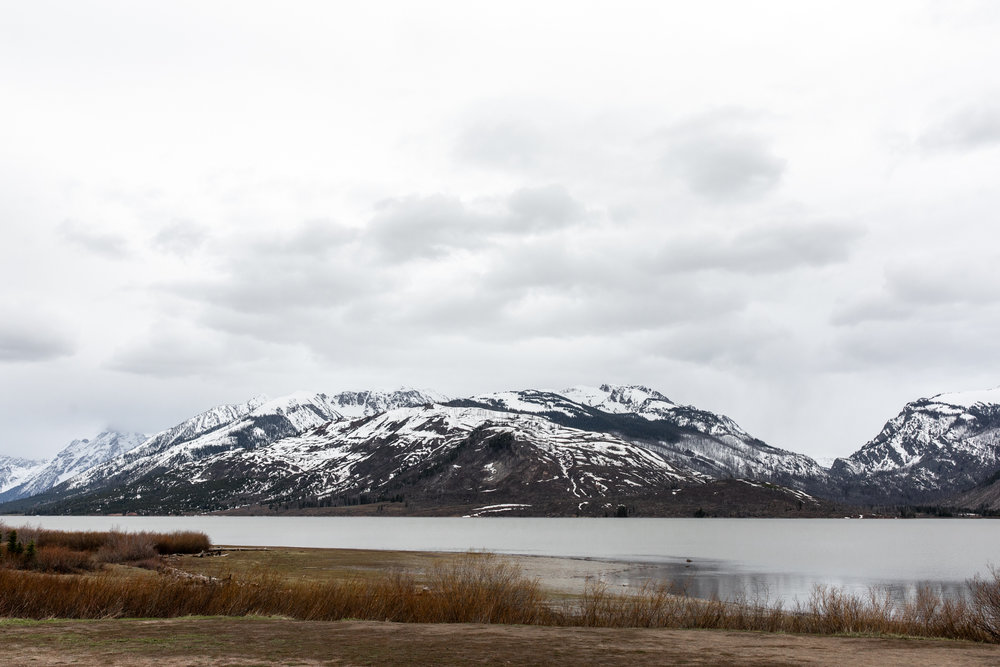 510 Manley Rd, Bozeman, MT 59715 | mapbrewing.com/
The MAP taproom is a big open space with inviting fireplace and fun décor. They boast tons of craft beers. Had it been a warmer day we could have sat outside on the patio, overlooking the surrounding mountains. I got a pint of the Ridge Happy Kölsch, which paired well with the smoked salmon dip. The creamy spread laced with lots of hot-smoked salmon and dill came with a baguette, capers and pickled onions, garnishes I appreciated. The acid from both paired well with the creamy dip.
The puffed jalapeño poppers were reminiscent of the ones I had at the Slippery Otter the night before. Crispy puffed pastry bites were filled with roasted jalapeño, smoked Gouda and cream cheese and served with a smoked ranch dipping sauce (a standout).
Must-order: smoked salmon dip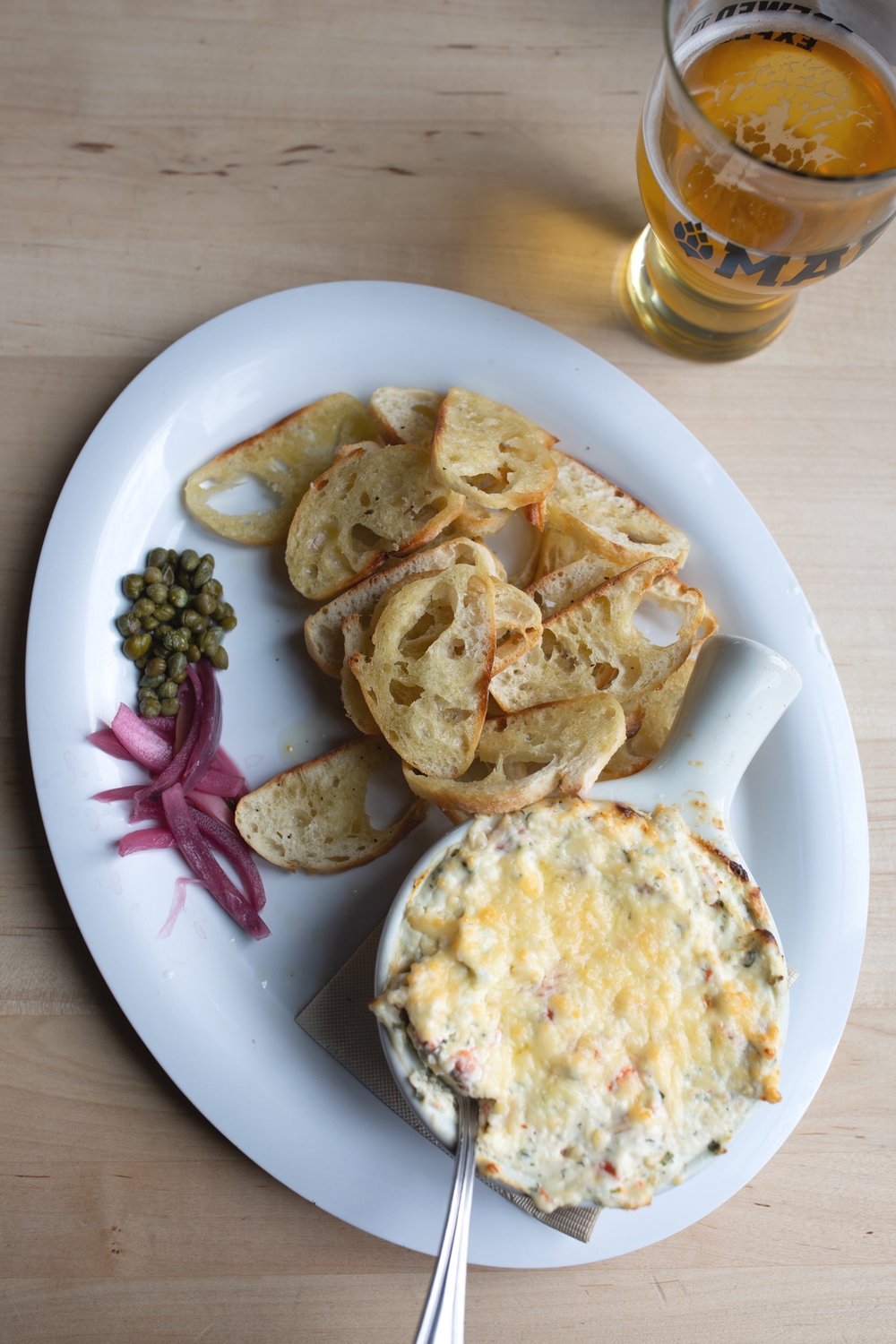 140 E Main St, Bozeman, MT 59715 | blackbirdkitchen.com
One of the few restaurants on the reservation app Resy, Blackbird was also recommended by another food blogger, Female Foodie. I am so glad I took her advice because this was a great meal in an industrial chic café setting. The exposed brick painted white was accented by a brushed metal chef's counter and wood burning pizza oven which set a cozy atmosphere on the main street in Bozeman. The burrata appetizer came with thick slices of homemade bread and blood orange rhubarb jam and was devoured in minutes.
My dad said he was too full from lunch for a big dinner (hazards of traveling with a food blogger) until he saw the house-made Malloreddus pasta. It came tossed in lamb and pork ragu with saffron, tomato and chili flakes. We ended up with two orders, both of which we finished. The pasta was cooked perfectly – dense gnocchi-like shapes contrasted perfectly with the meat-based sauce.
The "Panna" pizza was also a hit with tomato, fennel sausage, cream and chili flakes. It was spicy but we couldn't be put it down. When given dessert options and can't decide, just get both! We ended up getting a pistachio cake with mascarpone buttercream and rhubarb galette with ginger gelato to share.
Must-order: Malloreddus pasta that came tossed in lamb and pork ragu & "Panna" pizza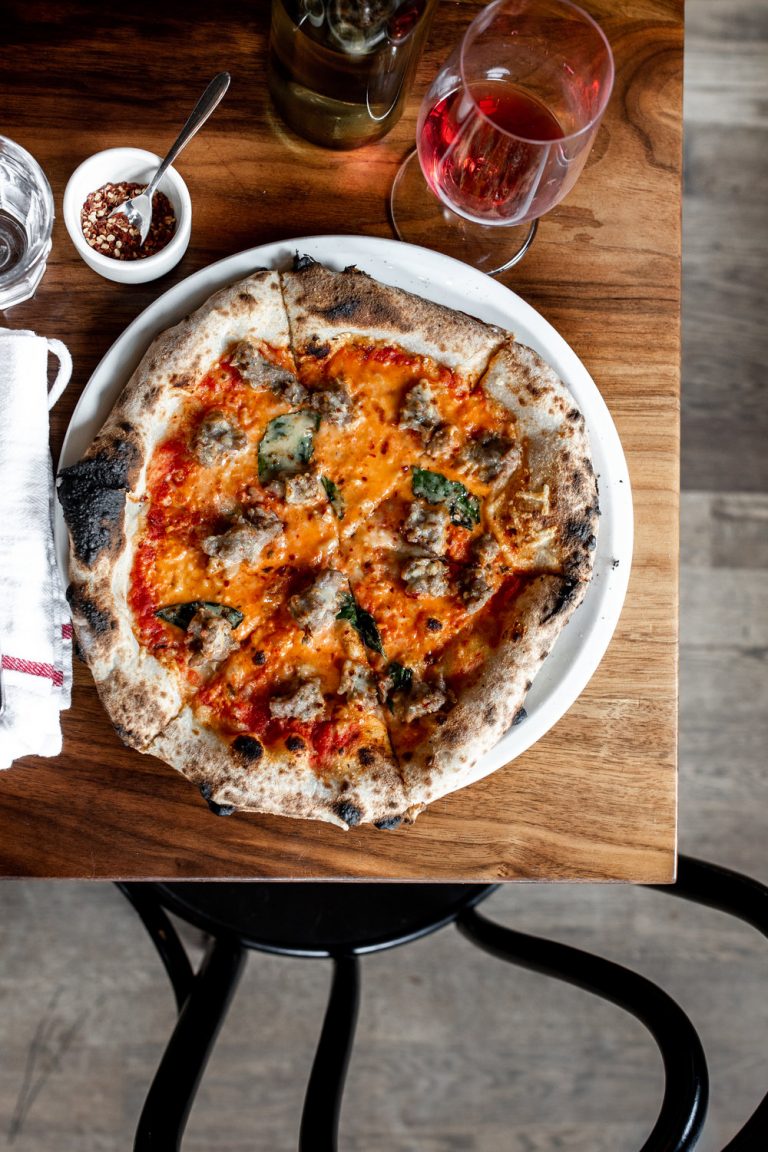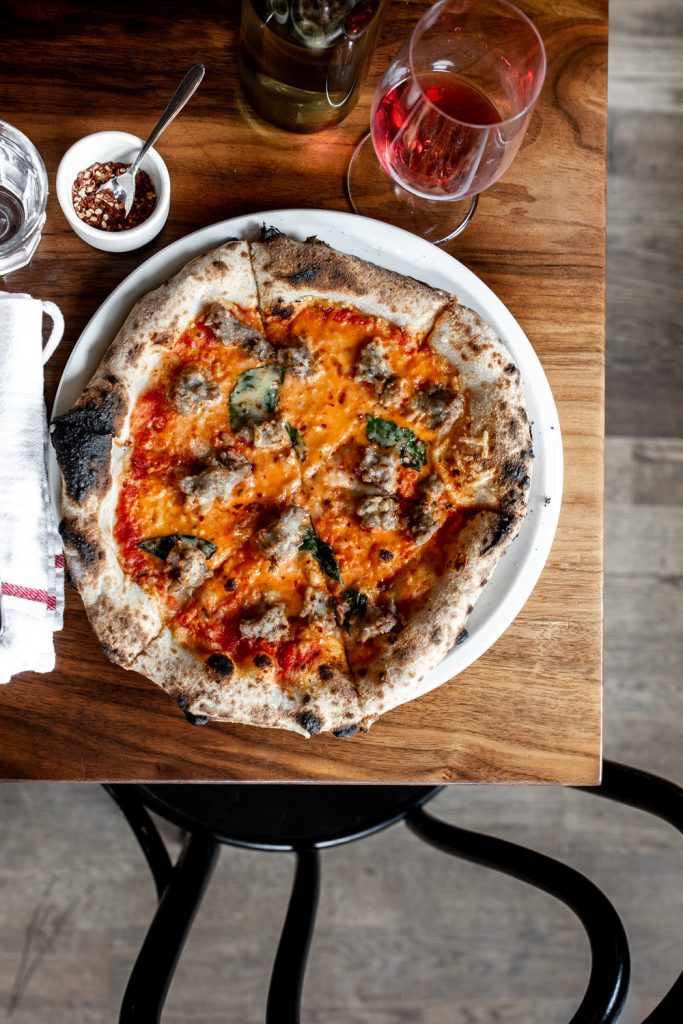 25 W Main St, Bozeman, MT 59715 | jamonmain.com
Jam on Main Street in downtown Bozeman came highly recommended. It was one of those places where I could have ordered just about anything on the menu and I would have been happy. We started breakfast with a round of maple lattes – laced with pure Vermont maple syrup. If you've had the good stuff then you can tell the difference. There is a more pure maple flavor (of course that makes it more expensive as well).
I opted for one of the daily specials, a lobster omelette with melted Brie and chopped spears of asparagus coated in a béarnaise sauce. They didn't skimp on the lobster – it came filled with a full tail. I wanted to try the loaded hash browns so we shared an order for the table. A pile of hash browns came with two eggs, crumbled pieces of bacon, grilled jalapeños, and melted Monterey Jack cheese, all smothered in sausage gravy.
Must-order: lobster omelette & maple latte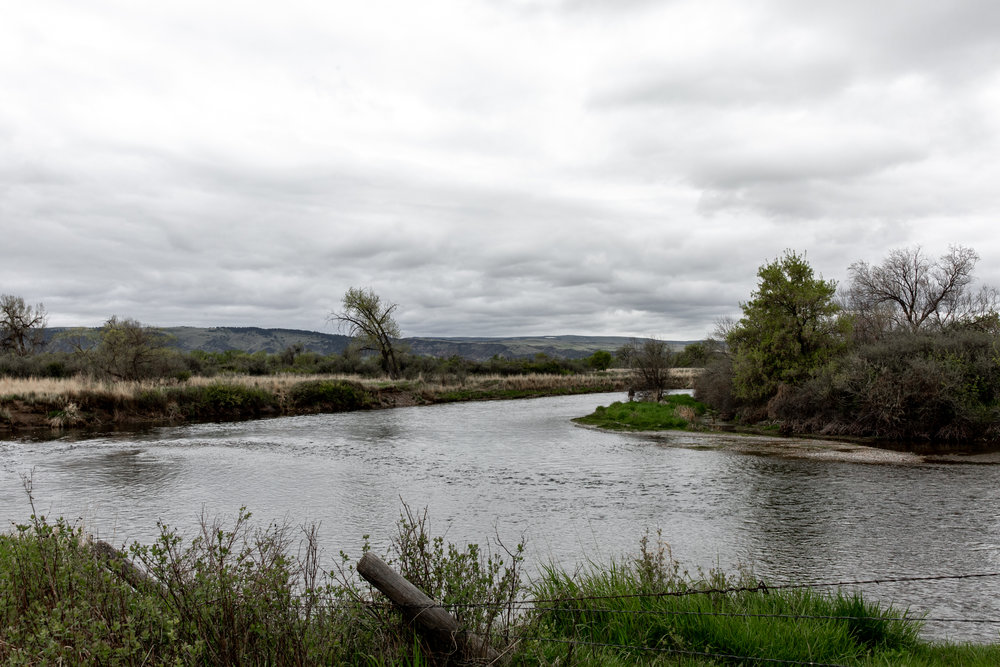 I'm heading back to Montana for the 4thof July this year and am looking forward to exploring it in some warmer weather! Maybe that time I will even fish!