Jalapeño Popper Burger
This recipe is sponsored by ALDI.
It's time to fire up the grill! Memorial Day weekend is the unofficial start of summer, and it's the perfect time to sit outside, enjoy the sunshine and make some jalapeño popper burgers.
In this recipe, ground beef patties are seasoned simply with salt and pepper, grilled to medium-rare and served with a spicy twist of jalapeño cream cheese, strips of bacon and crispy onions piled on a brioche bun. I picked up all my fresh ingredients from my local ALDI – they offer a wide selection of high-quality ingredients at an affordable price to keep you grilling all summer long!
Always shape your burger patties 25% larger than you will need them for the size of the buns – as they cook the patties will shrink up! This way you have the perfect burger to bun ratio.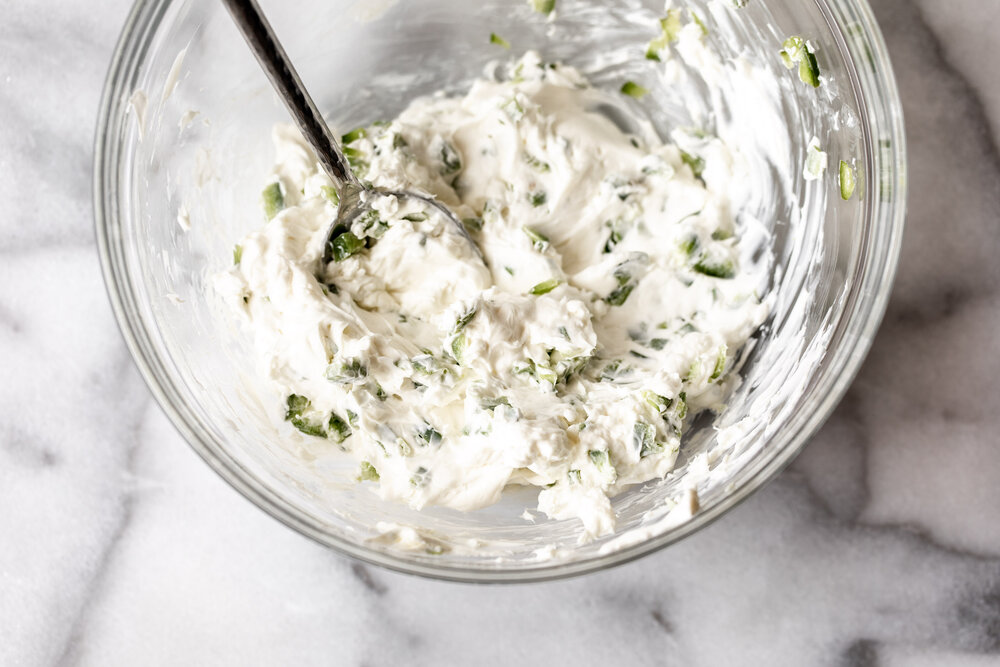 I love using Simply Nature Organic 100% Grass Fed Ground Beef from ALDI – it's food you can feel good about! You can also always substitute ground beef with whatever you have in your fridge or freezer like ground turkey, or a meat alternative option from the Earth Grown line at ALDI. The crispy onions complement the flavorful burgers made from organic meat. Cream cheese replaces slices of cheese for a smooth topping with just the right amount of spice.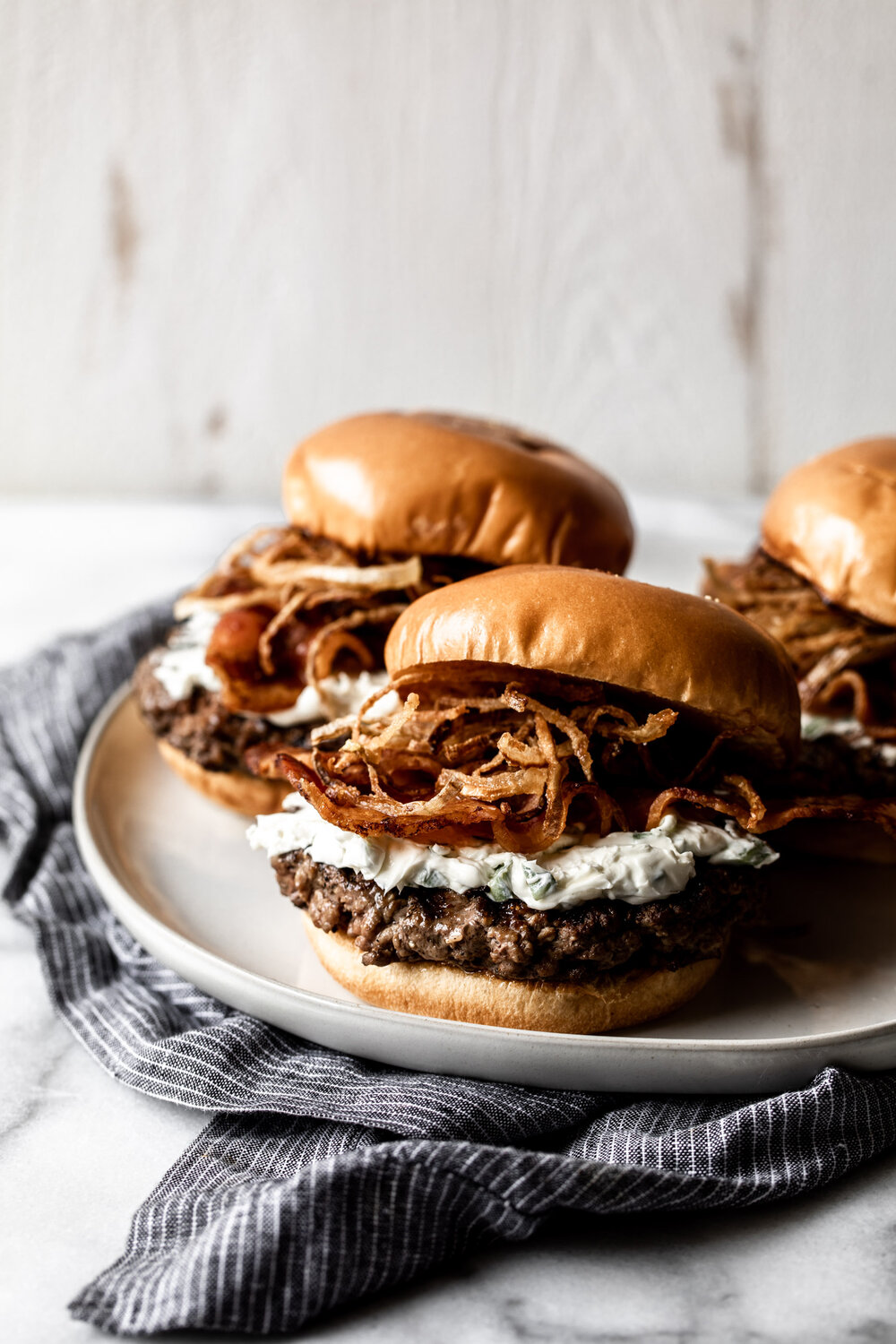 Jalapeño Popper Burger
1

8-ounce package Happy Farms Cream Cheese, at room temperature

2

medium jalapeños,

seeded and diced

1

pound

Appleton Farms Thick-Cut Bacon

1½

pounds

Simply Nature Organic 100% Grass Fed Ground Beef

Salt,

as needed

Freshly ground black pepper,

as needed

4

Specially Selected Brioche Buns,

split

Simply Nature 100% Pure Avocado Oil,

as needed, for frying

1

medium yellow onion,

thinly sliced

3

tablespoons

all-purpose flour
Preheat oven to 400ºF.

Preheat outdoor grill to high (about 450ºF).

In a small bowl stir together the cream cheese and jalapeños until combined. Cover and refrigerate until ready to use.

Arrange bacon in a single layer on an aluminum foil lined baking sheet and bake until crispy and golden brown, about 16 minutes. Remove to a paper towel-lined plate to drain and set aside.

Divide the ground beef into 4 equal portions (about 6 ounces each) and flatten into patties. Lay out on a parchment paper-lined baking sheet and season on both sides with salt and pepper.

Place the burger patties on the grill in a single layer. Cook until grill marks appear, about 2 minutes. Flip and cook until grill marks appear on the other side, about an additional 2 to 3 minutes for medium-rare. During the last minute of cooking add the buns, cut side down to toast them.

In a medium cast-iron pan over medium heat, heat enough avocado oil to fill about a half inch up the pan. Heat the oil to 350°F. Toss the sliced onions in the flour working a handful of onions at a time, add to the hot oil and fry until golden brown all over, about 5 minutes. Remove to a paper towel-lined plate to drain and repeat with the remaining onions.

To assemble the burgers, place a patty on the bottom half of the bun, top with a spoonful of the jalapeño cream cheese mixture followed by 2 strips of bacon and a handful of crispy onions. Close the burgers and serve.
DID YOU MAKE THIS?
TAG ME ON INSTAGRAM TO BE FEATURED ON MY STORIES! @cookingwithcocktailrings