June 7th– June 8th, 2019
The last time I was in Boston was in the summer of 2010 right after my husband Aaron and I had started dating. That summer he flew out to New Jersey to visit me, and we took our first road trip up to Boston. We were 19 and the trip was different than the ones we take now – not only were we not legally allowed to drink or go hang out in bars (a change after we had been living in Switzerland), but we also didn't appreciate food at the level we do now. The weekend we chose to visit also had record heat and humidity to the point of sweating just from walking. We chose to eat at more touristy places like Legal Seafood (which I still love, it's just not unique to Boston) rather than all the cool restaurants Boston has to offer.
Since it had been so long since my last trip, my Mom and I decided to drive up and visit our friend Zoe while I had a free weekend at home in New Jersey. The drive should take only about 4 and a half hours but after getting stuck behind a literal truck fire we were running behind schedule. Rather than stopping for a snack we made the decision to drive straight through, scrounging in our purses for granola bars. By the time we checked into the hotel it was 3PM and we hadn't eaten so we debated getting a snack or trying to wait until our 630pm dinner reservation. We opted for a snack in the Boston Public Market followed by another pre-dinner bite to eat at Neptune Oyster Bar and then chose to change our reservations until later that night. While we only had 24 hours in total in the city of Boston we made our way around the entire city for some of the best seafood and more.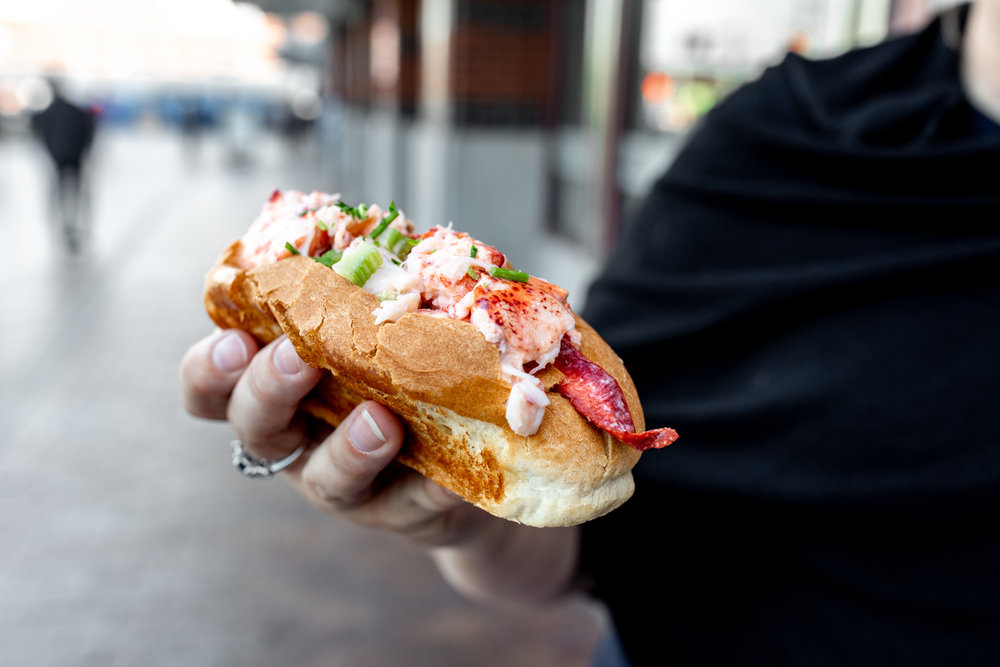 I prefer the cute stalls of this permanent central market to the more tourist-driven food of Quincy Market. An indoor market located in the North End, it is filled with everything from kitchen goods like local stone cheeseboards, to spiced nuts, seafood, bagels and popovers. Off to the side of the public market is a farmer's market selling some of the best-priced fruit and vegetables I've seen.
As soon as we got out of the car my mom and I realized that crushed granola bars wouldn't hold us over until dinner. Red's Best was a quick fix with a lobster roll ready in under five minutes. The generous amounts of lobster claw and tail meat tossed in a mayonnaise mixture were piled into a griddled top-split buttered roll. The owner of Red's has worked to develop softwareto track the seafood from small fishermen to the stall and shows it all on an infographic on the wall as they hope to lift the veil of shadowy practices surrounding much of the fishing and farmed seafood industries. I meant to go back to pick up some of their clam chowder and fresh catch fish to bring back to New Jersey but got sidetracked.
Must order: lobster roll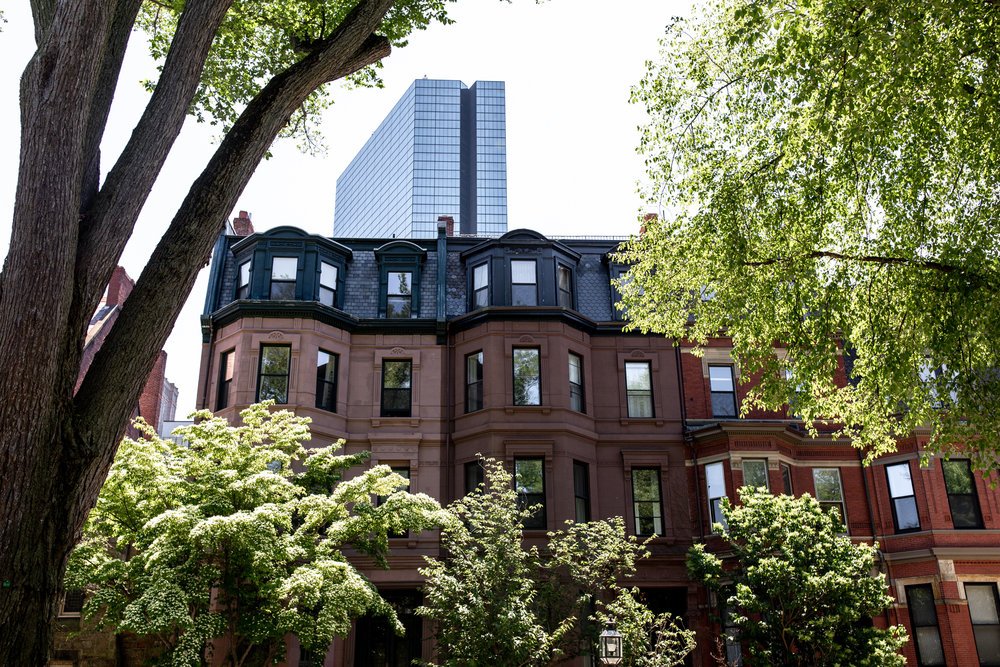 I know I am a coffee snob but sometimes it can be surprisingly hard to find a good latte where the milk or espresso isn't burnt. We lucked out in the Public Market by finding George Howell. After a long road trip I needed a pick-me-up, and it was so good that we ended up coming back to George Howell again the next morning. They make great standard lattes and coffee but of course I enjoy the fun specialty items. Their "Vermonter" is a latte made with Vermont maple syrup, which I am currently working to replicate with my Nespresso machine.
Must-order: the Vermonter latte
This narrow 42-seat oyster bar in the North End is always packed. I thought my friend was exaggerating when she told me that people started lining up two hours prior to opening, but sure enough Saturday morning at 9am there were people lining up. While dropping by at an odd hour wasn't enough to immediately get a table, we could add our name to the waitlist along with a phone number so we could wander around the public market until our table was ready.
Once we settled into our seats at the bar, we were handed the raw bar list detailing the extensive list of oysters and other seafood they had in their fresh menu. I started with a glass of rosé, paired with a sea bass crudo topped with cherry compote the same color as the wine. Since I actually made it into one of Boston's most popular oyster bars I had to go all out. I ordered the Triton platter which came with six Neptune pearl oysters (from Barnstable, MA), six mussels, three jumbo shrimp, three littleneck clams, three quahog clams, lobster salad tossed in a mix of herbs (what I took to be a complementary combination of tarragon, chives, shallots and parsley), and crab salad.
Since I had already had a lobster roll from Red's Best earlier in the afternoon I opted to try their Wellfleet clam chowder which is made fresh to order though I hear the Maine lobster roll with drawn butter is one of the best in the city.
Must-order: Triton platter
The Oak Long Bar + Kitchen is located within the Fairmont Hotel in Copley Plaza. The high-ceilings and ornate bar make for a great spot to grab cocktails and order a few small plates to share. I started with a fresh Copley Square Farmer's market special cocktail called the #Keep_Calm_and_Carrot_On with mezcal and tequila, carrot-turmeric syrup, lemon bitters, apricot shrub and smoked salt.
After a late afternoon snack at Neptune's I wasn't as hungry for dinner as I had anticipated but still ordered as if more than three people were sitting down to dinner. The lobster roll was good, but didn't stand out as much as some of the other lobster rolls I enjoyed on the trip. The salt and vinegar fries came with a malt vinegar aioli that I would like to put on just about everything going forward.
While messier to eat, the chicken liver mousse toast was served with pickled apricot, radish, vidalia onion marmalade, and frisée topped with spicy bacon vinaigrette to balance the flavors. We shared an entrée of smoked mozzarella gnocchi with a sous-vide egg (cooked perfectly at 64-degrees), wild mushroom and braised kale.
Must-order: chicken liver mousse toast & smoked mozzarella gnocchi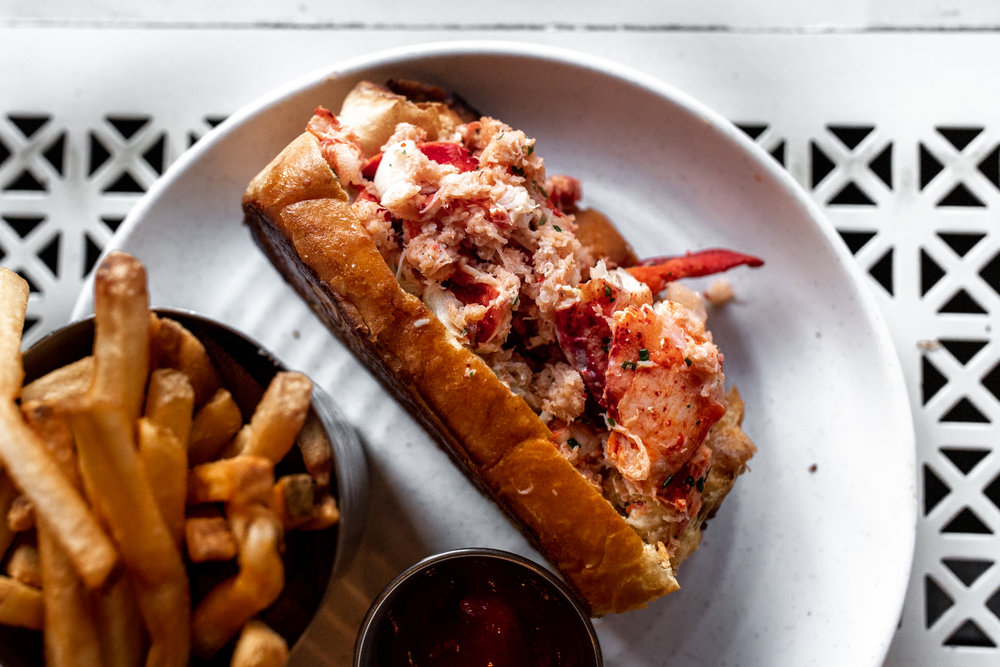 We happened to be walking by this popular pastry shop in the North End right after they opened so there was no line and we took the opportunity to stop in for some of their famed cannoli. The smell of sugar hung in the air while I tried to decide which types of cannoli to order. My Aunt Cory from Connecticut happened to be up in Boston and met up with my mom and me for breakfast. As an Italian she is a tough judge of this mascarpone-cream filled dessert and considers these from Mike's the best she's ever had. In fact rather than eating breakfast with us, she opted to eat her cannoli instead! My favorite was the amaretto cannoli with light almond flavor wrapped in a brittle fried shell. "Who gets chocolate chip with all these options?" Well I definitely do when it's the most popular seller! The simple iteration is a classic for a reason.
Must-order: cannoli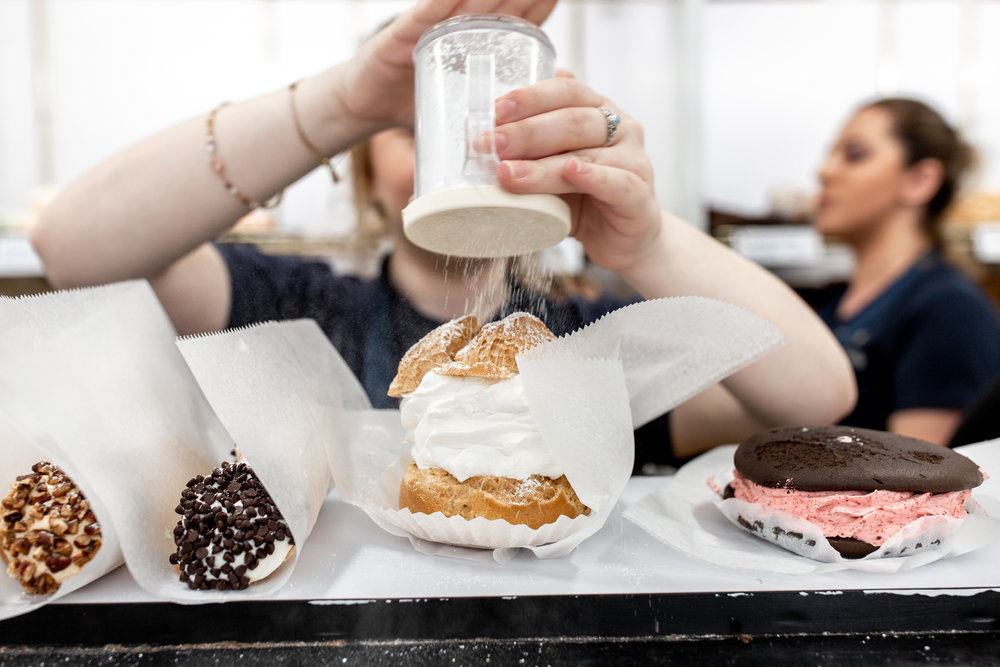 This all day bakery and café now has multiple locations around Boston. While the original location is in Brookline, Massachusetts, we stopped in for breakfast at the downtown location at One Boston Place. Even though they have great coffee, rather than get another latte in a very short period of time and risk being overly jittery for the rest of the day I got their special cascara soda, a light but still caffeinated iced drink perfect for summer. As usual I ordered several dishes for the table and we shared them all to get to try a few various dishes.
Their traditional Shakshuka, North African breakfast dish consistsof eggs cooked in a spiced tomato sauce topped with feta and served with challah bread. The French toast was a perfect mix of sweet and savory with 2-inch slices of housemade challah bread soaked overnight in their egg mixture and topped with a light and fluffy ricotta goat cheese mousse, raspberry jam, sliced almonds and fresh strawberries. The muesli wasa lighter breakfast option, with whipped Greek yogurt topped with housemade granola, and an assortment of fresh fruit topped with honey and sesame.
Must-order: shakshuka
As soon as I walked in the door of Polcari's with my friend Zoe who lives down the street from the shop off Salem Street, both she and her dog were greeted by name. I felt like a North End local. The shop has a long and interesting history – it's been open since 1932 and they still keep all the coffee blends in jars behind the counter and weigh the coffee on the same vintage scale. The historical store was passed down to a longtime employee from the store's original owner in 2005 prior to his passing. The store is open at fairly odd hours so don't expect to get your first cup of coffee of the morning there but stop by later for a bag of the Mr. Polcari's house blend which combines their dark and light roast or various spices sold in large barrels around the store.
Must order: house blend
Saltie Girl is a newer restaurant that opened in 2016 which, in a city as old as Boston is considered brand new. (Fun fact: Boston has the oldest continuously operating tavern in the United States with the Bell in Hand Tavern in Government Center open since 1795). We walked through Boston Common and through the route of the weekend's Pride Parade to get to this small Back Bay restaurant.
There are some restaurants where you sit down and stare at the menu hoping that one item will jump out at you and that it will turn out okay, and then there are other restaurants where you know that you can order any item at all on the menu and be extremely happy. Saltie Girl was the latter. The restaurant put playful spins on classic seafood dishes in a fun environment. Go with two other people (but no more than that because the restaurant really can't fit anything larger than a four-top) and that way you don't have to wait as long to sit. You can try multiple items on the menu and you get bar seats to watch the happenings of the open kitchen happenings. After being seated at the turquoise-tiled bar lining the entire left side of the restaurant we ordered both the pineapple cocktail for two with elix, yuzu, lemongrass and citrus soda that comes in a large gilded pineapple as well as the almond with amaretto, rye, aperol, pineapple and egg white. I'm a sucker for any drink that comes with frothy egg whites on top.
The yellowtail crudo was served with pineapple water, yuzu, finely diced cucumber and shiso leaves topped with yuzu roe. The torched salmon belly came with slices of the fish layered over torched tomato, tahini and sushi rice topped with green onion. It was so good we put in a second order to end the meal on that flavor. When I see toro on a menu I can rarely pass it up. The generous and thick slices of toro sashimi melted-in-your-mouth.
While the Gloucester Lobster roll can be ordered with either drawn butter or aioli, so we went with the waitress's recommendation of the drawn butter and weren't disappointed. Large chunks of lobster came tossed in a generous amount of butter and piled into a toasted, buttered roll with a side of house-made potato chips. The Holy Trinity of Clam Chowder came laced with halved roasted potatoes, lardons of smoky bacon and shaved salsisy (a root vegetable with a taste similar to celery) on top. It was the most interesting as well as delicious variation of clam chowder I've had. The snow crab toast came on thick slabs of bread topped with stracciatella, slices of avocado, and pistachio which gave a nice contrast of crunch to the tartine piled high with snow crab.
Must-order: Torched salmon belly, toro & clam chowder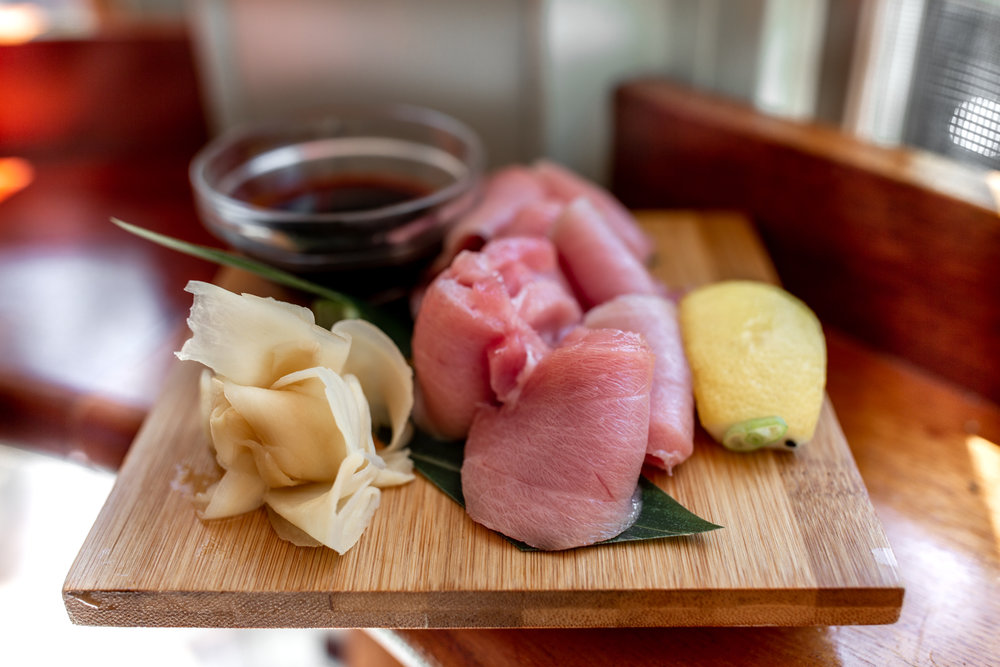 The Italian North End is filled with small markets but Monica's off Salem Street is among the most popular. My friend Zoe lives in a building in the alley right across from Monica's so when the lines are long she calls in the order and runs down the three-floor walkup to pick up sandwiches. My brother had been a few months prior, and insisted that I order the Italian sub with "hot" – meaning with hot peppers. The sandwich was layered with thin slices of Prosciutto, Mortadella, Salami, Provolone, Lettuce, Tomato, Onion, Oil, Balsamic, Hots, and Pickles. Monica's also sells food through the basement entrance in the alley, as well as fresh pastas and full Italian dinners in a restaurant around the corner.
Must-order: Italian Sub with "hot"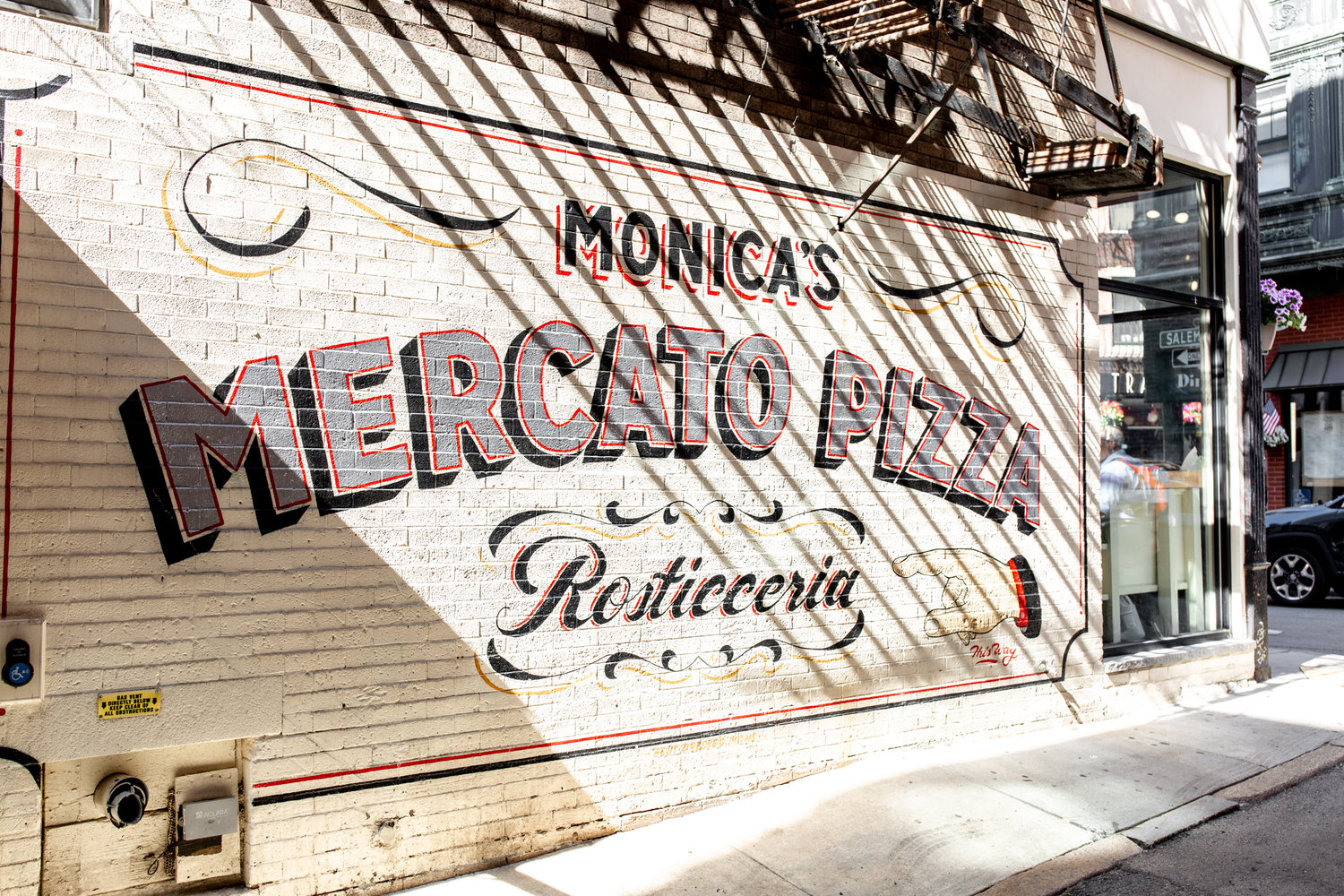 While I was able to squeeze in multiple stops with delicious meals, there are still so many more places on my list I want to make it to. I definitely won't let another eight years go by before I make it back to Boston.