This is the perfect summer salad for your next BBQ; it combines sweet watermelon and corn with nutty grains, toasted walnuts and grilled halloumi cheese. Halloumi is a salty, briny cheese from Cyprus that has a similar texture to mozzarella.
I love halloumi cheese or "grilling cheese" because it has a high melting point it can be grilled or fried without turning into a gooey mess, it becomes golden on the outside and is remains slightly rubbery on the inside.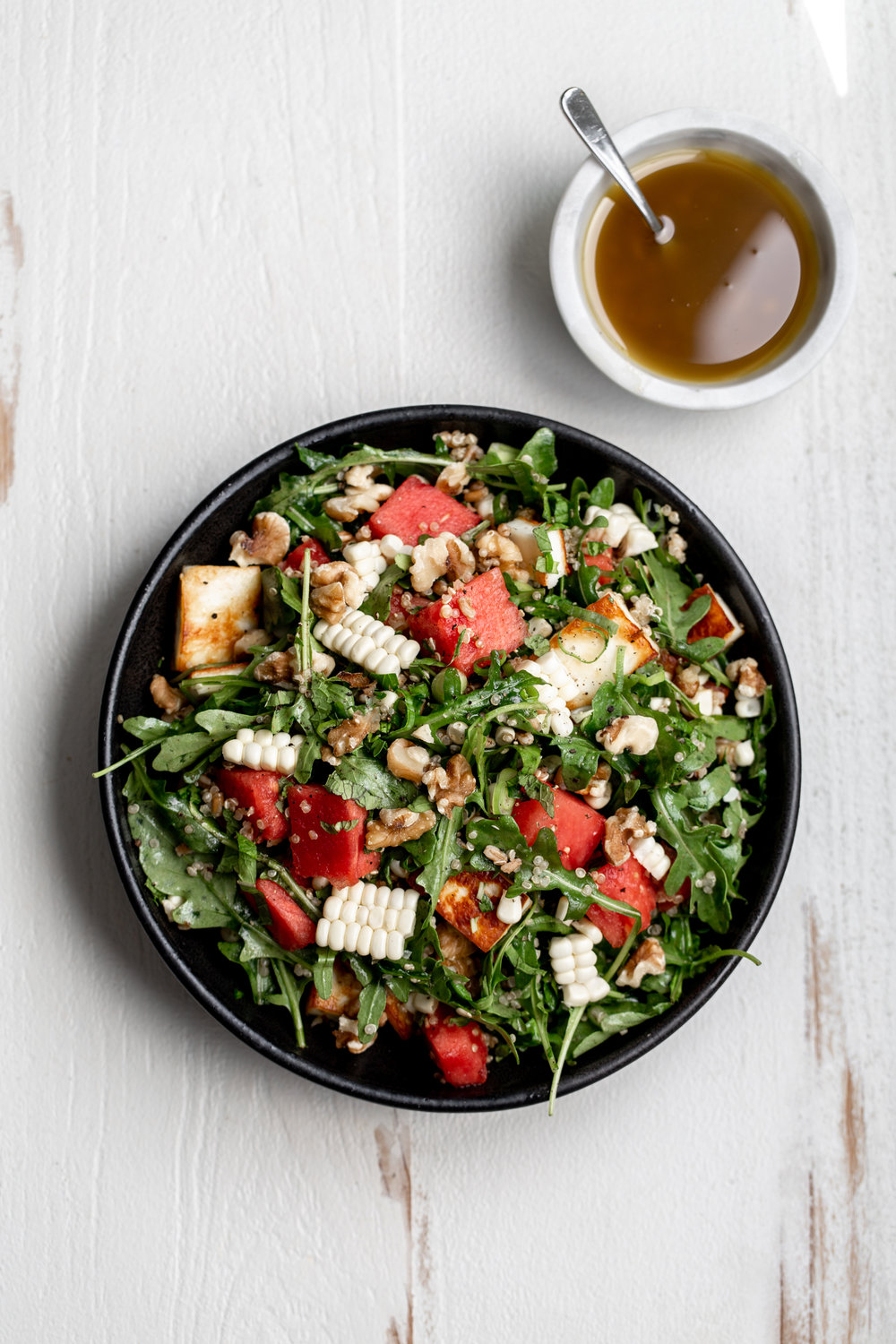 Halloumi cheese can be found at Greek markets, natural foods, specialty foods stores, and some supermarkets like Whole Foods. If you can't find halloumi cheese you can substitute queso blanco or paneer.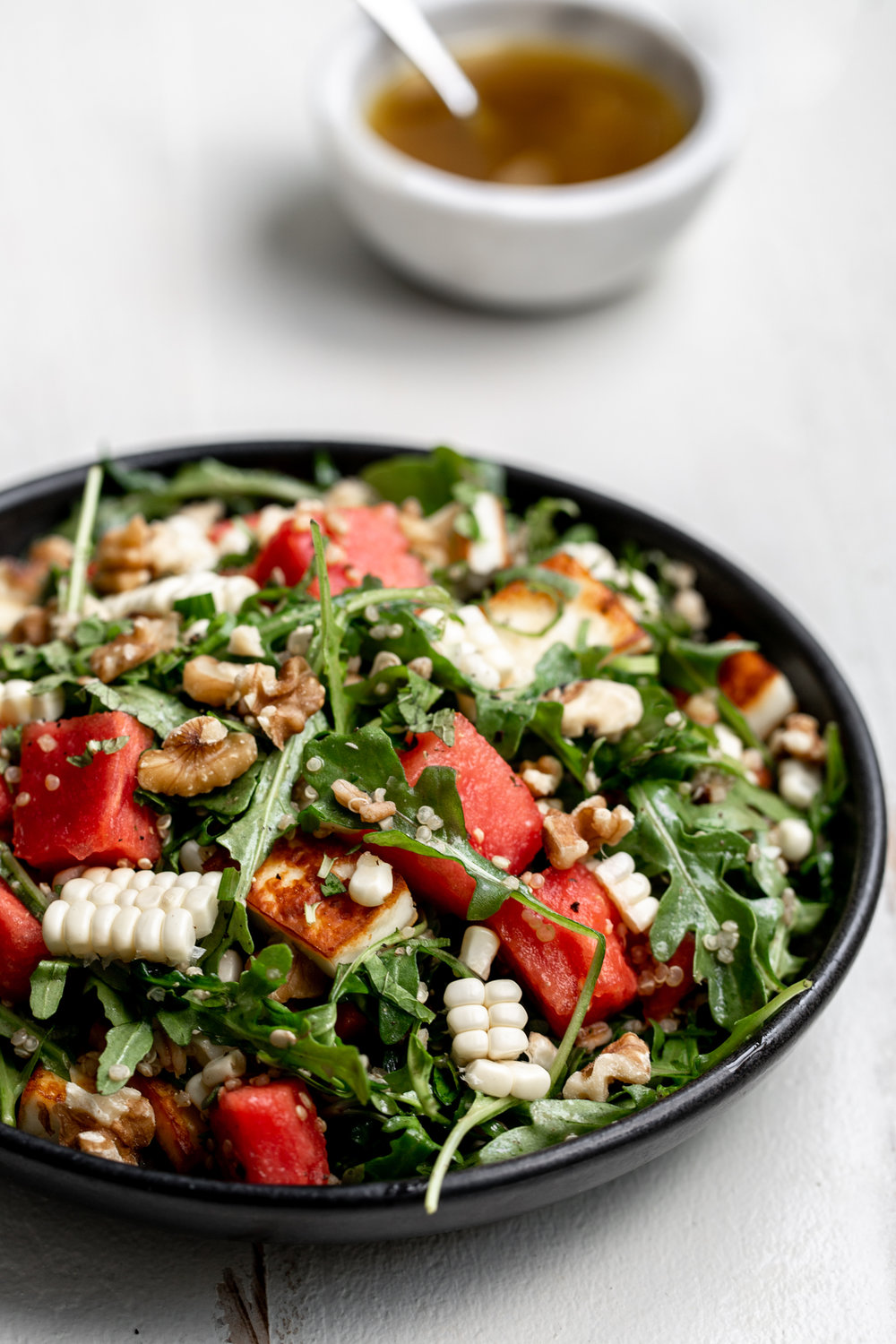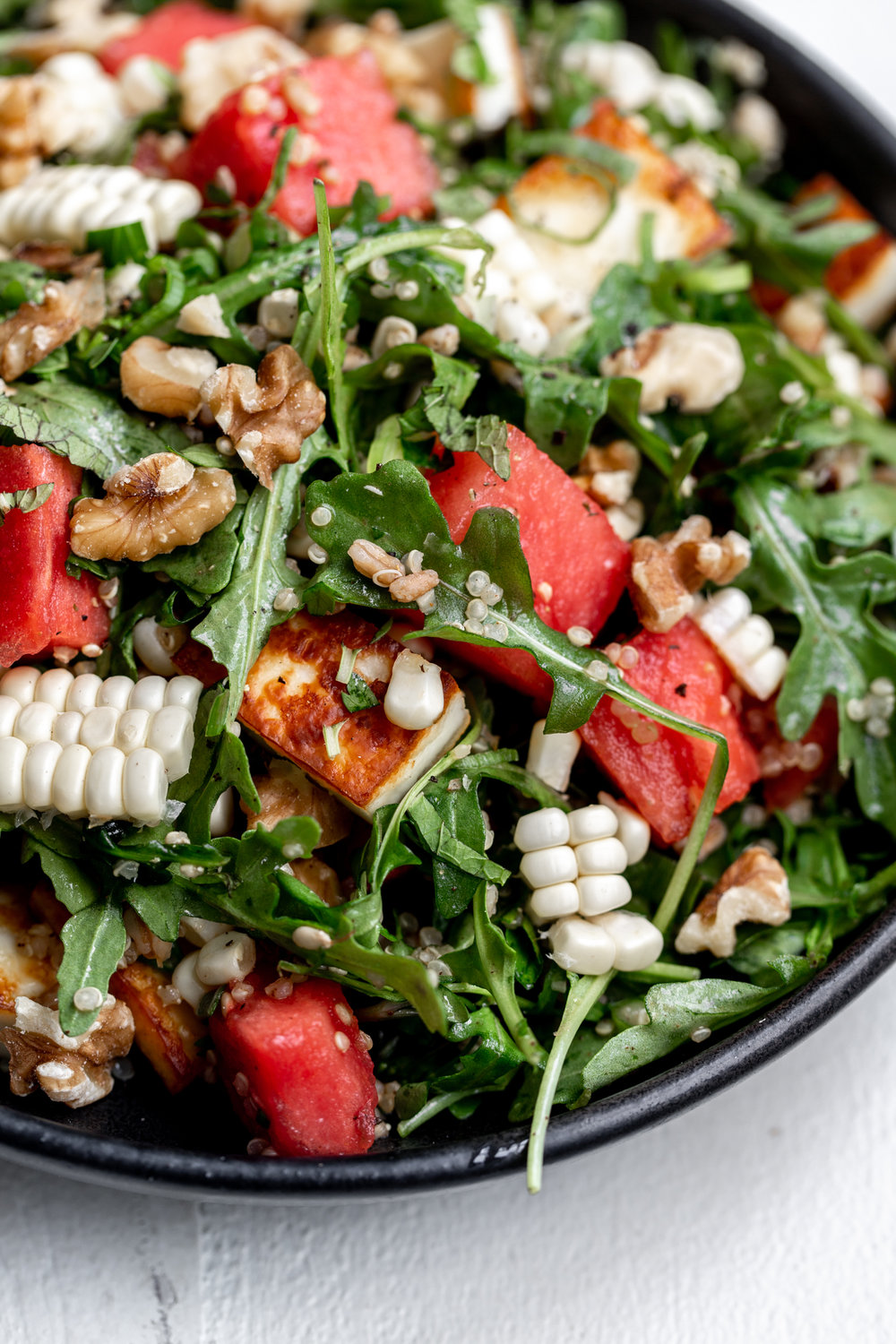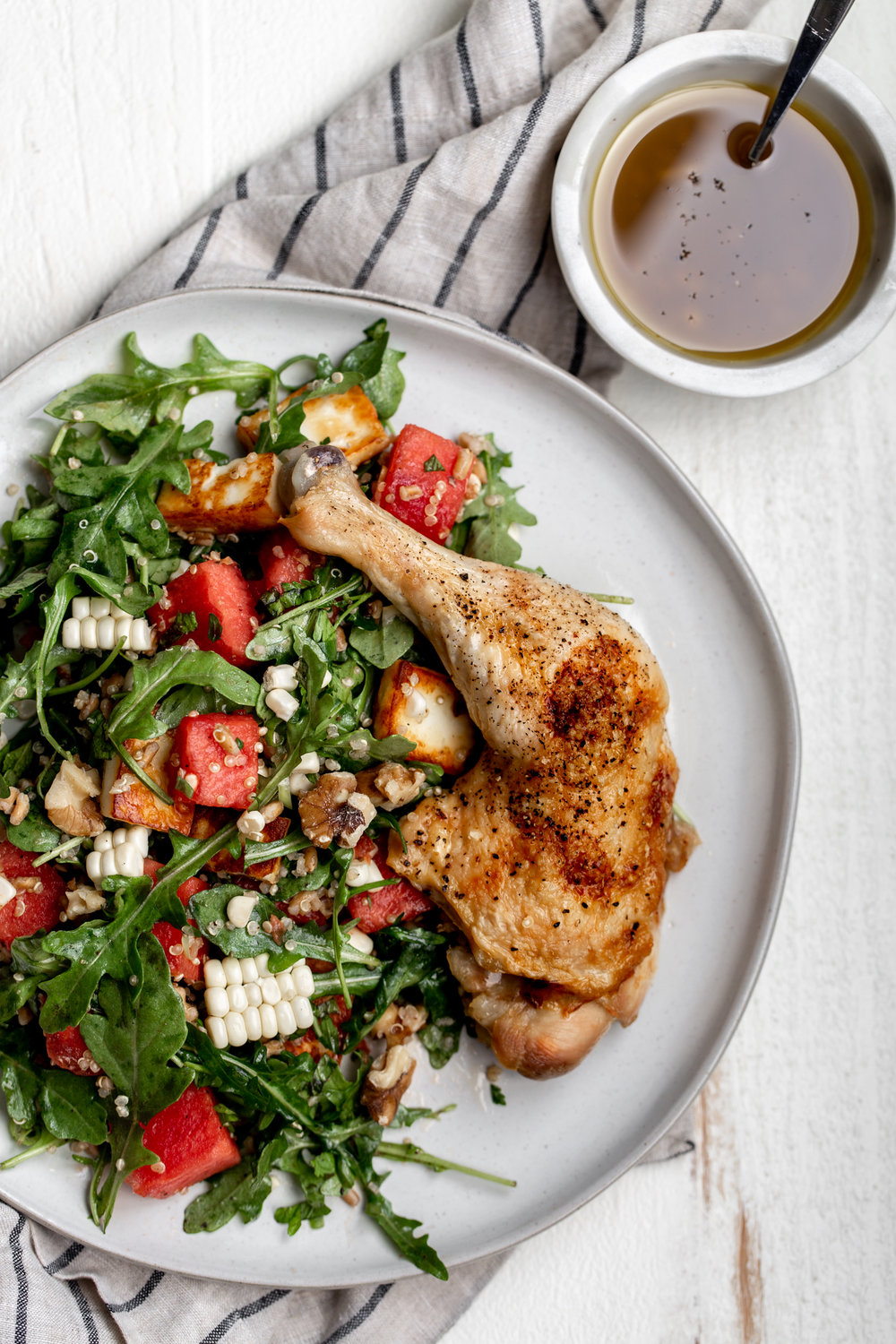 Watermelon Salad with Grains and Grilled Halloumi Cheese
For the chili vinaigrette:
For the grains:
¼

cup

quinoa

¼

cup

farro

1¼

cup

chicken stock
For the salad:
½

cup

walnuts

6

ounces

halloumi cheese,

sliced lengthwise ½-inch thick*

1

tablespoon

extra-virgin olive oil

2

ears of sweet corn,

husked and kernels cut off the cob

2

scallions,

thinly sliced

2

tablespoons

chopped parsley

2

tablespoons

chopped mint leaves

4

ounces

baby arugula

2

cups

chopped watermelon
For the chili vinaigrette:
In a small bowl whisk together olive oil, lemon juice, vinegar and chili powder. Season with salt and pepper.
For the grains:
In a medium saucepan over medium heat bring the chicken broth to a boil. Add the quinoa and farro, and cook on medium-low heat until the broth is absorbed and the quinoa is tender, about 20 minutes. Fluff the grains with a fork and set aside.
For the salad:
Preheat oven to 350°. Toast walnuts on a rimmed baking sheet, tossing once, until golden brown, 8 to 10 minutes. Let cool, then coarsely chop.

Preheat grill or griddle pan to medium-high. Brush the cheese with olive oil and grill, turning once, until lightly charred in spots, about 5 minutes. Transfer to platter and let cool.

In a large mixing bowl add corn, scallions, parsley, mint, walnuts, grain mixture and arugula. Using your hands, tear the halloumi into bite-size pieces; add to bowl and toss to combine.

Add the dressing to the salad, two tablespoons at a time, as desired and toss to coat. Add the watermelon and toss again to combine.
DID YOU MAKE THIS?
TAG ME ON INSTAGRAM TO BE FEATURED ON MY STORIES! @cookingwithcocktailrings