Refried Lentil and Arugula Grain Bowl with Seared Steak
I don't have a grill so I love searing steak in a cast-iron skillet on the stove. The high heat and cast iron give the steak a nice crispy outer crust. For this recipe I chose to use a lesser-known cut of meat called culotte picanha. I tried it after my butcher friend Sebastian at The Pastoral Pig in New Jersey recommended it because as he says, "it is as tender as filet but with a lot of flavor".
Side note and pro-tip: get to know your butcher!
They can recommend all sorts of different cuts and methods that you may be unfamiliar with and it's a great way to educate yourself.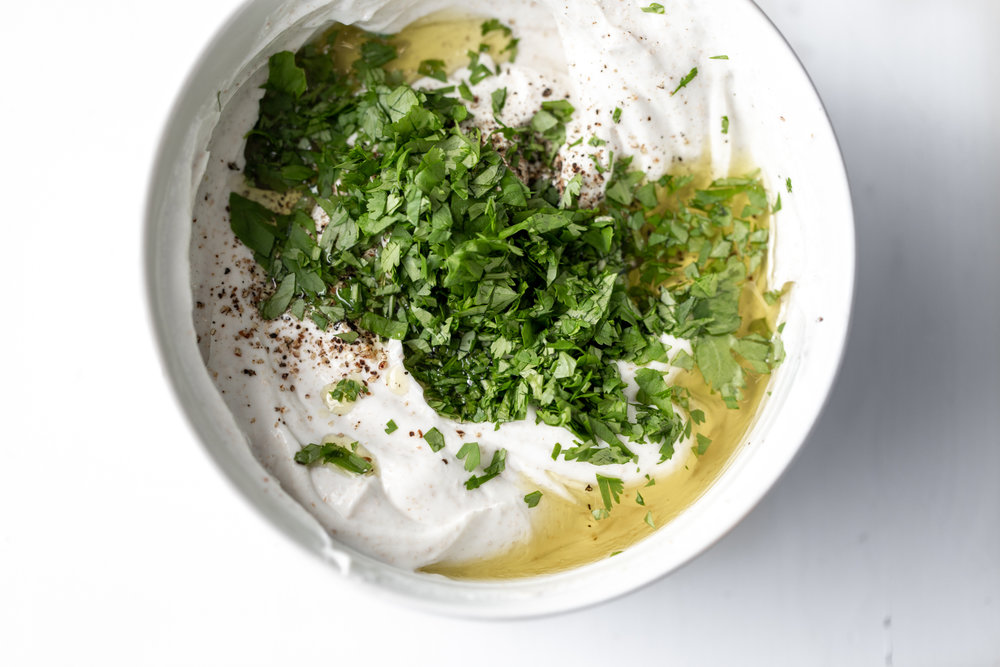 This cut of meat is favored by Brazilian steakhouses but is relatively unknown and unused by the American public. The triangular cut comes from the sirloin cap – it's located under the sirloin and under the tri-tip. It typically has about ¼ inch of fat on the top of the cut. If your butcher doesn't have culotte picanha then substitute your favorite cut of steak – but there is nothing exactly like culotte.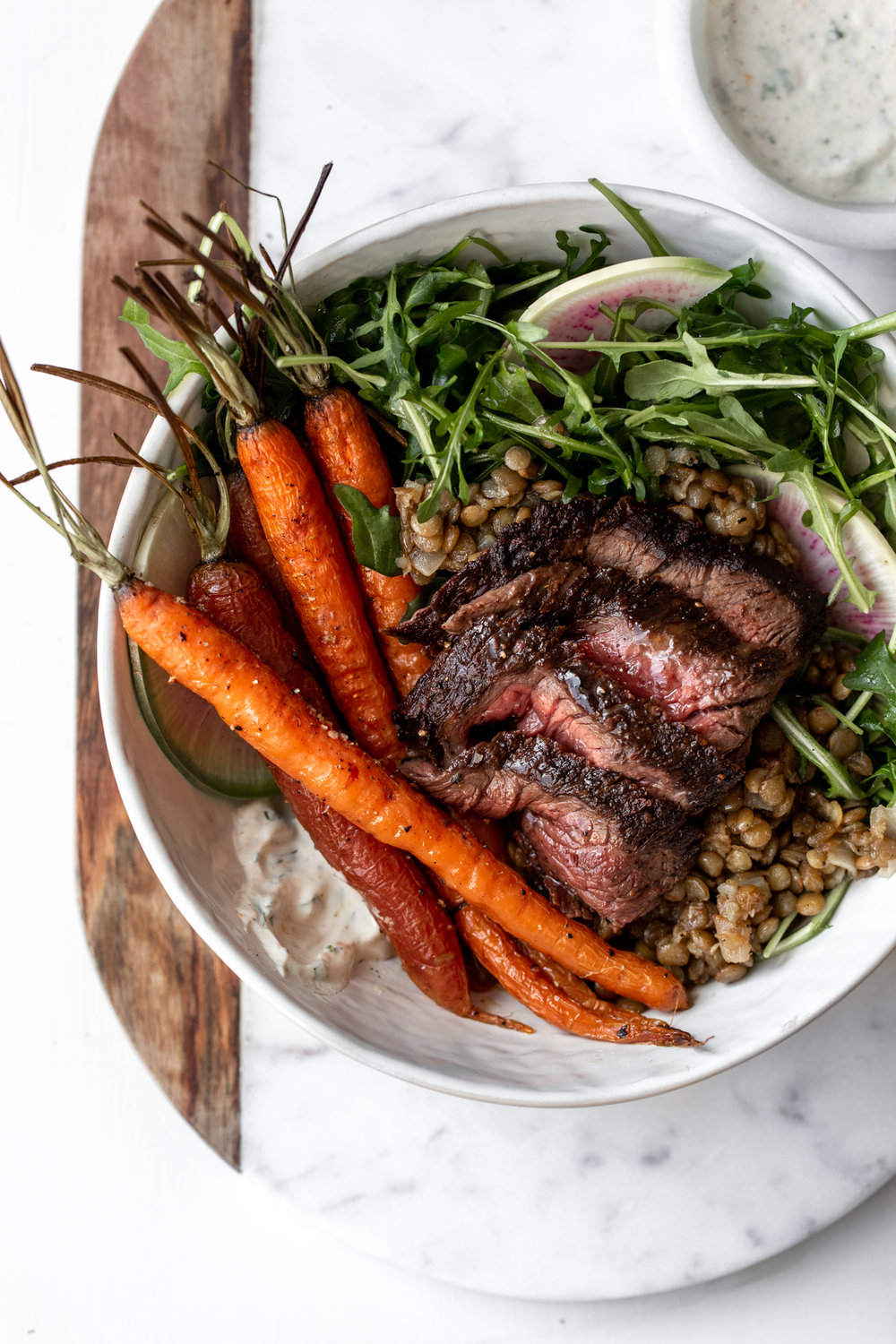 I love lentils in many different forms but my favorite way to make them is refried. My uncle taught me this method years ago, and this side makes its way into my dinner plan frequently. Lentils compliment a variety of proteins like steak, lamb or even salmon. As I get older I try to make more rounded meals for dinner with a protein, vegetable and grain and to make that easy I turn to bowls like this one with a combination of steak, lentils, roasted carrots and arugula.
Refried Lentil and Arugula Grain Bowl with Seared Steak
For the spiced yogurt sauce:
For the seared steak:
2½

pounds

culotte picanha steak,

let sit at room temperature for 30 minutes

Kosher salt,

as needed

Freshly ground black pepper,

as needed
For the refried lentils:
1

cup

green lentils

3

cups

chicken stock

3

tablespoons

steak fat from seared steak,

or extra-virgin olive oil

1

cup

diced yellow onion

½

teaspoon

cumin

1/8

teaspoon

cayenne

Kosher salt,

as needed
For assembly:
6

packed cups wild arugula

1

medium watermelon radish,

thinly sliced into half moons
For the spiced yogurt sauce:
Stir together the Greek yogurt, lemon zest, lemon juice, olive oil, cilantro and za'atar together in a small bowl until combined. Cover and refrigerate until ready to use.
For the roasted carrots:
Heat oven to 400ºF. Toss carrots in olive oil and season with salt and pepper. Arrange in an even single layer on an aluminum foil-lined baking sheet. Roast until the carrots are tender, about 20 minutes.
For the refried lentils:
In a medium saucepan over medium heat bring the lentils and chicken broth to a simmer. Cook until the lentils are tender, about 25 minutes. The lentils do not have to absorb all of the liquid as they cook, they are more like pasta. Rinse and drain the lentils using a fine mesh strainer and set aside.

In a medium skillet over medium heat, add the steak fat and heat through. Add the onion and sauté until the onion is translucent, about 6 to 8 minutes. Add the cooked lentils and season with cumin, cayenne, and salt. Continue to cook for about 5 minutes, stirring constantly until the lentils are slightly mashed. Remove the lentils from heat and serve in a bowl.
For assembly:
Divide arugula among bowls and top with watermelon radish, refried lentils, a spoonful of the spiced yogurt. Arrange carrots and steak in the bowls.
DID YOU MAKE THIS?
TAG ME ON INSTAGRAM TO BE FEATURED ON MY STORIES! @cookingwithcocktailrings