This spicy, spreadable cheese dip is made with just a few ingredients but is loaded with flavor inspired by Greek tirokafteri. The mixture of umami-packed sun-dried tomatoes with the North African red pepper blend, harissa, complement the briny feta cheese. While this recipe is great served as a dip for vegetables, pita chips or bread, it can also be spread on sandwiches or served as a topping alongside lentils and lamb. Better yet? This four ingredient dip comes together in record time – it only takes about 5 minutes.
Spicy Feta Dip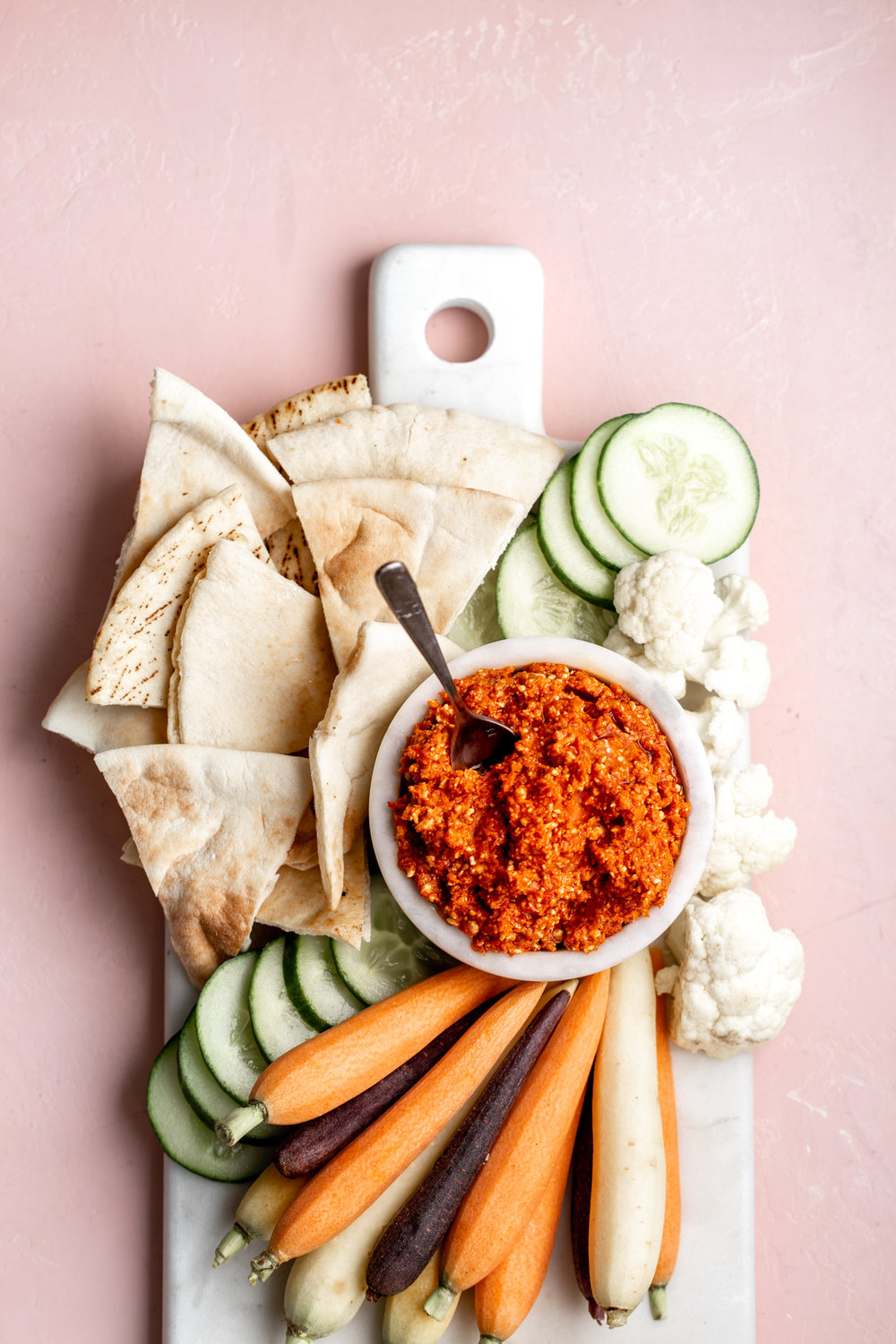 Key Ingredients in This Recipe
Harissa – Find harissa in the international or spice section of most grocery stores. The condiment is a red pepper and tomato paste base with coriander, cumin, caraway, onion, garlic, red chilies and lemon. Since it is a blend, the spice level can often differ between brands.
Feta – Feta cheese has a tangy and salty flavor. It's frequently used in Greek cooking and is typically made from sheep's milk. It's used as the base of this dip and complements the tomatoes and spicy harissa in this recipe.
Sun-dried tomatoes – Sun-dried tomatoes add a contrast of texture and flavor in this recipe. I prefer oil-packed sun-dried tomatoes to the dried packaged version. The oil helps to keep them slightly hydrated.
Olive oil – While all olive oil comes from the fruit of olive trees, it's not all created equal. Extra-virgin olive oil is unrefined and made from pure, cold-pressed olives, giving it more of a true olive taste. Regular olive oil is made from a blend of both cold-pressed and processed oils. I typically cook with extra-virgin olive oil when deciding between the two. Olive oil has a lower smoke point than many other oils, making it better for lower temperature cooking. Save pricey olive oils for finishing the recipe where the flavors will really shine – like in dips, for breads and salad dressing.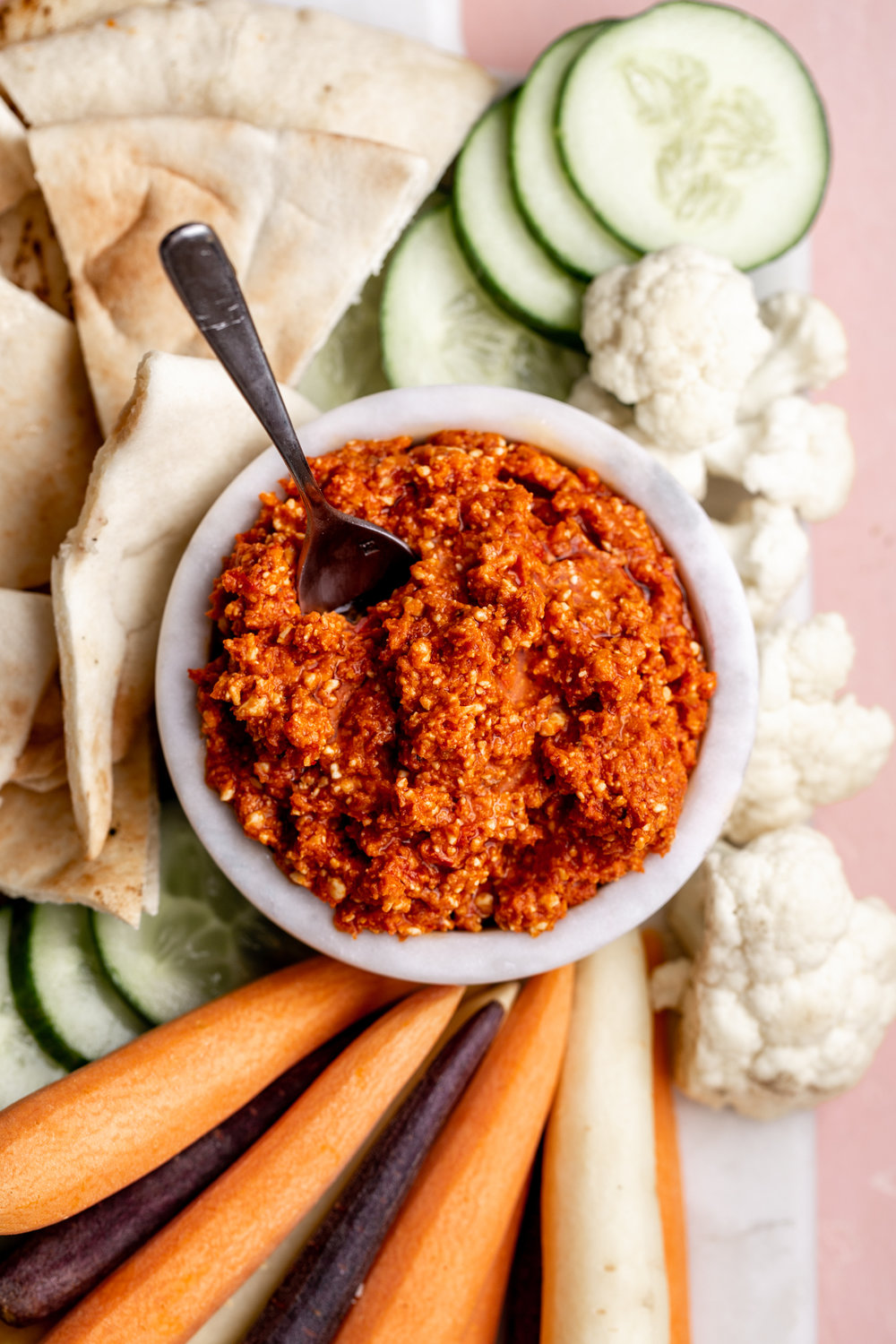 How to Make Spicy Feta Dip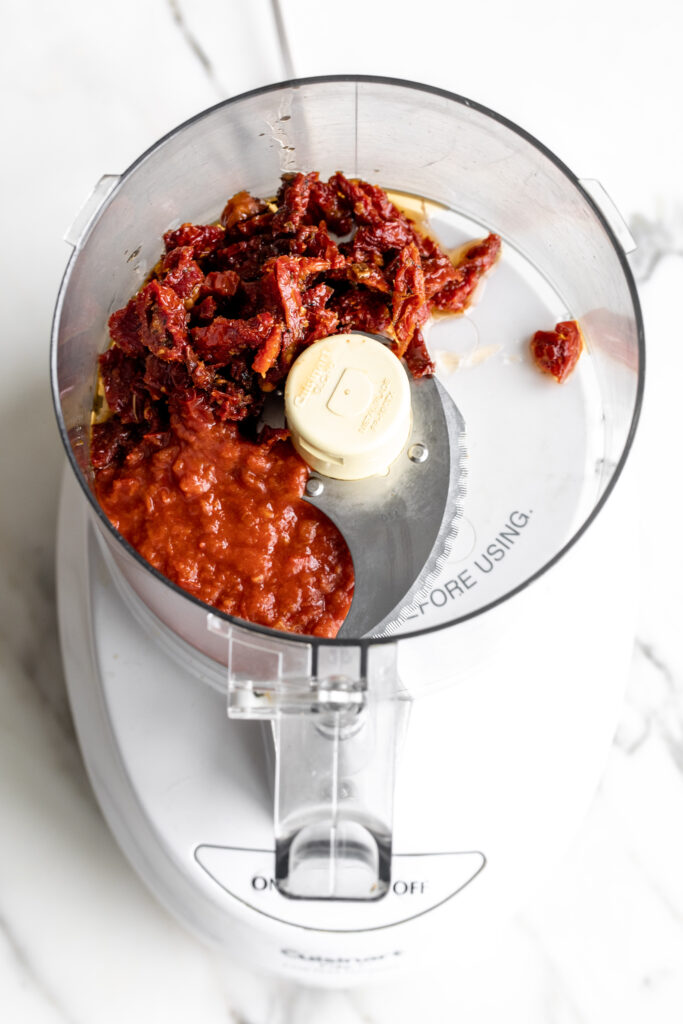 Step 1: Blend the tomatoes and harissa.
In the bowl of a food processor fitted with the blade attachment, add the sun-dried tomato, harissa and pulse until finely chopped.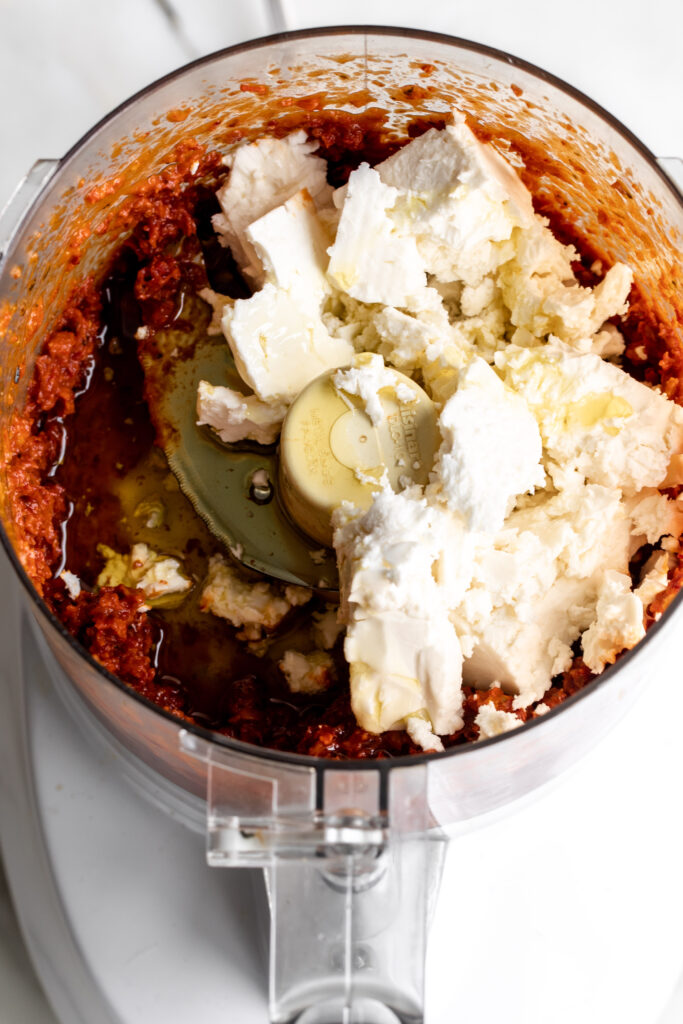 Step 2: Finish the dip.
Add the feta and olive oil and continue to pulse until combined. The feta should be in fine crumbles but still have some texture.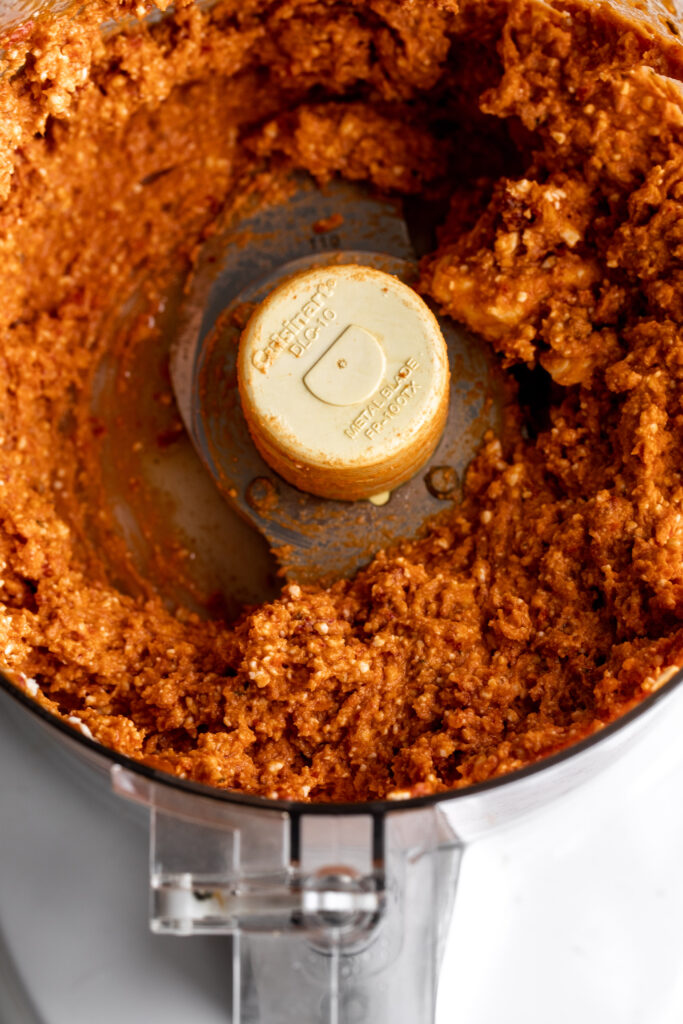 Step 3: Serve.
Serve this dip alongside grilled or toasted bread and vegetables for dipping.
Tips and Tricks for This Recipe
Add to an airtight container and refrigerate until ready to use. Can be made up to a week in advance.
If you don't have a food processor, finely chop the sun dried tomatoes and stir the dip together. It will be slightly chunkier using this method.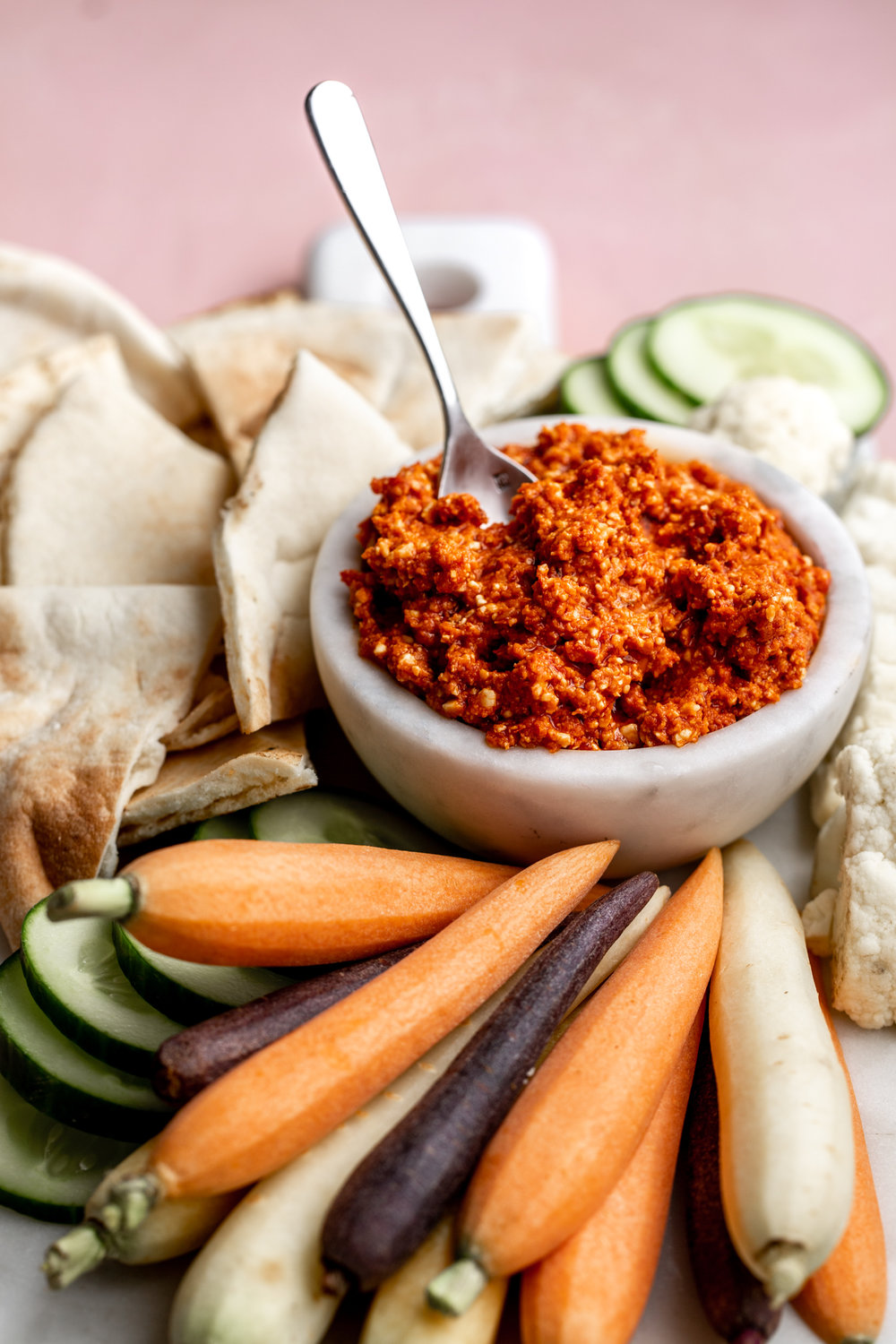 Other Recipes to Try
If you enjoy this recipe, I recommend checking out some of these:
Spicy Feta Dip
DID YOU MAKE THIS?
TAG ME ON INSTAGRAM TO BE FEATURED ON MY STORIES! @cookingwithcocktailrings