June 12, 2022 to June 19, 2022
I recently had the opportunity to travel to Thessaloniki, Greece with Feta PDO for a week of sunshine, exploring the historical areas and plenty of good food. Also, the entire week was a Greek welcome. As one of our guides explained, "food is an expression of love and hospitality".
A Week in Thessaloniki, Greece with Feta PDO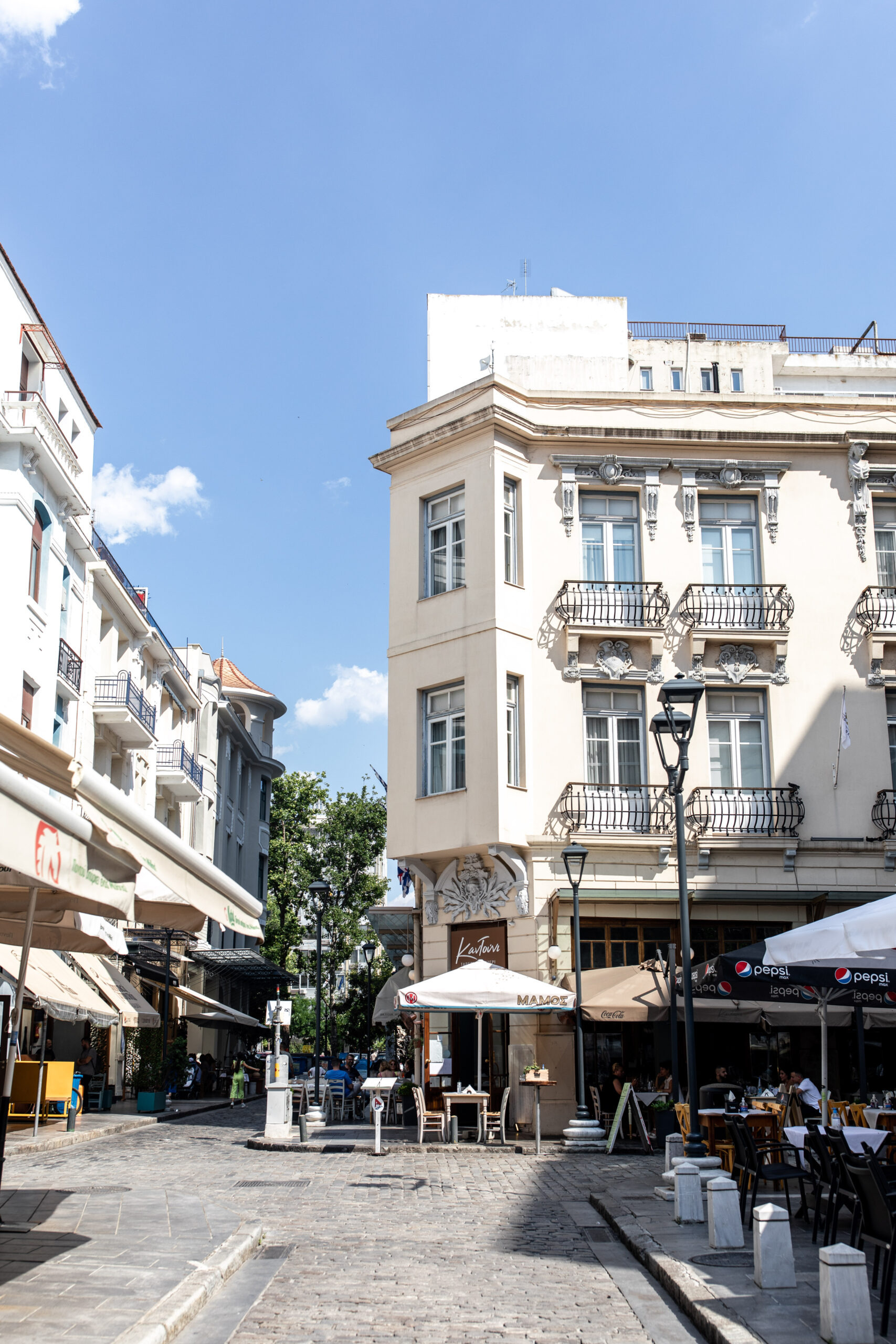 History of Thessaloniki
Located in the central Macedonia region, the European city of Thessaloniki is the second largest city in Greece, with a population of just under 815,000 people, second only to Athens. It was established in 315 BC by King Cassander of Macedon and named after his wife, Thessalonike (sister of Alexander the Great).
Thessaloniki is a major port city – it's the gateway to the Balkans and Southeast Europe. Trade between these areas, as well as North African countries like Egypt and Libya, is prominently displayed in the food of the region. Much of the city is historic, interspersed with archeological sites, Byzantine churches and its iconic white tower. Also, a large portion of the city burned in 1917 and was rebuilt in a more modern style.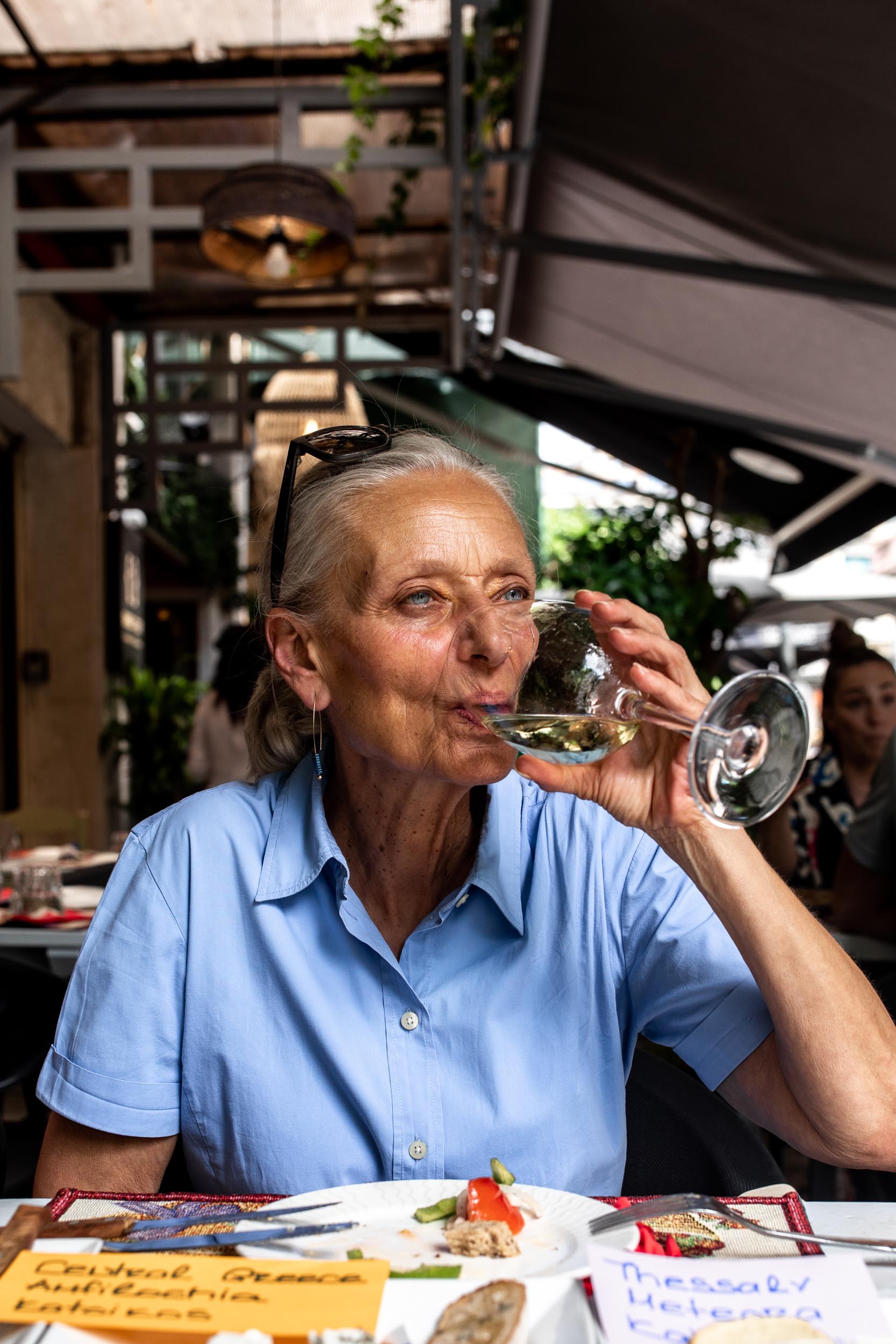 What is Feta PDO?
The term PDO is a geographical indication established by the EU. It means Protected Designation of Origin and identifies food, agricultural products or wine that is produced, processed and prepared from a certain region, area or country like Champagne from the region of France or Parmigiano Reggiano in Italy. Moreover, Feta is a PDO product and must be produced in Greece.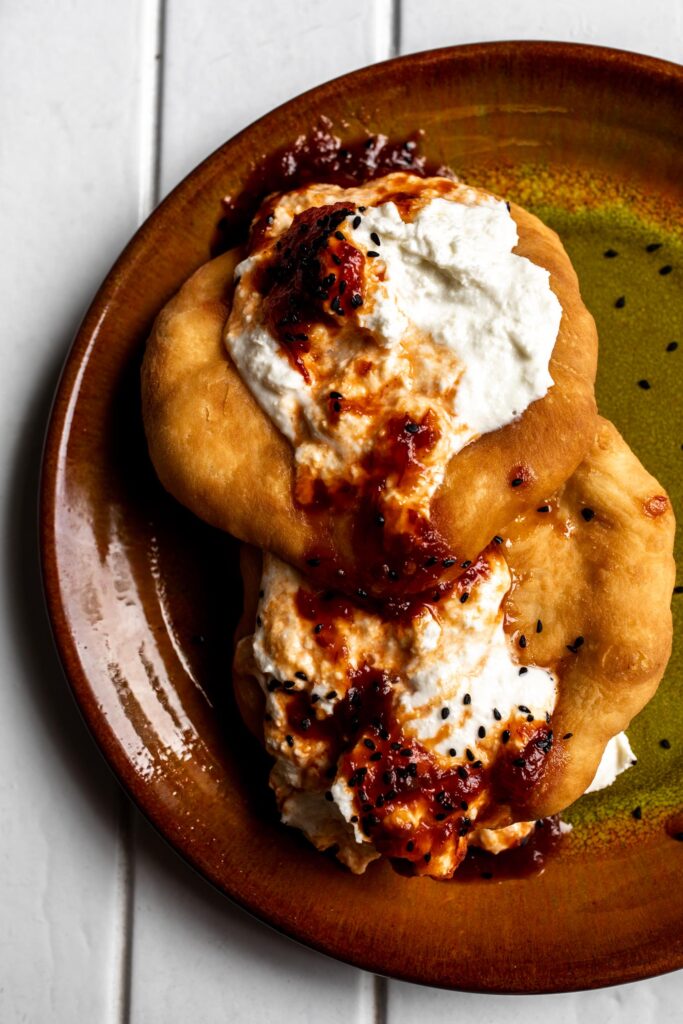 How is Feta Made?
During our trip we visited two separate dairy facilities, Mevgal and Hellenic Dairies, producing feta cheese and other dairy products (like another famous Greek export, yogurt). Also, there are some stringent requirements for producing feta cheese. It must be either sheep's milk or a combination of sheep's milk and up to 30% goat milk. The milk is first curdled and cut into cubes. They are then moved to molds where the curds can drain. Moreover, after the salinity is adjusted the feta is stored for a two month maturation period.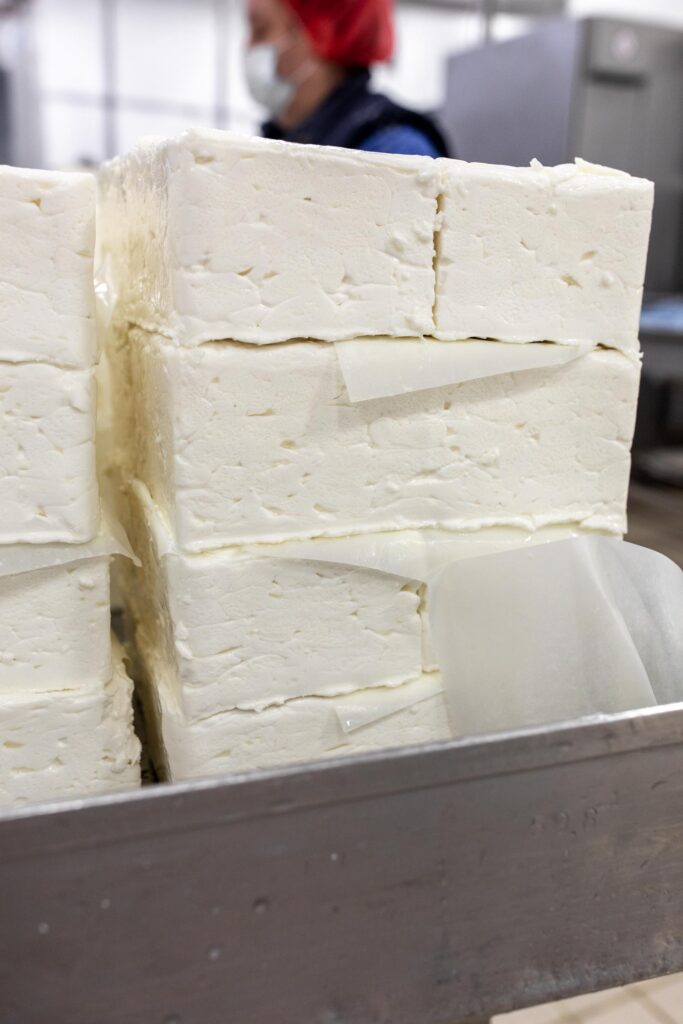 What to Do in Thessaloniki
Kapani Market Tour
Kapani market is the oldest public market in Thessaloniki, located just off Aristotelis Square filled with butchers, fishmongers and vendors selling spices, vegetables, specialty olives and olive oils native to Greece. It's actually comprised of two markets, Kapani and Modiano Markets, collectively referred to by the former name.
A tour of the market from Chef Stories was one of my favorite activities of the trip. In addition to learning so much about the history of the city we got to taste some of the food that makes the city a popular culinary destination. In addition to an olive and olive oil tasting at one stall, we also tasted seven different PDO Feta cheeses from regions all over Greece. It was incredible to compare them side by side and to notice the slight differences in both look and taste, showing how terroir plays into the creation of the cheese.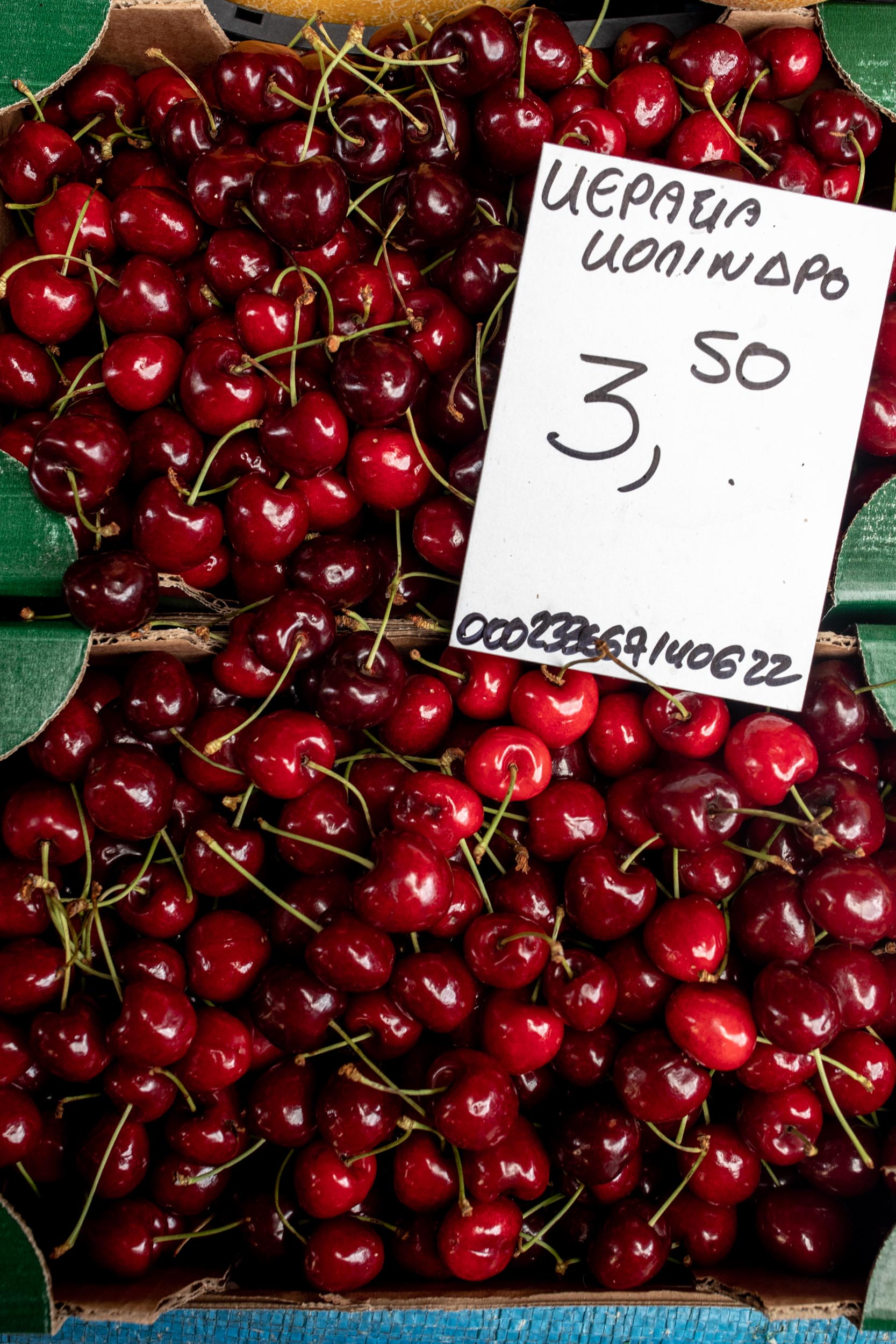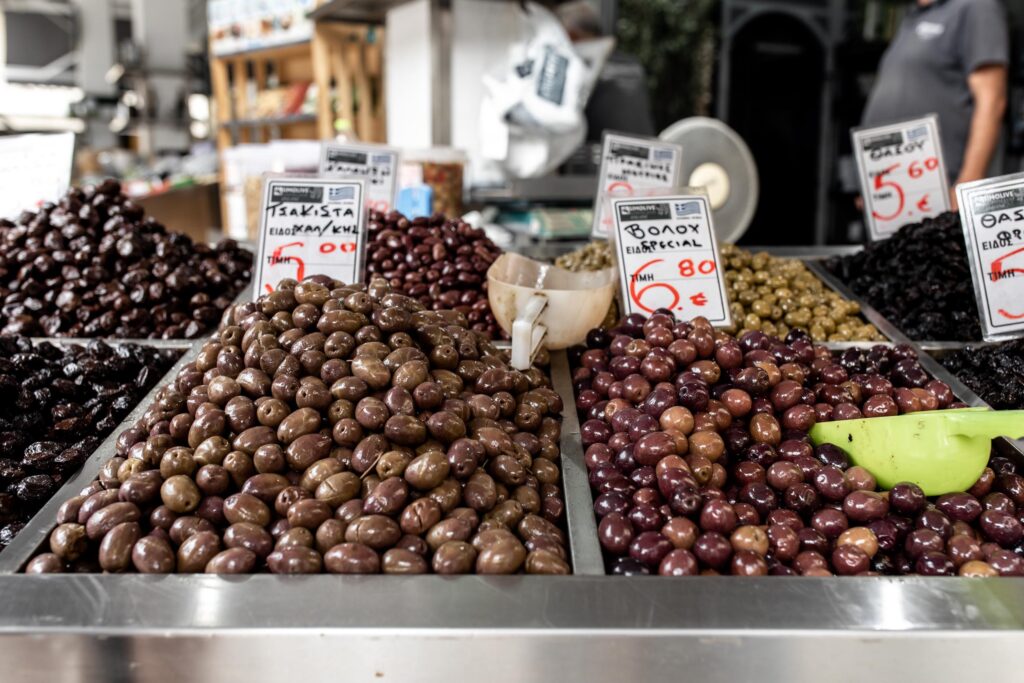 Winery Tour
We toured the Ktima Gerovassiliou winery, a family winery opened in 1981 with a sprawling vineyard on Epanomi not far from Thessaloniki. Tour the museum or partake in a wine tasting of the Ktima Gerovassiliou labels paired with small bites. I recommend trying the Malagousia white wine varietal as Gerovassiliou was the first to experiment with the grape.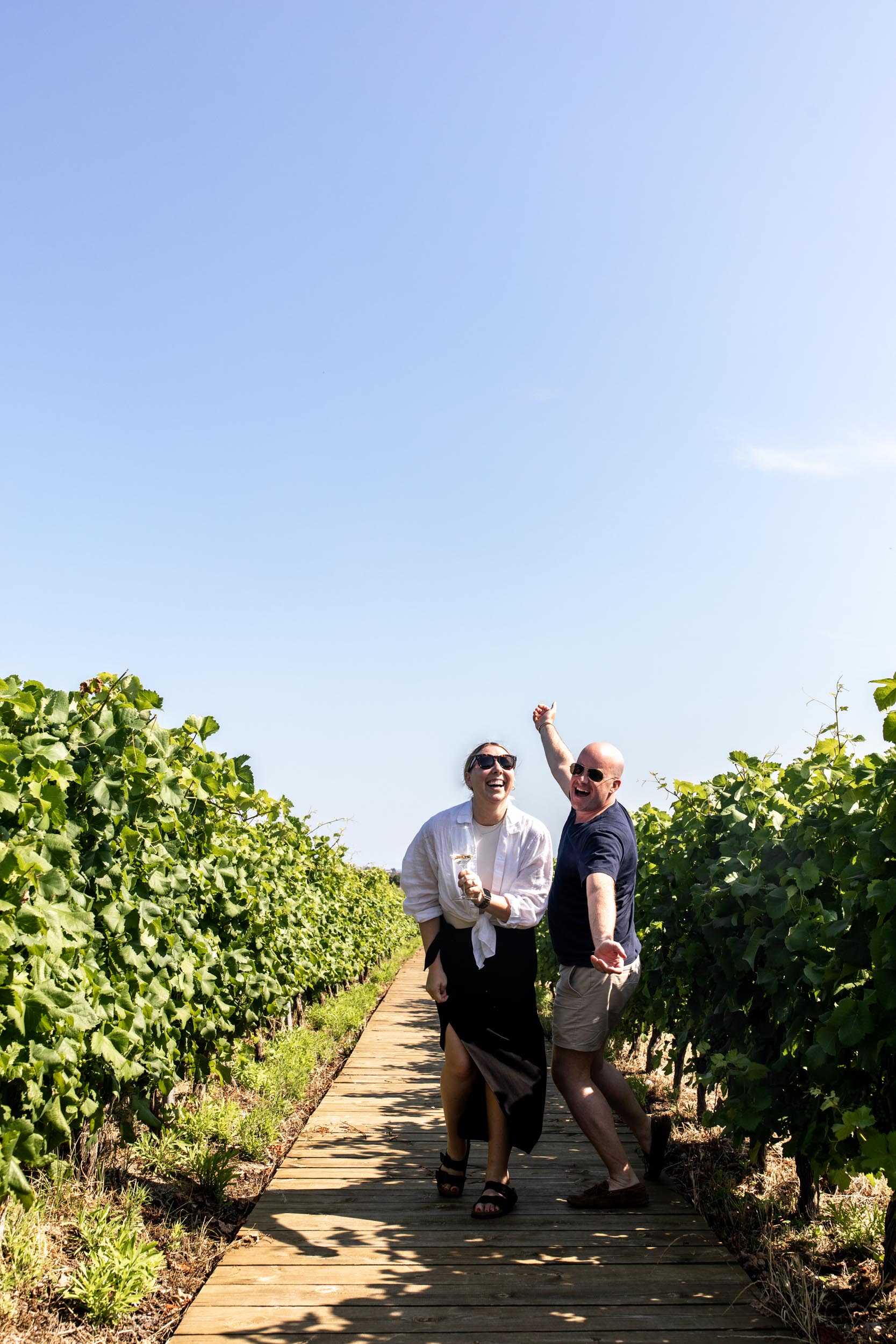 Beaches in Halkidiki
Ask locals in Thessaloniki and they will tell you a phrase which roughly translates "like Halkidiki, nowhere". A prime beach destination in Northern Greece, Halkidiki is perfect for an idyllic beach trip. The area is has three separate "legs" or peninsulas. Kassandra, (where we visited!) is famous for beach clubs, nightclubs and resorts. Then there is Sithonia, a more laid back region perfect for families. Athos is home to monasteries and a separate religious state like Vatican city, where women are barred from entering. The first leg is about an hour drive from the center of Thessaloniki.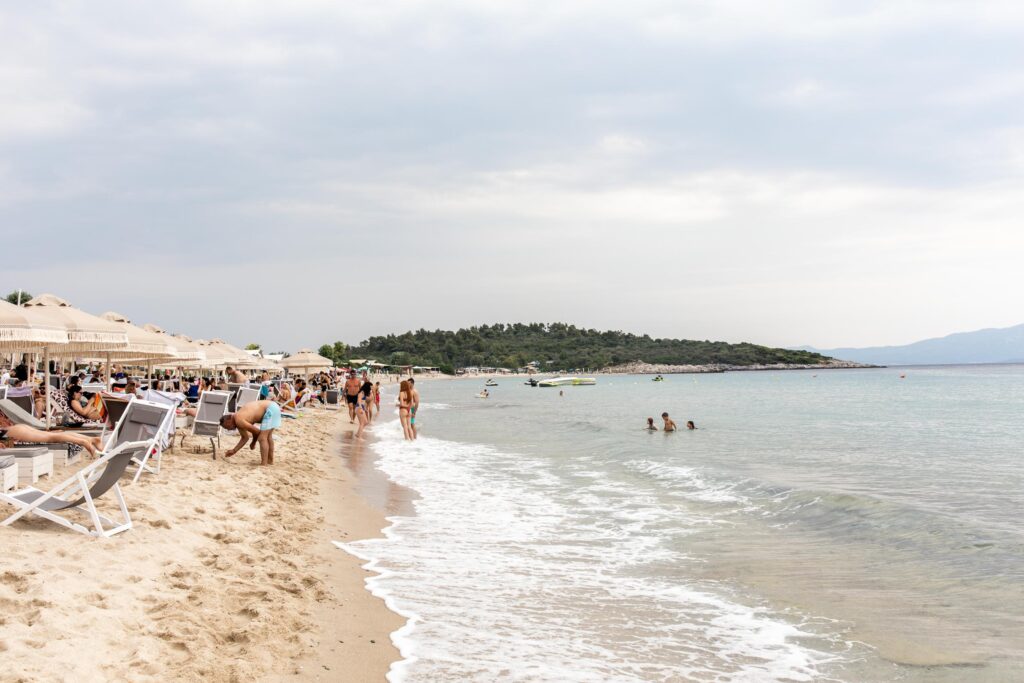 Walk Along the Waterfront
There are plenty of restaurants and cafés lining the Thessaloniki waterfront. I recommend stopping for a frappe or cappuccino freddo with a view of the water. End your walk with a visit to the "white tower" on the water that houses a historical museum. The tower is considered a symbol of the city, with a rich history. It was built by the Ottomans on a Byzantine fortification with walls to strengthen the port's defense. Over the years it has been known by many names; from the Lion tower to the tower of blood (when it was used as a prison) and has been known as the "white tower" since it was painted white in the late 1800's.
Archeological Museum
If you are interested in the city's ancient Greek and Roman period, then I recommend visiting the archeological museum. It features artifacts like marble sculptures and jewelry from the prehistoric, Archaic, Classical, Hellenistic and Roman periods found in the greater Macedonia region. If you are more interested in the Byzantine empire there's a museum for that too.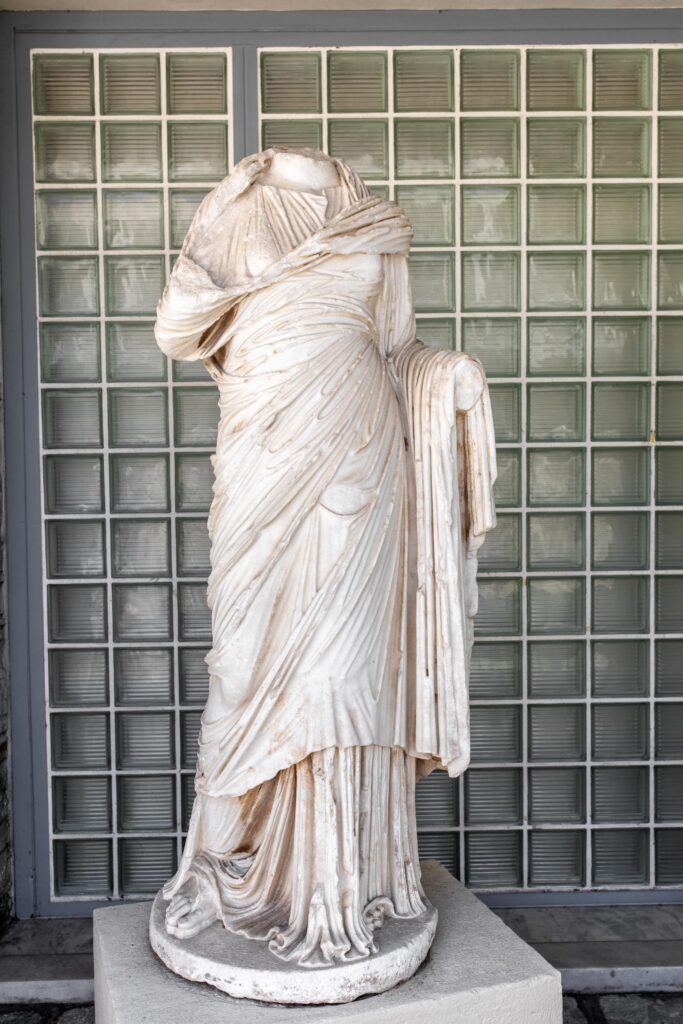 Ladadika
The Ladadika district in Thessaloniki is just off the waterfront. It gets its name after the olive oil stores that used to reside in the area during the days of the Ottoman empire. The district is located close to the port and was named a historic district in 1985. It's now a colorful combination of bars and restaurants with plenty of outdoor seating perfect for long dinners starting at 9 or 10 p.m. and stretching well into the night. The cobblestone streets are closed to cars, making it a great area to explore by foot.
I recommend grabbing a coffee or a cocktail at ΥΔΡΟ, a minimalist spot with a view of the sea. For an upscale dinner, try 7 Thalasses. While it's pricier for the area, you can expect fresh fish and seafood-focused small plates. We tried the baked feta cheese with herbs and red peppers, served wrapped in crisp phyllo dough. If I see taramasalata on the menu, I'm going to order it! The creamy dip is made with cured roe, bread and olive oil spread on fresh bread. The ceviche featured fresh local sea bass paired with seaweed. It's common to be offered a gift of an after dinner drink on the house which is always a welcome delight to end a meal!
Tsimiski Street
If you're looking for shopping, Tsimiski Street is for you! Filled with major chains from all over the world as well as bakeries and shops, you can pretty much find anything you're looking for on this street.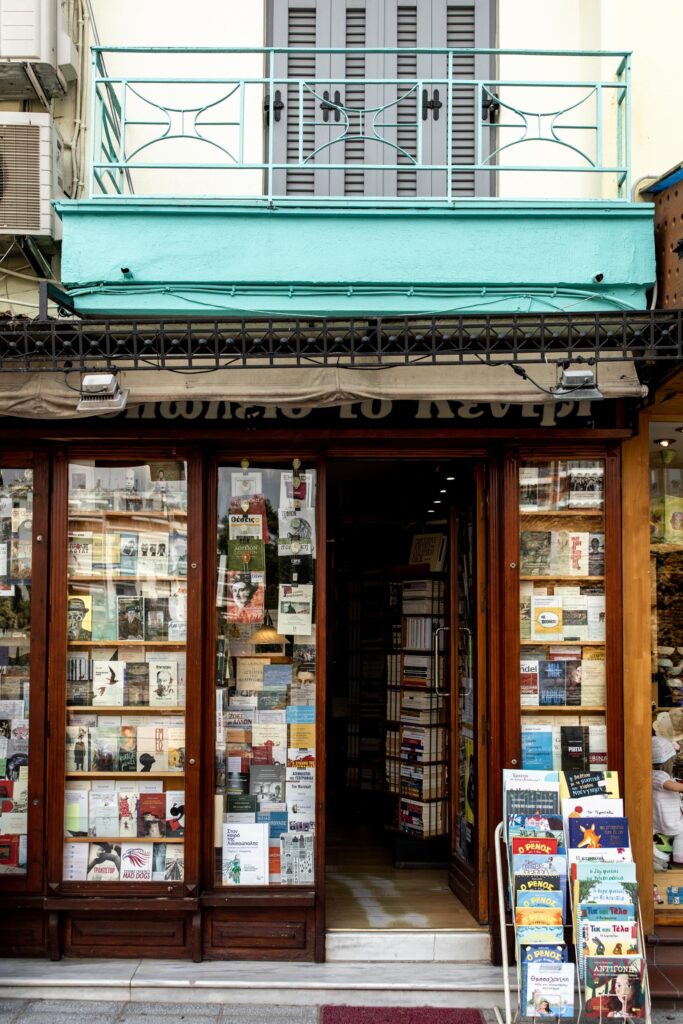 A Few of My Favorite Foods and Dishes from The Trip
While this is no means a complete list of all the foods I ate while in Thessaloniki, I had to round up a few of my favorite dishes. Not all of the foods below are specific to Thessaloniki, some are products of Greece as a whole.
Cheese
While feta cheese is by far the most well known Greek cheese, there are actually over 60 types of Greek cheese. Northern Greece produces 67% of the country's milk, making it a great place to produce cheese and other dairy products. Cheeses that has to age longer requires stability. Soft, white cheeses and fresh cheeses come from a nomadic history of sheep herders and goat herders.
Kasseri
Kasseri, another Greek cheese, has a semi-hard texture with a pale yellow color with a mild, buttery flavor made from a combination of sheep and no more than 20% goat's milk. My favorite way to eat Kasseri cheese is the Greek dish, saganaki, where the cheese is coated in flour and fried until golden brown and melty. In America we also tend to light the dish on fire with a bit of alcohol for more of a production.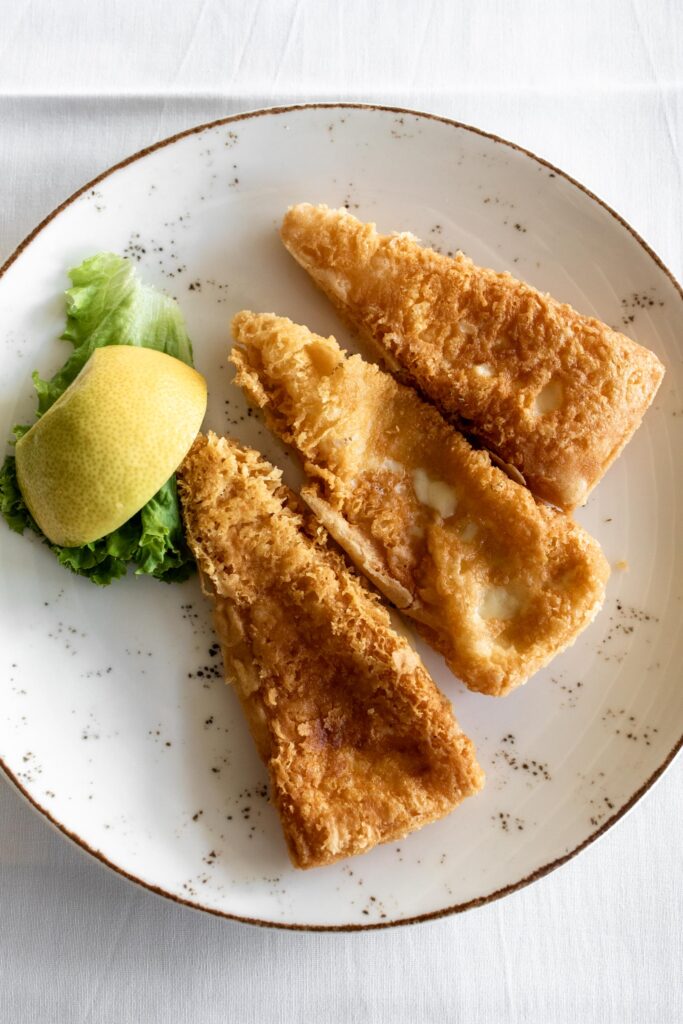 Manouri
Manouri (sometimes called manoypi) is a soft white cheese from the sheep or goat's whey, a by-product of making other cheeses like feta. The creamy cheese is slightly grainy and very light in texture similar to ricotta salata. Instead of cream cheese, you can use feta in pastries and sweets.
Kefalotyri
Kefalotyri is a hard, salty cheese made from goat milk, sheep milk or both. It has a strong, salty flavor because of aging it for over a year. It has a high melting point and lends itself well to grilling in dishes like saganaki.
Graviera
Graviera is a very popular cheese in Greece. It is a hard, yellow cheese with a slightly sweet, nutty flavor made from cow, sheep and goat milk. Also, the cheese is similar to Kefalotyri and most closely resembles Gruyére.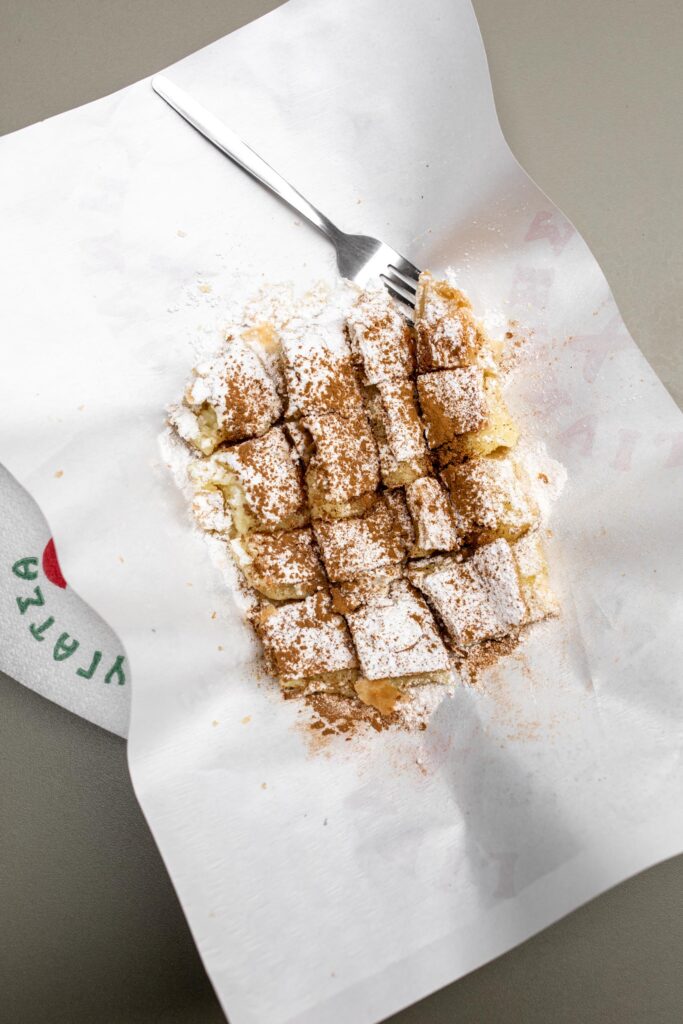 Bougatsa
This breakfast pastry made with layers of phyllo dough (often impressively hand rolled), is filled with either a sweet or savory filling. The most popular is a sweet bougatsa with a custard filling served with a dusting of powdered sugar and cinnamon. Stop by Bougatsa Giannis by the White Tower, a popular shop or Serraikon open since 1952 and passed down through generations. While I always enjoy the cream filling, the savory with spinach and cheese is a great choice as well!
Gyros
While we had some incredible sit down meals during the stay in Thessaloniki, I always have a penchant for street food. My friend Brian and I ventured to two separate shops for gyros on Tsimiski Street and ate them on the balcony at the hotel with our own wine pairings. Try Mpoukia Mpoukia Gyradiko and get the shaved pork gyro with tzatziki, tomato and onion wrapped in pita. Moreover, they cook the meat on a vertical rotisserie and slice it off to order for extremely tender and juicy meat. Souvlaki made with meat threaded onto sticks and grilled is also a popular option. Chicken, lamb, pork and beef are all popular meats.
Strained yogurt
What we know as "Greek yogurt" is referred to as strained yogurt in Greece. I prefer the richest and creamiest with 10% fat, often not an option in the US where 5% is often the max. Also, you can serve it with nuts, honey, fruit or use as an ingredient in other recipes. While popular for breakfast we ate it for dessert at one restaurant with tart cherries in a sweet, syrupy sauce for a simple treat.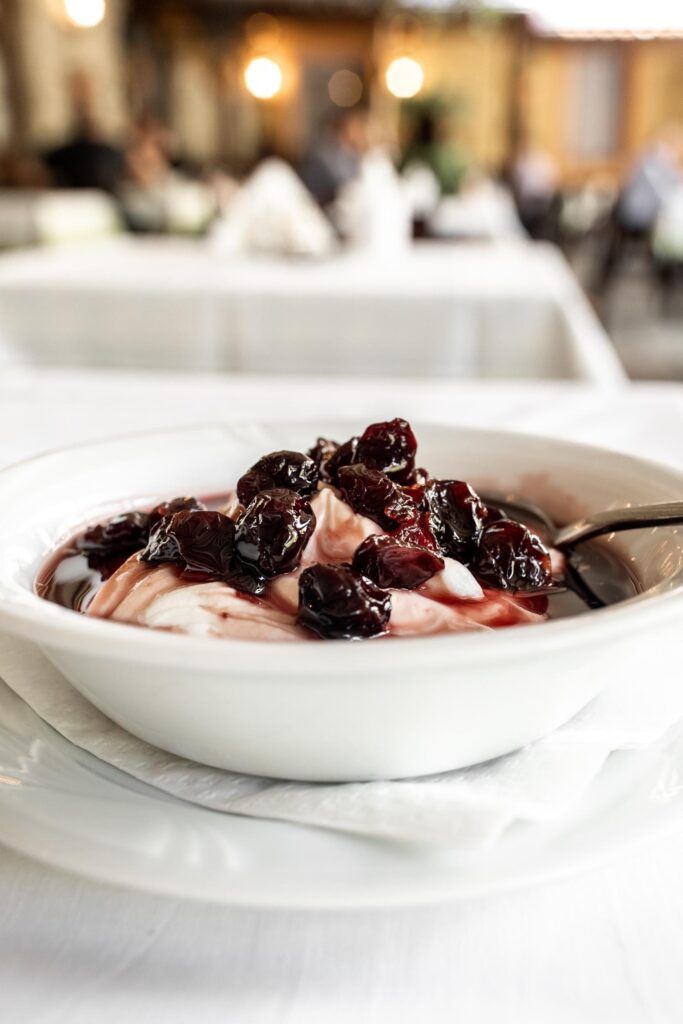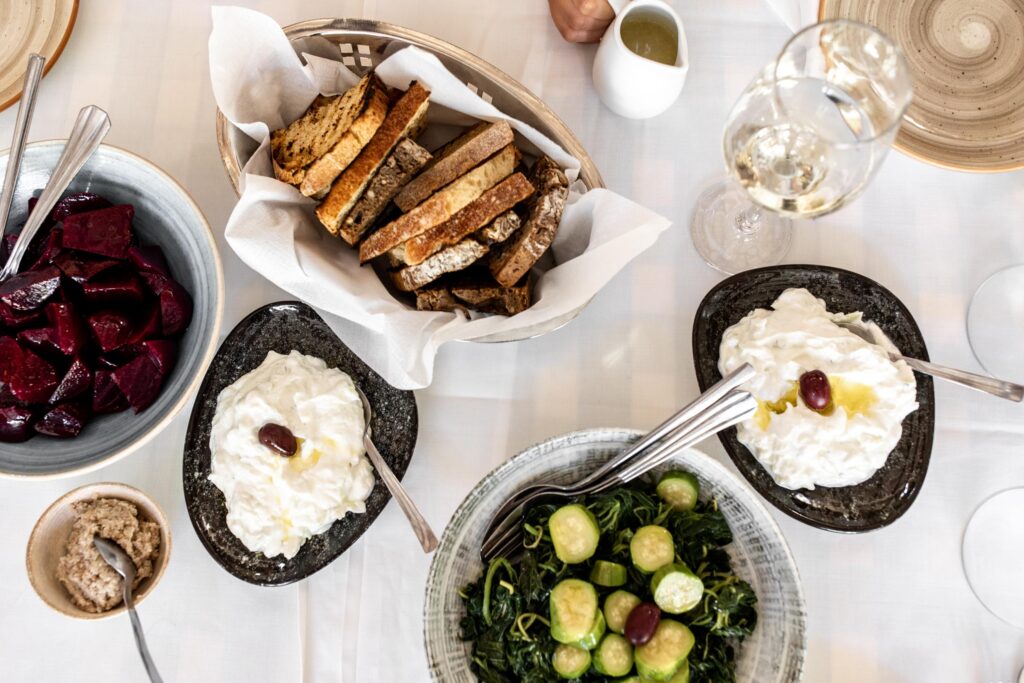 My Favorite Feta Recipes
I had so many variations on feta cheese while on my trip to Thessaloniki, Greece. Every restaurant had their own spin on dishes. Almost every meal began with a Greek salad topped with feta. In some dishes one can bake feta in phyllo dough. Then, top it with sesame seeds and honey, pair it with spinach inside spanakopita. Also, in others you can serve it with coated in grains and topped with jam or tomato sauce. For an easy summer pasta dish it, you can toss it with tagliatelle and sautéed zucchini. Then, add a touch of lemon.
Try some of these recipes utilizing feta cheese below: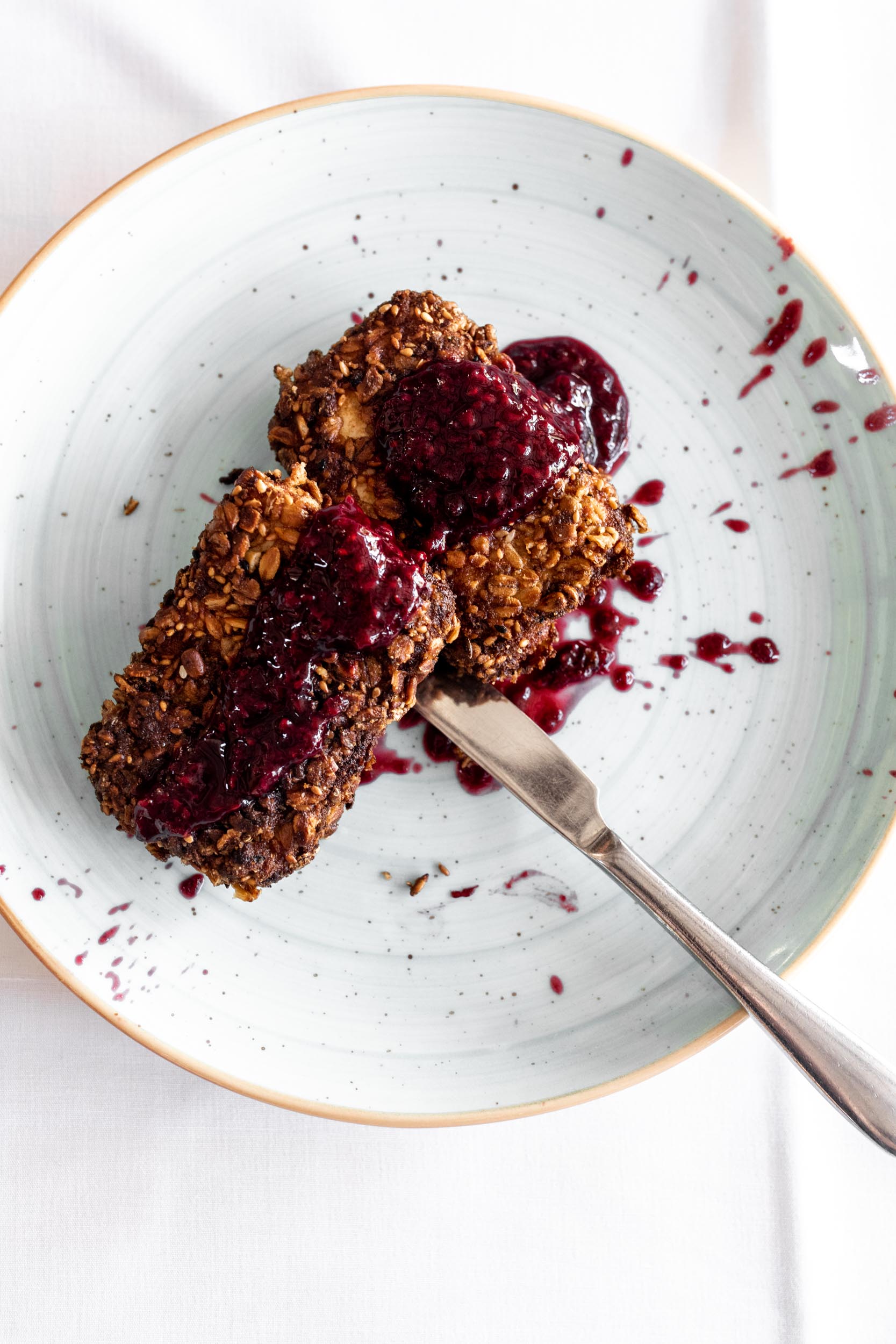 Follow me on Instagram for more updates!