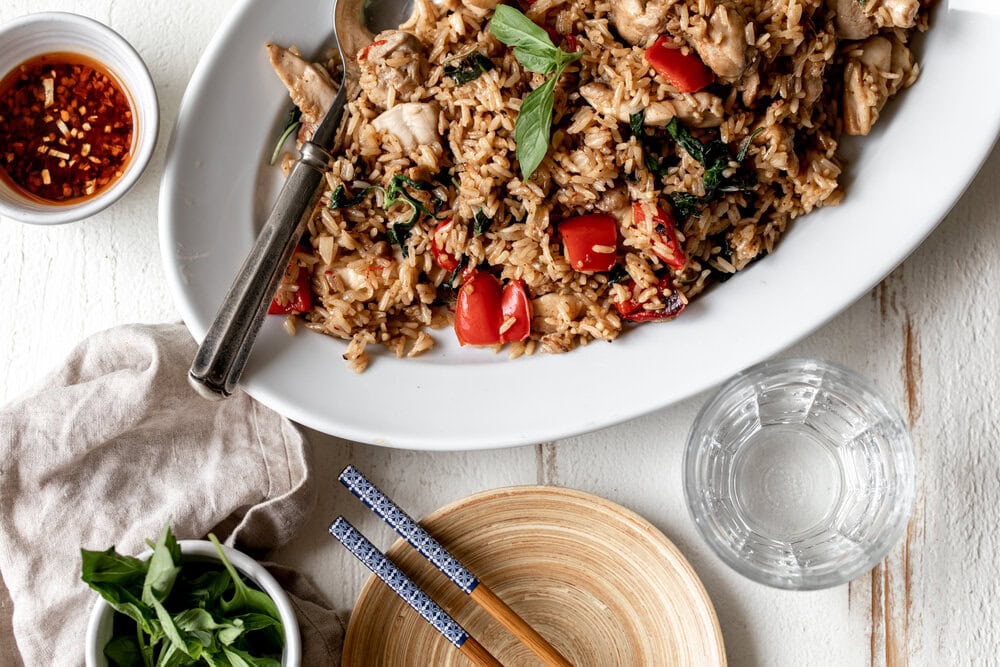 Spicy Basil Fried Rice with Chicken
This recipe turns the popular Thai dish of grapow gai (also known as pad kra gao), spicy basil chicken into fried rice with a sweet and spicy sauce made from oyster sauce, soy sauce and fish sauce and topped with additional crispy basil leaves. The chicken in this recipe can easily be swapped out for meat like thinly sliced beef or shrimp instead. Gra pao gai is traditionally made with Thai holy basil – which I can sometimes find in Asian markets, but I use sweet basil (the bright-green type with cup-shaped leaves you usually find in grocery stores) in this recipe since it's much more easily accessible. Thai holy basil has a peppery, slightly sour flavor while sweet basil is, well, sweeter.
Why use day-old rice?
Day old rice is optimal for cooking fried rice since it has dried out a bit. When making fried rice the goal is to fry it so it's a bit crispy and absorbs the rice rather than steaming it to the point that it is mushy. While day-old rice isn't required it definitely makes for the best texture. If you don't have leftover rice you can mimic the dried rice by spreading the cooked rice in an even layer on a baking sheet and refrigerating it for an hour or freezing it for about 15 minutes.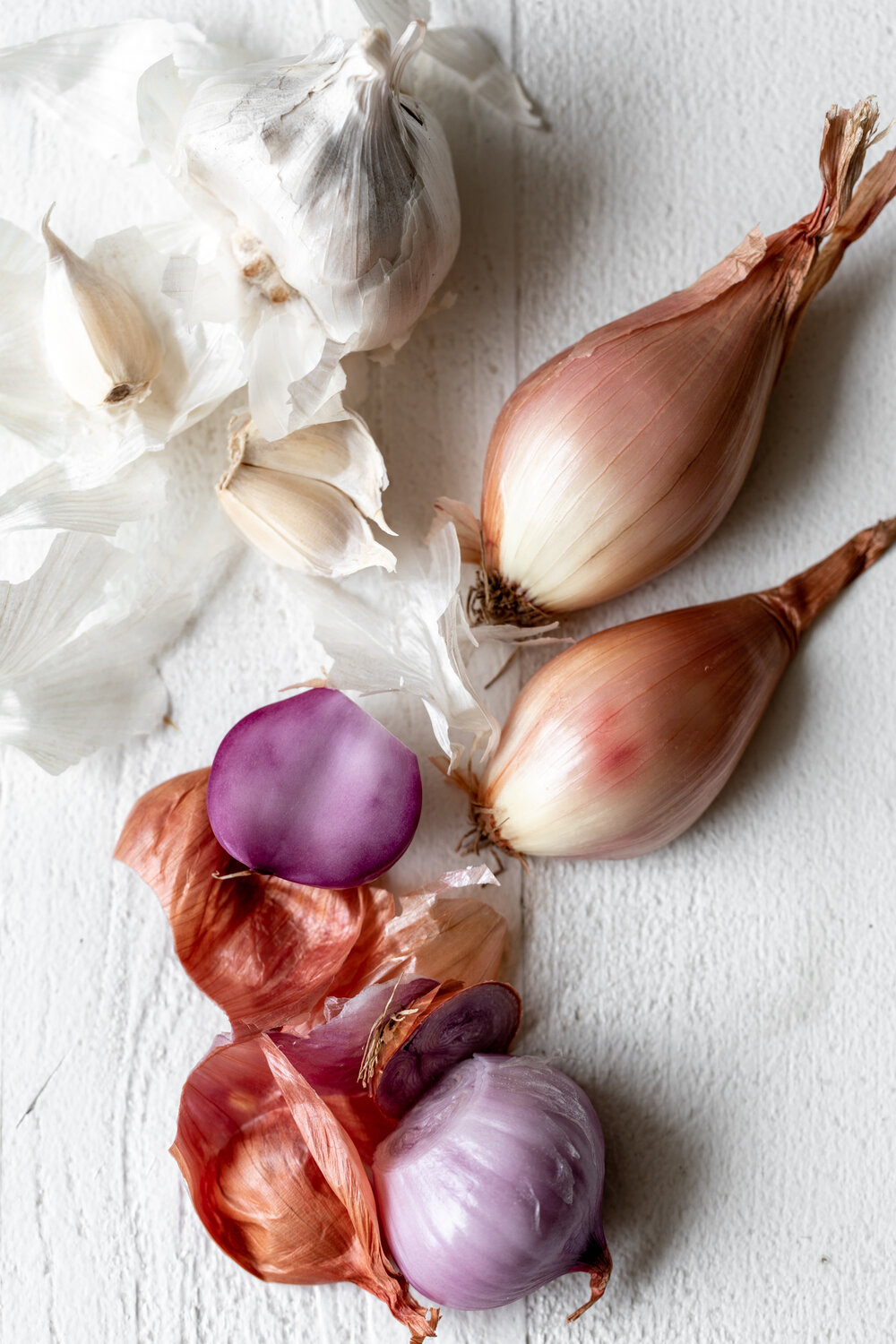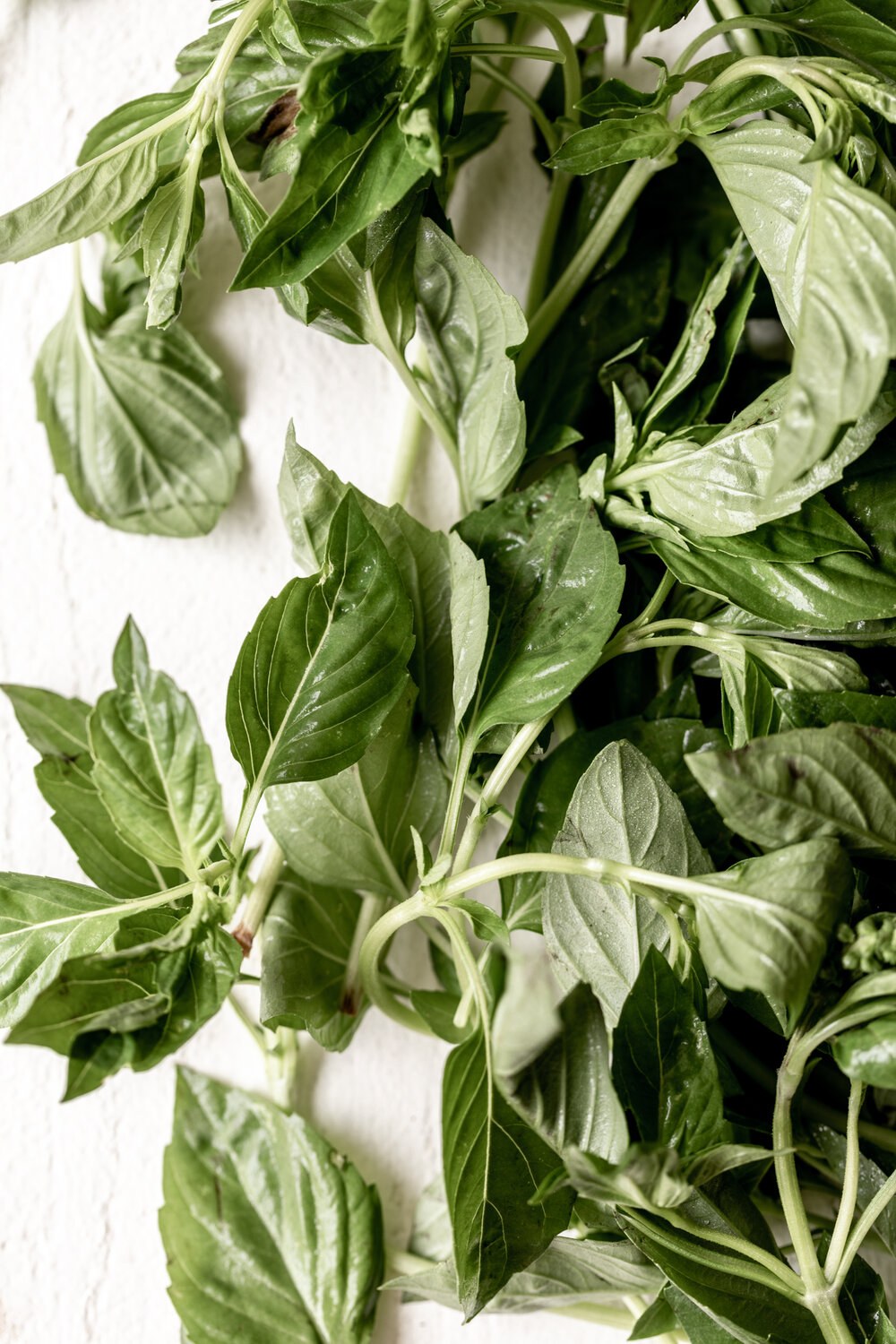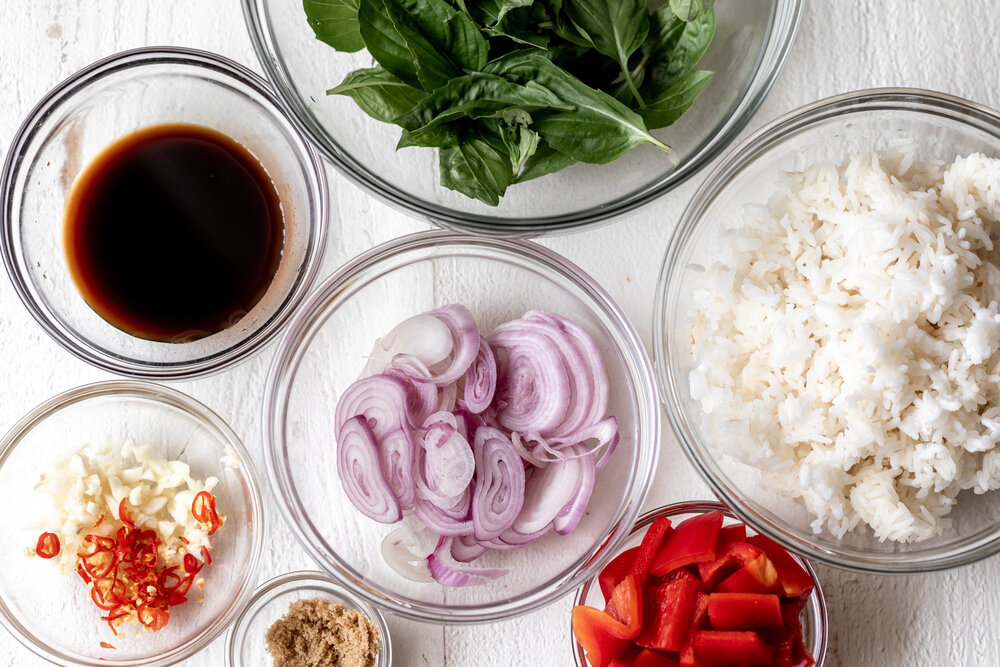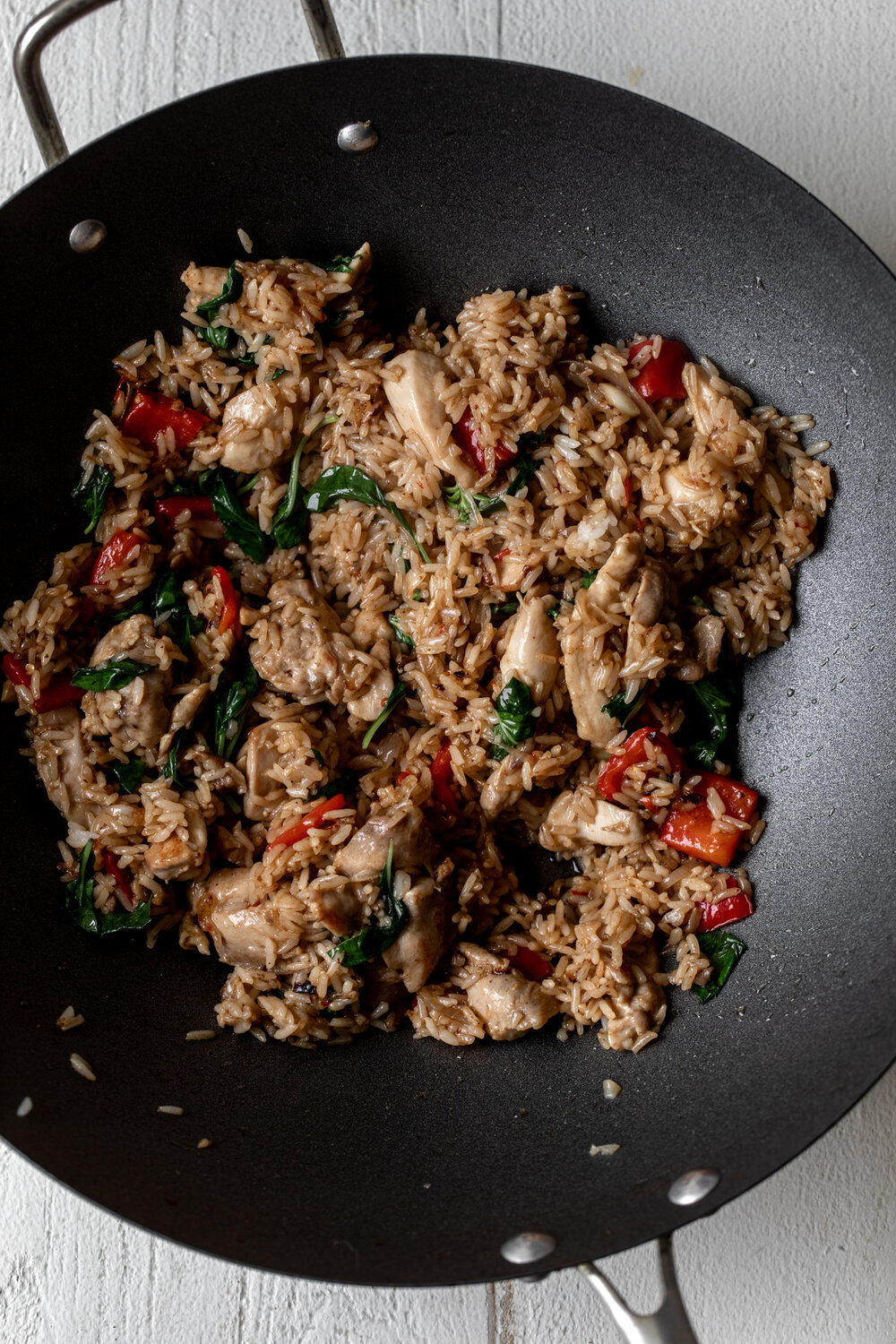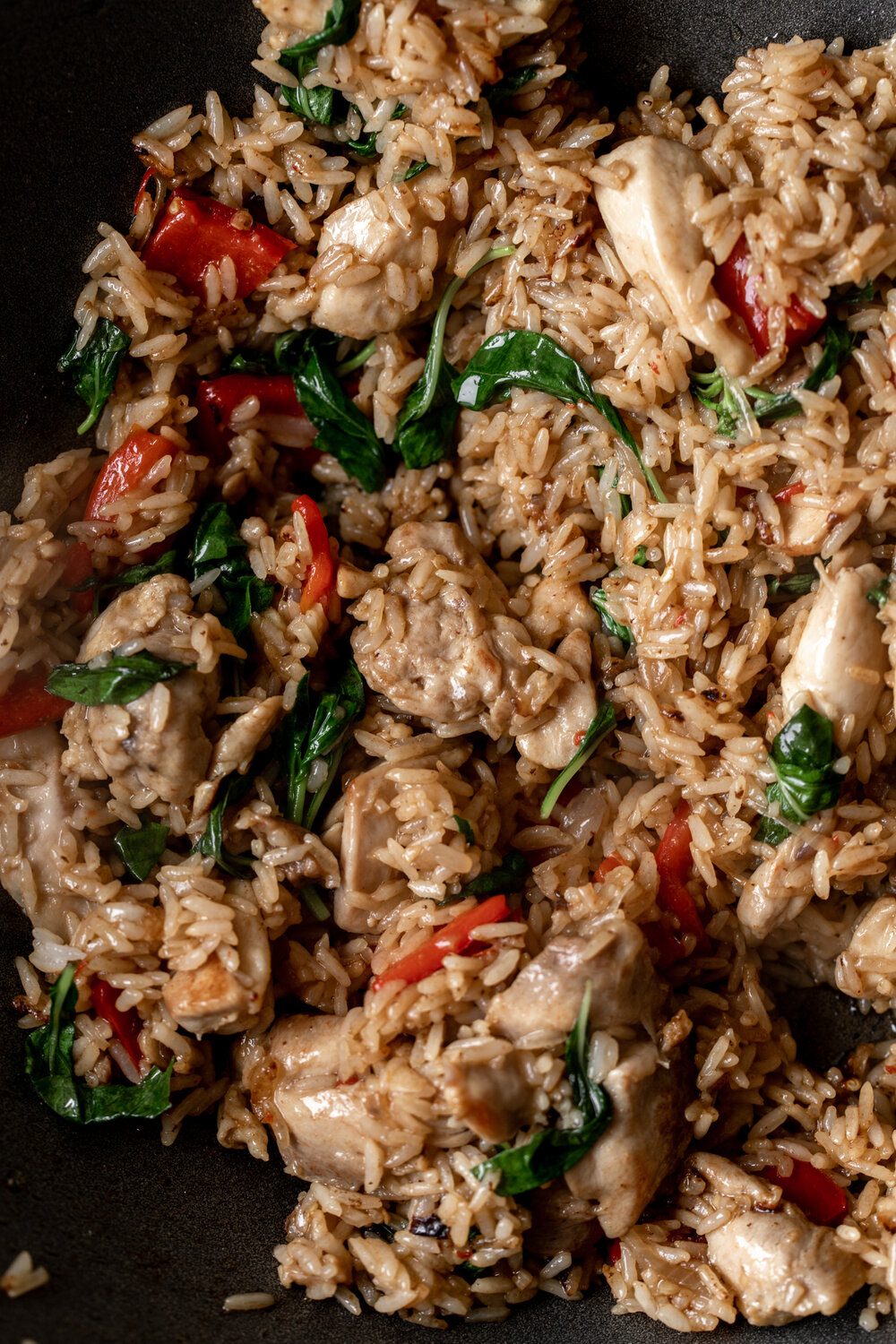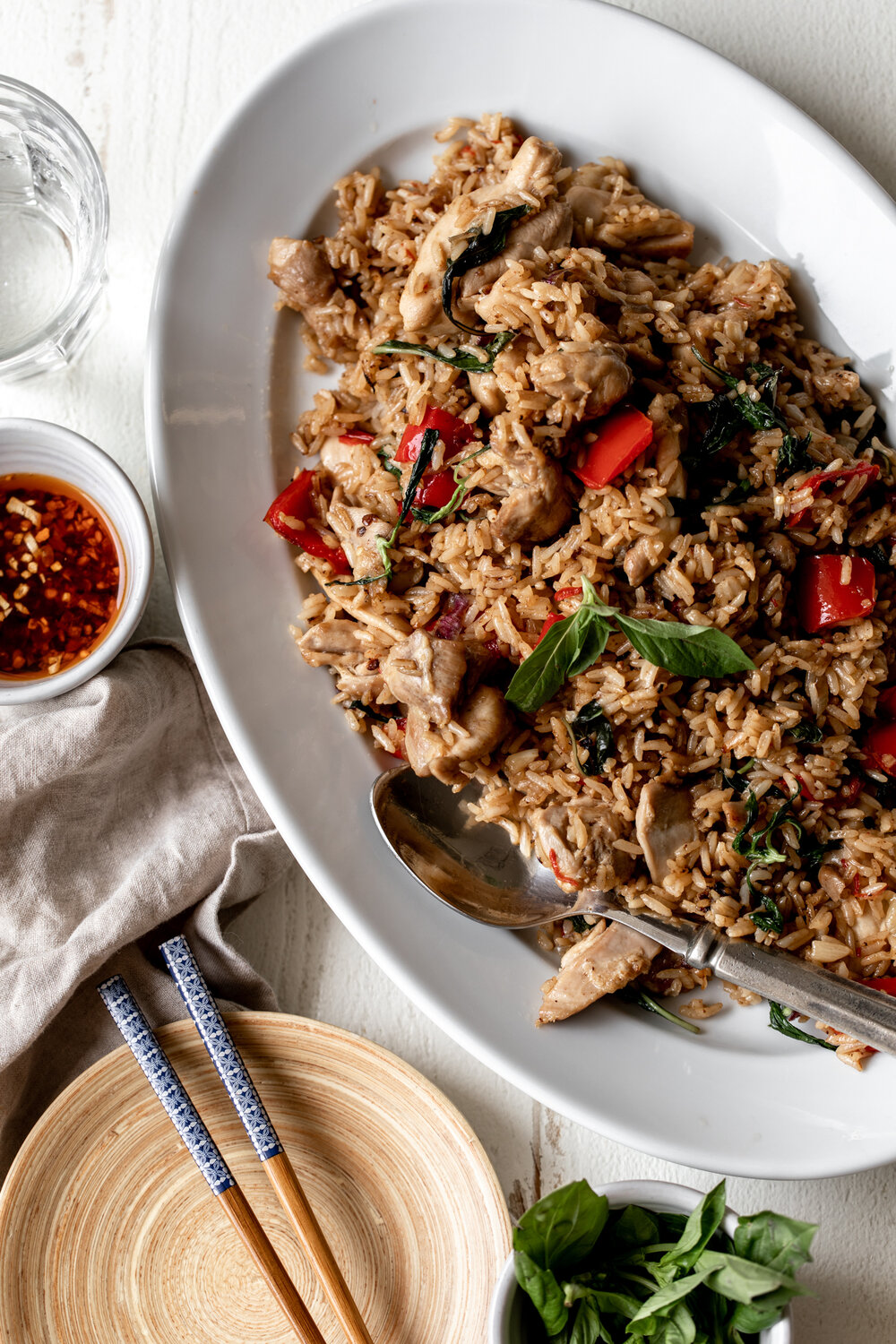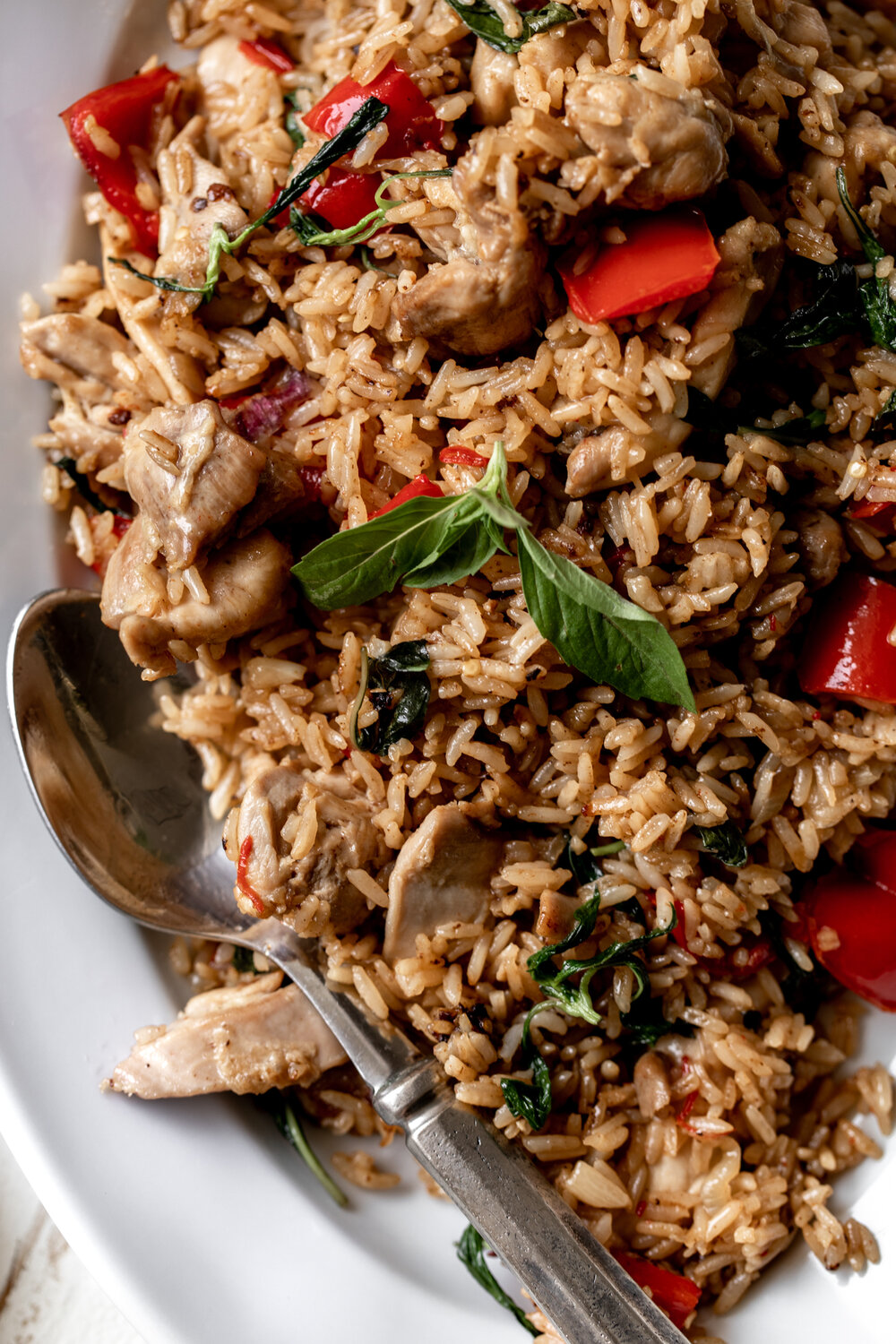 SPICY BASIL FRIED RICE WITH CHICKEN
¼

cup

canola oil

3

medium

shallots, thinly sliced

1

medium

red bell pepper, chopped into ½" pieces

3

cloves

garlic

3

minced Thai Birdseye chilied, diced

1

pound

chicken thighs, thinly sliced

2 1/2

cups

cooked, day-old rice

1

tablespoon

oyster sauce

1

tablespoon

soy sauce

2

teaspoons

fish sauce

1

teaspoon

(packed) brown sugar

3/4

cup

(packed) fresh basil leaves
Heat a wok over medium high heat, add the oil and heat through. Add the shallots and bell pepper, stirring constantly until the onion is tender and opaque, about 2 minutes.

Add the chicken to the wok and cook, stirring constantly until just about cooked through, about 5 minutes.

Add the garlic and chilies, stirring until just fragrant, a few seconds. Add the rice and cook, stirring occasionally, until the rice is dried out a bit, about 3 minutes.

In a small bowl whisk together the oyster sauce, soy sauce, fish sauce and brown sugar. Pour over the fried rice mixture stirring to combine. Remove from the heat and stir in the basil.
DID YOU MAKE THIS?
TAG ME ON INSTAGRAM TO BE FEATURED ON MY STORIES! @cookingwithcocktailrings