Pepperoni is a smoky, slightly spicy American variety of salami with both cured beef and pork seasoned with spices like paprika. I buy pre-diced pepperoni or cut it myself rather than use the lay-flat thinly sliced pepperoni.
Like paella, this crispy rice is topped with a garlic aioli. Rather than making aioli from scratch with egg yolks and oil I opt for a short cut. I simply whisk a little olive oil into mayonnaise for a quick version of "aioli". This recipe is inspired by a dish I had at my new favorite Italian place in the West Village of New York, Don Angie.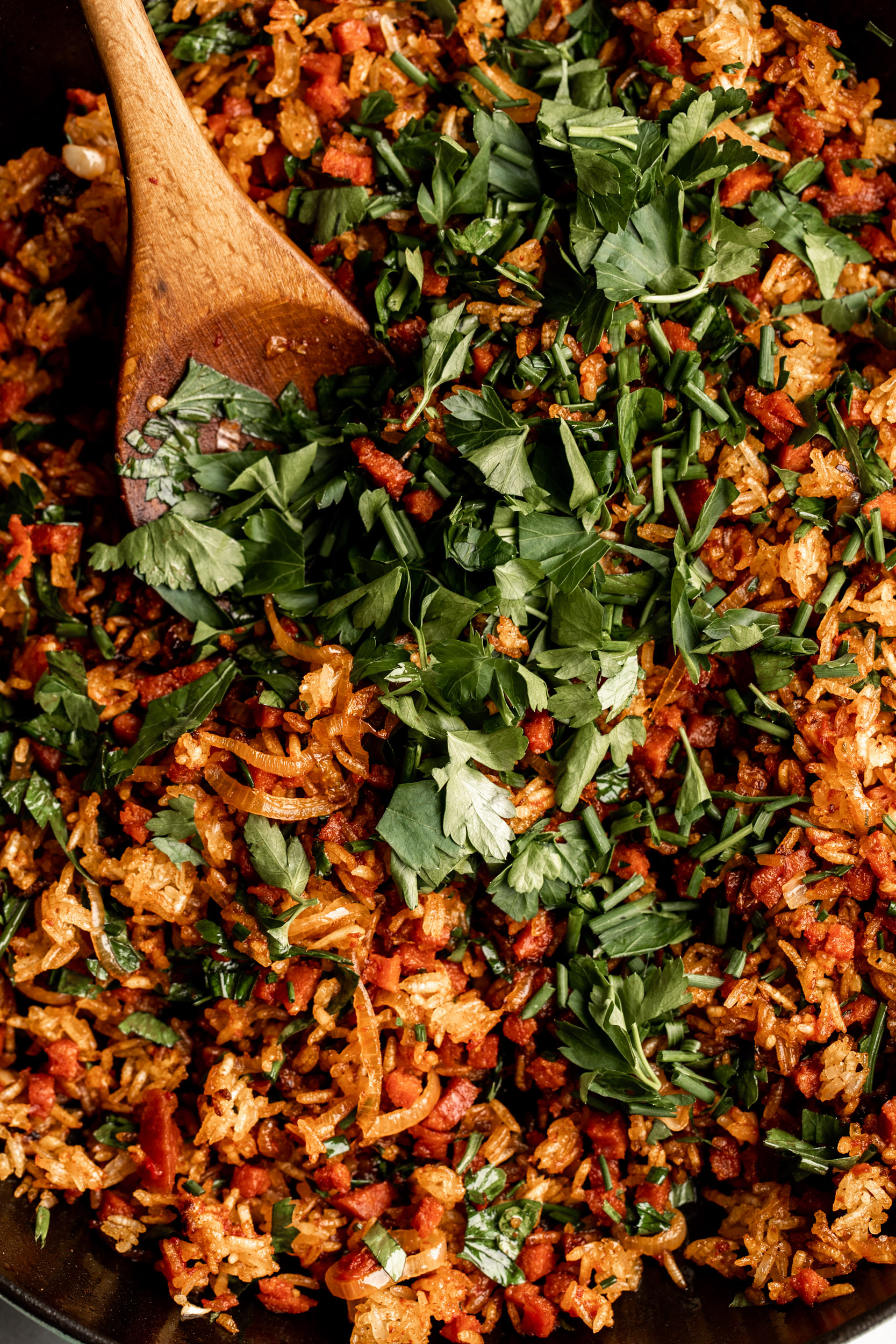 When cooking with scallops look for "dry packed" as they won't contain any preservatives or additives. I order from The Scallop Guys, a sustainable company based out of Boston with fresh and 100% natural Atlantic sea scallops. They come frozen, portioned out into individual packages for easy serving.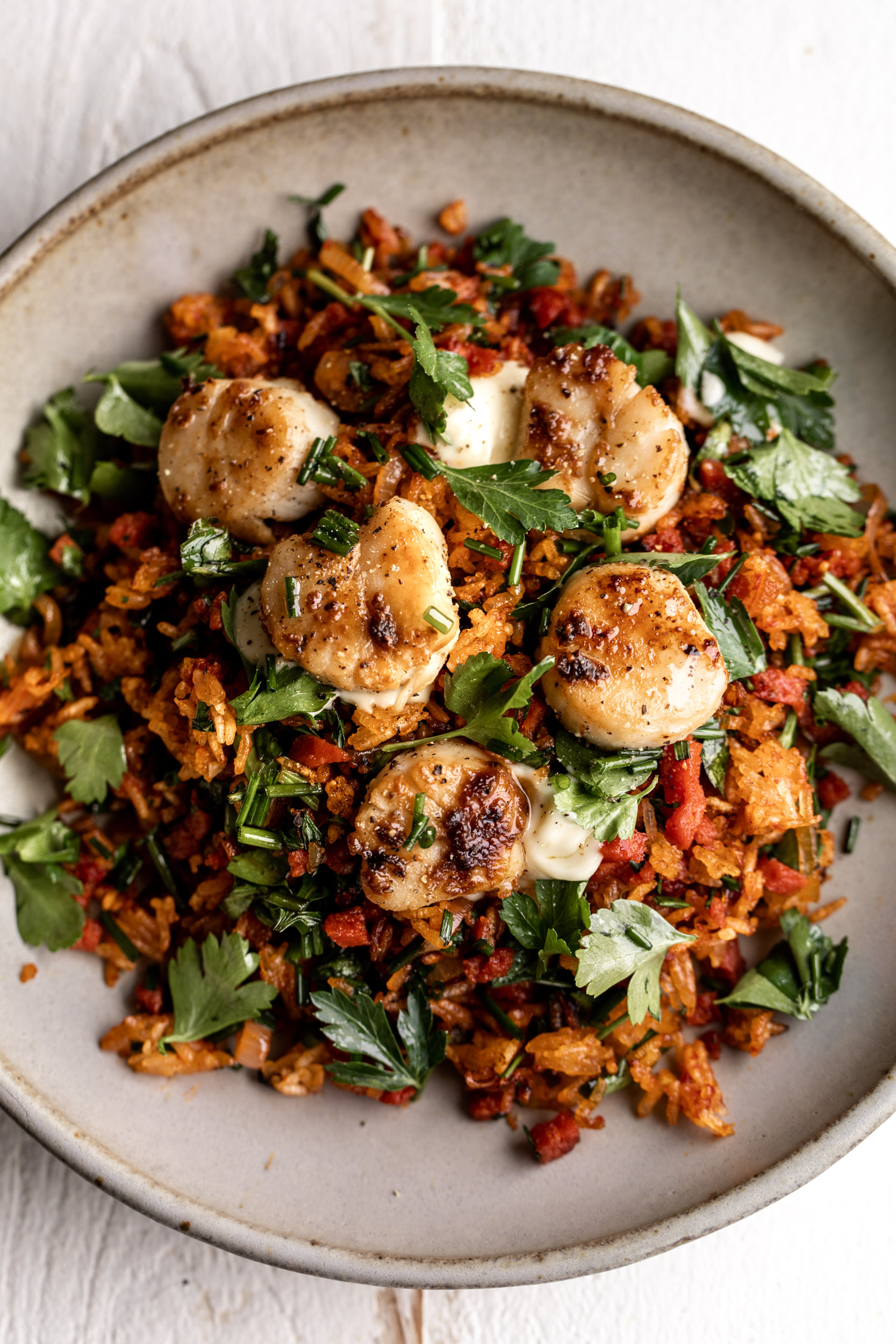 Day old rice is best for making crispy rice because it's had time to dry out. If you use "just cooked" rice it will continue to steam rather than crisp up.
For a shortcut to make crispy rice on the same day, spread the cooked rice out on a baking sheet then freeze for 10 to 15 minutes and then continue with the instructions below.
Pepperoni Fried Rice with Scallops and Garlic Aioli
For the pepperoni fried rice:
¼

cup

vegetable oil

2

cups

day old long-grain white rice

2

medium shallots,

thinly sliced

2

cloves

garlic,

chopped

4

ounces

pepperoni,

cut into ¼" cubes

¼

cup

tomato paste

¼

teaspoon

paprika

¼

cup

diced chives

⅓

(packed) )cup roughly chopped flat-leaf parsley
For the garlic "aioli":
¼

cup

mayonnaise

2

cloves

garlic minced

2

tablespoons

extra-virgin olive oil
For the pepperoni fried rice:
Heat a large cast iron pan over medium heat, add the vegetable oil and heat through. Add the rice in an even layer and cook, untouched, until the bottom is crispy and golden brown, about 3 minutes. Stir and cook for an additional 5 minutes so each grain is crispy.

Add the shallots and cook until they are tender and no longer opaque, about 5 minutes. Add the garlic and pepperoni and cook, stirring occasionally until the pepperoni is slightly crisp, about an additional 5 minutes.

Add the tomato paste and paprika, stirring to combine, and let cook for 2 minutes. Then turn the pan off the heat and stir in the chives and parsley.
For the scallops:
Pull the side muscle off the scallops if needed and pat the scallops dry with a paper towel and season on both sides with salt and pepper.

Heat a large sauté pan over medium heat, add the olive oil and heat through. Add the butter and allow to melt. Add the scallops to the pan and let cook, untouched, until the underside is golden-brown, about 3 to 4 minutes.

Flip and cook for an additional 2 minutes. Remove the scallops from the pan and set aside.
DID YOU MAKE THIS?
TAG ME ON INSTAGRAM TO BE FEATURED ON MY STORIES! @cookingwithcocktailrings