The trick to fried rice is high heat and using a wok. The high sides help when stirring the rice. You don't want to steam the rice you want to fry it. To keep from ending up with soggy rice I try to use day old rice that way it will be drier and will crisp better. While this isn't required it definitely gives it a better texture and is a good way to use up and excess rice from a takeout order. I cut the rice with cauliflower and toss with kimchi for added spice.
15-Minute Cauliflower and Kimchi Fried Rice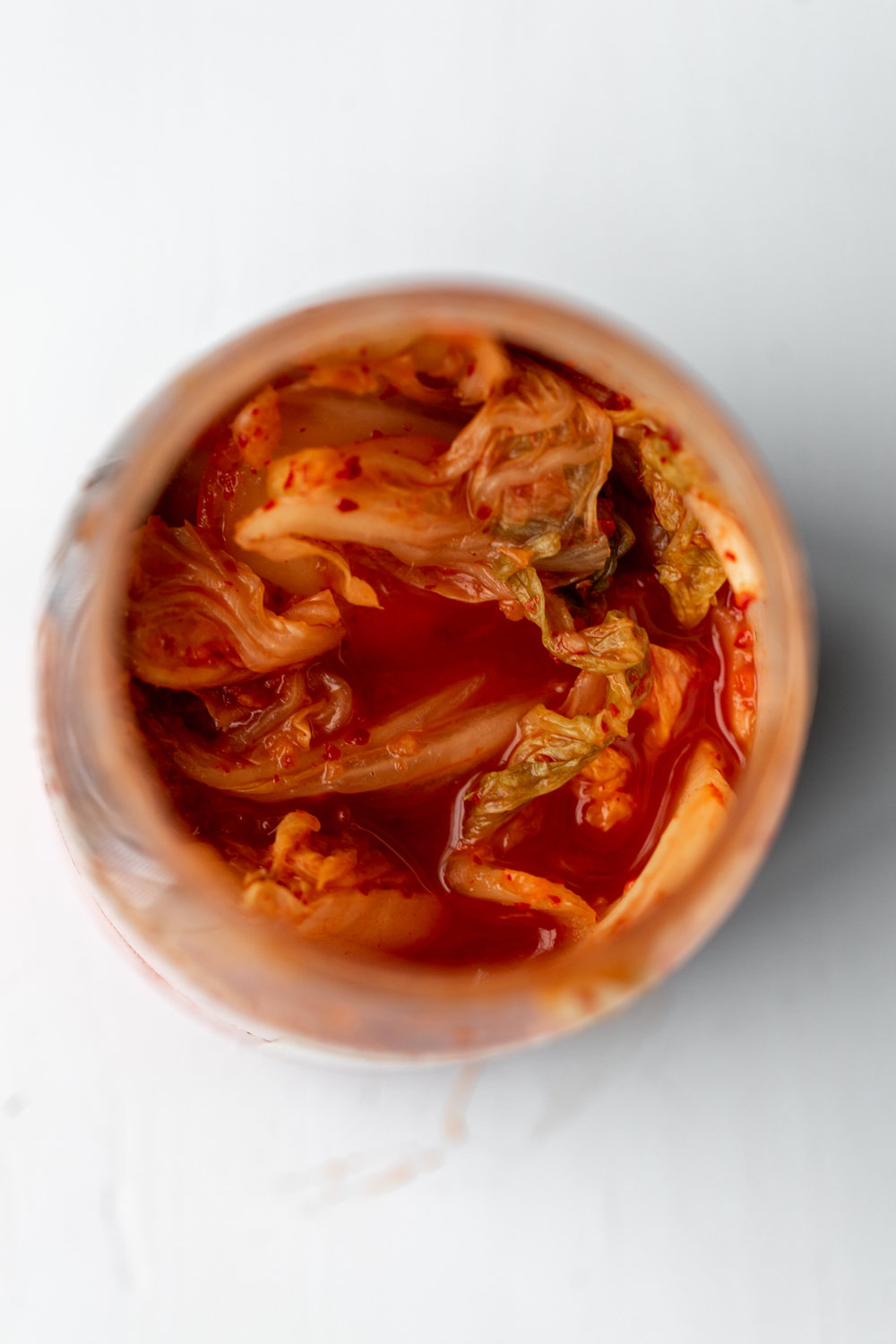 Why Cook with Day Old Rice
Day old rice is optimal for cooking fried rice since it has dried out a bit. When making fried rice the goal is to fry it so it's a bit crispy and absorbs the rice rather than steaming it to the point that it is mushy. While day-old rice isn't required it definitely makes for the best texture. In this recipe the rice is crisped in the remaining pork fat.
If you don't have leftover rice you can mimic the dried rice by spreading the cooked rice in an even layer on a baking sheet and refrigerating it for an hour or freezing it for about 15 minutes to 30 minutes. This shortcut will draw the moisture out while saving time.
Key Ingredients in This Recipe
Cauliflower rice
To try to up my vegetable intake I've been cutting cauliflower rice (the new Brussels sprouts or kale in my opinion) into some of the rice dishes that I make. I still like to have some carbs in there but this way I feel like I'm eating more rice than I actually am.
I'll never be one of those people who can eat a meal of entirely vegetables for dinner and not be hungry so this is a nice balance. Cauliflower rice is now sold at places like Trader Joe's and Whole Foods but it's just as easy (and cheaper) to make yourself. Just add roughly chopped cauliflower to the bowl of a food processor fitted with a metal blade and pulse until finely chopped (the size of rice) or simply finely chop it with a chef's knife.
Kimchi
I've only recently come to love kimchi for the wonderful fermented beauty that it is. Napa cabbage is soaked in a salty brine to kill any bacteria then it's rubbed with a mixture of spices and fermented until it becomes the pungent, tangy Korean favorite that's good on everything from noodles to dumplings. It can be an acquired taste but once you've been enlightened to it's greatness you won't be turning back anytime soon.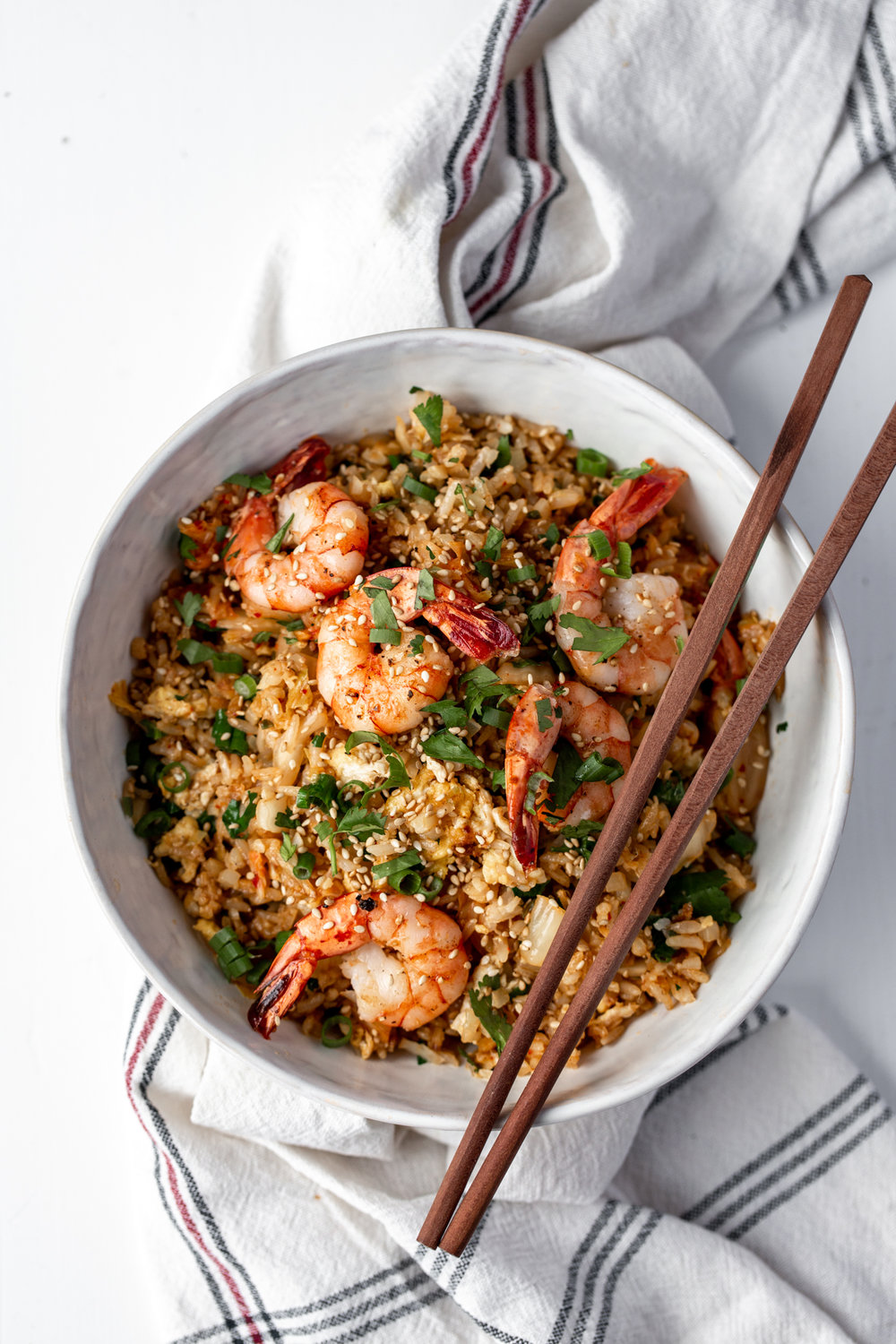 How to Make Kimchi Fried Rice
Sauté aromatics. Heat a wok over medium-high heat, add the vegetable oil and sesame oil and heat through. Add the garlic, ginger and the whites from the scallions, stirring with a rubber spatula just for a second.
Cook shrimp. Add the shrimp to the wok and sauté until cooked through, about 4 minutes.
Cook cauliflower rice. Add the cauliflower rice to the wok and sauté until tender.
Add eggs. Crack the eggs into the wok and scramble the eggs until they are just set.
Stir in rice. Add the white rice and let sit for just a few seconds to crisp the rice then stir to combine then add the soy sauce.
Toss with remaining ingredients. Add the kimchi, cilantro and the remaining green onions and toss to combine. Serve hot.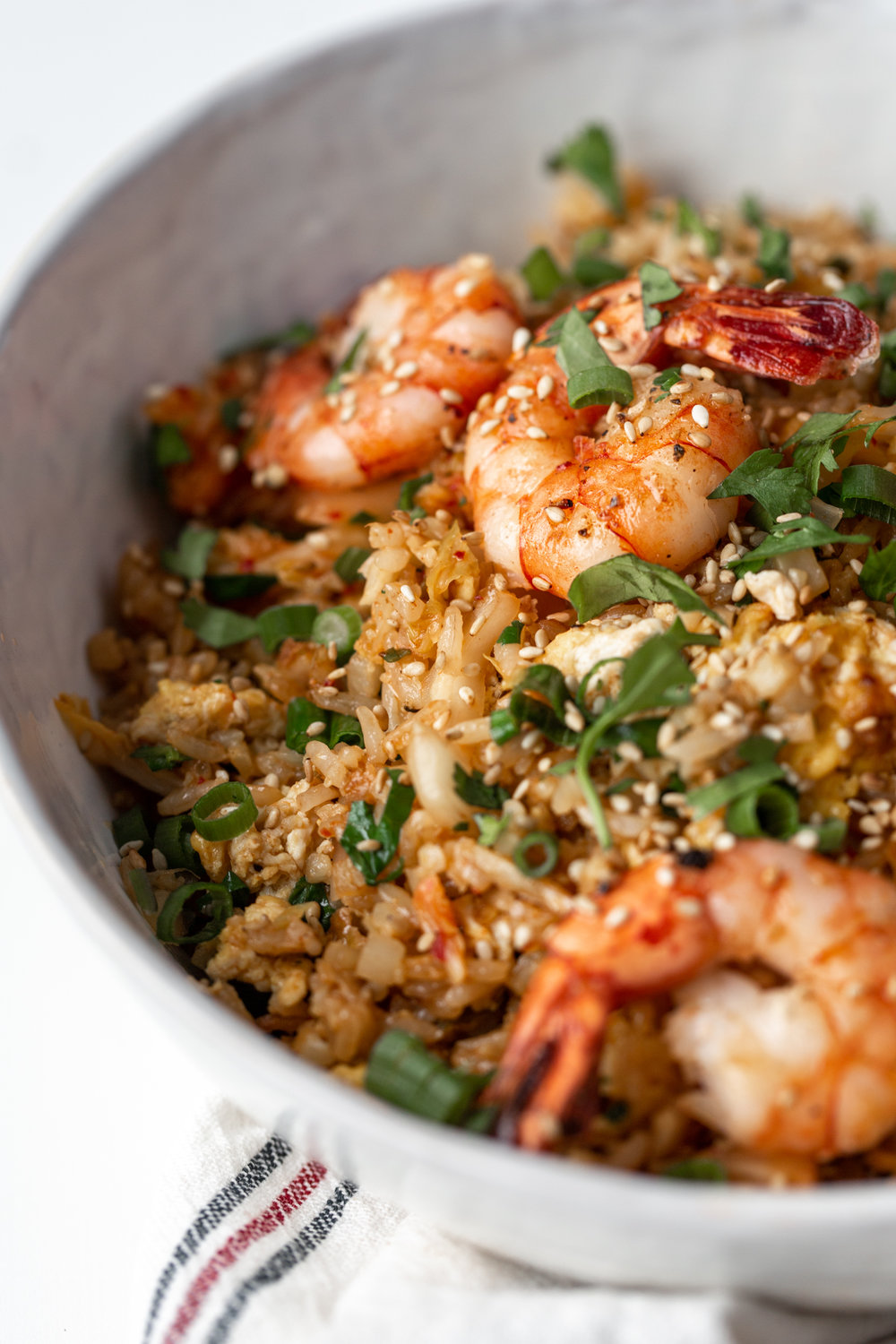 Tips and Tricks for This Recipe
Omit the shrimp for a vegetarian version of this recipe.
Swap the shrimp for another protein like chicken or tofu if desired.
Other Recipes to Try
If you enjoy this kimchi fried rice recipe, I recommend checking out some of these:
15-Minute Cauliflower and Kimchi Fried Rice
3

tablespoons

vegetable oil

1

tablespoon

toasted sesame oil

5

cloves

garlic,

minced

2

teaspoons

minced ginger

3

scallions,

thinly sliced, whites and greens divided

¾

pound

26/30 shrimp, peeled and deveined

2

cups

riced cauliflower

3

large eggs

Kosher salt,

to taste

Ground black pepper,

to taste

2

cups

cooked long-grain white rice,

or whatever type of cooked rice you have on hand

3

tablespoons

soy sauce,

use tamari to make the recipe gluten-free

¾

cup

chopped napa cabbage kimchi

1/3

cup

chopped cilantro
DID YOU MAKE THIS?
TAG ME ON INSTAGRAM TO BE FEATURED ON MY STORIES! @cookingwithcocktailrings