Mushroom Spaghetti
This vegetarian pasta is filled with rich, buttery sautéed mushrooms. I like this sauce because it lets the earthy flavor of the mushrooms shine through the light, white wine sauce that has been seasoned with just a bit of fresh thyme.
Before cooking the mushrooms, use a wet paper towel to wipe them clean. Sauté mushrooms in batches because, if there are too many mushrooms in the pan at once, they will steam rather than sauté to a perfect golden brown. This takes a bit longer but is worth the resulting flavor!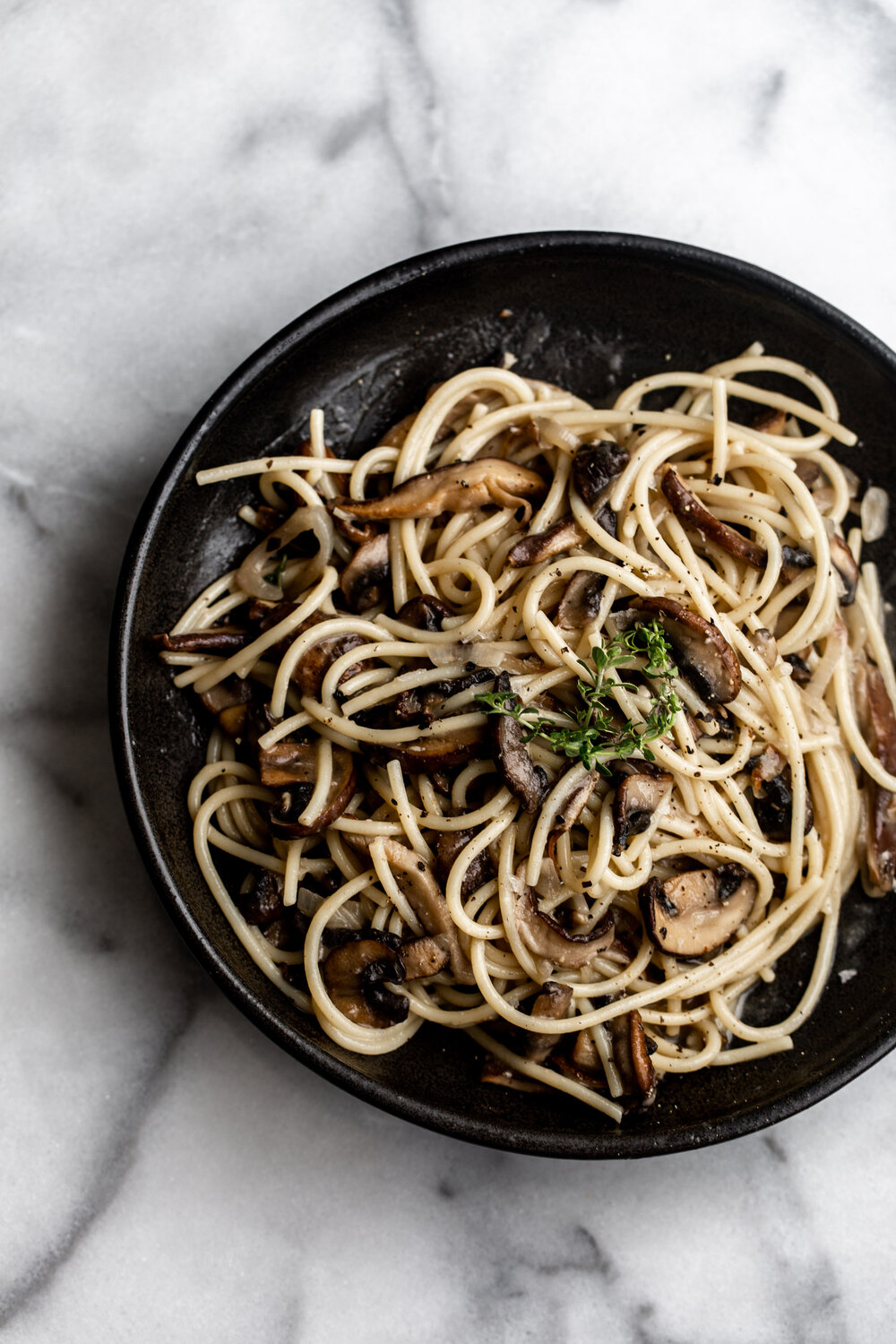 Feel free to substitute any of your favorite mushrooms in this pasta – I like to use a mix of baby bella (crimini) and shiitake mushrooms because baby bellas sauté well and they can withstand high temperatures. Bella mushrooms have a light flavor while shiitakes have much more of a meaty texture.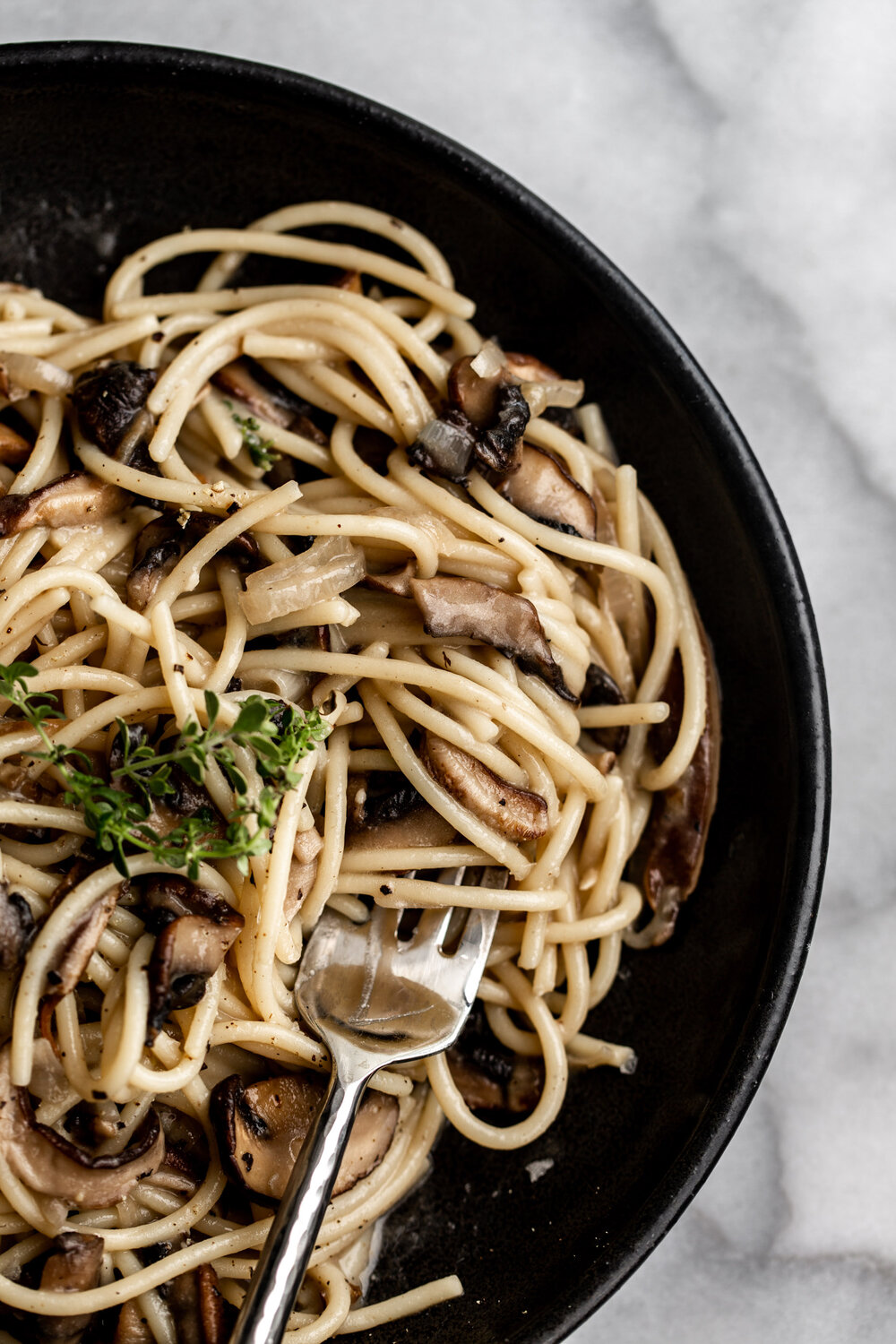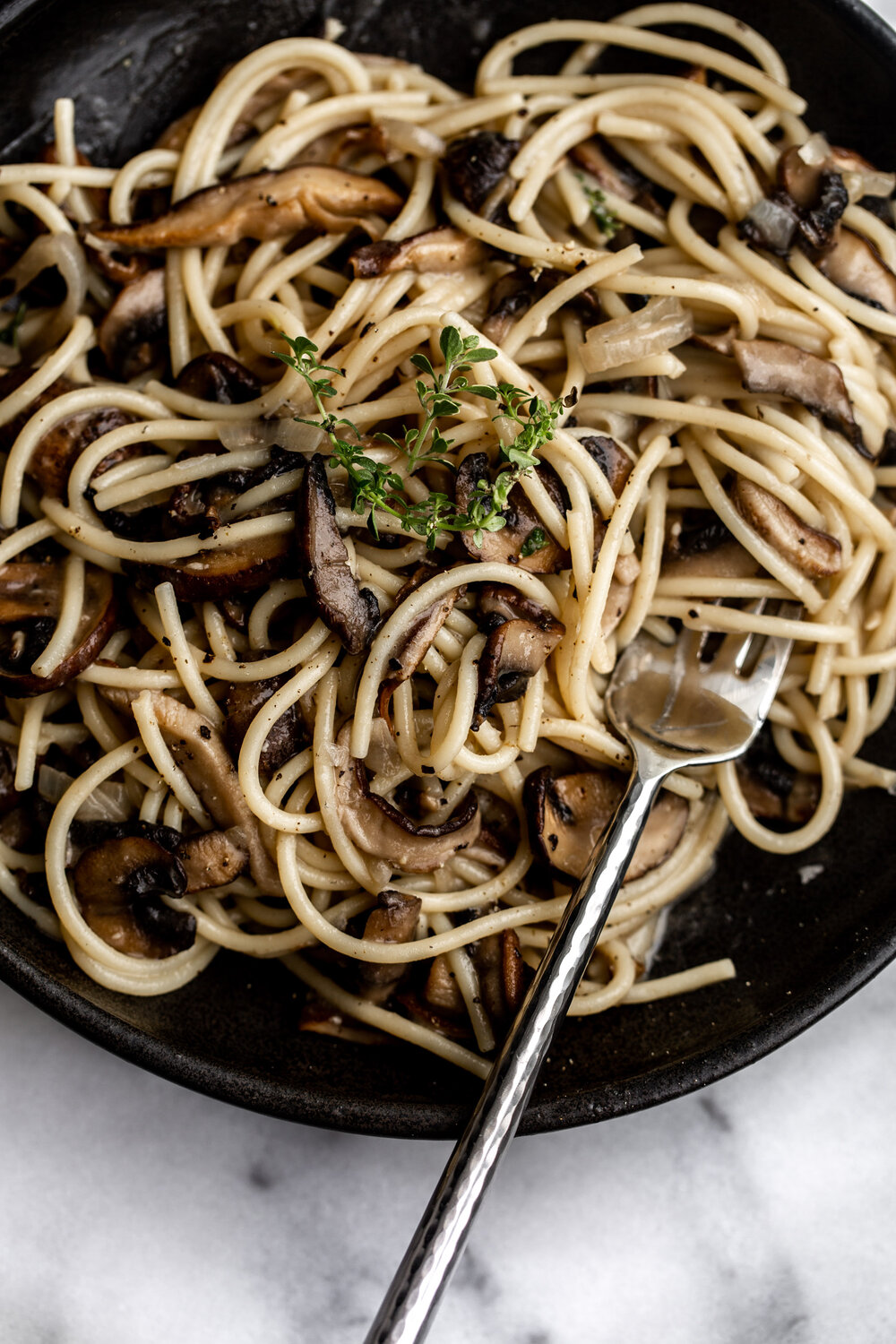 Mushroom Spaghetti
4

tablespoons

extra-virgin olive oil,

divided

6

tablespoons

unsalted butter,

divided

2

medium shallots,

thinly sliced

12

ounces

baby bella mushrooms,

thinly sliced

4

ounces

shiitake mushrooms,

thinly sliced

Kosher salt,

as needed

Freshly ground black pepper,

as needed

1

teaspoon

chopped thyme

1

tablespoon

all-purpose flour

1

cup

dry white wine

¾

pound

spaghetti

½

cup

freshly grated Pecorino Romano cheese
Heat a large skillet over medium heat, add 2 tablespoons of the olive oil and heat through. Add the shallots and sauté until tender, about 5 minutes. Add 3 tablespoons of the butter and allow to melt, then working in batches, add half of the mushrooms and sauté until golden brown, about 6 minutes. Season with salt and pepper Remove the mushrooms to a bowl and return the pan to the heat. Add the remaining olive oil, butter, mushrooms and the thyme. Add all of the mushrooms back to the pan.

Stir in the flour, cooking until pale brown, about 1 minute. Add the wine, cooking until it's reduced by about half, about 3 minutes.

Bring a large pot of water to the boil; add the salt and bring back to the boil. Add the pasta and cook, stirring occasionally, until al dente, about 10 minutes. Set aside 1 cup of the pasta water then drain and return the pasta to the pot.

Add the mushroom mixture to the pasta, stirring to combine and slowly adding the cheese and half the pasta water until it melts into the sauce.

Divide among warmed pasta bowls and serve.
DID YOU MAKE THIS?
TAG ME ON INSTAGRAM TO BE FEATURED ON MY STORIES! @cookingwithcocktailrings