Malibu, and it's 27 miles of scenic beauty, is located about a 15 minute drive from where I live in Santa Monica. Of course the timing depends on traffic, particularly during the summer tourist season. I have a special connection with Malibu, California. I consider it one of my "happy places" since I went to college at Pepperdine University located in the heart of this Southern California beach town. It's a long skinny town with only a few roads in and out, lined with a myriad of multi-million dollar houses ranging from the chic to downright ostentatious. I love being able to pop over to Malibu for a morning or afternoon at the beach (I prefer these beaches to Santa Monica's often crowded beaches).
Attending college in one of the most celebrity-populated towns was not the normal American college experience, that's for sure. Friends who played basketball with Adam Sandler, others tutored or nannied various celebrity children. I had my fair share of celebrity sightings – one of my favorite cocktail party stories involves being mistaken for one and chased by paparazzi in the Malibu Country Mart.
I've lived both in north Malibu, by Zuma Beach in Villa Malibu and the southern end of Malibu across from Duke's. The later was a little house up the hill with an ocean view from the roof and sounds of the crashing waves at night. I'm sharing a roundup of some of my favorite things to do in Malibu, and yes, it's mostly places to eat.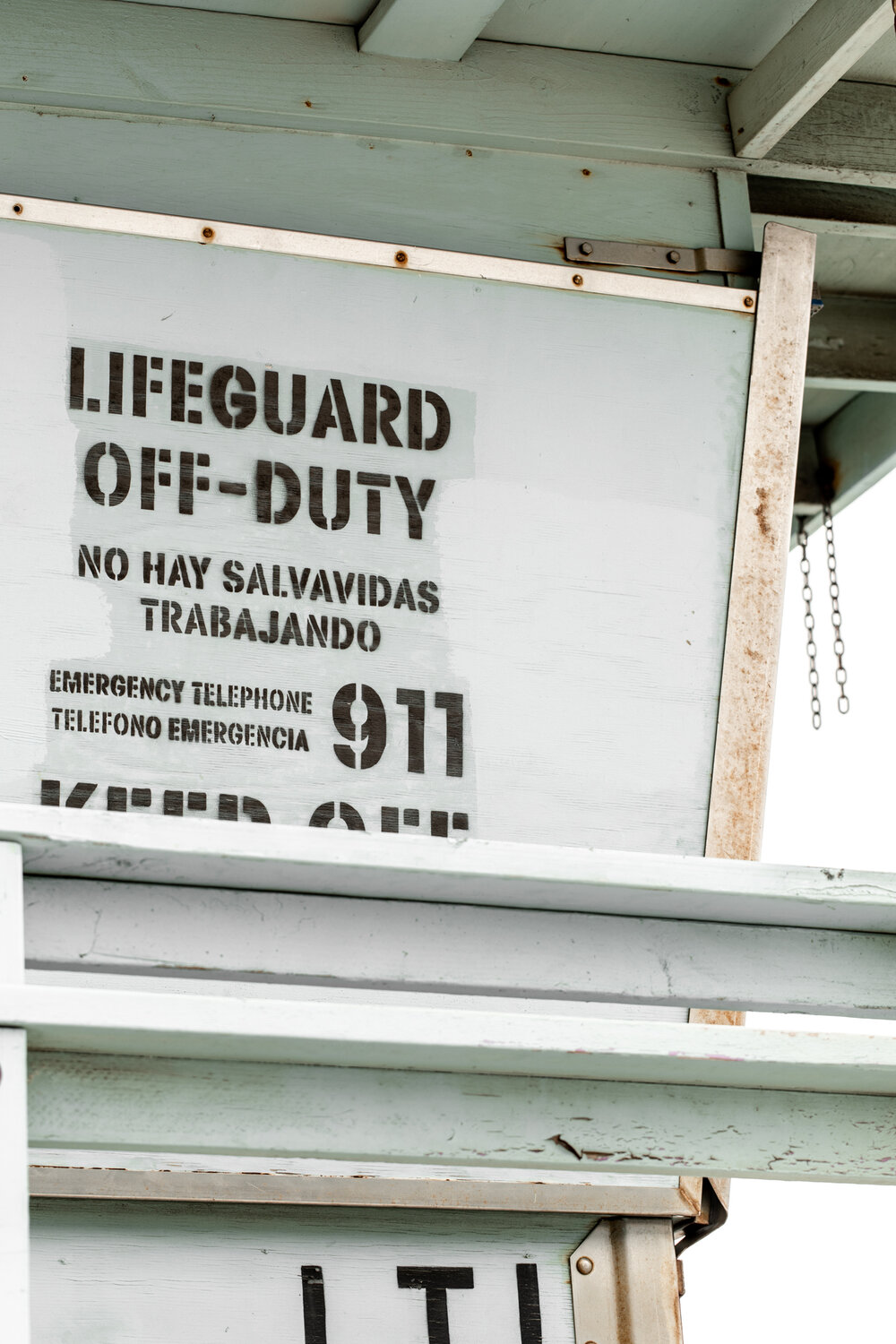 Malibu Travel Guide: A Beach Getaway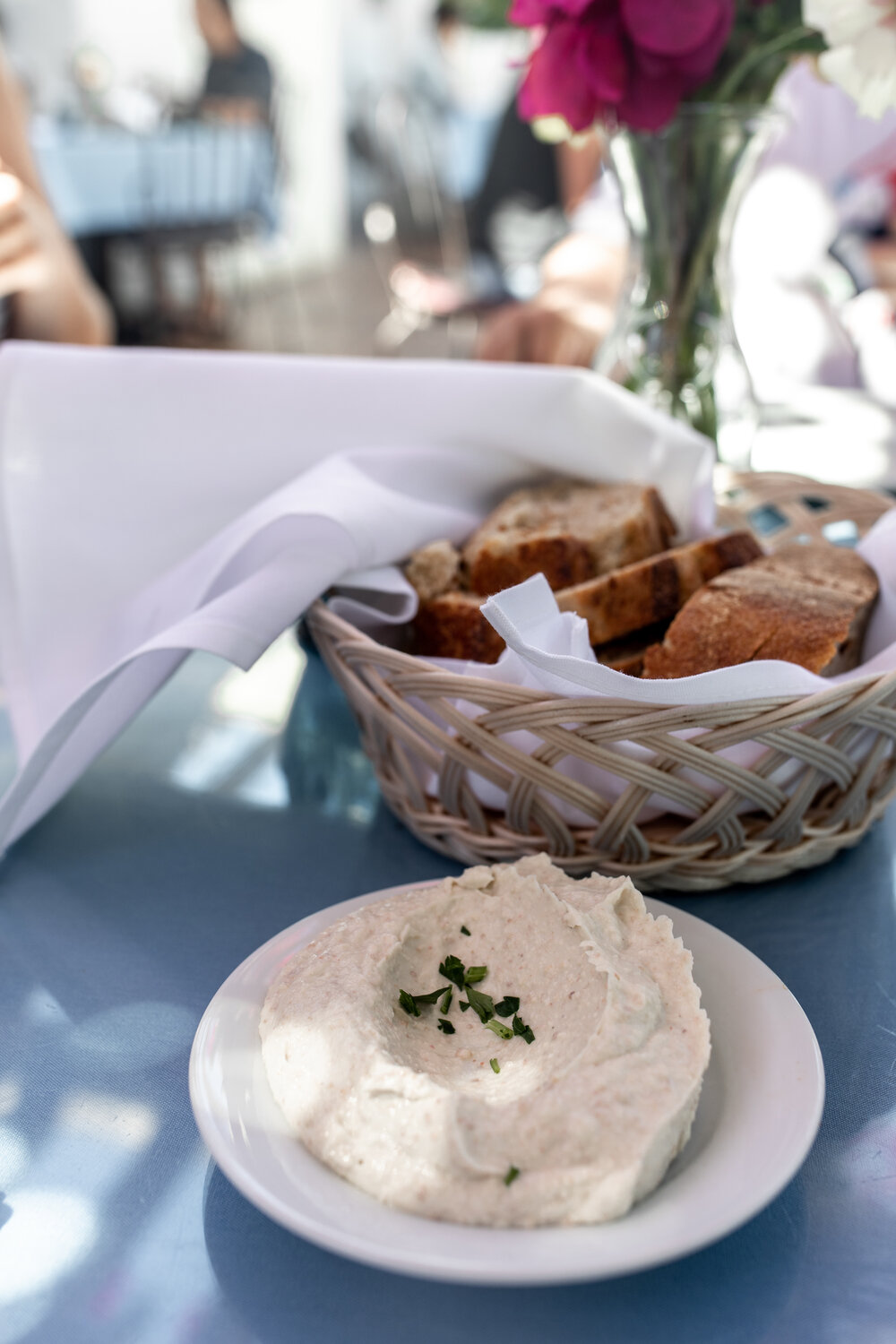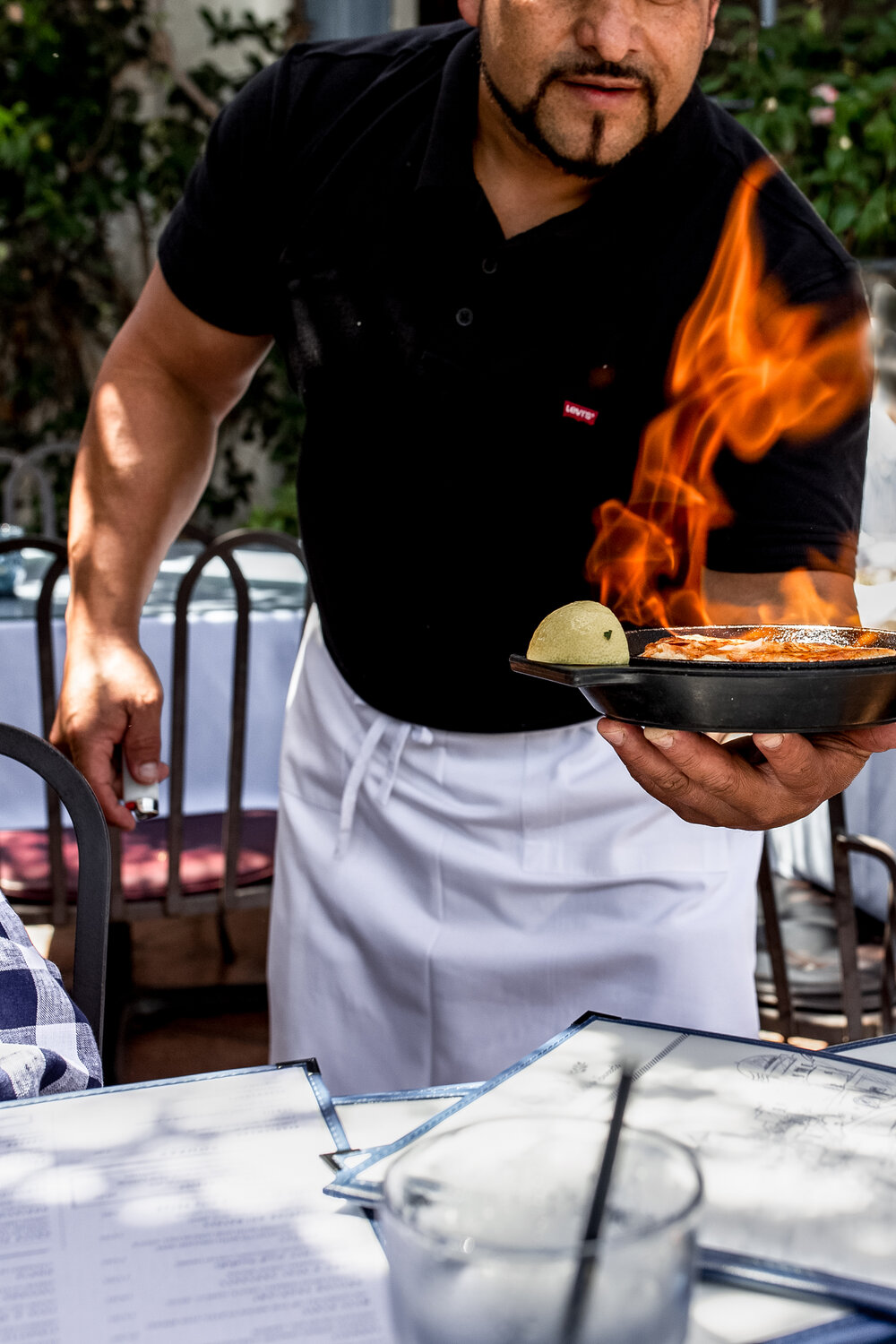 To Eat
23410 Civic Center Way, Malibu, CA 90265 | tavernatony.com
This Greek restaurant is one of my favorite places to eat in Malibu. After Aaron and I got engaged back in 2017 we came here for dinner with both of our families. The house dip is unparalleled – it's also my "white whale". I can not seem to recreate it exactly as they serve it! It's a taramasalata, served with crusty bread – you will need to ask for more, I promise you.
I hated the cafeteria food my freshman year of college and would place a takeout order from Taverna Tony's. I would order their house dip tzatziki, and the creamy shrimp and sun-dried tomato pasta. I'd be able turn it into 3 meals to keep from going to the cafeteria. They also have a house special lobster pasta that is basically a buttery lobster bisque sauce over linguine. My mom is always so scared it won't be there when she visits but it's been on the specials list for the past 9 years so I think it's safe.
What to order: The saganaki (flaming cheese), Mezze platter, moussaka, lobster pasta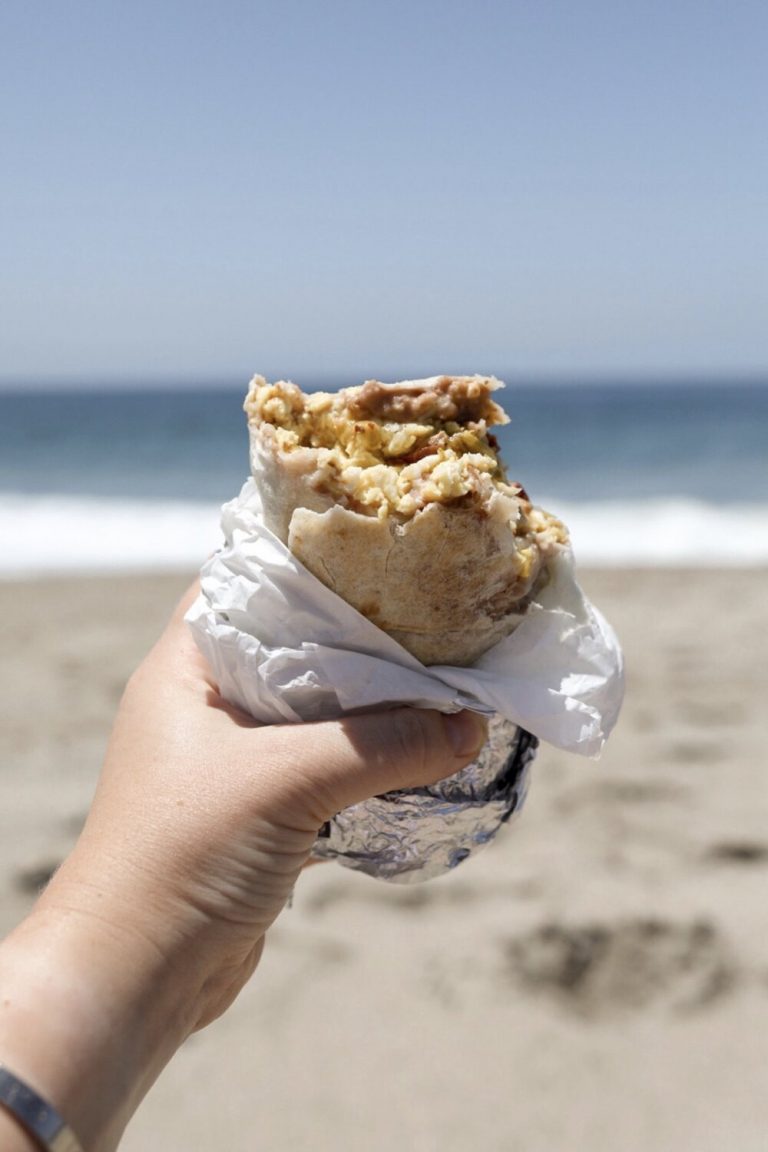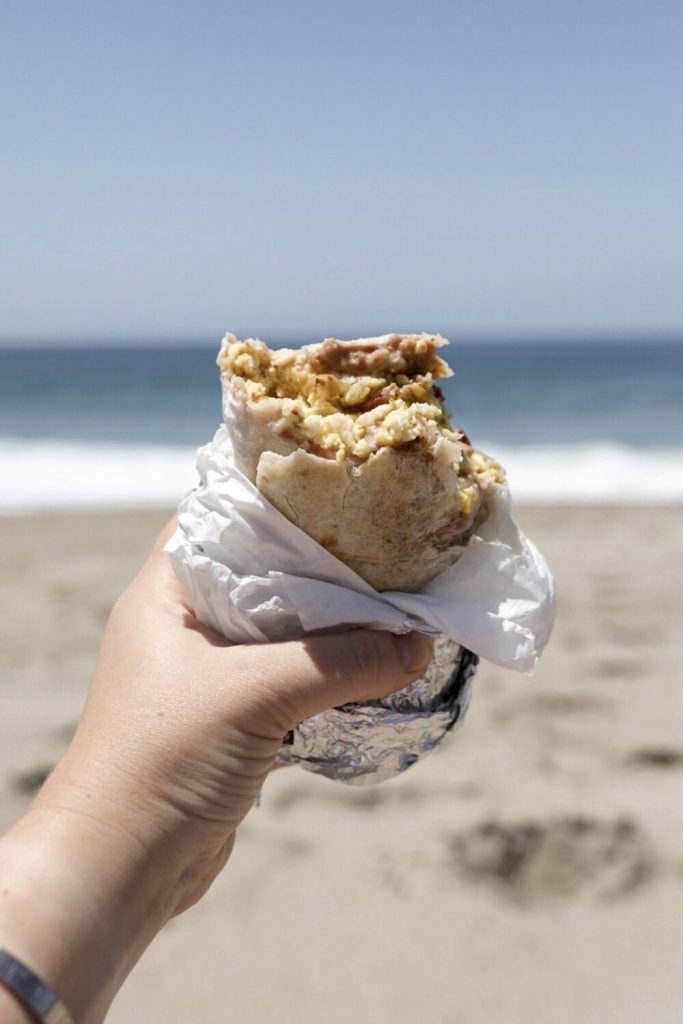 29211 Heathercliff Rd, Malibu, CA 90265 | lilysmalibu.com
Their breakfast burrito is the best in LA – I know it's a bold statement but I'm saying it. With their simple but flavorful filling of retried beans, cheese, scrambled eggs and bacon wrapped in a tortilla and topped with their special hot sauce, it's unparalleled.
This infamous spot is located in the shopping center at Point Dume. It can have insane wait times especially on the weekends. I usually call it in ahead of time or you can now order ahead on ChowNow. Lily's has been in business for over 30 years with owner, Lily Castro at the helm. In a town with a fair amount of turnover this is impressive. Even more impressive is that she started her own company when she was only 18 years old. I even created a recipe on my site for a similar breakfast burrito when I moved away after college. There's nothing like the real thing, but my recipe definitely does the trick. We buy large jars of their hot sauce to put on everything from bacon and eggs to tamales and burritos.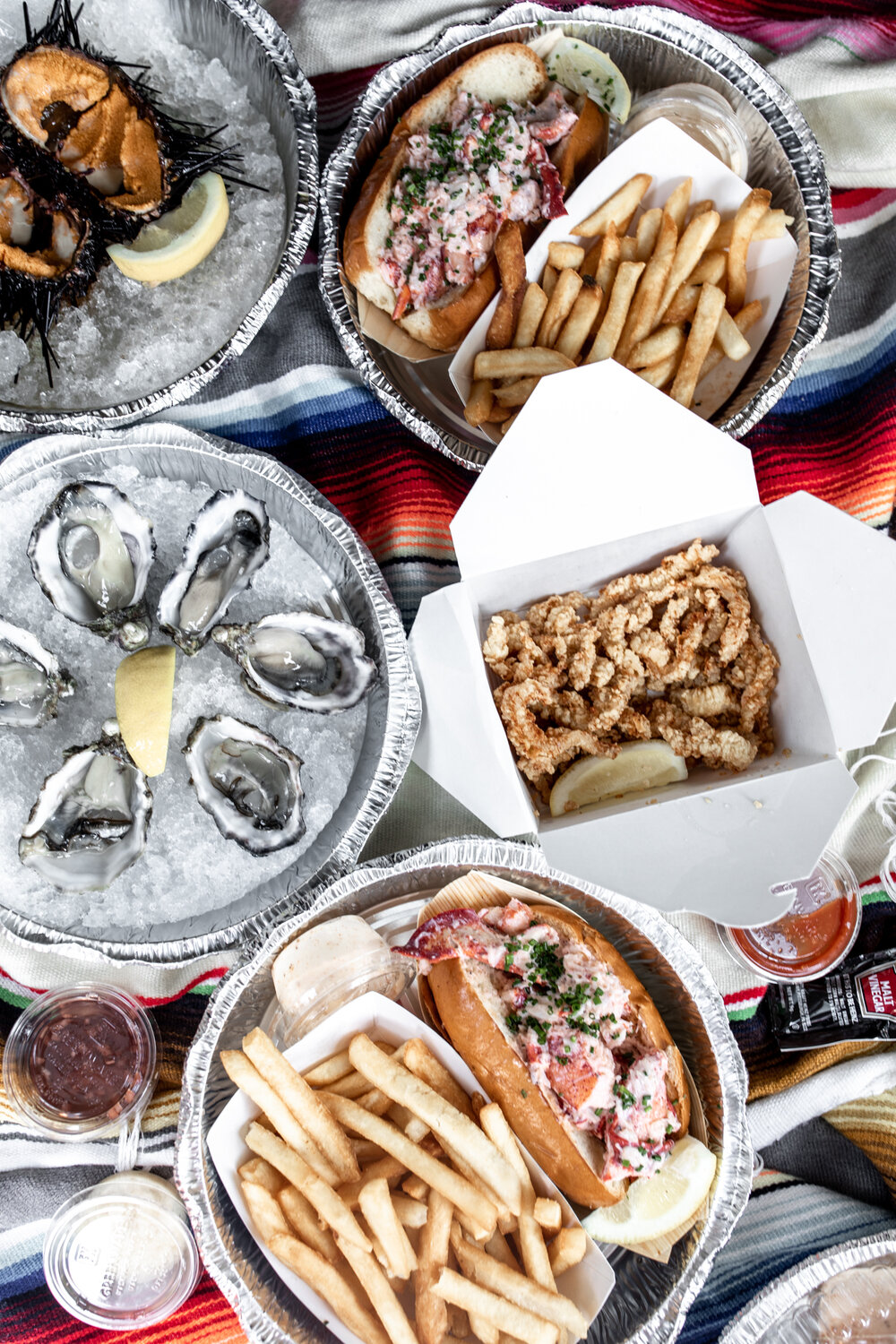 23359 CA-1 #3874A, Malibu, CA 90265 | broadstreetoyster.com
This relatively new seafood spot is my favorite in Malibu! While others swear by Malibu Seafood, the lines are always just too long for me. During COVID, Broad Street also added a drive through option. I recommend calling in your order ahead of time and picking it up at the drive through window, then eating from the back of your car with some of their craft beer and wine offerings or in their outdoor seating areas.
Broad Street mixes classics like lobster rolls with a full raw bar and upscale delicacies like freshly-cracked local Santa Barbara uni. Their lobster rolls are loaded with full claws and knuckles of Maine lobster. Get it Connecticut style with drawn butter or New England style with mayonnaise (you can pay extra and add caviar or uni on top in true Malibu fashion). Their fried clam strips come with a creamy almost togarashi-like sauce for dipping. Which in my opinion is way better than the traditional tartar sauce. Pre-COVID I got their impressive seafood tower stacked with crab claws, uni, shrimp cocktail and oysters. If you have people to share it with it's absolutely worth it.
Must-order: Lobster roll & fried clam strips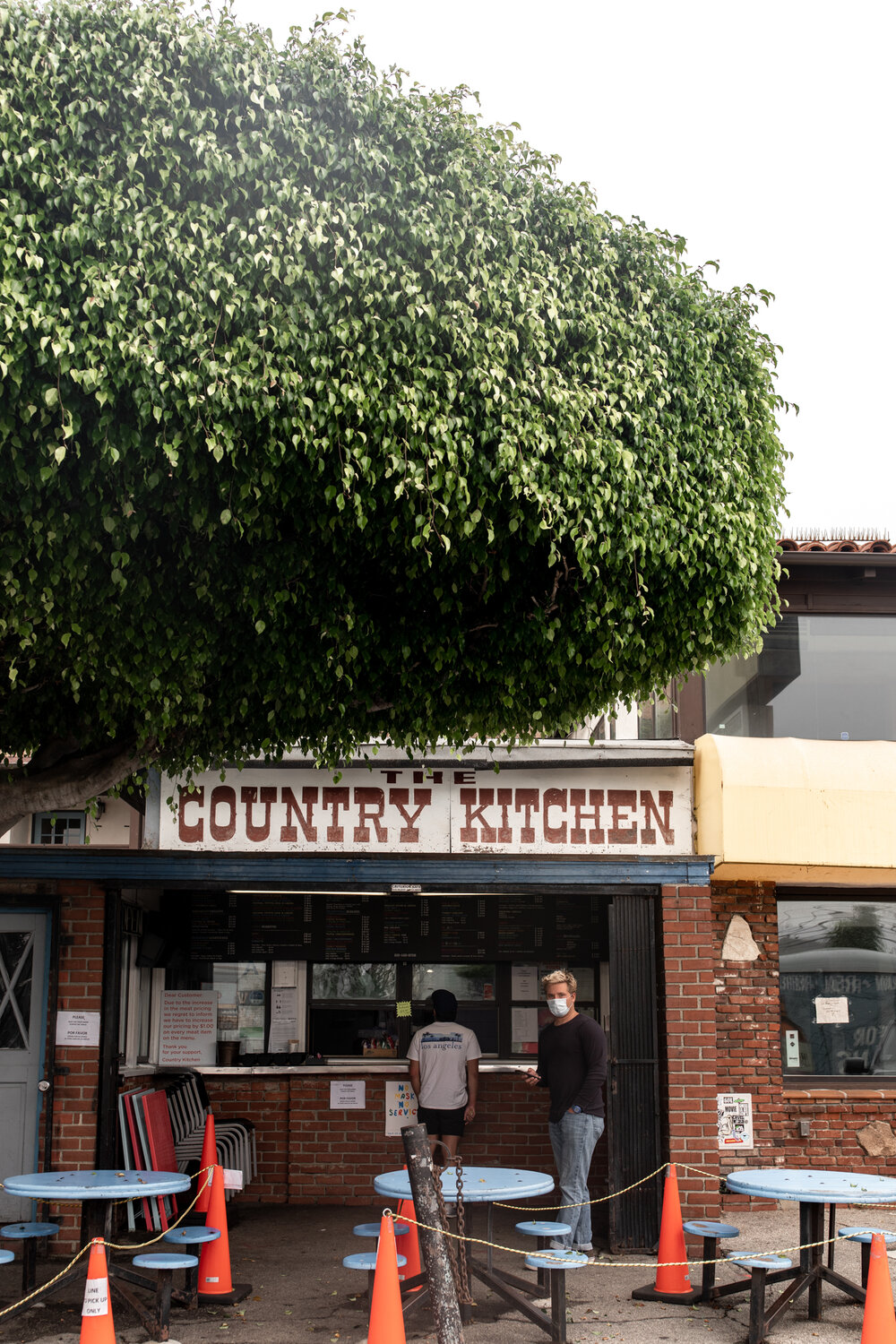 21239 CA-1, Malibu, CA 90265 | yelp.com/biz/the-country-kitchen-malibu
The other breakfast burrito haven of Malibu, this one is a little more traditional in style. Country Kitchen is a small stand located down Rambla Vista across from Duke's. It's at the bottom of two streets – my now-husband, Aaron, lived up the other side so we would stop there in between apartments or meet there for breakfast in the morning.
I think the ownership has changed since I lived up the street but the essence is the same, if not better. Now there is a wider selection of meat for the burritos. I like the carnitas breakfast burrito which comes with tater tots, salsa, scrambled eggs and melted cheddar cheese (and I usually add avocado). Always get an order of tater tots. They're incredibly crispy and if you're driving by in the afternoon stop for a simple and classic burger. When Aaron goes surfing by Topanga early some mornings he still brings me back a surprise breakfast burrito.
What to order: Carnitas breakfast burrito, tater tots, classic cheeseburger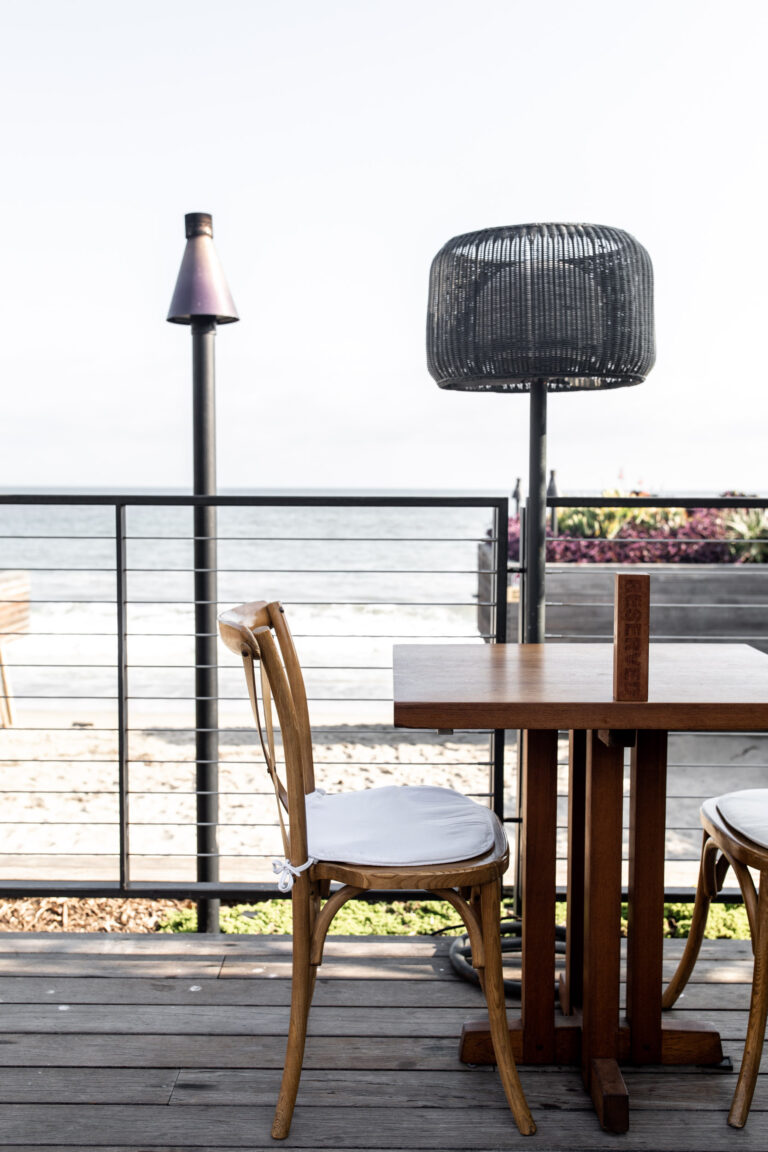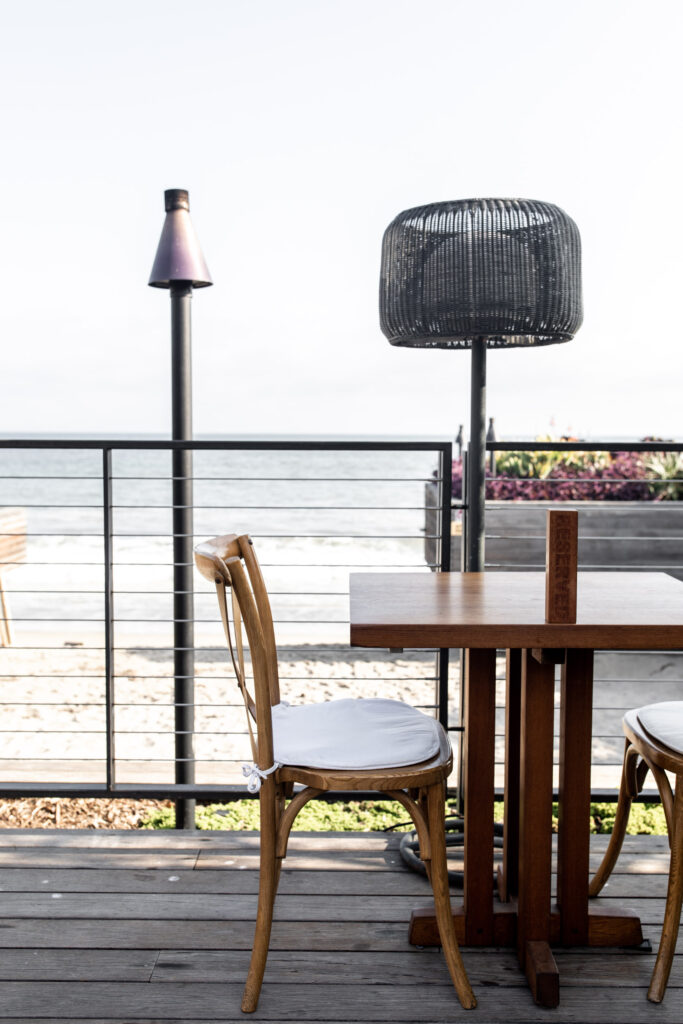 22706 Pacific Coast Hwy, Malibu, CA 90265 | noburestaurants.com
This location of the very popular and celebrity–frequented outpost of the sushi chain is owned by Chef Nobu Matsuhisa and Robert De Niro and opened back when I was a senior in college. Prior to that it was tucked in a nook in the Country Mart (which I would order from my freshman year). My roommate, Kirsten, and I would reward ourselves after a tough week or celebrate good test scores with drinks and an appetizer at Nobu. I love their crispy rice and spicy tuna. I even based my recipe on how they serve their version on cups of butter lettuce.
Many of the dishes here have been recreated by, and served in sushi restaurants around the world. The yellowtail jalapeño is another favorite of mine as is the miso black cod. While you can get the same dishes at any other Nobu, the panoramic ocean view is what sets it apart. It's located next to Little Beach House Malibu, the private Soho house location. It's a great place to celebrate a special occasion like a birthday or anniversary (it's definitely on the pricier end). Always make a reservation and request outdoor seating (even post-COVID) because the ocean view makes the experience. If you are looking for a less scene-y sushi spot, look to Bui Sushi instead.
What to order: Spicy tuna and crispy rice, yellowtail jalapeño, miso black cod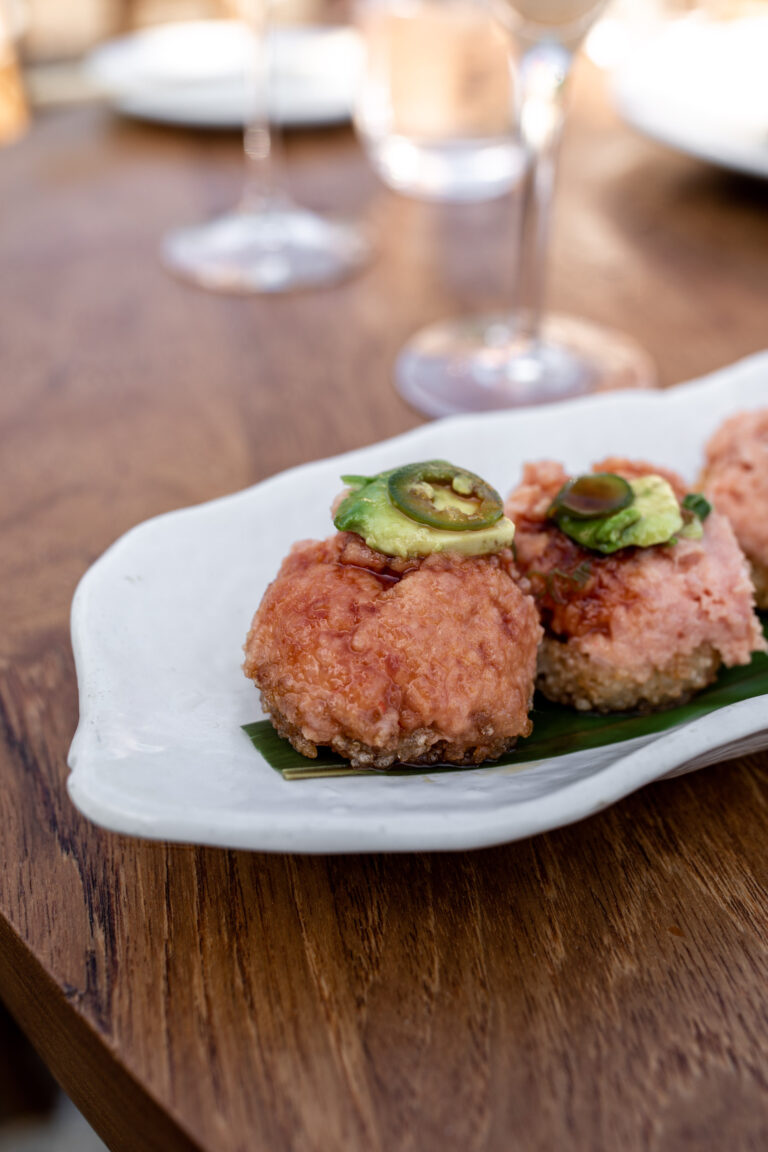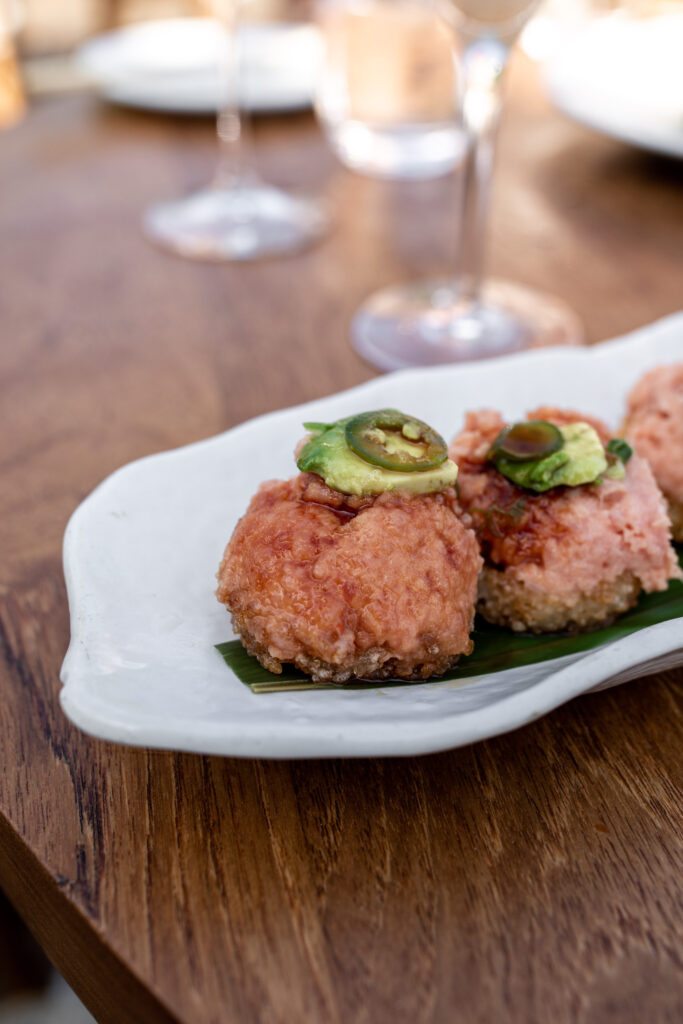 21150 Pacific Coast Hwy, Malibu, CA 90265 | dukesmalibu.com
Duke's is a small chain with a total of 6 locations spread throughout Hawaii and Southern California. The restaurant itself is split into two parts. The seated restaurant side (with a bigger menu) and the barefoot bar, which is first come, first serve high-tops and bar tables. My favorite thing about Duke's is their Taco Tuesday. You can get "a la carte" fish tacos for $4.50 (they used to be about $3 when I was in college so they have increased significantly) and cheap beer. For a town that really doesn't cater to the college experience you could always count on a packed house at Dukes for Taco Tuesday – and a cheap meal. One semester my sophomore year I only missed one week of Taco Tuesday the entire semester. My personal claim to fame.
What to order: Beer-battered fish tacos (I don't think I've ever ordered anything else)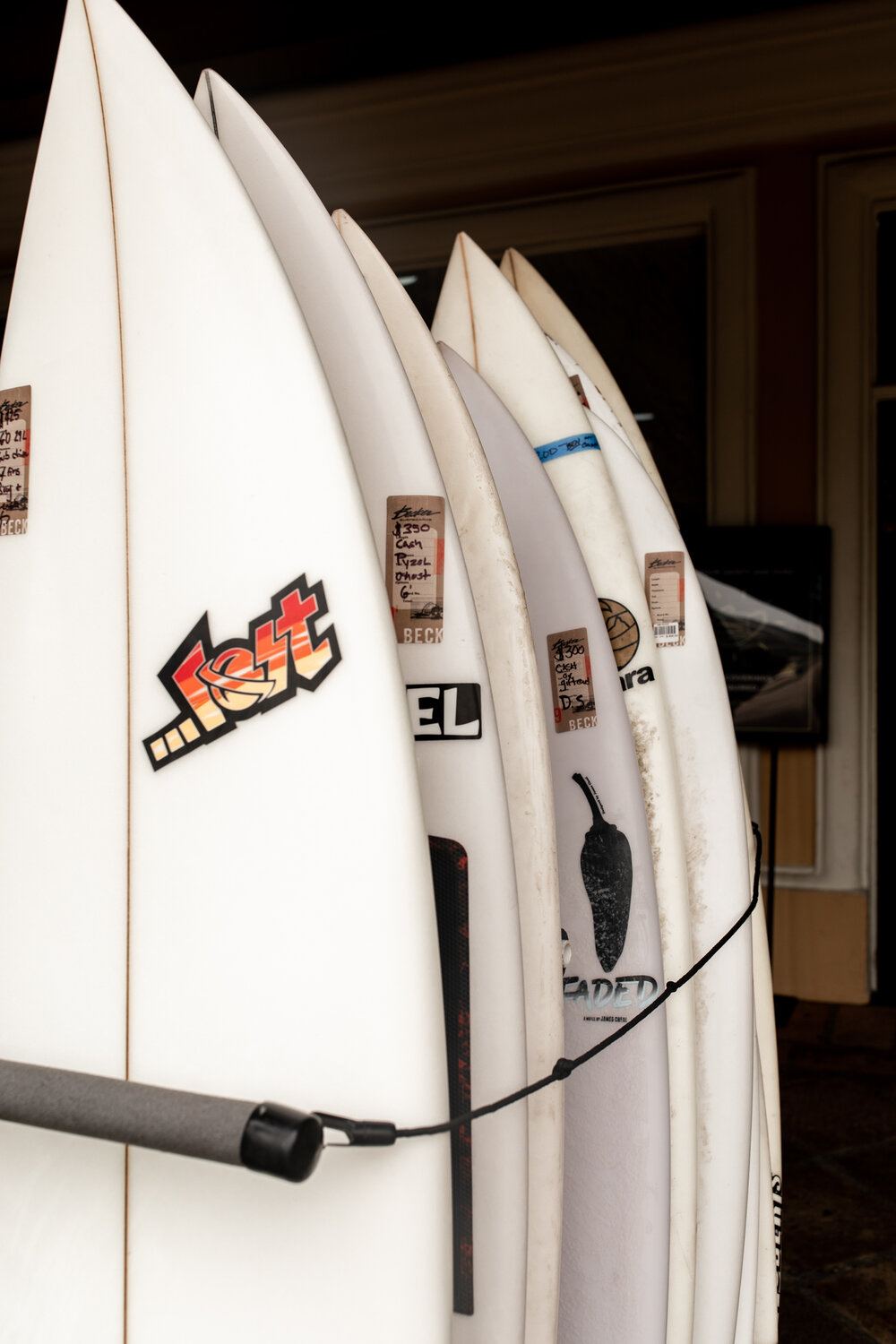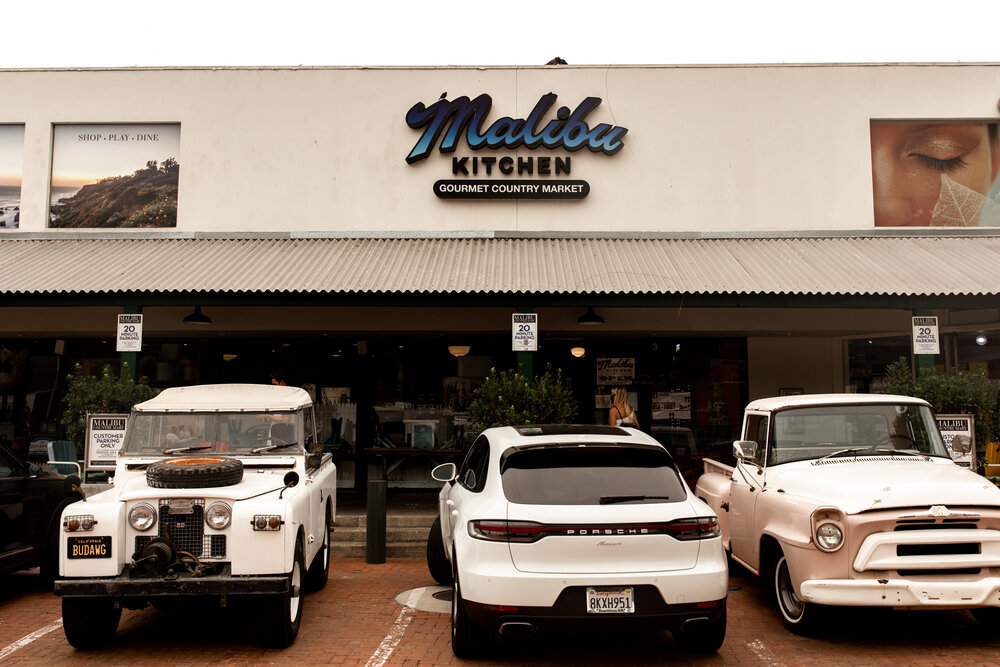 3900 Cross Creek Rd, Malibu, CA 90265 | facebook.com/Malibu-Kitchen
If you're looking for a good sandwich to take to the beach this is the spot. Not to be confused with Country Kitchen, they have a whole list of specials: sandwiches, salads, baked goods and more ranging from classics to new takes. This is more like a New York deli with a small gourmet shop rather than something you would expect to see in the Country Mart. The owner Bill Miller, has been compared to the Seinfeld character, the Soup Nazi. If you get to the front of the line to order and you're on the phone he won't serve you. There are signs, so you have been warned, but it's part of its story and charm.
Must-order: Fresh Mozzarella & Tomato Sandwich; Reuben; Meatloaf Plate
23401 Civic Center Way Suite 3A, Malibu, CA 90265 | howdyscafe.com
A mix of California Coastal and Latin cuisine; Howdy's used to be located in the Malibu Country Mart but moved behind it next to the new Whole Foods. It's a great spot to stop for burritos and tacos with fresh seafood. I love the seafood burrito stuffed with shrimp. The Pepperdine burrito is also great. It's a classic that comes filled with your choice of meat (chicken, steak or pork), guacamole, cheese, salsa, rice and beans.
What to order: Seafood burrito, Pepperdine burrito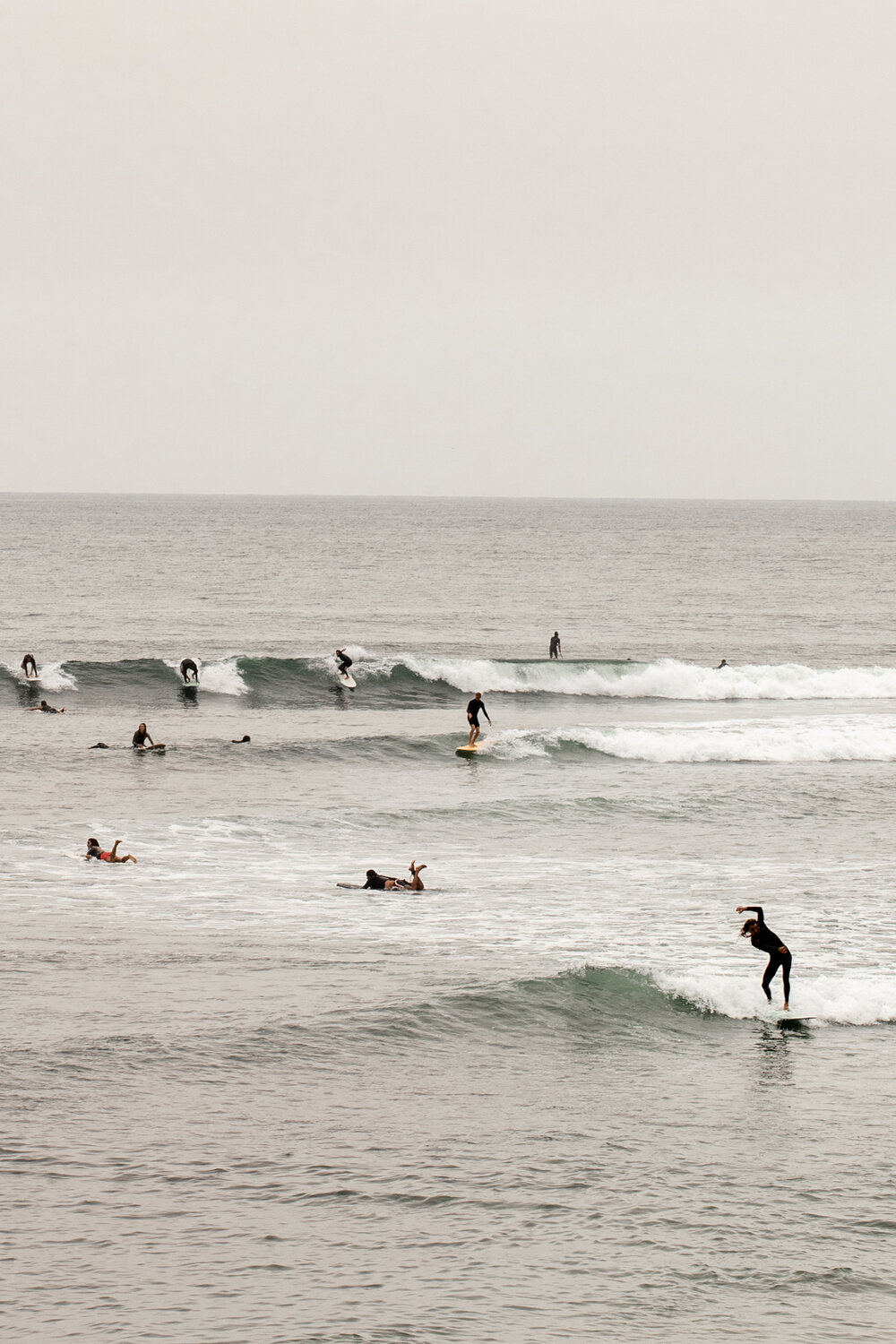 23000 Pacific Coast Hwy, Malibu, CA 90265 | malibu-farm.com
Malibu Farm is actually two different restaurants. The first at the start of the pier includes table service, reservations for dinner and a full service bar. The Cafe section is located at the end of the pier with counter service and plenty of available seating. If you don't want to pay for the Nobu but still want a meal with a stellar view, I'd highly recommend breakfast or lunch here. I also love the farmhouse meets beach aesthetic with wood and sheepskin blankets lining the benches of the indoor tables.
What to order: Multi-grain pancakes, fried egg sandwich, crab cake sandwich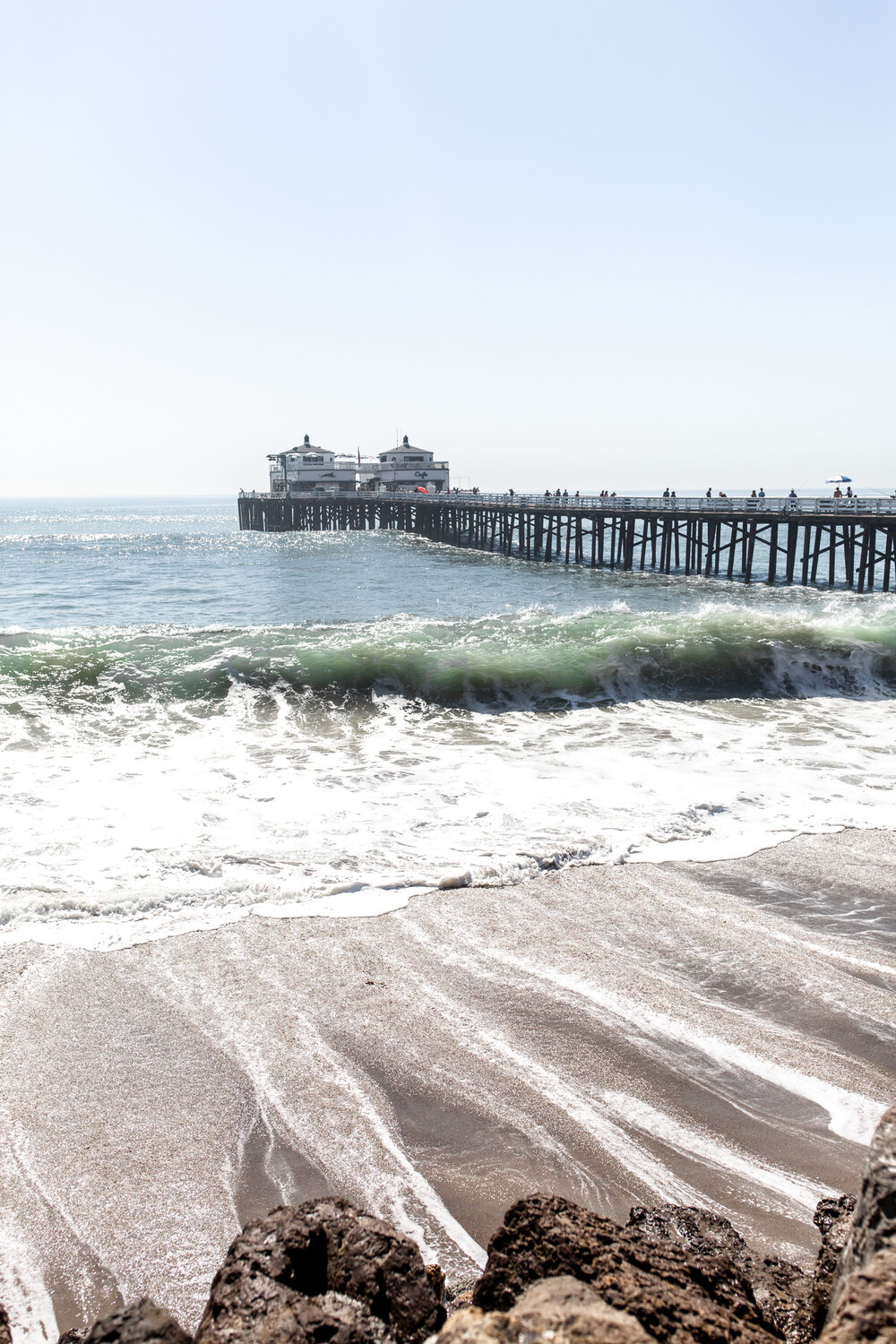 To Drink
18741 Pacific Coast Hwy, Malibu, CA 90265 | rosenthalestatewines.com
This tasting room with a large outdoor space filled with patio tables is a favorite for birthday celebrations. You can call to reserve seating areas ahead of time. You will just need to buy a minimum number bottles of wine or chance it and show up to snag an area. On weekends they have food trucks and live music or you can bring your own food to enjoy with the wine for the perfect outdoor entertainment. They carry both their Rosenthal and Surfrider wine labels in the tasting room. A portion of the proceeds from each bottle of Surfrider wine sold goes to support organizations that help preserve oceans and wildlife. I'd recommend doing a tasting flight but my favorite is the 2017 Valentine Rosé from Santa Ynez Valley.
To Stay
23033 Pacific Coast Hwy, Malibu, CA 90265 | thesurfridermalibu.com
A newer boutique hotel of my Nancy Meyers dreams, located across from the Malibu pier. The aesthetic is the perfect mix of beach-y chic and features a rooftop patio with an ocean view. While I haven't actually stayed here myself (I live 15 minutes away) I would absolutely stay there if I were from out of town. Malibu doesn't have a ton of hotel options. Many are located on the other side of Malibu canyon, so this is definitely a good choice.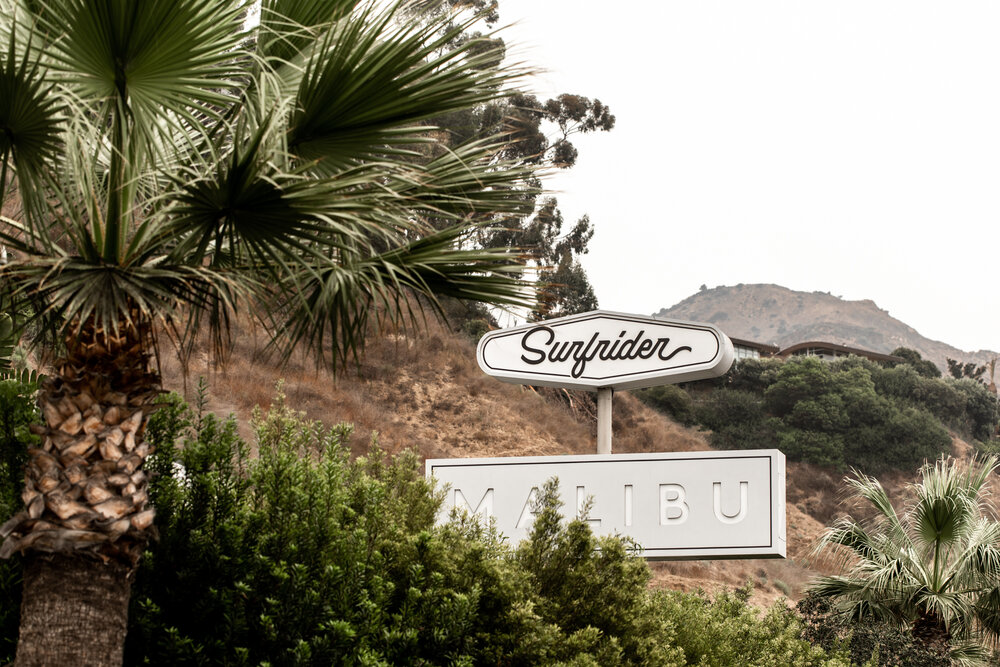 To Do
Hike
The Escondido Falls hike is just under 4 miles round trip. It takes you to a beautiful waterfall (you can decide whether to get to the upper or lower falls depending on difficulty). Type "Escondido Canyon Trail" into your GPS and it will take you to the trail entrance. From PCH turn onto Winding Way and park at the parking lot for the trail. You just have to walk past a neighborhood to get to the trail head.
The Solstice Canyon hike is a low-intensity 2.6 mile hike in the Santa Monica Mountains. It takes you through ruins from the 1982 Malibu fires. From PCH take Corral Canyon Road (the intersection of the 76 station) and park at the entrance on the left.
Beach
Did you know that no beach on California's coast is technically private? Take advantage of coastal access points (there are always signs to point them out) to take a nice long walk on the beach. I love going to what we called "Ralph's beach" on Malibu Road which I recently learned is really called Puerco Beach. If you are looking for a full beach setup, umbrella and all for a family beach day, I'd recommend heading to Zuma Beach or Westward Beach. There's some street parking but most of the parking lots are paid and the price varies based on traffic. I'll never forget taking a leisurely walk with my roommate at Westward Beach and stumbling upon the filming of an episode of the sitcom "Modern Family".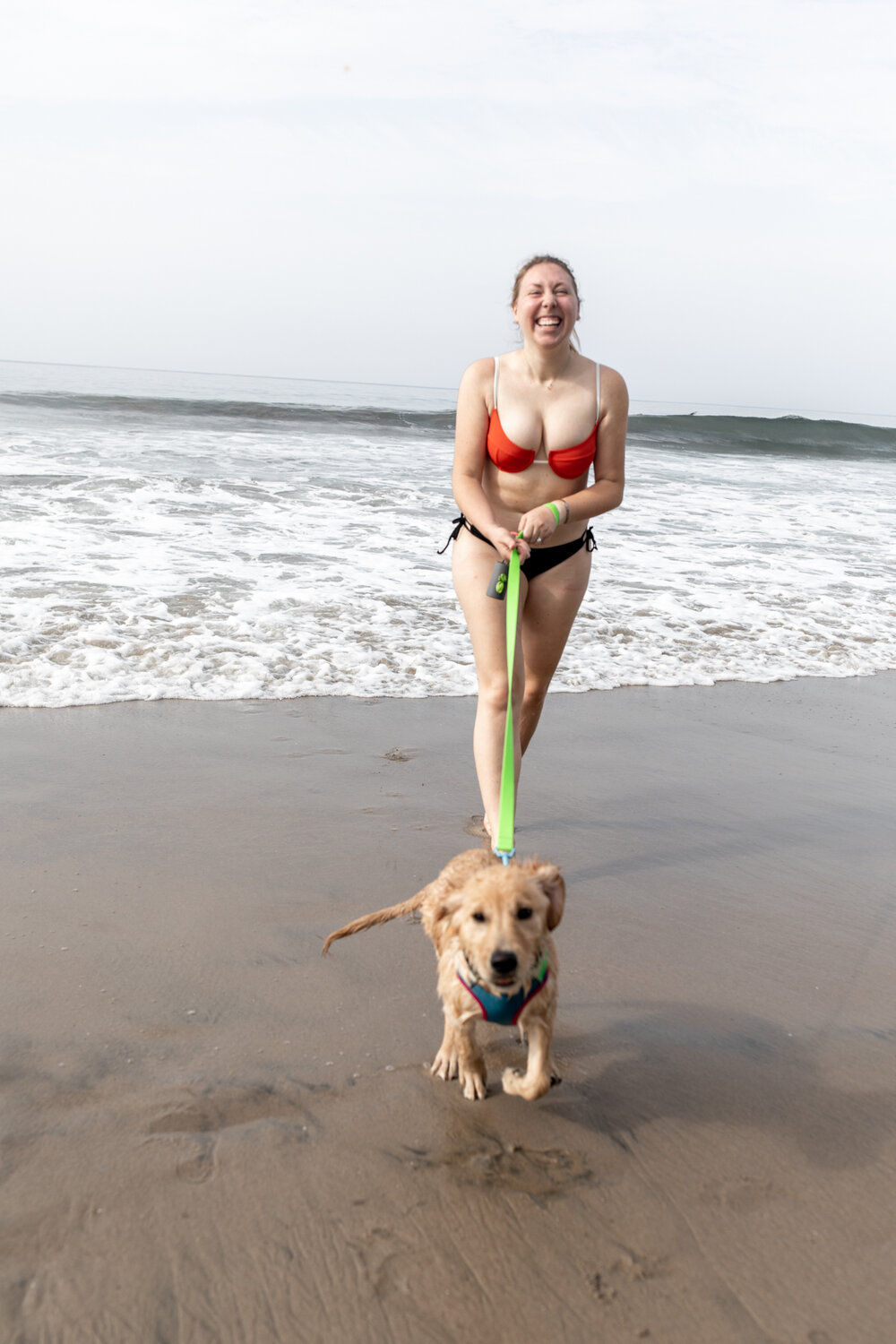 Shop
Malibu has some really great boutiques and there are other kinds of shopping in the Malibu Country Mart. It's one of my favorite places to park and wander around. If you go inside the Country Mart next to John's Garden there's a little kids park and plenty of outdoor seating. It has signage listing it as a "paparazzi free zone".
I also enjoy shopping for my produce in Malibu – they actually have several farms located up in the winding hills. The Fig Ranch Farm Stand is just across from Point Dume. It's a biodynamic farm stand open daily from 10am – 6pm with a great selection of seasonal produce. If you're heading towards Zuma Beach it's on the right hand side of PCH.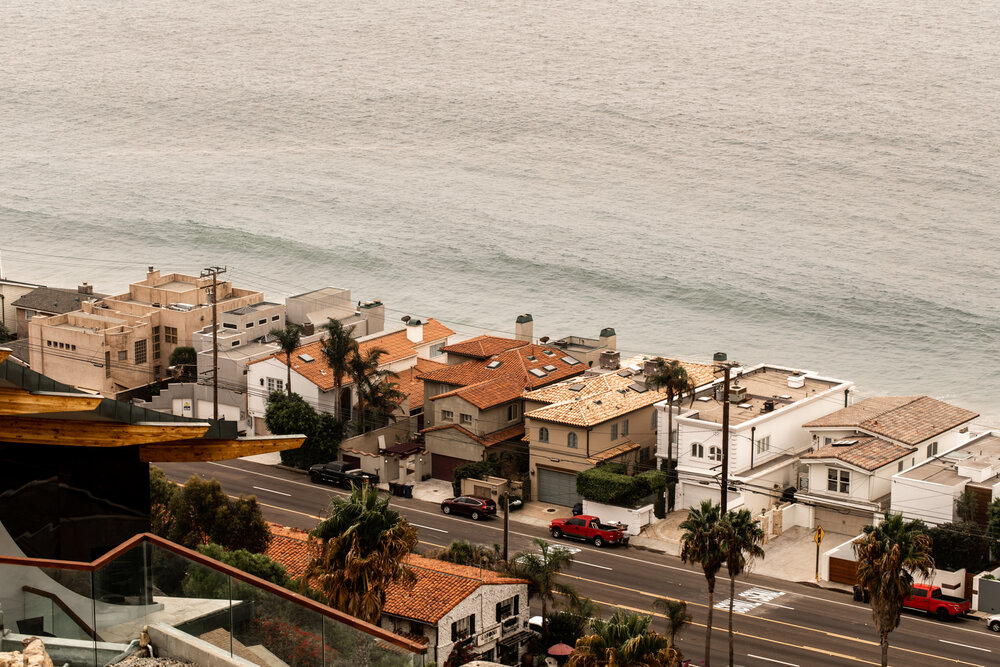 Malibu will always hold a special place in my heart. After the Woolsey fire tore through Malibu in November of 2018 it was incredible to see the beach community come together to rebuild. It's a place of elegance and charm where (if I could afford it) I could see myself settling down someday.