Honey butter chicken biscuits always make me think of stops at Whataburger when we're down in Tuscaloosa, Alabama or passing through Texas. The regional fast food chain serves pieces of fried chicken on biscuits slathered with a blend of butter and honey known as "liquid gold".
I add a small amount of hot sauce to my honey butter to provide a bit of spice to balance and contrast the sweet. Whataburger only serves their honey butter chicken biscuits from 11pm until 11am but with this recipe you can have it whenever you get a craving! Skip the drive through and satisfy your cravings for crispy fried chicken biscuits.
Fried Chicken Biscuits With Hot Honey Butter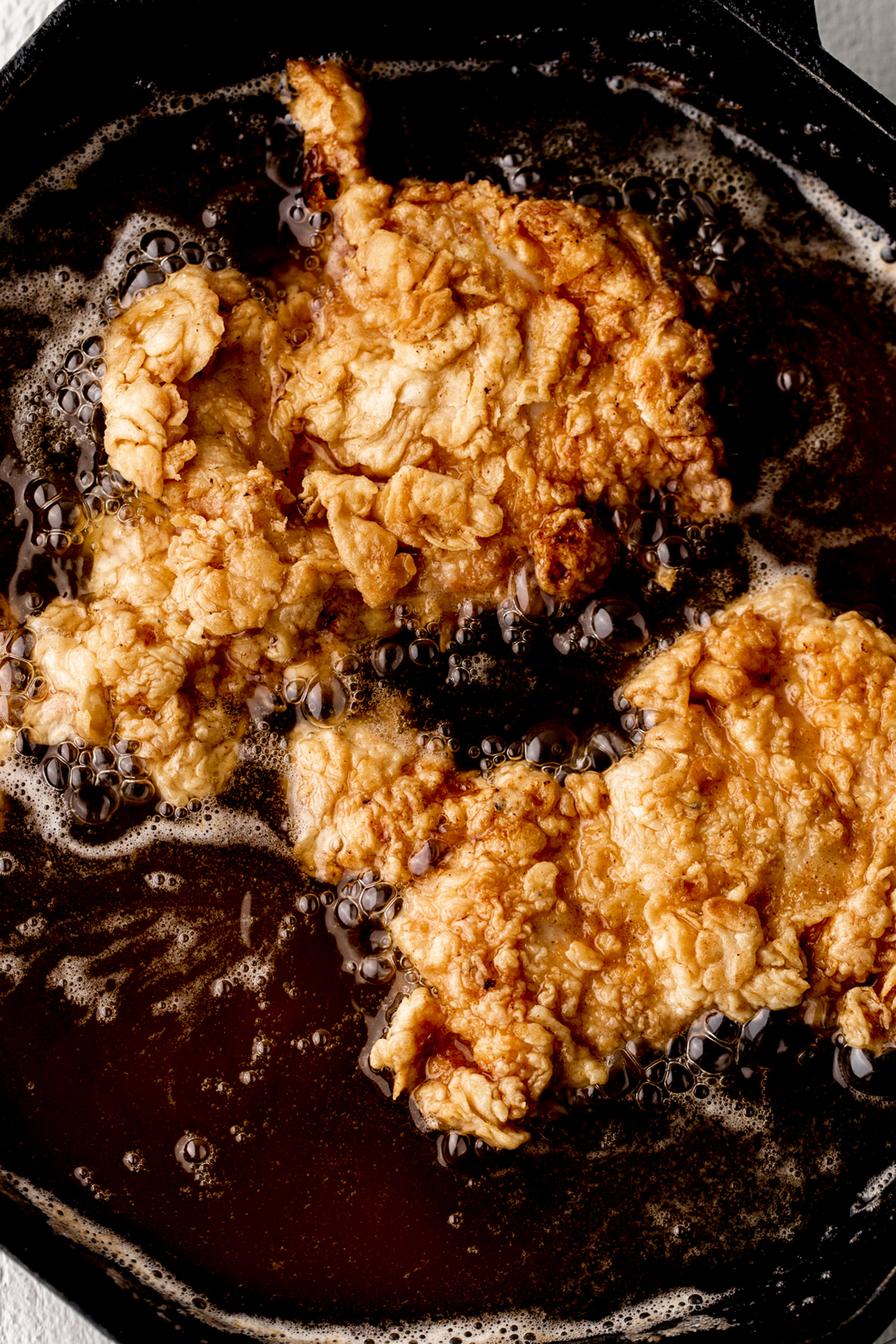 What's different about these fried chicken biscuits with hot honey butter:
I heavily season the flour mixture that the chicken thighs are dredged in to add additional flavor throughout. Chicken thighs are my cut of choice when frying chicken, as the meat is much more tender and stays juicier than chicken breasts. The smaller size of chicken thighs is ideal for serving on 3-inch biscuits.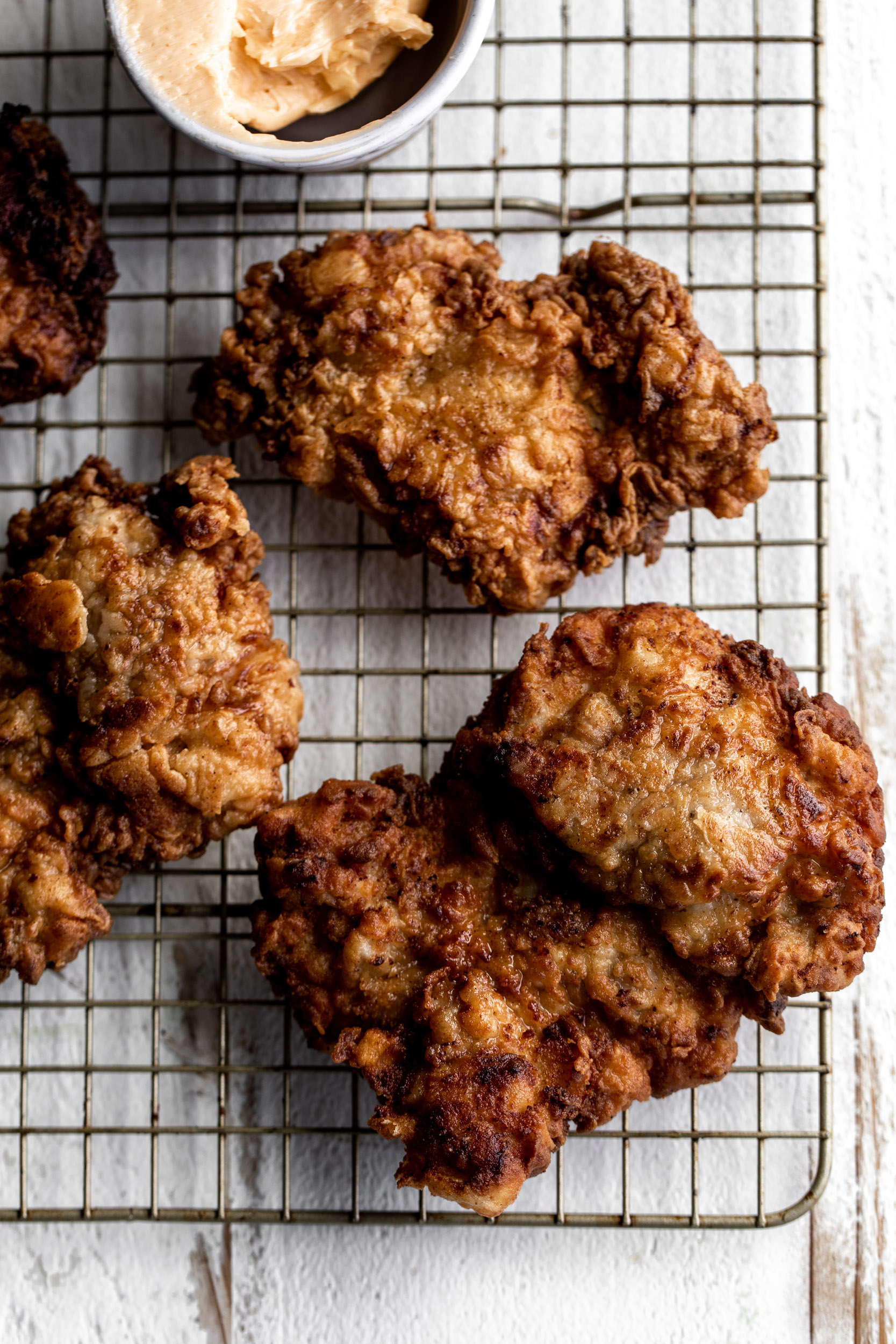 Ingredients for fried chicken biscuits with hot honey butter:
Biscuits
While store-bought biscuits are fine, I'd recommend making a batch of my homemade buttermilk biscuits. They come together with just a few simple ingredients in about 20 minutes.
Chicken thighs
I use chicken thighs in this recipe because they are both a cheaper cut as well as an extremely flavorful. They are also a good size to fit onto the biscuits.
Buttermilk
The typical American buttermilk is low-fat and is ideal for brining the chicken thighs for tender, golden brown fried chicken.
Flour
Simple all-purpose flour is seasoned with spices for dredging the chicken before frying.
Seasonings for the flour mixture
I use a combination of garlic powder, onion powder, cayenne, paprika, salt and pepper to throughly season the chicken.
Vegetable oil
Vegetable oil is a neutral oil with a high smoke point, making it ideal for frying chicken.
Butter
I always use high quality unsalted butter that way the level of salt added can be adjusted according to personal preference.
Honey
Make sure the only ingredient on the back is honey! There should be no other additives (such as corn syrup or sugar syrup). Look for raw, unfiltered honey.
Hot sauce
While you can certainly use whatever hot sauce you have on hand I usually opt for Crystal Louisiana-Style hot sauce. It's a simple vinegar-based hot sauce with a medium heat similar to a tabasco sauce (an estimates Scoville units of 4,000).

How To Make Fried Chicken Biscuits With Hot Honey Butter:
Step 1:
Brine the chicken thighs in buttermilk to tenderize the meat.
Step 2:
Dredge the chicken in a seasoned flour mixture.
Step 3:
Fry in a cast iron pan until the chicken until golden brown.
Step 4:
To make the hot honey beat together the hot sauce, butter and honey.
Step 5:
Split the biscuits, add the fried chicken on top and serve with plenty of hot honey.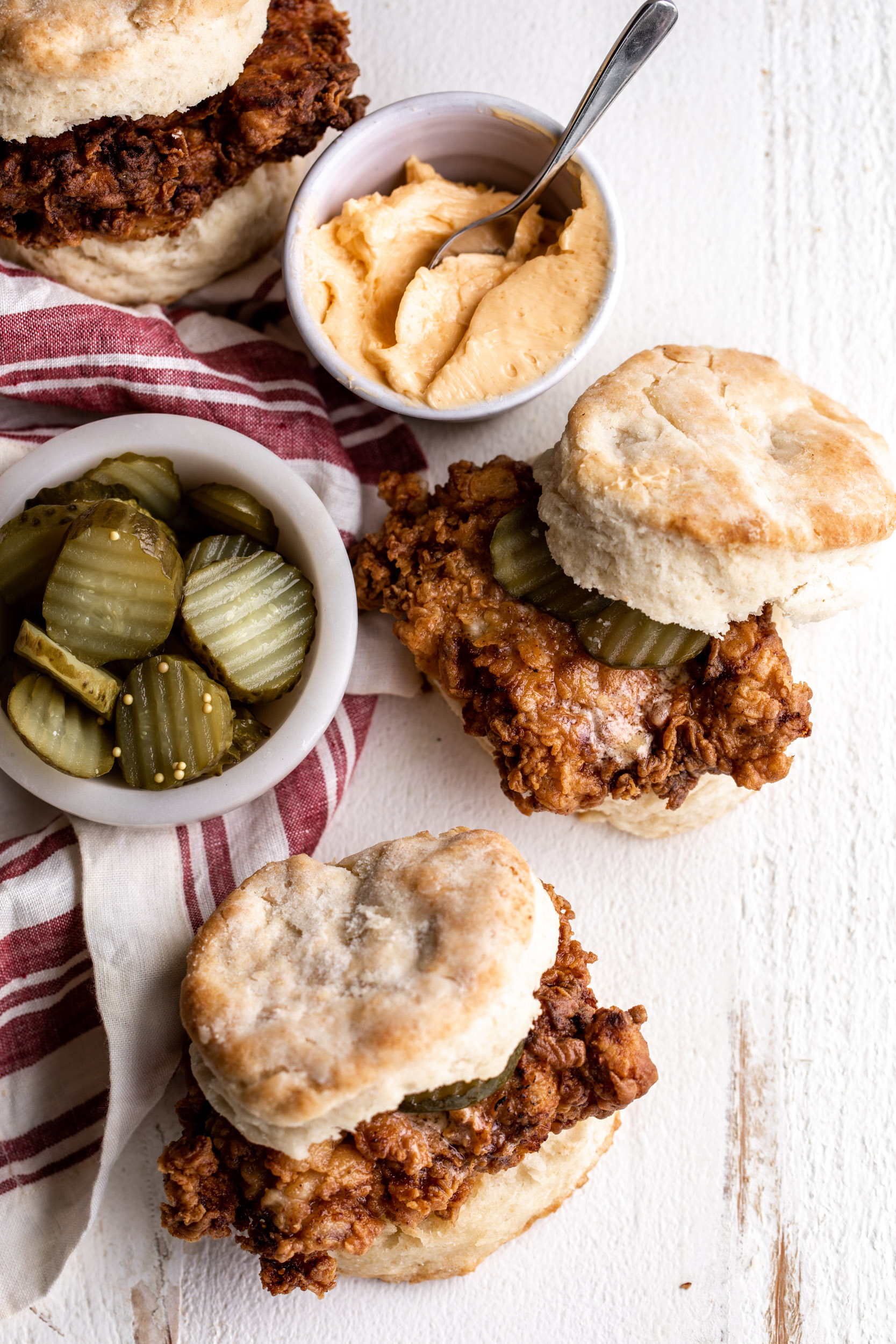 What exactly is buttermilk?
Buttermilk traditionally was the liquid leftover after churning butter. Now, rather than a byproduct, the culture is added to milk to create a product for sale. Brining the chicken in buttermilk results in extremely tender and juicy fried chicken.
While buttermilk is thick and creamy, it actually has less fat than most milk. If you buy a carton and don't know what to do with the rest of it, after making these buttermilk biscuits, I'd recommend making pancakes, adding it to the dressing for this BLT salad or using it for this brûlée peach dessert.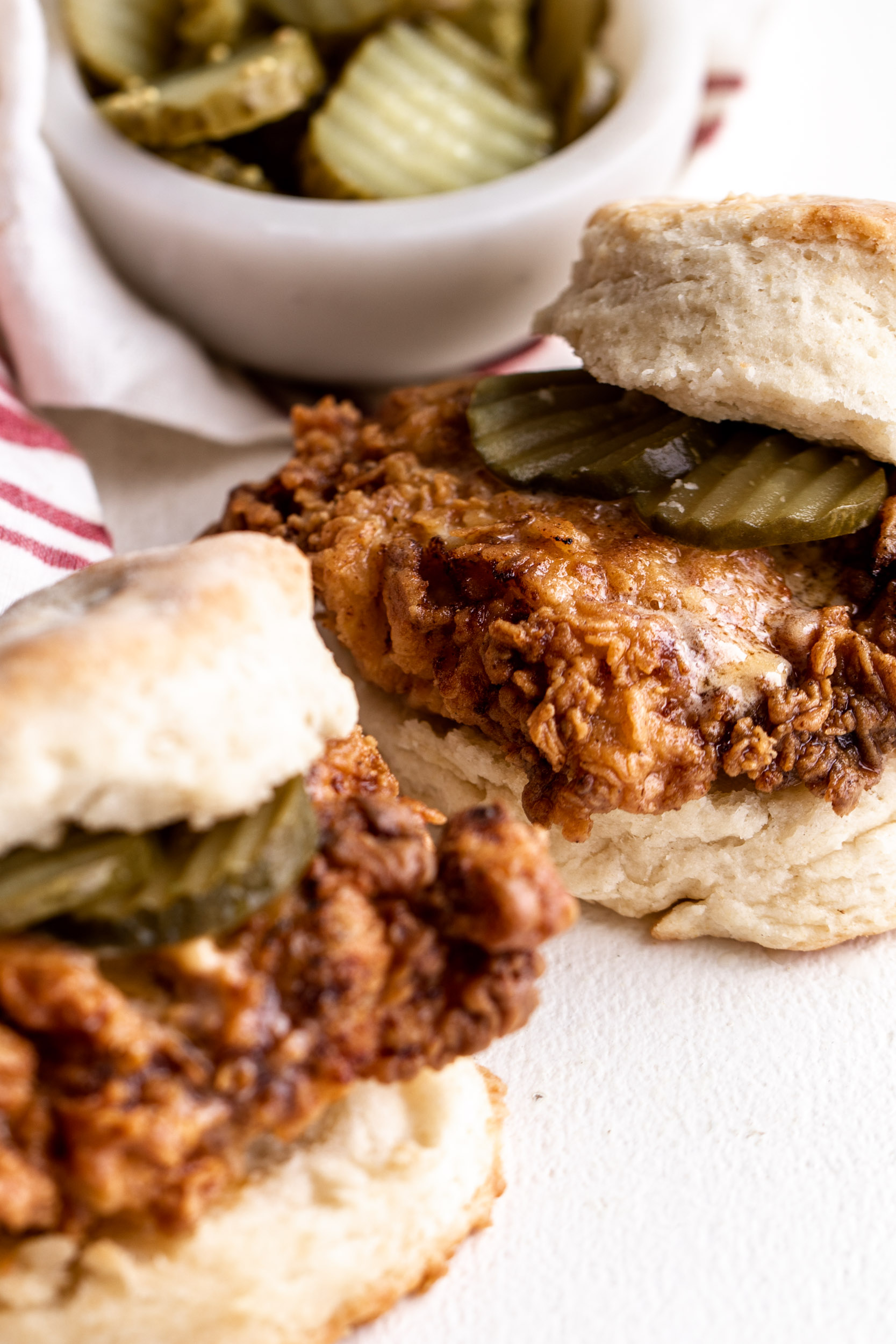 Fried Chicken Biscuits With Hot Honey Butter
For the fried chicken:
2

cups

low-fat buttermilk

2

tablespoons

kosher salt

4

boneless, skinless chicken thighs

2

cups

all-purpose flour

2

tablespoons

garlic powder

1

tablespoon

onion powder

1

tablespoon

freshly ground black pepper

1

tablespoon

cayenne pepper

1

tablespoon

paprika

Vegetable oil,

as needed, for frying
For the hot honey butter:
For the fried chicken:
Add the buttermilk and salt to a large mixing bowl and whisk until combined. Add the chicken thighs and submerge in the buttermilk. Cover and refrigerate for at least 1 hour and up to overnight.

When ready to fry, add the flour, garlic powder, onion powder, pepper, cayenne and paprika to a large mixing bowl and whisk to combine.

Fill a large, heavy bottomed cast iron pan or Dutch oven with enough vegetable oil to reach 1" up the pan. Heat the oil to 350ºF.

Working one piece at a time, remove chicken from marinade and dredge the chicken in the flour mixture, shaking off excess flour.

Fry in the oil until the chicken is golden brown on all sides, about 8 minutes total. Remove the fried chicken from the oil and place on a cooling rack set over a baking sheet or a paper towel lined plate to drain the excess oil.
For the hot honey butter:
Add the butter, honey and hot sauce to the bowl of a stand mixer with the whisk attachment and whisk until completely combined and smooth. If you don't have a mixer you can beat the ingredients together by hand.
DID YOU MAKE THIS?
TAG ME ON INSTAGRAM TO BE FEATURED ON MY STORIES! @cookingwithcocktailrings