Nashville-Style Hot Chicken
As the name implies, Nashville hot chicken hails from Nashville, Tennessee and is in fact, very spicy. This type of fried chicken has gained popularity in recent years with even KFC releasing their own version and has expanded across the country with the opening of popular spots like Los Angeles's Howlin' Rays which serves their version to a line of customers wrapping around the block on a daily basis. They even tweet out their line wait times now.
When I was in Nashville I fell in love with Hattie B's and their style of serving fried chicken coated with a spicy mixture. While they aren't the first to start serving hot chicken (check out Prince's), they do a great job and offer delicious chicken with a great flavor profile.
The spice blend can be adjusted to different heat levels ranging from mild (basically just plain fried chicken) to "shut the cluck up" also known as "burn notice" – I don't understand how people can eat that level.
This recipe is based on a middle of the road medium to hot spice level. The spice comes from the blend of spices such as cayenne, brown sugar, chili powder, garlic powder and paprika.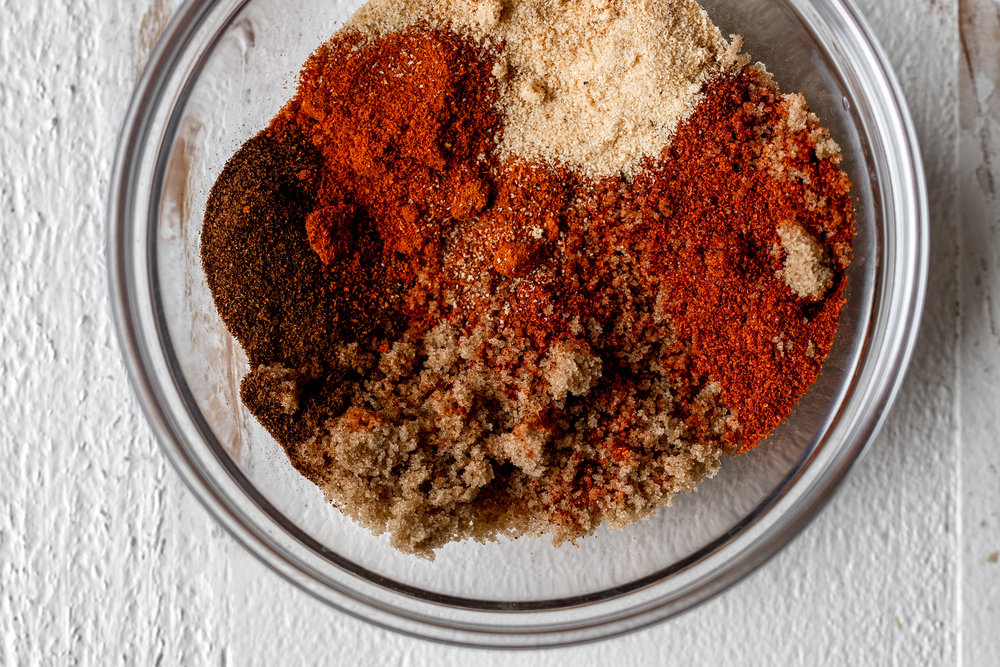 A lot of people wonder why fried chicken and a lot of traditional BBQ is typically served with plain white bread in the South – it's so that the bland bread can soak up all the spicy juices from the meat (not to mention that the pieces of bread and acidic pickles eaten in between bites can help to cool down the heat).
While an order typically comes adorned with a slice of white bread and a pickle, these are not considered sides. The chicken tastes great when served with a variety of sides like mac and cheese, collard greens, corn bread or baked beans.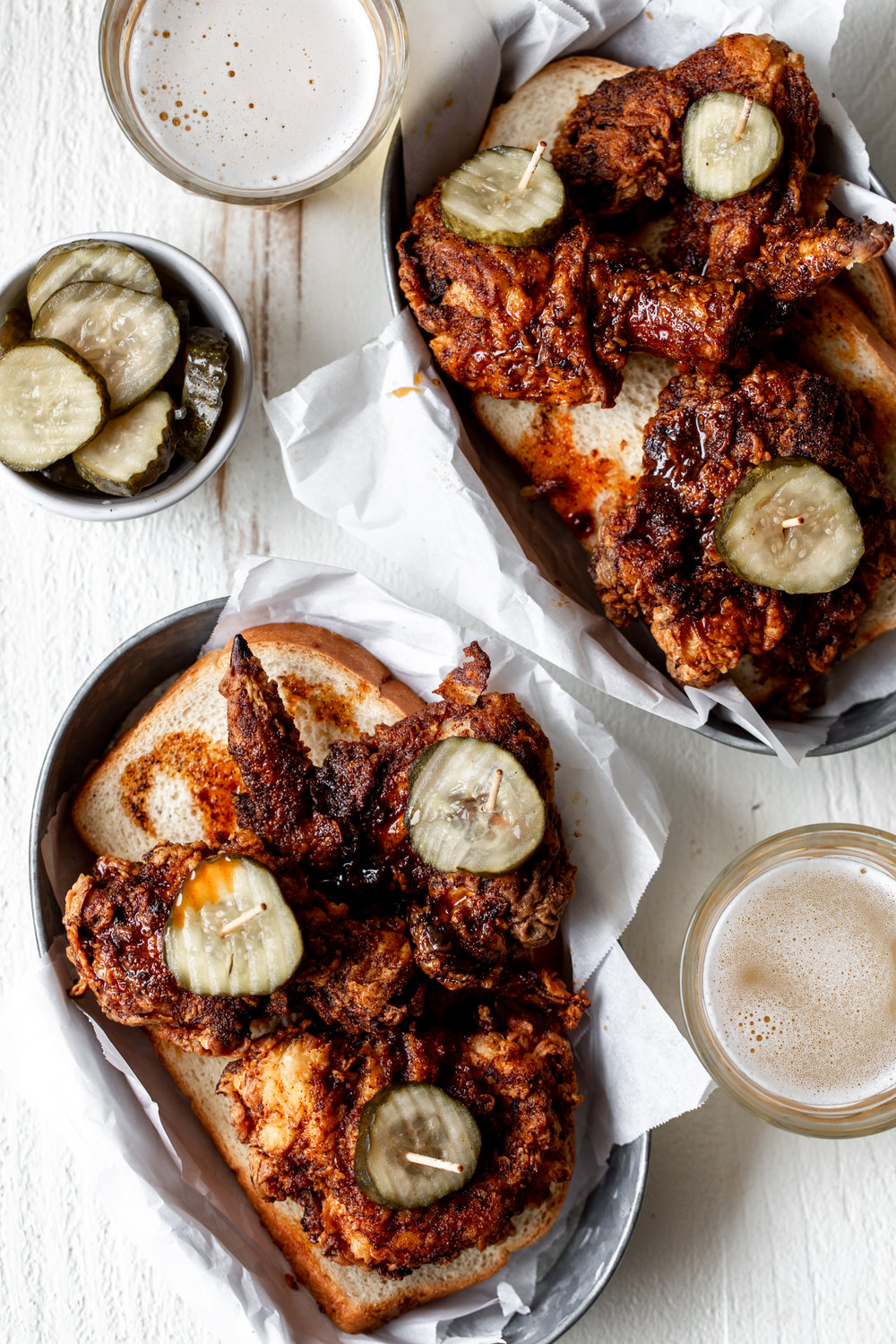 If you don't want to use a whole chicken, you can substitute 8 bone-in, skin-on chicken thighs. I found that baking the chicken for a short period of time after frying it and then brushing it with the spice mixture lets the flavors sink in while keeping the chicken crispy. No one wants soggy fried chicken.
Reminder: Do not touch your eyes after eating hot chicken!!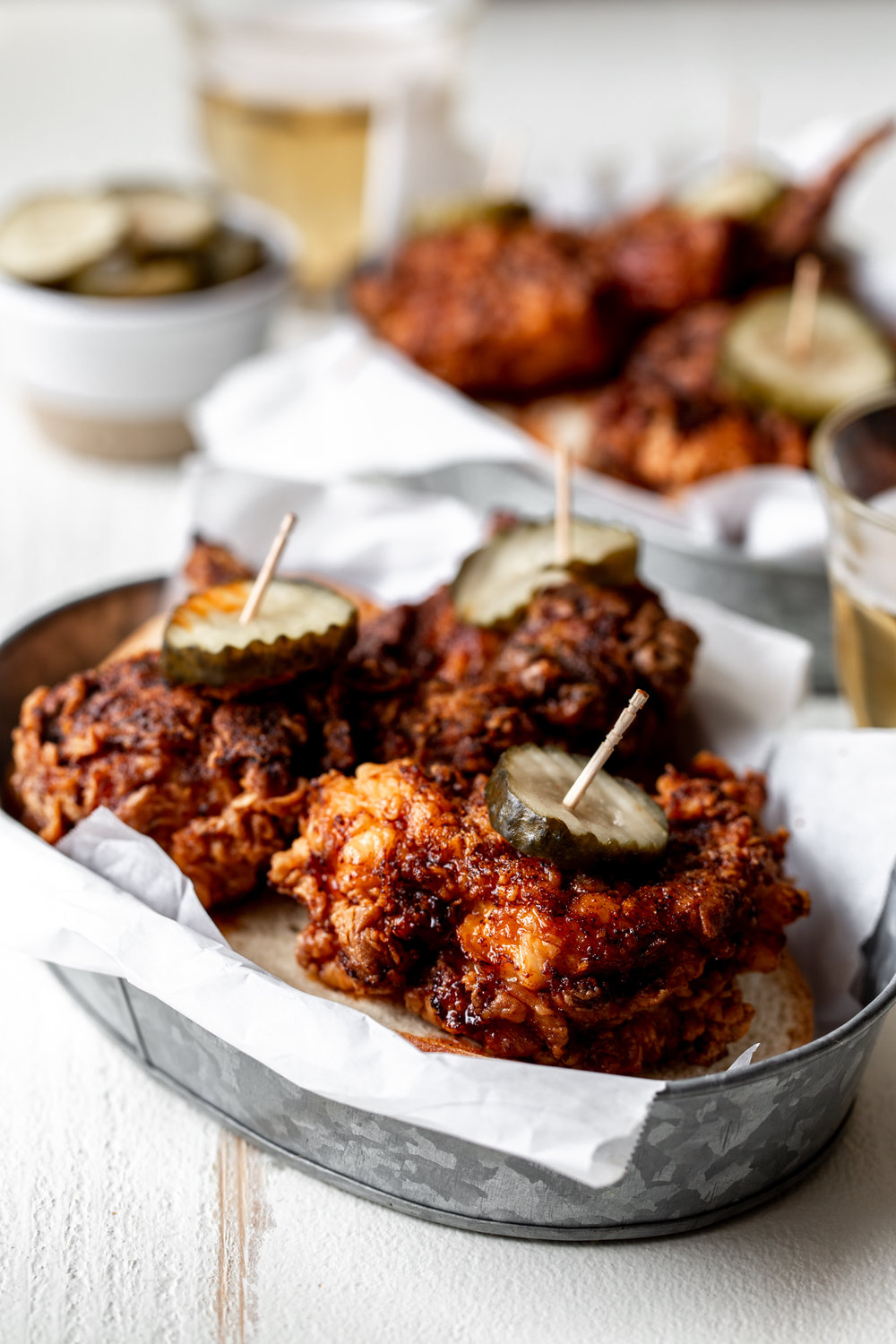 Nashville-Style Hot Chicken
3

cups

buttermilk

1

tablespoon

kosher salt

1

tablespoon

granulated sugar

1

teaspoon

freshly ground black pepper

1

whole 4½-pound chicken,

cut into 10 pieces

Vegetable oil,

as needed, for frying

3

eggs

2

tablespoons

Tabasco® hot sauce

or other vinegar-based hot sauce

3

cups

all-purpose flour

3

tablespoons

cayenne pepper,

add an additional tablespoon for added heat level

2

packed tablespoons dark brown sugar

2

teaspoons

chili powder

2

teaspoons

paprika

1

teaspoon

garlic powder

Kosher pickles,

thinly sliced, for serving

White bread,

for serving
In a large bowl whisk together the buttermilk, salt, sugar and pepper until combined. Add the chicken pieces to the brine. Turn to coat the chicken in the mixture and refrigerate, covered for at least 2 hours and up to overnight.

Fill a large heavy-bottomed pot with enough oil to reach 2-inches up the side of the pot. Heat the oil to 350°F.

Remove the chicken from the brine to a large plate. Whisk the eggs and hot sauce into the buttermilk brine. Add the flour to another large mixing bowl and set aside.

Preheat oven to 425ºF.

Working a few pieces at a time dip the chicken pieces back in the buttermilk mixture then dredge in the flour, shaking off any excess flour.

Place into the oil and fry until the chicken is cooked thoroughly and golden brown on the outside, about 6 to 10 minutes depending on the size of the piece (legs take less time than breasts).

Remove the chicken to a wire cooling rack over a baking sheet and repeat with the remaining chicken. In a small bowl whisk together the cayenne, brown sugar, chili powder, paprika and garlic powder. Add ¾ cup of the hot oil and whisk to combine. Use a pastry brush to brush the seasoning mixture on all sides of the fried chicken.

Place the baking sheet in the oven and let the chicken cook for an additional 10 minutes. Serve the chicken with sides of white bread and pickles.
DID YOU MAKE THIS?
TAG ME ON INSTAGRAM TO BE FEATURED ON MY STORIES! @cookingwithcocktailrings