Sponsored by Silver Springs Foods.
Barbecue specialties differ by region – St. Louis has ribs, Kansas City is known for their sweet and tangy sauce, North Carolina uses a vinegar-based sauce and South Carolina favors a mustardy sauce. Well, Alabama has its own signature sauce for pairing with BBQ. Alabama white sauce is a tangy barbecue sauce made with mayonnaise, apple cider vinegar and horseradish.
Fried Chicken Sandwich with Alabama White Sauce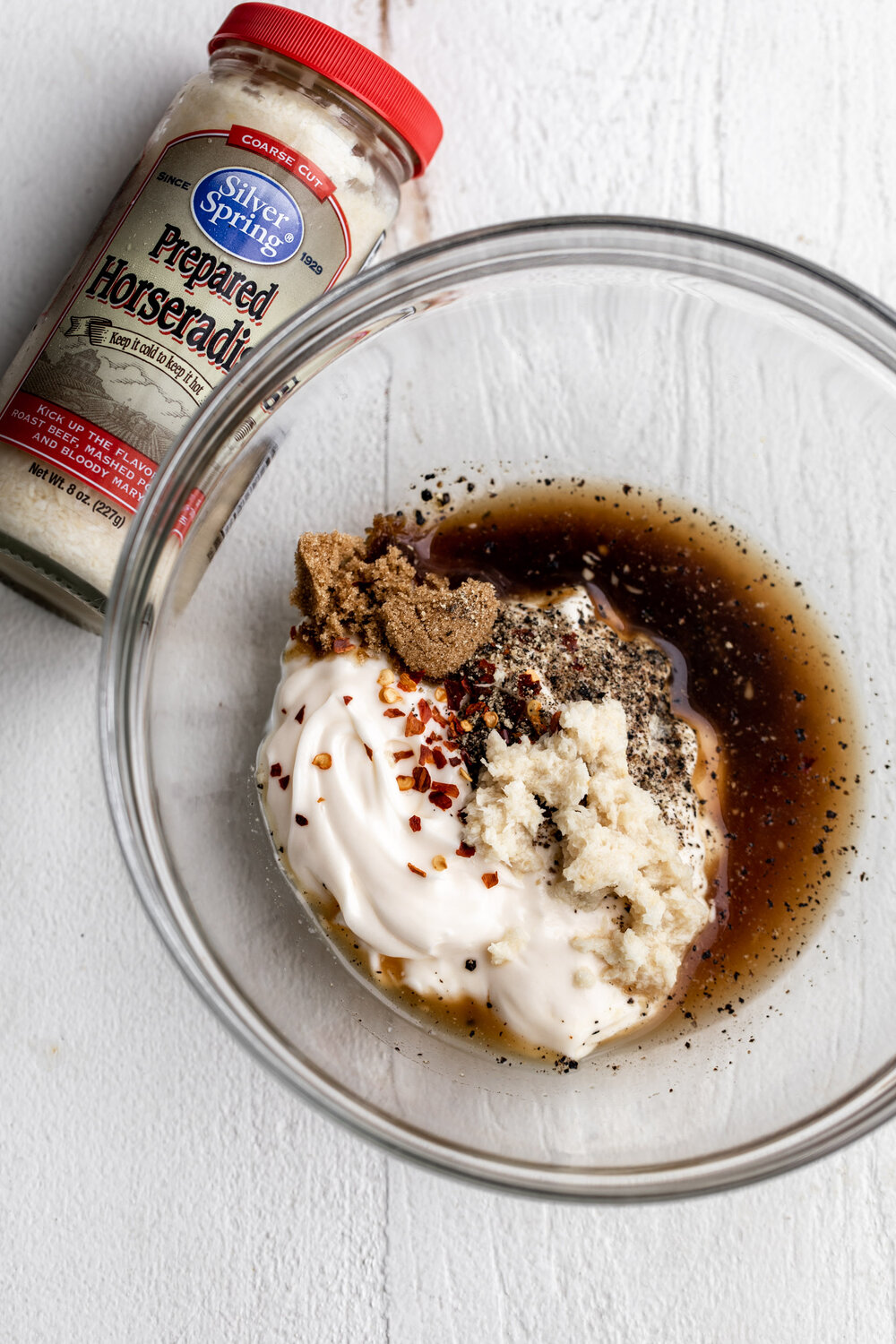 More About Alabama White Sauce
After many trips to Alabama for football games I was first intrigued with the sauce because it's so different from many others associated with barbecue. The zesty sauce was popularized in Decatur, Alabama and is commonly served on smoked chicken. I enjoy it slathered over crispy, fried chicken as in this recipe.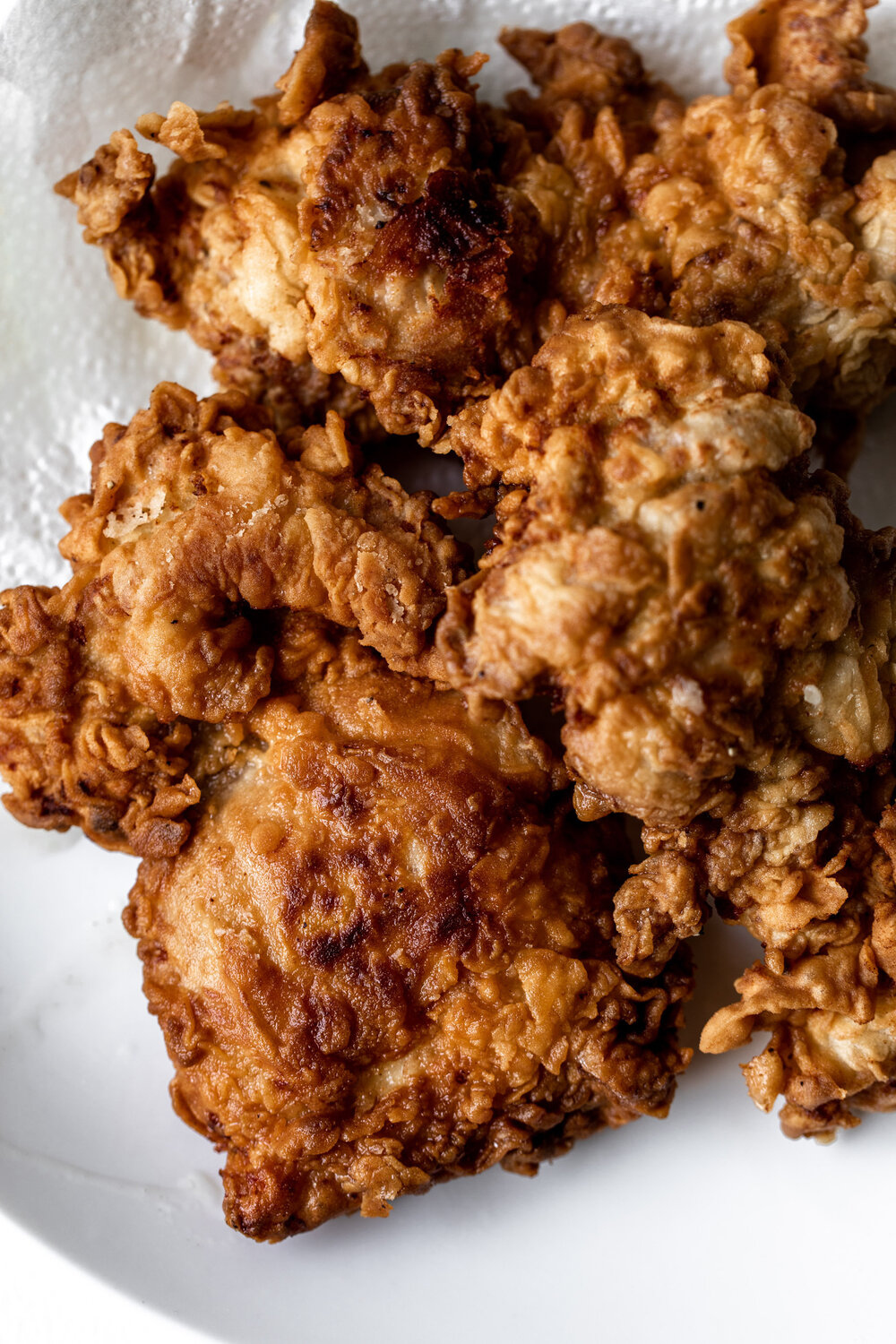 Key Ingredients in This Recipe
Horseradish – Much of the flavor from the sauce comes from the addition of

Silver Springs Prepared Horseradish

. Wisconsin-based company is the world's largest grower and processor of horseradish. Many people don't realize that horseradish is actually a root vegetable which is grated and combined with vinegar and salt for the commonly used condiment and its more familiar signature sharp flavor. It's a great way to enhance the flavor of a roast beef sandwich or freshly shucked oysters particularly when served with a Bloody Mary.
Mayonnaise – The base of this sauce is mayonnaise. While you can make your own using my recipe here, it's easiest to just use store-bought!
Apple cider vinegar – Apple cider vinegar gives this sauce it's signature tangy flavor.
Brown sugar – Brown sugar adds a touch of sweetness to balance the other flavors in the Alabama white sauce.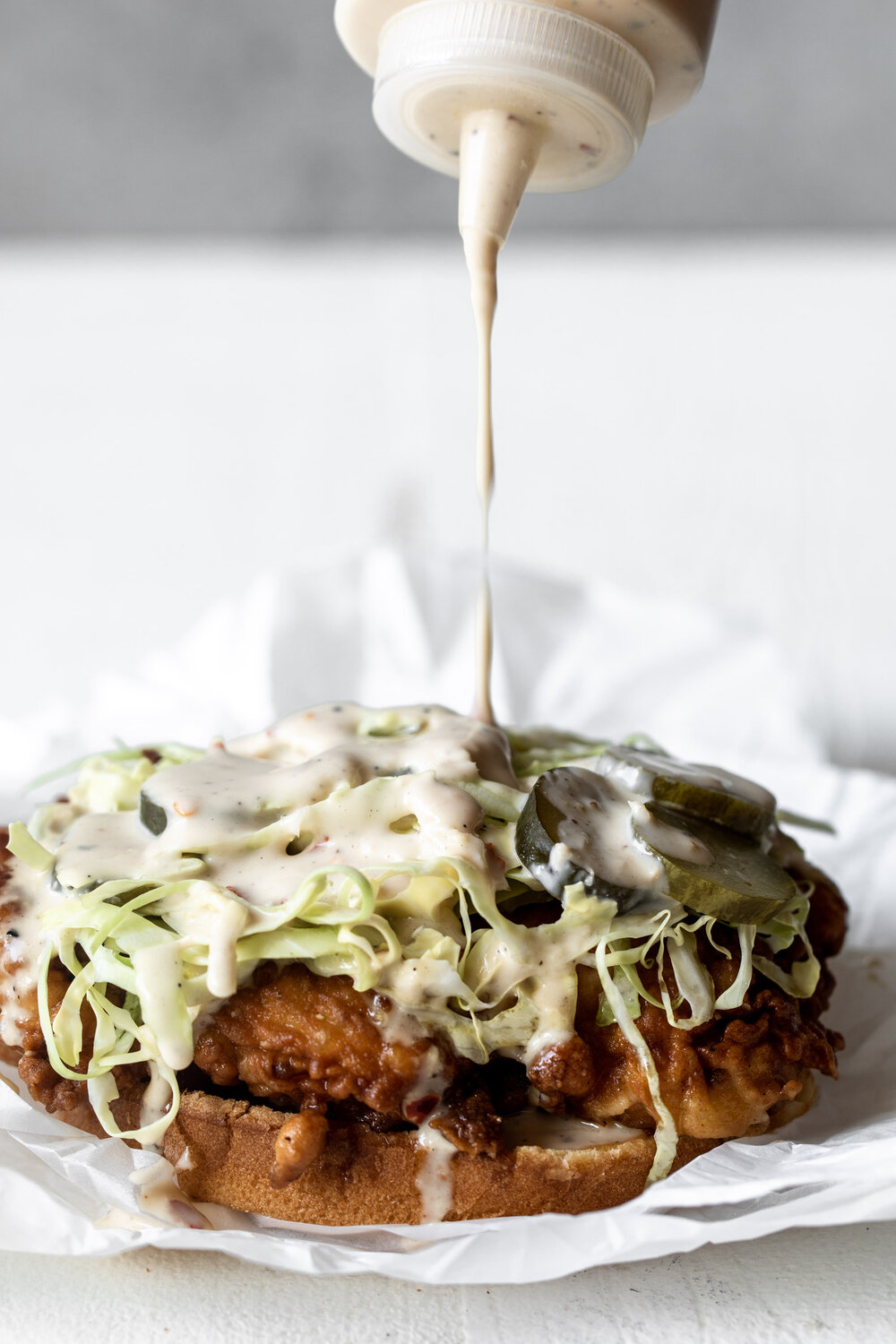 Tips and Tricks for This Recipe
Storing Alabama White Sauce
The sauce can be made about 2 weeks ahead of time and stored, refrigerated until ready to use.
Troubleshooting Fried Chicken
The chicken is too dark on the outside but raw inside. Your oil is too hot! Check the temperature of your oil with a thermometer. If you don't have a thermometer then add the end of a wooden stick into the oil. If small bubbles form around the wood then the oil is ready to fry. But if it is bubbling hard then the oil is too hot. The crust of the chicken will fry too fast and the inside won't cook through. This can also happen if you cook the chicken directly from the fridge. The meat is too cold still and won't cook evenly. 
The chicken is oily and takes forever to cook. Your oil is too cold. Take breaks in between batches so the oil can come back to the desired temperature. Every time food is added to hot oil the temperature decreases drastically. Allowing time for it to heat back up again results in an even fry among batches. This could also happen if you are overcrowding the pan when you cook.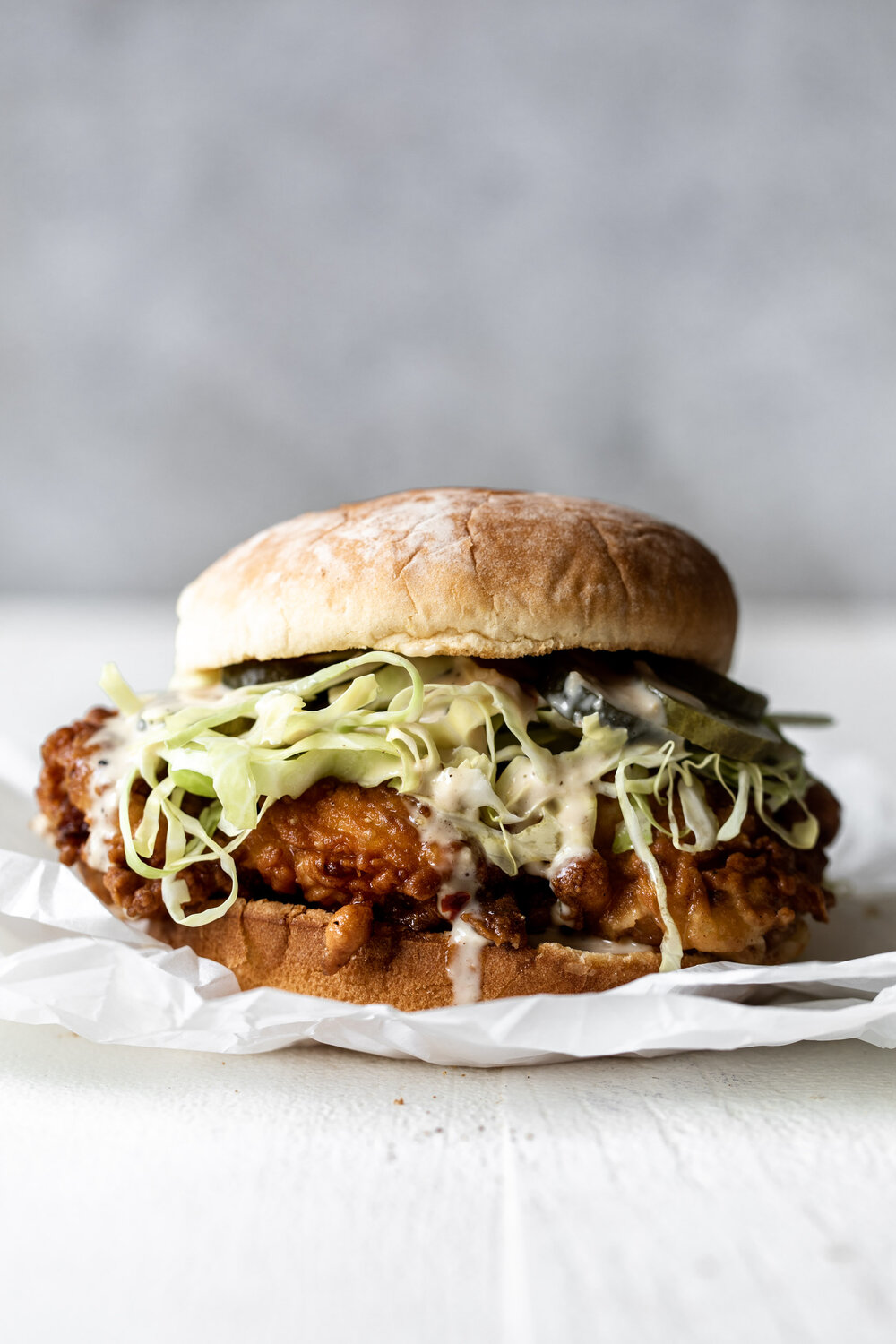 Other Recipes to Try
If you enjoy this fried chicken sandwich recipe, I recommend checking out some of these: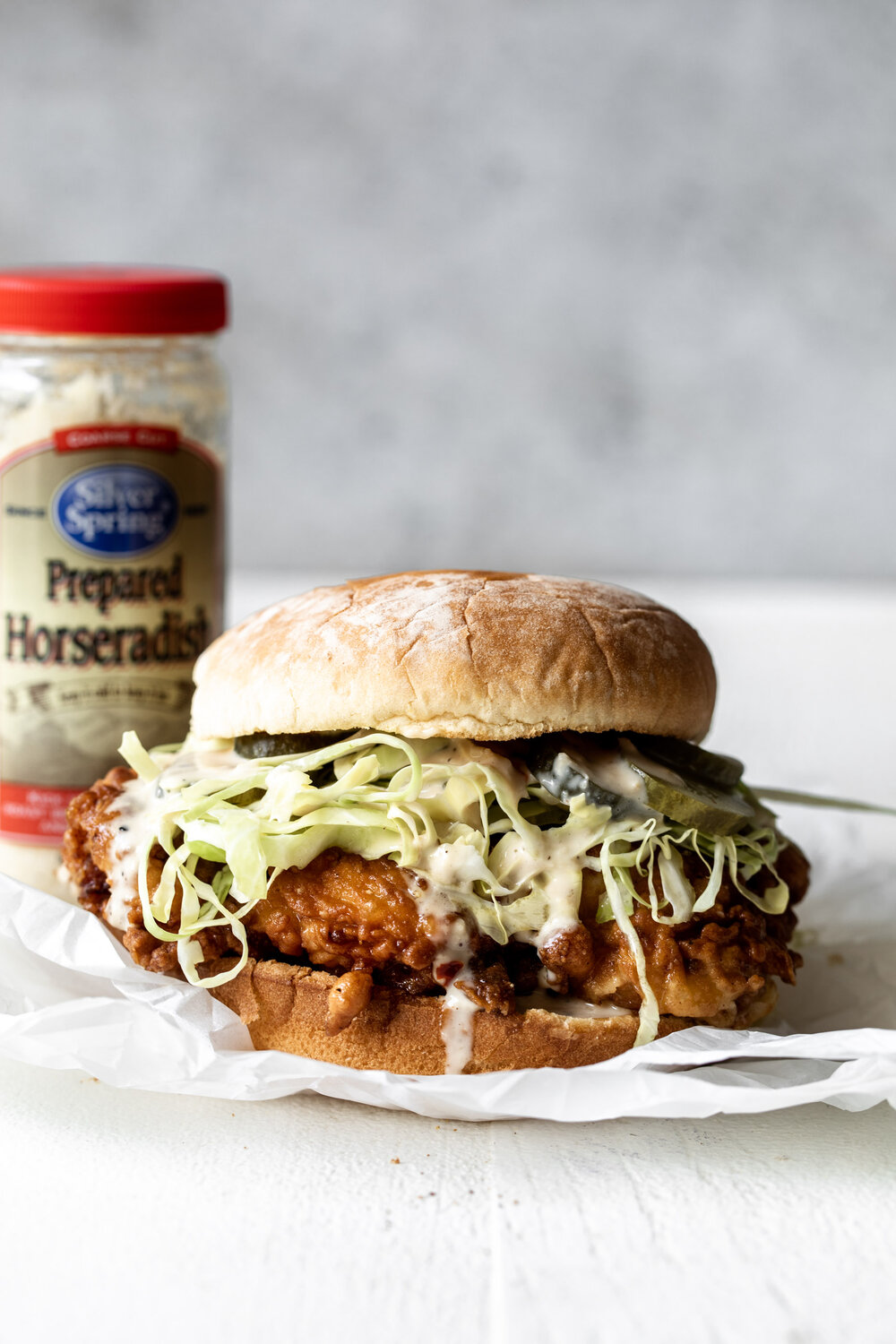 Fried Chicken Sandwich with Alabama White Sauce
For the fried chicken:
Vegetable oil,

as needed, for frying

1½

cups

all-purpose flour

1

cup

low-fat buttermilk

2

large eggs

4

large boneless skinless chicken thighs,

about 1 pound

Kosher salt,

as needed

Freshly ground black pepper,

as needed
For the Alabama white sauce:
½

cup

mayonnaise

2

tablespoons

apple cider vinegar

1

packed tablespoon dark brown sugar

1

tablespoon

prepared horseradish,

Silver Spring Foods makes a fantastic one!

1

teaspoon

Worcestershire

¼

teaspoon

crushed red pepper flakes

½

teaspoon

freshly ground black pepper

½

teaspoon

garlic powder

½

teaspoon

onion powder
For serving:
4

burger buns,

halved lengthwise and toasted

1½

cups

shredded green and red cabbage

¼

cup

sliced pickles
For the fried chicken:
Fill a large cast iron pan with vegetable oil so it reaches 2-inches up the pan. Heat the oil to 350°F (180ºC).

In a medium shallow bowl add the flour. Whisk the buttermilk and egg together in another medium bowl. Season chicken with salt and pepper. One piece at a time, dip chicken in the buttermilk mixture then dredge in the flour.

Shake off any excess flour and fry in the oil, flipping once, until the chicken is golden brown on all sides, about 8 minutes. Remove the chicken and allow to drain on a paper towel-lined plate.
For the Alabama white sauce:
In a medium mixing bowl whisk together the mayonnaise, apple cider vinegar, brown sugar, horseradish, Worcestershire, red pepper flakes, black pepper, garlic powder and onion powder with 1 tablespoon of water until completely combined. Cover and refrigerate until ready to use.
DID YOU MAKE THIS?
TAG ME ON INSTAGRAM TO BE FEATURED ON MY STORIES! @cookingwithcocktailrings