Fried Chicken and Waffles with Hot Sauce Maple Syrup
This is the ultimate sweet & savory meal. It may sound like an odd combination, but the sweet waffles taste amazing when they are drenched in the spicy maple syrup and eaten with the crispy fried chicken. This sweet and savory combination is a specialty at the Los Angeles institution Roscoe's House of Chicken and Waffles. While there are several different locations around LA it has become a tradition of Aaron and mine to make a stop after USC football games at the Coliseum. We are always tired and hungry after a long day of tailgating with cheap beer so we stuff our faces with sweet waffles and crispy, juicy chicken.
I had never heard of this combination before eating there and it's definitely something everyone should try. I still remember the first time I went with a group of friends in college and my friend showed me how to combine the hot sauce into the small dishes of sticky syrup. Roscoe's has a simple menu but their secret ingredient is adding cinnamon to the waffles. I have eaten the combination at different restaurants now as it gained popularity but my version modeled after Roscoe's chicken and waffles is still the best version in my opinion!
While fried chicken is a Southern food, LA has perfected chicken and waffles.
What cut should I use for the best fried chicken?
I always recommend to use boneless chicken thighs because it is easier to eat then cutting the meat off of the bone and they are still flavorful and tender. I find that for fried chicken using some form of chicken thighs are best.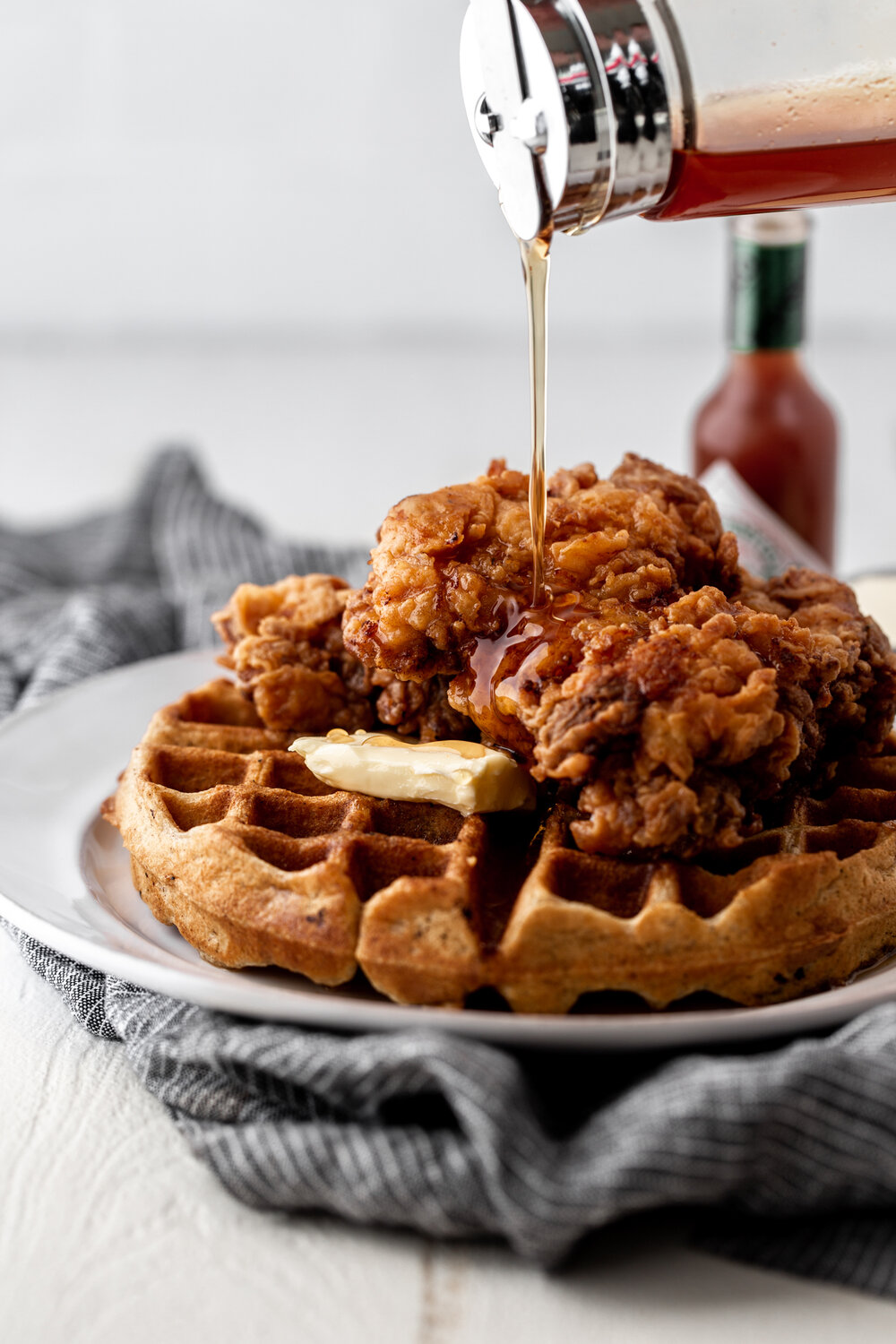 What sets this apart?
This fried chicken and waffle recipe is topped with maple syrup spiked with hot sauce. Don't opt out of using the spicy maple syrup it completes the meal. Adding some cinnamon to the waffle batter adds to the contrast of the sweet and savory flavors. Need a shortcut? Pick up some good, old Kentucky Fried Chicken and serve over the waffles. Though I prefer the fresh buttermilk fried chicken instead.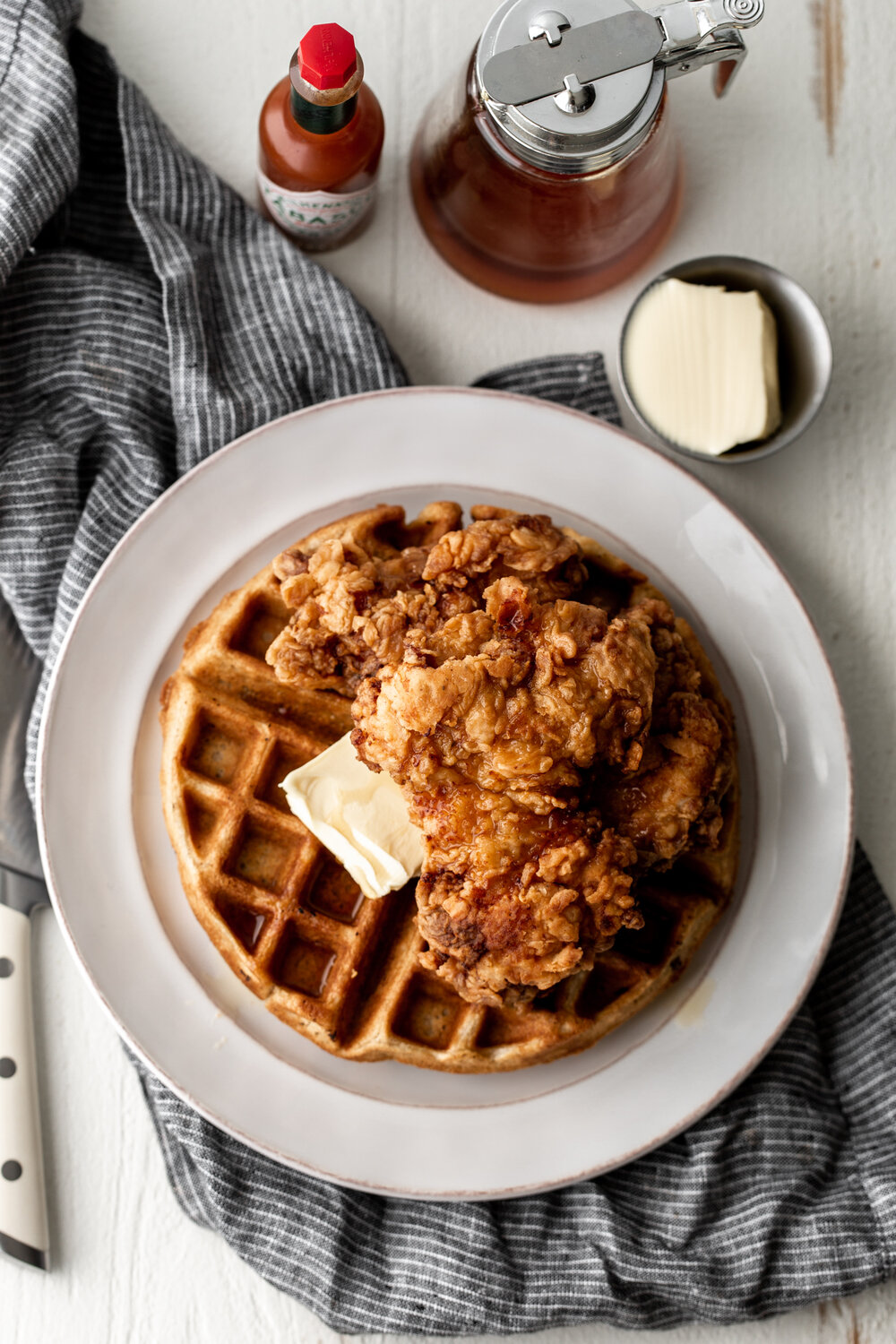 When should fried chicken and waffles be served?
I think this sweet and savory meal makes for a great brunch option similar to fried chicken biscuits. Of course it makes for a great breakfast for dinner or late night meal as well.
Fried Chicken and Waffles with Hot Sauce Maple Syrup
For the cinnamon buttermilk waffles:
2

cups

all-purpose flour

2

tablespoons

granulated sugar

2

teaspoons

baking powder

1

teaspoon

baking soda

½

teaspoons

salt

1

teaspoon

ground cinnamon

2

cups

buttermilk

½

cup

unsalted butter

melted

2

large eggs
For the hot sauce maple syrup:
For the Fried Chicken:
In a small bowl, combine the salt, pepper, paprika, garlic, onion powder and cayenne. Season the chicken breasts with the mixture and place in a medium bowl. Let the chicken marinate in the spices for at least an hour.

Fill a large frying pan halfway with vegetable oil. Heat the oil to 350ºF.

Whisk the buttermilk and egg together in a medium bowl. In a shallow bowl stir flour and cornstarch together. Once piece at a time, dip chicken in the buttermilk then dredge in the flour mixture. Fry in the oil until the chicken is golden brown on all sides. Remove the chicken from the oil and place on paper towels to drain the excess oil.
For the cinnamon buttermilk waffles:
While the chicken cooks, begin to make the waffles. In a medium mixing bowl whisk together the flour, sugar, baking powder, baking soda, salt and cinnamon. In large mixing bowl whisk together the buttermilk, melted butter and eggs until thoroughly combined.  Slowly stir the dry ingredients into the wet ingredients, until just combined.

Spray waffle iron with vegetable oil cooking spray then spoon the mix into waffle maker until the surface is completely covered and cook until golden brown according to waffle maker instructions. Repeat with remaining waffle batter.
For the hot sauce maple syrup:
DID YOU MAKE THIS?
TAG ME ON INSTAGRAM TO BE FEATURED ON MY STORIES! @cookingwithcocktailrings