Creamy Italian Eggs in Purgatory with Shallow-fried Mozzarella Bread
This variation of the Southern Italian breakfast dish "eggs in purgatory", a dish which arguably gets its name from the similarity of the bubbling tomato sauce to the depiction of the fiery flames of the underworld in Dante's Inferno.
The flavorful tomato-based recipe is similar to Middle Eastern Shakshuka which is served with egg-based Challah for dipping.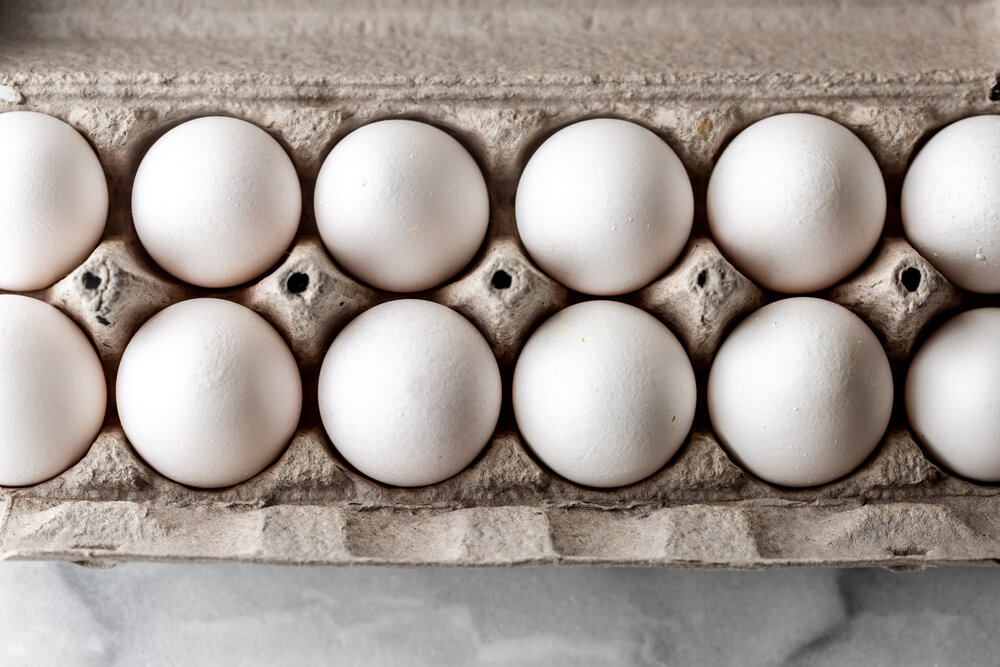 This version of the classic one-pan meal is combined with Italian white beans and a bit of yogurt for a rich and creamy twist, just begging to be scooped up with butter-fried crusty bread. I could go through a whole loaf to myself in one sitting!
While the sauce takes a bit of time to come together (which can be overwhelming in the morning before breakfast – and coffee), the sauce can be made ahead of time and reheated just before adding the eggs. If time is tight the dried beans can be substituted for 1 (15-ounce) can of cannellini beans.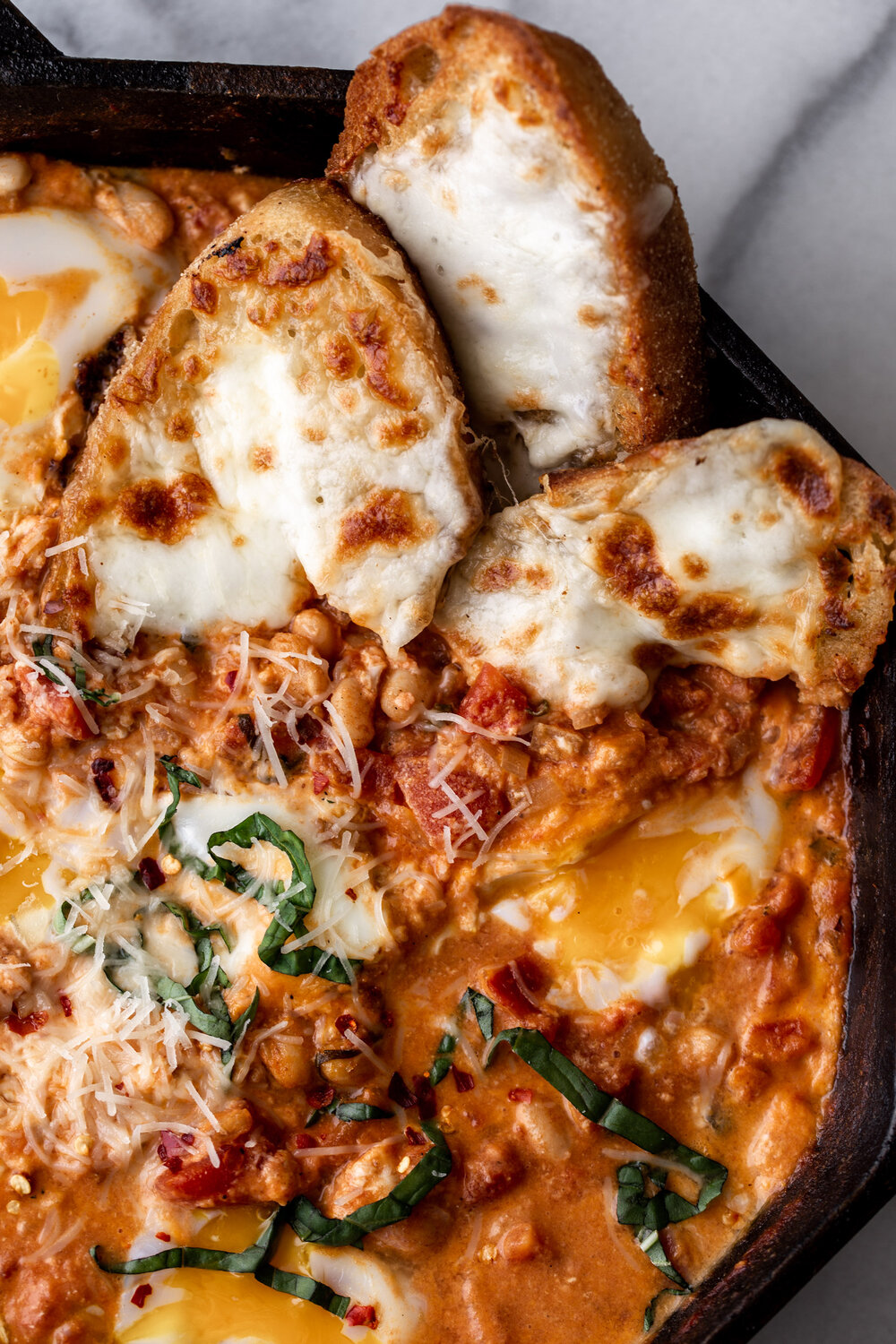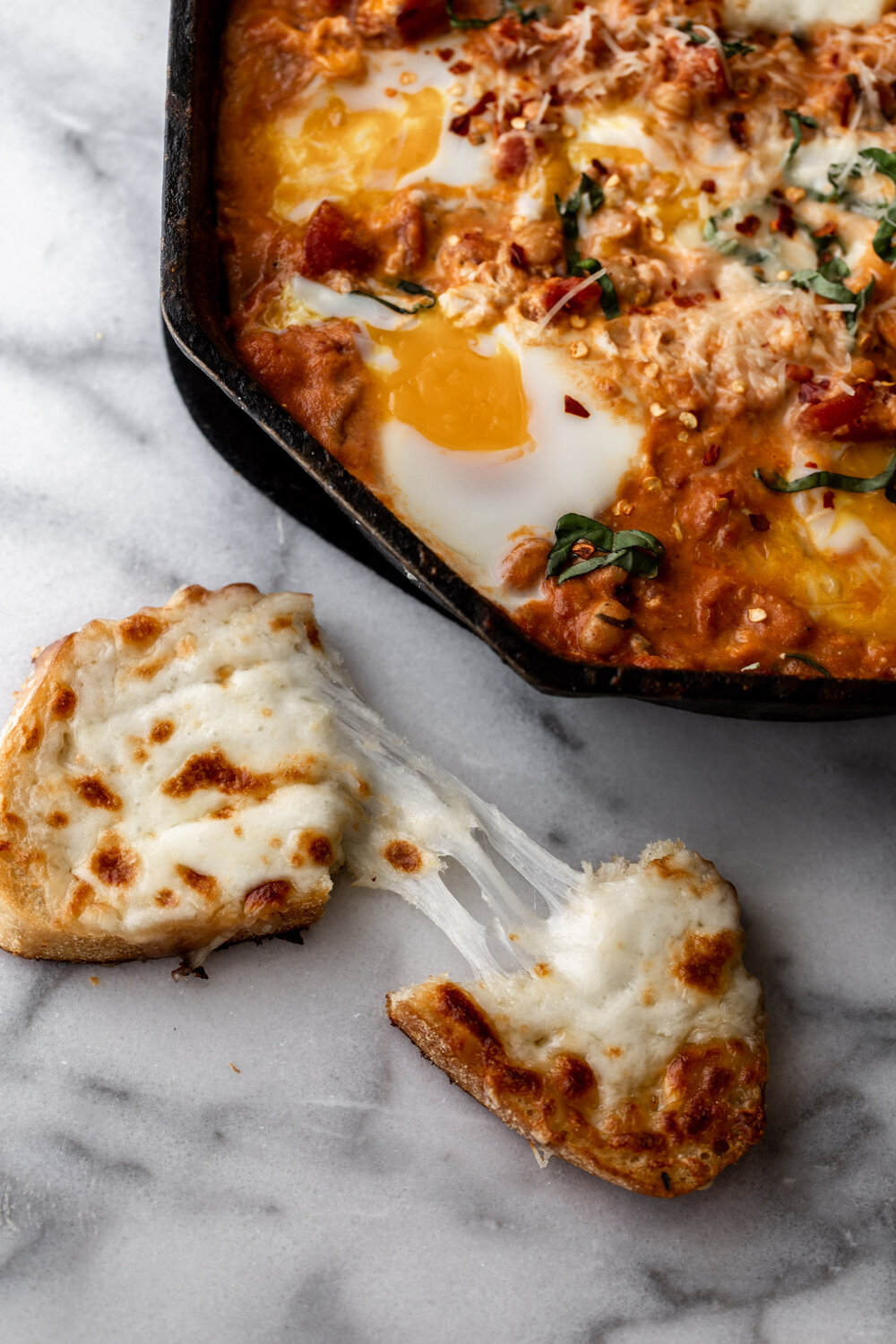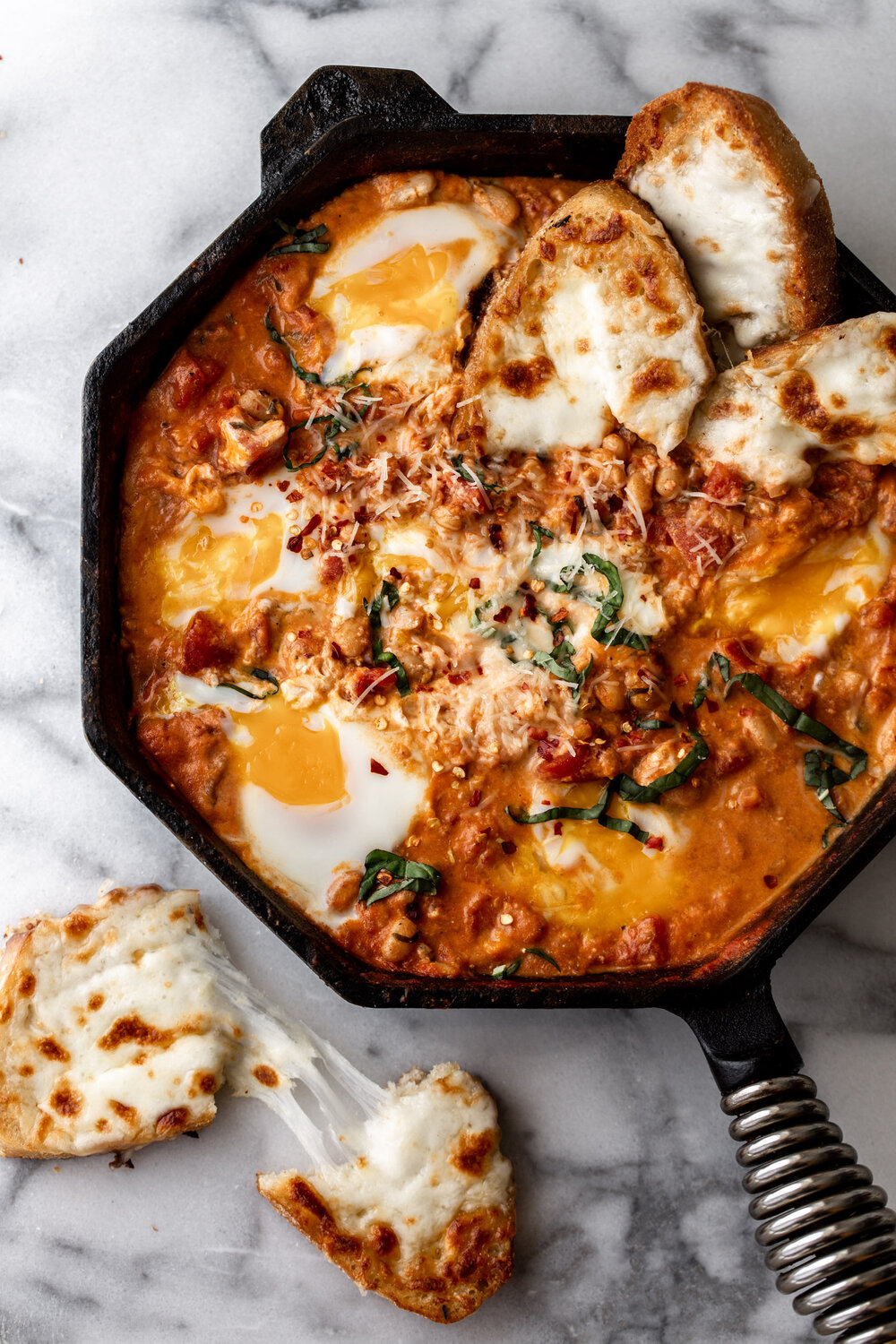 Creamy Italian Eggs in Purgatory with Shallow-Fried Mozzarella Bread
For the tomato sauce:
½

cup

white cannellini beans

2

tablespoons

extra-virgin olive oil

1

medium shallot,

diced

1

28-ounce can diced tomatoes

2

tablespoons

diced basil

½

teaspoon

red pepper flakes

½

cup

freshly grated Parmesan cheese,

divided

Kosher salt,

as needed

Freshly ground black pepper,

as needed

½

cup

yogurt
For the tomato sauce:
Soak the cannellini beans overnight. Drain and set aside.

Heat a large oven-safe skillet over medium heat, add the olive oil and heat through. Add the shallot and sauté until tender, about 5 minutes. Add the tomatoes, beans, basil, red pepper flakes, ¼ cup of the Parmesan cheese and 1 cup of water. Simmer until the beans are tender and the tomatoes break down, about 45 minutes. Add more water, ¼ cup at a time if the sauce thickens too much, it should be the consistency of tomato sauce. Season to taste with salt and pepper then stir in the yogurt.
For serving:
Return the pan to medium-low heat. Using a wooden spoon, make 6 holes in the tomato sauce in the pan. Crack the eggs into each of the holes, cover the pan and continue to cook until the eggs are set, about 3 minutes.

Heat a large non-stick sauté pan over medium-low heat. Add the olive oil and heat through then add the butter and allow to melt. Arrange the slices of bread in the pan, frying until the bread is golden brown and crisp, about 2 minutes. Flip and top with mozzarella cheese, and cover the pan, cooking until the cheese melts, about an additional 2 minutes. Work in batches if necessary.

To serve, ladle the eggs and tomato sauce into bowls and garnish with basil leaves. Serve with the fried bread for dipping.
DID YOU MAKE THIS?
TAG ME ON INSTAGRAM TO BE FEATURED ON MY STORIES! @cookingwithcocktailrings