Eggs en Cocotte: Baked Eggs in Ramekins with Spinach & Pancetta
Baked in individual ramekins and served with grilled bread on the side for dipping, this classic French breakfast dish is also referred to "oefs en cocotte" or shirred eggs. It is a dish that may look super fancy, but is very simple to make. The eggs are baked in a water bath until the whites are just set and the yolk is a gooey consistency.
The fillings are made as you would for an omelette or scramble, but instead of having to work for the final product, you crack a few eggs and pop them in the oven.
You can add any fillings you like; I choose to add shallots, pancetta, spinach and Parmesan with some chives for garnish. Season the fillings under the eggs so that the eggs do not have specks in them.
Of course you can add some cracked pepper to the top for garnish just before serving. If you are using smaller ramekins you can make this dish with only one egg but since I wanted to make it a full breakfast and less of a first course and I used larger ramekins and two eggs.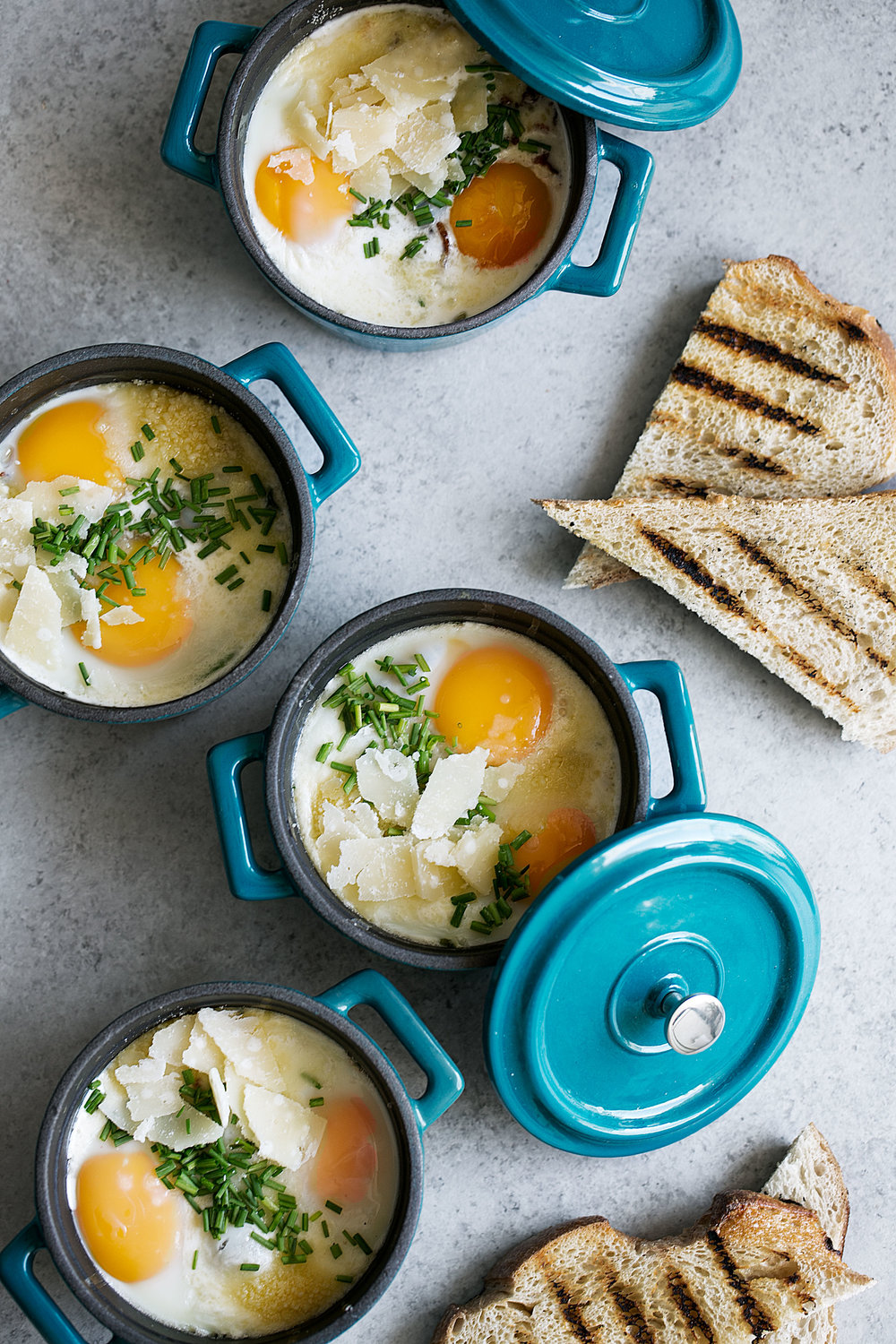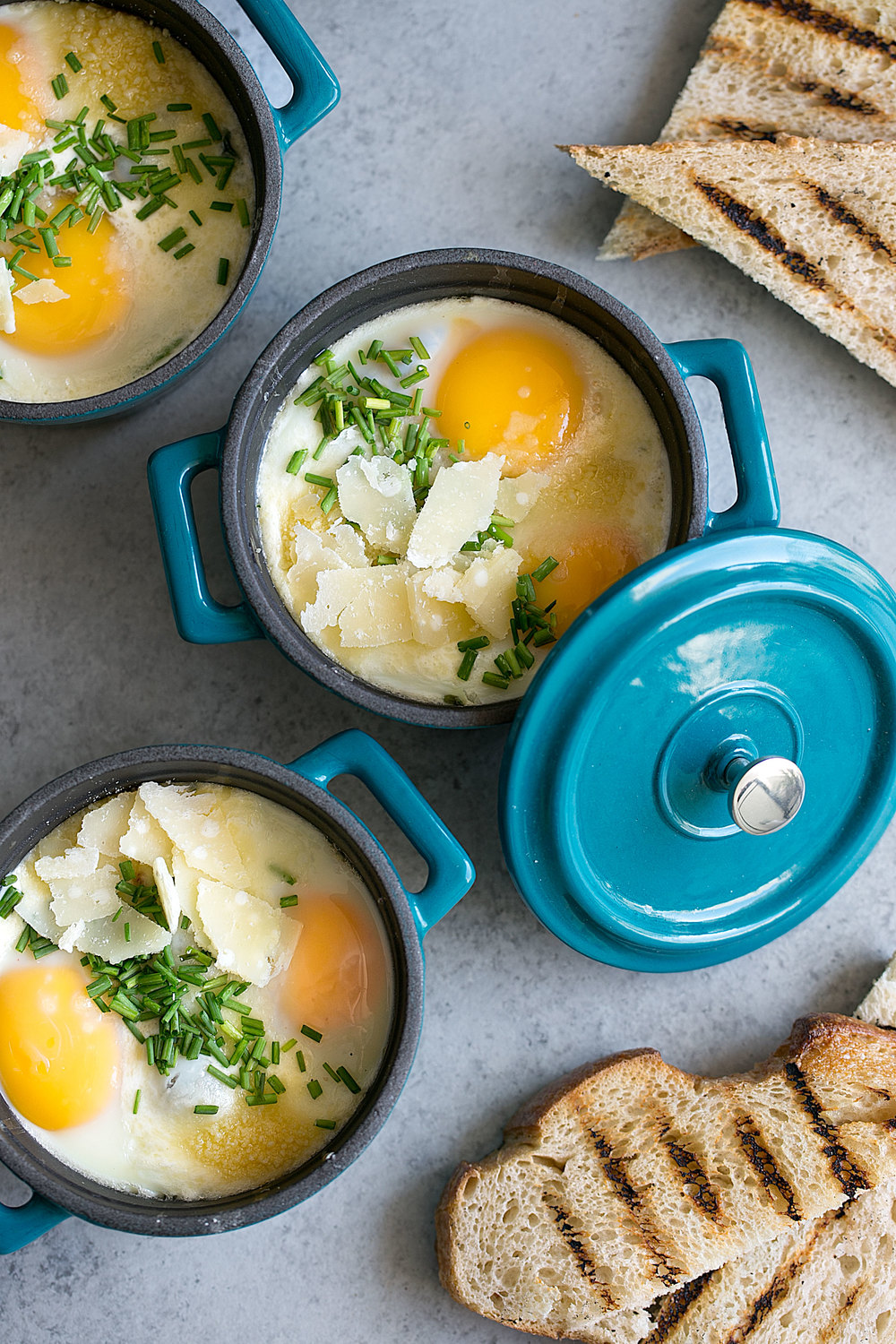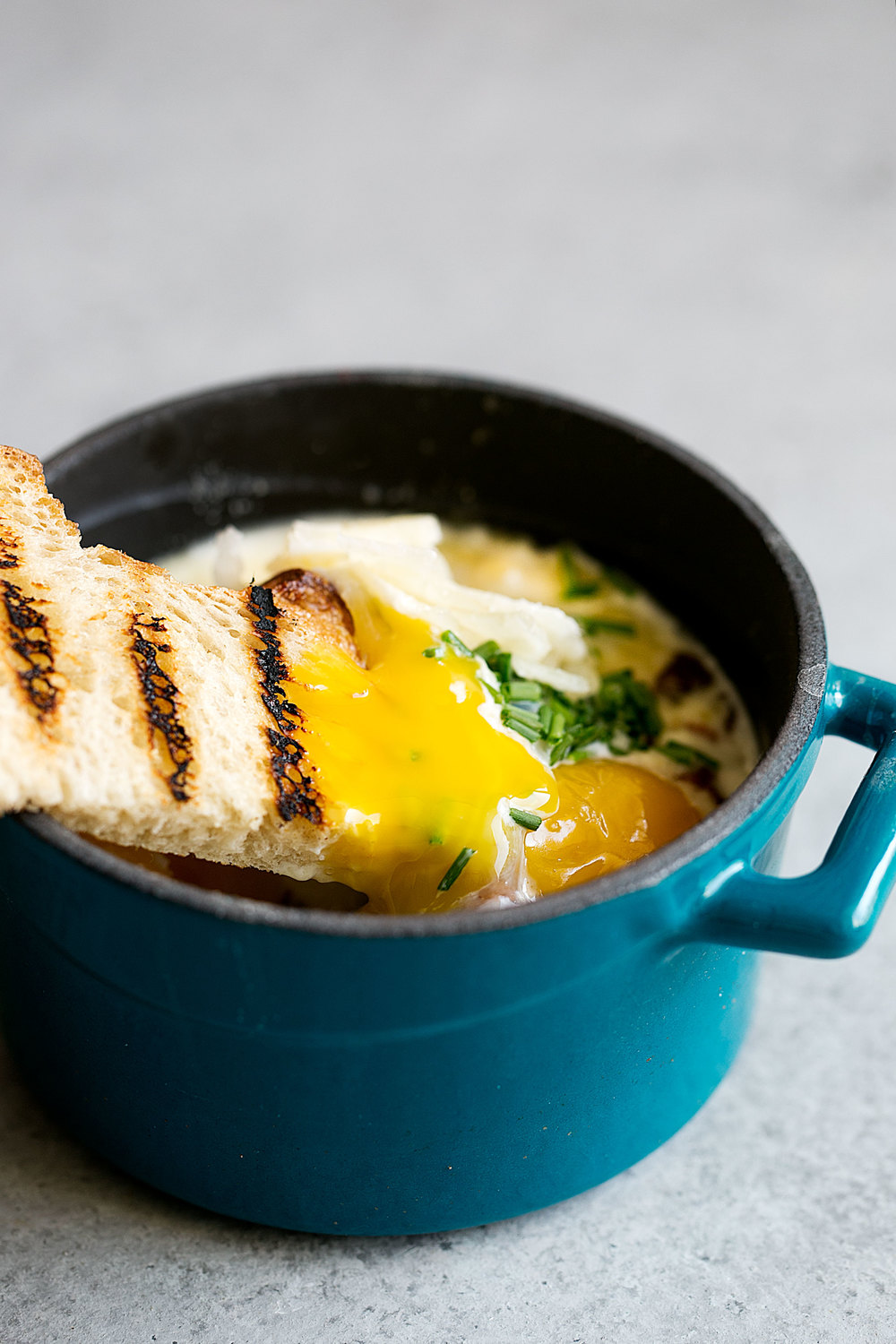 Eggs en Cocotte: Baked Eggs in Ramekins with Spinach & Pancetta
1

tablespoon

unsalted butter

plus additional for the ramekins

1/3

cup

chopped shallots

½

cup

diced pancetta

2

tablespoons

extra-virgin olive oil

2

cloves

garlic

minced

5

ounces

baby spinach

Kosher salt

to taste

Freshly ground black pepper

to taste

8

eggs

¼

cup

heavy whipping cream

¼

cup

grated Parmesan cheese

Freshly shaved Parmesan cheese

for garnish

1

tablespoon

chopped chives

for garnish

Grilled bread

for serving
Preheat oven to 350ºF and butter the ramekins

Start by prepping the fillings. In a medium sauté pan over medium heat, add the butter and allow to melt. Add the shallots and sauté until soft and translucent, about 4 minutes. Remove from pan and set aside.

Add the pancetta and cook, stirring occasionally, until crispy, about 6 minutes. Remove from the pan and set aside.

Add the olive oil to the pan and allow to heat through. Add the garlic and sauté for just a second before adding the spinach. Cook the spinach until wilted, about 4 minutes. Season the spinach with salt and pepper then remove from pan and set aside in a small bowl.

Divide the spinach among the dishes followed by the shallots and the pancetta. Crack two eggs into each ramekin then add a tablespoon of cream to each, followed by a tablespoon of Parmesan.

Add the ramekins to a baking pan and fill the pan with boiling water so it reaches about half way up the ramekins. Bake until the egg whites are just set and the yolks are soft and runny, about 10 to 15 minutes depending on the thickness of the ramekins.

Remove from the oven and garnish with the shaved Parmesan and chives then serve with a side of toast.
DID YOU MAKE THIS?
TAG ME ON INSTAGRAM TO BE FEATURED ON MY STORIES! @cookingwithcocktailrings