This cheesy garlic flatbread recipe is inspired by the bread that is brought to the table at Craig's LA in West Hollywood, California. A soft, spongy flatbread base is slathered with a mixture of butter, grated Parmesan cheese, honey, garlic and parsley for a cheesy, buttery sauce that melts into the bread negating the need for a dipping sauce. It's cooked in a wood-fired oven so it comes with slightly crisp edges and is served cut into strips. With all the cheesy goodness, they're similar to Canadian East Coast garlic fingers or classic garlic bread.
Craig's LA is a celebrity favorite (definitely worth a stop if you want to see celebrities while on a trip to Los Angeles). It's favored by the Kardashians and Hadids among many others. The restaurant has had to limit the number of orders of bread you can get (this may just be for takeout) because it's just that good. I typically just place an order for bread and a caesar salad with added chicken and bacon for myself. It's called balance.
Cheesy Garlic Flatbread Recipe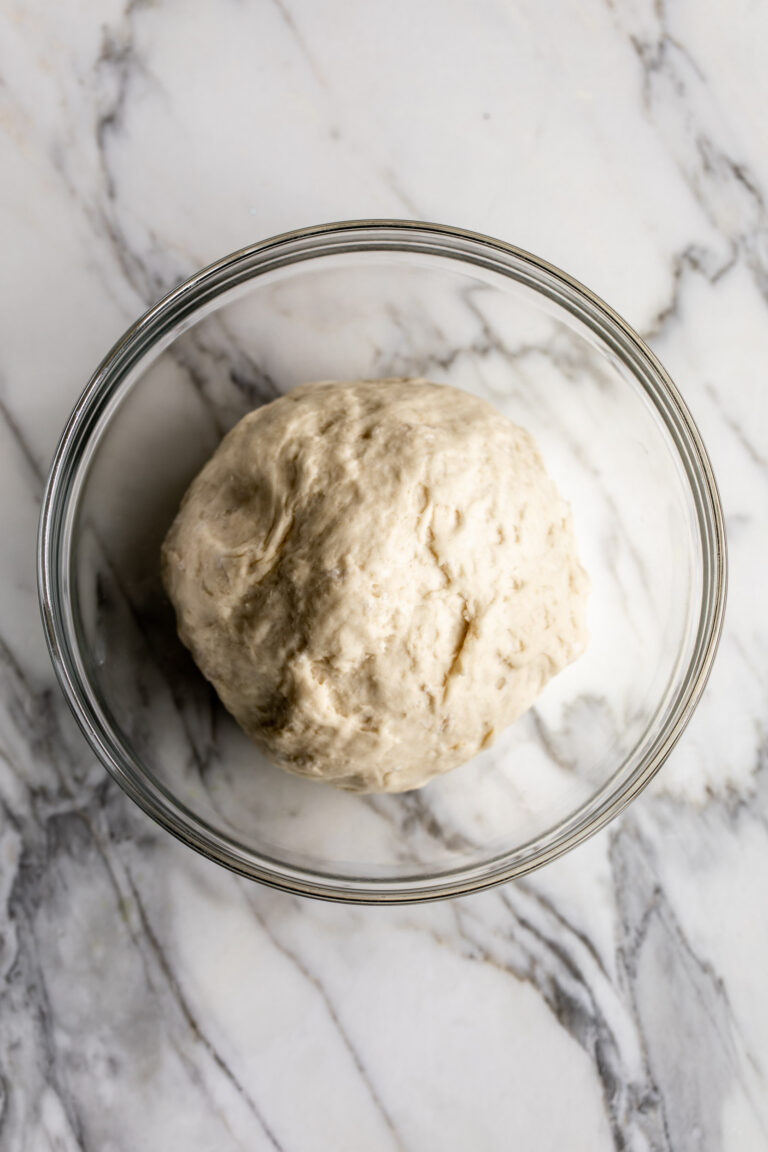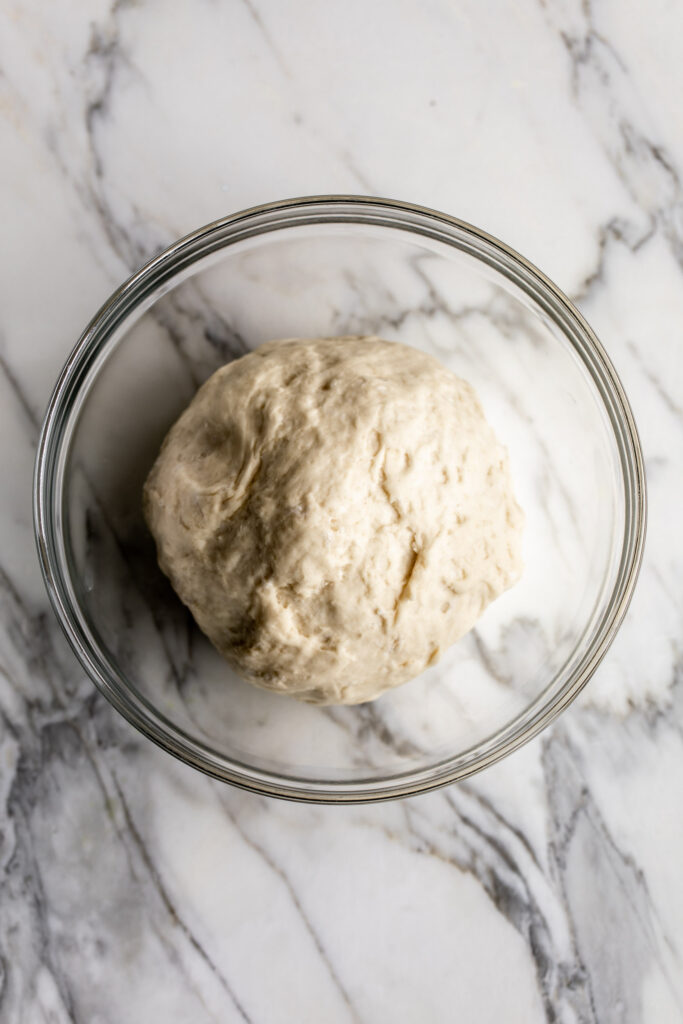 How to make cheesy garlic flatbread in the oven instead of on the grill
This recipe can be made in the oven quite easily, especially if you already have a pizza stone. Since it is cooked at 500ºF on the grill, and as long as you have a pizza stone and set the oven to 500ºF, it can be cooked the same as the grill. If you don't have a pizza stone the crust won't get as crispy so spread the dough on a baking sheet and bake for 3 minutes on each side. Let the dough cool, spread it with the butter mixture and then cook for an additional 5 to 6 minutes.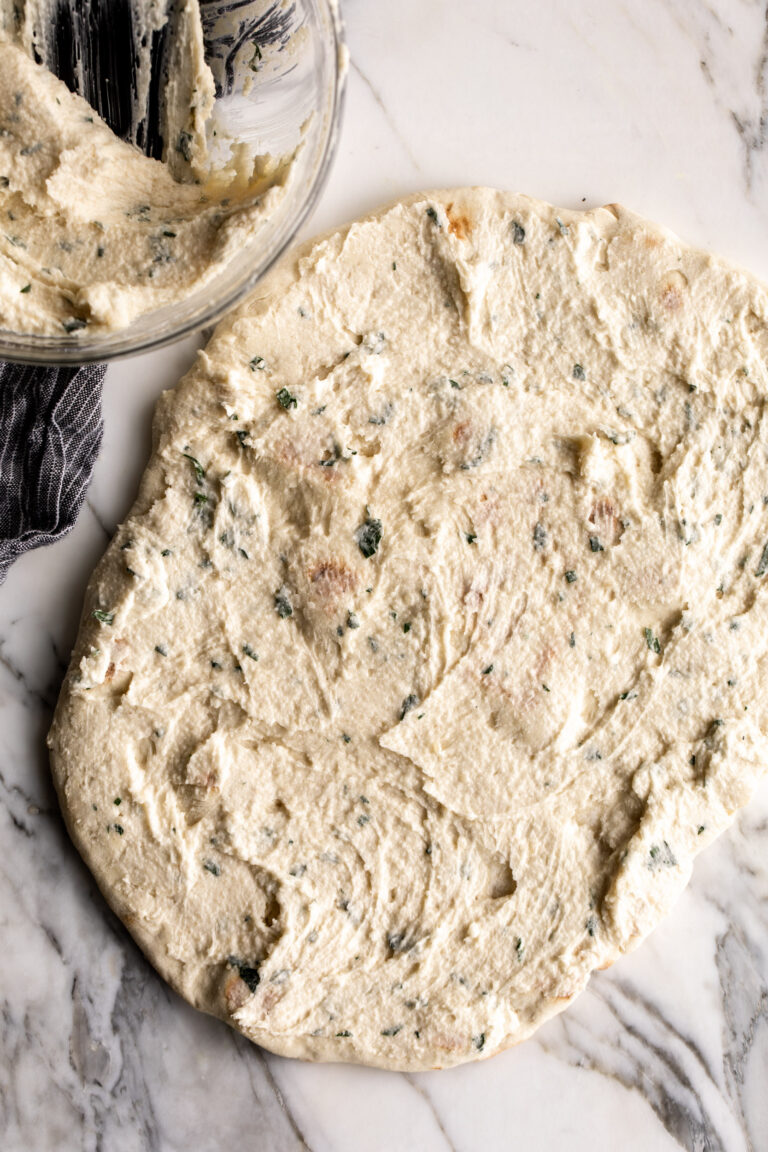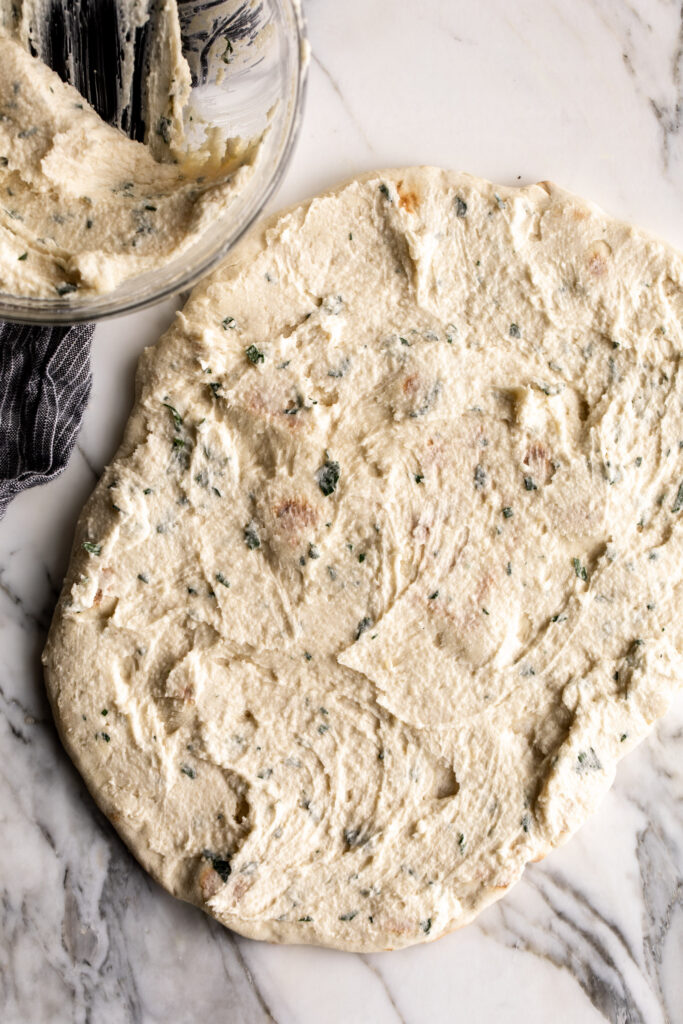 How to make cheesy garlic flatbread
This appetizer is great for pizza nights or as a side for grilled meats and it couldn't be easier to make. Personally I enjoy pairing it with a salad and eating a whole flatbread by myself. While I start with homemade dough you can easily substitute store-bought pizza dough in a pinch.
The dough is rolled extremely thin (think naan bread thin) and topped with a blend of butter, Parmesan cheese, honey, garlic and parsley before it's grilled and finished with additional Parmesan and cut into slices. The mix of parmesan and honey makes for a sweet and savory flatbread – my favorite flavor contrast.
Since I don't have a wood-fired oven I opt to cook the bread on the grill over indirect heat. I like using a grill because it gets much hotter than an oven and the edges get a bit more charred. If you don't have a grill I'd recommend using a pizza stone set in the oven with the temperature at to 500ºF. Pre-heat the oven with the pizza stone so it gets as hot as possible.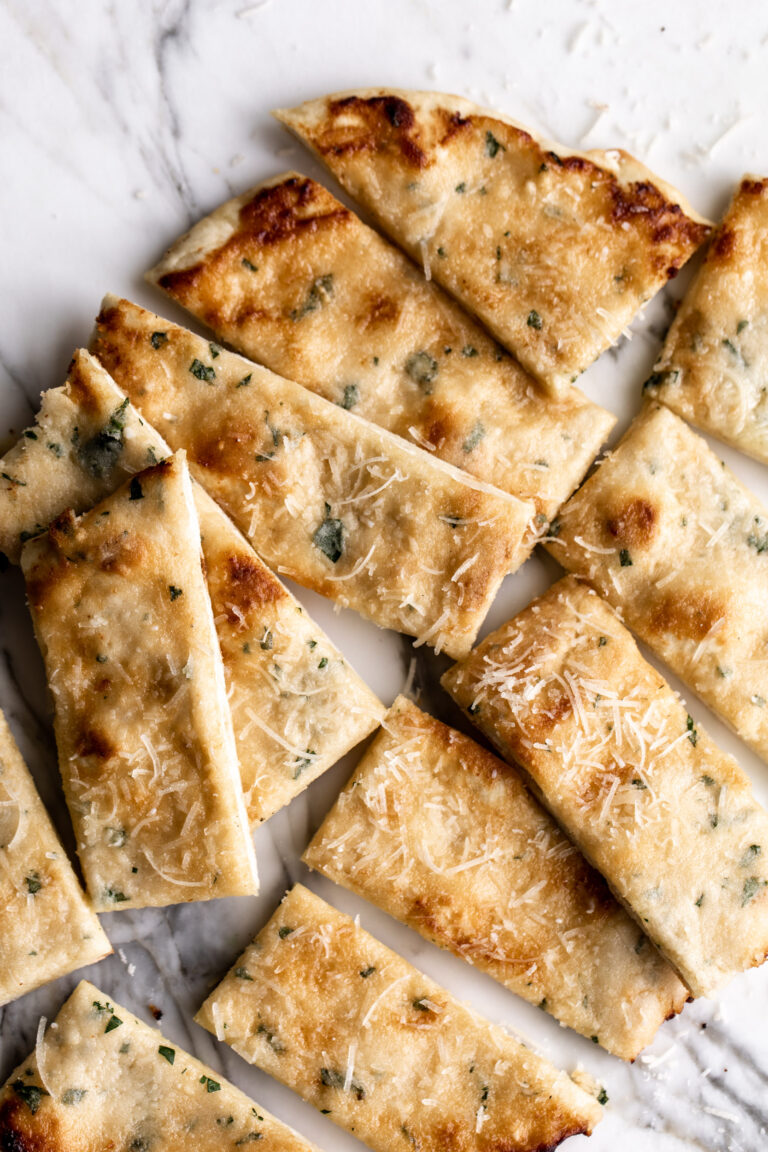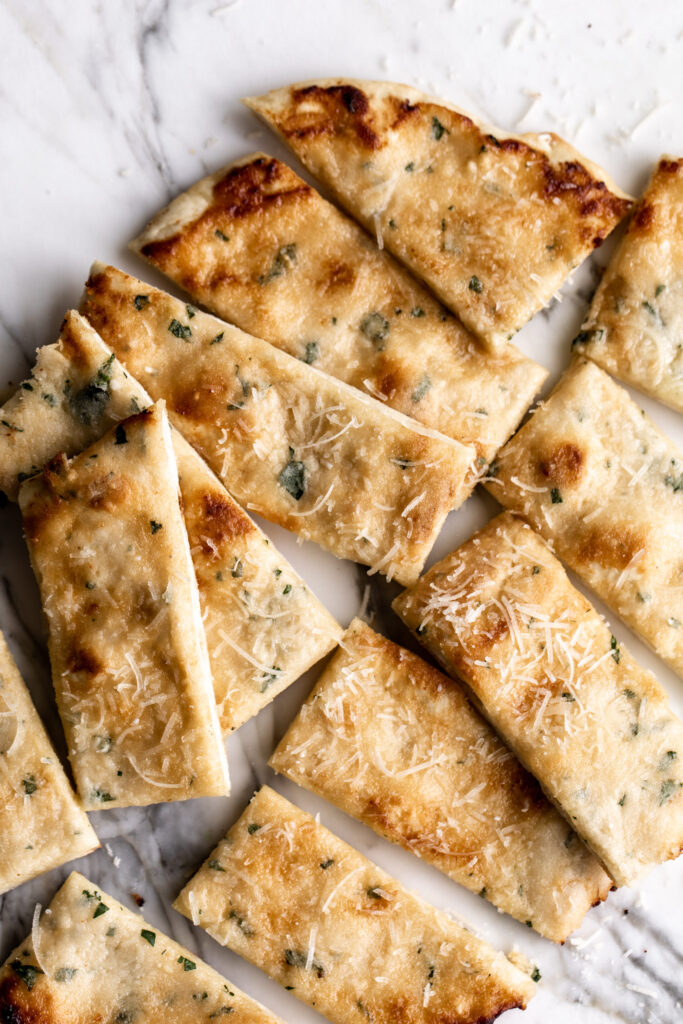 Ingredients in cheesy garlic flatbread
Dough – The base of this dough recipe is a bit sweeter and doesn't require a long rising time.
Unsalted butter – I always opt to use unsalted butter in my recipes so that the amount and type of salt can be controlled and added as needed.
Honey – While any honey is really fine in this recipe, I like using clover honey for it's mild flavor.
Parsley – It's more of a personal preference, but I always use flat-leaf parsley rather than curly parsley.
Parmesan cheese – I always recommend freshly grating cheeses, especially when they will be used in sauces. Many pre-grated cheeses include preservatives to keep them from clumping in the bag. Freshly grated Parmesan will create a more smooth spread on the flatbread.
Garlic powder – Ground and dried garlic powder has a much more mellow taste and aroma than fresh garlic. Since it's a fine powder it's evenly distributed in the butter of this recipe.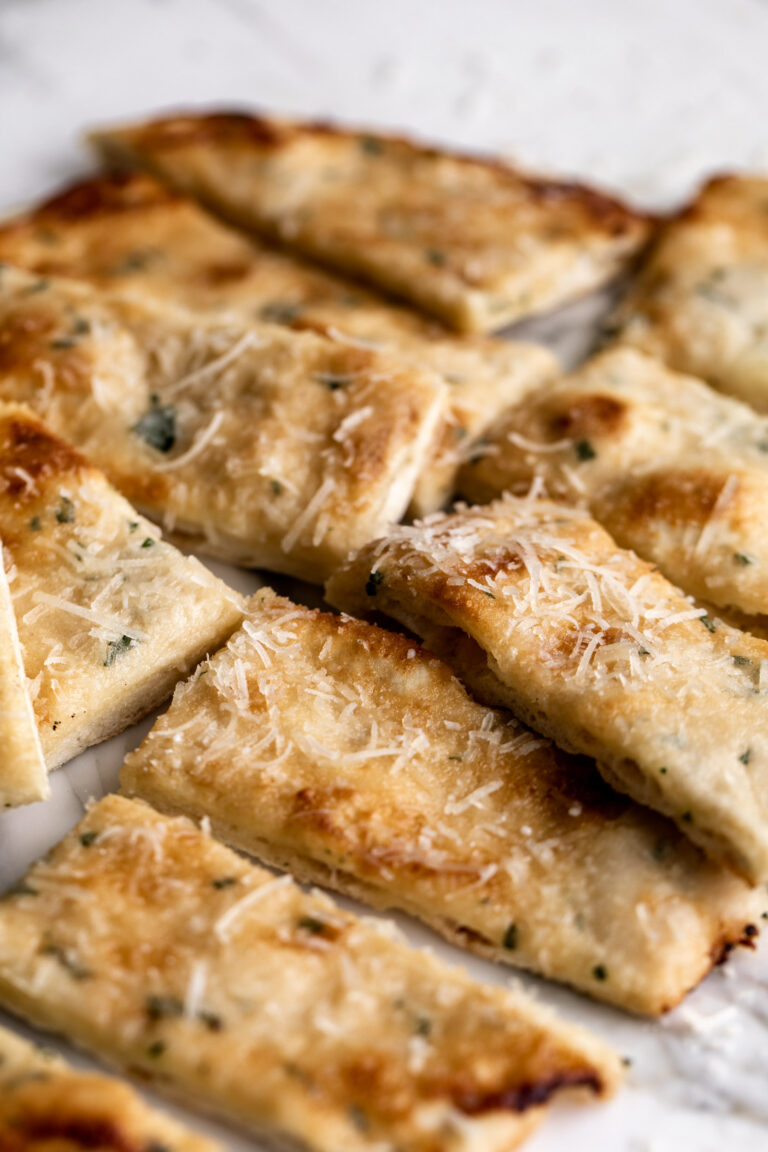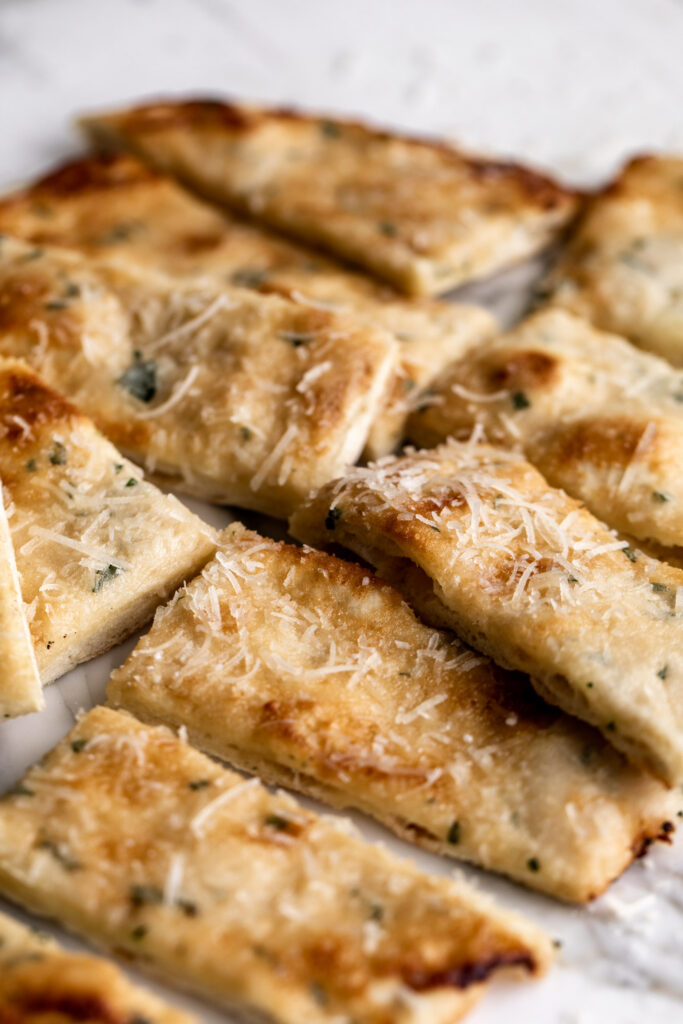 Tips
While many recipes for flatbread dough don't use yeast, I add some for a chewy, soft dough, similar to a pizza dough.
If your dough gets tough to shape, cover it with a damp paper towel or kitchen towel and let it rest for about 10 minutes so the glutens can relax. Trying to force it will tear the dough.
Rather than using a rolling pin to make the dough, use your hands and gently press the dough out. This will keep the dough more relaxed so it can be spread thinly much more easily.
The butter mixture can be made ahead of time and refrigerated for up to a week in advance, then brought back to room temperature so it's soft and spreadable before using.
Instructions for cheesy garlic flatbread
Step 1:
Make the flatbread dough and let rise.
Step 2:
To create the butter mixture, blend the butter, honey, parmesan, salt and garlic powder in a food processor. Add the parsley at the end and pulse then set aside.
Step 3:
Cut the dough in half and roll each out into a ⅛" thick circle.
Step 4:
Partially cook the flatbread on the grill in the oven.
Step 5:
Spread the butter mixture entirely over the bread.
Step 6:
Continue to bake until the mixture has melted and the edges of the flatbread are crispy and golden brown.
Step 7:
Sprinkle with remaining Parmesan cheese and cut into rectangles and serve.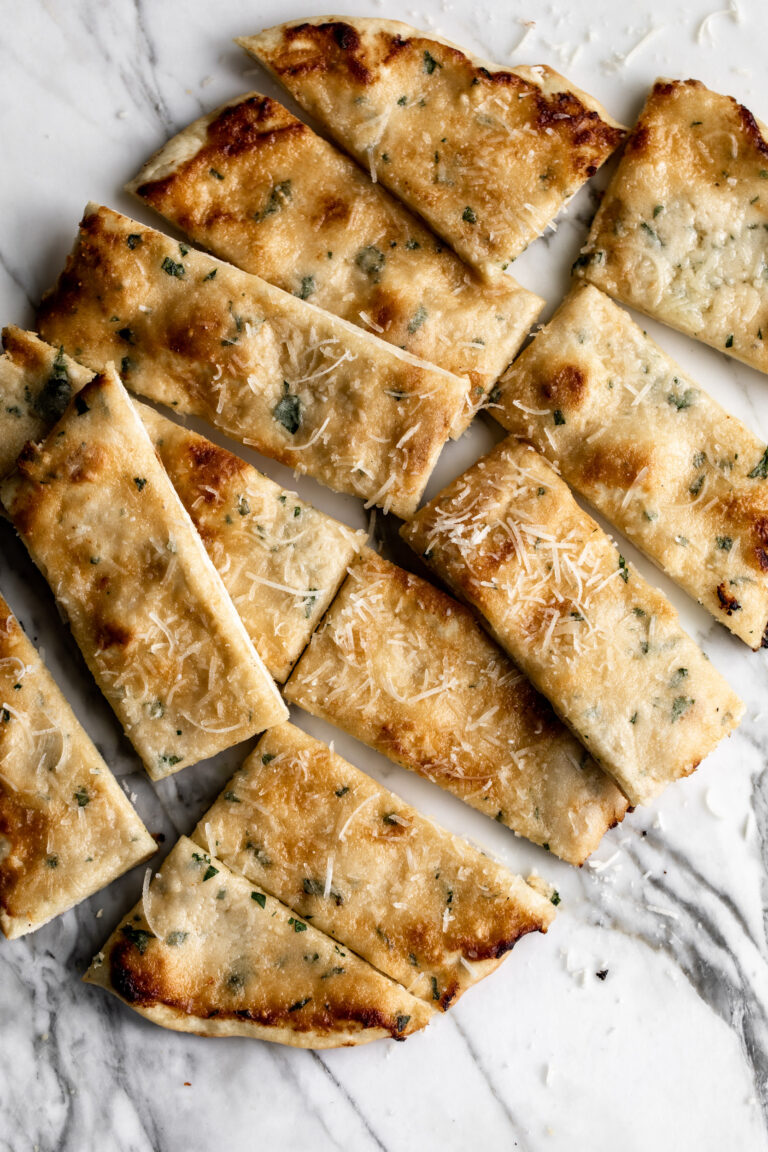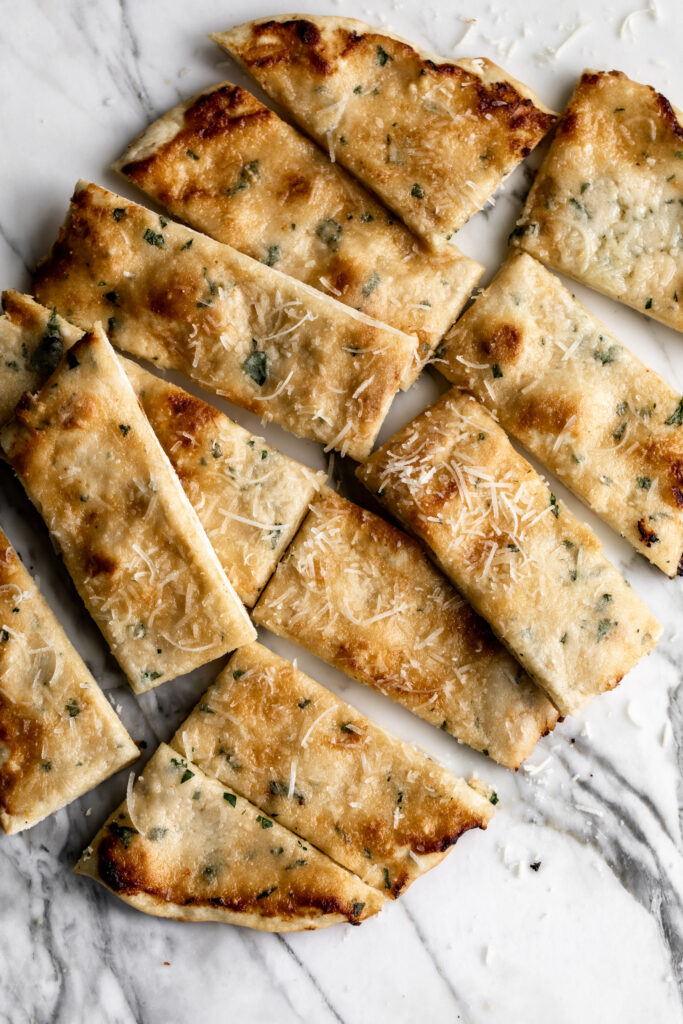 Cheesy Garlic Flatbread Recipe
For the flatbread dough:
1

teaspoon

active dry yeast

1

teaspoon

granulated sugar

2

cups

all-purpose flour,

additional as needed

1

teaspoon

kosher salt
For the butter mixture:
6

tablespoons

unsalted butter,

at room temperature

2

tablespoons

honey

2 ½

cups

freshly grated parmesan cheese,

divided

½

teaspoons

coarse sea salt

¼

teaspoon

garlic powder

1

tablespoon

chopped flat-leaf parsley
For the flatbread dough:
In a small bowl, stir together the yeast, sugar and ¾ cup lukewarm water. Let sit until the mixture is foamy, about 10 minutes.

In the bowl of a stand mixer fitted with the dough hook attachment, add the flour, salt and yeast mixture. Turn on low speed until the mixture comes together as a shaggy dough, about 5 minutes.

Turn the dough out onto a clean, lightly floured work surface and knead until the dough is smooth, about 2 minutes. Add to a bowl and cover with a damp towel or plastic wrap. Rest the dough for 30 minutes.
For the butter mixture:
Add the butter, honey, 2 cups of Parmesan, salt and garlic powder to the bowl of a food processor fitted with a blade attachment. Whip the mixture until the butter is light and fluffy, about 2 minutes.

Add the mixture to a small bowl and stir in the parsley. Set aside at room temperature until ready to use.
For assembly:
Add a pizza stone to a gas grill and heat with medium-high heat to 500ºF (260ºC).

Divide the dough in half. Working one half at a time, use your hands to stretch the dough into a 11" x 9" oval.

Add the dough to the heated pizza stone and cook for 1 minute and 30 seconds. Use a pizza peel or metal tongs to flip the dough and continue to cook for an additional 1 minute and 30 seconds.

Remove from the grill and let cool for 10 minutes. Dough should be cool to the touch. While that dough cools, repeat with the other half of dough.

Evenly spread ⅓ cup of the butter mixture over the cooled dough, even the edges.

Return to the pizza stone and grill until the edges are golden brown and the butter mixture has melted into the dough, about an additional 3 minutes. Repeat with the remaining dough.

Let cool slightly then cut into equal pieces. Serve immediately.
DID YOU MAKE THIS?
TAG ME ON INSTAGRAM TO BE FEATURED ON MY STORIES! @cookingwithcocktailrings