Crispy Ground Beef Tacos
These crispy shell tacos known as "tacos dorados" referring to the golden-brown fried corn shell. They remind me of taco nights growing up when we made tacos from store-bought taco kits. Crispy shell tacos like these have Mexican roots (long before Taco Bell was selling them) though it is hard to pin down the exact story about the invention. The history of tacos in the US begins with hard shell tacos brought up from Mexico – the first known English-language reference to these types of tacos appeared in the LA Times in 1899.
These crispy fried corn tortillas are stuffed with well-seasoned ground beef and topped with shredded lettuce, cheese, diced tomatoes and a touch of sour cream. I always choose to fry my own hard shell corn tortillas rather than buying them at the store.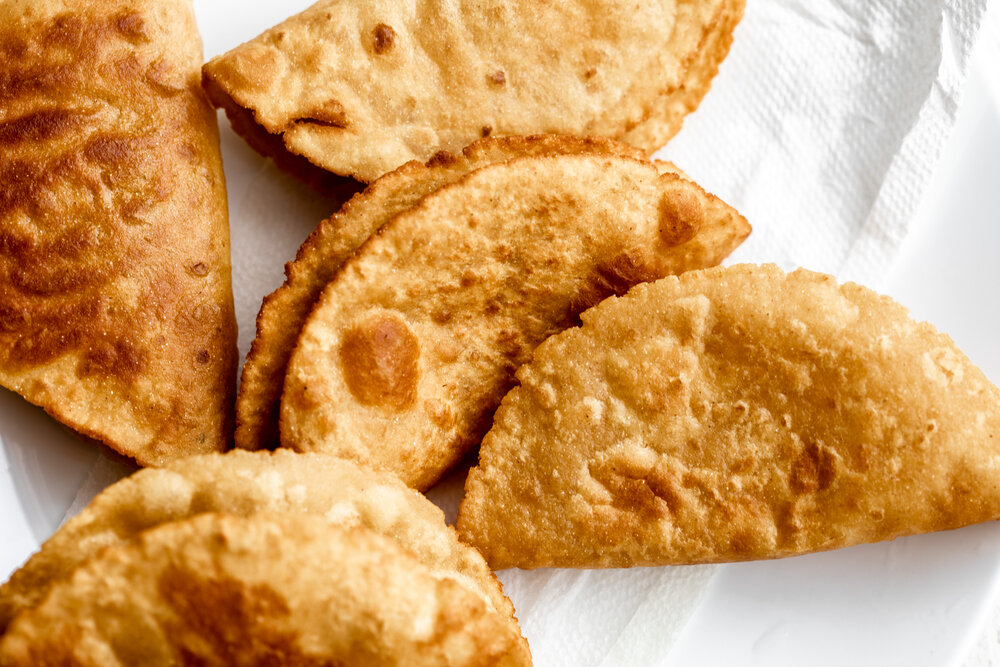 I swear anytime I buy a pack of crispy shells at least half of them are broken. I also prefer to make my own taco seasoning rather than buying store-bought packets. Not only do I know exactly what goes into the seasoning this way, but the recipe uses spices that I always keep stocked in my pantry so I don't need to keep around additional products.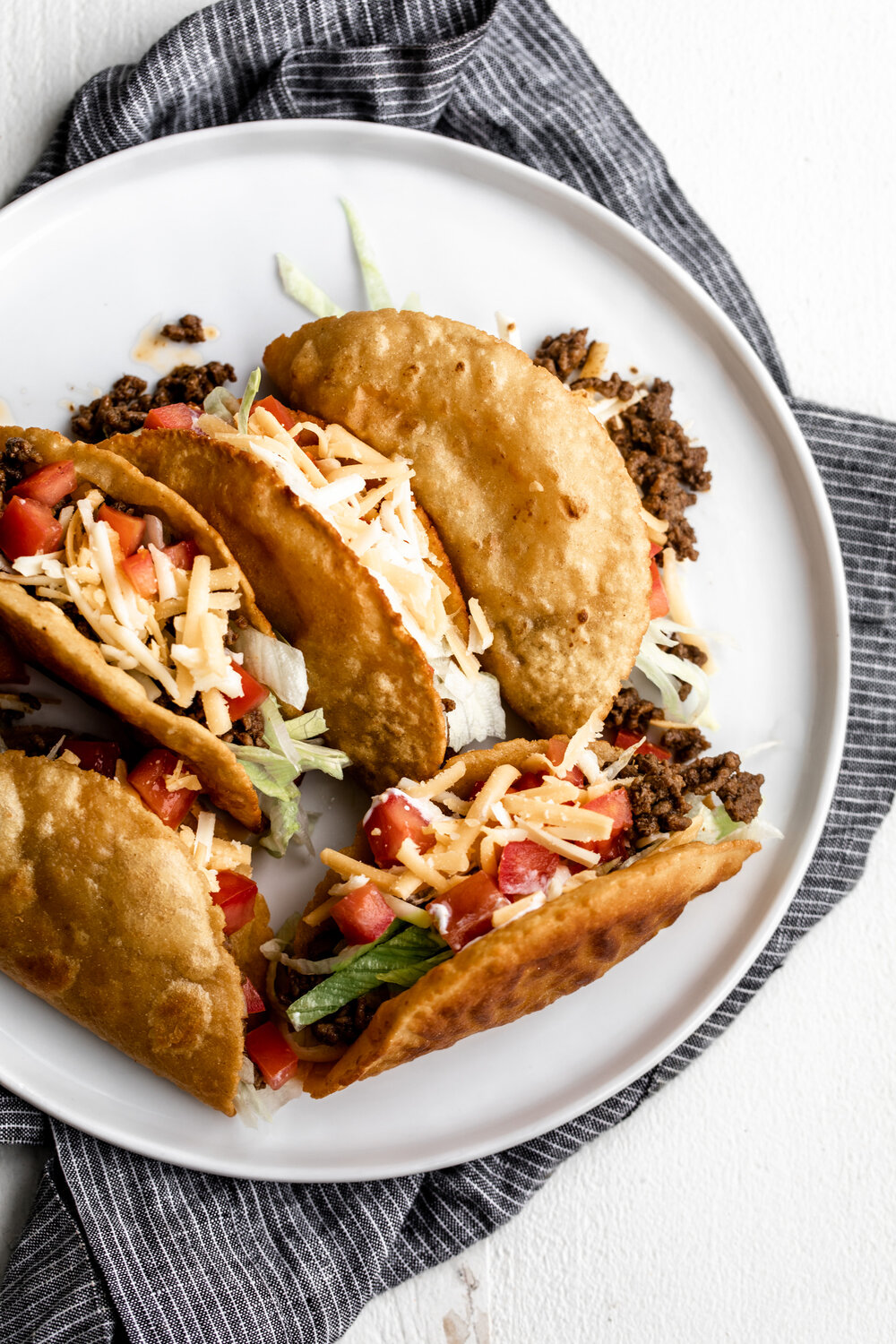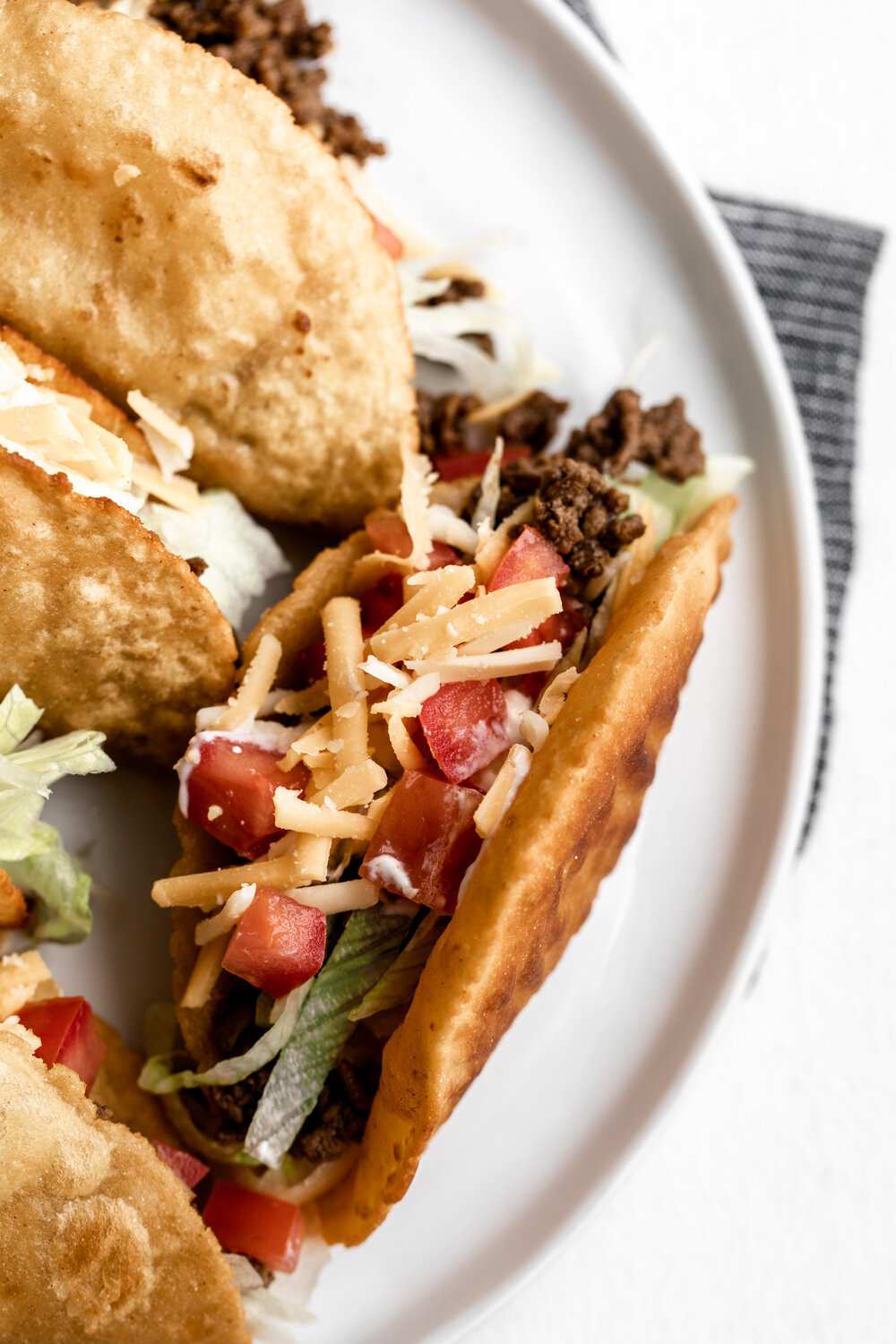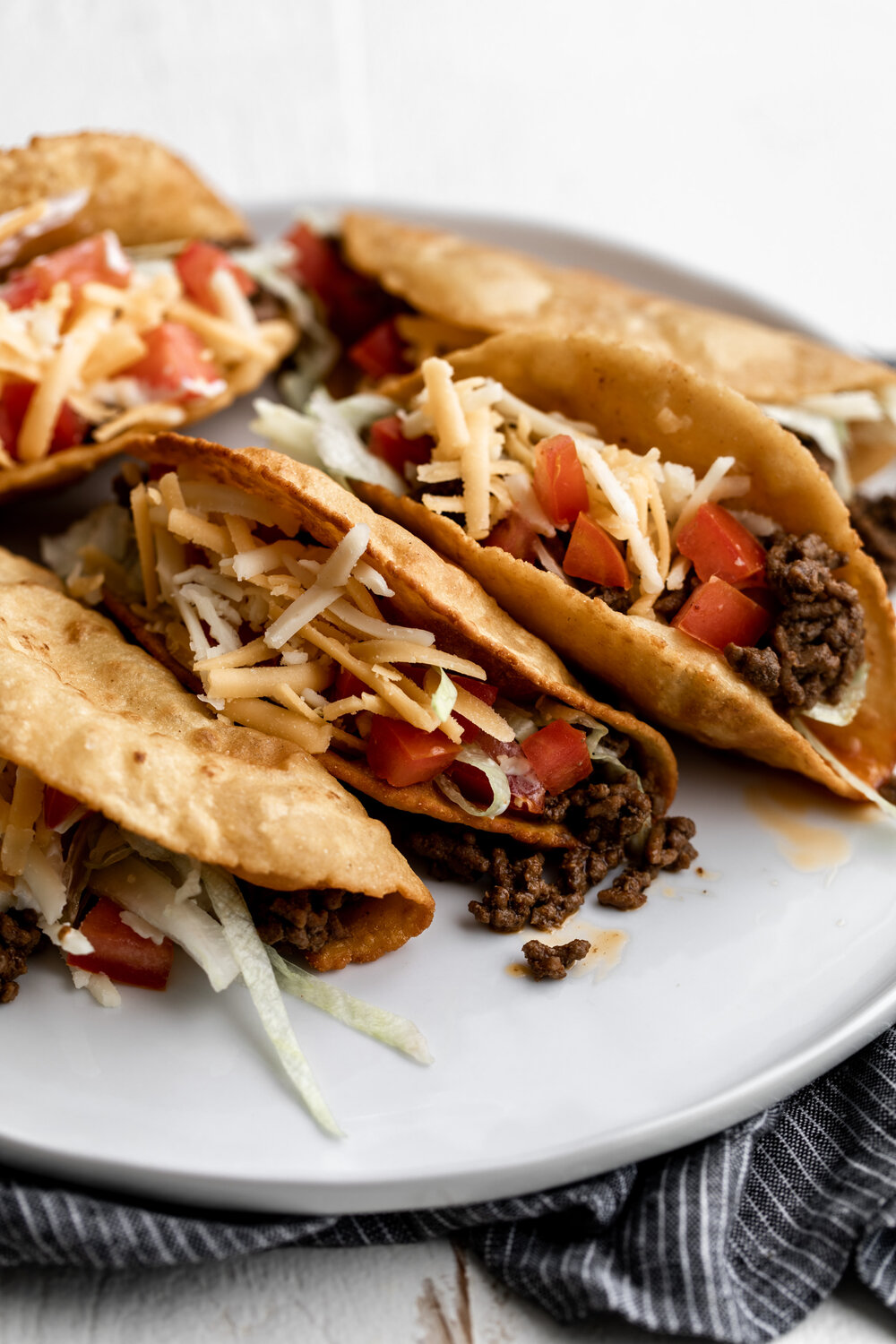 Crispy Ground Beef Tacos
For the taco seasoning:
1

tablespoon

chili powder

2

teaspoons

ground cumin

1

teaspoon

cornstarch

1

teaspoon

paprika

½

teaspoon

ground coriander

½

teaspoon

garlic powder

½

teaspoon

kosher salt

¼

teaspoon

cayenne
For assembly:
Vegetable oil,

as needed, for frying

10

small taco-size corn tortillas

1

pound

85/15 ground beef

Shredded iceberg lettuce,

for serving

2

medium Roma tomatoes,

cored and diced

½

cup

sour cream

¼

cup

shredded Monterey Jack cheese

¼

cup

shredded sharp Cheddar cheese
For the taco seasoning:
In a small mixing bowl stir together the chili powder, cumin, cornstarch, paprika, coriander, garlic powder, salt and cayenne until combined and set aside.
For assembly:
Fill a medium cast-iron skillet with enough oil to reach 1-inch up the sides. Heat oil to 325ºF. Working one at a time, fry the tortillas by folding the tortilla in half and laying one half flat in oil while holding the other half slightly open with tongs until golden brown, about 1 minute. Flip and repeat on the other side so it forms a half-moon shell, continuing to fry until golden brown, about an additional minute. Remove to a wire rack set over a rimmed baking sheet to cool.

Heat a large cast-iron pan over medium heat, add 2 tablespoons of the frying oil into the pan and heat through. Add the ground beef and cook, stirring occasionally and using a wooden spoon to break up the meat, until the beef is browned, about 6 minutes. Remove all but about 1 tablespoon of the oil from the pan and stir in the taco seasoning and ½ cup of water, stirring to combine. Return the mixture to a simmer over medium heat until the mixture thickens, about an additional 3 minutes.

Fill each of the crispy shells with meat then top with shredded lettuce, tomato, sour cream and cheese.
DID YOU MAKE THIS?
TAG ME ON INSTAGRAM TO BE FEATURED ON MY STORIES! @cookingwithcocktailrings