It was one of the first dishes that I had eaten using oxtails and if you know me then you know I love any type of braised meat dishes. Here the succulent spiced red wine braised beef ragù is paired with bitter mustard greens and a zesty chile gremolata served over pasta.
If you are unfamiliar with oxtails, it is pretty much explained in the name; they come from the tail of a cow. Historically it would be from an ox but now it's an umbrella term for the tail from either gender cow. It is extremely flavorful and since it is very fatty it's a great cut for braising. Look for bigger pieces of oxtail since there will be more meat.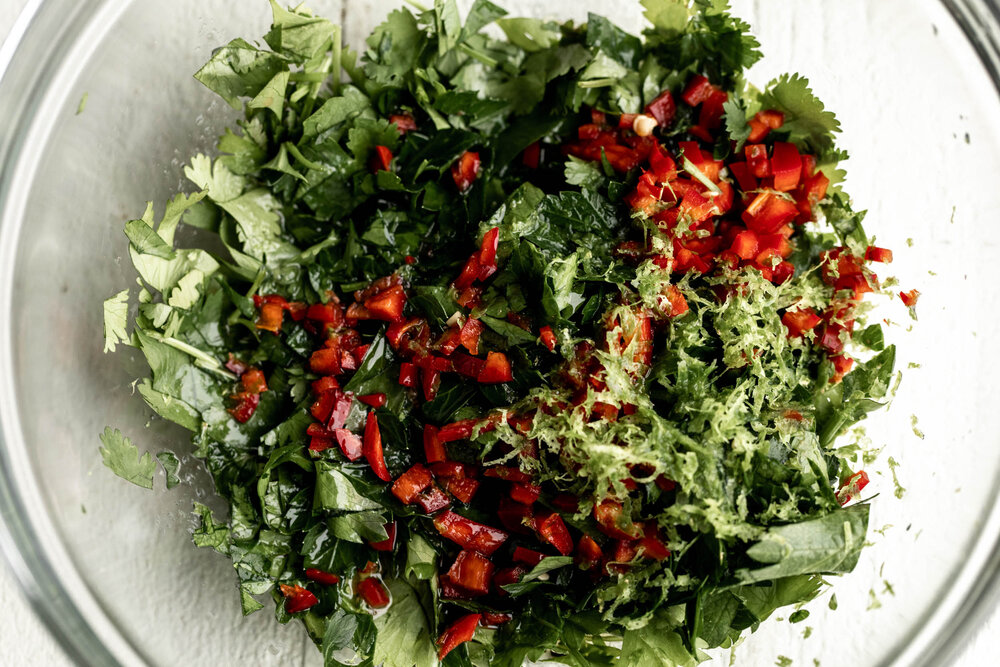 I think it is important to make use of less popular cuts of meat rather than tossing them aside as garbage. Because they aren't popular cuts, oxtails are also fairly cheap.
They are commonly used in Asian recipes like soups and can be found fairly easily at Asian markets or your butcher. Some grocery stores keep them in the freezer section in bags. If you can't find oxtails, then I'd recommend substituting boneless beef short ribs.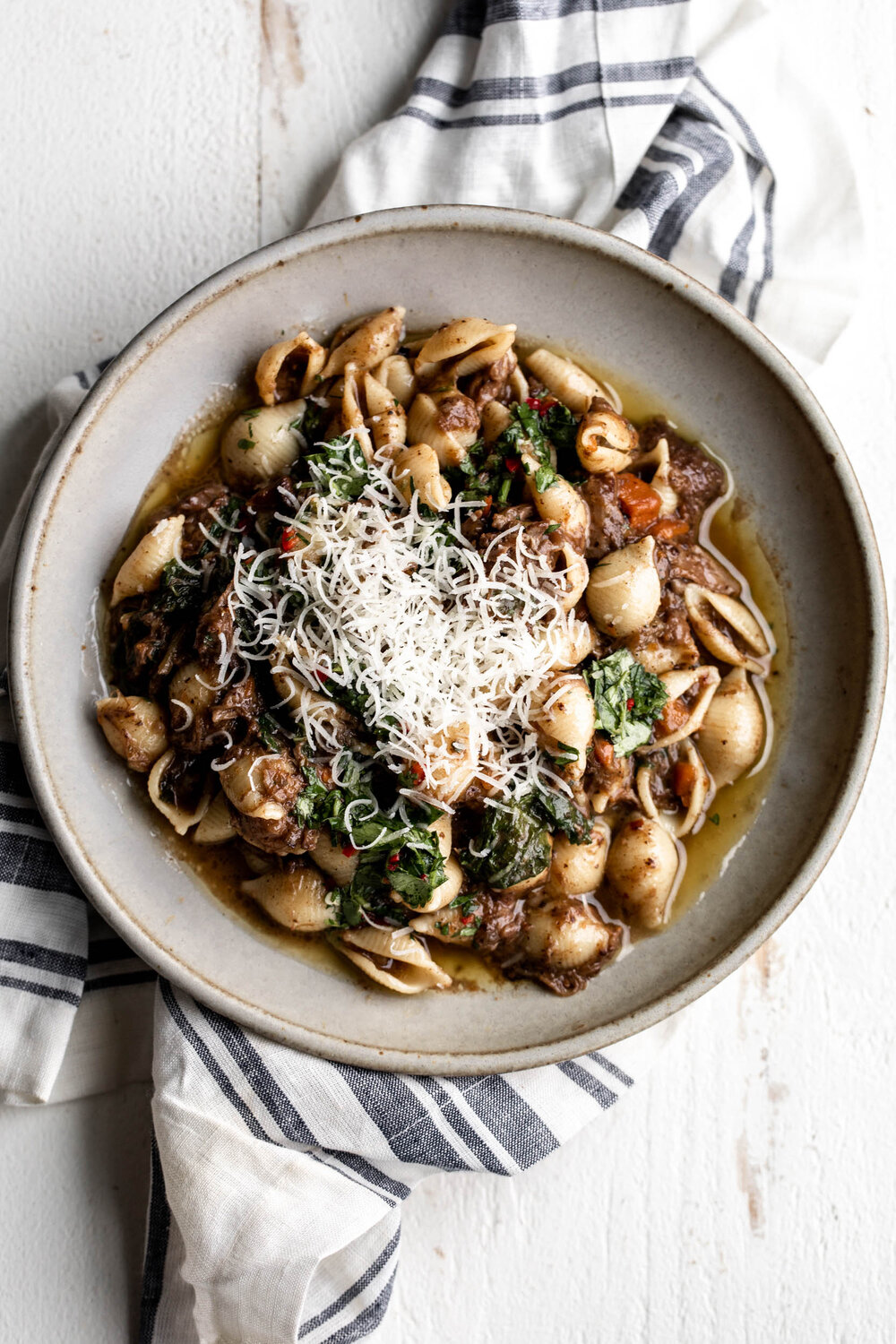 Braised Oxtail Ragu with Chile Gremolata
Braised oxtails:
3

pounds

oxtails,

about 5 to 6 oxtails

1

teaspoon

kosher salt

1

teaspoon

cumin

½

teaspoon

freshly ground black pepper

½

teaspoon

smoked paprika

¼

teaspoon

cinnamon

2

tablespoons

vegetable oil

2

large carrots,

diced

1

medium yellow onion,

diced

3

celery stalks,

diced

4

cloves

garlic,

chopped

2

cups

red wine

4

cups

beef stock

2

sprigs thyme

½

teaspoon

crushed red pepper flakes

2

packed cups roughly chopped mustard greens, stems removed
Chile gremolata:
1

Fresno pepper,

seeded and finely diced

½

cup

chopped cilantro leaves

½

cup

chopped parsley leaves

2

teaspoons

grated lime zest

1

tablespoon

lime juice

1

teaspoon

red wine vinegar

½

cup

extra-virgin olive oil

Kosher salt,

as needed
For serving:
¾

pound

medium shell pasta

¼

cup

grated Parmesan cheese
For the braised oxtail:
Heat oven to 325°F.

In a small bowl stir together the salt, cumin, black pepper, paprika and cinnamon. Season the oxtails all over with the spices. Heat a large Dutch oven or heavy bottomed saucepan over medium heat, add the oil and heat through.

Working in batches if needed, arrange the oxtails in a single layer in the cast iron skillet. Sear the oxtails golden brown on all sides, about 6 minutes total. Transfer meat to a plate, repeating until all oxtails are browned.

Return the pot to medium heat, add the carrots, celery and onion and sauté, stirring occasionally until the vegetables are tender, about 6 minutes. Add the garlic and cook, stirring frequently, until fragrant, about 30 seconds.

Add the wine to the Dutch oven and simmer until it's almost completely evaporated, about 8 to 10 minutes. Pour in the beef stock followed by the thyme and red pepper. Arrange the oxtails in the pot and bring to a simmer. Cover the pot and transfer to the oven.

Cook, turning oxtails half-way through cooking, until the meat is tender, about 3 hours. Remove the oxtails from the pot and let cool. Once cool, pull the oxtail meat from bones and shred the meat, discarding any large pieces of fat.

Add the meat back to the pot with the mustard greens and stir to combine, cooking over medium-low heat until the greens wilt, about an additional 10 minutes.
For the chile gremolata:
In a small mixing bowl, stir together Fresno peppers, cilantro, parsley, lime zest, lime juice, vinegar and olive oil until combined. Season with salt and set aside.
For assembly:
Place a large pot with salted water over medium heat and bring to a boil. Add the pasta and cook until just al dente, about 10 minutes. Drain the pasta, reserving about 1 cup of the pasta cooking water and return to the pot.

Ladle the oxtail stew over the pasta with the parmesan and ½ cup of the pasta cooking water, stirring to combine. Add the gremolata and stir once more. Divide among warmed pasta bowls. Serve immediately.
DID YOU MAKE THIS?
TAG ME ON INSTAGRAM TO BE FEATURED ON MY STORIES! @cookingwithcocktailrings