Braised Oxtail Arepas with Avocado & Black Beans
These Venezuelan-style arepas are served stuffed with oxtails that have been braised with red wine and chili powder and filled with avocado, black beans and plantains.
The major difference between Venezuelan and Colombian arepas is that Colombian arepas are often served with the toppings piled on top while the Venezuelan-style arepas are served stuffed for a flavorful, filling snack. It's basically like a stuffed cornbread/ English muffin hybrid.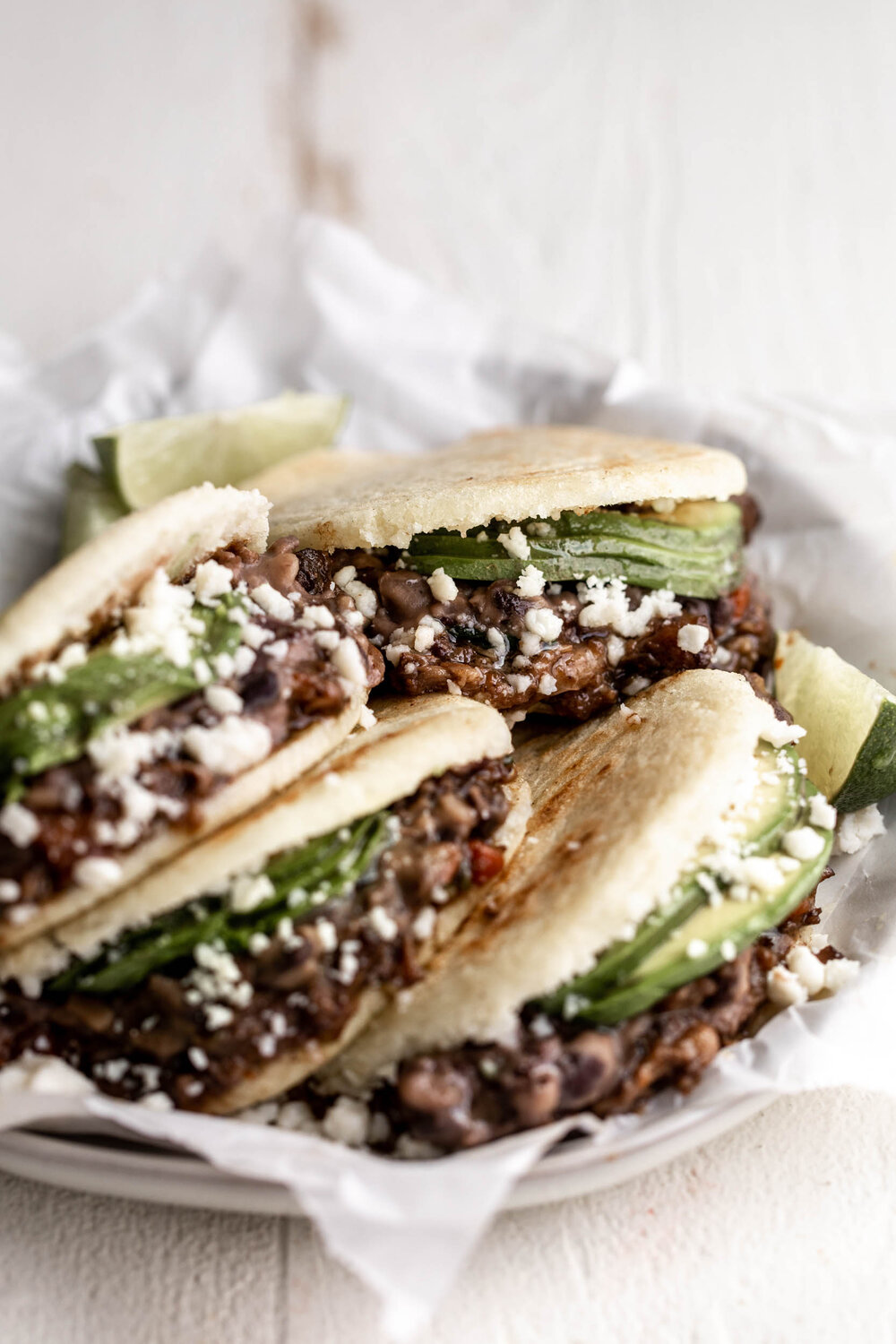 Aaron had been begging me to make arepas for a long time. For some reason I just haven't followed through and now it has become a running joke that I still haven't made them. Every once and awhile he will text me a link to a different arepas recipe or tag me on Instagram. I should clarify that by "a long time", I mean like over six years… so yeah it's been a long time coming. After the last not so subtle hint I finally decided to do some research and try my hand at them.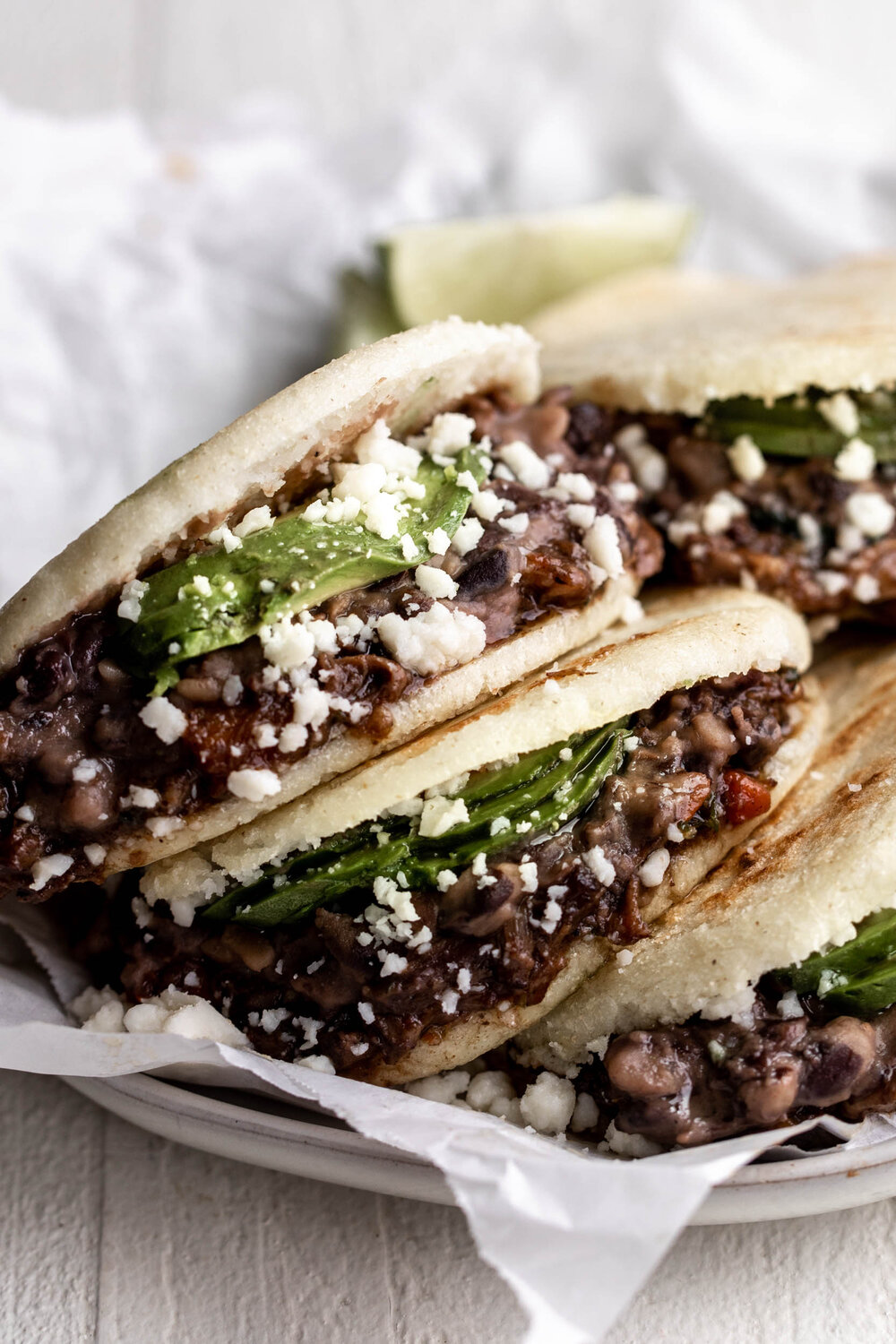 The arepa flour, masarepa, is a precooked cornmeal that is then finely ground and is different from masa harina, or regular cornmeal. I found it at a local Latin market but this popular brand, P.A.N., can be ordered on Amazon here. Masa harina, the corn meal used for making tortillas is treated with lime before being ground so the two are not interchangeable when making arepas. For a shortcut you can also purchase pre-made arepas from places like arepas NYC!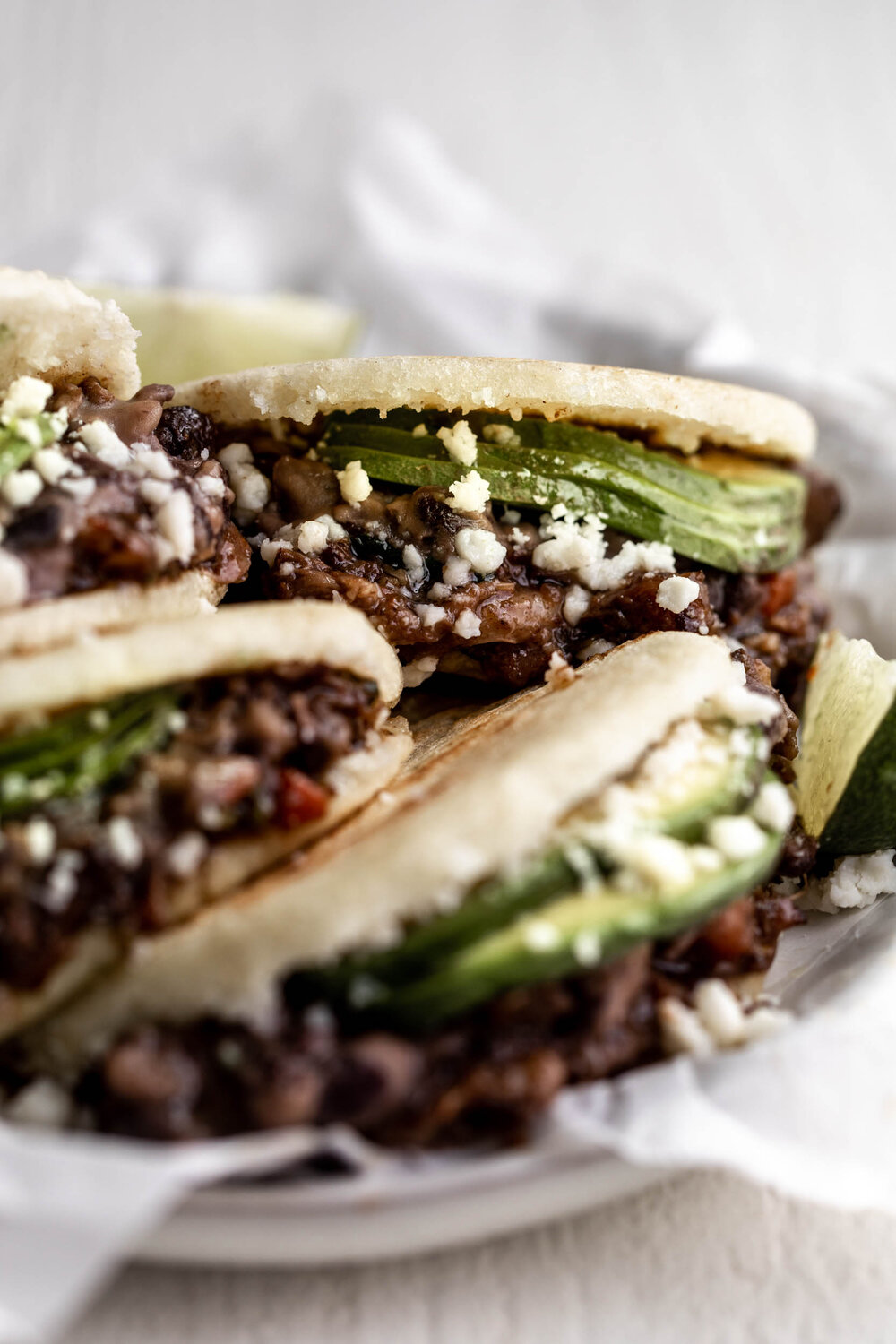 Braised Oxtail Arepas with Avocado & Black Beans
For the braised oxtails:
3

pounds

oxtails,

cut into thick steaks by the butcher if needed

Kosher salt,

as needed

Freshly ground black pepper,

as needed

2

tablespoons

all-purpose flour

2

tablespoons

extra-virgin olive oil

2

medium carrots,

chopped

2

medium shallots,

chopped

4

green onions,

roughly chopped

3

cloves

garlic,

chopped

2

tablespoons

tomato paste

1

teaspoon

chili powder

1

cup

dry red wine

2

cups

beef stock

2

tablespoons

chopped cilantro
For the arepas:
2

cups

aprepa flour,

precooked cornmeal

2

teaspoons

kosher salt

2

tablespoons

vegetable oil
For assembly:
1

large Haas avocado,

peeled, pitted and sliced

1

(15.5-ounce) can black beans, rinsed, drained and heated

¼

cup

crumbled cotjia cheese

Lime wedges,

for serving
For the braised oxtails:
Preheat the oven to 325ºF.

Pat the oxtails dry with paper towels then season the oxtails on all sides with salt and pepper. Toss with flour to coat evenly. Heat a 7.25-quart Dutch oven over medium heat then add the olive oil and heat through. Working in batches, sear until golden brown on all sides, about 6 minutes.

Remove to a bowl and repeat with the remaining oxtails. Once all the oxtails have been seared set aside, leaving as much of the oil in the pan. Add the carrots, shallots and green onions and sauté until soft and tender. Add the oxtails back to the pot then stir in the garlic, tomato paste and chili powder. Add the red wine and beef stock. Bring to a simmer then cover. Place in the oven and braise until the meat is fork tender, about 3 hours.

Remove the oxtails from the pot and let cool. Once they are cool, shred the meat and setting it aside, discarding the bones or reserving for stock. Return the braising liquid to the pot and simmer until the sauce is reduced. Add the shredded meat back to the pan and season with salt and pepper. Stir in the cilantro and set aside.
For the arepas:
In a medium mixing bowl, stir together the arepa flour and salt. Make a well in the center of the arepa flour and add 2 ½ cups warm water. Stir together with a wooden spoon, stirring until there are no lumps. Let the mixture rest for 5 minutes. The dough should hold together easily.

Knead the dough in the bowl then divided into 8 equal pieces. Roll each piece on a clean work surface into a ball, then flatten into a circle ½" thick.

Heat a large nonstick skillet over medium heat, add 1 tablespoon of the oil and heat through. Add 4 of the arepas and cover, cooking until golden brown, about 6 minutes. Uncover, flip and continue to cook, uncovered, until golden brown, an additional 6 minutes.

Transfer to a wire rack to cool. Repeat with the remaining arepa dough. Use a sharp knife to split the arepas.
DID YOU MAKE THIS?
TAG ME ON INSTAGRAM TO BE FEATURED ON MY STORIES! @cookingwithcocktailrings