Osso Buco with Gremolata
This classic Milanese dish is made up of braised veal shanks in a white wine and tomato-based sauce that is served over a bed of saffron risotto and gremolata.
I think that braising is my favorite way to cook meat. It becomes so tender that it can be pulled apart with a fork and,after throwing in a few different things with the meat, you have a sauce for it as well. It's an easy method that over time works to develop complex flavors. Once you know the basics you can sub out various cuts of meat and play around with the method.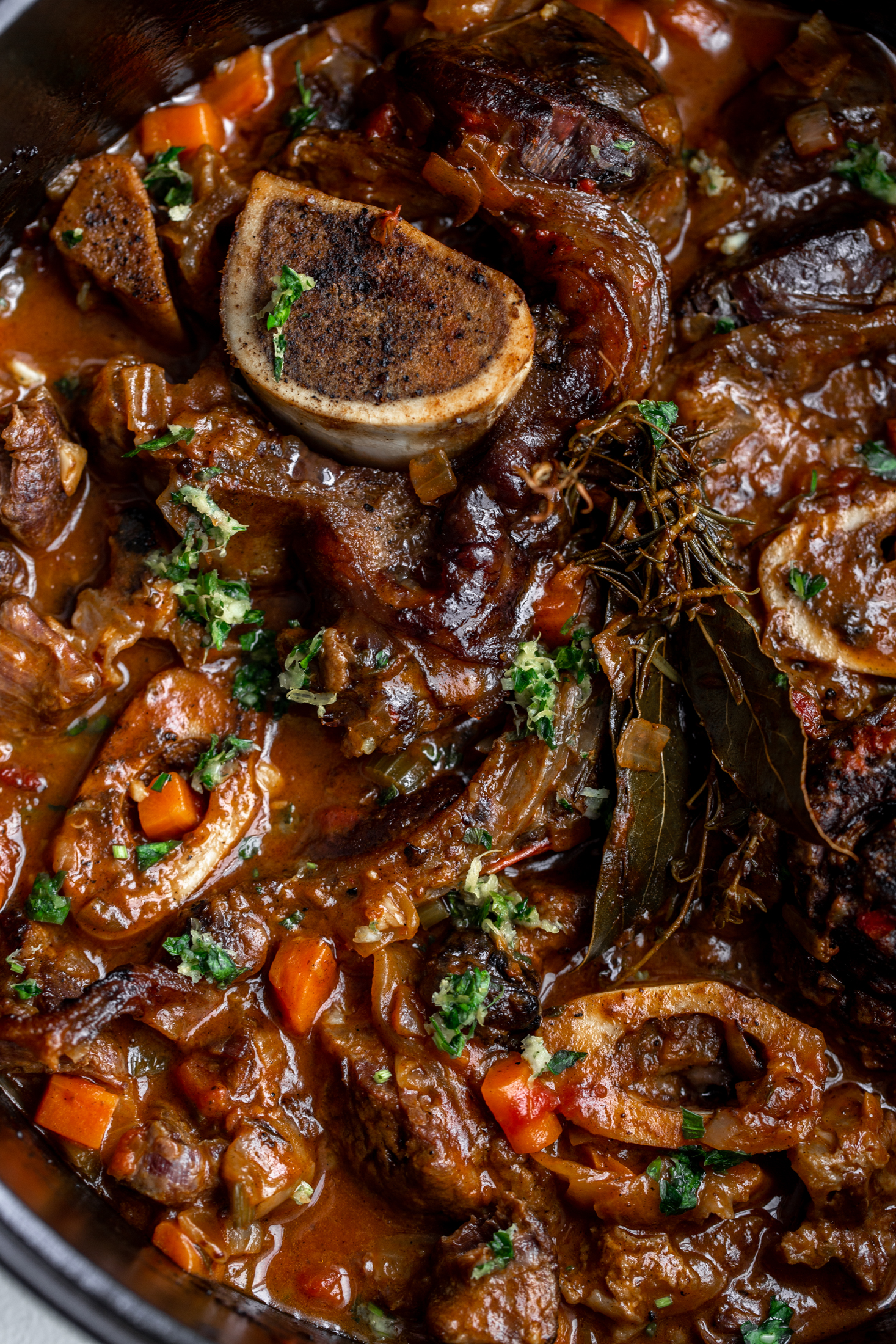 Veal shanks don't take as long to braise as many other cuts of meat since they are only about 1½-inches thick. The bone marrow from the bones melts into the sauce making it even richer. Osso buco literally means "bone with a hole".
And if you wind up with some of the marrow left in the bones, use a small fork or spoon to dig that delectable bit out. While most red meats are braised in red wine this recipe calls for white wine for a lighter, tomato-based sauce where the flavors of the carrots, celery and onion can shine through and are complimented by the aromatics of rosemary, thyme and bay leaf.
This recipe is best served over saffron risotto, get the recipe here.
Osso Bucco with Gremolata
For the osso buco:
4

veal shanks,

about 4 pounds

kosher salt,

as needed

Freshly ground black pepper,

as needed

2

tablespoons

all-purpose flour

¼

cup

extra-virgin olive oil

1

medium yellow onion,

chopped

2

medium celery stalks,

diced

2

medium carrots,

peeled and diced

8

cloves

garlic,

minced

2

tablespoons

tomato paste

1

cup

diced tomatoes

6

sprigs fresh thyme

4

sprigs rosemary

2

bay leaves

1

750-ml bottle dry white wine
For the osso buco:
Use butcher twine to tie up the veal shanks around the circumference of each shank to help them hold their shape during cooking. Season the veal shanks with salt and pepper. Sprinkle all over with flour.

Heat a large Dutch oven over medium-high heat, add the olive oil and heat through. Add the veal shanks, working in batches as to not overcrowd the pan. Sear the shanks on both sides, about 5 minutes total. Remove to a plate and repeat with the remaining shanks and set aside.

Lower the heat to medium-low then add the onion, celery and carrots and cook, stirring occasionally, until the vegetables are tender, about 6 minutes. Add the garlic and cook until fragrant, about additional 30 seconds. Stir in the tomato paste followed by the diced tomatoes.

Tie together the thyme, rosemary and bay leaves with twine then add to the pot. Arrange the veal shanks back to the pot and pour the wine over the top. Bring to a boil then cover tightly with the lid and braise until the veal shanks are fork tender, about 2 to 2½ hours.
DID YOU MAKE THIS?
TAG ME ON INSTAGRAM TO BE FEATURED ON MY STORIES! @cookingwithcocktailrings