Easter Chocolate Coconut Macaroon Nests
This is #notsponsored I just love those Cadbury eggs that come out around Easter – I told myself that this year I would be good and I wouldn't buy any. I was at Target the other day and one thing turned into another and the next thing I knew I was adding a few bags of those delicious eggs into my cart.
When I returned home, rather than popping them one after another into my mouth I decided to write a recipe with an Easter theme.
Macaroons not to be confused with their French counterpart macarons, are made from a combination of egg whites, sugar and coconut. They are baked until they are crisp on the outside and light and fluffy on the inside. I dip them in chocolate and top them with mini Cadbury eggs for an addicting Easter treat.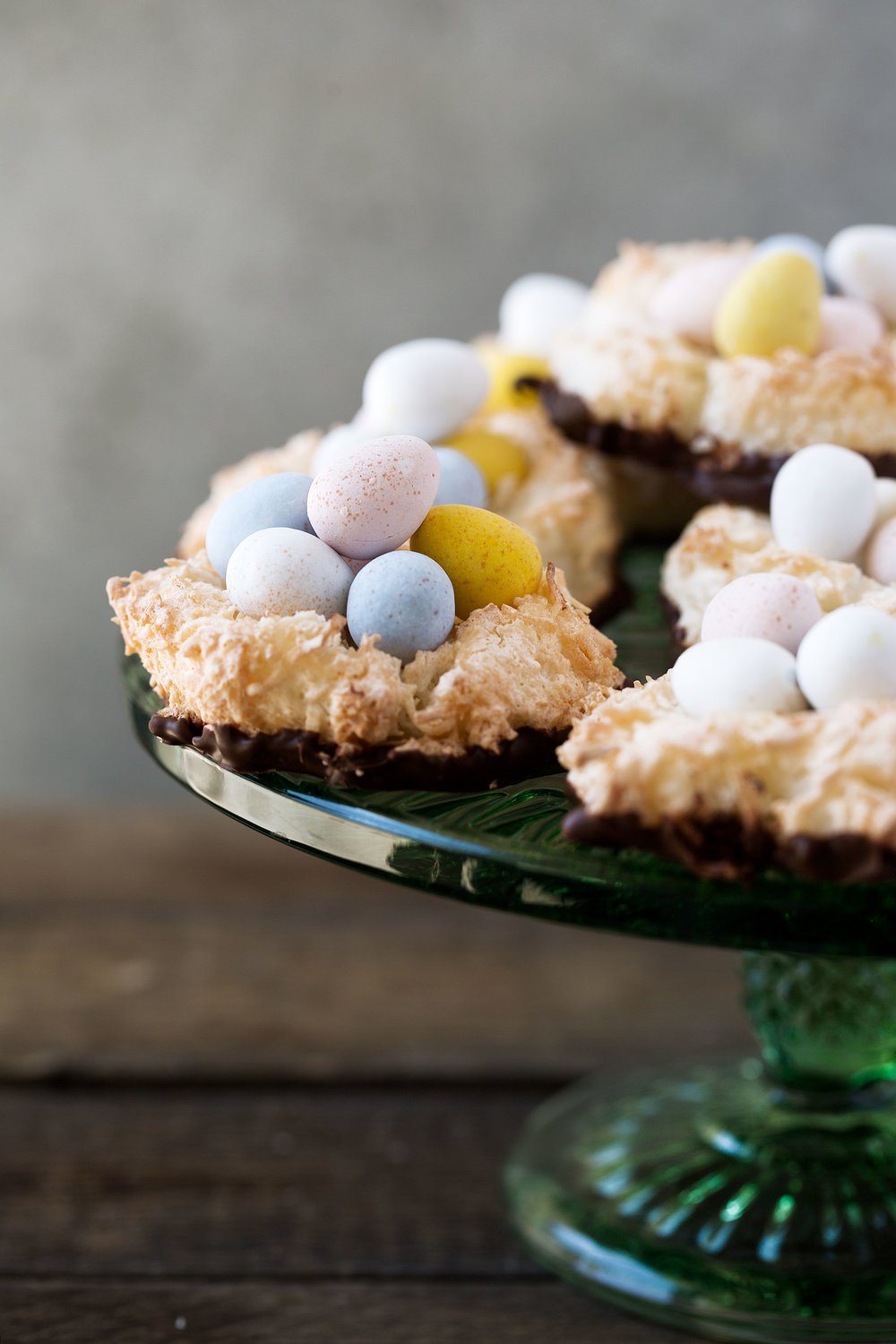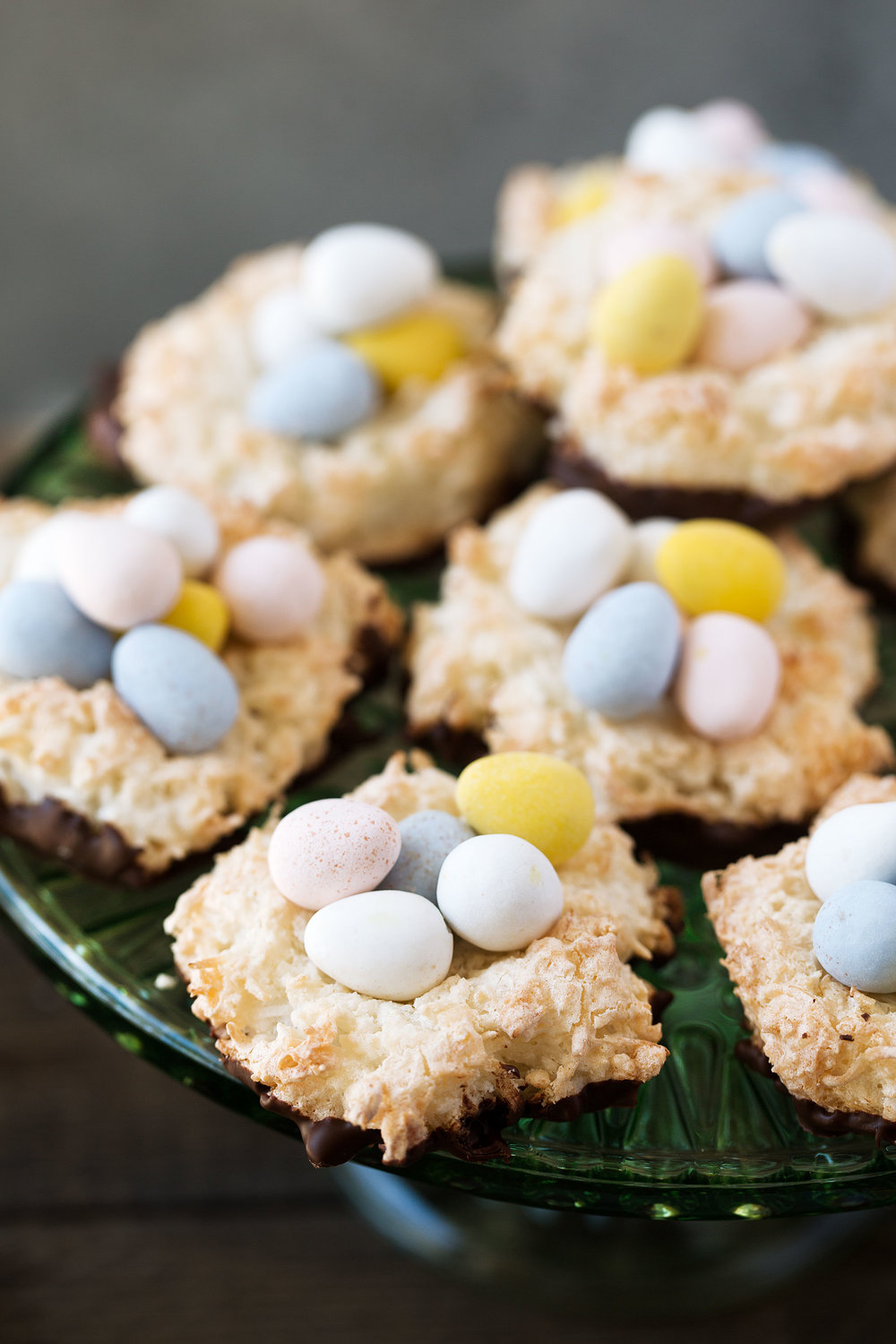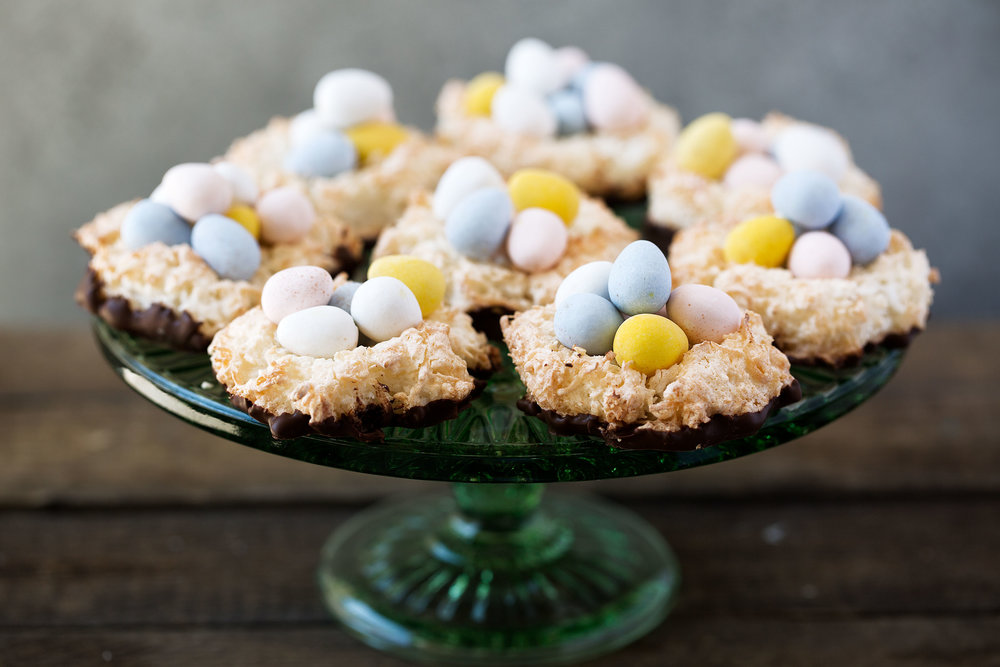 Easter Chocolate Coconut Macaroon Nests
Preheat oven to 350ºF.

In the bowl of a stand mixer fitted with a whisk attachment, beat the egg whites with the sugar, vanilla and salt until a light and fluffy meringue forms, about 3 minutes.

Use a wooden spoon to stir in the coconut until evenly combined. Line a baking sheet with parchment paper and use wet hands to shape 1½-inch balls of the coconut mixture, placing them about 2-inches apart. Use your thumb to press into the center of the balls to form a well, so they look like little nests.

Bake until the macaroons are golden brown, about 15 to 20 minutes. Remove to a cooling rack and let cool completely.

Melt the chocolate using the double boiler method. Bring a saucepan of water to a boil over medium heat and set a heatproof metal bowl over the top. Add the chocolate and stir until completely melted and smooth, about 3 minutes.

Dip the bottoms of the macaroons into the chocolate, letting any excess chocolate drip off, and place them back on the parchment paper to harden. Repeat with the remaining macaroons. Once the chocolate has cooled and hardened, fill the top of the nests with the Cadbury eggs and serve.
DID YOU MAKE THIS?
TAG ME ON INSTAGRAM TO BE FEATURED ON MY STORIES! @cookingwithcocktailrings