I grew up doing arts and crafts projects all the time with my mom – she's incredibly crafty and had a whole room in our house filled with supplies. The walls were lined with scissors, press out stamps, stickers and various kinds of paper. We made cards, scrapbooks and just about anything else you can think of.
As an adult I still love DIY projects. Saying something is DIY is just a grown up version of arts and crafts. Yesterday I invited a few friends over, and we spent our Sunday dying Easter eggs – it was a fun, mindless activity and I loved getting to feel like a kid again. Whether you're an adult, a kid or somewhere in between this spring craft is fun for the whole family.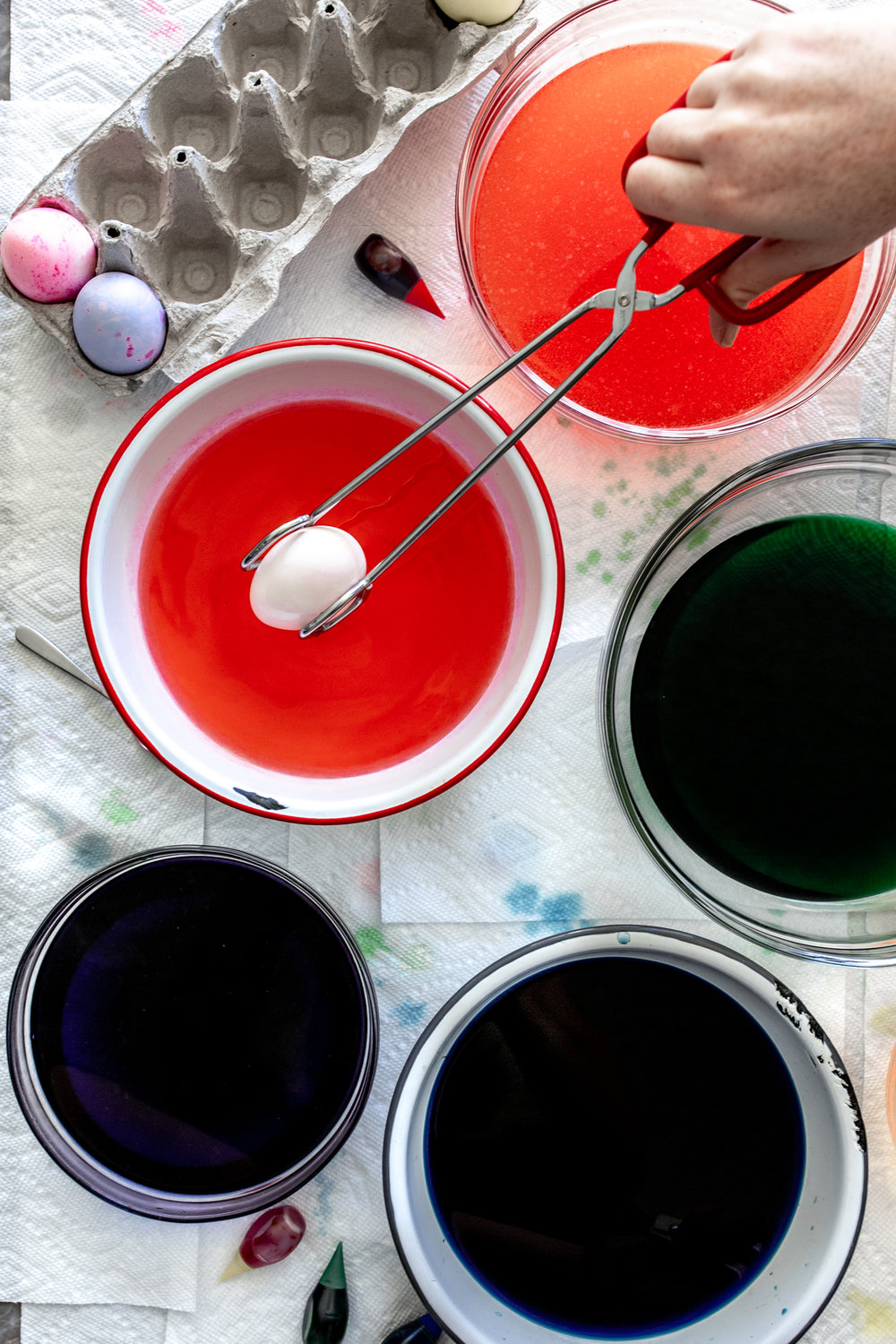 How to Dye Easter Eggs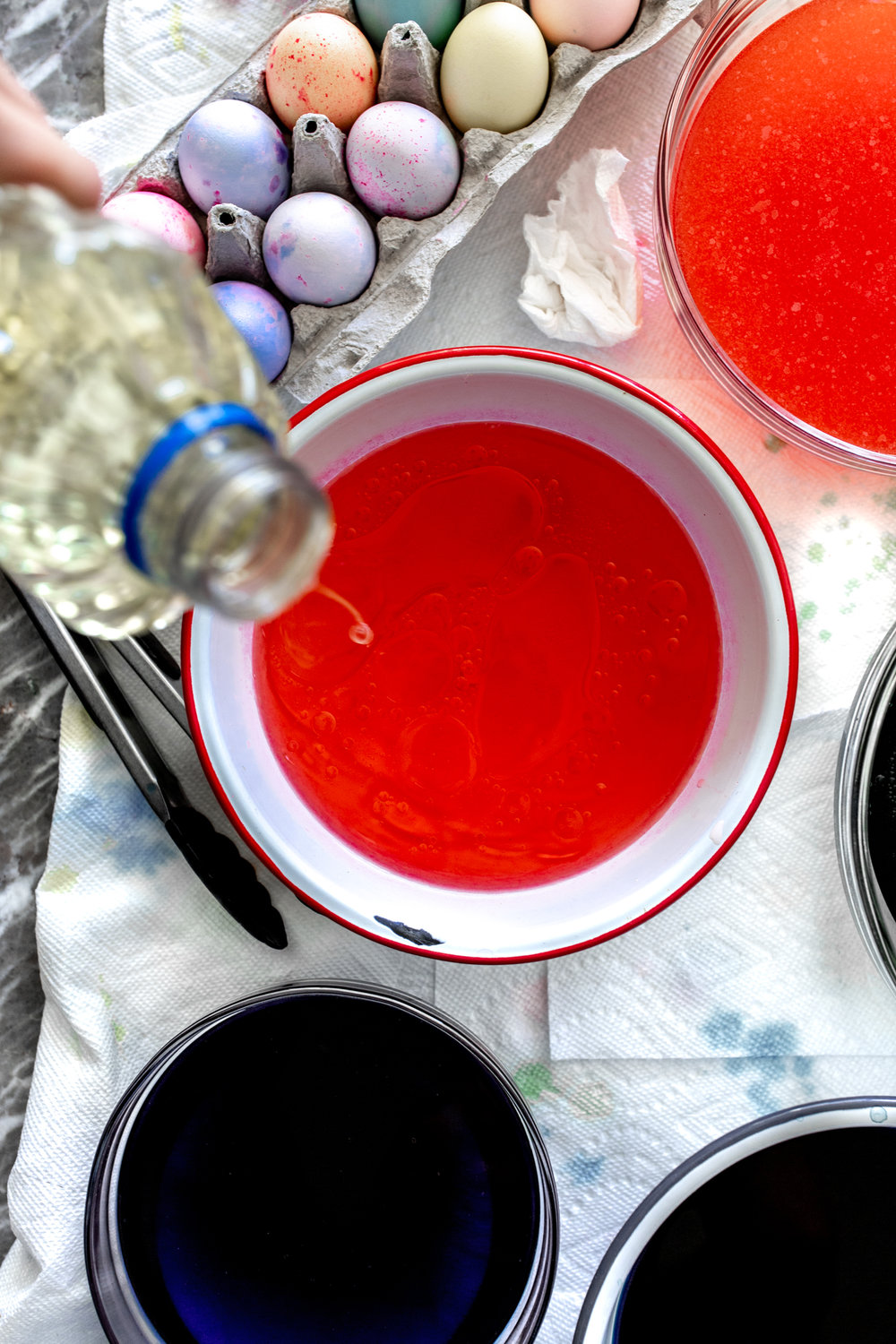 What you will need:
Lots of white eggs – while I usually opt for pasture-raised eggs, for this I go for the cheaper ones since they won't be eaten. Feel free to experiment with various types of eggs. If you can find them then it is fun to play with decorating emu, ostrich or duck eggs
Boiling water
Distilled white vinegar – the hot water helps the dye to adhere and the dye to mix with the water
Liquid food coloring – I have tried gel food coloring and it doesn't fully dissolve in the water – you get a cool tie-dye look but if you want a solid color it doesn't work well. Liquid food coloring can be found in the baking or spice section of your local grocery store
Vegetable oil (optional)
Stickers or rubber bands (optional)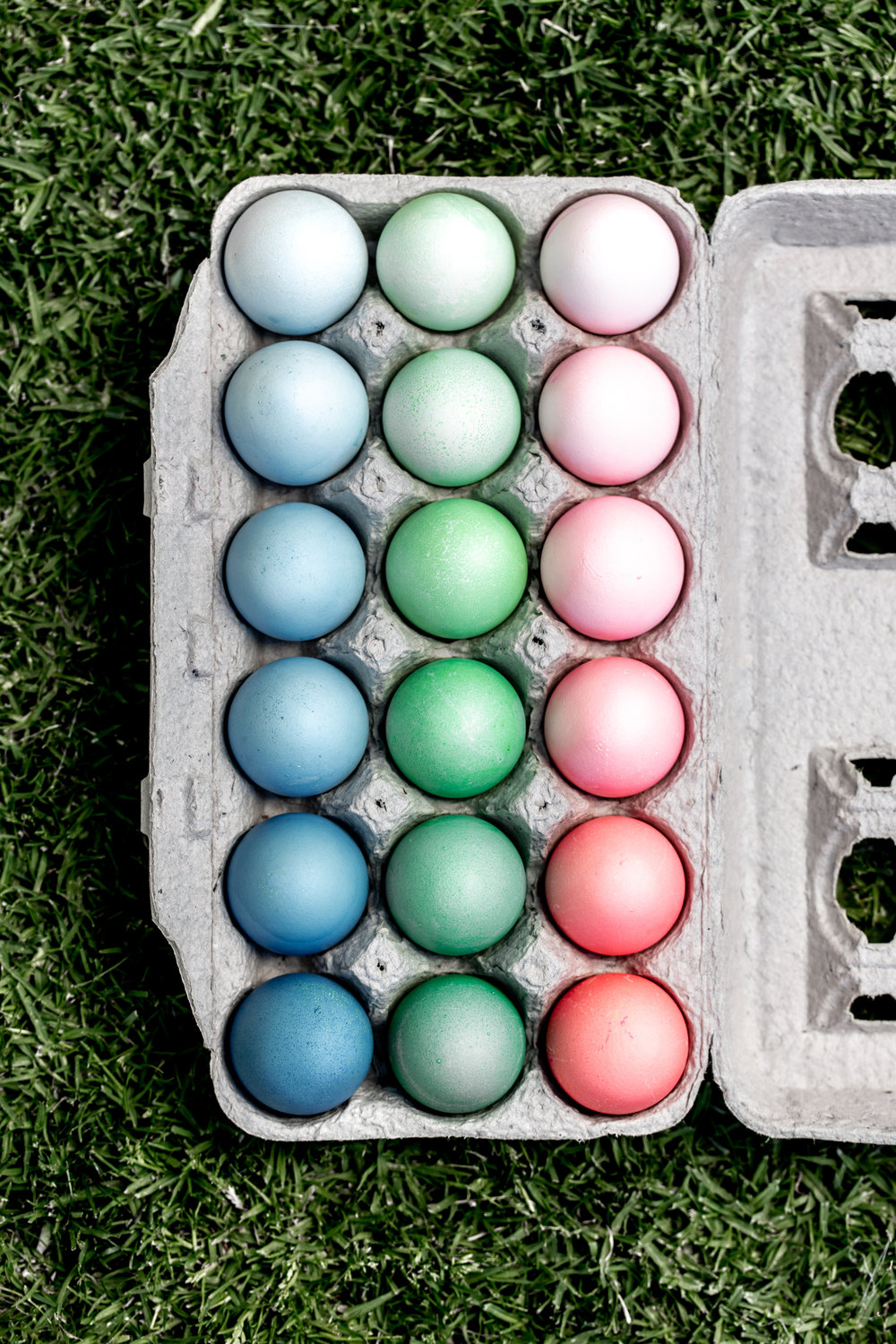 To prep the eggs:
There are two methods that you can use to prep the eggs. The first method, hard-boiling the eggs is the easiest method but the eggs also don't last as long. If you want to keep the eggs for décor and be able to show them year after year then the best option is to blow out the egg.
To hard-boil eggs:
Place the eggs in an even single-layer of a large saucepan.
Add enough cold water so the eggs are covered by 1-inch.
Bring to a boil over high heat.
Once the water is at a boil remove from heat and let the eggs sit for 12 minutes.
Drain the eggs from the hot water and add cold water to cool the eggs quickly.
To blow out the eggs:
To empty a raw egg from the shell without damaging the shell, start by using the tip of a sharp knife to create a small hole on the top and bottom of the egg then use a pin or paperclip to slightly widen the hole and stir the yolk (so that it's easier to get out).
Use a rubber eye syringe to blow the contents of the egg out into a bowl.
Reserve the whites and yolks for another use (like scrambled eggs).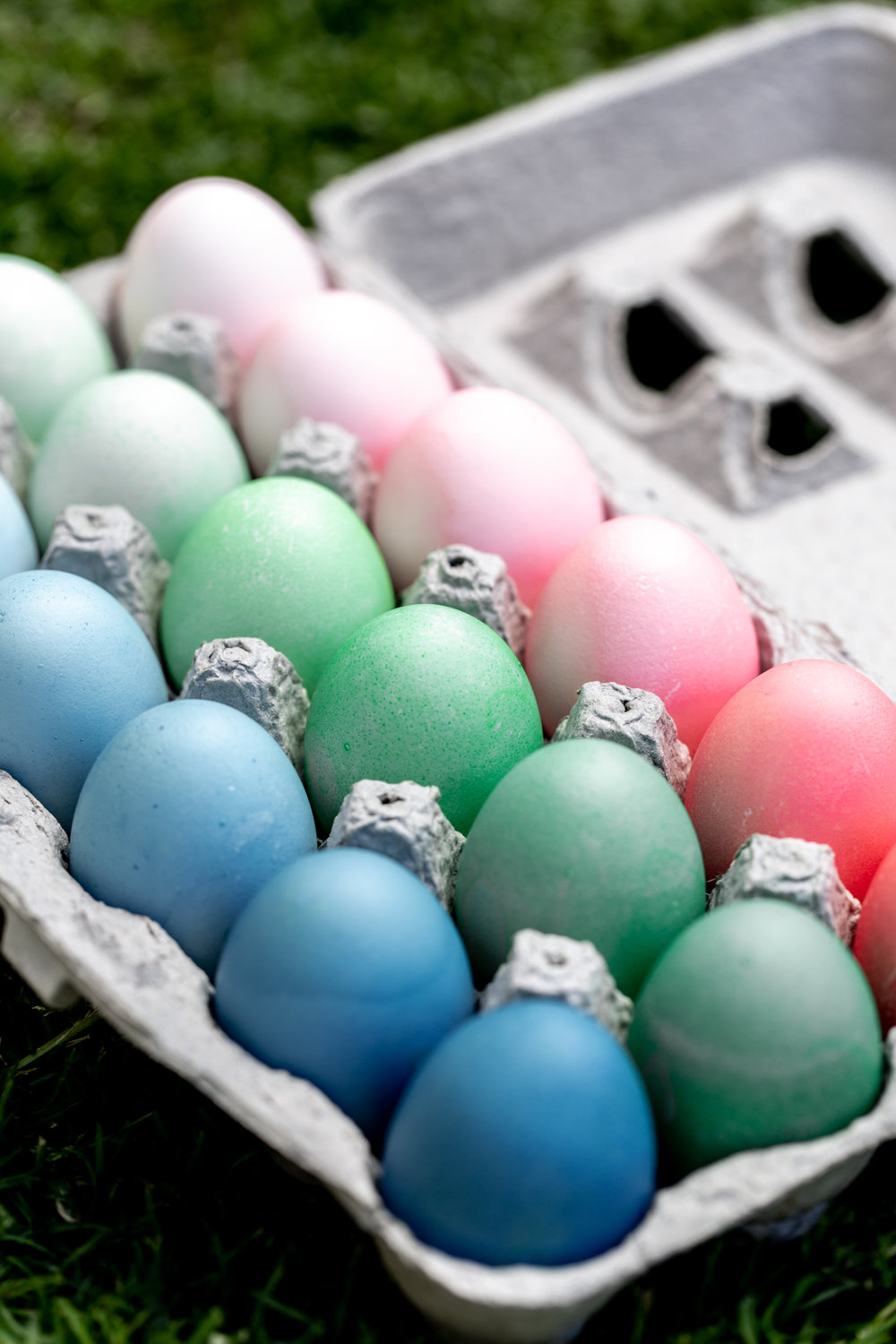 To dye the eggs:
Clear a work surface and cover with newspaper or paper towels (spills happen). Set out several large bowls of boiling water. For every cup of water adda teaspoon of white vinegar (this will help the dye adhere to the egg) then add 10 drops of food coloring. Feel free to add more food coloring if you want a darker color egg.
Easy formula to follow: for every 1 cup of water x 1 teaspoon vinegar x 10 drops of food coloring
Working one at a time, carefully use metal tongs or a slotted spoon to lower the eggs into the dye bath. For lighter color eggs let sit for a few seconds and for a darker shade, let the eggs sit for a few minutes. You can lift the egg out and check the color occasionally.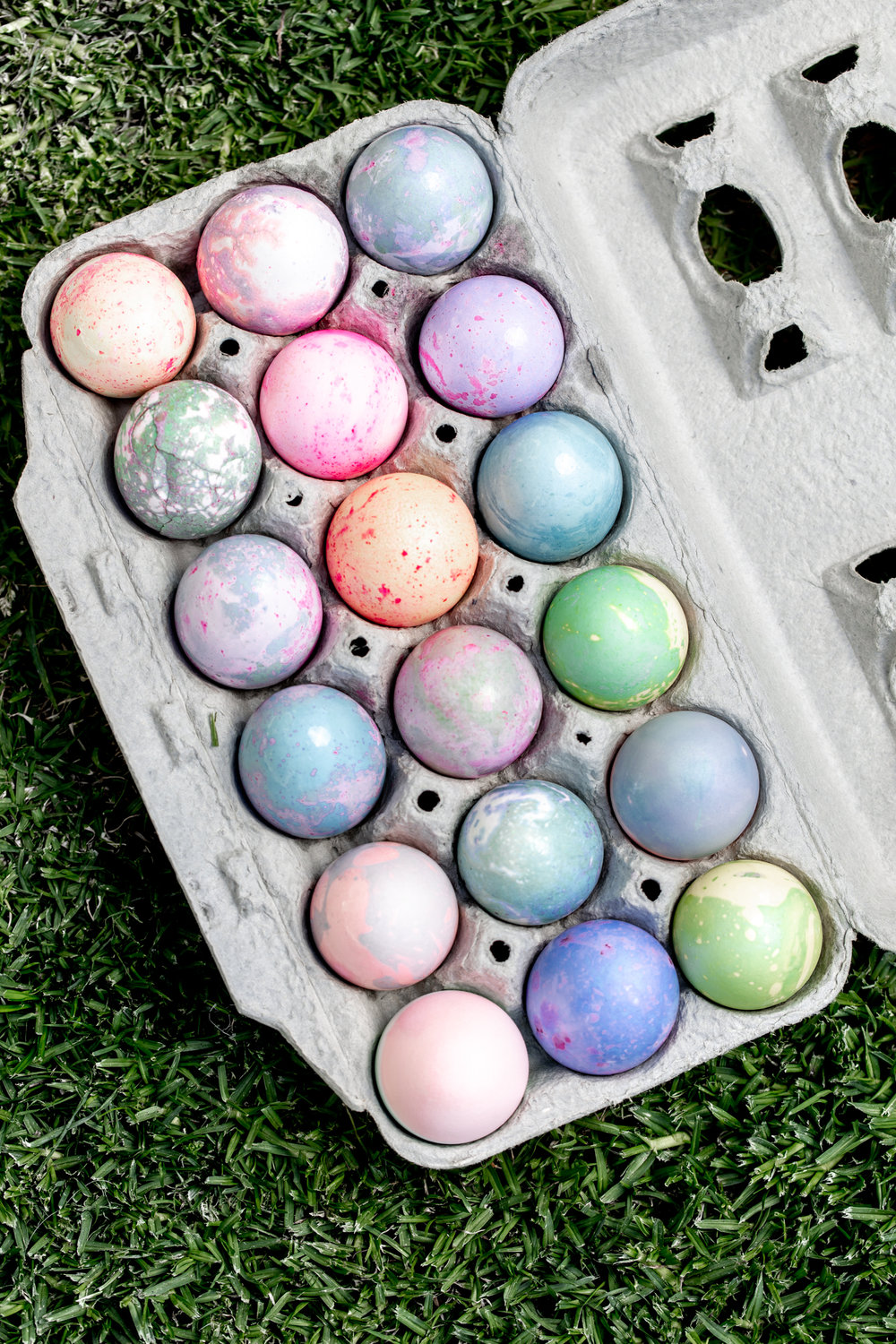 To switch it up and get creative:
Use stickers or rubber bands on the eggs to keep areas white. This could be stripes or zigzags or stars. You can also add 2 tablespoons of vegetable oil to the dye bath to create a marbling effect.
You can also try going all-natural with your dye and using different foods and spices in hot water to color the eggs. You can use turmeric for yellow, shredded beets for pink/ purple, chopped red cabbage for either a light blue. These natural solutions will take longer. They will need to sit for at least 30 minutes.