When I was younger my family used to frequent an Italian restaurant the next town over in Mendham, New Jersey called Sammy's. The restaurant was in a nondescript white building with no sign. While the restaurant had many stories floating around about it. The major rumor was that it was managed or had ties to the mob back in the day – as all the limos and black cars would be parked outside. I don't think I ever ordered anything other than the surf and turf. While this steak can simply be grilled or cooked in a cast iron pan – using the sous vide method works to create an extremely tender, well cooked steak.
Surf & Turf with Garlic Herb Butter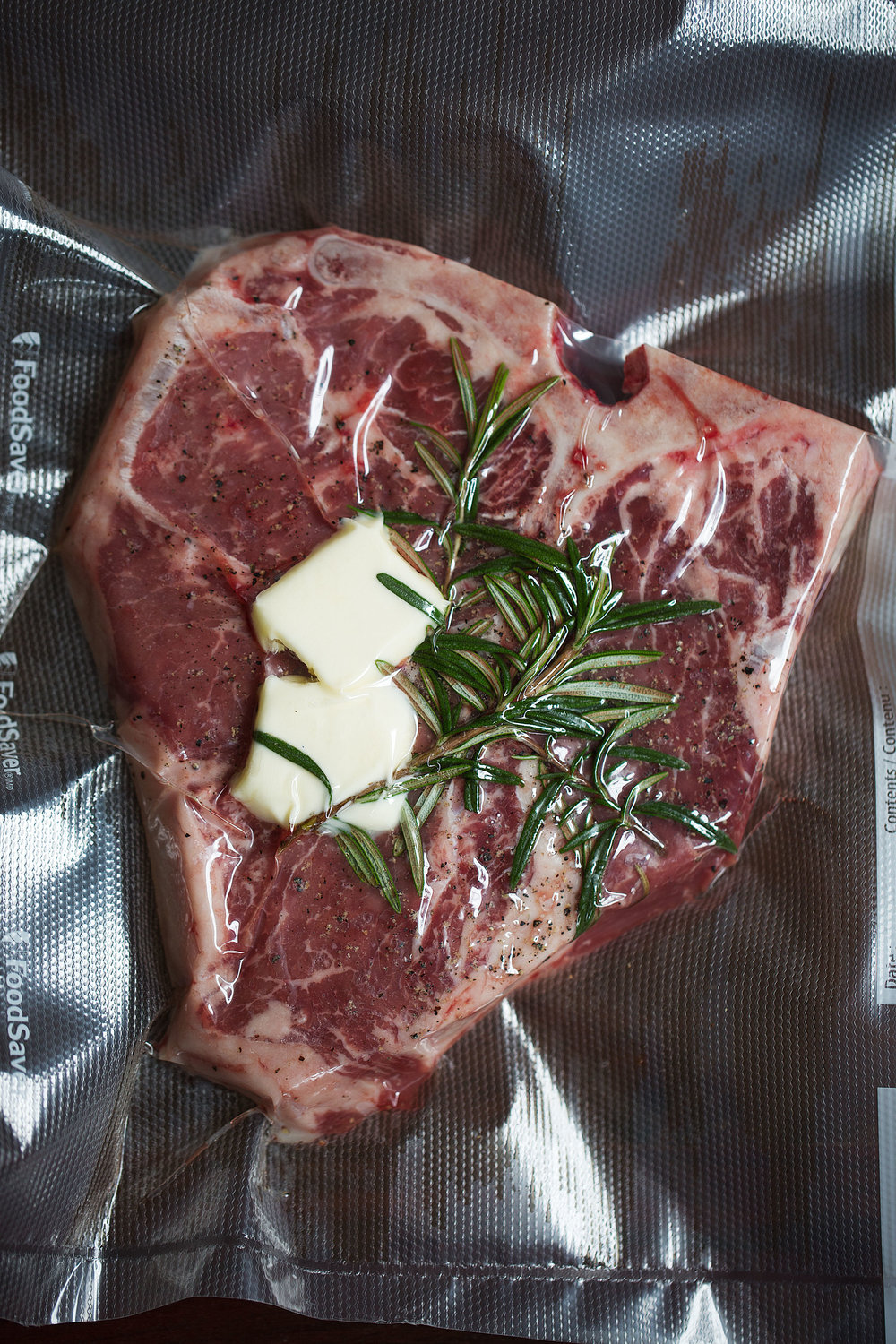 Sous Vide Method of Cooking
This recipe calls for an immersion circulator for sous vide cooking. This is a method of cooking in which food is vacuum sealed in bags and cooked in a temperature-controlled water bath. The food is cooked evenly and at an exact temperature and becomes extremely tender.
It is vacuum-sealed in the bags so that the juices from the meat (or whatever else you may be cooking) do not escape. They have nowhere to go so they remain in the meat. You simply set a pot of water with the immersion circulator attached to the outside, set the temperature and add the food in the sealed bags. I grill the steak after using the sous vide method just to develop a nice sear on the outside.
What is Surf and Turf?
A combination of land and sea – typically steak and lobster.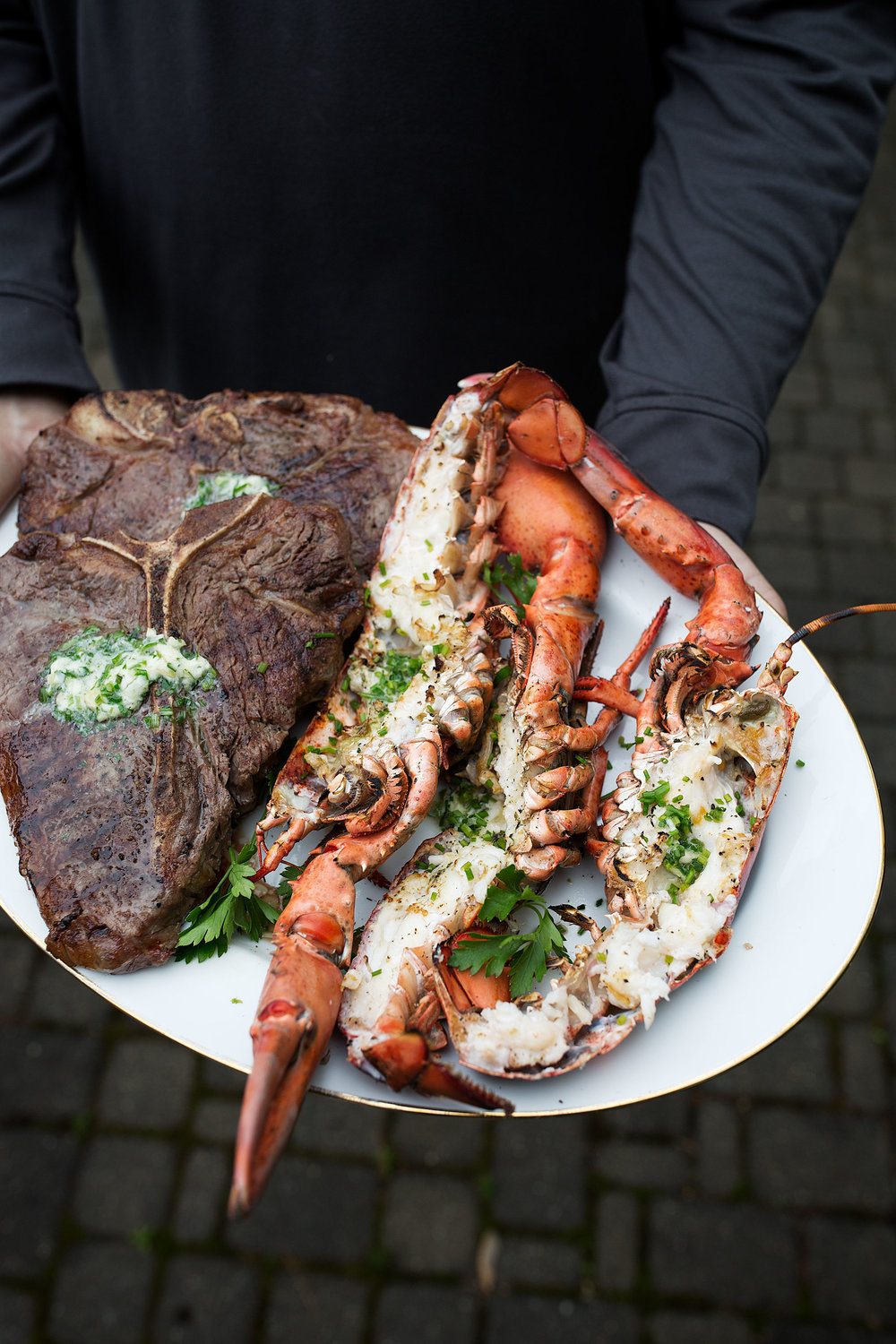 Key Ingredients in This Recipe
Lobster – Boiling the lobsters first allows them to cook most of the way through. Once they are halved and grilled, you get a bit of char and smoky flavor without it being overpowering.
Steak – I use a T-bone steak in this recipe. The impressive cut of beef is actually two cuts of steak in one – a New York strip steak on one side and a tender, sought-after filet mignon on the other. This cut comes from the short loin of the cow and is actually one of my favorite cuts of beef. I sous vide it first with salt, pepper, rosemary and butter before grilling it to medium rare. This steak can also be cooked in a cast iron pan.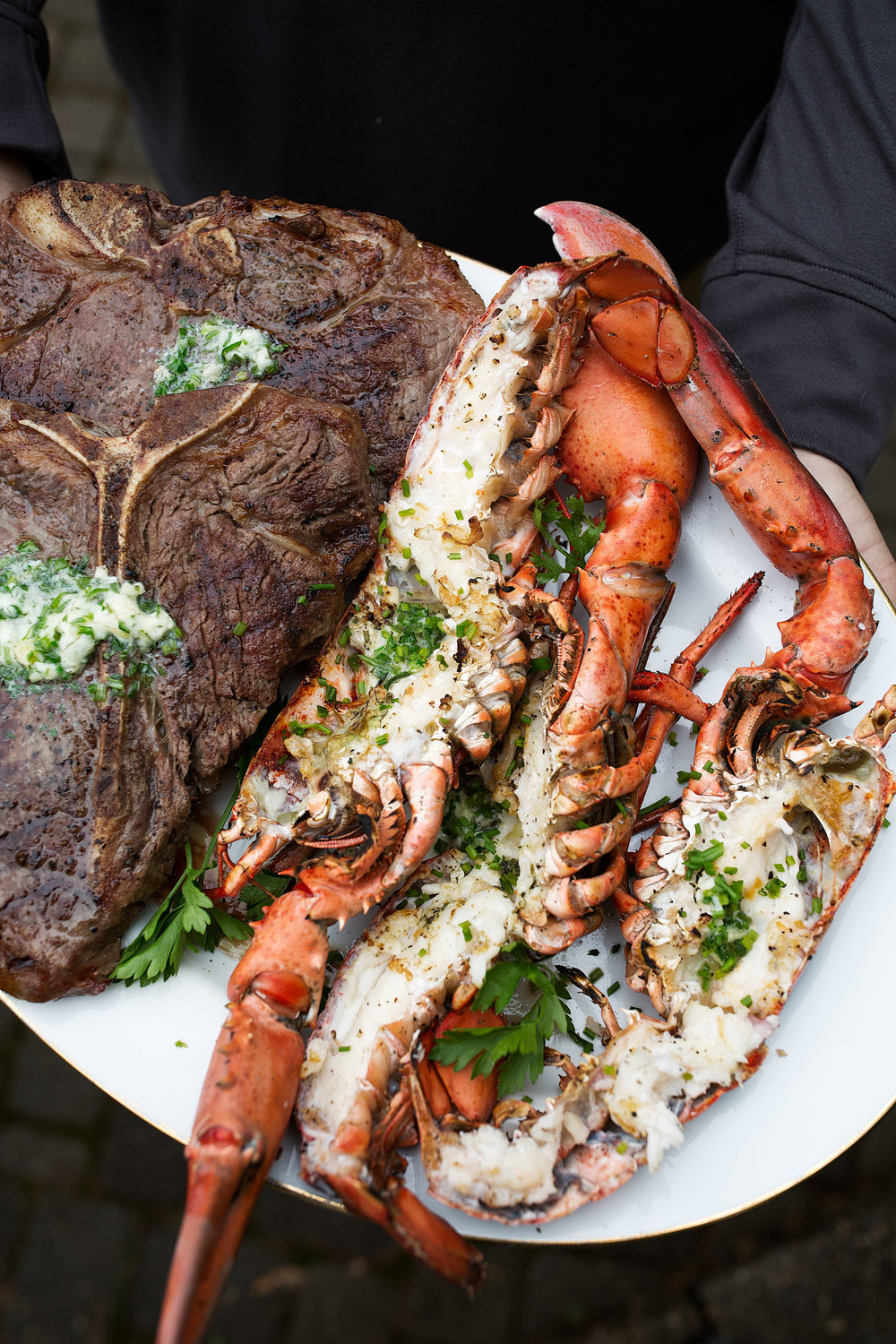 Tips and Tricks for Grilling
The preferred grill for this is a charcoal grill so you get that smokier flavor. This can also be achieved by adding soaked wood chips to the tray in your propane grill.
Other Recipes to Try
If you enjoy this surf and turf recipe, I recommend checking out some of these:
Surf & Turf with Garlic Herb Butter
For the garlic herb butter:
For the sous vide steak:
2

1½-thick, about 1-pound each t-bone steaks

½

teaspoon

kosher salt

½

teaspoon

freshly ground black pepper

2

sprigs fresh rosemary

2

tablespoons

unsalted butter
For the garlic herb butter:
In a medium mixing bowl stir together the butter, garlic, salt, parsley and chives until completely combined. Transfer the butter to a square piece of plastic wrap or parchment paper, then roll it into a log and twist the ends to secure them. Refrigerate until ready to use.
For the sous vide steak:
Preheat sous vide in large pot or container of water to 135ºF (57ºC).

Season the steaks on both sides with salt and pepper. Add one steak to a plastic sous vide bag with one sprig of rosemary and 1 tablespoon of butter. Vacuum seal and repeat with the remaining steak. If you don't have a vacuum seal machine, try to expel as much air as you can from the bag.

Add the steaks to the water bath and cook for 1 hour. Preheat grill to high, about 550ºF (287ºC).

Remove the steaks from the bag and discard the rosemary. Pat the steaks dry and place the steaks on the grill. Grill steaks for 15 seconds then rotate 90º. Grill for another 15 seconds then flip the steaks over and repeat. The steaks should develop a nice crust.

Let stand for 10 minutes then carve.
DID YOU MAKE THIS?
TAG ME ON INSTAGRAM TO BE FEATURED ON MY STORIES! @cookingwithcocktailrings
*Note: I have used both the Nomiku and the Joule by Chef Steps. I would recommend both of these immersion circulator machines for sous vide cooking if you are in the market.